When it comes to an epic and wild kiteboarding trip in the land Down Under, I don't think it gets much better than Australian Kite Surfari.
Since the Sailor and I heard about this playground up past Cooktown, we've been uber keen to visit. It's a shallow, flatwater heaven where the wind doesn't seem to stop blowing in season. Now we've finally edged towards being independent riders, we took a trip up there for the Sailor's birthday and it was epic.⁠
Each day we woke up to the wind howling and an empty beach was waiting just a few steps away. We could ride until our heart's content and made so much progress in just a couple of days. I can't actually remember the last time we had so much fun, you literally couldn't wipe the grin off our faces.
In this post, I'll be sharing details about our kite trip to Australian Kite Surfari to give you an idea of what to expect from this spot and stay, plus all the other need to know stuff. If you're a kiteboarding enthusiast then this one should definitely be on your bucket list.
But what is Australian Kite Surfari?
Australian Kite Surfari is a kite stay on a gorgeous isolated beach between Cape Bedford and Cape Flattery, so there's no crowds here or Wifi, it's a remote paradise. When I first heard about it I thought the 'surfari' part meant that you're taken to a few spots to ride but you're not. However you really won't want to go anywhere else.
The place is owned and run by Anthony Hadleigh or 'Ant' and his partner Paully who live and breathe kiteboarding. They were the first ones up and riding each morning showing us amateurs how it's done. They're definitely living the dream up here and I was a tad bit jealous of their lifestyle.
About 15 years ago, Ant used to take kiters out for multi-day adventures around this Coloured Sands area. The conditions were, let's say, more suited to hardcore riders as they camped out in tents, used a primitive bush shower and were open to the elements 24/7. I tried that a year ago at nearby Archer Point and lasted just one night!
So in came more bells and whistles. Over the past 12 years, him and Paully worked hard to create a permanent and more comfy base with all the mod-cons, using recycled water tanks for the accommodation which they've named 'Tank Town'.
Throughout the main season they hold kite camps each month which last for for week, and outside of this period riders (and non-riders alike) are free to stay and create their own safari out on the ocean.
---
Part of the Adventure – getting to Australian Kite Surfari
What's blissfully idyllic about this spot is that it's completely off grid. There's no road leading to Australian Kite Surfari which means there's zero foot traffic and you can only access it by 4×4 at low tide. It's as remote as it gets.
From Port Douglas we drove up to Cooktown which takes about 3 hours and stayed there overnight first. This was so we could see a bit of Cookie and didn't have to rush up as the tide was low at midday. The town is interesting with a lot of history, if you have time then I'd recommend stopping by for a night or two.
The next day we stocked up on food and drove from Cooktown to Elim Beach which took another hour. As we don't have a 4×4, we left the car at Eddie's Campground which is just 4k away. Ant offers transfers from here along the beach so we hitched a lift in his cool new beach buggy.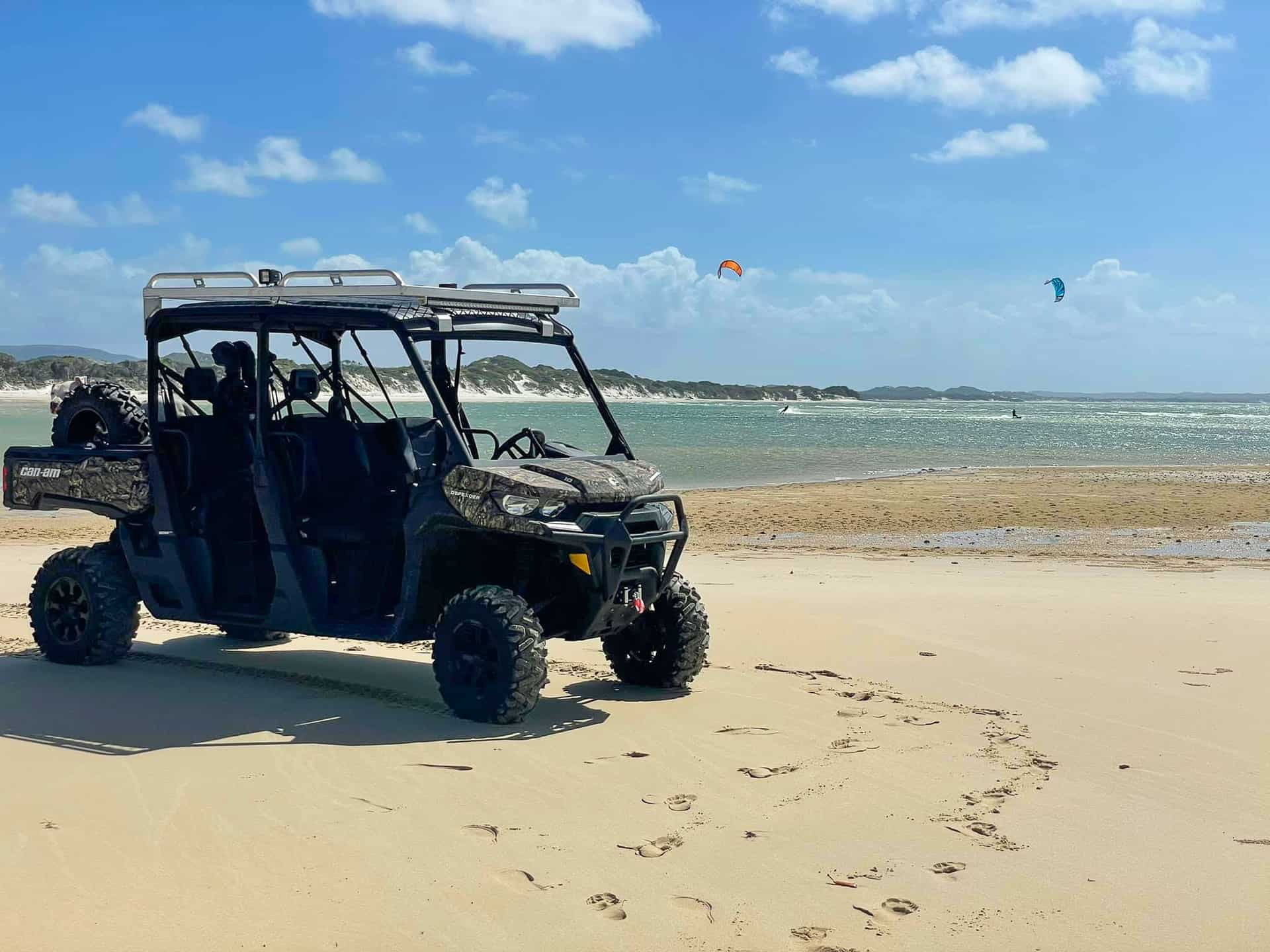 The Kite Stay
Tank Town was awesome! It wasn't huge, but I really liked the way it had lots of different chill areas like on the beanbags, hammocks, deck chairs and high tables. As most of it was open to the elements, it's quite hard to escape the breeze when it's properly pumping all day but hey, I'm not going to be the one complaining about wind on a kiteboarding trip. It felt amazing to finally be here, we've wanted to come for nearly two years.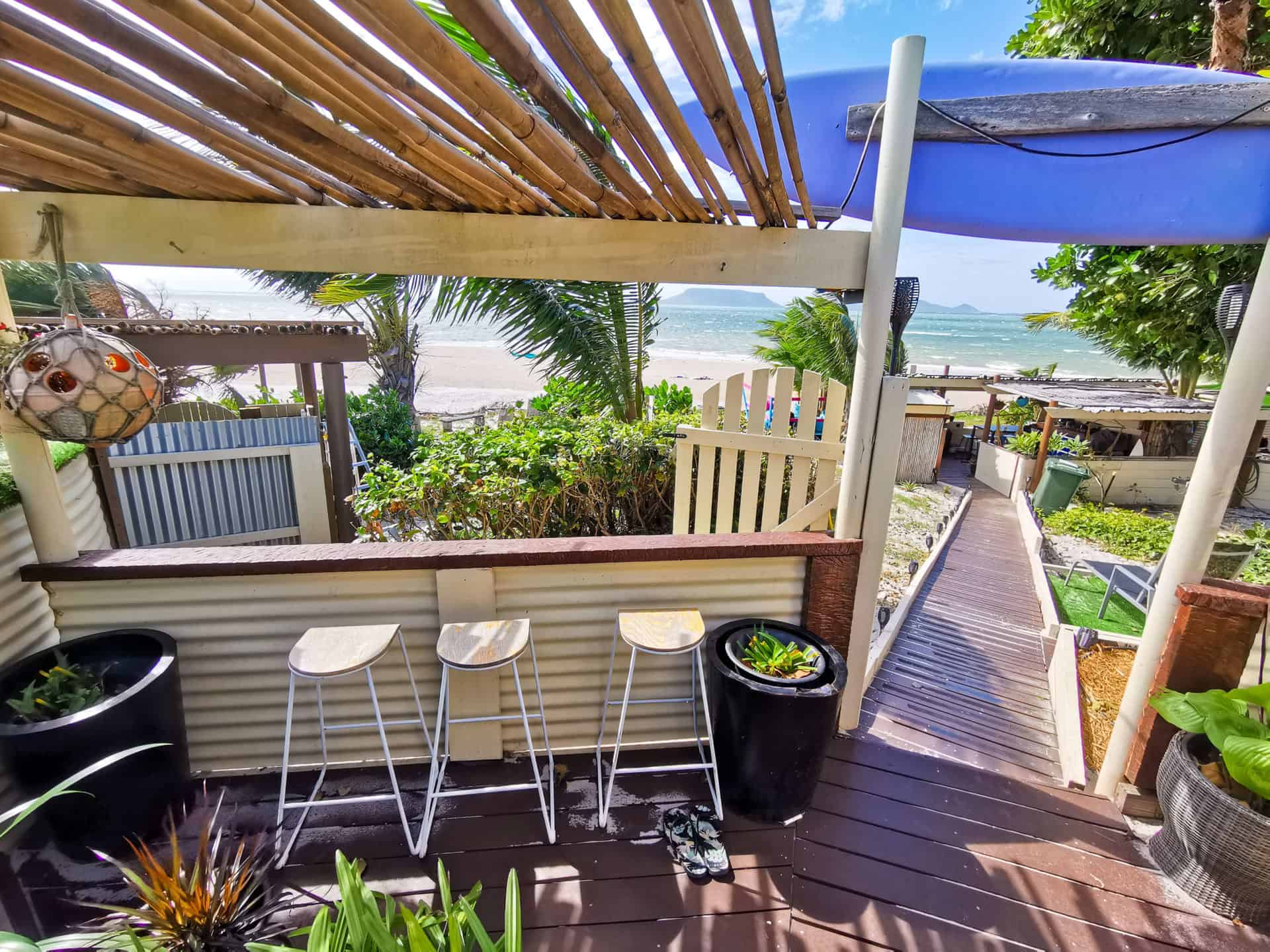 There are 5 cabins which can sleep up to 2 people so there's never more than 10 guests here at a time. During our stay there were only three other kiters, all from New South Wales and they were lovely. One was a complete beginner being taught by her boyfriend which I thought was brave as the wind was blasting! But she did really well. It was fun meeting some like-minded riders from further afield to share stories and tips.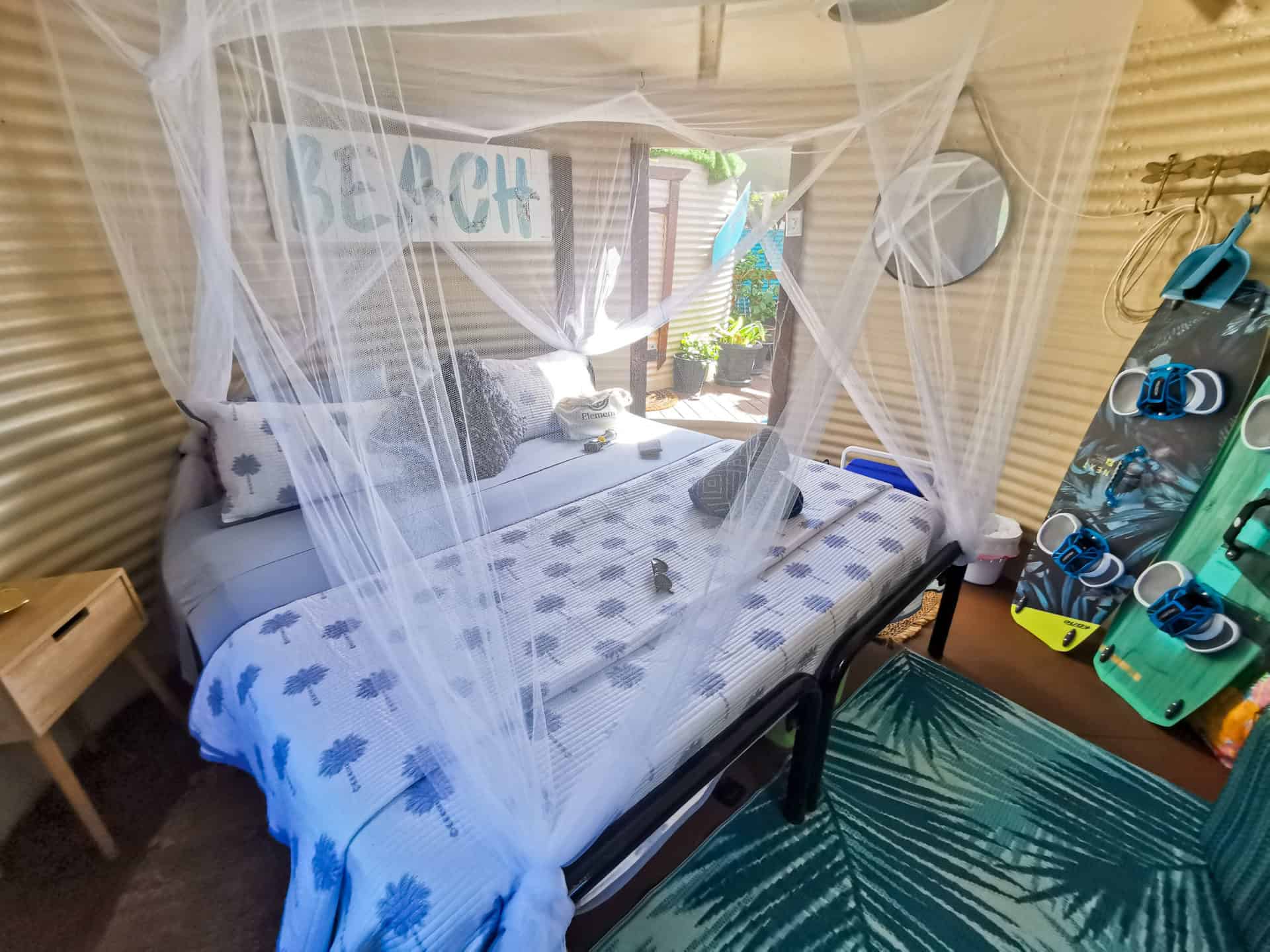 The rooms were really cool and comfy, hard to believe you're in a converted water tank and each one comes with a sea view. Bliss. I had a bit of a light sleep on the first night as the wind was loud and kept me awake. But still not whinging! (should have brought my ear plugs though.) On the second day I slept like a baby as I was properly nackered from all the kiteboarding.
The facilities were great too and there were two kitchens to serve the upper and lower cabins, each kitted out with everything we needed. There's a mens and ladies bathroom with a hot shower (I've been in similar set-ups in Sri Lanka which had cold showers), which makes all the difference when your muscles are aching. The decor had a nice woman's touch throughout too with a funky beach-chic look.
The 'S' Word
What's also totally groovy about Australian Kite Surfari is their minimal carbon footprint. It amazes me how independent stays are often the leaders when it comes to sustainable practices and really put big hotel chains to shame. In particular with kite stays, almost all the ones I've stayed in over the years have tried to reduce their environmental impact, and Australian Kite Surfari is no exception.
As well as using recycled water containers for Tank Town, Paully & Ant source water directly from the surrounding sand dunes. Slightly brownish in colour, but after the first hesitant sip it's the best water I've tasted in quite a while. Solar panels power the entire place and a cute veg patch grows some pretty vicious chillies. They also compost and recycle what they can, though it's a bit harder around here as there's no recycling facility.
In addition, the area of Hope Vale is Guugu Yimithirr country which has Aboriginal Native Entitlement. In a special agreement the traditional owners allow Ant to live here and in return he pays rent to the true owners of this land.
The Hot Spot 〜
So now let's get to the playground.
The kite spot at Australian Kite Surfari is pretty bloody unreal. At high tide there's a waist deep lagoon that sits just outside, simply step onto the beach, pump up and ride.
High tide for us was in the morning so we tried to peel ourselves out of bed a bit earlier (which I struggle with on holiday). We'd guzzle a coffee on the beanbags with the dogs, watching Ant or Paully busting tricks out on the water whilst I contemplate tackling the strong wind, nerves starting to kick in. We've only just started doing proper runs and haven't rode in strong winds like this yet. gulp.
The Sailor and I took it in turns to ride and we had a good few hours to play with until the lagoon became too shallow. The water was a little choppier coming in but smoothened with the tide. The only thing to watch out for was some coral further out when the water recedes, otherwise there's no obstacles.
The conditions made it easier to progress as the wind didn't lag at all and it was easy to body-drag back to my board if needed. Sometimes I had a pinch me moment- this place is so beautiful. The sweeping sand banks carve out some pretty patterns and once I saw a turtle come up for air.
I still don a poop stance when I ride! But who cares, nobody's watching, just some drone footage that I've strategically tried to edit so you can't see it too much. 😆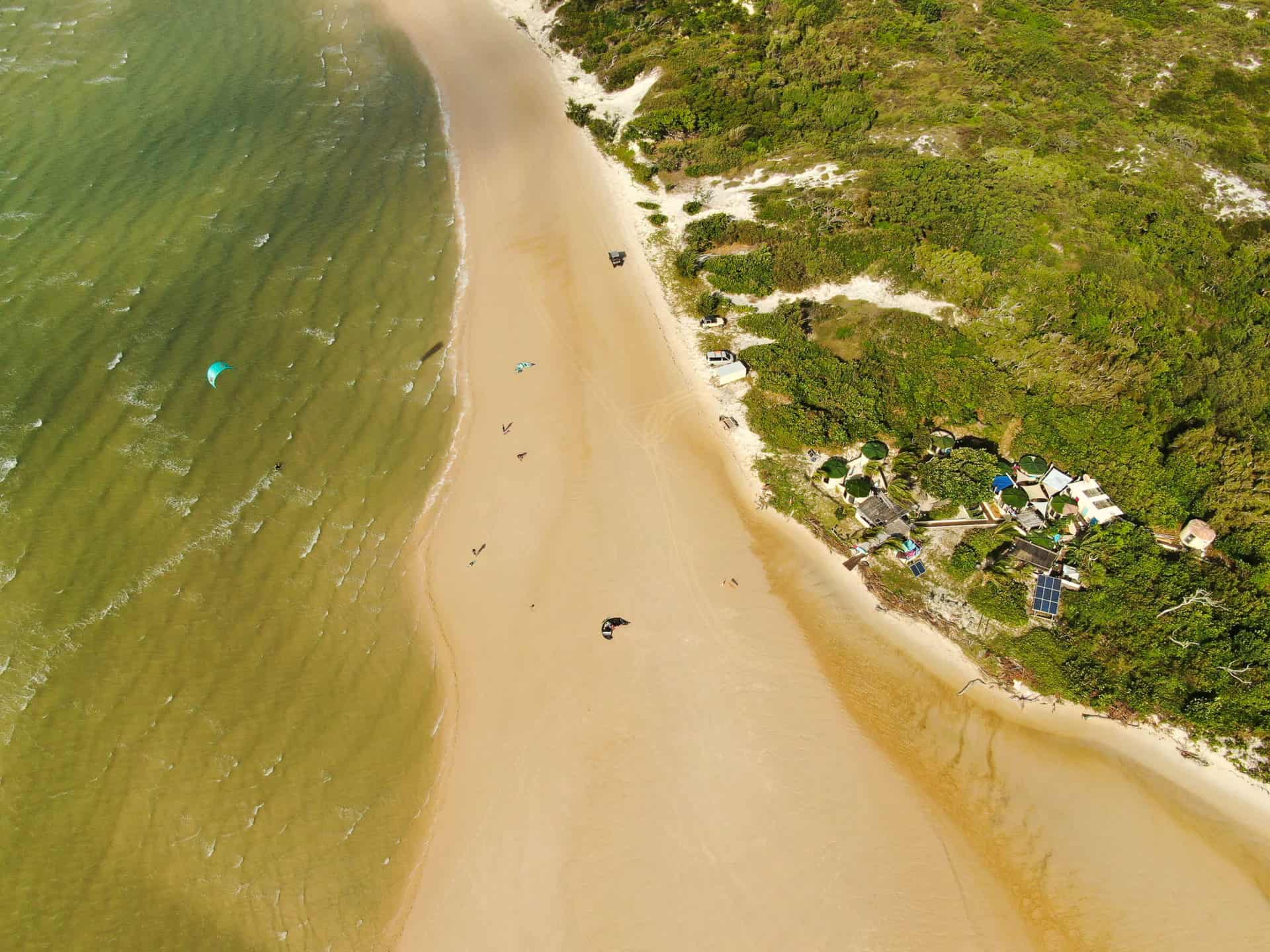 The Wind at Australian Kite Surfari
The wind season on Elim Beach is between May and October and it blows a lot harder up here than other spots further south in Far North Queensland.
It's funny when we left Port Douglas the day before there was barely a whisper of wind. It felt pretty strong in Cooktown but then by the coast here it was ripping. They get some very decent winds here due to less humidity (the terrain is quite a bit drier), and the trade winds around Cape Flattery.
The first day we were here it was 25+ knots, the second it was over 30, the third it started at 25+. Man, it blew!
They do have lighter days too which is why it's good to take a few kites. We had a 7, 10 and 12 metre. Both the Sailor and I were riding on the 7 the whole time, and could have really done with a 5 metre on day 2 when it was howling. We still had a go but didn't last long as the power was just too strong for us and it got quite gusty. Stoked we had a go though, this time last year at Archer Point was a similar story but I was too chicken to try! In my defence, I wasn't properly riding yet.
The elephant in the room…
Ant said that the first thing everybody asks him when they turn up is 'what's the deal with the crocs?' lol. Understandably, this is known territory for Salties like most of Far North Queensland. We asked him too.
If you didn't know, the main habitat for Saltwater Crocodiles is up rivers and creeks. Occasionally they venture from creek to creek to find a mate during breeding season (also the dry season, from September/October) which is when you're more likely to spot them passing a beach. That being said, they can be found far and wide, anywhere, anytime.
Ant told us that in the 15 years he's been here, he's never seen a croc. He went on to explain that the nearest river system is miles north of here, which is a similar scenario for the kite spot at Archer Point. In fact, there's a creek much closer to Port Douglas' popular Four Mile Beach than at this spot, and a croc is spotted once or twice a year passing through there!
Although crocs are protected in Australia by law, as this is Aboriginal Land the natives also have the right to kill problem ones.
Anyhow, the lagoon at Australian Kite Surfari is shallow and clear so you'd be able to see if there was one in the water.
On our first day we did have a go riding just next to it in the open water too which is deeper and less clear, so it's up to you if you want to try it.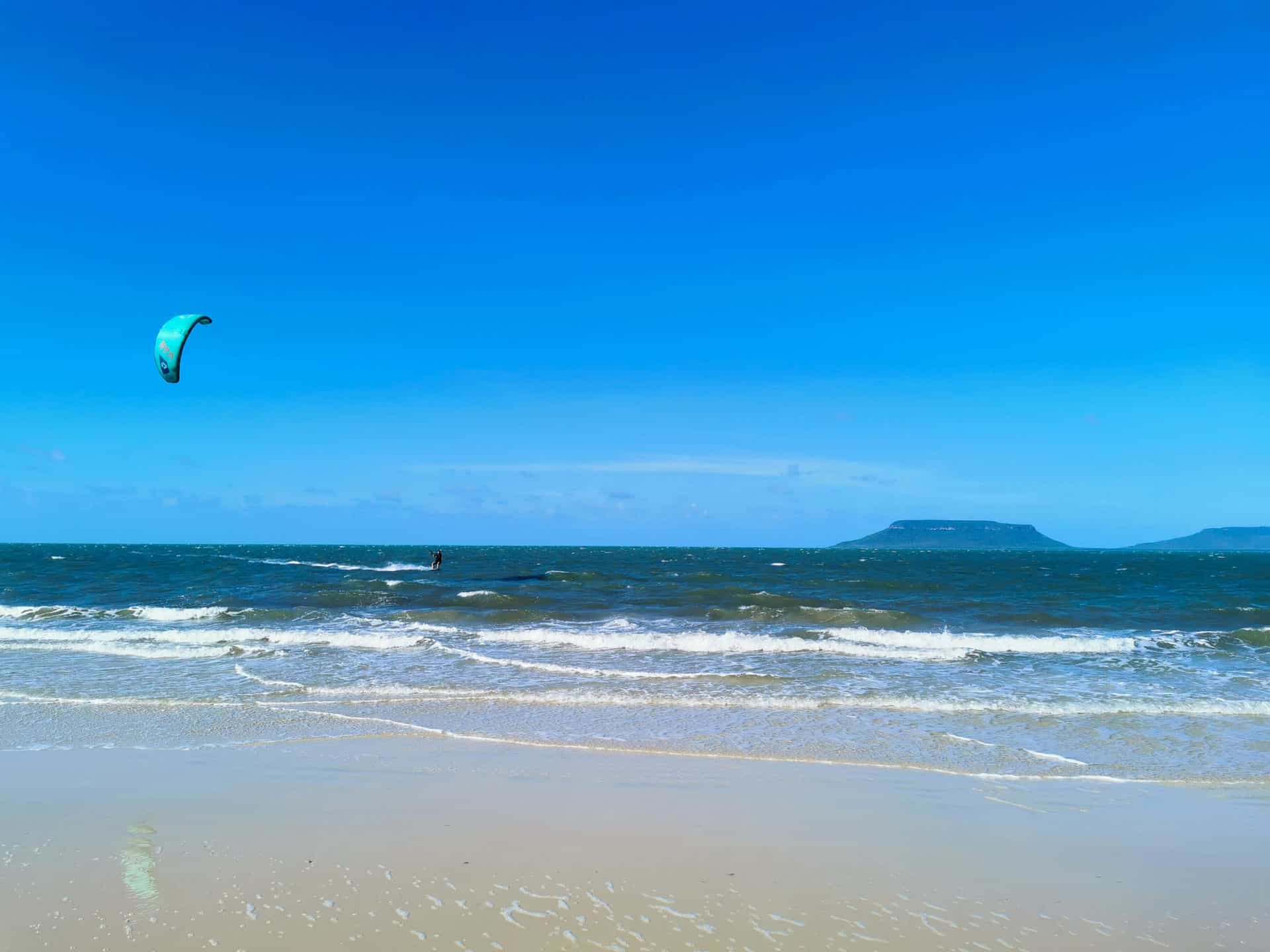 No Wind? Unlikely, but…
There's a few ways to enjoy your time here when you're not kiting.
Firstly, you can slump into a beanbag with the dags and do nothing! Or head to the hammock and read a book, work on your tan… do as little or as much as you want.
If you're into fishing or crabbing you may want to bring your gear. Otherwise check out doing a…
Reef Walk
At low tide we enjoyed walking out to the coral reef just in front of Australian Kite Surfari. I've heard of locals doing this in around Kurrimine Beach near Mission beach, but you can practically do it anytime of the year here. It's so interesting to see it closely outside of the water, it looks much more slimy and pretty alien actually!
Walk to Coloured Sands
Also fun it taking a stroll down the beach to check out all the gorgeous layers of sand. This is why the beach is also referred to as 'Coloured Sands'.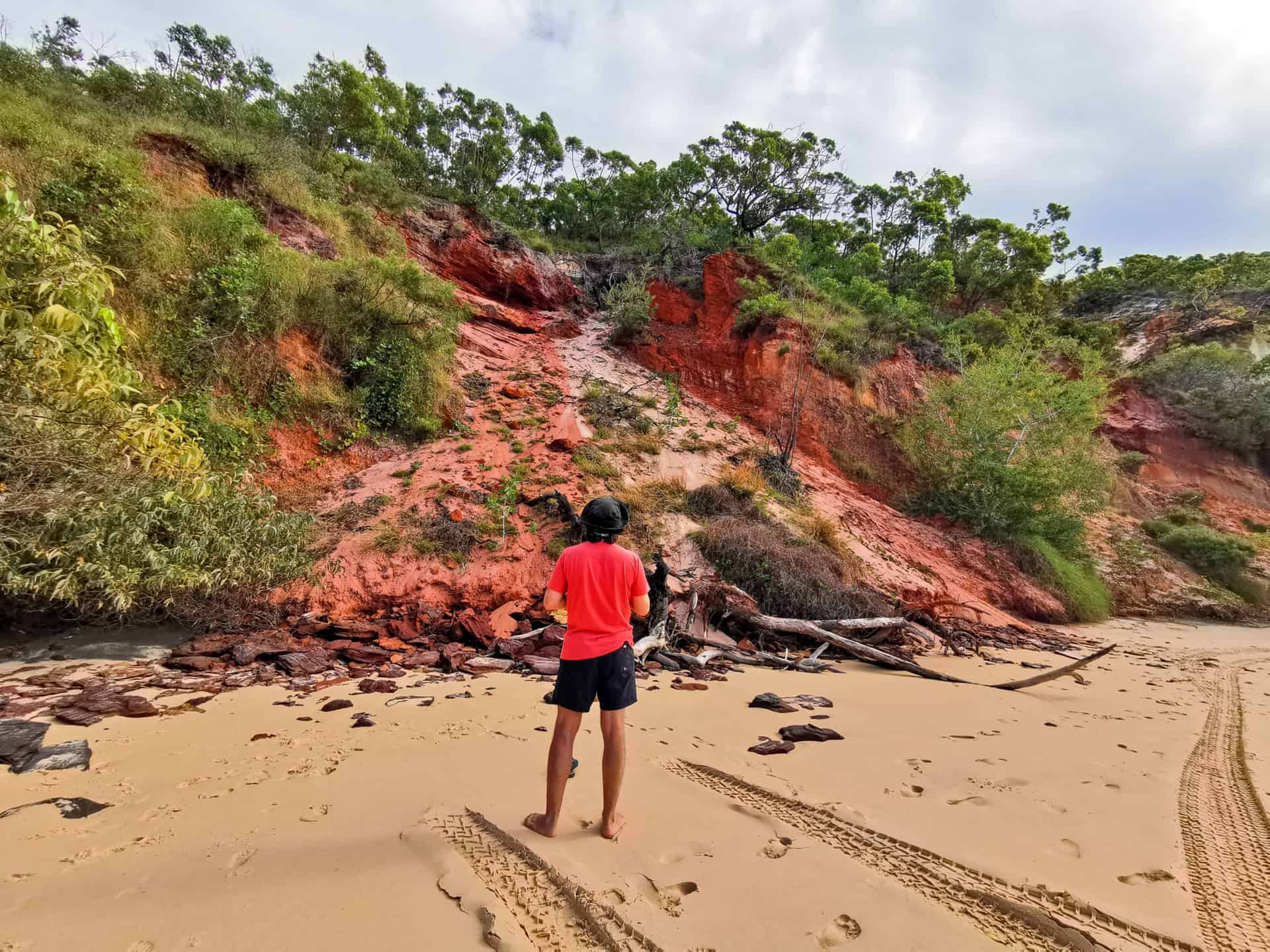 I've heard theres a hike you can do around here that goes up and around the sand dunes but we didn't get that far. The dunes were fun to climb though for sweeping views of the coastline, although a lot harder to walk after a few kiteboarding sessions!
If you bring a toboggan though, you can bomb it back down. 🛷⁠
Adventure Buggy Tour
With their awesome new beach buggy, Paully and Ants are now offering buggy tours where they'll take you off-road for an adventure!
* * *
Overall Experience with Australian Kite Surfari
If you haven't guessed already, we absolutely loved it here!
The set-up was better than many spots we've visited in the past as the conditions were amazing, there were no crowds, the beach was isolated and it was gorgeous.
Paully and Ants were awesome hosts too, really friendly, genuine and down to earth people, and happy to make our stay as enjoyable as possible. They've turned their camp into a really comfy and chilled haven to enjoy all the thrills of kiting in paradise, living the simple beach life.
We wished we could have extended our stay, two nights definitely wasn't enough as we'd only started to wind down. But hey, we left on such a high. I fully understood the meaning of 'stoked' after this trip 🤙🏻!
If you're a kiter and are heading up, I hope you have the best time with the wind on your side. In season you'd be unlucky to have crap wind up here to be honest, but whip an email to Ant if you want to find current conditions.
Now I'm passing on a few more nitty gritty details about planning a trip here.
---
Tips for the trip 🤟🏼
---
Booking your stay
All bookings can be made via the AKS website where you can also find more details about packages and kite camps.
We booked a Self Drive/Self Cater option as we only stayed the weekend. It was also the cheaper choice costing just $150 per night for two people which I think is really reasonable.
Wind
If you're looking for a wind forecast for Elim Beach, from experience I didn't find Windfinder to be very accurate. This is because there's no wind station there so we had to use readings from nearby Cape Flattery. Each day the speeds at our spot came out about 10 knots lower than what it actually was, so you can use it as an indication but don't take it as gospel.
Food & Drink
Unless you're staying for a kite camp, you'll need to bring your own food. Cooktown has a Foodworks which is okay, but doesn't have a great selection to choose from. I'd recommend stopping at Woolies in Mossman instead as it's a bigger supermarket with a better variety of food, then chucking the cool stuff in an esky with ice.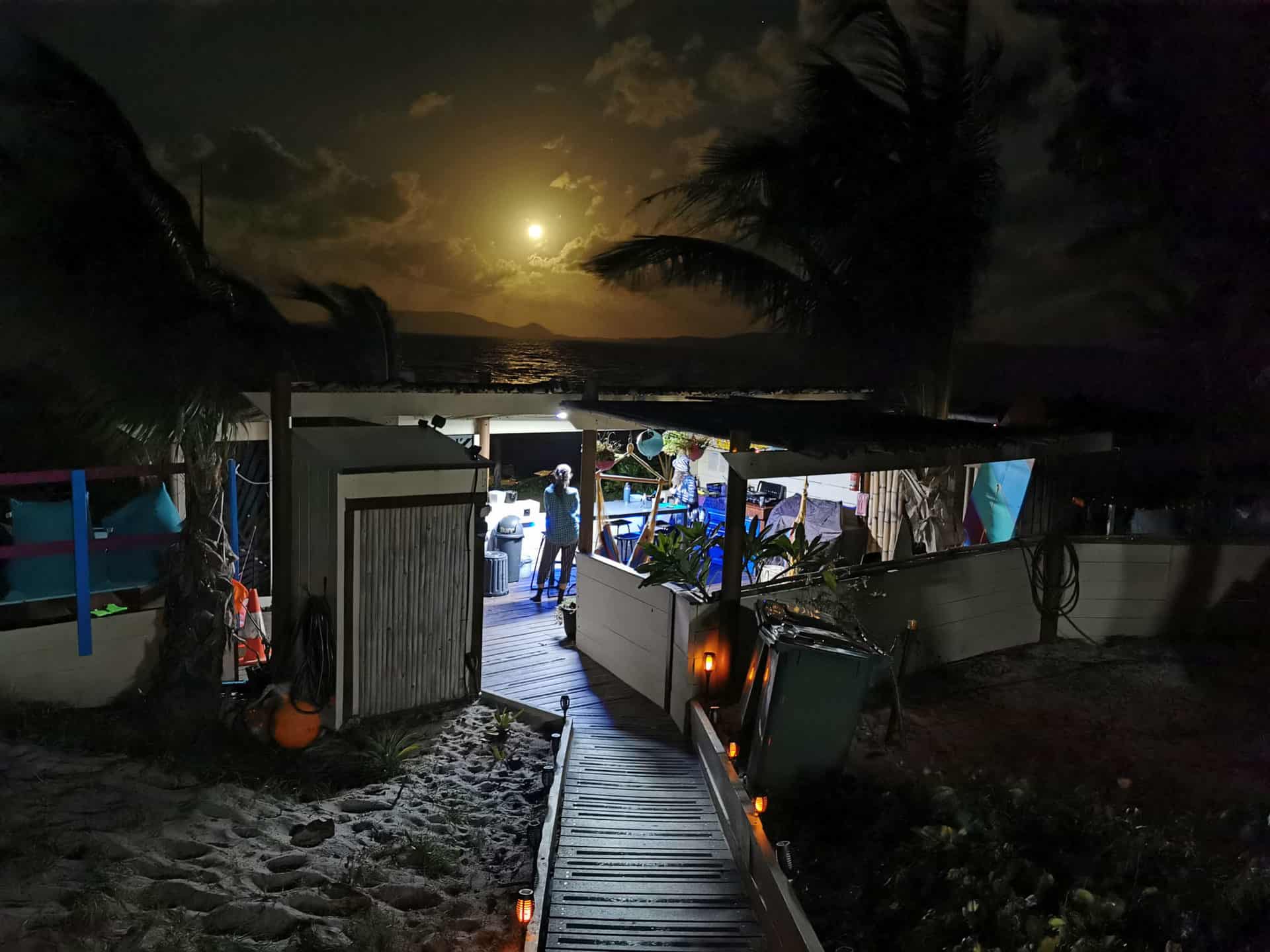 Buying fish in Cooktown is a bit more limited if you want a fresh local catch, but there's a guy who pitches up in a van in front of the James Cook monument- sounds a bit fishy but it's not, lol! (excuse the pun). We saw him arrive at about 11am but managed to buy some fish elsewhere as we were in a rush. The local Fish & Chips Gilled and Gutted sold us some of their Barra for a good price with a nice side of tartare sauce. You could also call Nicko at Cooktown Seafood Direct on 0418 643 272 (or 07 4069 6289) to prebook. I was given his business card by a local.
What to pack
As mentioned earlier, we took all our kites for this trip. Although we only needed our 7-metre, it's better to be cautious than go without. The last thing you want is to not be able to ride because you didn't bring the right gear.
If you have any kite repair gear then bring it with you just in case.
In the evenings during the main season (technically winter) you may want to wear some trousers and socks as the temperatures do dip at night and the wind will lower them still.
AKS are kitted out with all kitchen equipment so no need to bring anything, just a wine knife if you need it. 😉
Transport
Australian Kite Surfari offer transfers from Cairns Airport if you're staying here for a kite camp, which is included in the price.
Like us, if you don't have a suitable car to take you across the beach then you'll need Ant to pick you up and do a beach run. It cost us $30 p/p both ways, pick up times are tide dependent.
* * *
Wowee, another long one for ya! If you'd like to know anything else about our stay, just hoot a comment below. Otherwise if you're seeking more inspiration for things to do in the region, check out my other articles on: beachy Port Douglas (also another good kiteboarding spot), Cairns or the Atherton Tablelands.
---
Finally, just a note to say that no affiliate links are included in this post and Australian Kite Surfari didn't know I'd be writing a review about them. I paid my way to support local tourism and so that I can have the same authentic experience you do.
Like it? Pin it for later!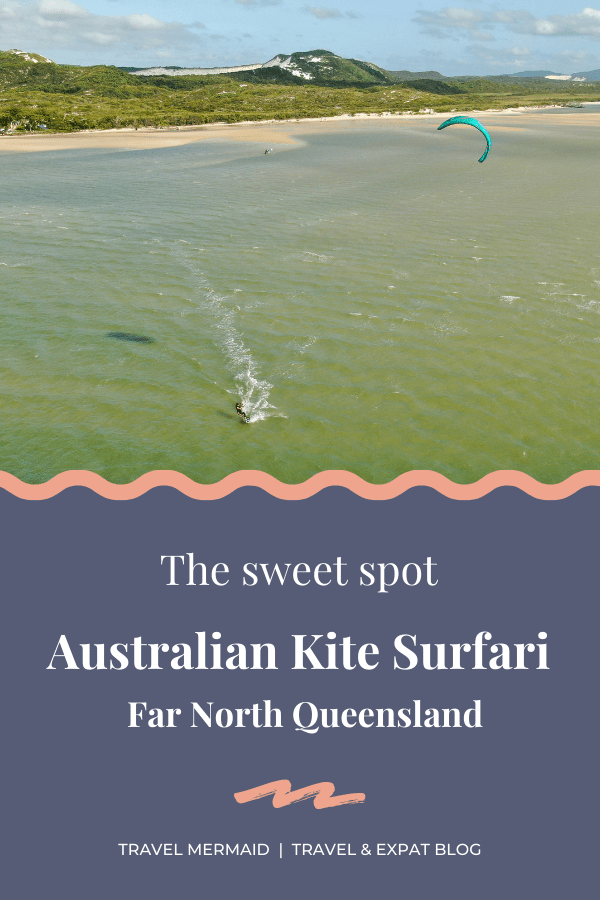 XOXO