Just 170km north of Sri Lanka's capital Colombo, lies rugged and rural Kalpitiya. For most travellers, this remote sandbar would easily skip the radar in favour of Galle, Tangalle or Kandy. However in the kiting world, Kalpitiya's been branded one of the best kitesurfing destinations in Asia. But what's it really like? Does it cater for all levels? And does it offer cracking no-kite activities? This article will delve deeper.
. . .
Arriving into Kalpitiya was not at all what I was expecting.
With all of the seasonal kitesurfers that come here year upon year, I was ready for somewhere as developed as Mirissa in Sri Lanka's south, complete with all the typical tourist bells and whistles.
Instead, we were greeted with roaming cattle, dirt roads and authentic village life that was unfazed by tourism.
Hmm…🤔
Refreshingly, someone forgot to build the flash resorts, restaurants and beach bars. Or at least, the government's 'Master Plan' for Kalpitiya is still just in the pipeline.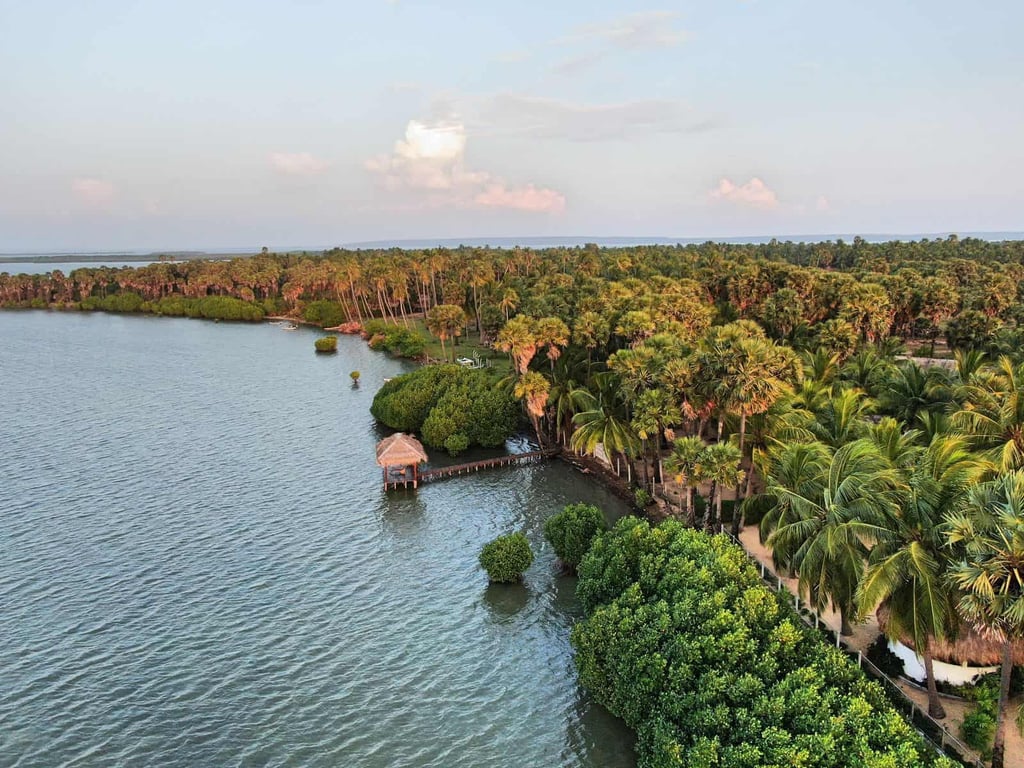 Bordering the Indian ocean and set amidst coconut plantations, this tropical neighbourhood is made for nature aficionados and tranquility hunters, as much as it is kitesurfers.
Regardless if a growing number of kiters have been gracing its waters for the past 10 years, it hasn't lost its rural charm.
Donkeys and goats still casually stroll around the village. Fisherman continue to litter the wide-open beaches and the roosters will wake you up religiously each morning. Eco-resorts are the norm and al-fresco bathrooms with cold showers are just a way of life. Brr. I still never got used to that!
Kitesurfing in Kalpitiya
Kalpitiya is basically one giant, long sandbar that separates its biggest lagoon, Puttalam, from the Indian Ocean. Combined with a consistent seasonal wind and more flat-water than you can shake your board at, it's a huge kiteboarder's playground.
Kite spots in the area cater for all levels, including amateurs like myself, and it's known to be the stomping ground for a few pros (big name drop: Ruben Lenten) as well as hosting kite competitions through KTA- Kite Tour Asia.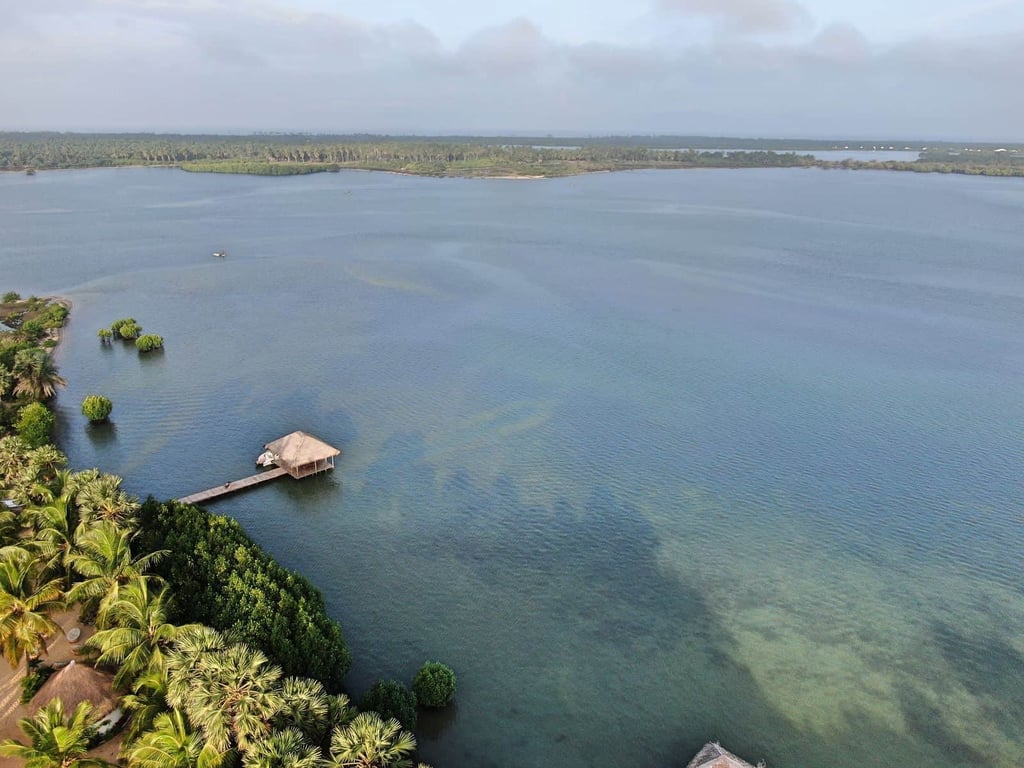 There's a tonne of places to rig up if you're an independent rider and don't need beginner lessons, like moi.
Advanced riders have the added bonus of huge downwinders from remote islands, or to embrace wavier conditions off the coast. For less chop and more flat, there's more than enough lagoons to rig up and ride on. Trust me guys, you won't be stomped for places to ride! .. unless, er, you're a beginner. Then it's mainly just Kalpitiya Lagoon for you.
Related Read:
The Ultimate Guide to Kite Spots in Kalpitiya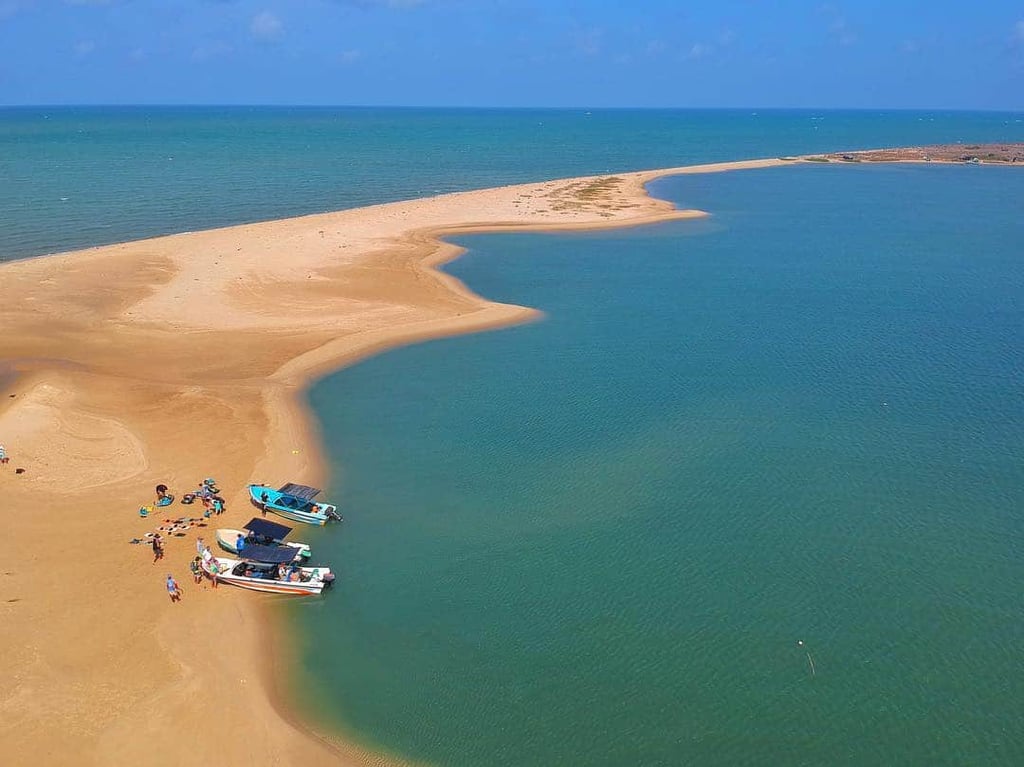 Undoubtedly, one of the best kite spots in the area is Vella Island. It's a scenic islet with a white sandbar stretching far into the ocean, creating a 2.5k bay of butter-flat water. It's much quieter than the other spots around too and you're given the option to camp out under the stars. It's nothing but eat, sleep, kite and repeat baby. Except, of course, if you're a beginner!!
Wait, can you hear that? My dreams have been shattered. I can't help but feel that beginners are given the short straw here.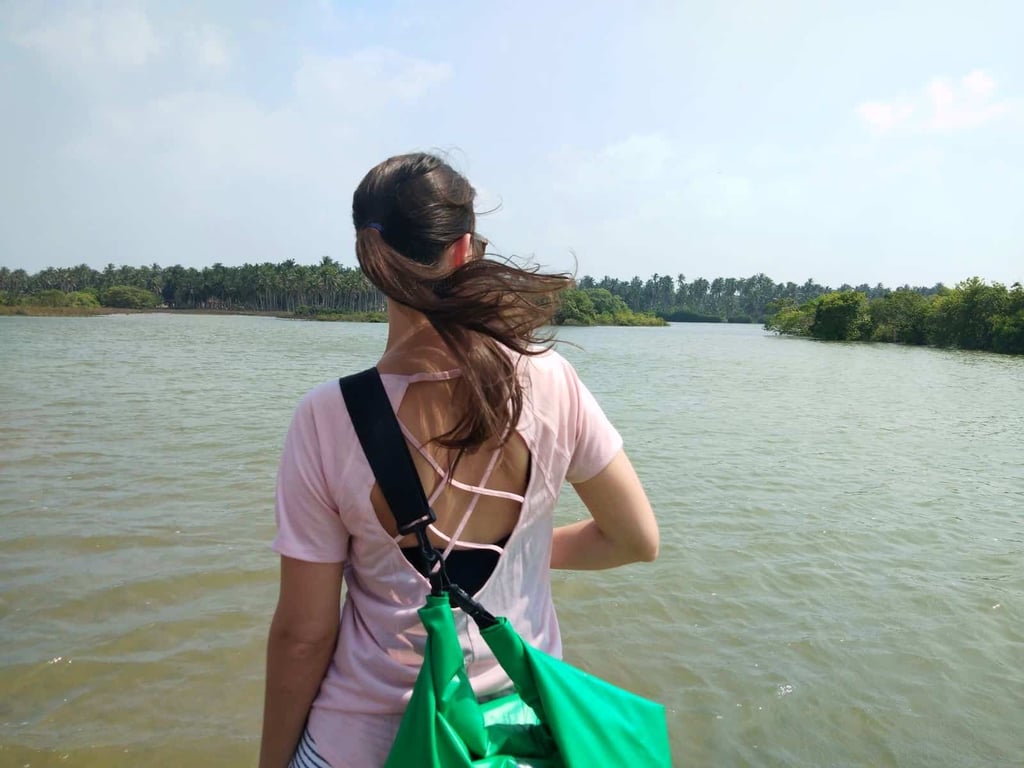 I was secretly hoping that Kalpitiya would be reminiscent of when I learned to ride in Thailand, with its crystal clear, turquoise waters and sandy beach. But what I got instead was a brown, murky lagoon with a muddy bottom. It was okay, but not the best water for accidentally gulping.
There only seems to be two places that beginners can learn to ride here: Kalpitiya and Kappalady lagoon.
Kappalady is a cute spot, if not a little out of the way (a 30 minute tuk-tuk ride south of Kalpitiya town.) The wind is good in the main season, although it changes direction in 'winter' (December to March) and is much lighter, making it less than ideal.
I'd like to say Kalpitiya lagoon has a lot more going for it, but it was a bit disappointing. However let me be an optimist and start with the positives:
+ It's generously sized- approximately 2km long and 800m wide.
+ There's heaps of kite schools that operate there.
+ It is a relatively shallow, flat-water lagoon.
+ I hear it's a good spot to practice riding, tricks and freestyle. (I'm getting there!)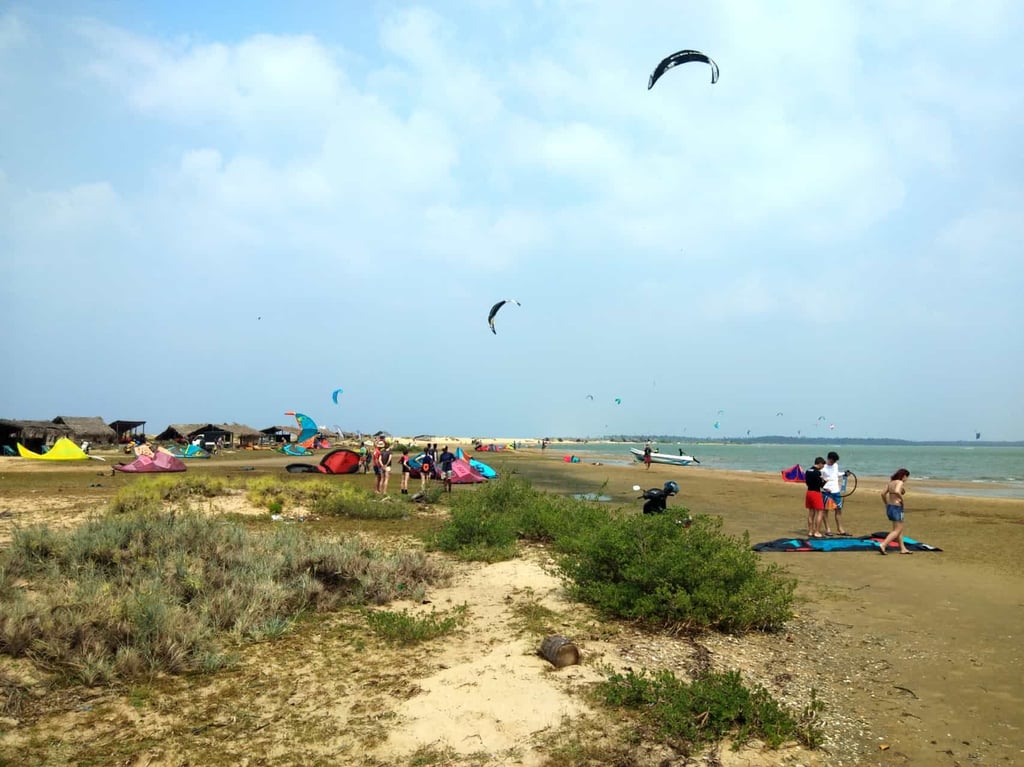 The negatives:
– The water is quite murky, brown-ish in colour with a muddle bottom. Great if you're on top of the water, not so great when you're playing 'stuck in the mud'!
– It was too busy for my liking as a beginner. There were 40+ riders out at one point, in December.
– It felt like a bit of a kitesurfing meat market, with schools pumping out lessons to beginners in their droves.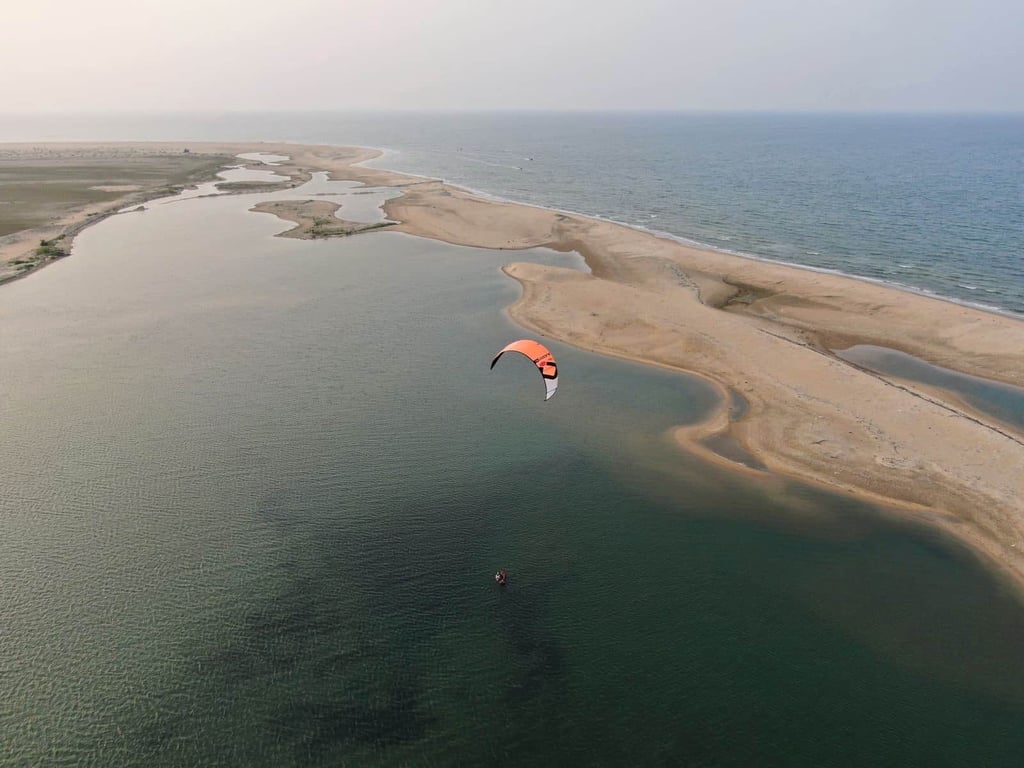 Kalpitiya Lagoon is also known to get quite gusty, which makes controlling the kite more challenging for novices.
Another difficulty for beginner riders in Kalpitiya is the lack of quality instructors around. It's great that locals are being supported and given an opportunity to earn a living from tourism, but I don't believe all instructors are as certified or qualified as many kite schools claim.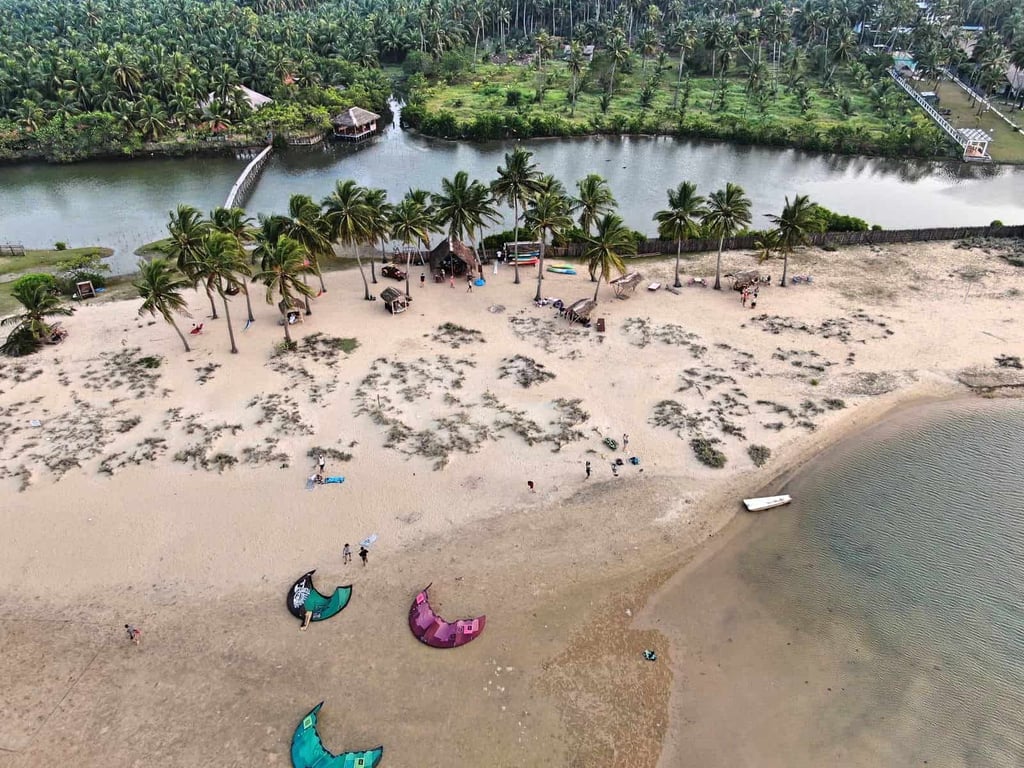 When the Sailor and I took lessons with two different local instructors, we weren't really given much instruction (it was more of a 'here's your kite, good luck' approach) and their limited English made communication a challenge.
It also seemed like every kitesurfer and his mate Dave is an instructor in Kalpitiya, and you're paying pretty steep rates for someone that is allegedly qualified.
Overall, I failed to progress as much as I'd hoped in Kalpitiya. It didn't help that wind got off to a slow start this year and that there were only 4 rideable days out of 10.
Oh well, I'll just have to try harder this year!
Related Read:
A Guide to Kite Resorts & Kite Schools in Kalpitiya
Wind Season
The main kitesurfing season runs from May-October, where the wind is stronger and more reliable, if not more gusty.
The second season runs from mid-December to March, which brings in a lighter, but usually decent wind, although it can sometimes take longer to get started as was the case on our trip.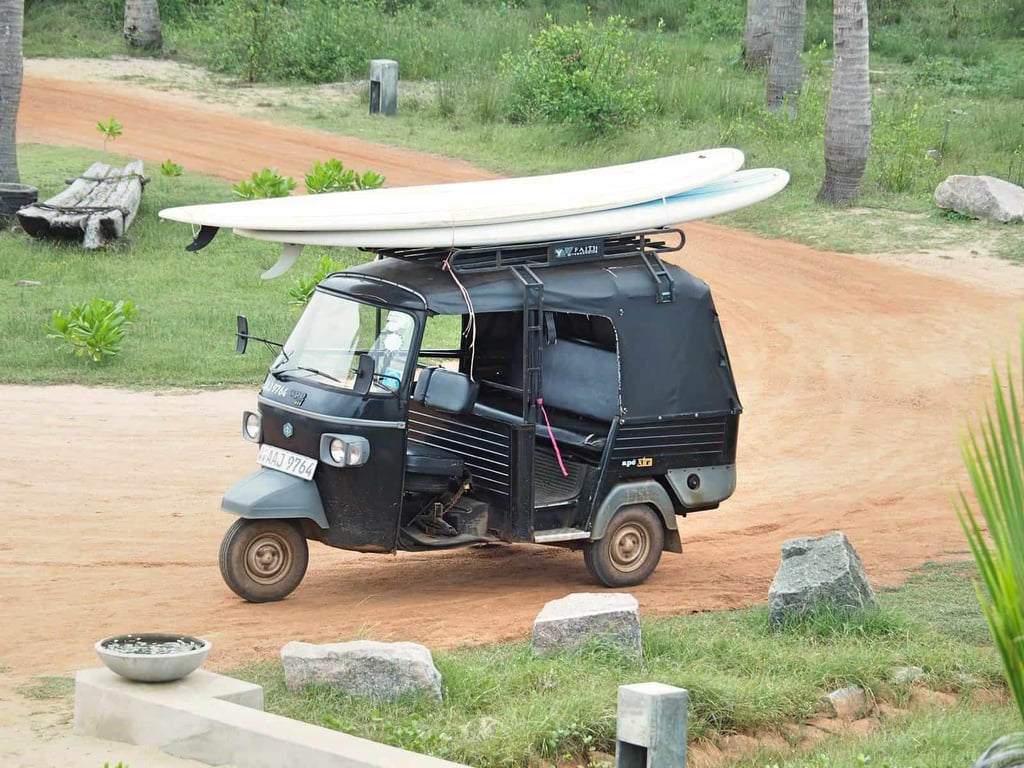 Kalpitiya as a Holiday Destination
Whilst Kalpitiya predominantly attracts kitesurfing enthusiasts, there's still a handful of travellers who come for remoteness and serenity.
Sun-seekers used to luxury, or all inclusive retreats with every creature comfort under the sun may struggle (think as basic as hot showers). Or it could be just the rustic, tropical haven you didn't know you needed.
There's a few things to keep you busy here on windless days:
Between December to April when the seas are calmer, you can take spinner dolphin and sperm whale watching trips, and may even catch migrating blue whales.
For more water-based fun, the abundance of flat-water lagoons are perfect for a peaceful sunrise / sunset kayak or stand-up-paddle session.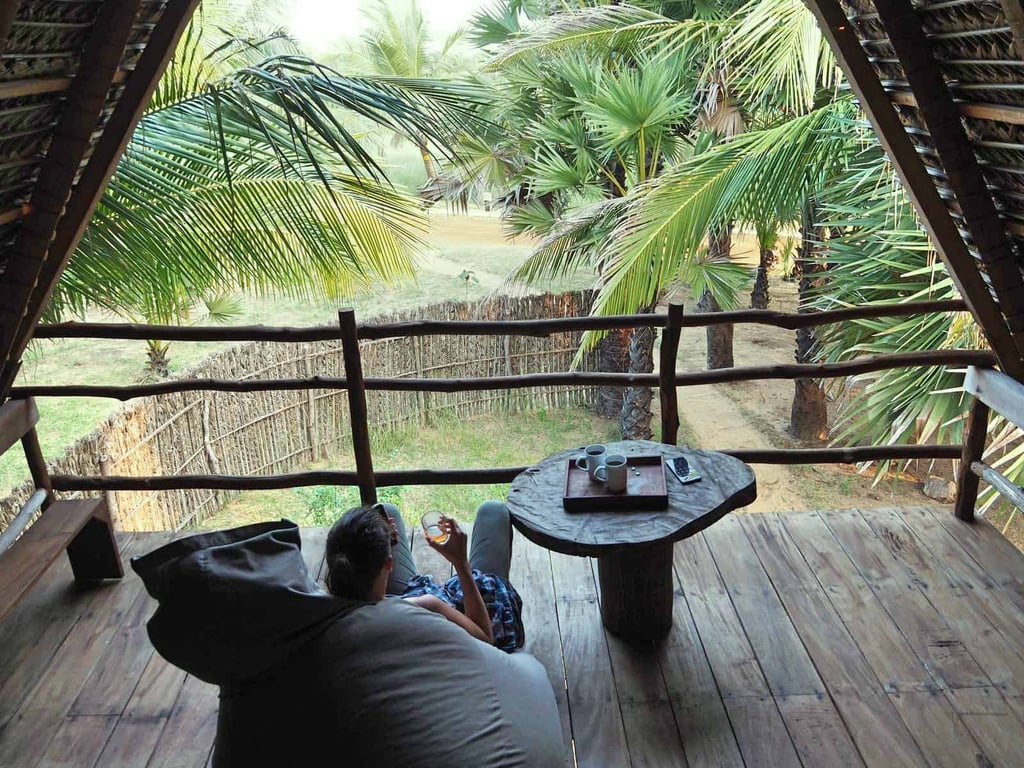 Many resorts can also arrange deep-sea fishing trips with local fisherman, as well as scuba diving lessons in Sri Lanka's longest bar reef, or safari rides by boat up the Wilpattu river.
For land based thrills, you can explore the local area by scooter or bicycle, go bird watching (there are heaps of amazing flighty friends around) or take a safari at Wilpattu National Park. If you want someone to take you that knows their stuff, then ask for AJ at Rascals resort. As well as being amazingly knowledgeable about the local flora and fauna, he's pretty good at seeking out leopards that occupy the park.
After visiting Udawalawe National Park last year in Sri Lanka's southern region, I thought that seeing a leopard was more of a myth. But AJ informed me that Udawalawe is actually enclosed by a fence and home to only a handful of leopards. Whilst visitors can only get access to 25% to Wilpattu, there are 140 resident leopards, making it the biggest habitat in all of Sri Lanka.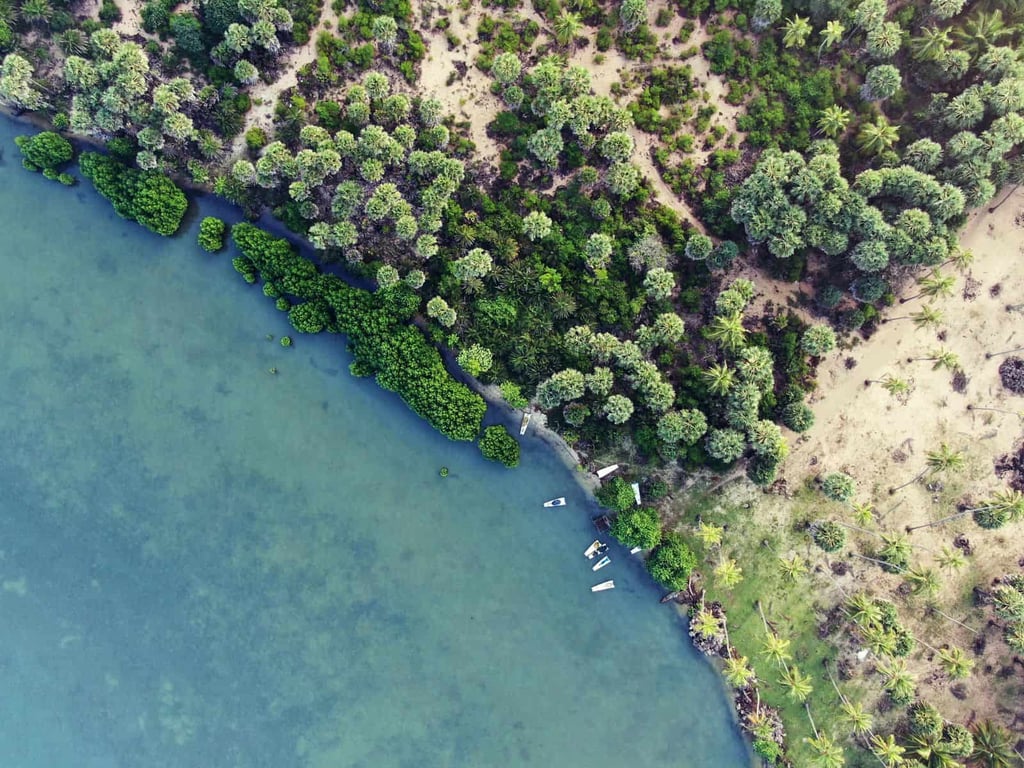 But most importantly, if you come to Kalpitiya, you need to dedicate time to chilling.
Taking a stroll along the beach, or hang out at your resort's pool to soak up some rays and catch up on reading is a must.
Chilled evenings can be spent watching an epic sunset from the coast or lagoon, with a beer or *cocktail in hand (*if you head to Blue Dophin resort or Rascals!)
Kalpitiya is ultimately the perfect place for completely zoning out, and absorbing the most amount of zen vibes you can handle.
Tip: The nicest beach we found was at Elements Beach & Nature Resort. There were only ever a handful of guests around and the beach was nice and clean. (Kalpitiya beach is okay, but not the cleanest, with some swept up plastic and fisherman's waste.)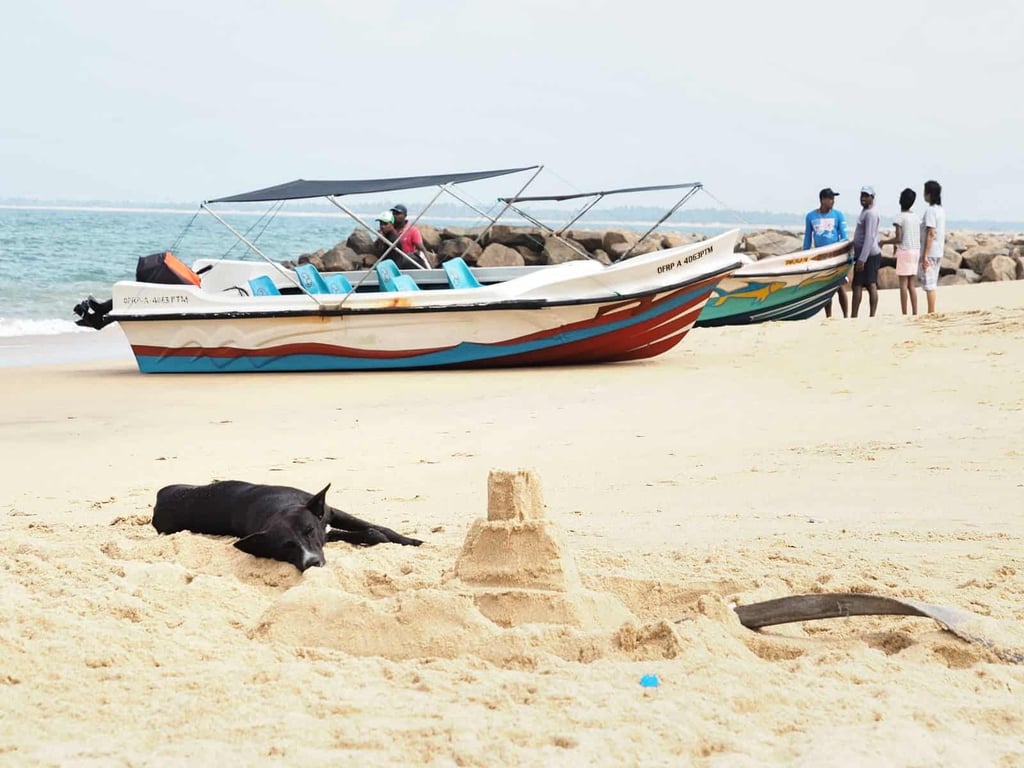 . . .
Kalpitiya made for a memorable holiday, not necessarily for the kitesurfing itself (although many seasoned kiters may disagree) but for the experience.
It was raw and underdeveloped, a beautiful wild paradise and off the main tourist trail. It doesn't come with cheesy tourist attractions, gimmicks or flash resorts. But it gives you a taste of the simple life and ample opportunities to relax or be a nature nerd.
Except, I have a feeling that all that might be changing int he near future.
In 2008, the Ministry of Tourism has approved a 'Master Plan' to turn Kalpitiya into a major tourist hub. It includes planning permission for luxury accommodation, amusement parks and underwater amusement parks, amongst other things.
Although the development is documented to be 'strictly environmentally friendly and ecologically sound', you can't help but fear that it will turn this quiet town into a tourist circus. In the Kalpitiya Paninsula, which consists of 14 islands, over 25% of its land has already been sold through land grabbing since 2003.
Currently the only spectacle in town, is seeing 40+ kitesurfers out in Kalpitiya lagoon on a windy day. There were a few locals who'd come just to take a look at all of these crazy foreigners out with their kites, but it's greeted positively.
Kitesurfing provides low-key tourism to the area and even though numbers have significantly increased in the last few years, it hasn't overwhelmed infrastructure or burdened local communities. This kind of progressive tourism should be Kalpitiya's future, not a master plan.
For now though, it's far from a tourist monstrosity. Tuk-tuk rides are bumpy, lagoon views are unobstructed and there isn't a shopping centre in sight. It's perfect.
---
Like it? Pin it for later!
XOXO