After living and breathing Kuala Lumpur for two years as an expat, I thought I knew all I needed to know about the city. I've trekked through its rugged jungle, dined in some of its best restaurants and I could talk to you for ages about why I believe it's the best place to live in Southeast Asia.
But there's more sustenance to this capital than its glitzy Petronas Towers and secret cocktail bars, and its got far more soul than just being born out of tin mining.
Nearly 140 years since Kuala Lumpur became the capital of Selangor, with a history book in hand and score of pinpoints prepared on Google Maps, I ventured on a self-guided trail through the old heart of KL: Chinatown.
* * *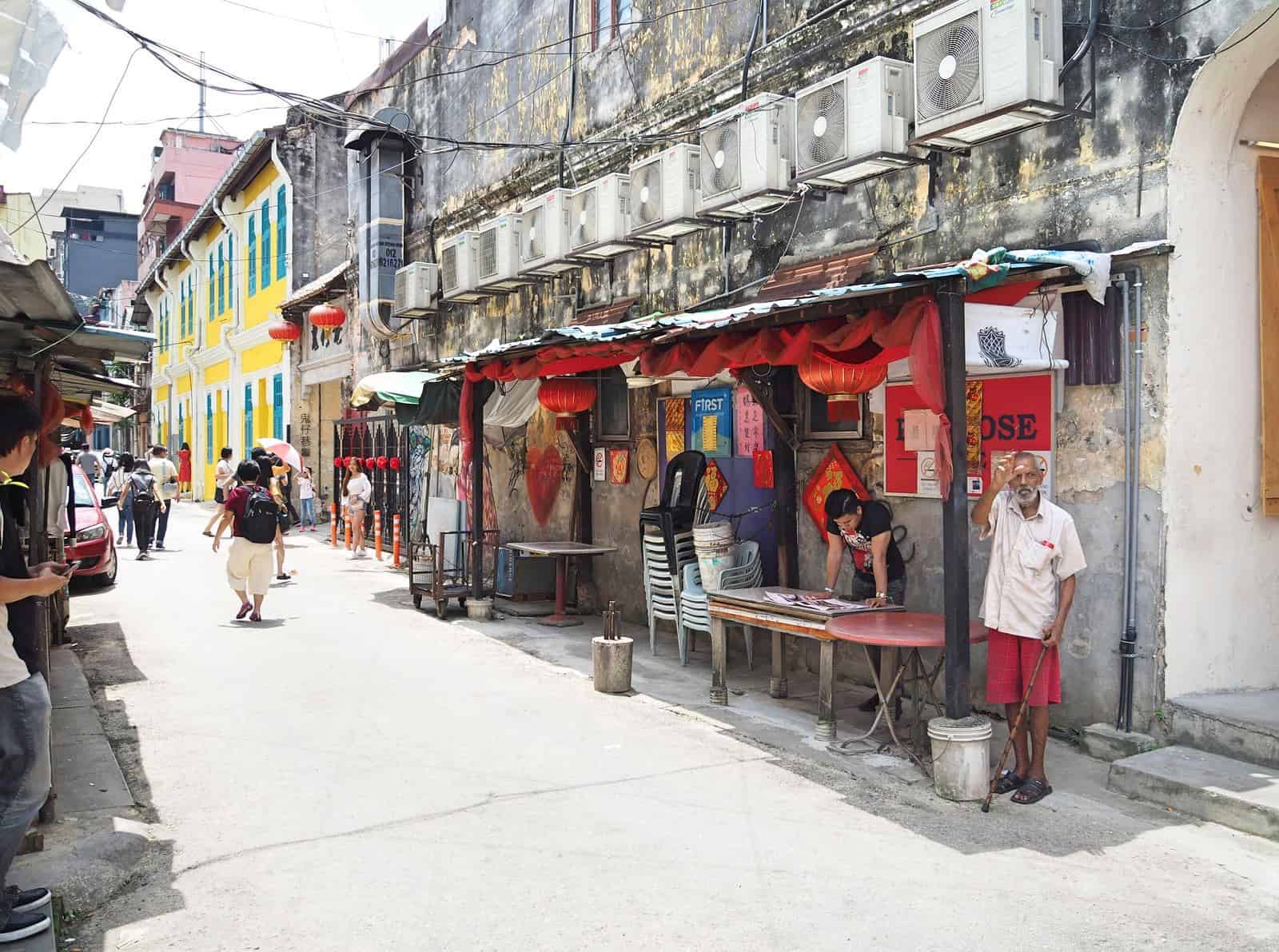 It was another steaming hot day in Kuala Lumpur and the 32 degree heat allowed no respite for sightseeing. Regardless, I wilfully landed in Chinatown, a place I've neglected to visit until now thanks to a couple of trendy cocktail bars in the area.
At first glance, it appears I wasn't the only one who overlooked it. Unlike Penang or Singapore, much of KL's Chinatown is in need of some TLC. Lined with decaying 1920's shophouses crying for restoration and knock-off tourist-centric merchantry along Petaling Street Market, I imagine it has seen better days.
Starting somewhere I was familiar with, I pulled up near the speakeasy I struggled to find the week before and instantly spotted a glowing preview of shophouses along the back of Lorong Panggung. Intrigued, I veered closer down the dingy road to see what these freshly painted yellow and blue buildings had to offer. It didn't take long to realise that they were mere Insta-bait for the humble passageway that stood beside it; Chinatown's newest secret.
A hidden heritage gem.
I curiously stepped inside.
The laneway was littered with endearing murals, illustrating the lives of local Chinese settlers from the 60's. Amongst the artwork was an earnest calligrapher writing auspicious sayings, with a chair propped at his table to help local Chinese settlers write letters back home.
Next to him sat a smiling uncle playing the erhu (a two-stringed fiddle) and- wrapped in a red feather boa- an attractive prostitute waves her pink handkerchief seductively from inside a traditional wooden window.
KL is usually so censored from sexual references that painting 'a lady of the evening' would normally be taboo. Yet, much of Chinatown was once surprisingly peppered with crime, corruption and carnality.
From Medan Pasar to Jalan Petaling, notorious vices were prominent in the area, such as opium dens, gambling joints, brothels and gang-related activities.
In fact, the lane's name is believed to stem from this colourful past. In Cantonese, the street Lorong Panggung literally translates into Kwai Chai Hong, meaning 'Ghost Lane' or 'Prankster Lane', for one of two suppositions.
The first more PG version, is that it was named after the local mischievous kids who would run around the street and play pranks. They were believed to be called 'Kwai Chai' by the locals due to their cheeky behaviour.
The other more 18+ theory that I prefer, is that the lane was where all the notorious vices took place, like prostitution, gambling and drug taking. This was said to attract a local gang called Dragon Tiger, whose leader named his members 'Little Ghost', or Kwai Chai.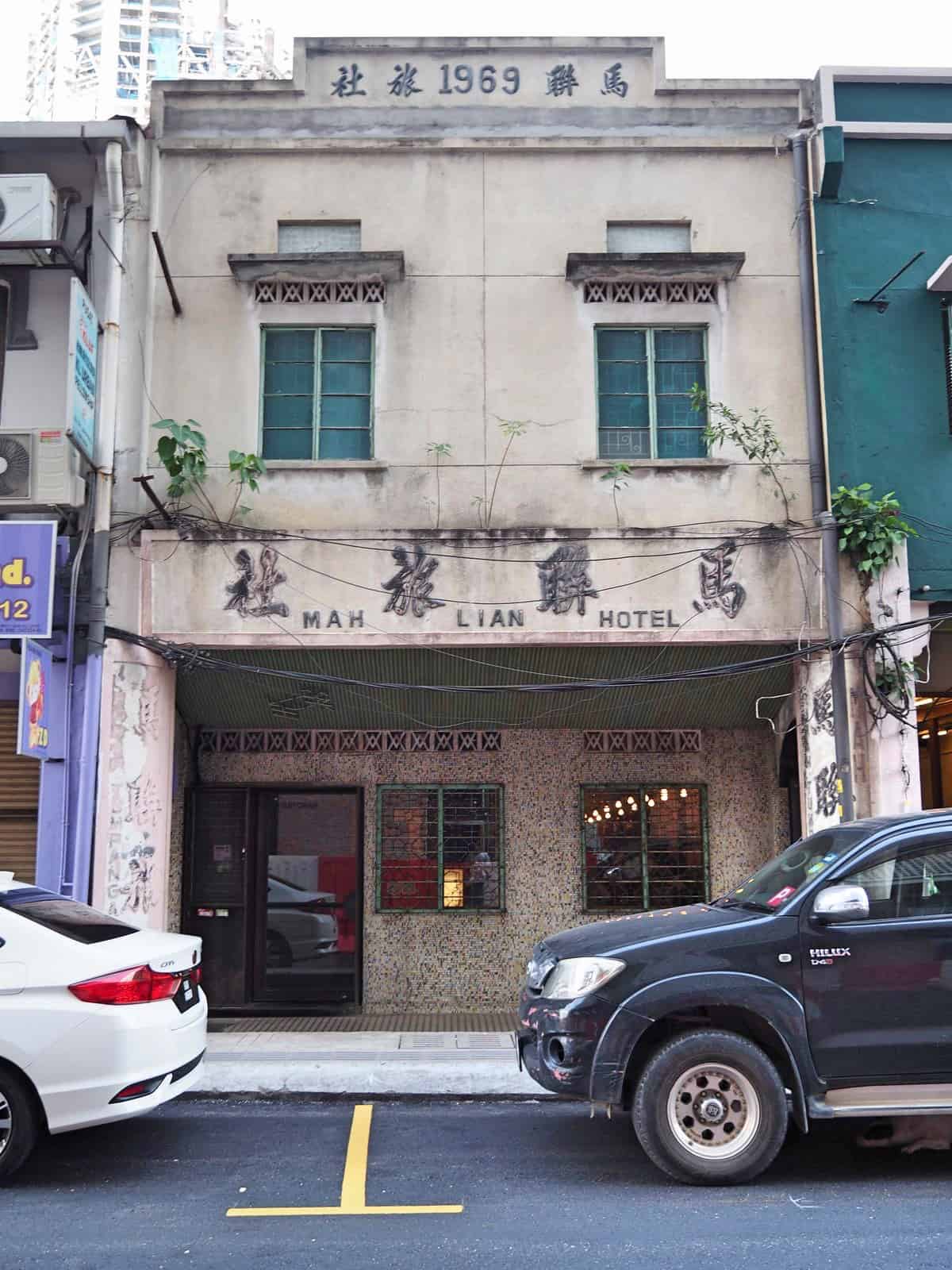 Just a week before, I sipped my Jungle Bird cocktail in Botak Liquor and imagined the room before me 50 years ago. If the walls could talk, you'd hear clairvoyants whispering promises of the future and the rampant echoes of sexual gratifications.
Chocha Foodstore, a Modern Asian restaurant where the food alone will give you multiple foodgasms, is another of many buildings in Chinatown with an interesting past.
It's nondescript facade has kept the name of its former business 'Mah Lian Hotel', founded in 1969. An apt year considering its usage.
But back in the day, it was more of a co-working space. Whilst one part of the building was utilised as a hotel, other rooms were occupied by individual businesses, including a fortune-telling enterprise and – a brothel.
It's hard to imagine it now, but the whole area was generously seasoned with whorehouses, including the boho cafe next door Merchant's Lane.
Heading north towards Petaling Street Market, a homeless lady followed me most of the way before gobbing just in front of my feet and keenly overtaking.
I detoured past the tourist magnet Petaling Market on the judgement that I wouldn't be interested in the back-to-back stalls selling counterfeit goods, but I later regretted my decision when I found out about its legacy.
Petaling Street used to lead to tin mines in the area and was one of the first streets in KL to be named. The majority of its residents were Hakka and Cantonese, who came to prosper from the roaring tin industry.
In the 1900s it was an equally bustling place, filled with stalls and food vendors, but with the addition of rickshas, carriages and trishaws that would tote up and down. Although even more significantly, it bears witness to a turning point in KL's history.
Let's get deep a little.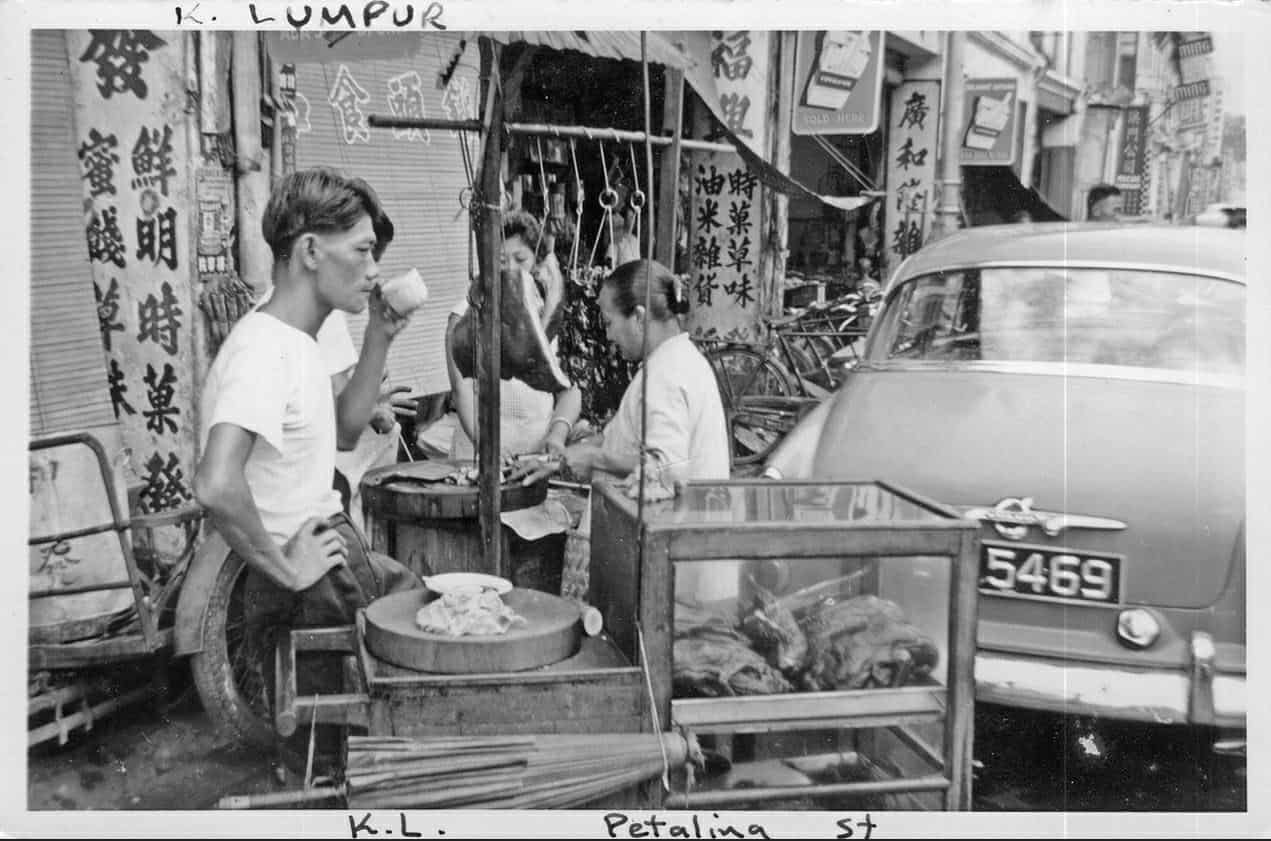 The Chinese communities in the area used to be ruled by Kapitans (captains) who were pivotal in developing the 'town' during its early stages. Its third but most famous Kapitan was Yap Ah Loy. Dubbed 'the Bruce Lee of his time', writer Lam Seng Fatt describes him in an Insider's Kuala Lumpur:
[He] was a domineering character. Any Kapitan Cina worth his salt had to be, given the wayward behaviour of the Gangs of Chinese immigrants who had journeyed to these parts to seek their fortune. Fisticuffs and fights with knives, swords, pipes and wooden poles were common and Yap Ah Loy was the greatest fighter of them all – the Bruce Lee of his time.
He certainly wasn't a man to mess with.
But Yap Ah Loy wasn't just a good at combat, he also helped ensure the survival of this burgeoning city.
After a civil war broke out in 1970 between two clan groups, many buildings were destroyed and mines were abandoned, causing them to flood out during KL's heavy rain.
The miners had nowhere to work and wanted to flee the city in search of alternatives. Kuala Lumpur nearly had most of its inhabitants vanish.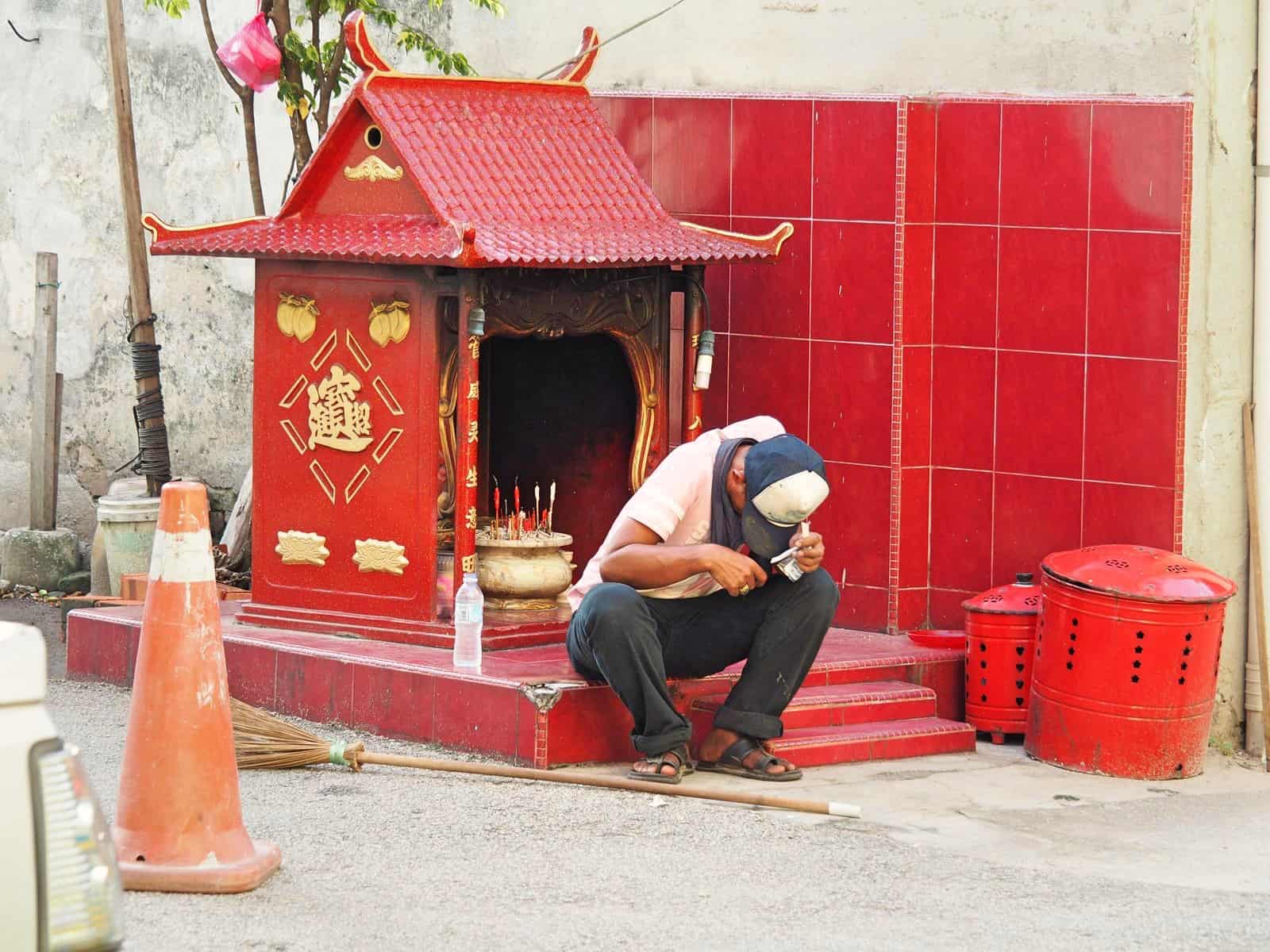 Although instead of giving up on KL, Yap Ah Loy convinced the miners to stay. He encouraged them to focus on agriculture and set up a tapioca mill on Petaling Street.
The road was then dubbed 'Tapioca Factory Road', or Shu Chong Kai in Cantonese, which is still what the Chinese locals call it today.
Would KL boast a population of over 7 million now if it wasn't there?
Nowadays, the street has been closed off to motor vehicles and given a slight facelift, with many long-standing businesses moving out when rents were hiked in the early 2000's.
Regardless, there have been many righteous success stories of Chinese business owners along Petaling Street, who have worked hard to change their fortunes, as well as some that haven't. Lam Seng Fatt mentions:
'Most of the Chinese traders in Petaling Street do not impress with their simple dressing and lack of ostentation, but they have Mercedez Benz cars parked in the back lanes, live in bungalows, watch satellite television and spend their holidays in Australia'.
Good on them. That's more than I own.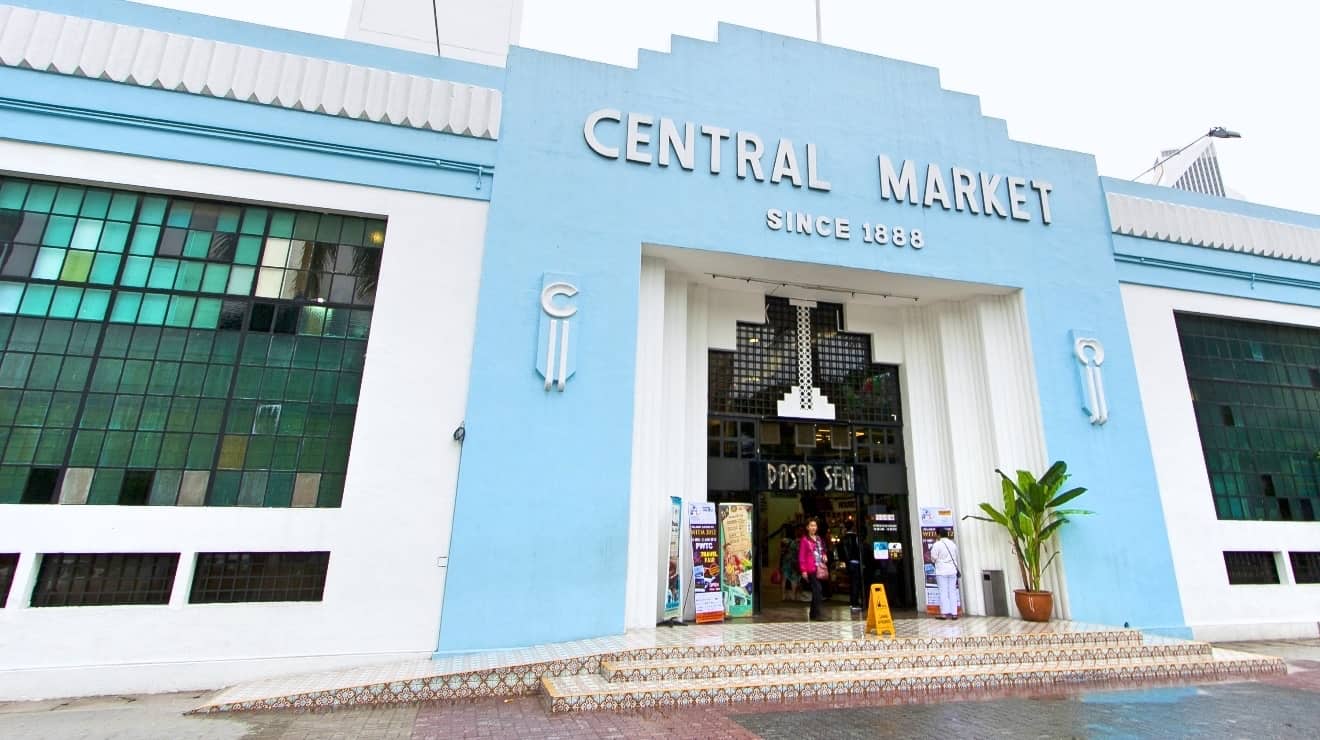 By the time I reached the old heart of Chinatown – Meadan Pasar or 'Market Square', I was beginning to feel moved by KL's old narratives. Nowadays there's no market to be found there, but it used to house one of Yap Ah Loy's greatest legacies- Central Market.
When you walk inside, it's brimming with Malaysian arts and handicrafts, with floods of eager tourists keen to get their hands on some of the better souvenirs in the area. Although its current condition and use is far from the old days.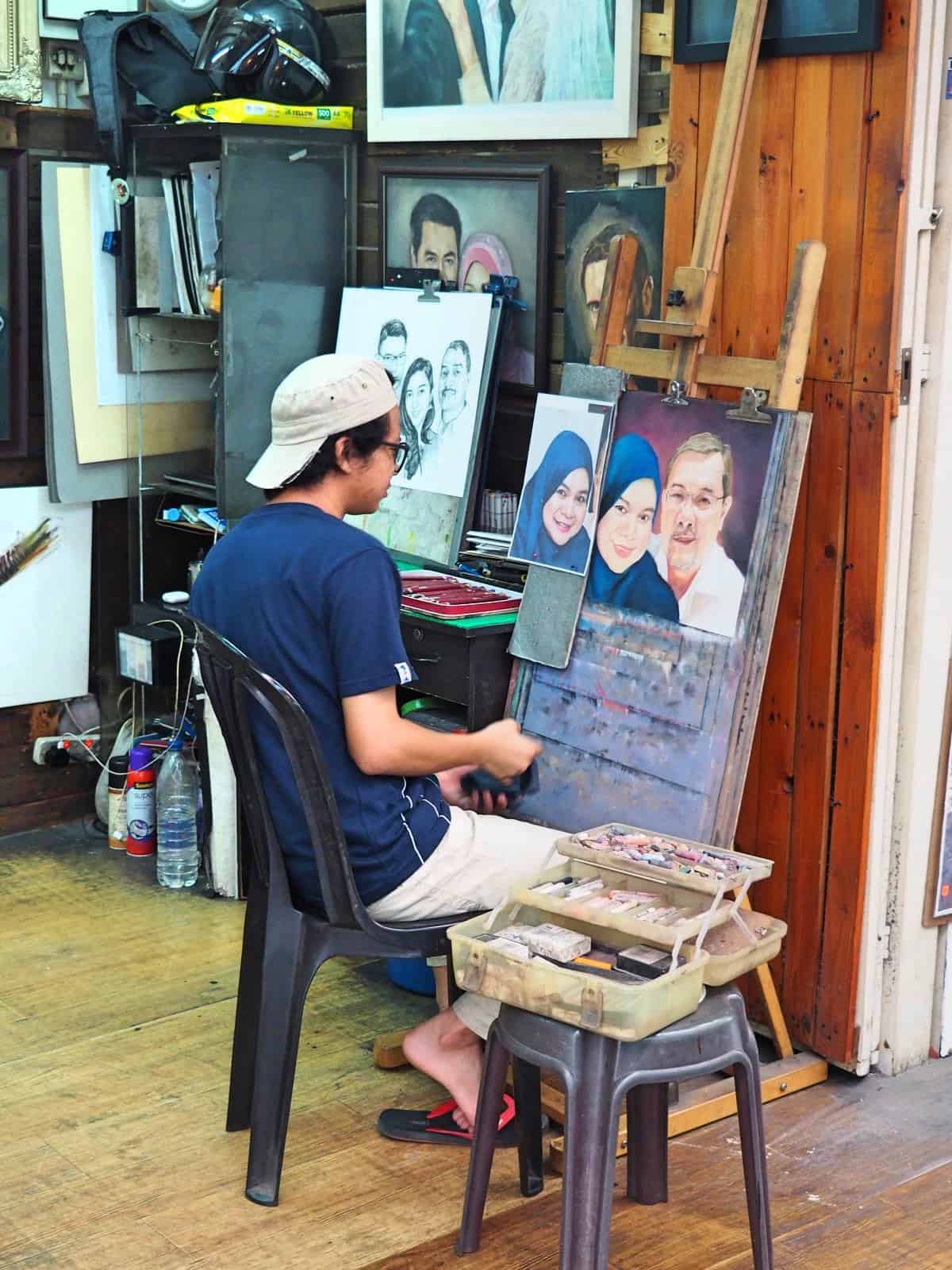 It always used to function as KL's primary wet market, feeding the city with a range of fresh fruit, vegetables, fish and meat – as well as its gambling addiction.
It was described in the late 19th century by a prominent British colonial administrator- Sir Frank Swettenham– as "a huge gambling booth…in which literally all day and all night long, gambling is pursued by a crowd of often excited Chinese and Malays", saying the "filth of the market is indescribable".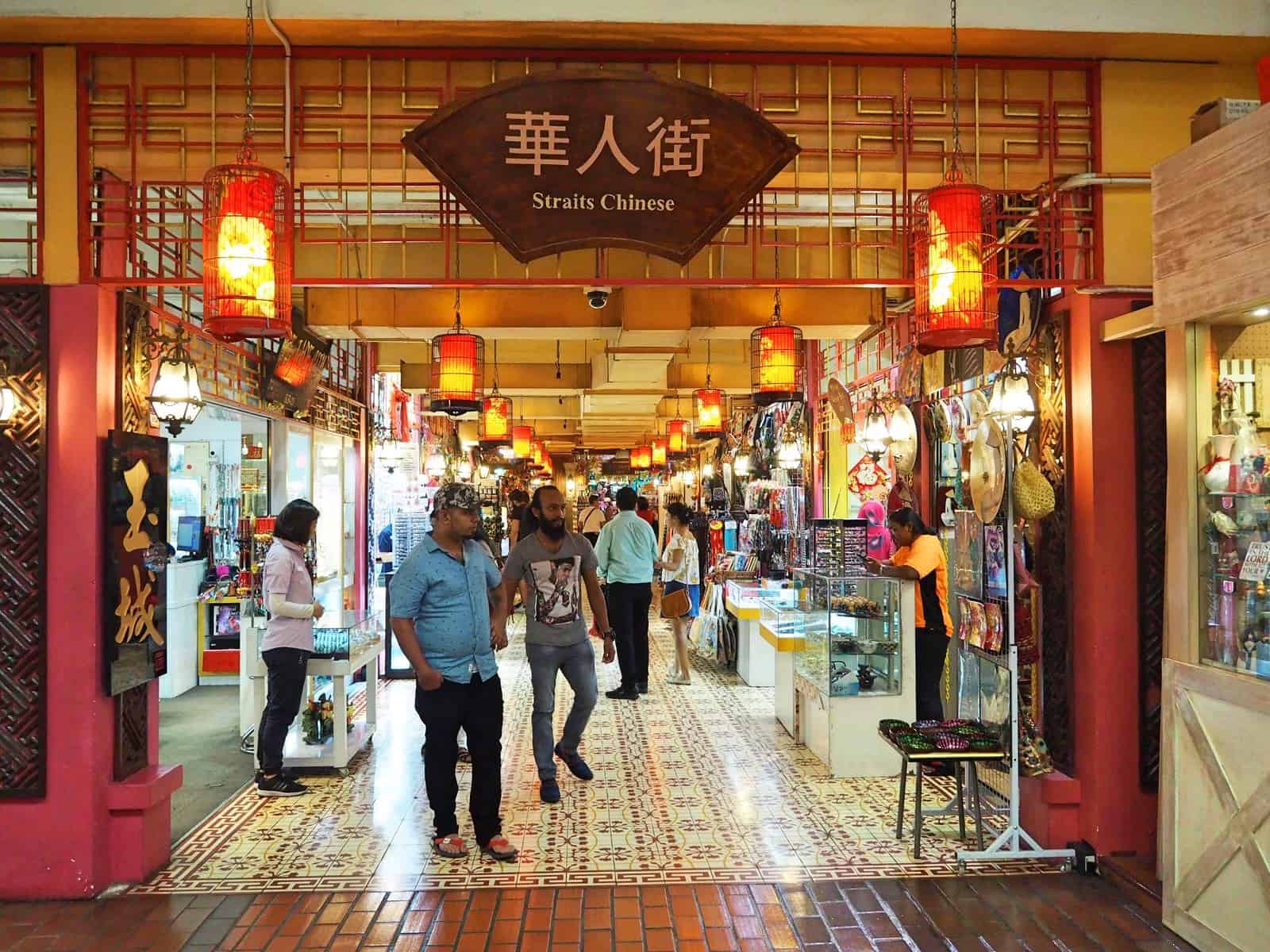 When Central Market burned down in Medan Pasar in 1881 (along with Yap Ah Loy's house and much of KL at the time) Ah Loy worked hard to rebuilt it nearby on land he leased from the authorities. At the time, it was a fundamental food source and he didn't want KL-ites to go hungry.
After his death in 1885, it was relocated again to its current site, which serves as its location to this day. I struggled to imagine it now as a dingy market selling food, or being packed with gambling tables. It's definitely come a long way.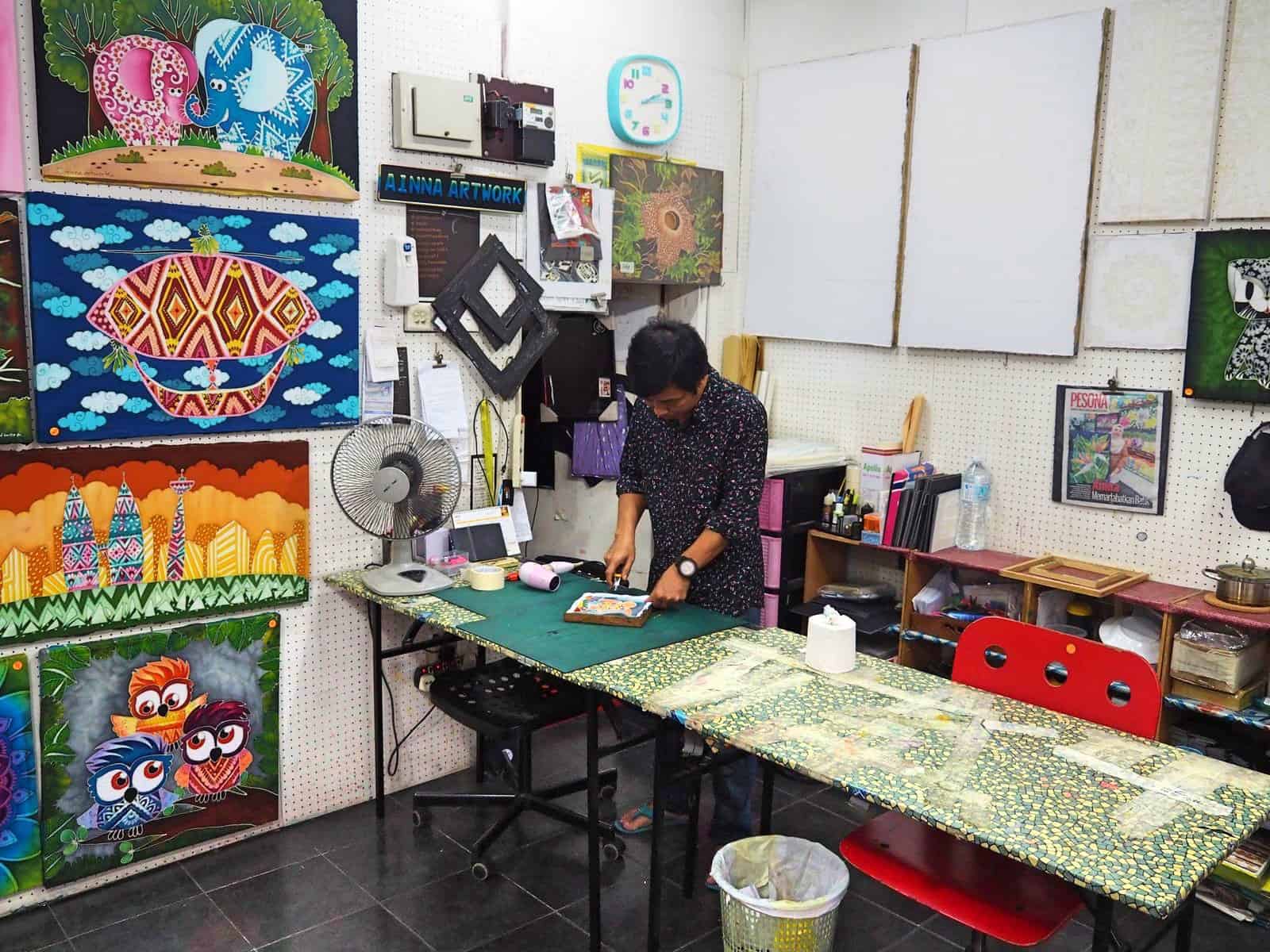 Wind forward another 40-years, and the market's humble wooden walls were knocked down and rebuilt into an art-deco fantasy.
When wet markets were set up in the city's suburbs during the 1980's, city council wanted to demolish Central Market and turn it into an office block. Thankfully it lived to tell the tale and was saved, refurbished and rebranded into a thriving heritage centre.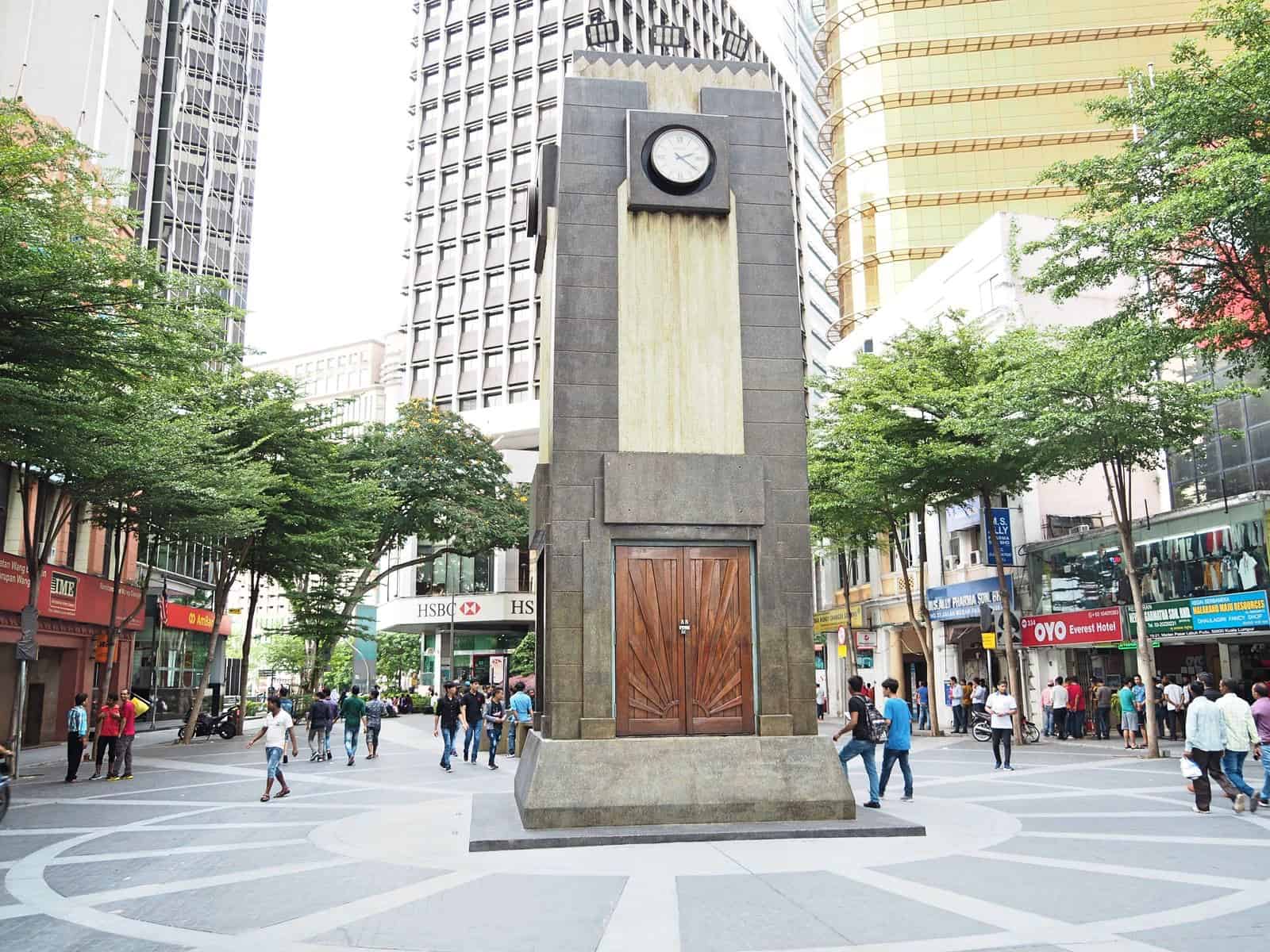 Once I reached Market Square, I had a chance to take a breath and tried to imagine this square 140 years ago, visualising the buzzing Central Market in its infancy.
It felt like the ghosts of KL's past were still present behind the walls of the shophouses that lined either side, in the heart of this city's first settlement. Except all I could see now was the art deco Clock Tower to commemorate the coronation of King George VI, and groups of Indian lads killing time.
Standing behind my left shoulder was the memory of Yap Ah Loy's house, which stood where the Pacific Express Hotel is now. It was strategically positioned to give him the best view of the happenings in the square. He'd probably be looking at me now if he was still around.
Opposite, Kafe Old Market Square is likely to be the original site of the gambling den he set up. Along with brothels, it was created as a 'lifestyle' centre to keep the hard-working miners entertained, allowing them to work hard and play hard. They'd arrive nearby along the Klang and would bet their miserable earnings hoping to make a fortune.
Now, it's a popular kopitiam, that even gets the likes of Boris Johnson stopping by for a visit.
But it has to be said in respect for Yap Loy's hard work, that as well as engineering the city's vices and owning 225 prostitutes, he also set up public services such as [primitive] hospitals, prisons and the police. Even Sir Frank Swettenham complimented his strengths, saying:
"His perseverance alone, I believe, has kept the Chinese in the country…his energy and enterprise are extraordinary".
His dogged determination to develop Kuala Lumpur is why, many regard Yap Ah Loy as the founder of KL.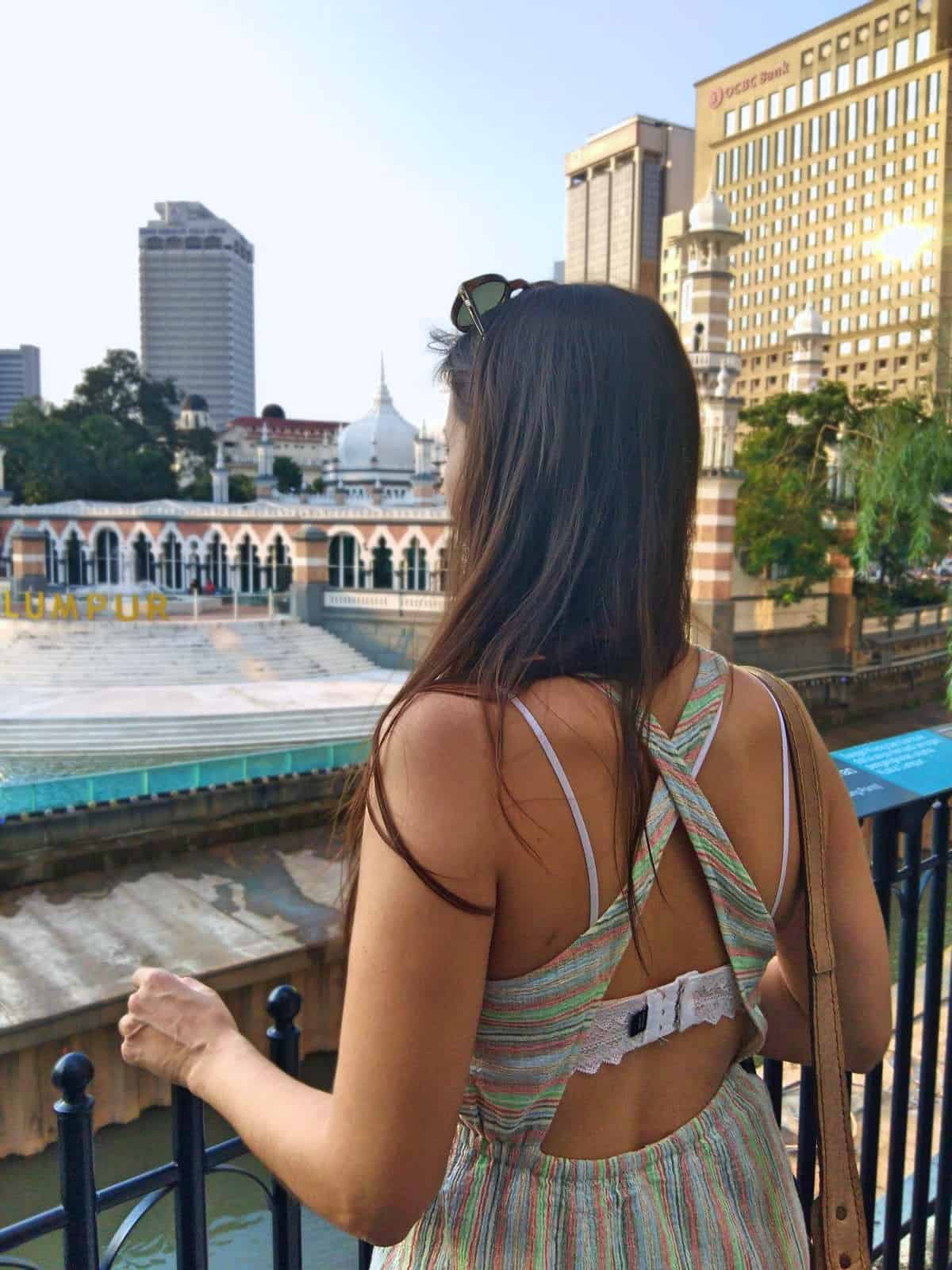 At my final stop, I was admiring KL's conception along the Gombak and Klang river. It cradles the stunning Masjid Jamek mosque, whose beauty still manages to outshine the huge skyscrapers erected behind it. Before it became a place of worship, this triangular site was first used as a Malay cemetery.
I tried to imagine the group of 87 Chinese tin miners that arrived upriver in small boats in 1857. They stopped at the confluence (where the two rivers meet) because the water was too shallow to continue, alighting [on the right] at the Klang.
In their boats were necessities like weapons for protection, including gunpowder, knives and spears, as well as tools and sustenance, like sacks of rice, jars of coconut oil, spirits, tobacco and chests of opium – which no longer surprised me. Sadly, only 18 survived after contracting malaria.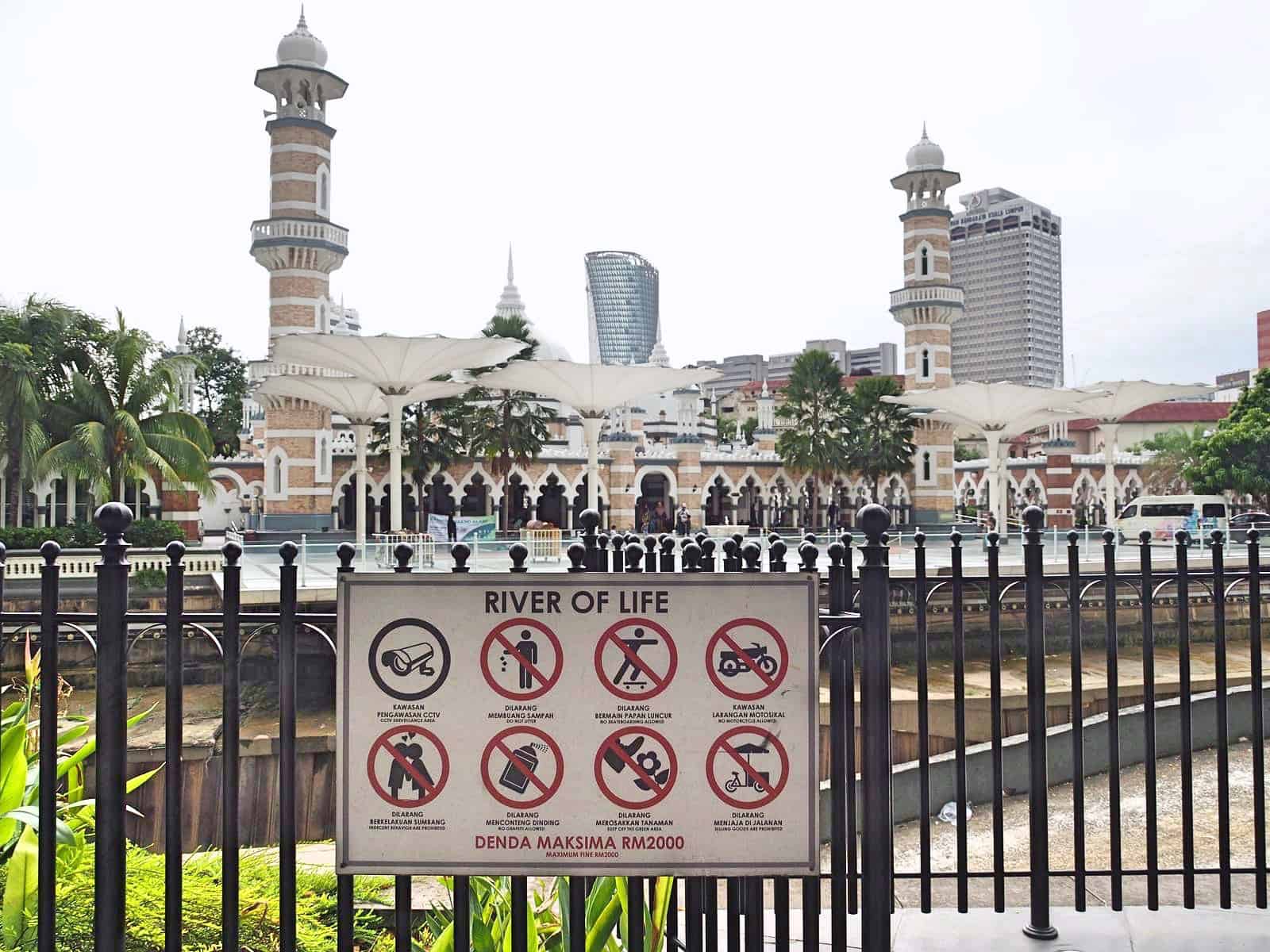 These Chinese miners were commissioned here by Raja Abdullah, who was the first Malay tin-mining pioneer. Along with Yap Ah Loy, people also regard him as the founding father of Kuala Lumpur- but whether KL's conceiver was a Malay or Chinaman still remains a touchy subject.
Back then, this location must of been a muddy place, as Kuala Lumpur's exact translation is 'muddle confluence'. Now along the riverbank, the site has recently been transformed into a pleasant estuary walkway through 'The River of Life' project. An interesting name considering the water's grim appearance and a couple of dead fish I saw floating downstream.
If only Yap Ah Loy and Raja Abdullah could fast forward in time. From what was nothing but a muddy river lined with tin, jungle and potential, has- 162 years later- grown into one of Southeast Asia's most modern cities.
I wondered if they would have been impressed with it. What do you think?
Surely they couldn't even fathom the expansive evolution of what stands today.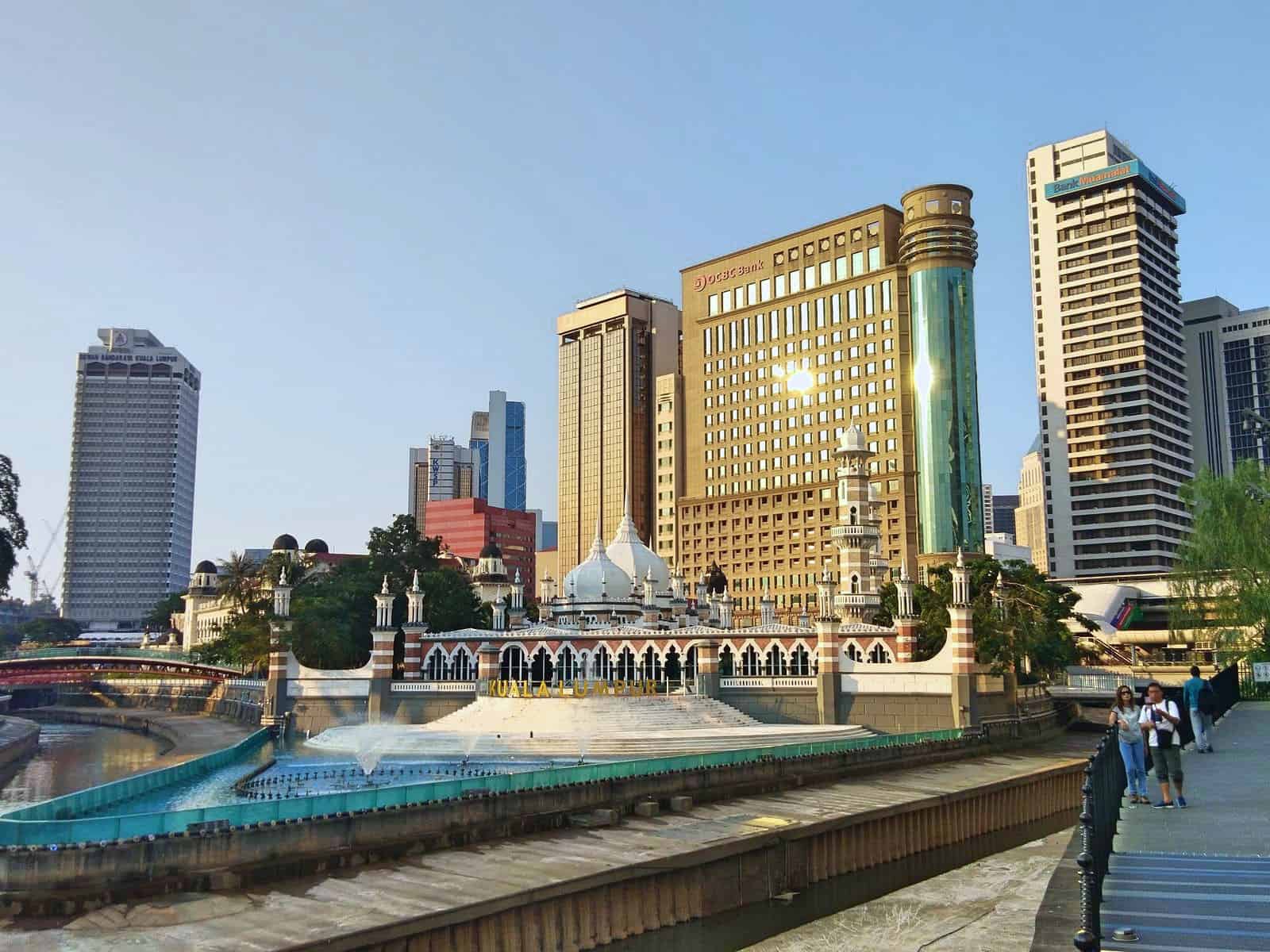 * * *
Standing beside the Klang River in the 32 degree heat, I began to see KL with new eyes.
I realised my relationship with the city was missing one key element. To really understand and appreciate the here and now, I had to Tardis back in time.
Can we truly admire Giza without knowing about the Egyptians, or marvel at Machu Picchu without learning about the Incas?
How much do you know about where you live? 
I was happy to have walked through Chinatown today, admiring its present as well as its past. Appreciating its humble beginnings, lewd secrets and success stories. And respecting my KL home in all its glory, not for what it's not or could be. But simply for what it is.
* * *
Visiting KL soon and want to explore more? Check out my self-guided tour through Chinatown and the Colonial District for more juice.
Or if you're after other ideas on things to get up to in the city, here are some activities that I like to do which I think you'll enjoy.