As a Port Douglas local, I'm regularly staying over in Cairns for the weekend so I'm bringing you a list of my favourite accommodation picks.
Cairns has a pretty generous selection of stays to suit all budgets and you get a lot more bang for your buck here compared to southern cities. There's quiet a few Queenslander-style hotels which are good for those on a budget, as well as fancier 5* pads like the Sheraton, Pullman or Crystalbrook's recent trio of sustainable-lux hotels. Pretty much all come with a pool as a standard.
Post Rona, there's been a few more deals on so you may want to check each hotel's website directly before booking. Otherwise I usually go via Booking.com to make the most of their Genius discounts, and some of their rates also lower if you book via your phone.
Okay, let's get cracking with finding you a place to stay in Cairns!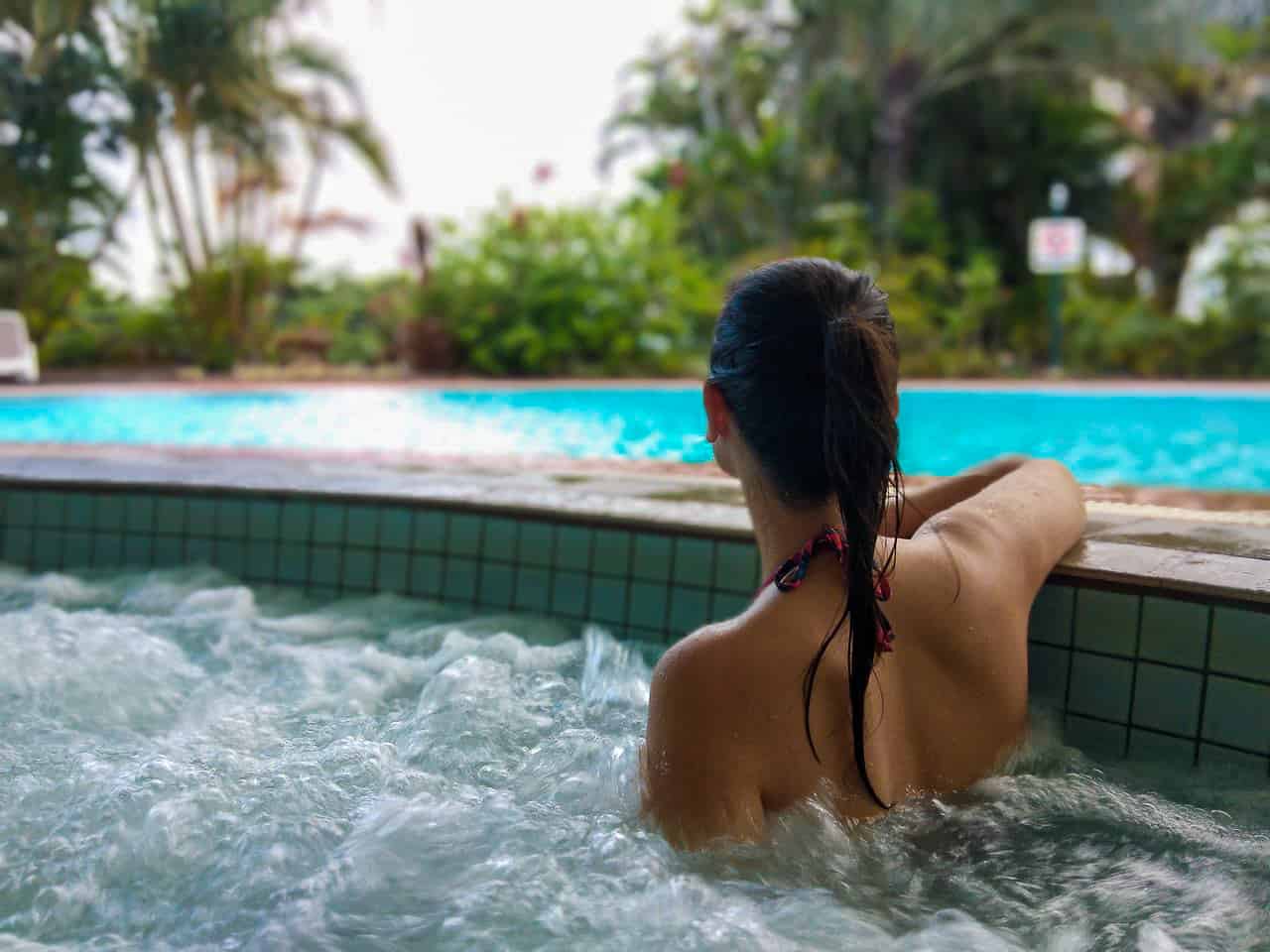 ---
Cairns Accommodation
---
Where To Stay in Cairns?
Cairns is only a medium-sized city so even if your accommodation is in the outskirts, it won't take long to get downtown. However I enjoy staying closer to the centre so I can easily leave the hotel and walk everywhere without worrying about taxis. But Uber works well here if you're further out.
Anywhere along the esplanade will keep you in the action or around the Marina. Perhaps avoid staying on the busy main road that leads in to the city (Sheridan Street) unless the hotel has good double glazing.
I haven't included accommodation in the Northern Beaches like Palm Cove in this post but you can find most on Booking.com. This post is for central Cairns only.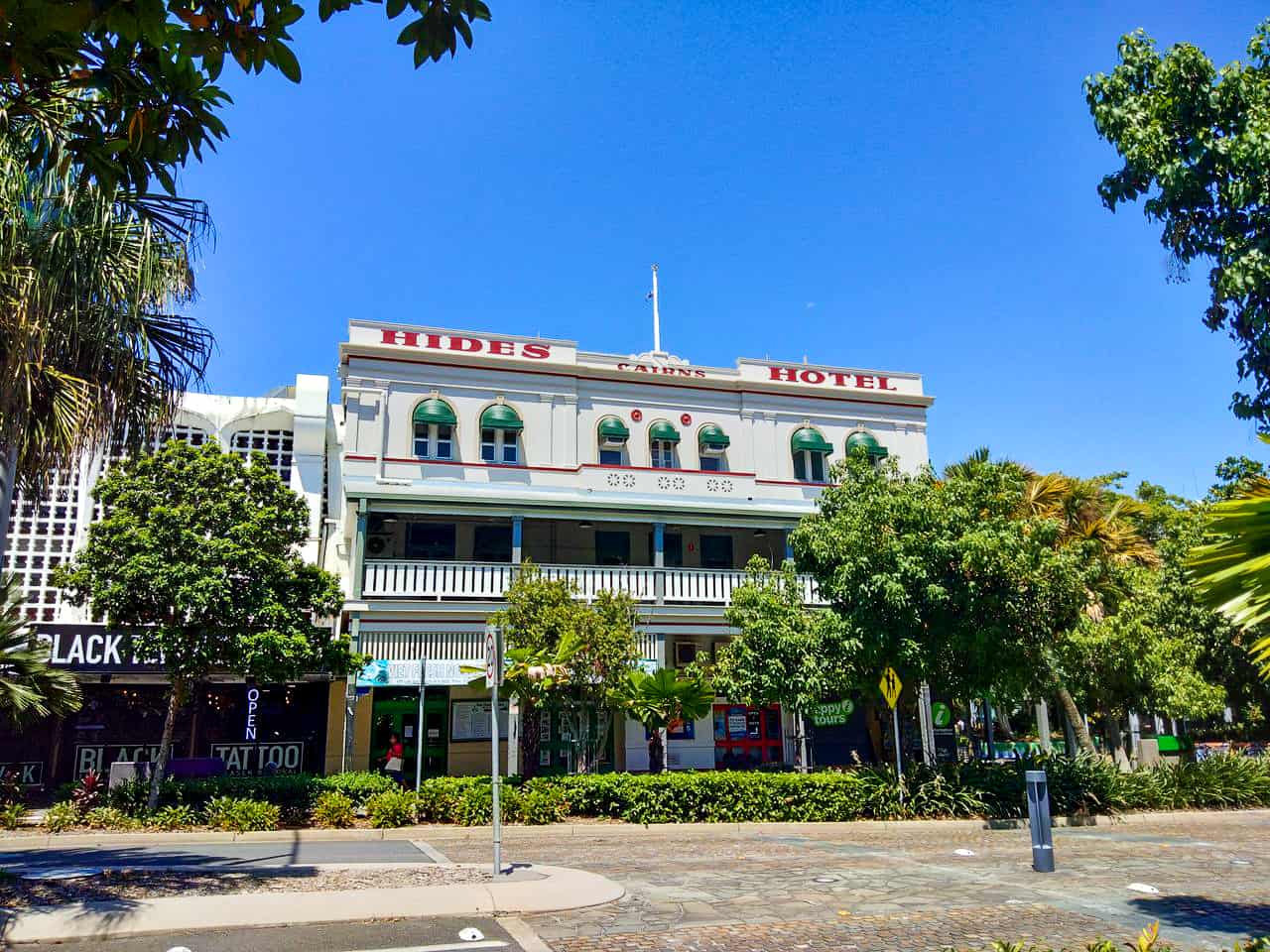 ---
Cairns Accommodation – Best Low to Mid-Range Places To Stay
---
Prices were kept pretty low during 2020 but bear in mind they may fluctuate slightly during busier periods of 2021 like Christmas, Easter and the dry season (May to August-ish). Here are my top picks that start from $100 – $180 per night.
---
1. Bay Village Tropical Retreat
Rooms at Bay Village are basic but the location is good, and they've got an awesome Balinese restaurant downstairs which keeps me coming back. It's positioned at the quieter end of the esplanade so it only takes about 10 minutes to walk into town, and they have free on-site parking which is handy.
I like the character of these Queenslander-style hotels but often I find the walls are paper thin and rooms are small. From experience I've found those on the ground floor to be noisier than the 1st floor. This place is okay if you're staying a night or two but I wouldn't book a whole holiday here unless you're not fussy.
Rooms start at around $109 AUD per night via Booking.com.
---
2. Park Regis City Quays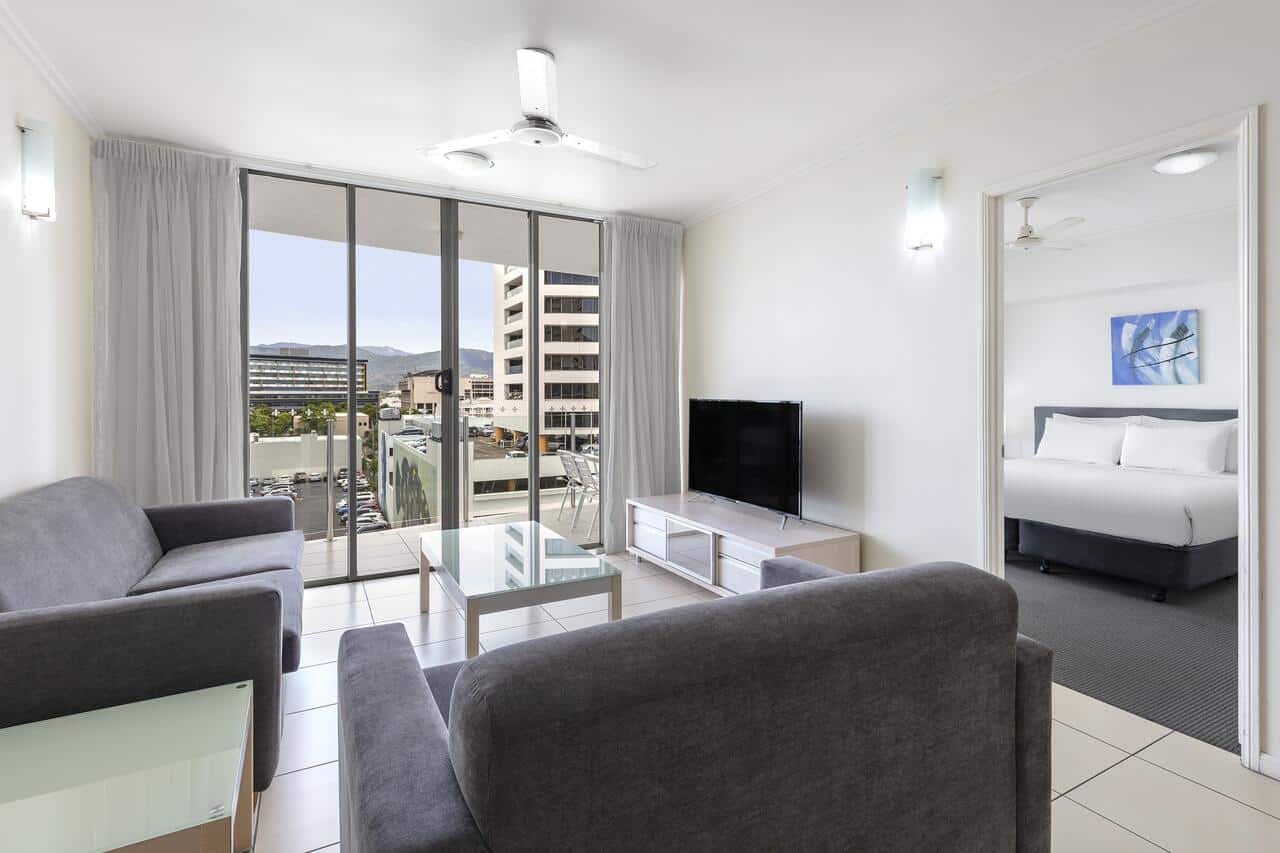 I often book accommodation here when we visit Cairns. It's a pretty basic set-up but the hotel has everything you need, the rooms are really well priced and I love the location.
Park Regis is at the quieter end of the marina which is a great area to walk around or go for a morning run. You can grab a coffee or brunch at Wharf One Cafe, or a beer at Hemingway's Brewery (or nightcap at the Conservatory Bar downstairs 😉). They have paid parking but we normally go across the road for a very reasonable $5 per day.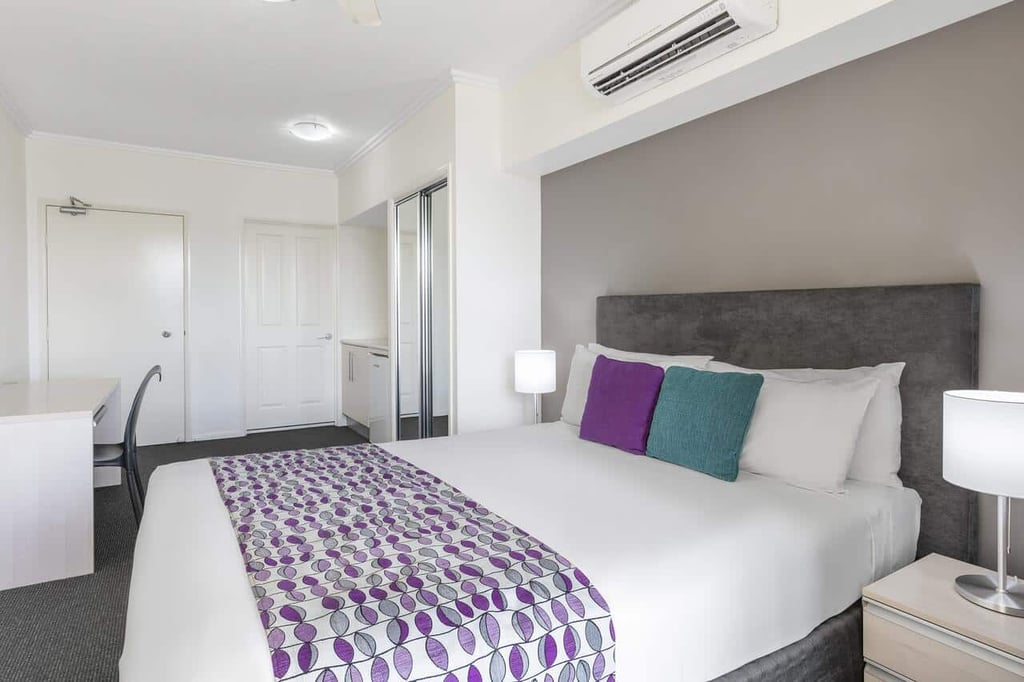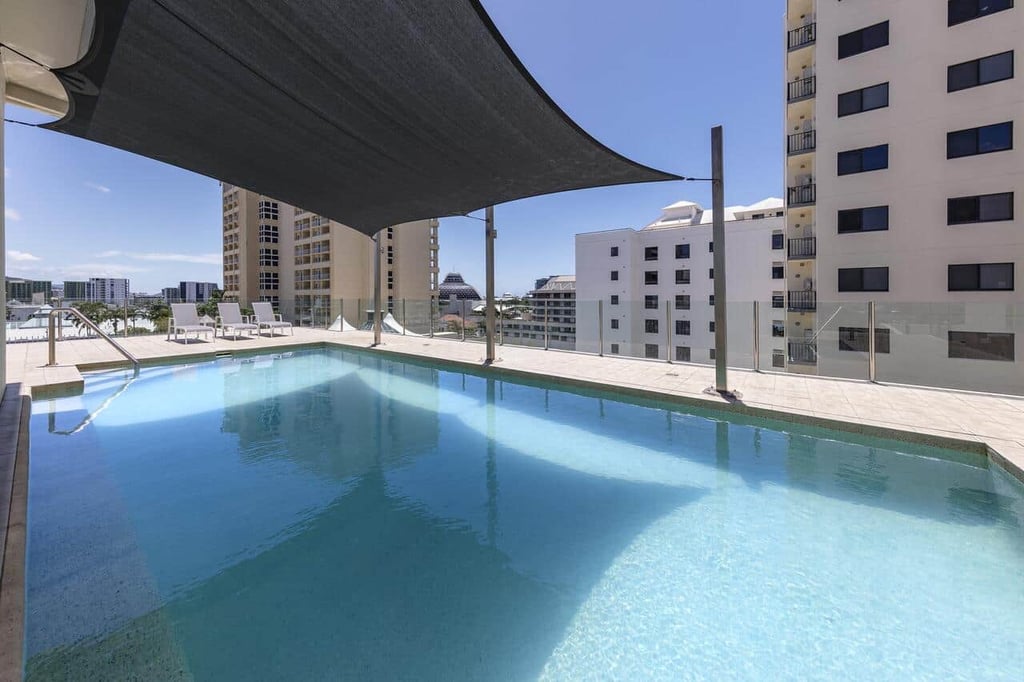 This hotel is a good pick if you're here for a shorter stay and want comfort and convenience for a great price. Rooms usually start at $109 AUD per night for 2 people. If you want more space then the 1-bed apartment are just a fraction more but offer a generous 55m². Check it out on Booking.com.
---
3. Cairns Plaza Hotel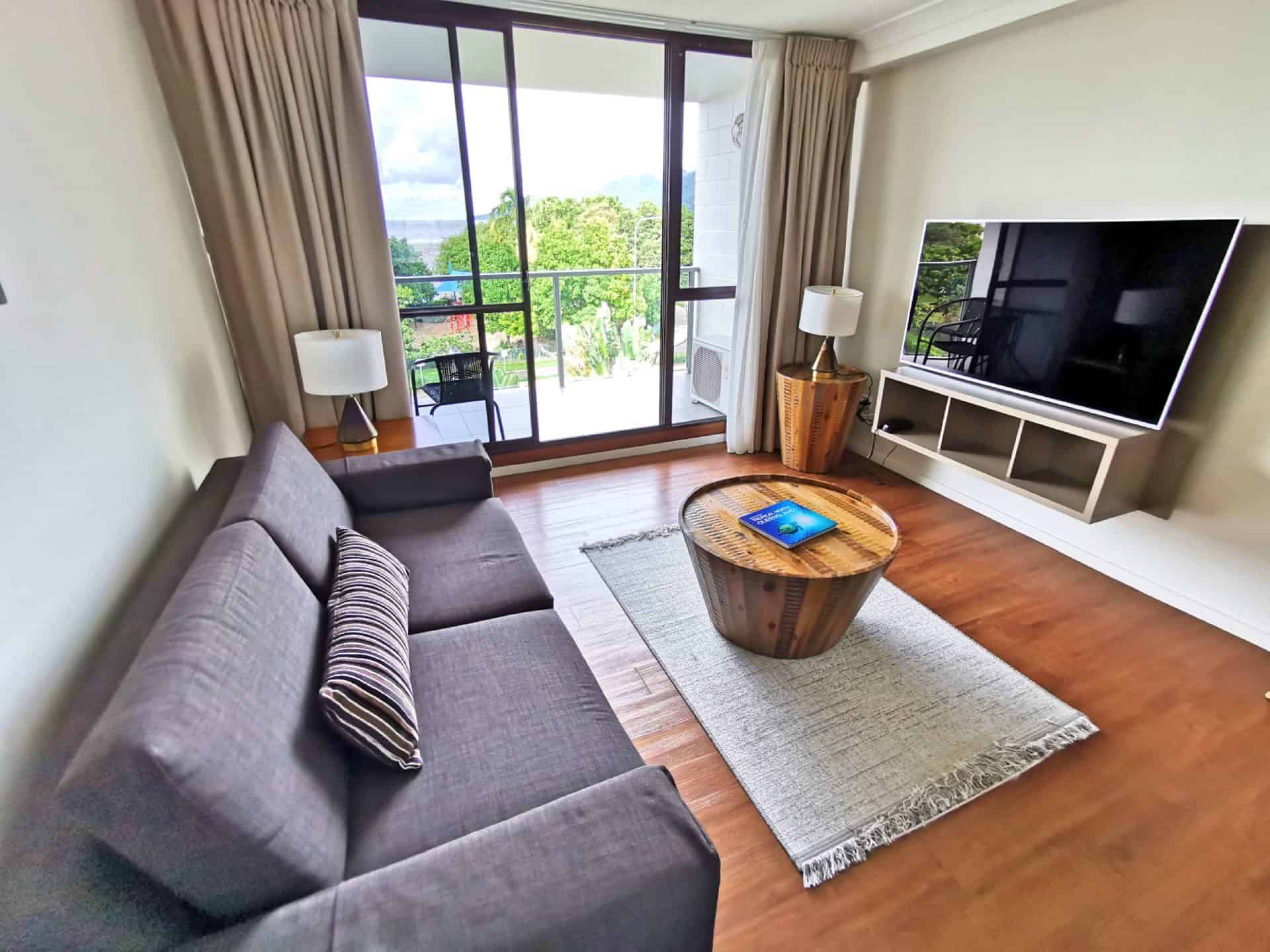 I've only just started staying here and I think it's good value for what you get. It's quite similar in offerings to Park Regis but the rooms look recently restyled and it feels a bit more modern. Cairns Plaza Hotel is the quieter end of the esplanade near Muddy's Cafe and some rooms offer great views of the Esplanade. They've also got free parking on site.
I've stayed in their suite for $120 a night, and their Standard Double for $110. I'm not sure if prices were lowered initially after renovations or if they'll remain so. Check them out here.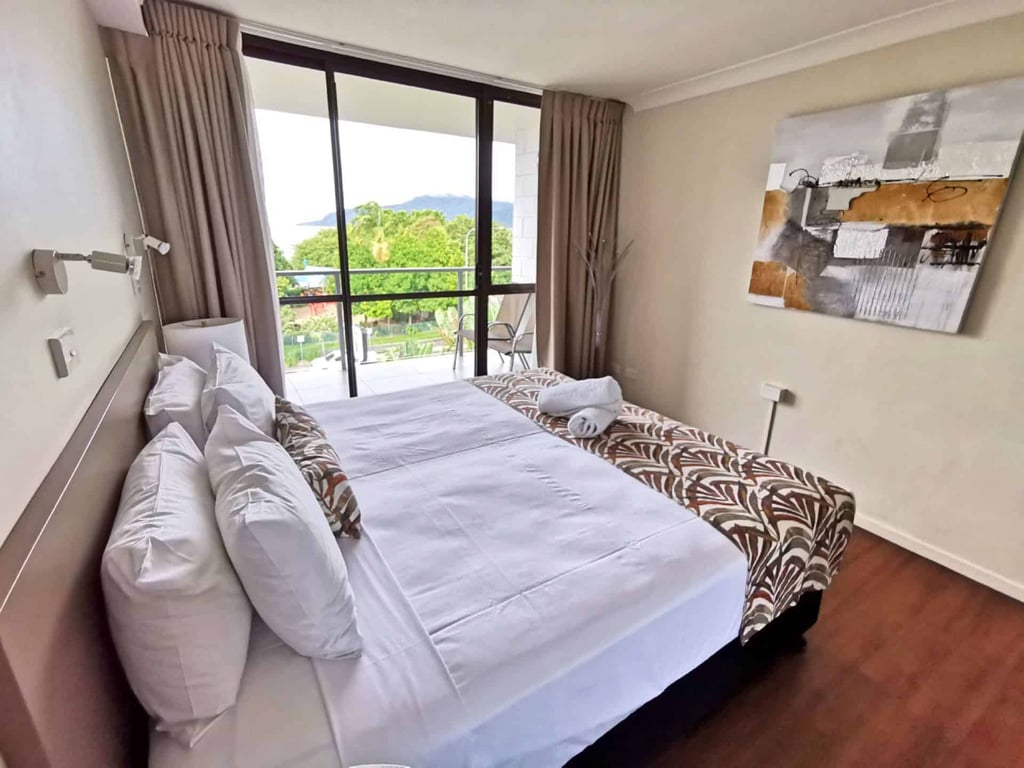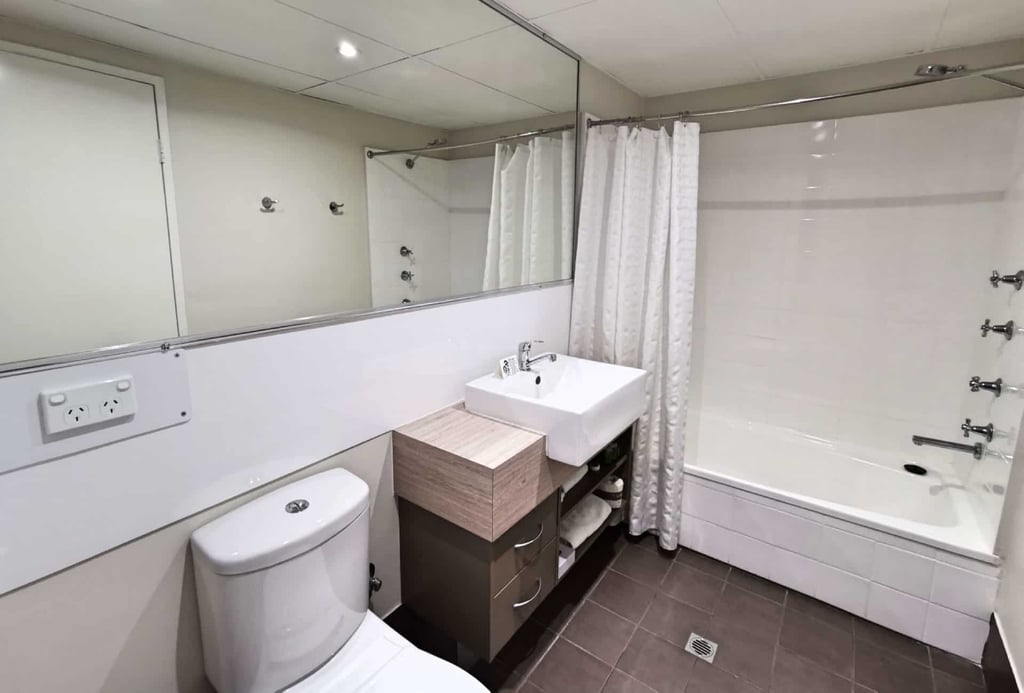 ---
4. Pacific Hotel Cairns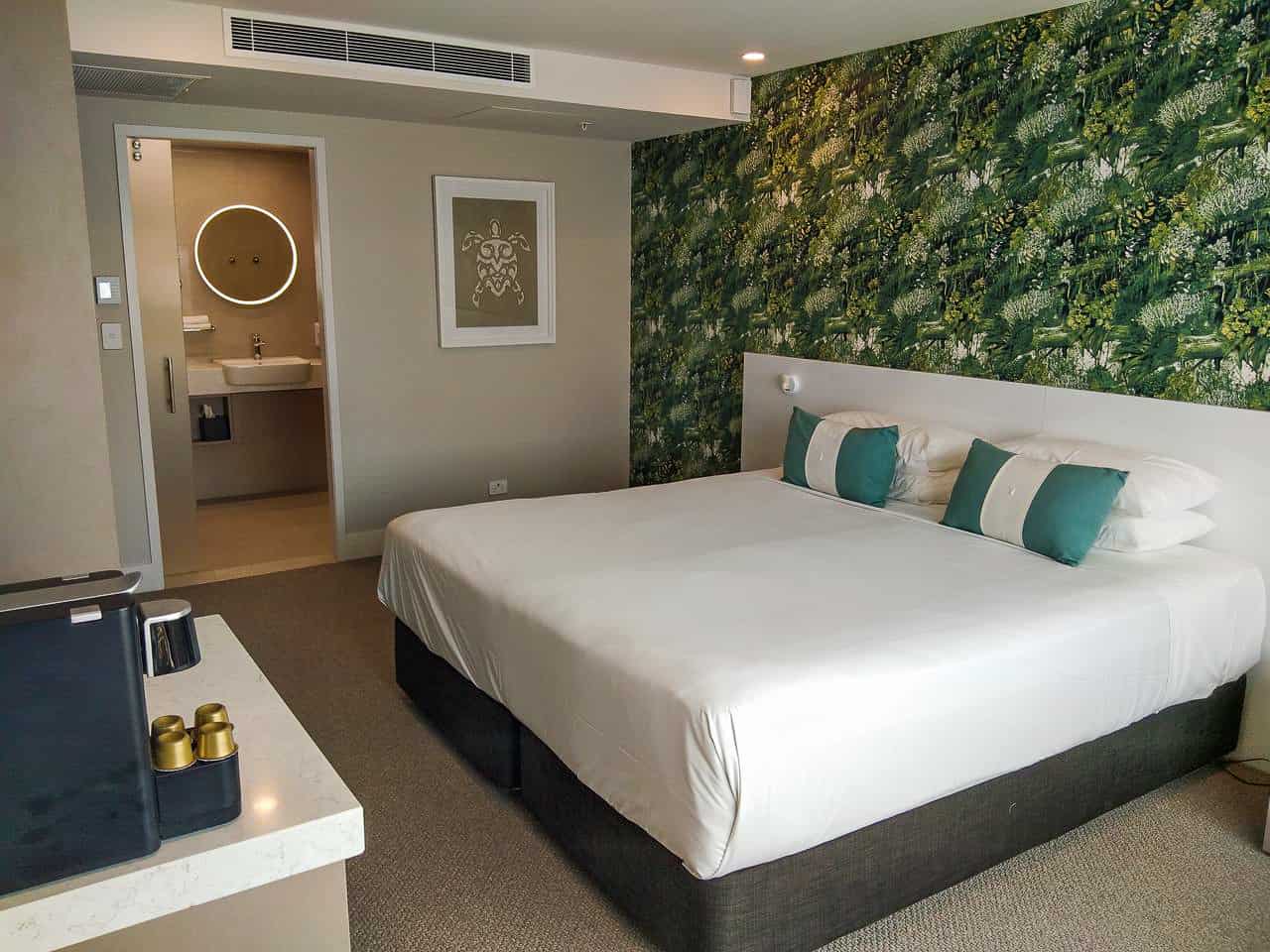 We've booked here a couple of times and really enjoyed our stay. It's right in town so the location is perfect and their modernised rooms are really well styled with a tropical theme.
I loved staying in the room opposite the pool for easy access, and it's a great area to sit and sip your morning cuppa. The pool area also gets sun throughout the day. 🙌🏼
If you stay, make sure you book a newly renovated room (which has double glazing) as standard rooms get pretty noisy if it faces the main road- we stayed in once and had to move room after the first night.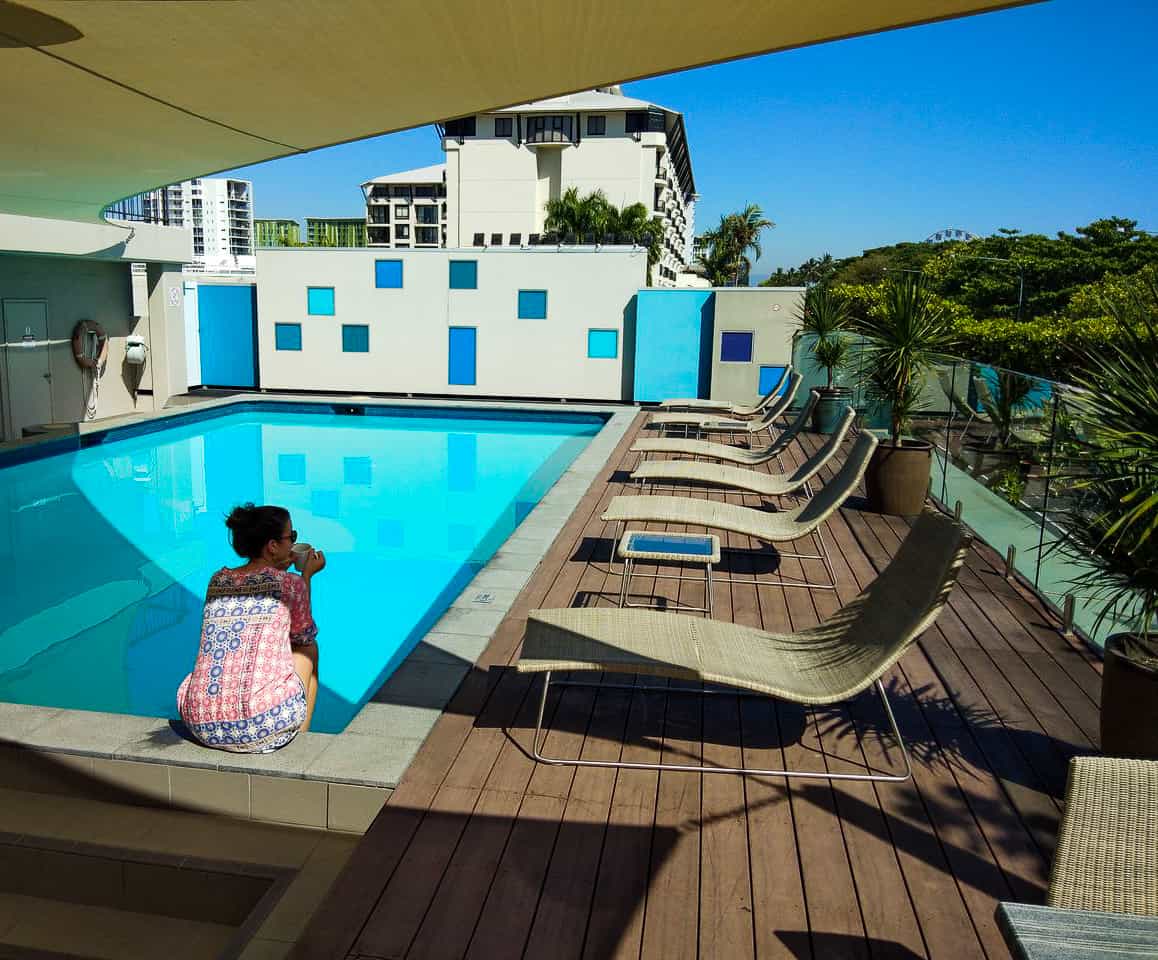 Update: We stayed here recently to find army police in the foyer, then we realised that this hotel is being used as a quarantine stay for returning Aussies. Do not stay here currently to minimise risk.
Room price: From $120 AUD per night for 2 people with Booking.com's Genius discount.
---
5. Rydges Esplanade Resort Cairns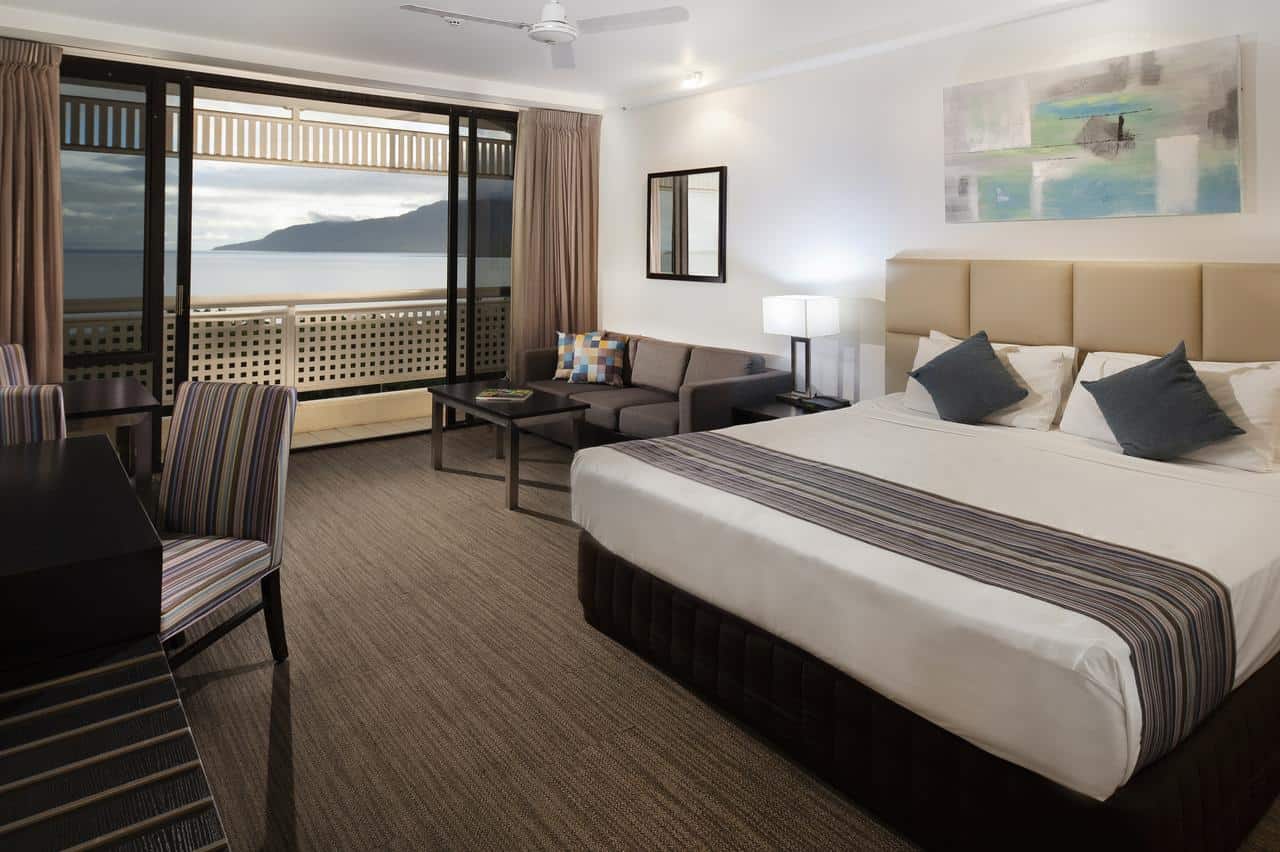 If you're counting the pennies then Rydges is another good choice. It's a bigger hotel than the others I've suggested so far and rooms here are a little tired, but they're also nice and spacey (starting at 32 m²) and it's at the quieter end of the esplanade.
Because they haven't been busy recently, they kindly upgraded us to a Sea View room for free when we stayed and the views were awesome.
Prices here start at around $135 per night. See more on Booking.com.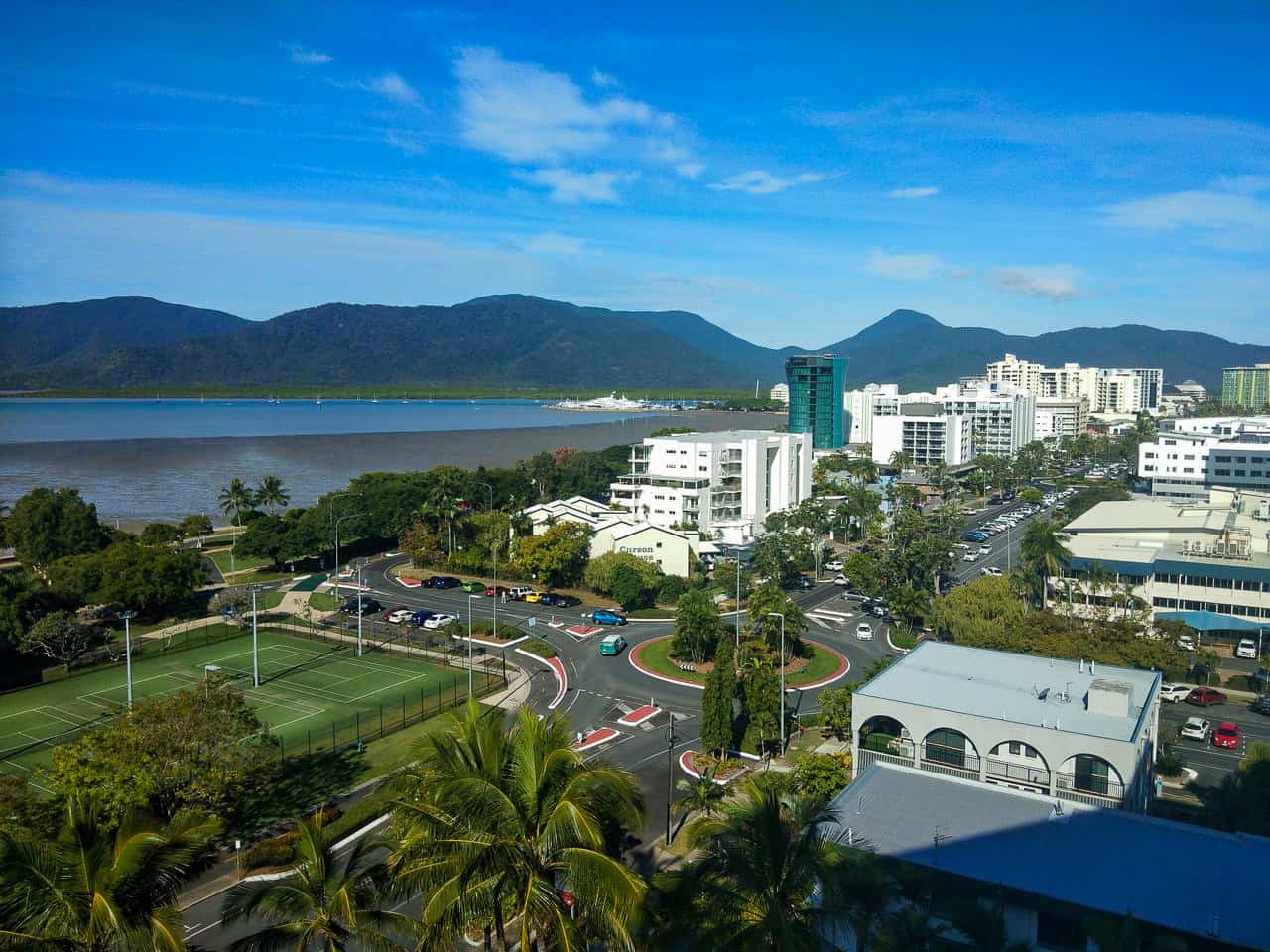 ---
Cairns Accommodation – Best 5-Star & Luxury Places To Stay
---
6. Pullman Cairns International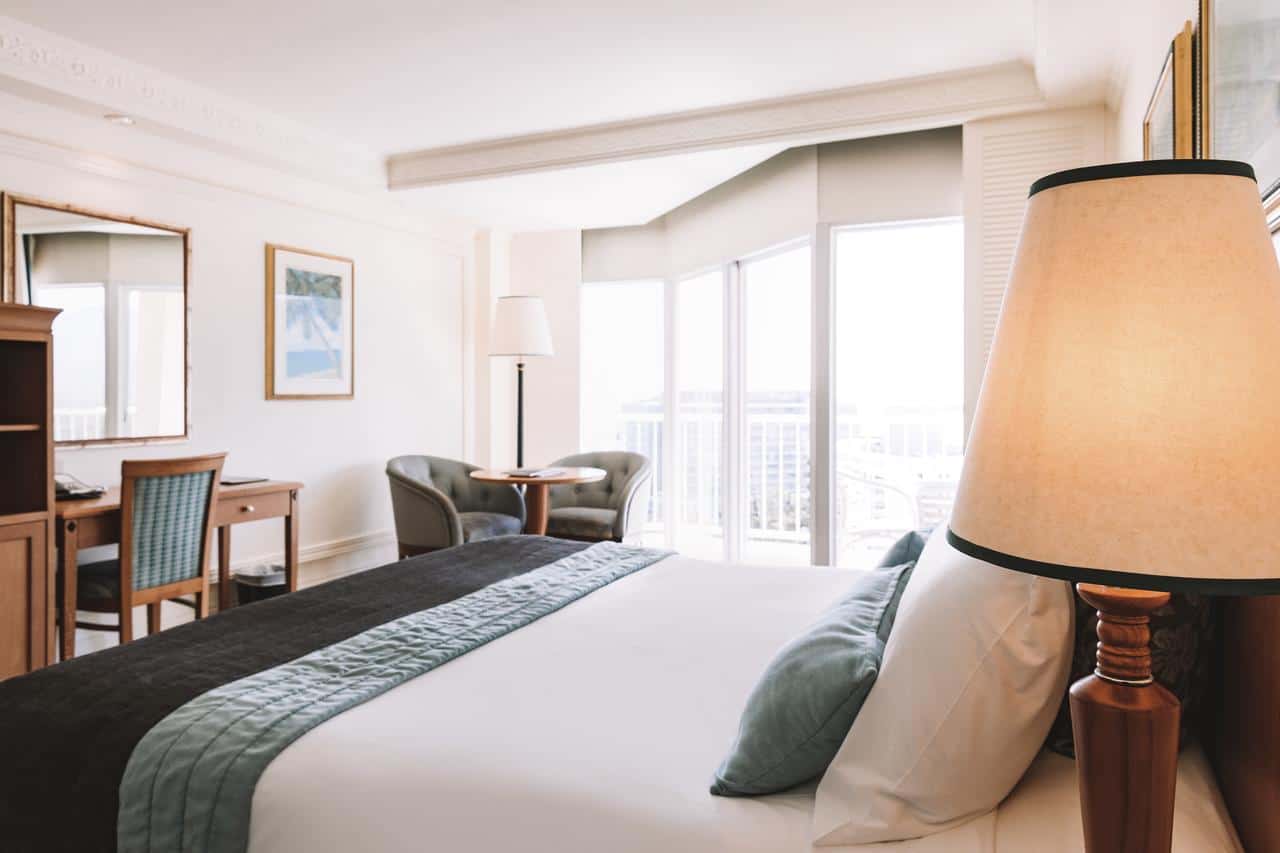 We had a great stay at Pullman when we moved back to the region in 2019, as you'd expect from this chain. It's positioned near the marina and all its perks but at the quieter end.
Rooms are a generous 40 m² and their building is really stunning. The staff were also very friendly and we enjoyed grabbing a night cap at their ground floor bar. We didn't get to use their facilities but they have an outdoor pool and hot tub.
Rooms have been recently lowered and start from around $170 AUD per night for 2 people which is great for a 5* hotel. Check out more via Booking.com.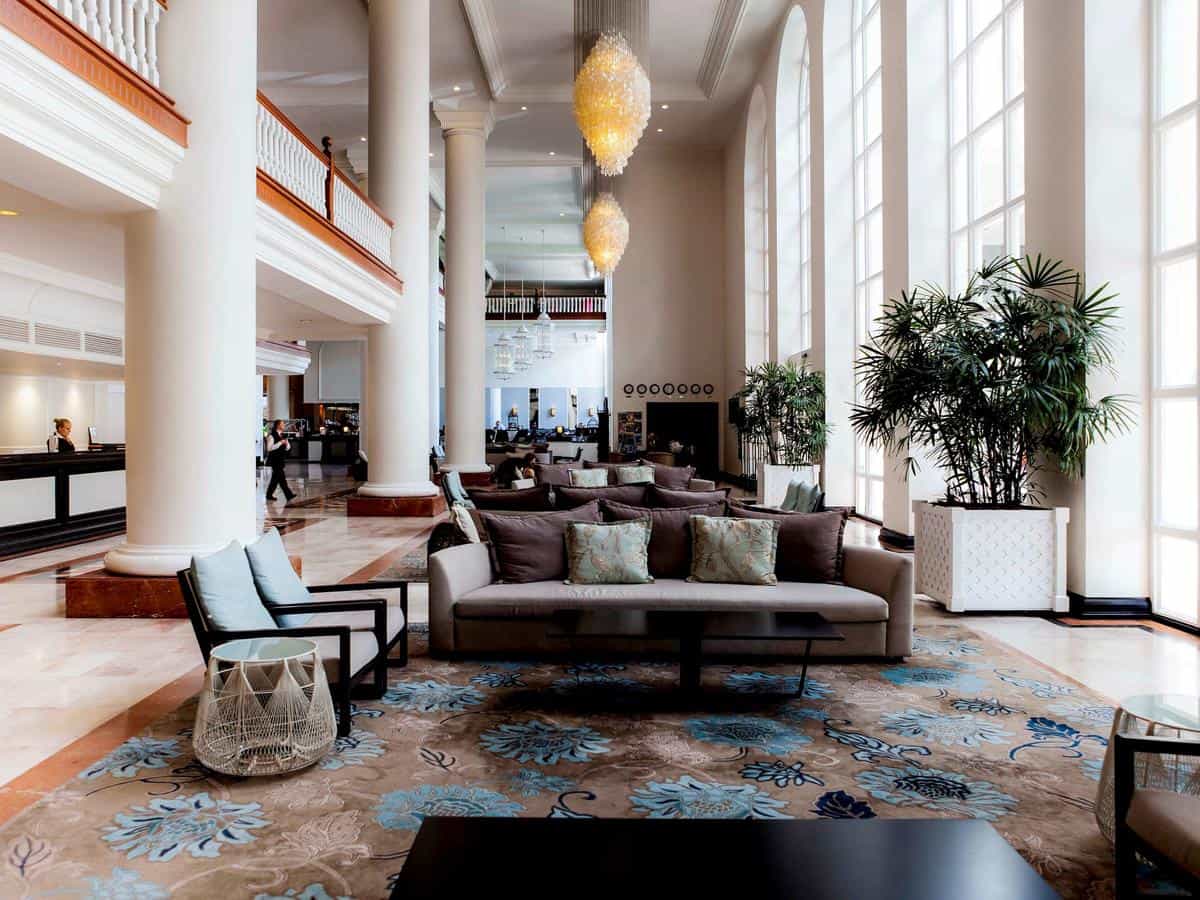 ---
7. Hilton Cairns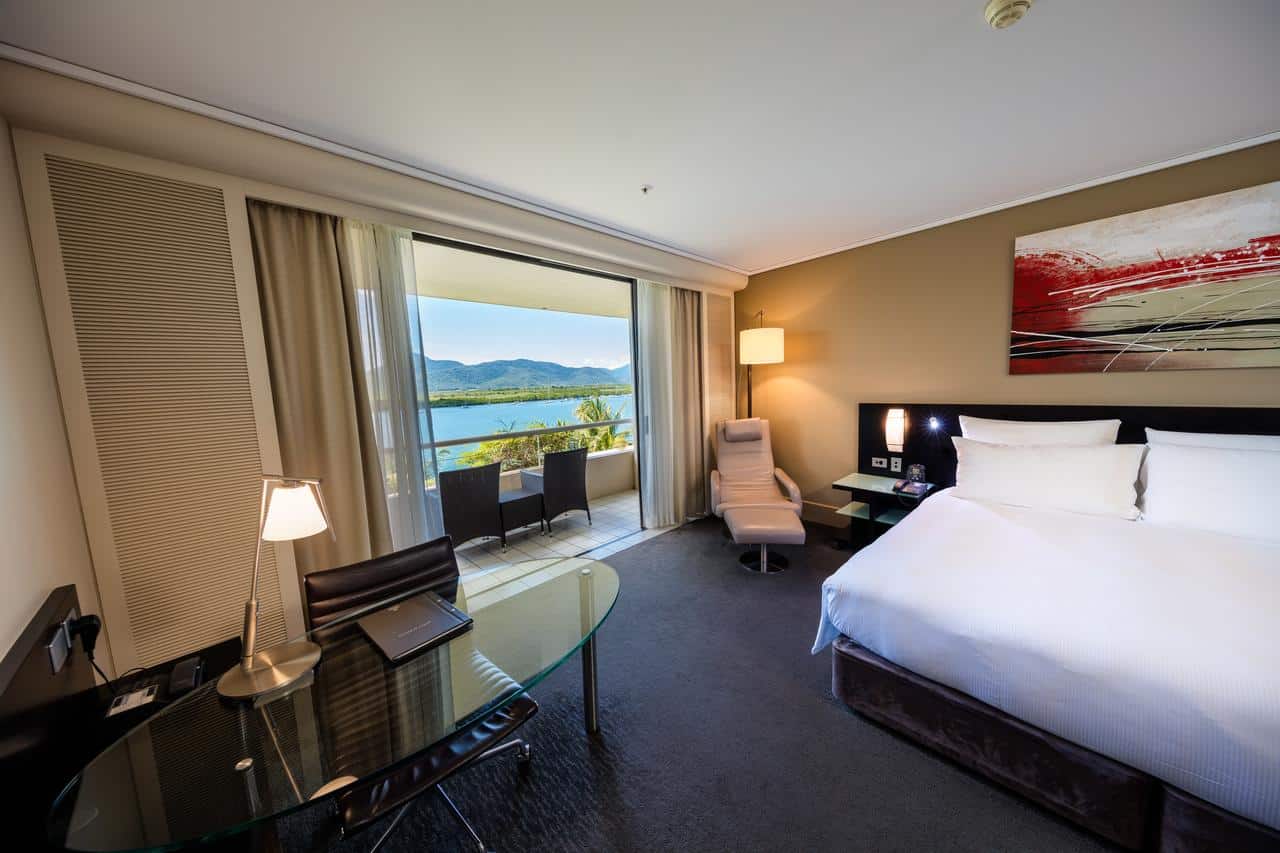 We stayed at Hilton Cairns last year on a pretty sweet local's package. In addition to a discounted rate of $150 per night, we also got $50 free dining credit per day and they upgraded us to their Deluxe King Waterview Room (not quite sure how we deserved it!) which really made the trip.
It overlooked the marina, creek and ranges, which is by far the best view I've had in Cairns yet. It was also a peaceful spot to watch the lorikeets come to roost at dusk.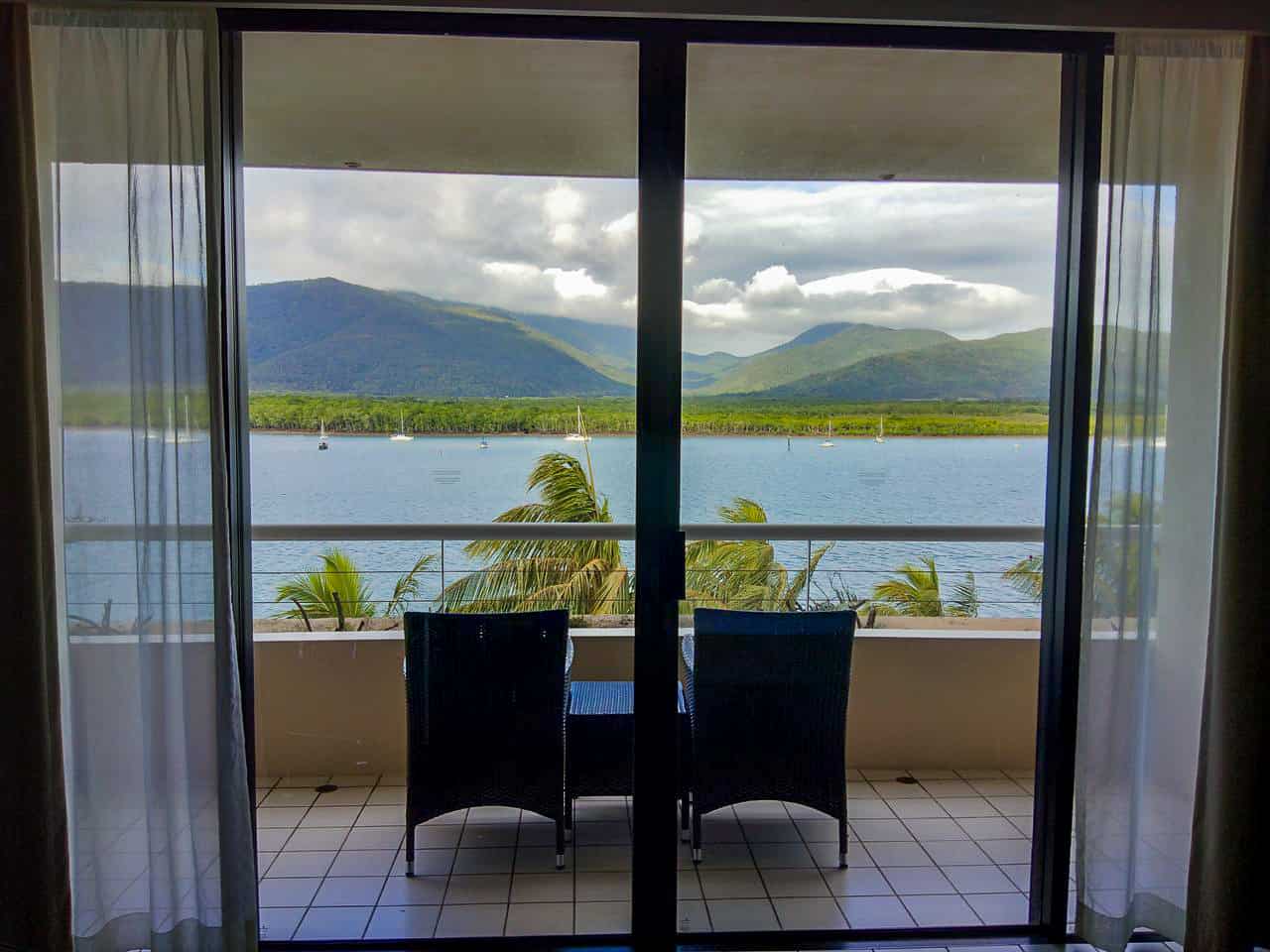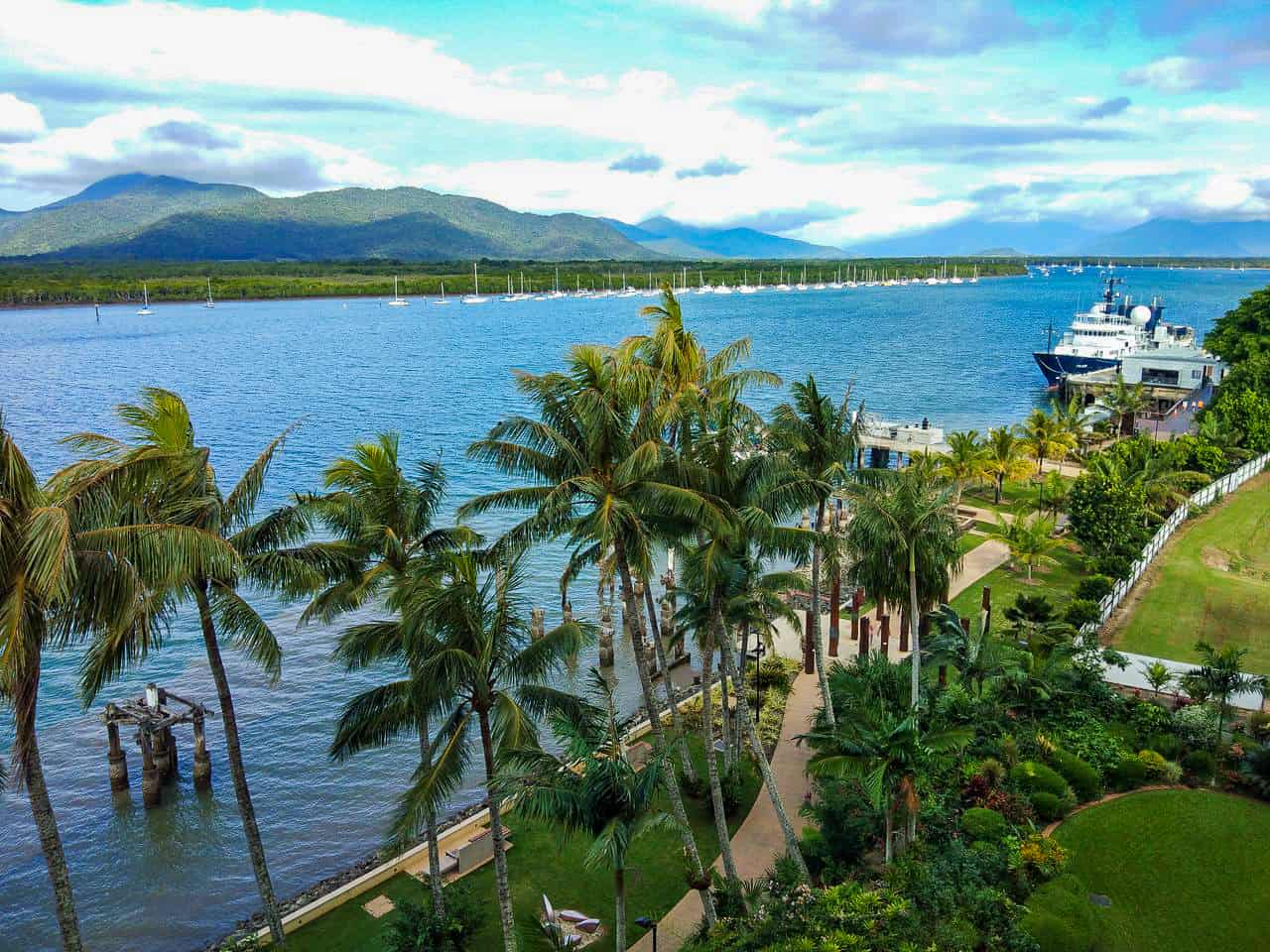 The hotel has an outdoor pool, although a bit cold for me during the cooler months unless the sun is pounding! Their hot jacuzzi made up for it though. My only critique is that it had way too much chlorine, and the pool bar was closed… I guess because of 'Rona though so can't be helped.
The hotel itself is quite big and the rooms are getting a little tired. I'm not sure the experience would have the same wow factor without the view, which normally you have to pay a premium for.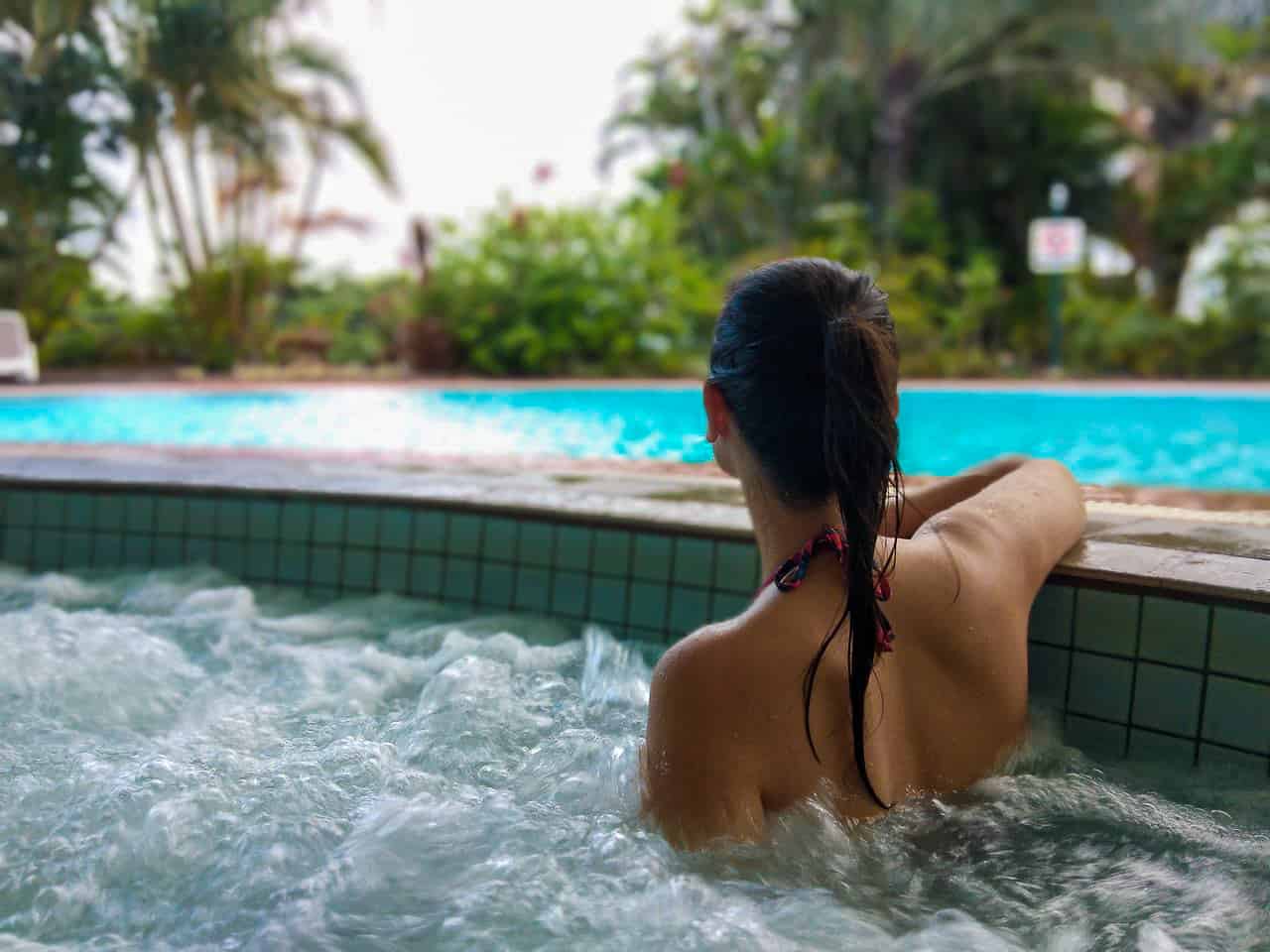 If you're a local then check out their Facebook page for current deals and email them directly. We paid $150 per night, but I think they're mixing up the type of package they offer each week. Otherwise the price starts from about $190 for all other bookings- see more on Booking.com.
---
8. Riley, a Crystalbrook Collection Resort
Dubai based Billionaire Ghassan Aboud has transformed the hotel scene in Cairns with the recent opening of three Crystalbrook hotels, all within the space of 18 months! A bit ambitious perhaps but it's been a welcomed addition to the slightly dated hotel scene here.
Although I haven't yet stayed at Riley (still waiting for that special occasion) I regularly visit their rooftop bar Rocco's which is a great spot for a sundowner (just remember closed shoes if you're a guy), or their more casual ground floor bar. I don't rate their restaurants here though.
The downstairs pool & jacuzzi looks very inviting and their spacey 32 m² rooms are beautifully decorated. All Crystalbrook's hotels are 5* and the brand say they're committed to sustainable luxury.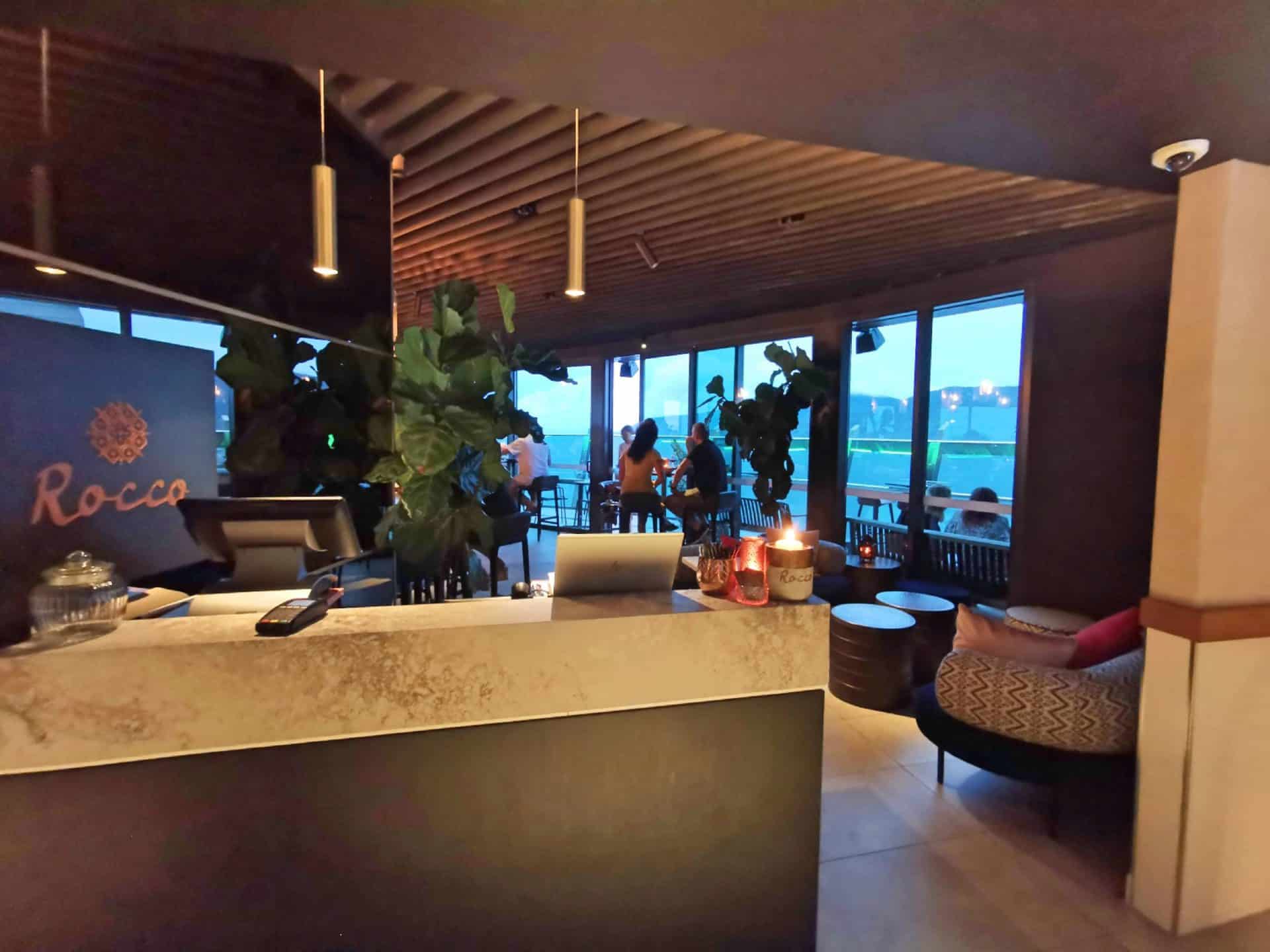 If you have the budget to fork out a bit extra, then Riley is my first choice. Prices start from around $230 AUD per night for 2 people via Booking.com. Note that locals can apply for a local's card which gives you 15% of stays, food and drinks.
---
9. Bailey, a Crystalbrook Collection Hotel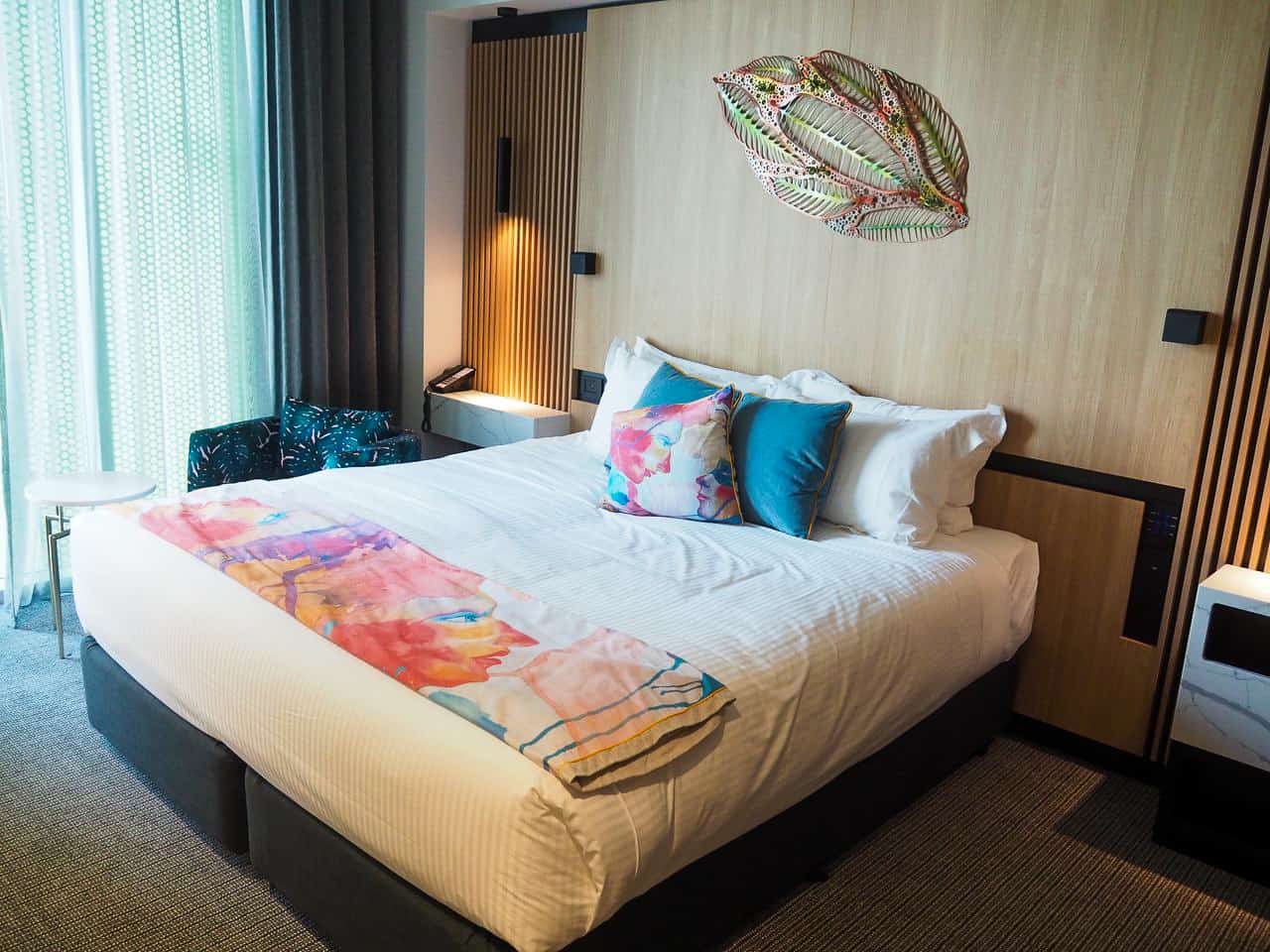 Moving just down the street is Bailey which is the second Crystalbrook hotel to open in Cairns. I heard that all three of Ghassan's hotel's here are branded after his children, so Bailey is the "arty" child. Our room was well designed and to a high standard, though felt a bit small compared to other hotels in Cairns (26 m²) and there's no balcony so it feels a bit contained. Cairns is a wonderfully scenic city so I think they missed a trick here.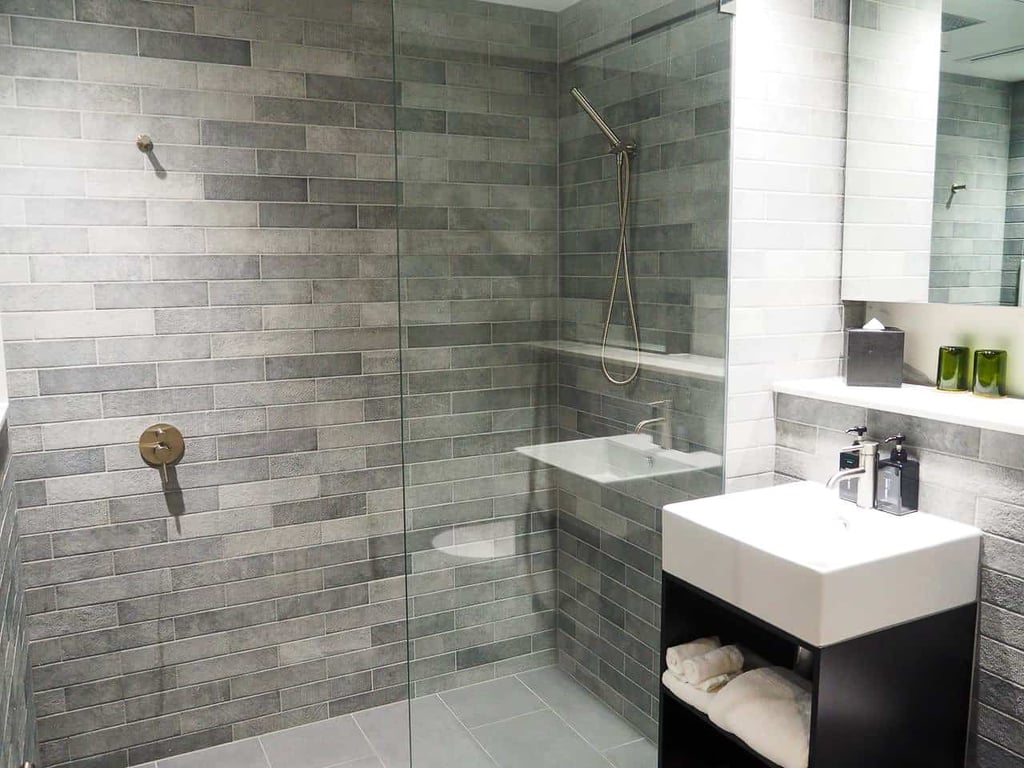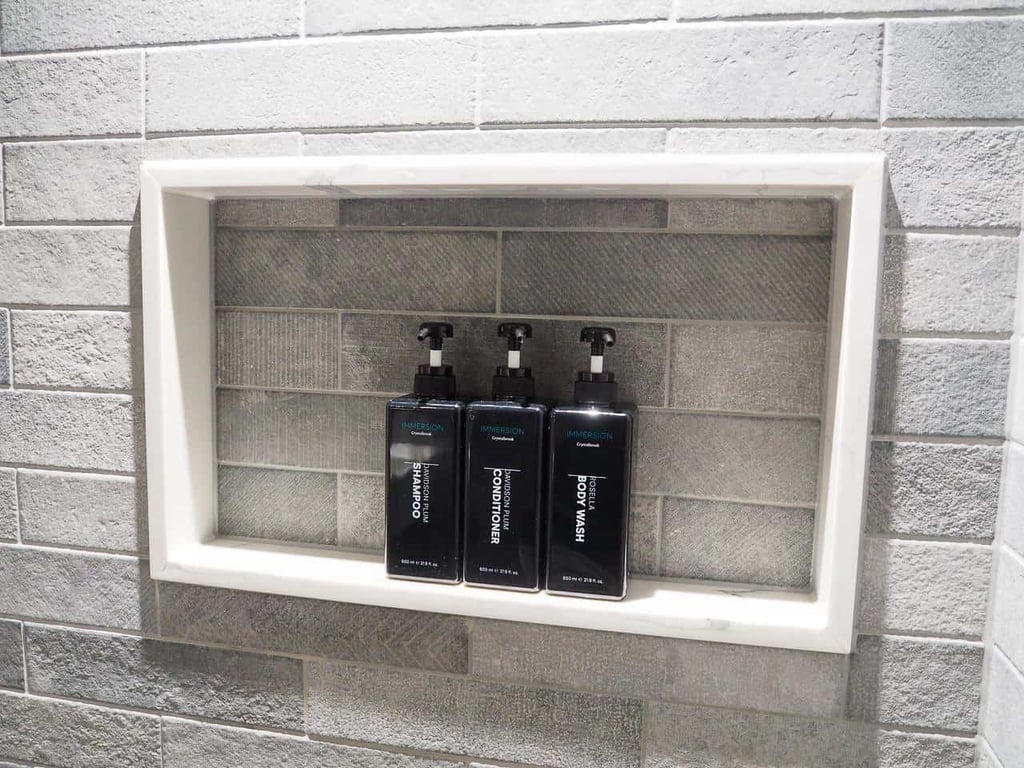 Facilities include a small swimming pool and gym which doesn't seem big enough to accommodate all guests. Although Bailey does has the city's best steakhouse downstairs, with all meat coming from their ranch on the Atherton Tablelands. Our breakfast was a simple but tasty packed-brekkie due to Rona, with pastries, fruit, fresh coffee and local Mungalli yoghurt.
It's a little cheaper here than Riley but maintains the same high standards. Prices start From $185 AUD per night for 2 people. Click to see more.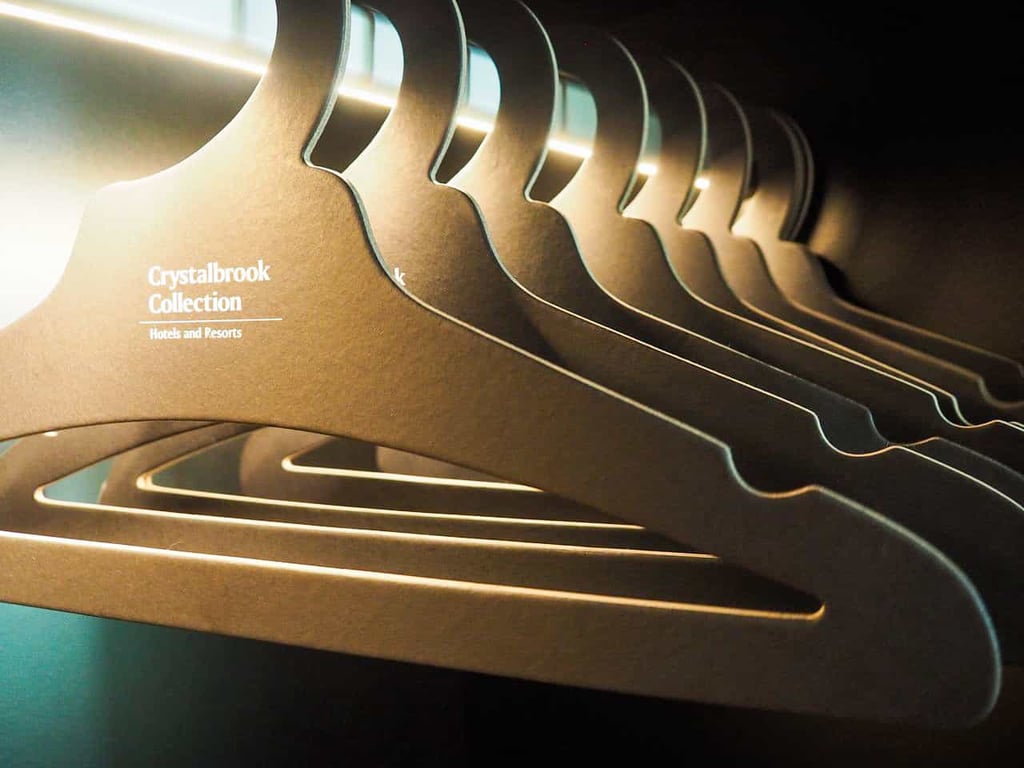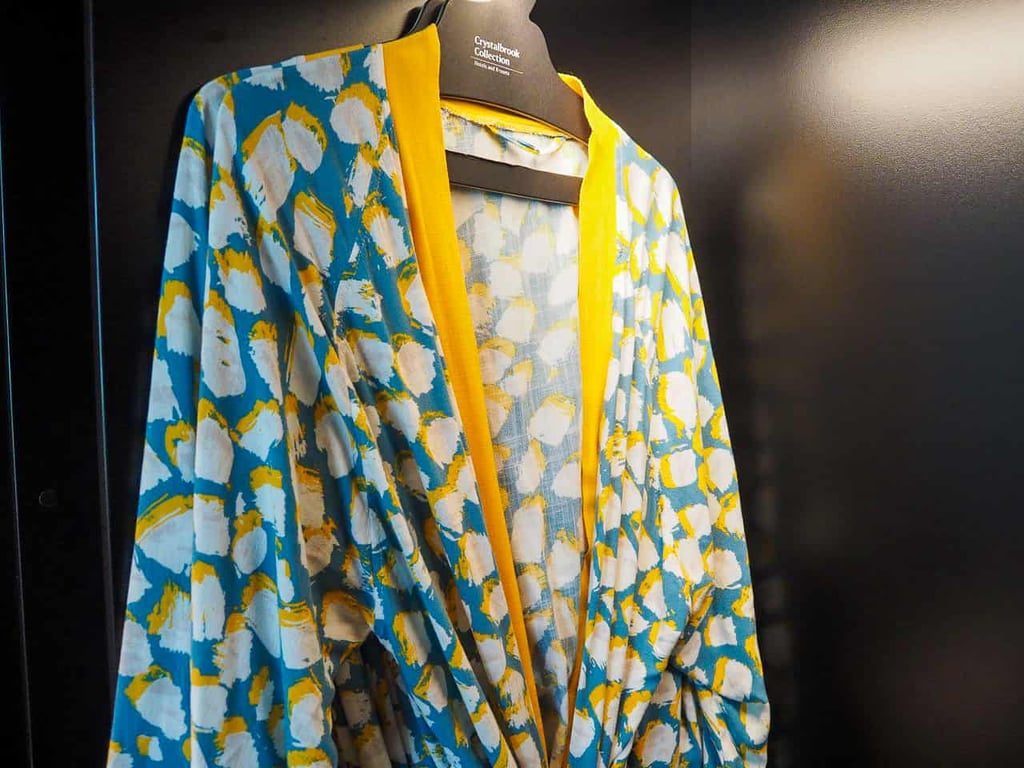 ---
10. Flynn, a Crystalbrook Collection Hotel
Flynn is located right in the heart of the esplanade and is known as the "wild" child and social butterfly. It's easy to see why. They have a large open-plan eating area downstairs called Boardwalk Social which always looks vibey on the weekends with live music or entertainment. But don't worry, all rooms are soundproofed.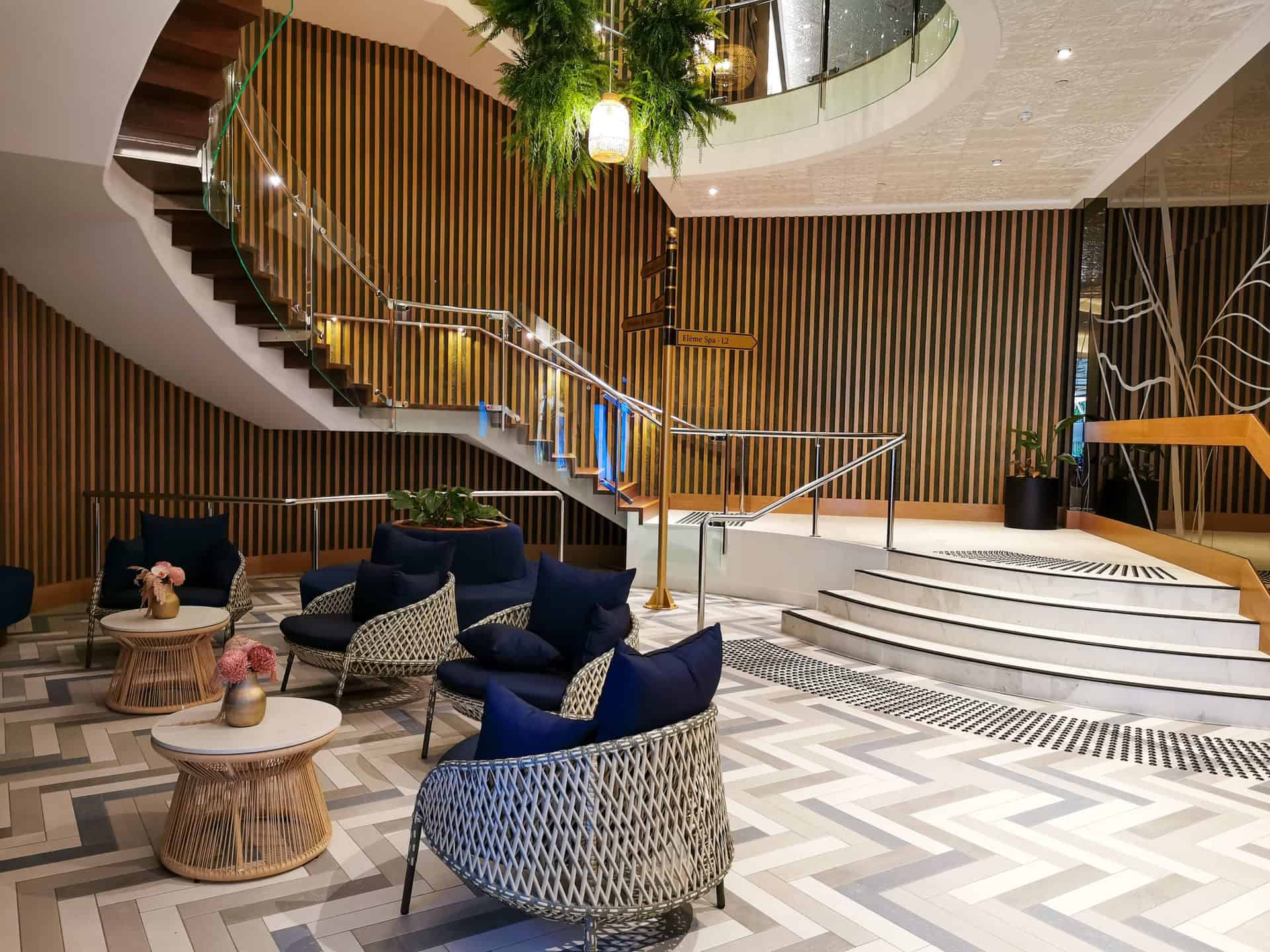 We recently came for a sundowner at their stylish yet chilled Whiskey & Wine Bar which has a large terrace and awesome views of Cairns esplanade.
Their pool is just next to it and although on the small side, looks pretty gorgeous as it's also open to the views. It's only available for guests but visitors are free to use the pool on the first floor above Boardwalk Social, if you dare to brave the all-can-see glass side! Flynn also have an Italian restaurant on site.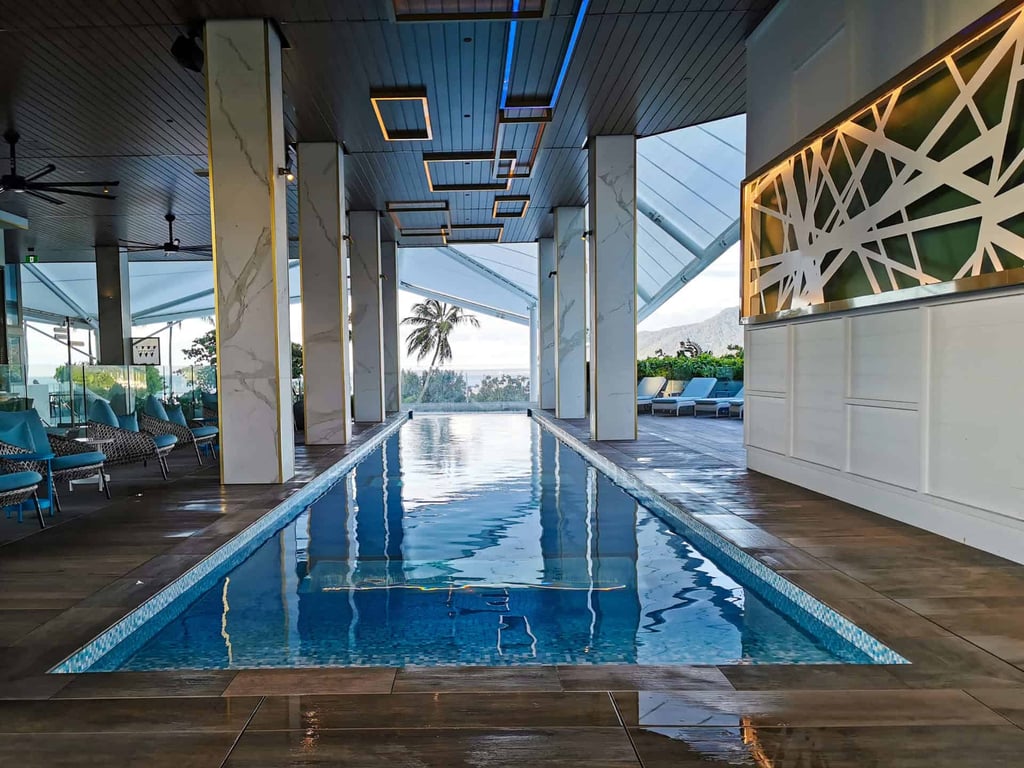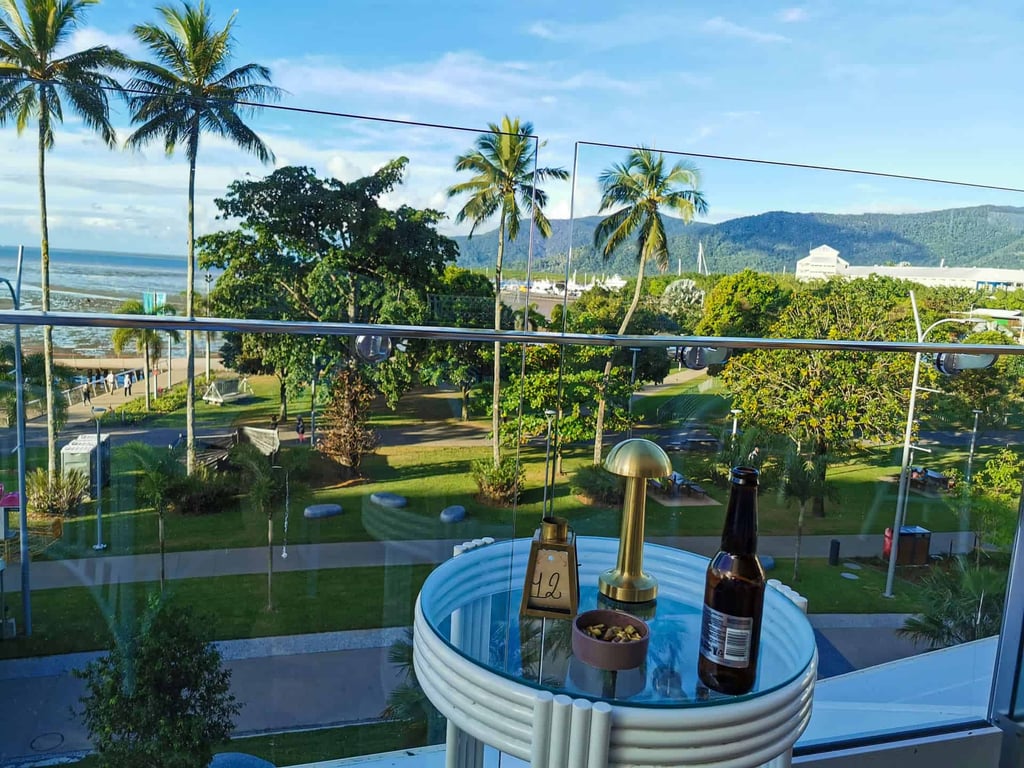 Rooms here are modern and to the same high finish as Bailey and Riley, though a tad smaller due to it's even more central location. However on the plus, most rooms also come with a balcony.
Prices start at $200 per night for two, plus an extra $20 if you need parking- see more here.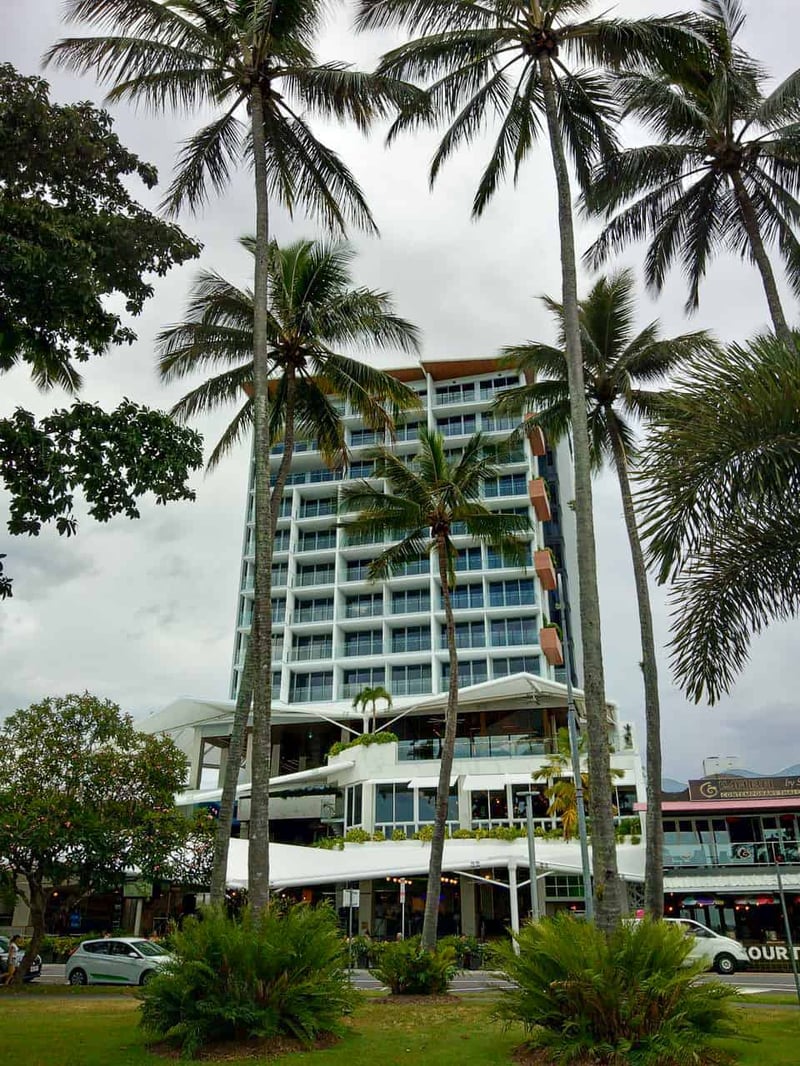 * * *
I hope you found my accommodation picks in Cairns useful. For a small city I think it's got a generous selection of hotels and often it's slightly cheaper to stay here than neighbouring areas.
If you're planning to stay in Port Douglas or the Atherton Tablelands then I've also written up my top places to stay there. Or for accommodation in the Daintree then I've added a few recommendations at the end of this post. Otherwise free to comment below if you have any questions!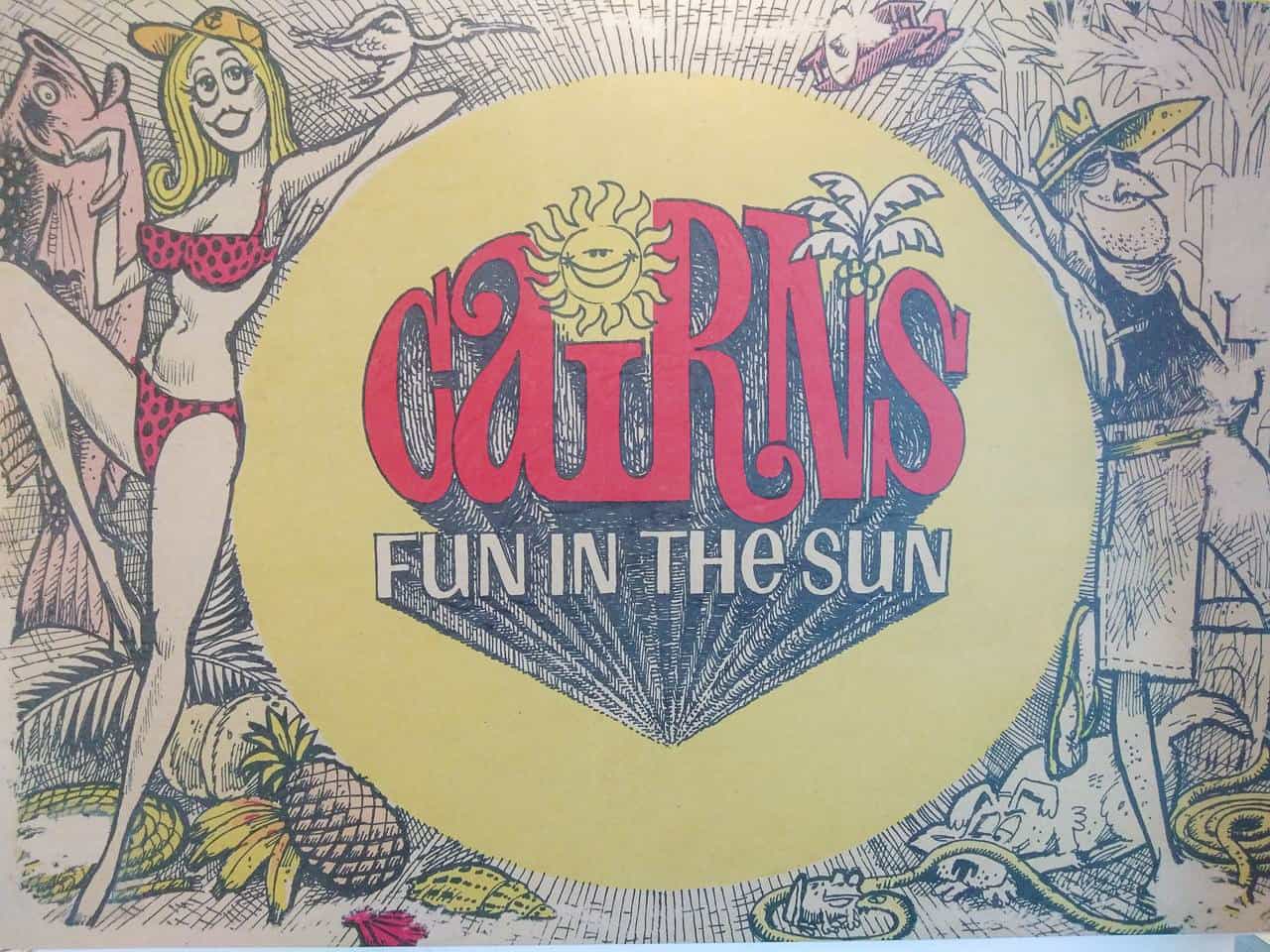 * * *
Like it? Pin it for later!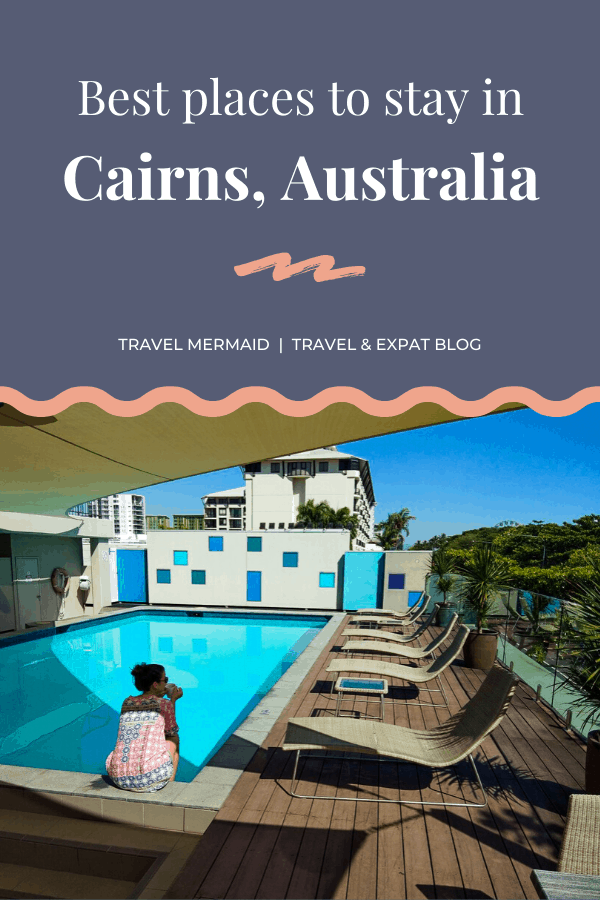 Disclosure: In this article I've included some useful links of which some are affiliates- at no cost to you- to help keep this website running. 🤙🏻
XOXO