Ladened with lagoons and consistent seasonal wind, Kalpitiya's a well-known destination in the kitesurfing world. But where are its best kite spots? This article will reveal all you need to know.
---
If you're new to Kalpitiya's kiting scene, then hopefully you've been acquainted with my recent post on Everything You Need To Know About a Kitesurfing Holiday in Kalpitiya. But if you're just after a complete low-down on kite spots in and around town, then you're in the right place!
For the past decade, Kalpitiya has grown a reputation as 'the go to' place in Asia for kitesurfing and when it comes to kite spots, it doesn't fall short.
Independent riders get a ton of places to rig up in this neighbourhood- from heaps of butter-flat lagoons, to 14 nearby islands, ocean spots and massive downwinders from remote locations.
However, if you're a beginner (huc, hum…like moi) then your selection is a bit more limited. So don't expect serene, turquoise water for your lessons because none of that's on the menu. Although don't let this small, minute detail put you off. Whilst the water may not always be Instagram-worthy, Kalpitiya most definitely is.
The Set-up
Sitting pretty in the Puttalam district of North-West Sri Lanka, Kalpitiya is basically a thick sandbar that separates the main Lagoon from the Indian Ocean. It is at heart still a fishing village and offers an authentic Sri Lankan experience. Thankfully, development plans to turn this place into a major tourist hub haven't yet transpired, so it's still holds strong to its traditional roots and low-key village life.
The Wind Season
The Venturi effect that runs through the Palk Strait channel here gives it great wind during the main season from May to October (averaging 18-28 knots) and a decent wind in the 'winter' season from December to March (averaging 15-20 knots), although it's less reliable.
Kite Spots in Kalpitiya
If you ask some of the local kitesurfers, then I'm sure they've got a few secret spots up their sleeve. But until then, here is a comprehensive list of the awesome areas to rig up 'n' ride.
---
Kalpitiya Lagoon
This place is the main stomping ground for kitesurfers of all levels and the busiest by far. Getting here is easy; you can grab a tuk-tuk that will take you there in 10-15 minute (approx. $2 USD.)
The lagoon itself is 800m wide and 2km long. Ten years ago and only a few schools operated in the area, but now, practically all kite schools have a station at this lagoon and it's the primary spot.
Ascetically, Kalpitiya lagoon isn't the Maldives and the water quality is far from crystalline, but it's a pretty good flat-water playground to practice [or watch others] riding, perform tricks and freestyle moves.
The water is brown-ish in colour and the bottom of the lagoon is generously bedded with soft mud, so wearing booties is preferable.
The wind is usually a consistent 25 knots in the main season and tends to exceed 15 knots during the winter months, although it's known to get quite gusty here too.
Even out of its main season, December gets really busy. On a windy day last Christmas, the lagoon was filled with in excess of 40 riders and it felt pretty crowded. But those of you used to prime locations in Europe such as Tarifa, may say it's quite modest.
For beginners, this is where practically all lessons take place. You probably won't find other spots to learn, apart from Kappalady lagoon (although the wind is only good there in the main season.)
I enjoyed heading out a bit earlier in the day before the crowds hit as it was much quieter. Most schools tend to leave at the same time, so you may need to sweet-talk them into taking you out early!
If you're spending all day at Kalpitiya Lagoon, then due to the lack of cafes (there's pretty much nada) the kite schools tend to pack up a lunch for you to take away; be sure to check before you head out.
Related Read:
A Guide to Kite Resorts & Kite Schools in Kalpitiya
Vella Island (aka. 'Magic Spot')
Ahh, this is the kite spot that everyone talks about in Kalpitiya. The Island is a 45 minute boat ride North of Kalpitiya and it's meant to be one of the nicest kite spots in the area.
Vella Island is basically one long sandbar that stretches out into Portugal Bay. When the wind blows off-shore in the summer months of May-September, it creates a perfect 2.5km butter-flat playground and is a great starting point for huge downwinders (up to 25k!) Trips are possible in the winter months too (but are less frequent) as a flat-water area is created in the Indian Ocean.
Vella Island is inhabited only by fishermen and a few kite schools who have a station there, making it pretty quiet and remote. Although it can be a popular day trip option in the high season (costs ranging from €45-€65.)
Some schools like Kitesurfing Lanka provide overnight camping options too, so you can truly embrace the eat-sleep-kite-repeat lifestyle.
Dream Spot
Located in Dutch Bay, a mere 20 minute boat ride north of Kalpitiya Lagoon, this spot is a sand bar that separates the Indian Ocean from a flat-water lagoon. The ocean provides wavier conditions for those seeking it. Prices start at around €25 for a day trip here.
Donkey Point
I'm guessing this place is called Donkey Point because of all of the wild donkeys that roam free in Kalpitita?!
This is the closest spot to the main Kalpitiya Lagoon, approx. 300m around the corner. It's great for kiters looking to ride a mix of ocean waves and flat-water in a safe and open environment. The wind is also meant to be really consistent.
Due to the level of skill involved to ride here, this spot is only suitable for intermediate and advanced riders.
[unnamed] KSL Lagoon
This lagoon is relatively new, so it doesn't even show up on Google Maps yet. It sits just in front of Kitesurfing Lanka and Blue Whale Resort, which is perfect if you are staying there. It's also a convenient spot for sunset sessions if you're staying along this bit of beach.
It's relatively small, long and narrow with butter flat-water. I'd guess it holds up to about 15 kiters at a time. The shallower depth would be perfect for beginners but unfortunately no lessons happen here.
Kappalady Lagoon
This place is about a 15k or 30 minute tuk-tuk ride south of Kalpitiya, and if you're staying at the gorgeous Elements Beach & Nature Resort then you're right next door.
Conditions are similar to Kalpitiya Lagoon but it's a fraction of the size, and can only hold up to 15 kiters… which is why I prefer this spot. It's quieter, more scenic and just a hop, skip and jump away from the sea. Plus you can kitesurf off the beach here too.
Kappalady Beach is the nicest I've seen around as I believe Elements clean it up regularly. There's also much less foot traffic.
Due to the direction of the summer winds, it's more ideal to ride here from May-September. But on a good day, kitesurfing sessions and lessons are possible in the winter season too, although they're less frequent. (Many kitesurfing resorts in the vicinity, apart from Elements and a couple of others, are closed during this time as the winds are not optimal.) The waist deep water makes it a great spot for learning.
Puttalam Lagoon (aka The Big Kahuna)
This lagoon is a whopping 327 km2 and bigger than any of the other lagoons combined. Although perhaps surprisingly, it's also much less frequented.
Puttalam Lagoon is situated between Kalpitiya and Sri Lanka's mainland. Within it are a few small islets and sandbars, with plenty of flat-water to mess around in. Some kite schools arrange trips to their favourite spots and offer downwinder sessions.
However not all of it is rideable as the lagoon is also used for fishing, so be sure to ask the local kiters before you venture out.
Mannar
This is a more recently discovered kiting destination about a 3-hour car ride north of Kalpitiya. Mannar has a few spots in itself, but the best- Adam's Bridge- could possibly be the most awesome place to ride in all of Sri Lanka. The Venturi effect also means the wind is strong, stable and consistent.
Legend has it, that in the 15th Century you could walk from Adams Bridge to the Indian mainland until it got destroyed by a cyclone. What's left now, are 16km long sand banks and shoals, leaving clear, shallow and butter-flat water for riding on the north side of the dune.
However due to the protection of migrating birds in the winter season, no kitesurfing is allowed on this side of Adam's Bridge during those months. But you could always walk over the sandbar and have a go at the waves in the ocean on the south-side, if you can manage the offshore winds.
Mannar is far more remote than Kalpitiya, with Vayu Resort (the same owners as Kitesurfing Lanka) being the only kite stay available so far. So there's not much else going on in the local vicinity, which also makes it the perfect place to get away from it all.
I inquired in December about lessons, but apparently Kitesurfing Lanka does not yet have a permit to conduct lessons in the lagoon and at the time, the ocean was too choppy for beginner riders.
. . .
Getting To Kapitiya
The cheapest and best way is flying to Colombo, and then getting your resort to arrange a private taxi from Colombo to Kalpitiya (taxi cost: around 13'000 Sri Lankan rupees/ $72USD.) The car ride takes between 3-4 hours.
Alternately you can take a chartered flight from Colombo to Kalpitiya with Cinnamon Air, but the airfare is way steep at $2'000 USD p/p! I might pass on that.
. . .
Like it? Pin it for later!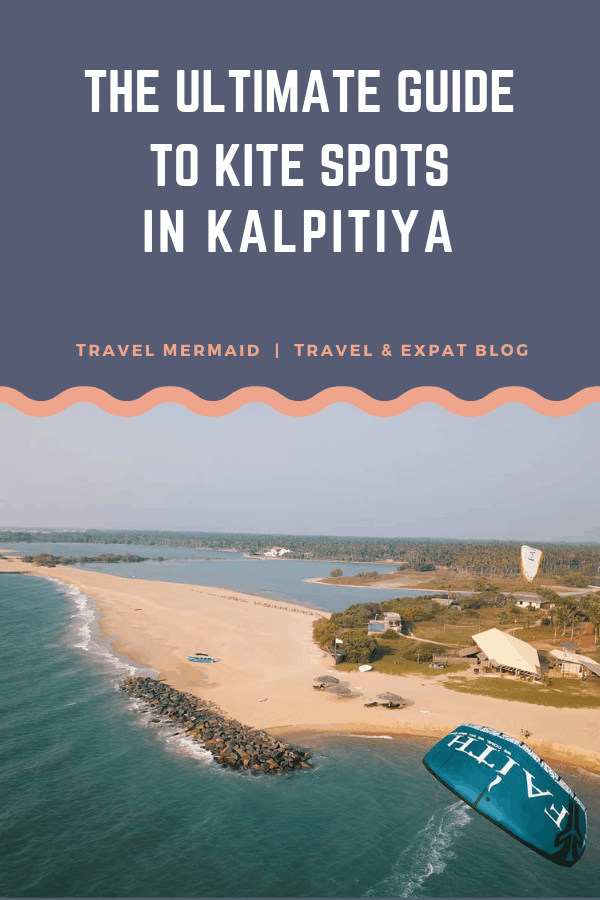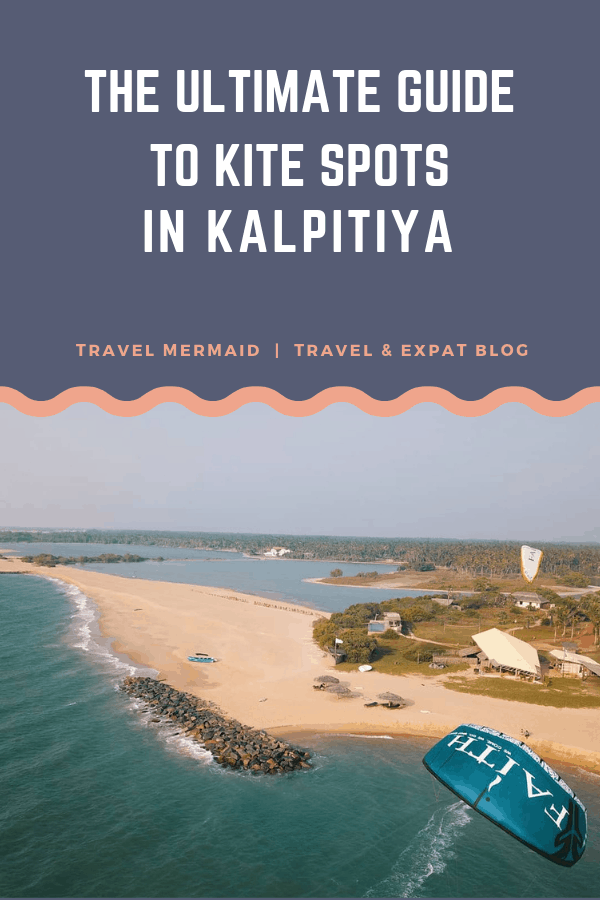 XOXO