There are quite a few different Great Barrier Reef tours from Port Douglas, so choosing the right one can take a bit of research! As a Port Douglas local, I recently did a snorkelling trip with Sailaway as I had a great time sunset sailing with them earlier this year. To give you an idea of what to expect from outer reef tours like this, as well as the condition of the coral reef near Port Douglas, I'll be sharing all you need to know about our experience.
---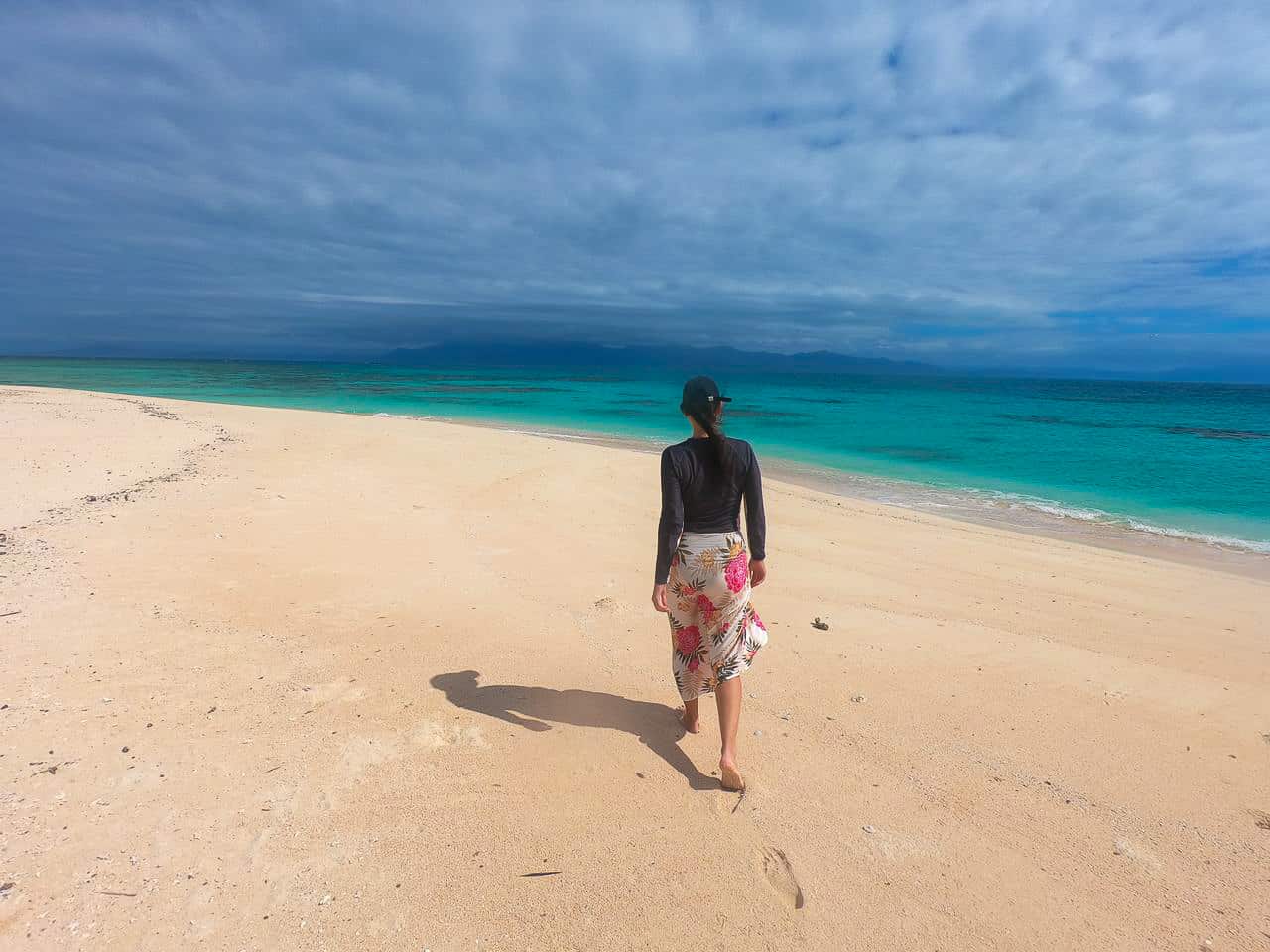 Before I went on a snorkelling trip this season I really didn't know what to expect from the Great Barrier Reef. Since 2015, I'd visited a couple of spots which didn't have the best coral then when I read that half of it perished due to climate change, I feared the worst.
As I live in Port Douglas and have the reef on my doorstep, I was really keen to see it again and head to one of the better spots. From what I'd read, a lot of the Outer Reef sites were said to have a bigger diversity of coral and be in better health. Between Port Douglas and the Daintree there's about 14 of these outer reef sites, so I went with Sailaway who we had a really good experience with before.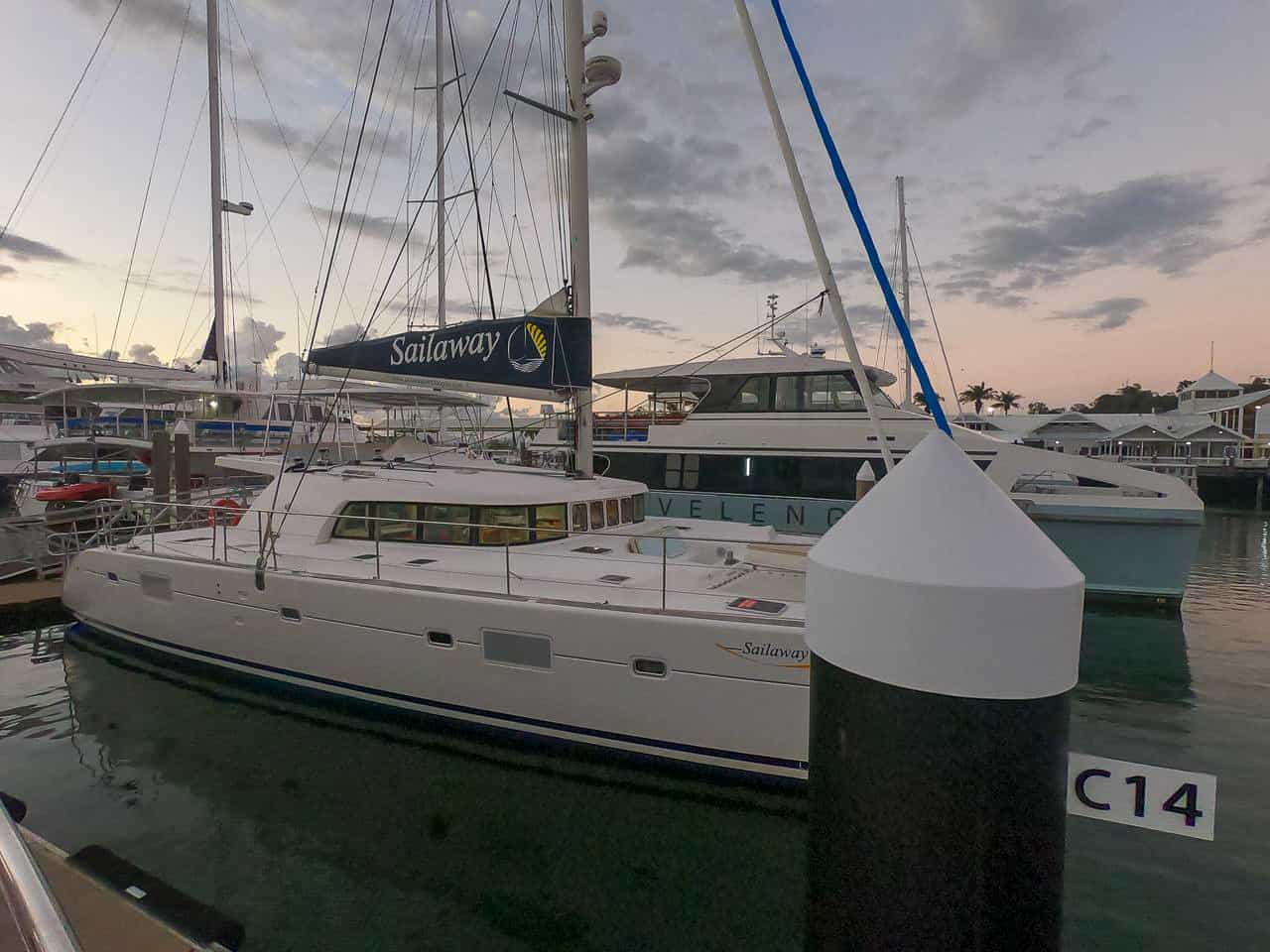 Sailaway From Port Douglas: What are their reef tours like?
Mackay Coral Cay is about 28 miles off the coast and Sailaway are the only Port Douglas operator to go here. I really like that visitor numbers are kept low and there was only about 19 of us on this trip.
Pre-Rona, Sailaway capped guest numbers at 45 but now only 20 to allow for social distancing. Other bigger operator in the area took more than double that prior to the pandemic.
The boat departed at 8am but we could sign in at their office from 7:30 and took a temperature check as a post-covid procedure. Great coffee, pastries, muffins and juice were waiting for us when we boarded, and as guest numbers were small we had a whole booth to ourselves.
Sailaway mainly sail to the reef (the clue is in the name!), so this the most sustainable way to see it from Port Douglas. The journey took about two hours (most other boats take about 1h30) but it went pretty quick. During that time our awesome marine biologist "Brook" gave a presentation and spoke about all the fish and coral that we're likely to see.
She also mentioned some of the threats to the reef whilst making a lot of scientific jargon accessible to everybody (I think even the kiddos could tell you what symbiosis and algae were). It was then I realised how important it is for tours to come with a marine expert, to educate visitors about it's diversity and address any misconceptions we may have.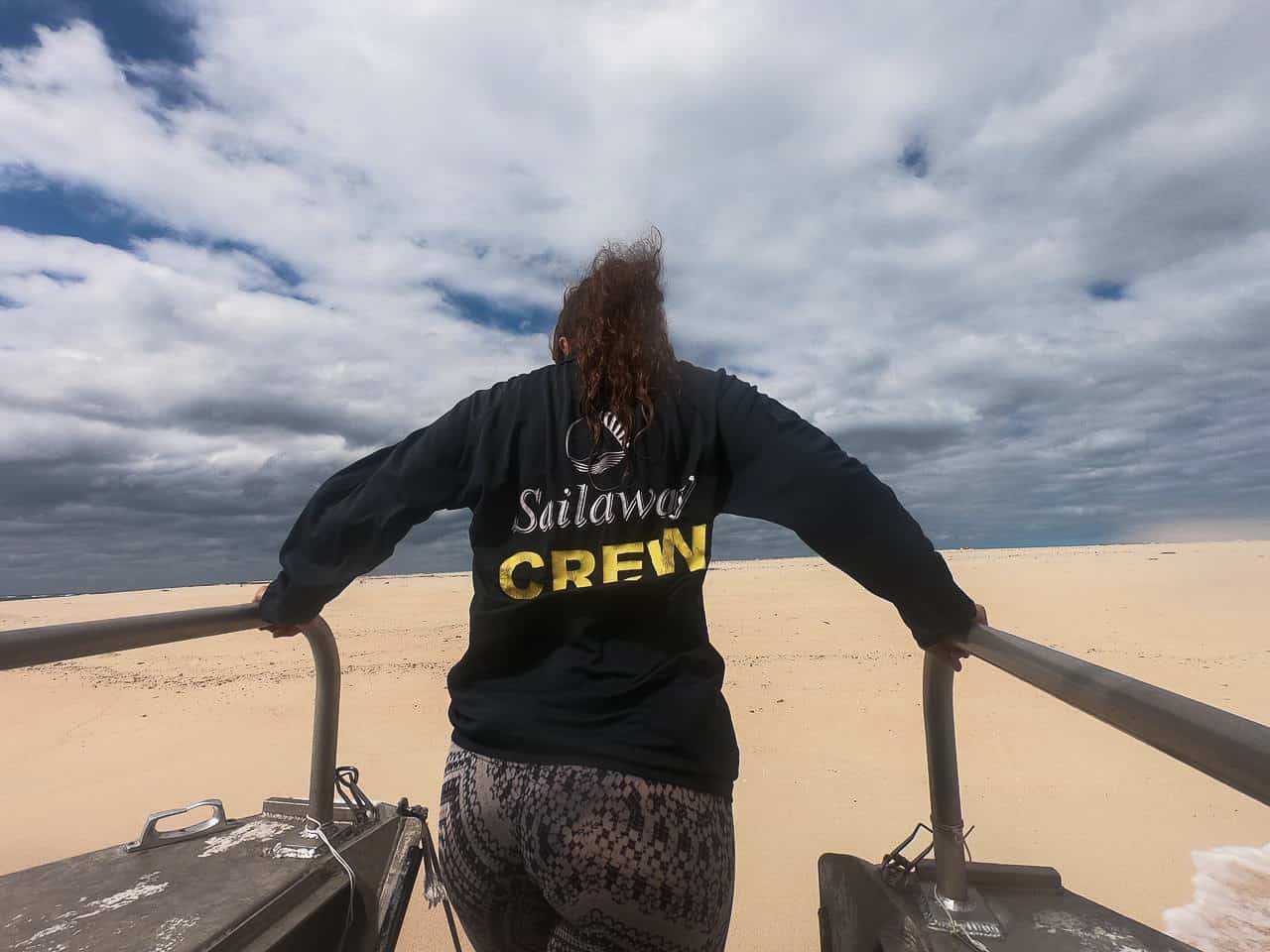 G'Day Mackay Coral Cay!
A lot of Port Douglas' marketing pictures are taken at places like Mackay Cay. Technically it's a coral cay and not an island, so it formed from excess sand sediment that's built up over time on the reef. They look so idyllic and the sand is powder-soft. We were told that turtles have previously come to nest on the cay and that lucky visitors were able to watch the babies crawl back to the ocean.
Surrounding it is serene turquoise water that looks like somewhere in Southeast Asia and of course, there's the coral reef itself.
We were told that the reef around Mackay Cay is like a special raised coral platform, so the site is perfectly shallow and ideal for snorkelling. I've visited ones in the past that were more suited to divers as they were quite deep but we could see everything really well.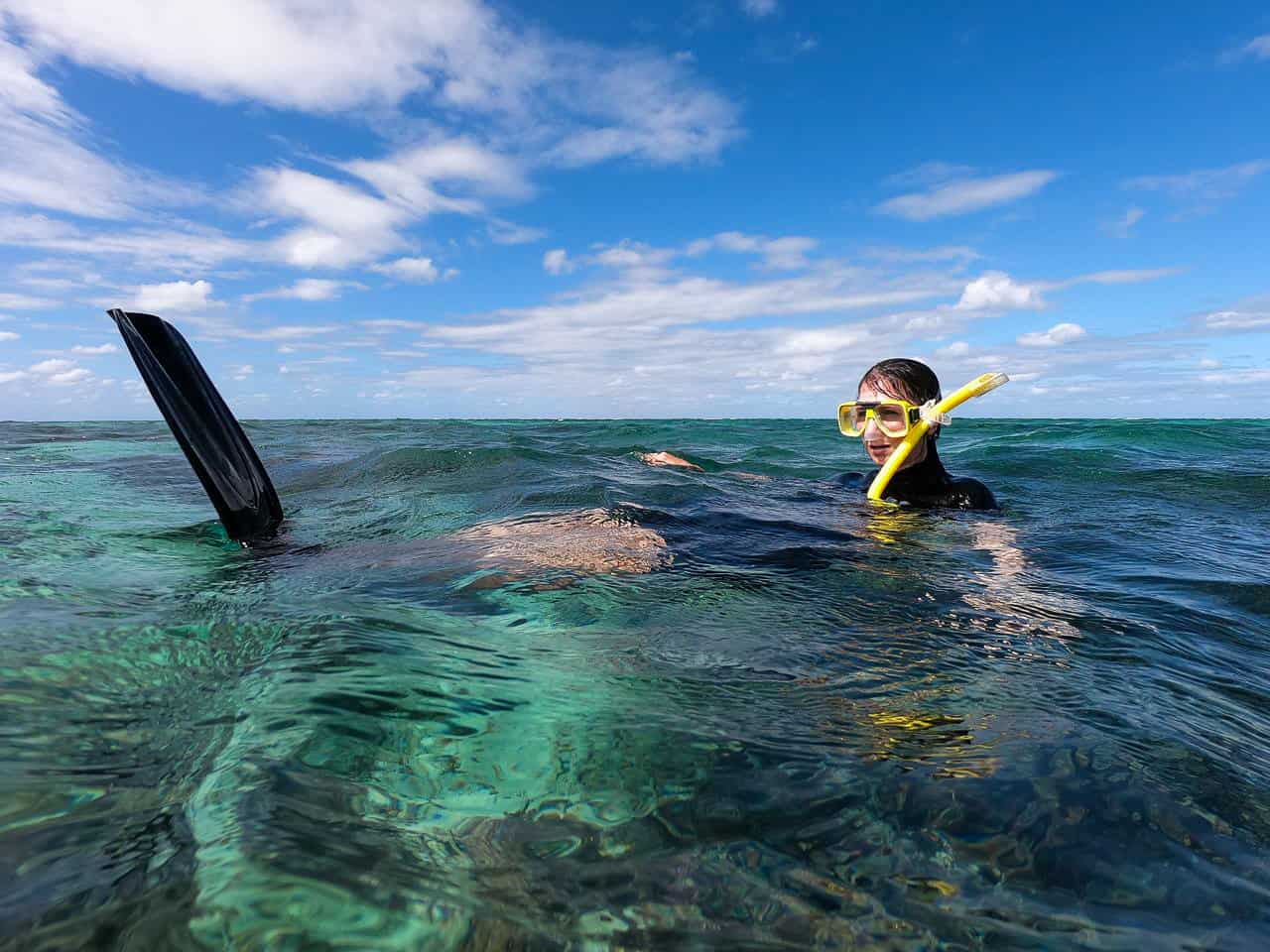 Once the boat anchored near the cay, we all squeezed into our wetsuits (I was about two sizes up!) which was a workout in itself. As it was July, it wasn't jellyfish season but it is slightly cooler then so a full head to toe wetsuit isn't overdoing it, although I have climatized to the tropical weather.
The water was quite choppy so when I plonked myself in, the cold water slid into my wetsuit I immediately took a huge gulp of water! It was pretty lively out there.
The Marine Biologist lead an optional guided tour to begin with but we left pretty quickly to go exploring by ourselves. Straight away we spotted a great diversity of life, from a range of tropical fish (including Nemo) to rays, green turtles, fat sea cucumbers and vibrant orange & blue stars. Each had their own place amongst the coral and watching them was totally fascinating.
We also saw healthy coral gardens with species I've never seen before. There were beautiful plate, finger and brain coral, which were all subtle pastel and earthy shades- I learnt this was a sign of health.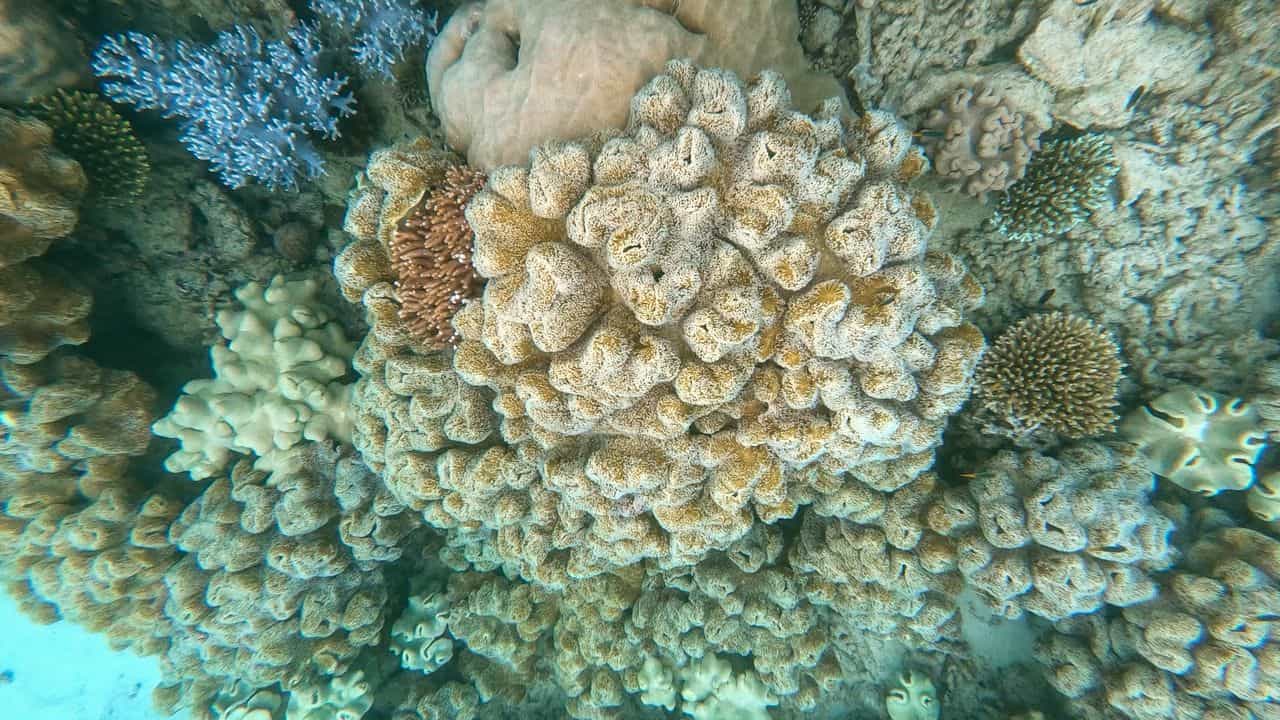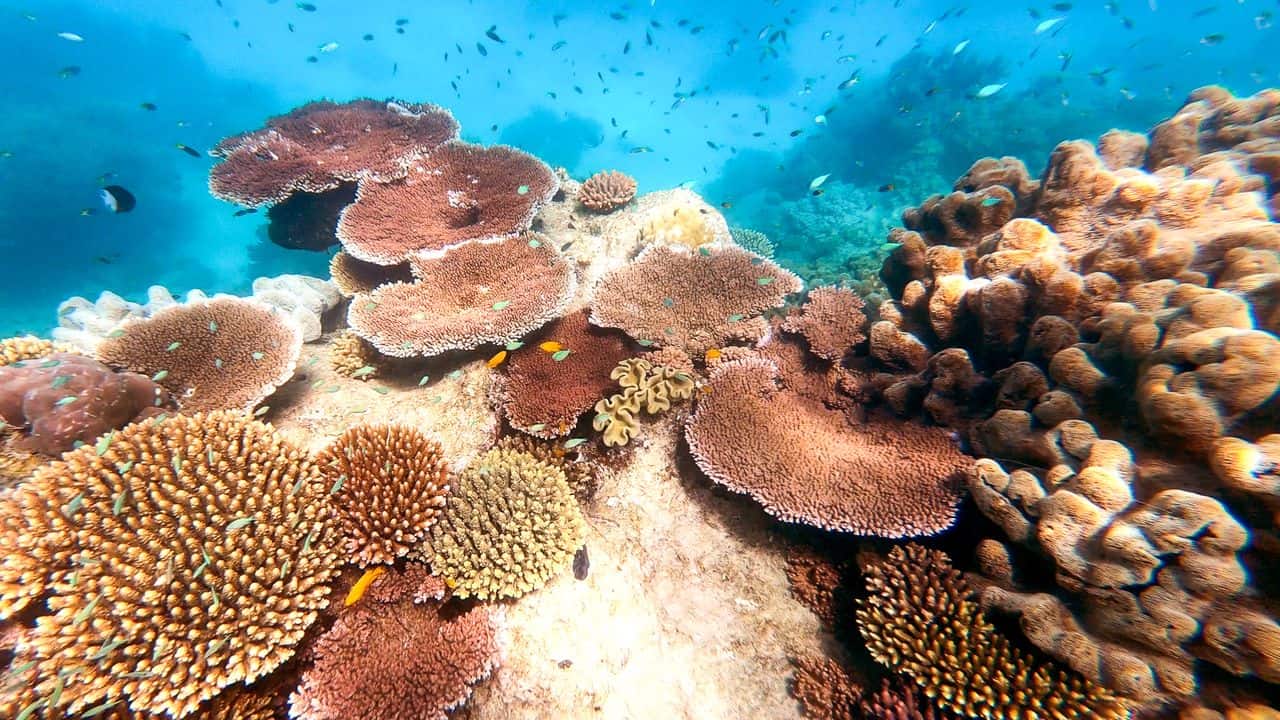 I was surprised to find out that florescent colours mean the coral is stressed and may indicate early stages of death. We were told that some coral at this site glowed more vibrant hues earlier on in the year when we had multiple heatwaves, but they've since recovered as sea temperatures lowered again.
In some areas it looked like there was some evidence of mortality which I think is normal, particularly these days, but the majority of coral appeared healthy and it was a relief to see.
Brook also gave a great analogy and described the reef like a forest- sometimes trees fall and die, like coral does, but it allows space for new ones to grow in it's place. It's definitely a lot more resilient than I thought it was.
Related Read:
Surprising Facts About The Great Barrier Reef & It's Resilience To Climate Change.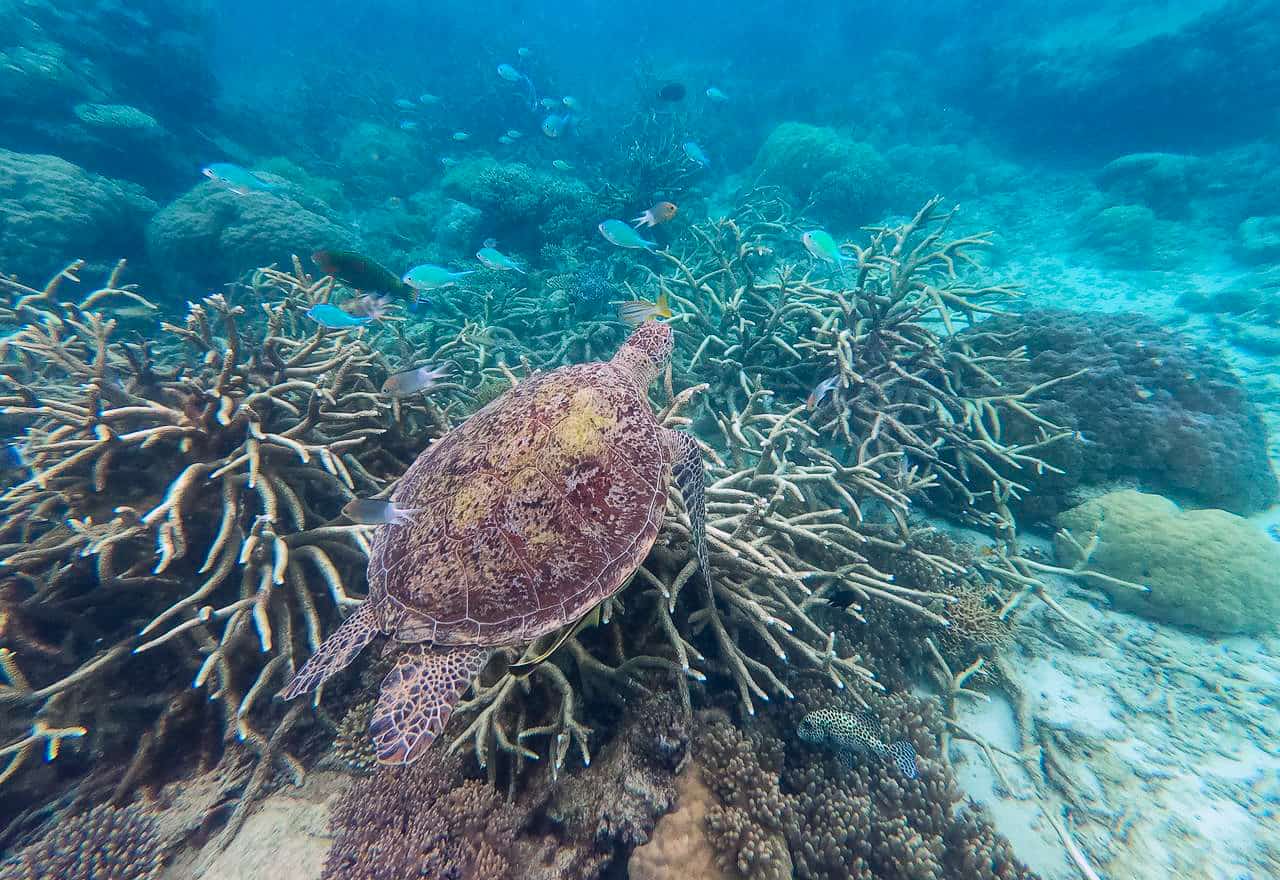 After about a two hour snorkelling, we were taken in a glass bottom boat to visit the cay. We all shared some of the awesome marine life we saw and you could tell everyone was buzzing, and knackered! I never considered snorkelling a sport until today but just swimming around for an hour in the sea burns between 250-300 calories, plus extra for squeezing into the wetsuit.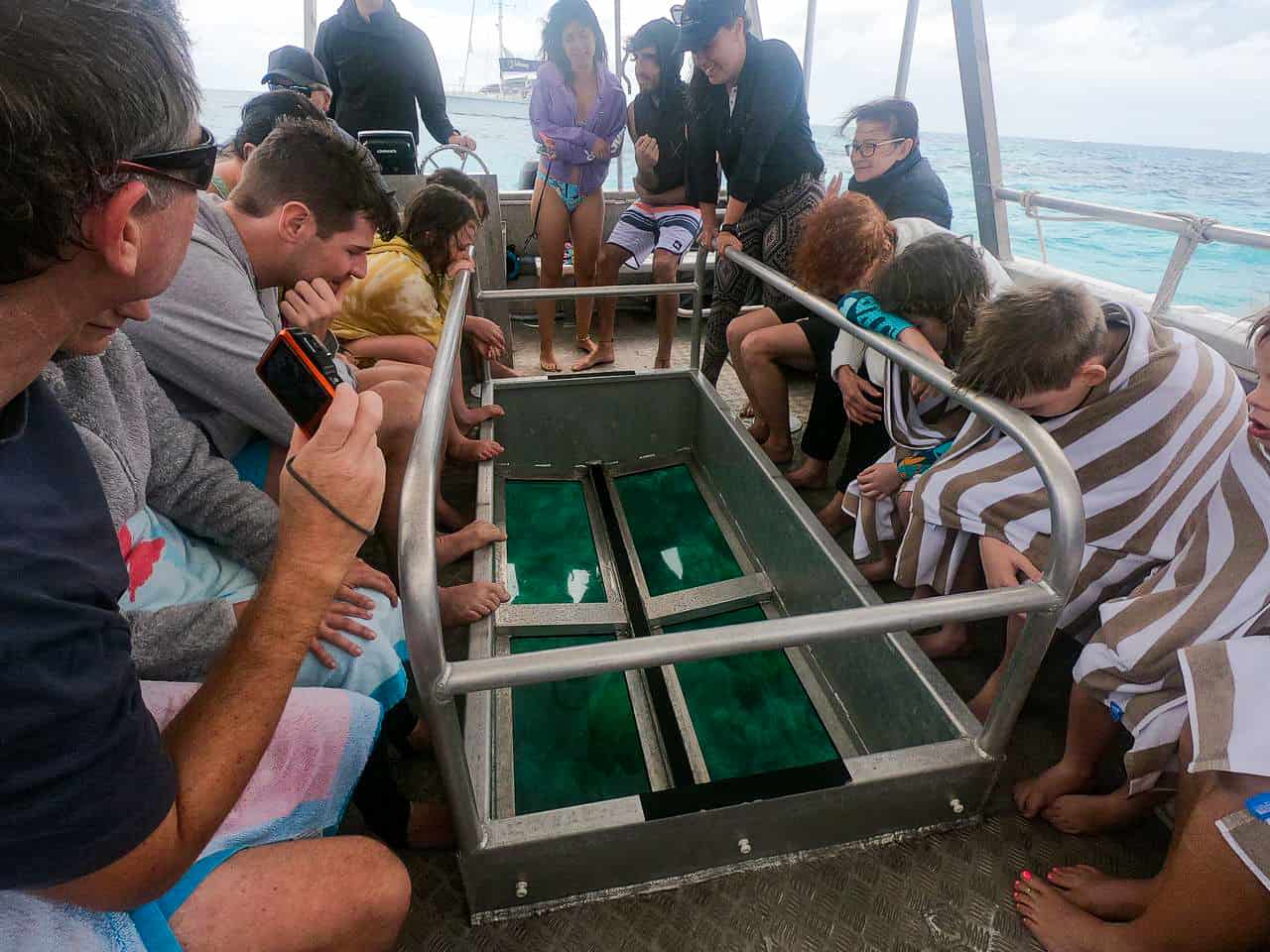 We only got to spend around 15 minutes on the island which was enough time to have a look around and get a few pictures. We were all starving by that point too!
Lunch was surprisingly good considering there's no chef's on board. There was a range of things like pasta, rice, prawns, chicken and salad, which the staff served up for us due to covid.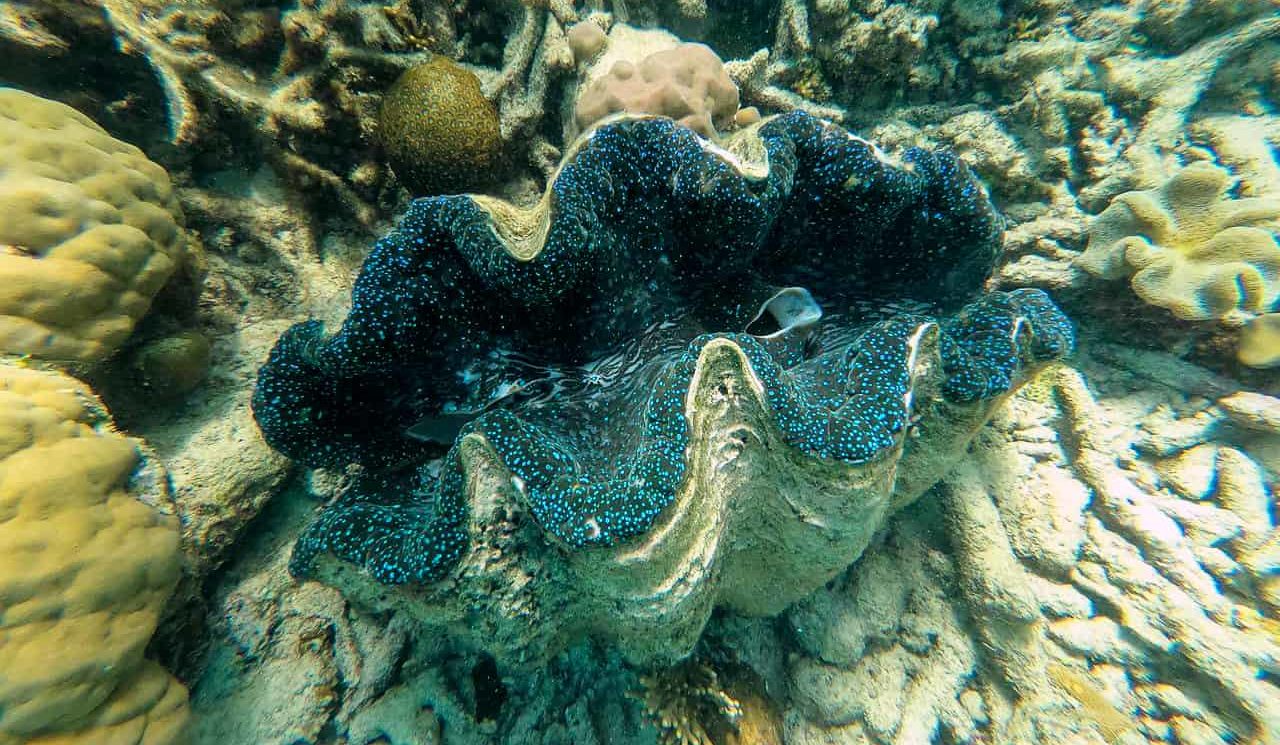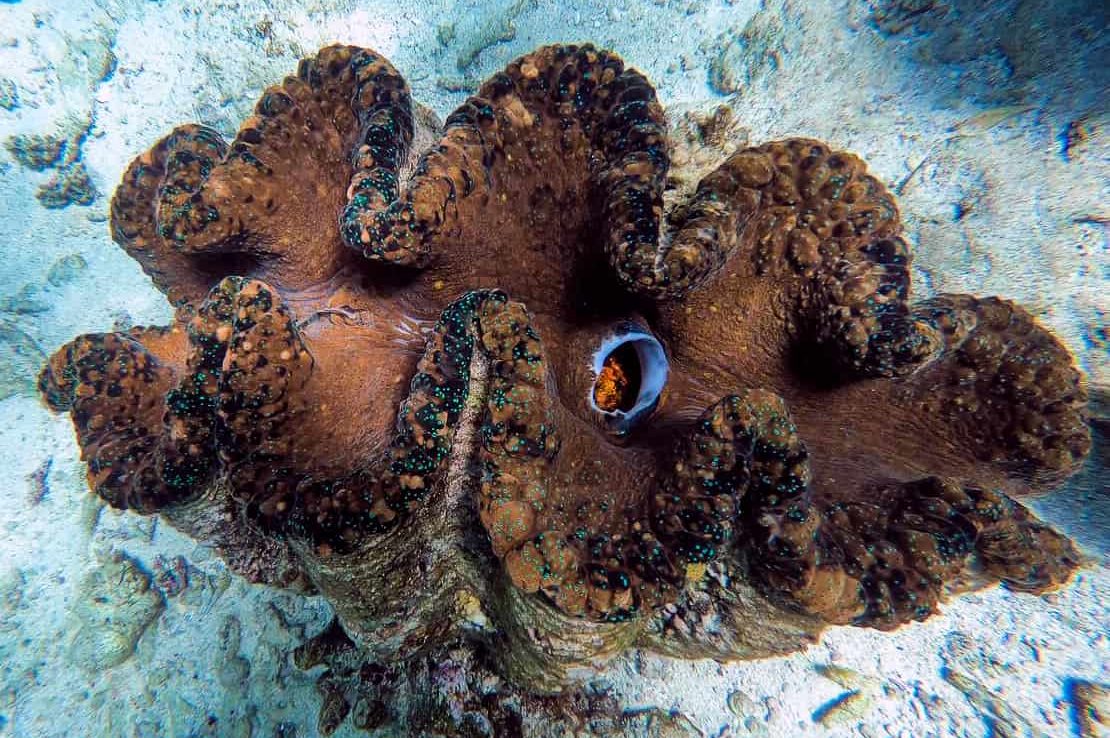 For our second snorkel I was expecting us to go to Undine Cay as advertised on their website, but instead we were taken to a place called clam gardens which was a short ride around the cay. There were quite a few giant clams there which were quite cool and up to one-meter long. They contracted as we swam over and came in different colours.
Perhaps I was a bit spoilt at the first site but I didn't thin that clam gardens was as good as the last. It would have been nice to have see something else or have stayed at the same spot as before. I think they change the sites depending on the tide and conditions though and it was a bit choppy that day.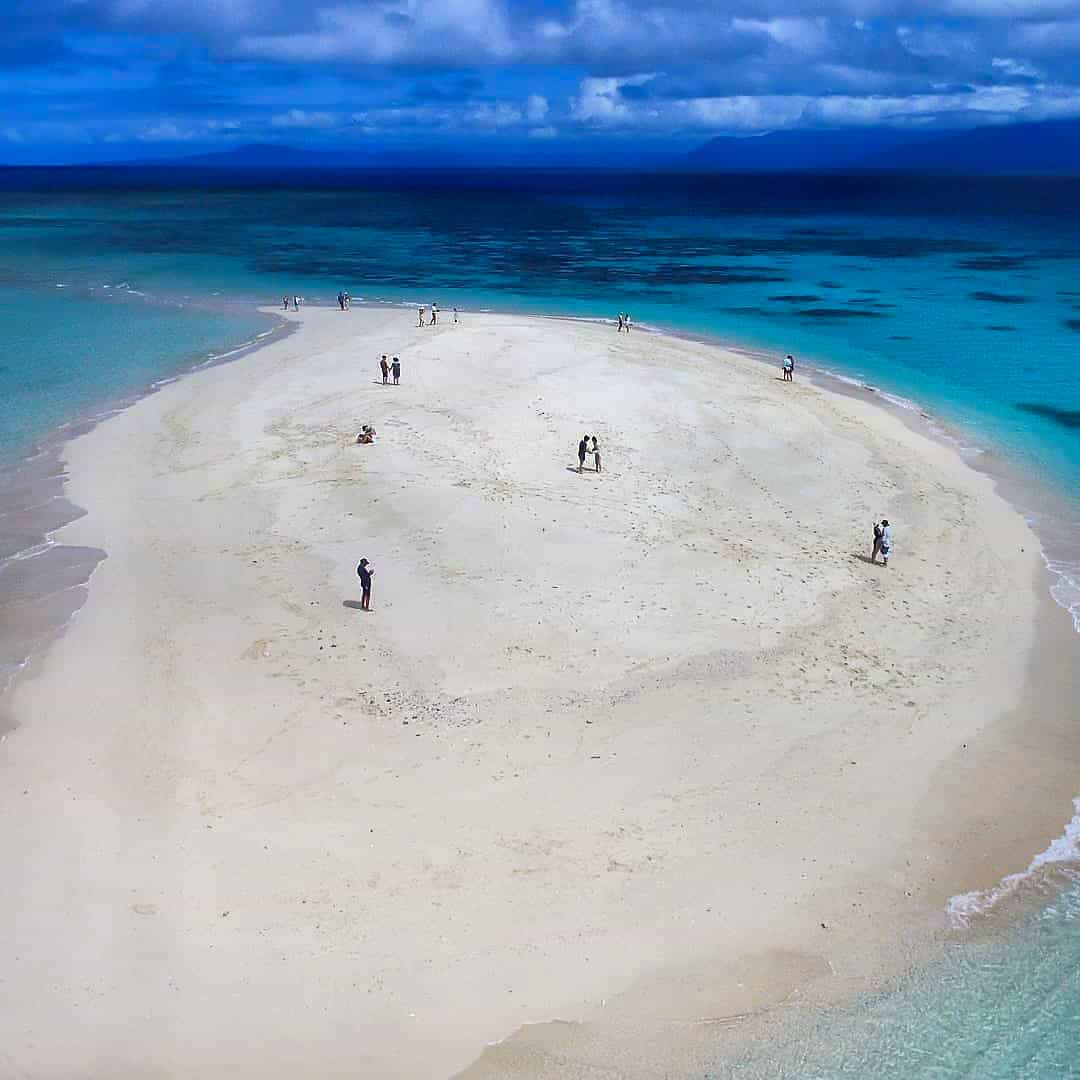 How adventurous are you?
To visit the Outer Great Barrier Reef from Port Douglas and Cairns, you need a relatively adventurous spirit. You're mainly on the boat all day at the helm of the elements, so it's lively out there!
There were two older ladies on the trip with us who had a good go at snorkelling but I don't think my Mum would have done very well (although I do feel that Aussies are generally more adventurous than us Brits), so it depends on your nature.
If you're really not a boat person, have mobility issues or children under 5/6 then you may prefer visiting Low Isles instead. The journey there is only 40 minutes or so and you'll have more island time to chill and the ease of snorkelling from just off the beach. Although the coral won't be as diverse, the older ladies we spoke to said they saw turtles and heaps of reef sharks so the animal life is there.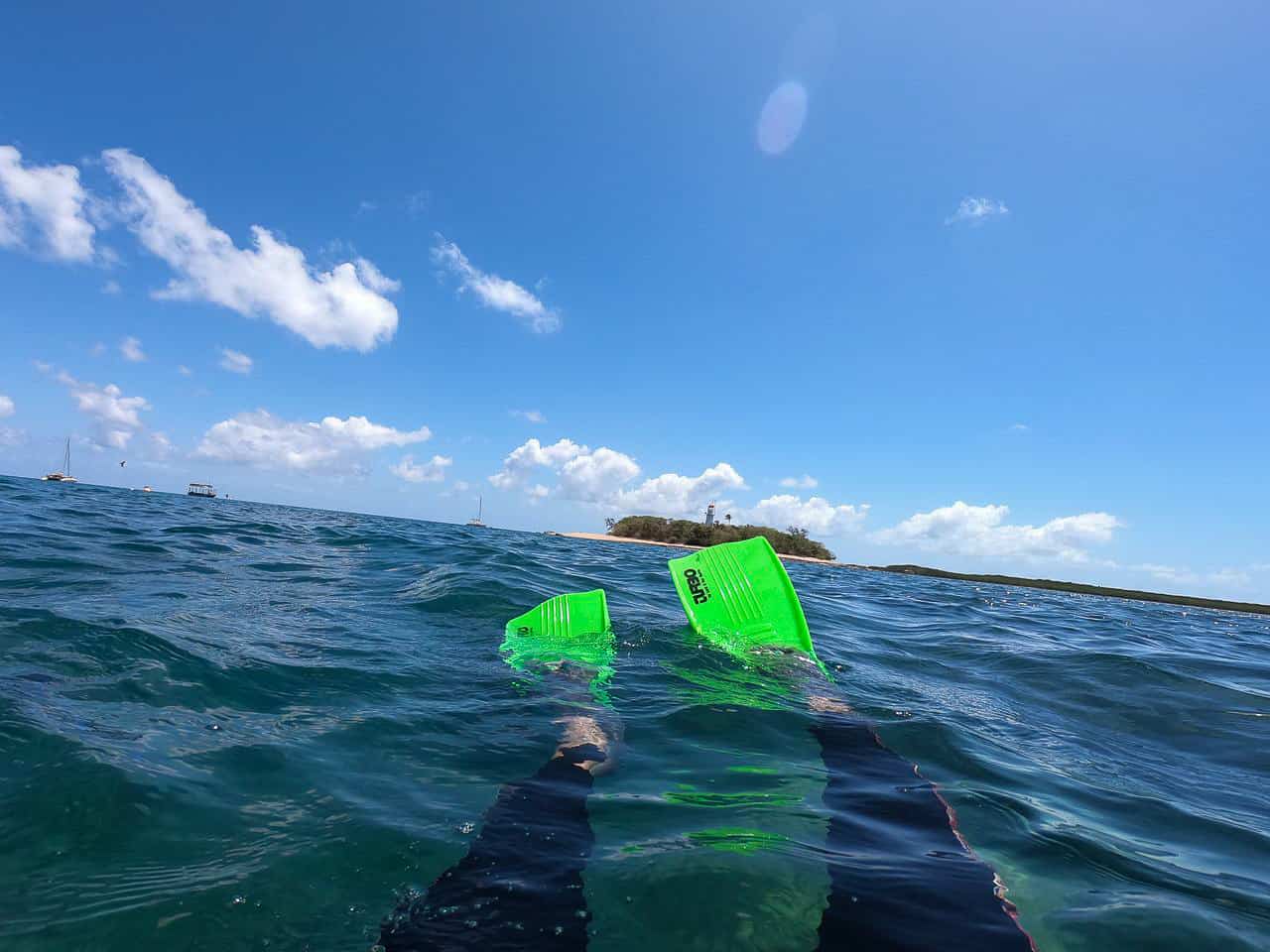 The boat ride on the way back was also rocky as! The staff were really good and warned us of this in advance, offering sea sickness tablets (free herbal ones, or $3 full throttle ones). I didn't take any so I suffered a lot! Usually I don't get sea sick and I avoided vomiting, but it felt like a long 2-hours back home. Fortunately we had lots of space so I just laid down and tried to sleep it off which helped.
May-August is the windier season here which can cause bigger swells, although outside of these months you should be sweet. Even so, the experience was worth the heavy ride back home!
Also, stopping at Hemingway Brewery for a cold beer on the return at the Marina worked wonders.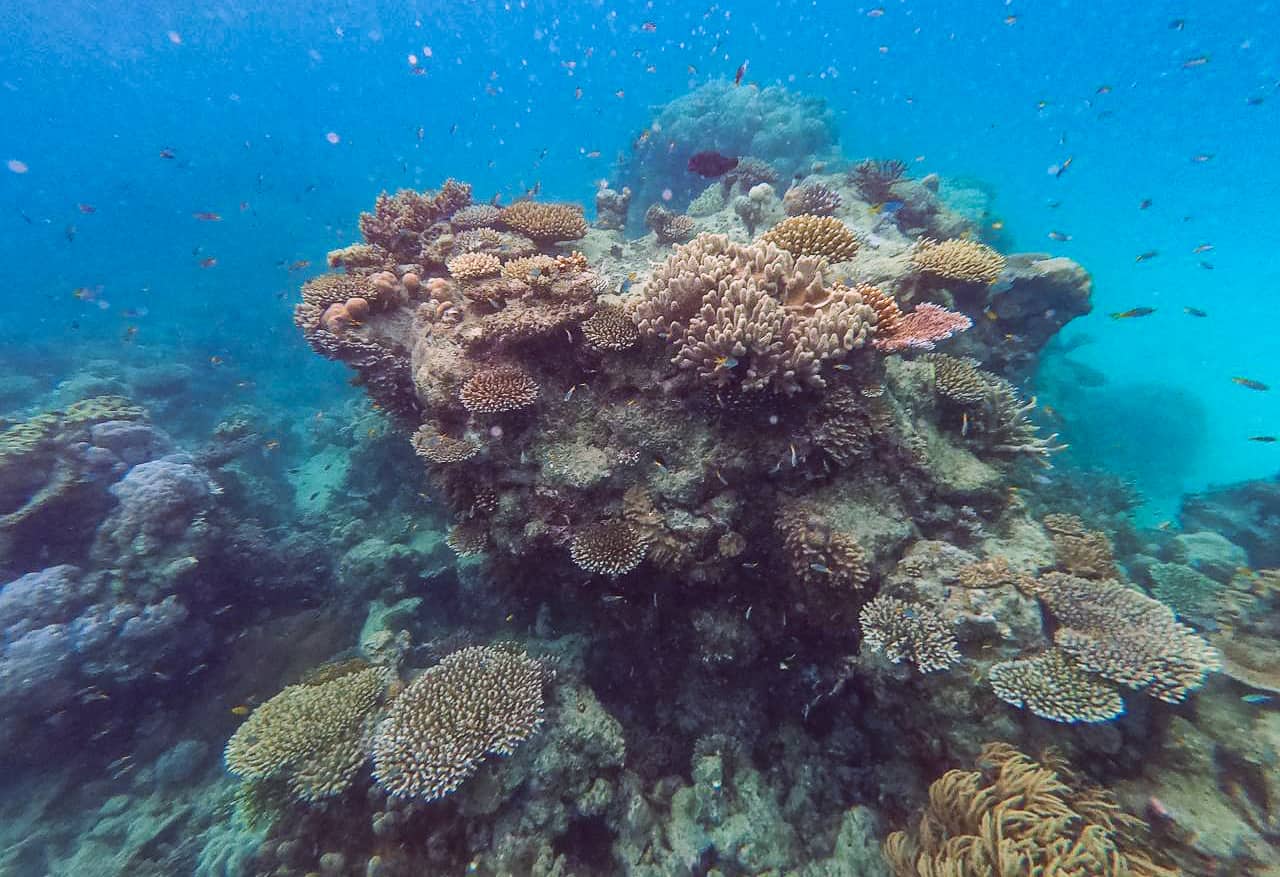 Would I recommend Port Douglas Reef Tours With Sailaway?
Although quietly optimistic, I didn't really know what I was going to see on this trip and went in with low expectations. But I was very pleasantly surprised and thought Mackay Coral Cay was a really good spot for some quality snorkelling. I left fully appreciating how special this place is and can't wait to go back and see more.
Overall I thought the whole day with Sailaway was very well-managed and the whole experience was excellent. The crew were friendly and professional, the luxury boat was really comfy and I liked that visitor numbers were kept low.
They've also received the highest level of eco-accreditation and we were told about a number of reef conservation initiatives they're involved in, like the coral nurture program and Eye on the Reef.
Sailaway weren't aware I'd be writing this post and aren't sponsoring me in any way, so all views are my own.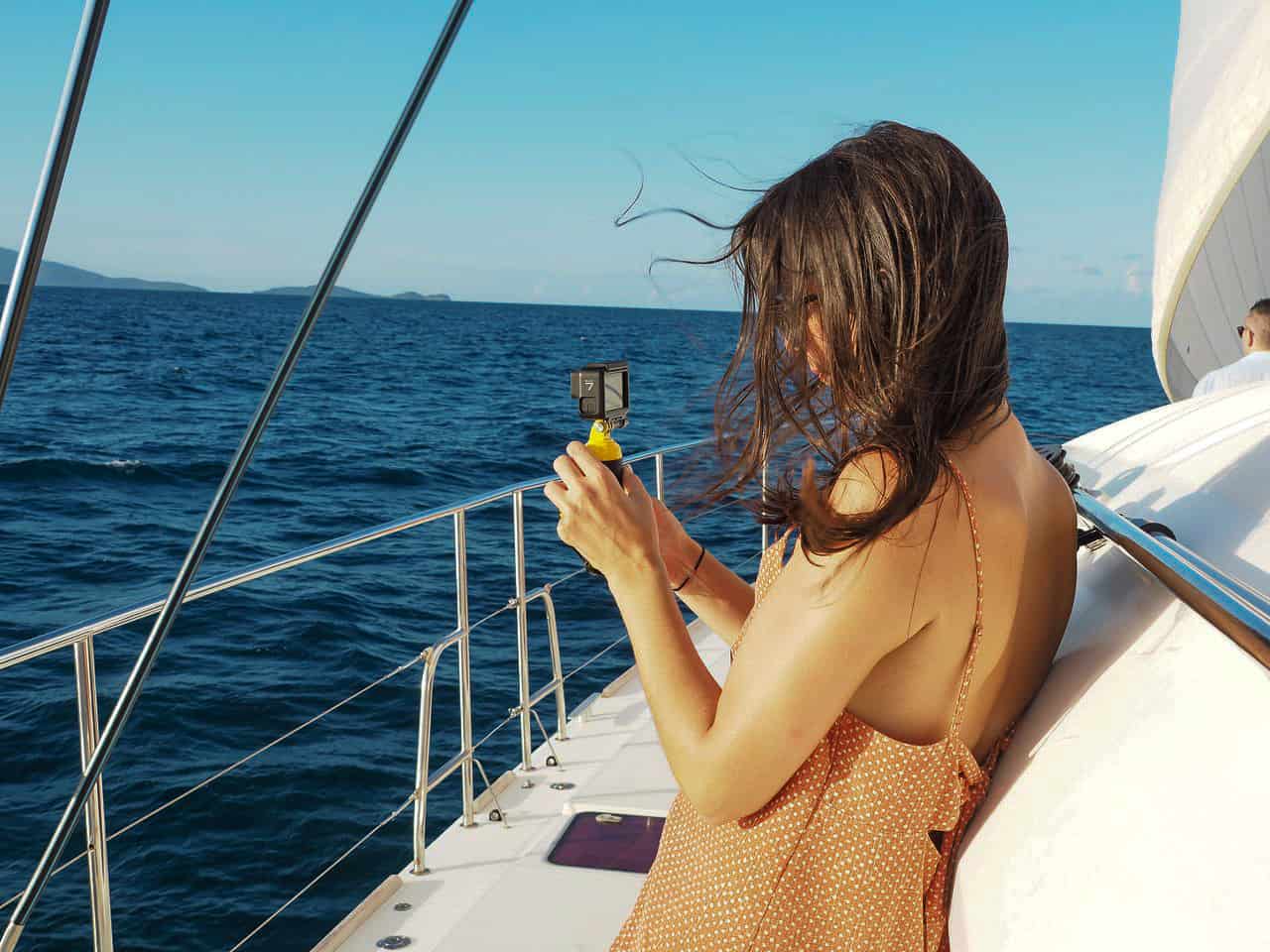 * * *
Bookings
Due to covid, there's currently a reduced capacity and service so advance bookings are recommended to avoid missing out. If you're a local, then Sailaway have discounted rates during Feb and March- find our more on their website.
To read reviews and book with free cancellation, check out Get Your Guide.
Good to know
If you're more of a diver or want to explore some of the other reef tours from Port Douglas, check out my
article
.
---
Like it? Pin it for later!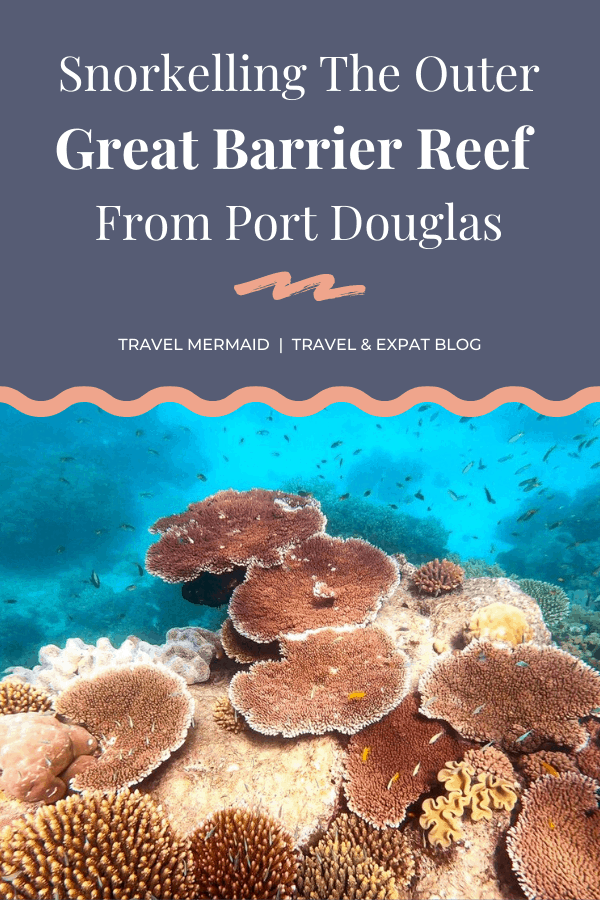 My trip to the outer Great Barrier Reef was not comped and all views are my own – I pay my way so that I get the same authentic experience you do. In this article I've included some useful links so you can easily book your trip with Sailaway which are affiliate links, of no cost to you. Thank you for supporting Travel Mermaid.
XOXO