First time visiting Kuala Lumpur and Malaysia? Here are my picks on delicious Malaysian foods to try, and where to hunt them down in town!
---
---
It didn't take long living in Kuala Lumpur to learn that Malaysians are a proper, bonafide foodie nation. Never have I heard people talk so passionately about food, or seen overflowing crowds of people queuing for ages to sit at a restaurant that's loved or highly recommended. And when I talk to Malaysians about Penang, they can't wait to tell me all about the food!
Being the self proclaimed foodie that I am, I couldn't wait to eat my way around KL when I arrived fresh off the boat two years ago. It is, my friends, the cause of some very happy love handles that I'm now trying to burn off here in Australia! But to be truthful, the love story was a slow burn.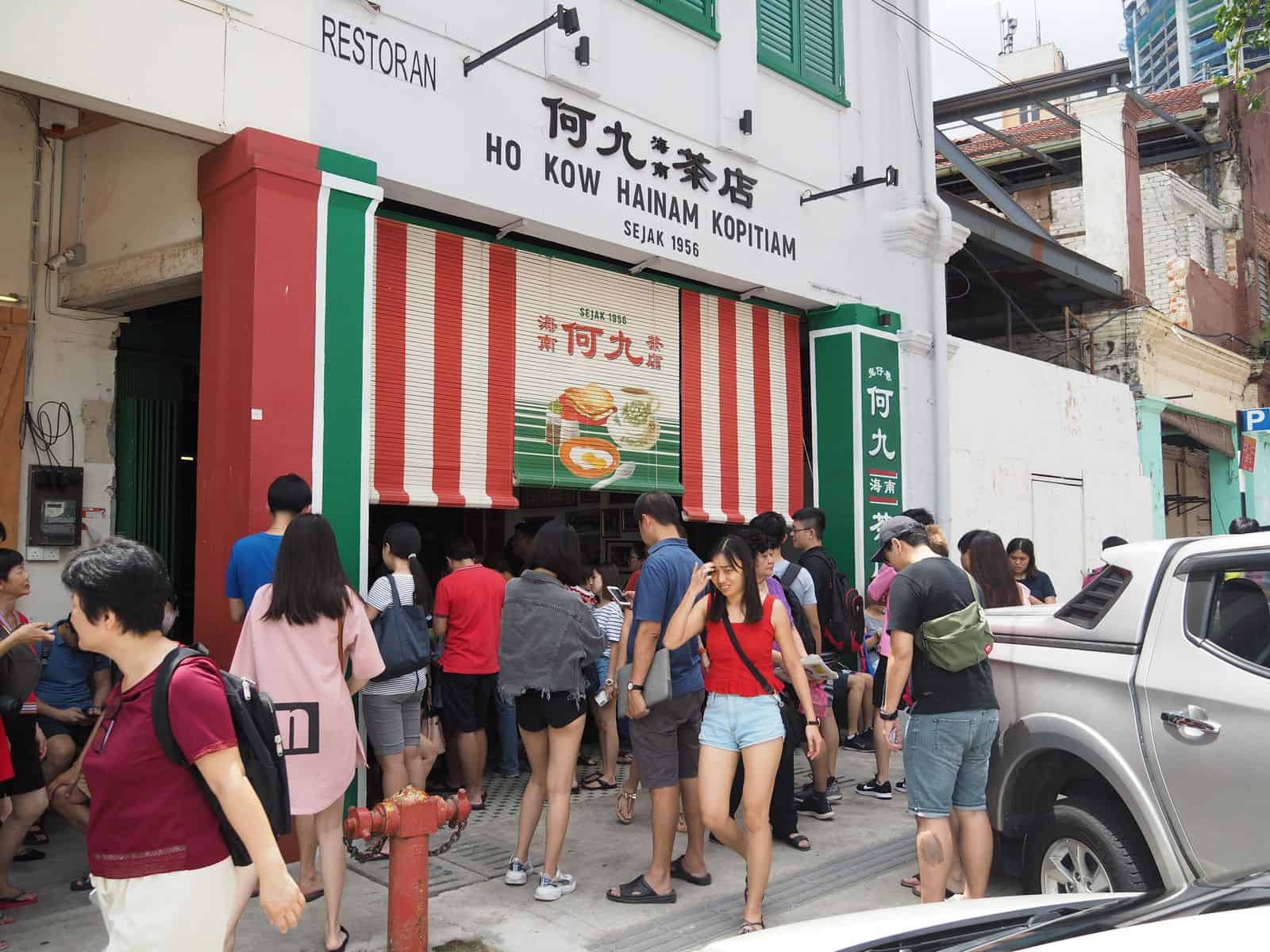 Unlike in Thailand, where I would mop up Thai food for breakfast, lunch and dinner pretty much every day, I only ate Malaysian food a couple of times a week in KL.
One reason, comes in the form of ikan bilis (dried anchovy) and belecan (prawn paste)! Whilst normally it's a small addition to a stock or on the side, it took a while to adapt my 'western yet travelled' palate to this fishy flavour. I was used to fish sauce from Thailand, but this was sometimes more intense.
Secondly, although incredibly tasty, I found some dishes to be quite heavy and oily. I worked with an Indian Malay who said that the 'oil brings flavour'…what do you think? 🤔 I found that it just gave me a muffin top!
And then there's a ton of awesome restaurants in KL from most worldwide cuisines. The temptations are aplenty.
Related Read:
Top Restaurants in Kuala Lumpur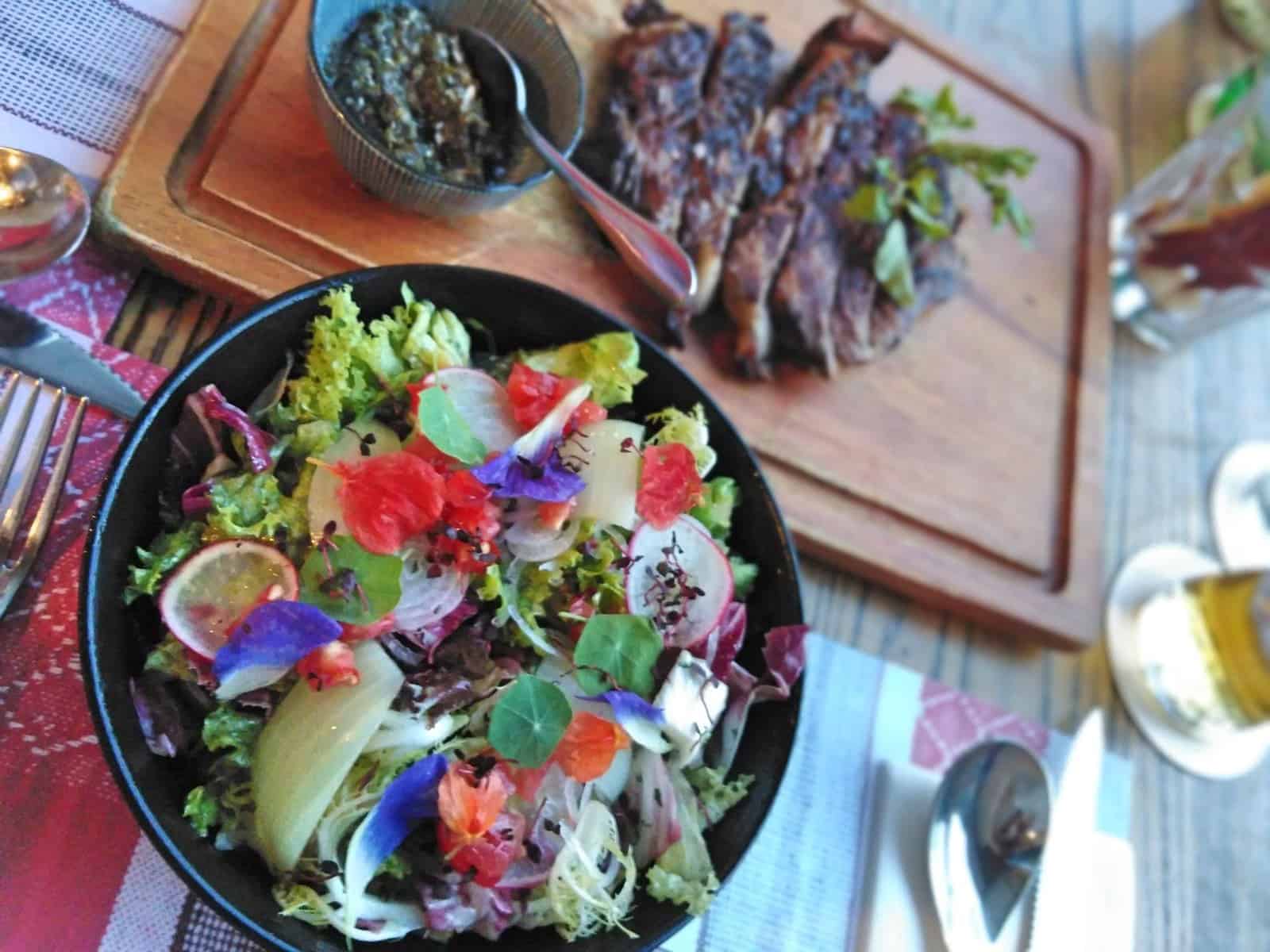 But one thing you don't really get anywhere else in Southeast Asia, is so much diversity. With influences from Indian, Chinese, Thai and Indonesian cuisines (to name a few), Malaysian food is enormously multifaceted.
This means that aside from those fishy serves of ikan bilis, heap of show-stopping flavours will win you over- from fragrant Southeast Asian staples like kaffir lime leaves, lemongrass and coconut, to aromatic Indian spices like cumin, cardamom and coriander.
Malaysian food isn't really 'hot' and it's far from the slap-me-in-the-face chilli comas you'd get in Thailand. But if you're a chilli freak and eat the stuff up for breakfast like I do (seriously, chilli eggs should become a thing), then a side of chili padi is never far away (chopped bird's eye chilli).
---
My Top 10 Malaysian Dishes & Where To Find Them in Kuala Lumpur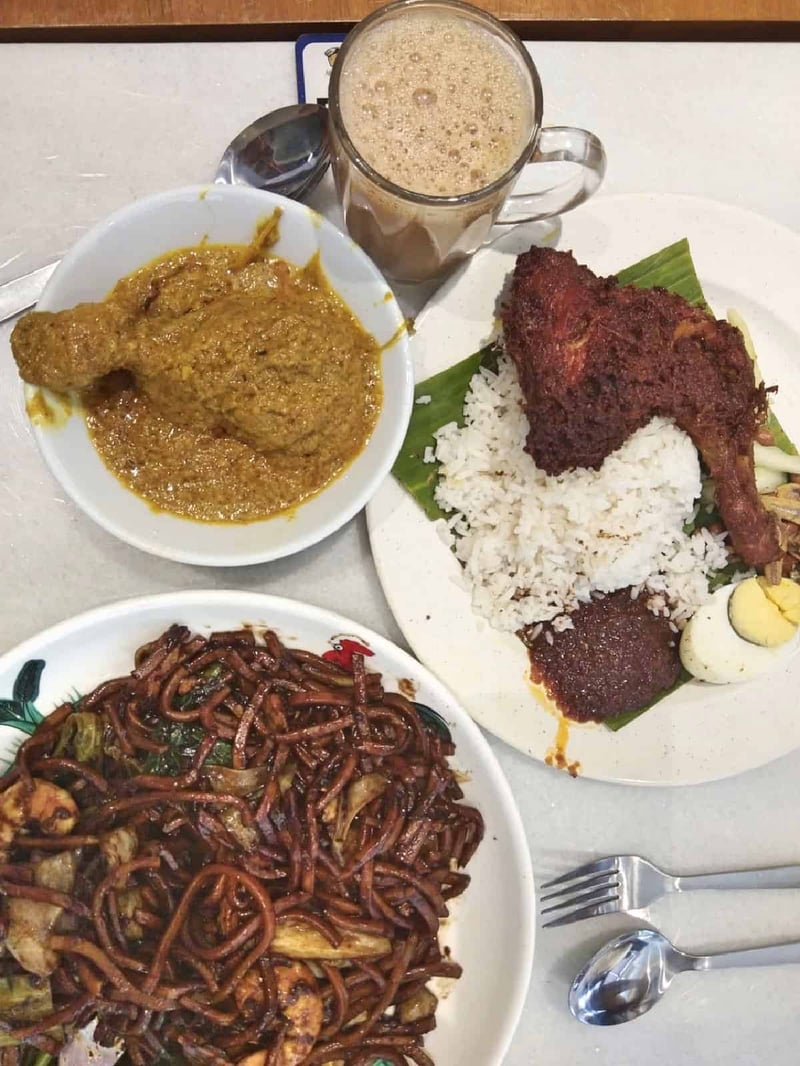 As a Brit who's lived in Southeast Asia for four years, I understand that sometimes as a foreigner, eating at a hawker stall can be a bit intimidating. It's not the 'western' looking eatery you're used to and you're not always sure what food to expect. Plus, they sometimes work a bit differently.
But for a true Malaysian food experience, you've gotta go local. I'll be easing you in though (just in case you're a newbie) and will take you to some traditional eateries that are a little more western-friendly, but not touristy, as well as some slightly more upmarket restaurants to experience a range of pukka local food. Each one I've either eaten at personally, or it has been highly recommended by locals.
So are you ready to get your mouth around some pukka Malaysian food? Let's go on a food tour lah! 🙌🏼
Tip! If it's your first time to KL & you only have limited time to spare, then I'd recommend going on a food tour with a local. Not only will you sample some cracking Malaysian dishes at local haunts but you can get a better understanding of the cuisine with a local's insight. Check out With Locals to find out more.
---
1. Roti Canai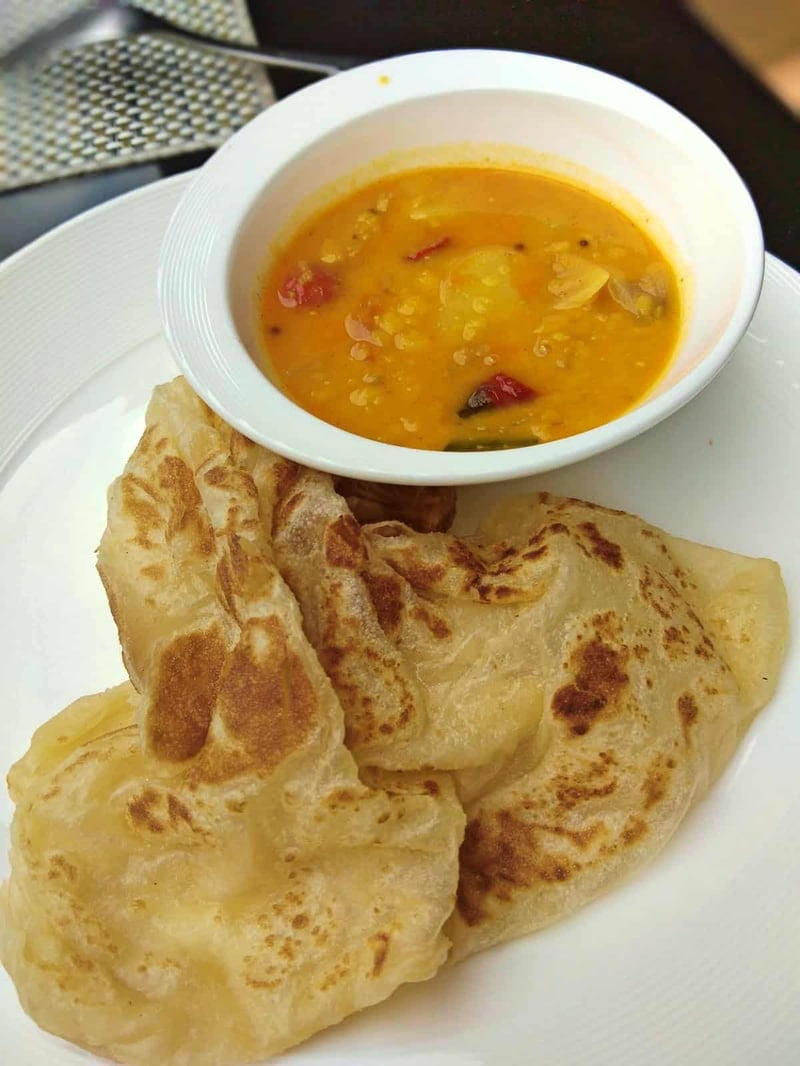 If you're leaving KL and only have time to try one thing, it should be indulging in Roti Canai! My heart sings for this stuff, and I give it my vote as Malaysia's national dish 🙋🏻‍♀️.
This simple yet delicious, light yet filling, flaky flatbread was brought over by the Indian Malays and it's made from flour, egg and ghee. It always made the biggest appearance at my school's staff meetings, being the cause of many love handles in the teaching department! But don't worry, you're on holiday 😉.
Roti Canai can be eaten at anytime of the day but it's traditionally a breakfast staple, adapting to be a late night/hangover option for expats! Usually it's served with a small portion of sauce for mopping up, such as a scrummy lentil dahl or chicken curry.
Here's a video of a chef make it when I stayed in Pangkor Laut Resort. This 👇🏼 Roti Queen had the busiest section!
Where to get your mouth around it
If you're lucky, your hotel might have it as a part of a brekkie buffet. Otherwise, pretty much every mamak (Indian-Muslim eatery) will serve it. I've personally eaten it at Pelita's, a really good chain of mamaks in KL.
You could also check out a highly rated Indian-Malay restaurant called Tg's Nasi Kandar in Bukit Bintang which is said to have some really authentic Indian food. Or if you want to go all out, head to Valentine Roti close to Ampang, a specialist roti eatery that's meant to serve some of the best stuff in town.
---
2. Nasi Lemak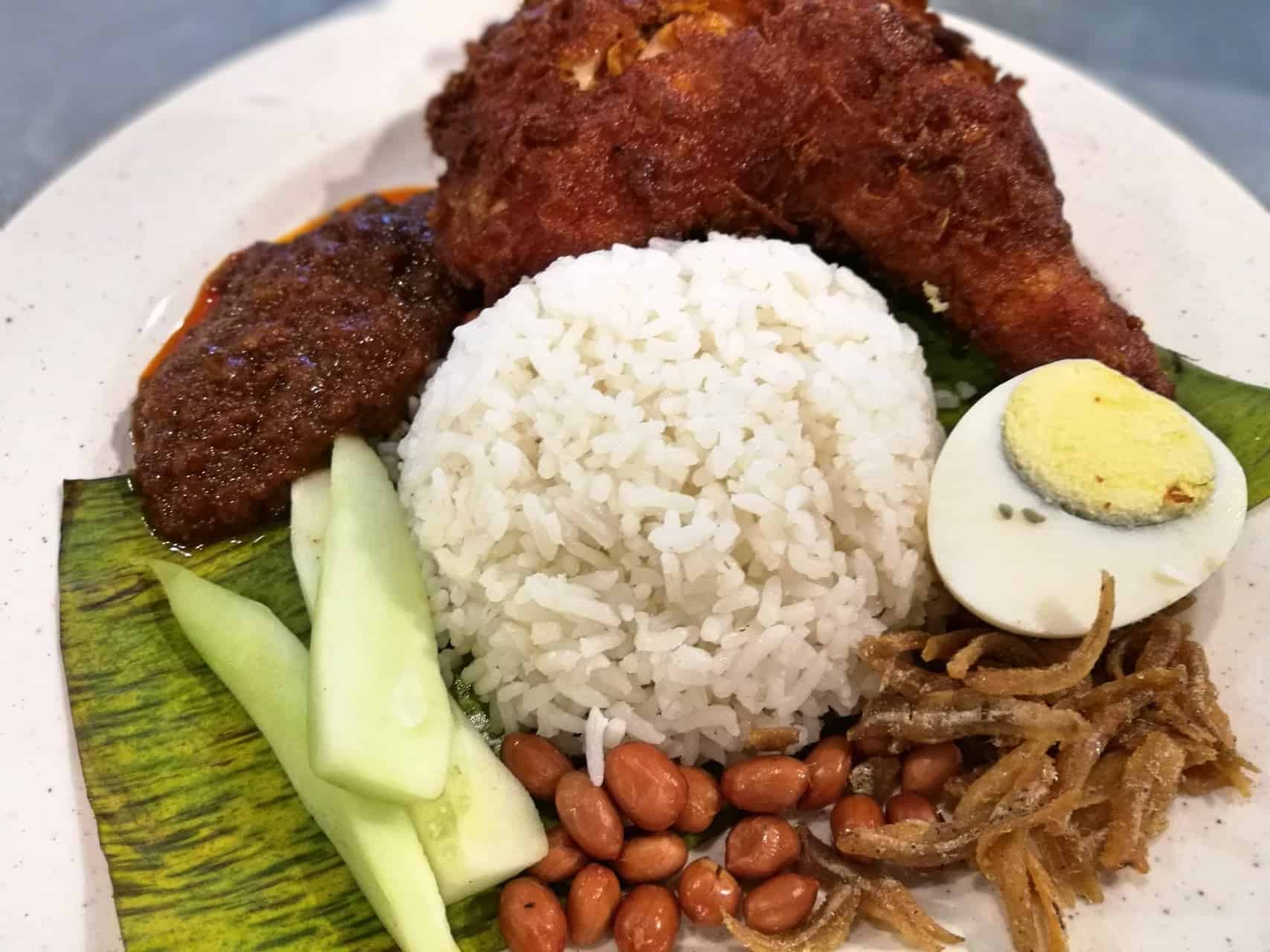 Nasi Lemak is one of the oldest and most traditional Malaysian dish there is. On it's own, it's made up of white rice that's been soaked in coconut cream to give it a fragrant aroma and creamy taste- naughty, but nice.
It's usually served with a chilli paste called sambal, which I sometimes set aside when too much anchovy or prawn paste is added to it..but you may like it. It comes with a hard-boiled egg, cucumber slices, roasted peanuts and a side of ikan bilis.
When Nasi Lemak is pimped up it can be served with extras like a fried chicken leg, curry or beef rendang curry.
Where to get your mouth around it
For this one, I'm going to take you to a place I visited and loved- Ali, Muthu & Ah Hock.
This award wining kopitiam recently opened in my burb of Mont Kiara, at Publica Mall. It also has its flagship restaurant in Chinatown which is conveniently central if you're in KLCC. Unlike most other kopitiams, this one is unique in that it's run by a Malay, a Chinese and an Indian guy, whom I call 'The Three Musketeers'. Therefore you're presented with the best of Malaysia's eclectic cuisine.
I really enjoyed the Nasi Lemak here because the chicken had an awesome crispy skin so there was bags of texture, and they weren't stingy with the seasoning. I even ate most of the ikan bilis that came with it! 😳…it only took two years!
Their Publika branch gets pretty busy at lunch, but just grab a seat and there's table service. You can ask your waiter for help if you're not sure what anything is. I'd recommend having a traditional teh tarik with it too, a tasty Malaysian 'pulled' tea with condensed milk that originates from India.
---
3. Beef Rendang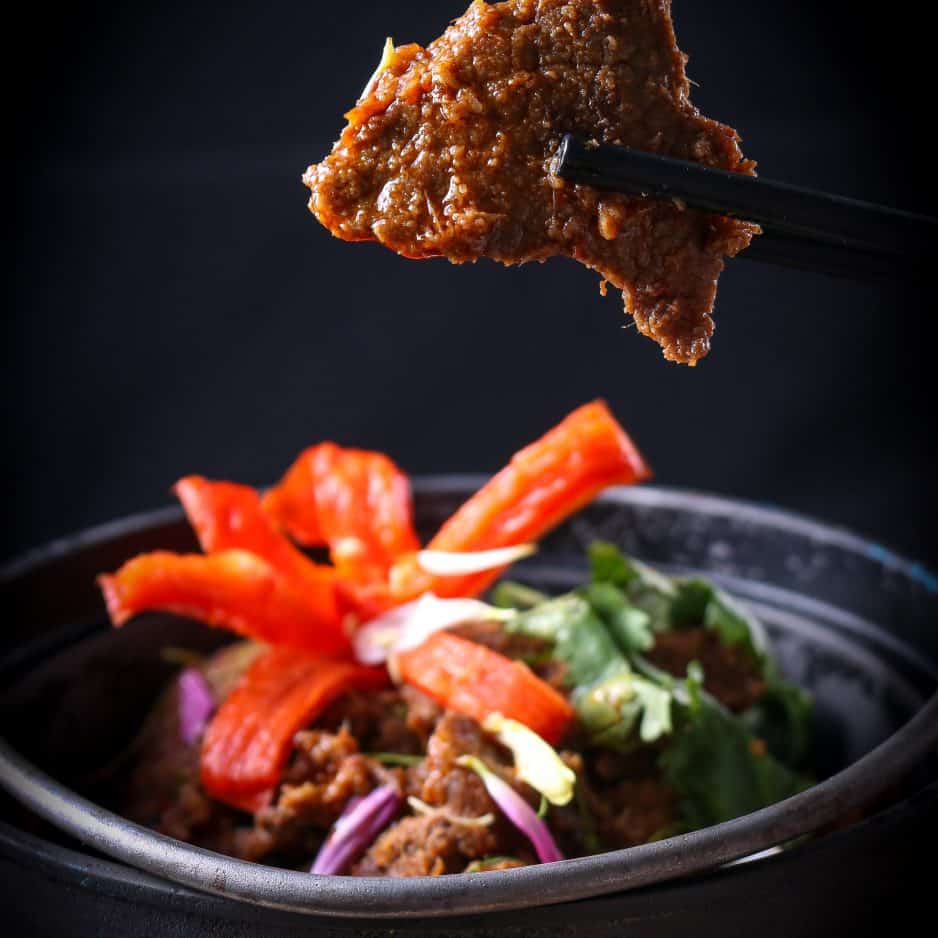 This dish is the bees knees! It's a Malay stew that's normally served at special occasions, and one of my favourite Malaysian dishes. The rendang is slow cooked, so has oh so tender pieces of beef that falls apart like butter, which absorbs the rich curry-like sauce that's totally moreish.
Where to get your mouth around it
I've eaten a pukka rendang for breakfast at the Double Tree by Hilton's Makan Kitchen in Melaka, which also has a branch in KL.
Otherwise Opium's rendang curry is said to be highly succulent with great reviews. I've visited Opium a few times during my time in KL for cocktails and tasty titbits. It's got a buzzing atmosphere and is well-positioned in the hustle and bustle of Bukit Bintang.
---
4. Grilled Fish & Local Baby Vegetables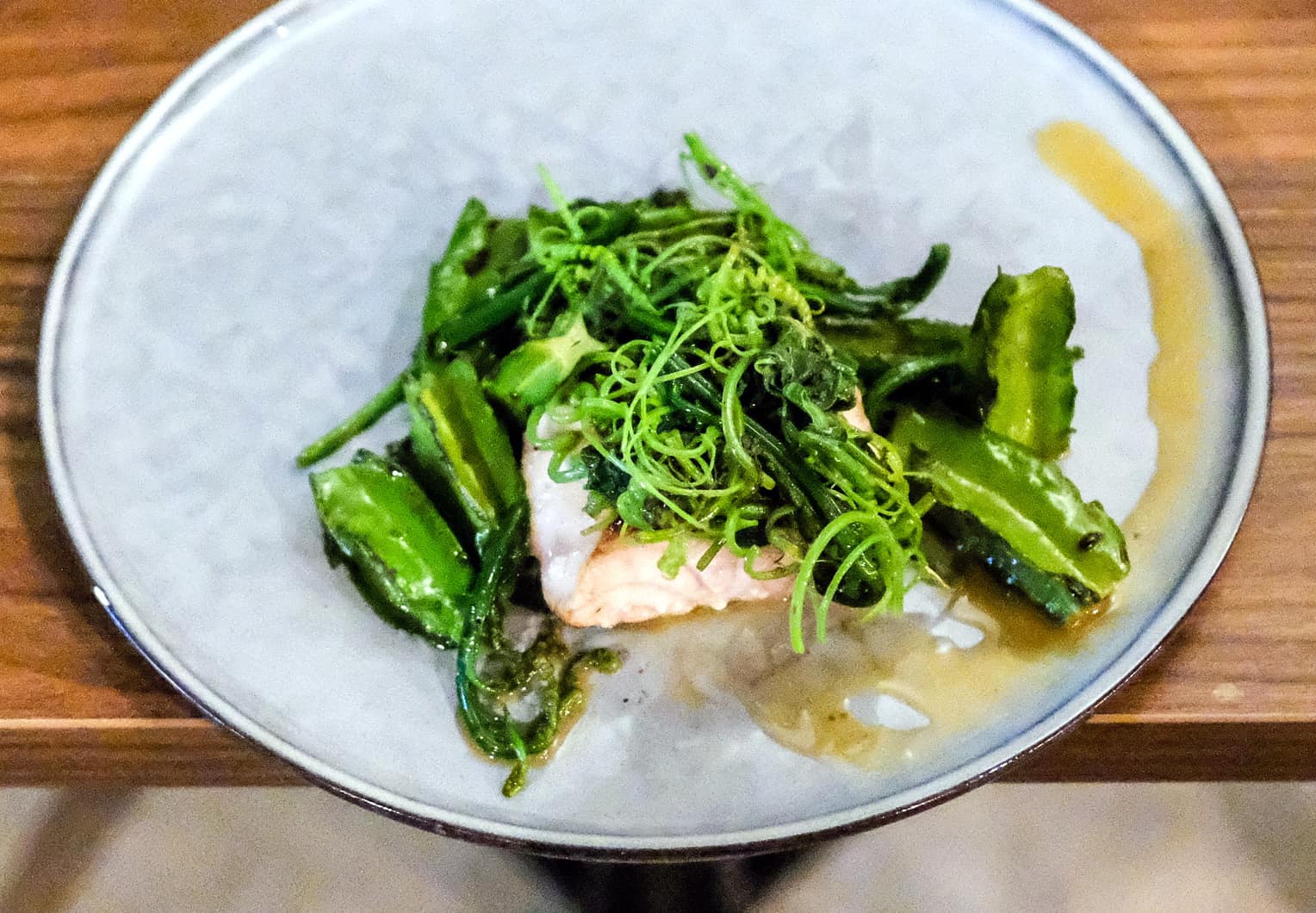 Ember, a Modern Bistro located in an awesome KL burb of TTDI (what a great excuse to venture here) is run by an inspiring Malaysian chef called Gary Anwar. Although essentially a Modern Asian eatery, this grilled fish and baby veg couldn't be more Malaysian.
Gary, who is passionate about local, fresh produce, visits Pudu wet market every morning to hand-pick his ingredients, including the local fish for this dish. Each time I've tried this meal, I was served a lip-smacking snapper that's cooked on a Malaysian charcoal grill. I ignorantly thought it was a hibachi grill, but Gary informed me that the Malaysian one is more shallow.
To top it off, this succulent fish is served with local veg that grows abundantly in Malaysia- pucuk paku and pucuk labu. It has distinctive frond curls, although I've never eaten or seen before. It totally blew my mind.
So that's why Ember's grilled fish and veg, that's created by a Malaysian chef, who uses local Malaysian ingredients and cooks them on a Malaysian charcoal grill, is a must try on this list. Apart from it being totally delicious!
Where to get your mouth around it
Ember Modern Bistro is located in the popular expat hangout of TTDI. Believe me, eating here is well-worth the Grab ride if you're not staying locally.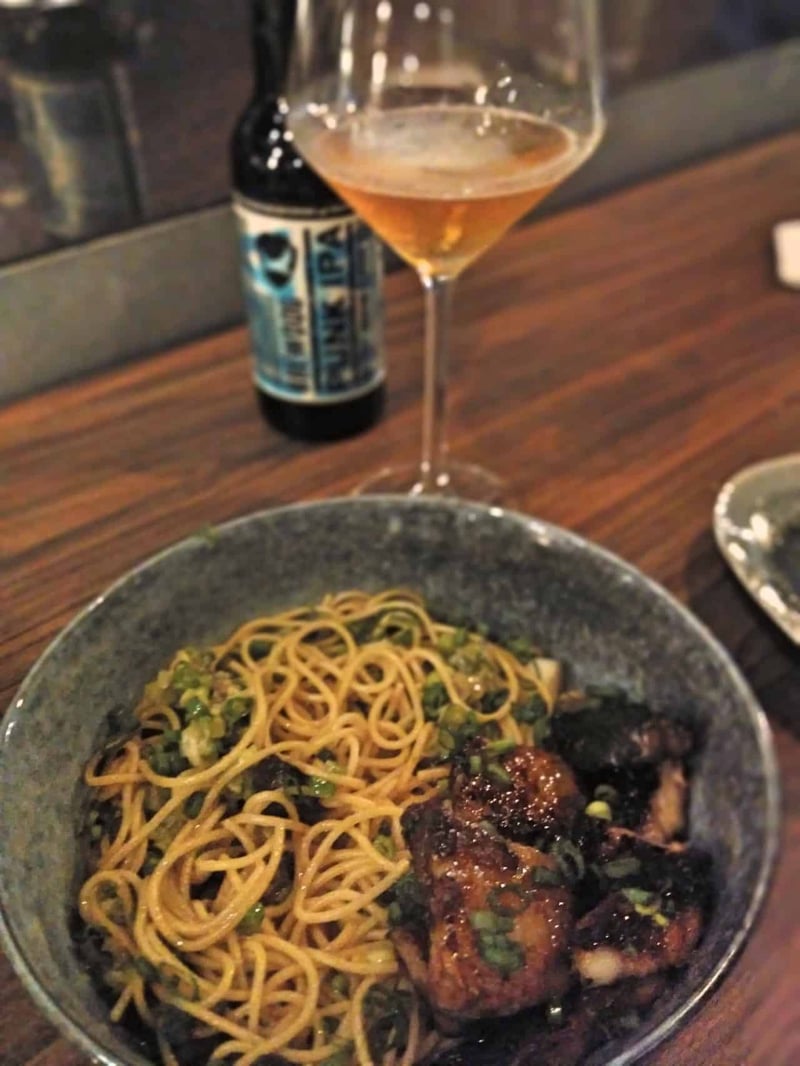 To accompany the fish and veg dish, the rest of the menu is divine, but another exceptional favourite of mine is the grilled lamb and noodles. I had no idea that noodles could taste so good and the lamb was enormously tender, sticky and succulent.
Note: They are closed on a Sunday and Monday and serve a range of awesome craft beers, but they are BYO for wine with a small corkage fee. 
Want to combine a fab night out at Ember with cocktails and comedy in TTDI? Then check out Crackhouse Comedy Club on a Friday or Saturday for some laughs, followed by a nightcap (or two!) at The Pawn Room secret bar.
---
5. Nyonya Chicken Curry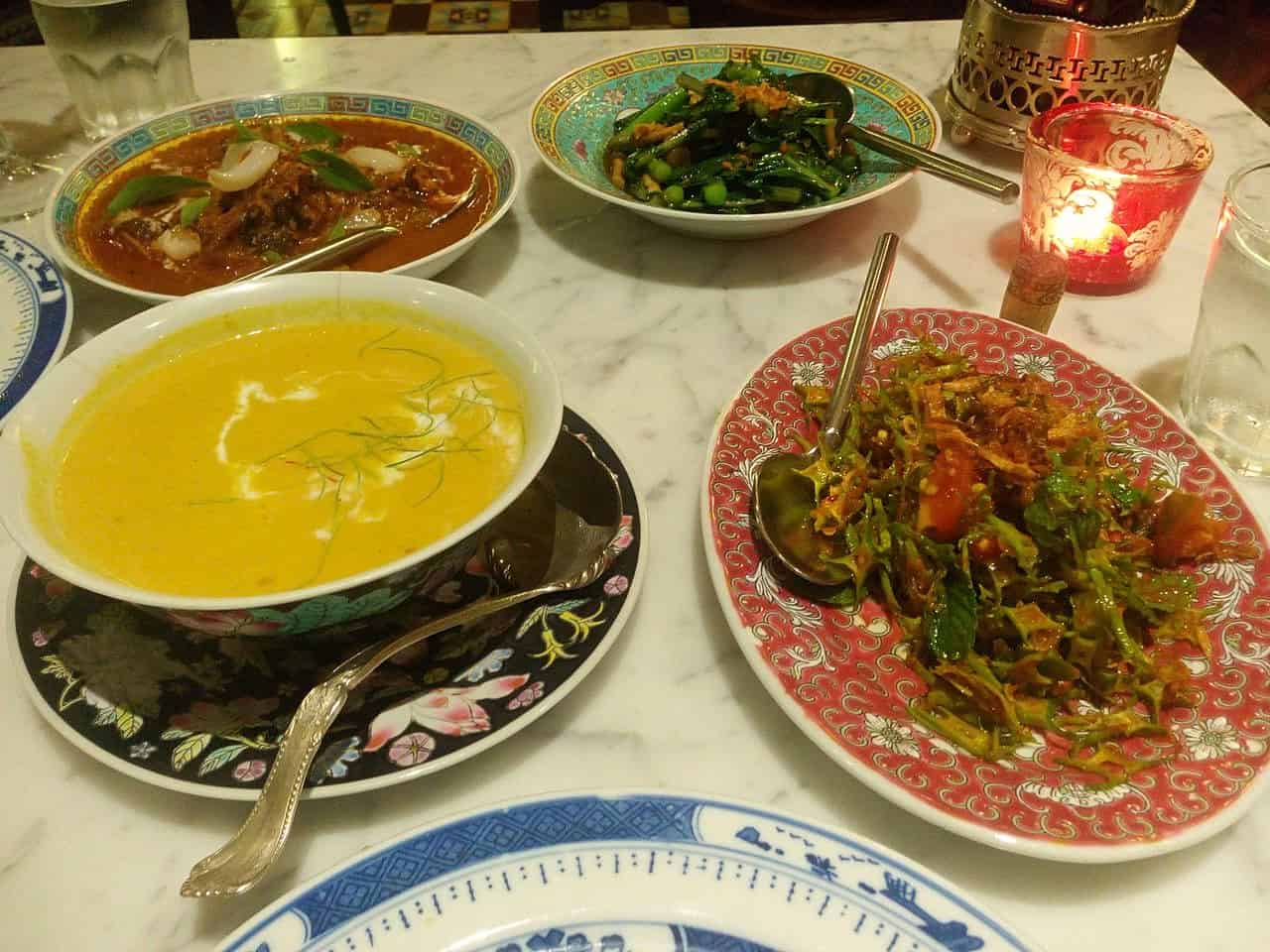 I first tried this mouth-watering curry at Kebaya, a Nyonya restaurant in Penang. It was utterly delicious and the crowd-pleasing flavours reminded me a lot of a Thai Massaman curry, filled with mild aromatics and coconut milk. It's usually cooked with potatoes, chicken on the bone for added flavour and comes in a thick curry sauce.
This is one of the classic Malaysian dishes that Poh Ling Yeow, a Malaysian-born Masterchef Australia runner-up, created for Malaysian Airlines flights. If you want to try cooking it at home or to see how it's made, check out Poh's recipe in this video.
Where to get your mouth around it
I'm kicking myself that I didn't visit Limapulo Baba Can Cook whilst I was in KL, but it's definitely on the list for when I'm back. This place comes highly recommended, as well as being featured in cooking shows such as Air Asia, and the reviews speak for itself. In addition to their Nyonya curry, their Curry Laksa is meant to be top notch 👌🏼.
Check out a short video about the chef behind this eatery. I don't know about you, but I love nothing more than eating pukka food from a chef that's truly passionate about cooking. Baba gets my vote!
---
6. Hokkien Mee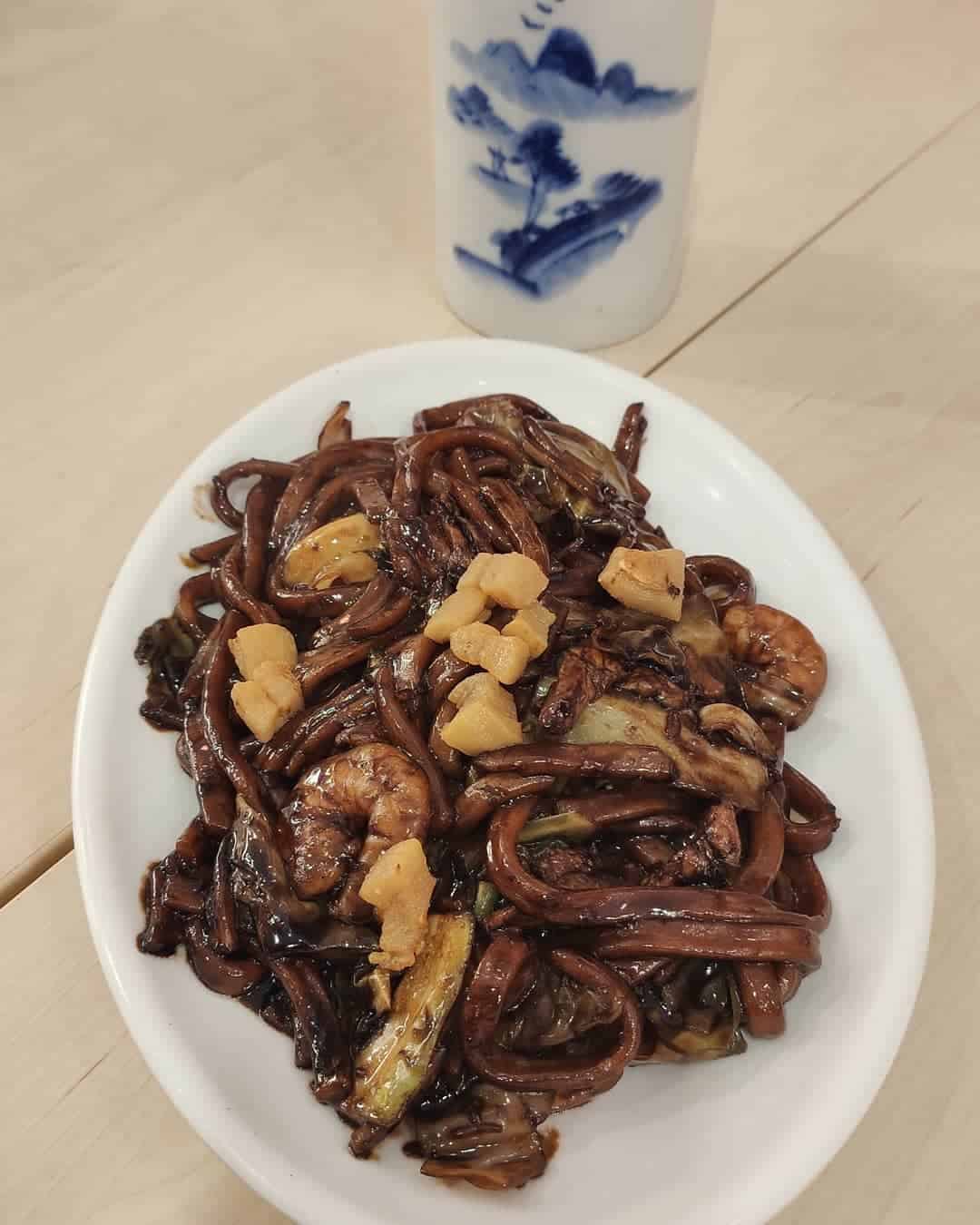 It may not look like much, but don't let appearances fool you. This dish is simple yet really tasty and an utter umami bomb.
Traditionally Hokkien Mee it's made up of thick yellow noodles, wok-fried in a thick dark soy sauce with a combination of pork, squid, fish-cake and cabbage, and crispy fried pork lard a a garnish…an important feature for some naughtiness and crunch.
It was invented in 1927 on the streets of KL by a Chinese migrant called Wong Kim Lian. Hailing from Fujian, he brought over the art of its noodle-making and invented a charcoal fire to fry them in, adding a dark soy sauce. As the legend has it, one day a customer asked him what his tasty dish was called. After a moments consideration he said, 'since I am a Hokkien, I call it Hokkien Mee'.
Many die-hard KLites will judge a good Hokkien Mee (as well as other noodle based dished) on the chefs ability to wok hei.
This classic feature of Cantonese cooking literally refers to the 'wok's breath', meaning the ability to cook food over a really high heat without it burning. Therefore the food should be tossed about non-stop to create even cooking and a good char that slightly caramelises the food. To go a step further, dexterous cooks momentarily toss the cooking flames into their woks to create a banging flavour kick! 😋
Where to get your mouth around it
I ate a yummy version of this dish at Ali, Muthu & Ah Hock, which you can also try alongside their nasi goreng and assam laksa.
But if I were you, I'd head to Lot 10 Hutong, an air-conditioned food court with multiple vendors serving Chinese-Malay food, conveniently located in Bukit Bintang. There's a hawker stand there called 'Kim Lian Kee, that's meant to be owned by the grandson of Wong Kim Lian, the guy who invented this dish. Of course, this place comes highly rated and is said to knock up a mean Hokkien Mee. Open: 10am – 10pm.
Otherwise, you can find Hokkien Mee at endless hawker stalls or kopitiams in Malaysia. I'd highly advise trying it anywhere you can see a vendor using the old school method of a charcoal fire instead of gas, to give it more caramelisation and a smokier flavour.
---
7. Banana Leaf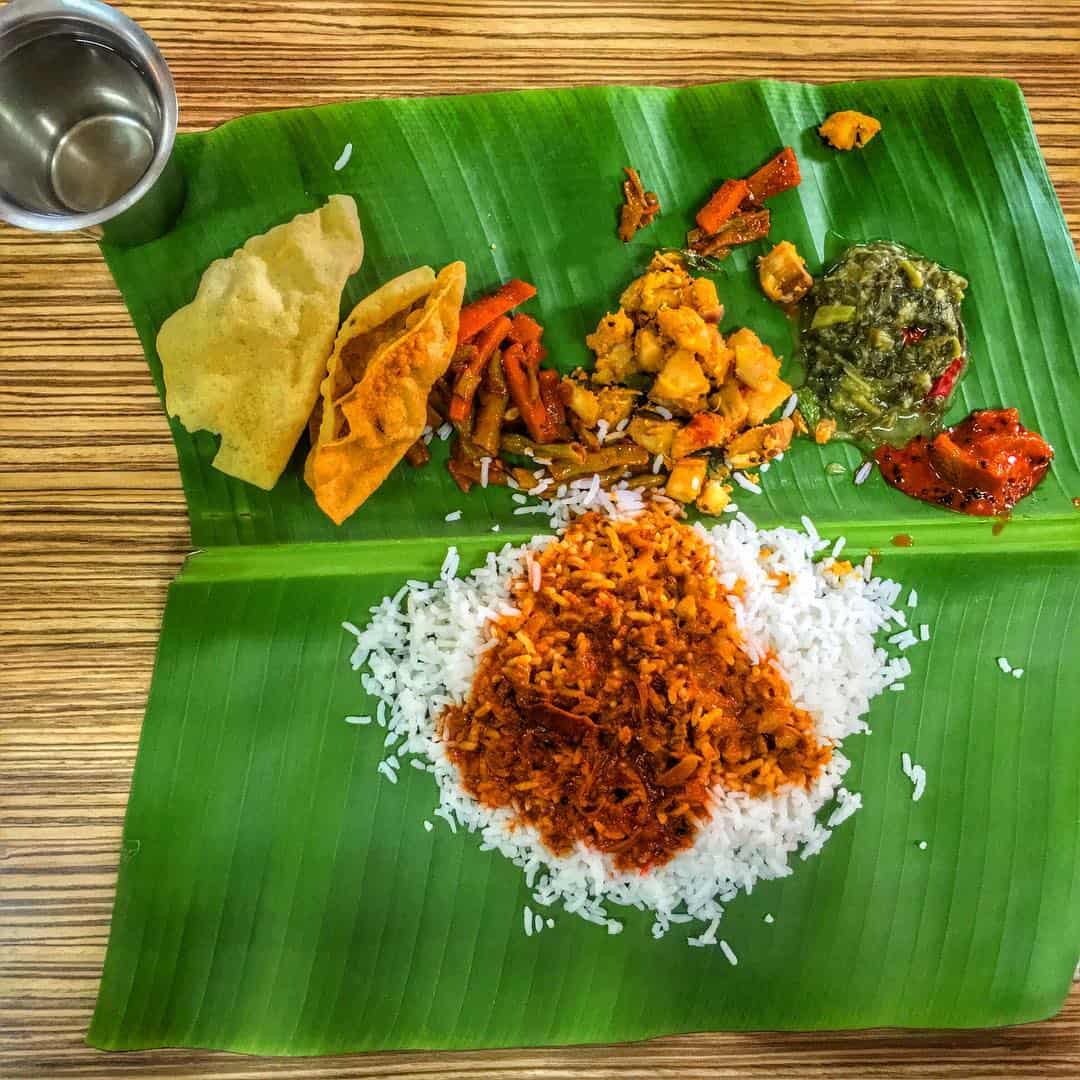 You can't really get much more Indian than this. Hailing from Chettinad in South India, this rice based dish has become a much loved Malaysian pastime and staple on any high street. And why? Because as an Indian colleague once said to me, eating off a banana leaf tastes so much better.
On top of your 'plate', you're served white rice alongside a variety of vegetables, condiments and pappadum. You can then choose to order curry or meat to accompany the dish and make it pop. People normally eat this one with their hands, so give it a go! When you're done, you should fold your leaf inwards.
Where to get your mouth around it
Just down the road from my condo was Raj's Banana Leaf in Sri Hartamas. Each time I walked past, the heavenly aromas used to sing to me!
But I'd suggest heading to a highly rated Banana Leaf eatery in the heart of Brickfields, aka the 'Indian quarter' of KL, Vishal Food & Catering. It won't look much from the outside, but it's meant to serve really authentic banana leaf rice with banging curries.
---
8. Assam Laksa vs Curry Laksa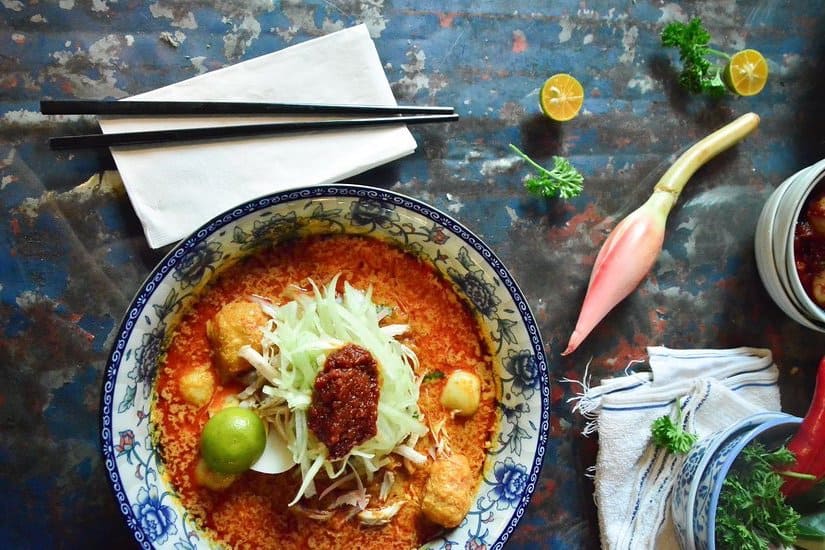 Just like tom yum and tom kha are Thailand's most loved and widespread soups, laksa is Malaysia's treasured noodle soup. There are multiple variations of this bowl of goodness, but most fall under these two 'umbrella' categories- assam laksa and curry laksa.
Assam Laksa is probably the most popular, a hot and sour soup which flavour profiles make it similar to Thailand's tom yum (minus the fish addition and belecan). In fact, Penang is meant to do the best version of this dish and due to it's close proximity to southern Thailand, the tartness and heat is reflected in the food.
Assam Laksa's broth is made from a tamarind, mackerel and torched ginger flower, with added mint leaves and rempah (spice paste) consisting of red chillis, shallots, galangal, lemongrass, turmeric roots and belechan (shrimp paste). It comes with thick rice noodles and is served with mint leaves and batons of pineapple, red onion and cucumber.
The other well-known variation, curry laksa – also known as curry mee– is a Nyonya creation and uses coconut milk to make it more creamy. It too has a fragrant rempah spice paste and comes in a chicken or prawn broth. Curry Laksa is usually served with a combo of prawns, fish cake or tofu, Vietnamese mint and cucumber.
I couldn't get enough of this soup in when I lived in Australia, but the love story was a slower burn in Malaysia because of the addition of belacan, giving it a fishier taste. But everywhere adds a different amount to their rempah, and after a while you begin to appreciate the depth of flavour it adds to the dish. Try and see!
Where to get your mouth around it
If you're visiting Ali, Muthu & Ah Hock for some Hokkien Mee and Nasi Goreng, then you can try their Assam Laksa here too.
However if you can make the special trip to Aik Asam Laksa, located just a bit further south than TTDI, then they're meant to knock up the real deal. Owned by two Penangites, this is said to be the closest thing you're going to get to a Penang assam laksa. And just for a RM6.50 per bowl! To get there, head to the Sea Park market and it's on the corner of Jalan 21/11B and Jalan 21/17A. (Opens: 12 noon to 5pm and closed on a Monday). Address: 1, Jalan 21/11b, Sea Park, 46300, Petaling Jaya.
Or, for an authentic taste of curry laksa, it's got to be the highly recommended and award-winning Limapulo Baba Can Cook for this one, where you can also try their Nyonya chicken curry.
Fancy making Assam Laksa at home or seeing how it's prepared? Check out Poh's version and recipe.
---
9. Malaysian Prawn Curry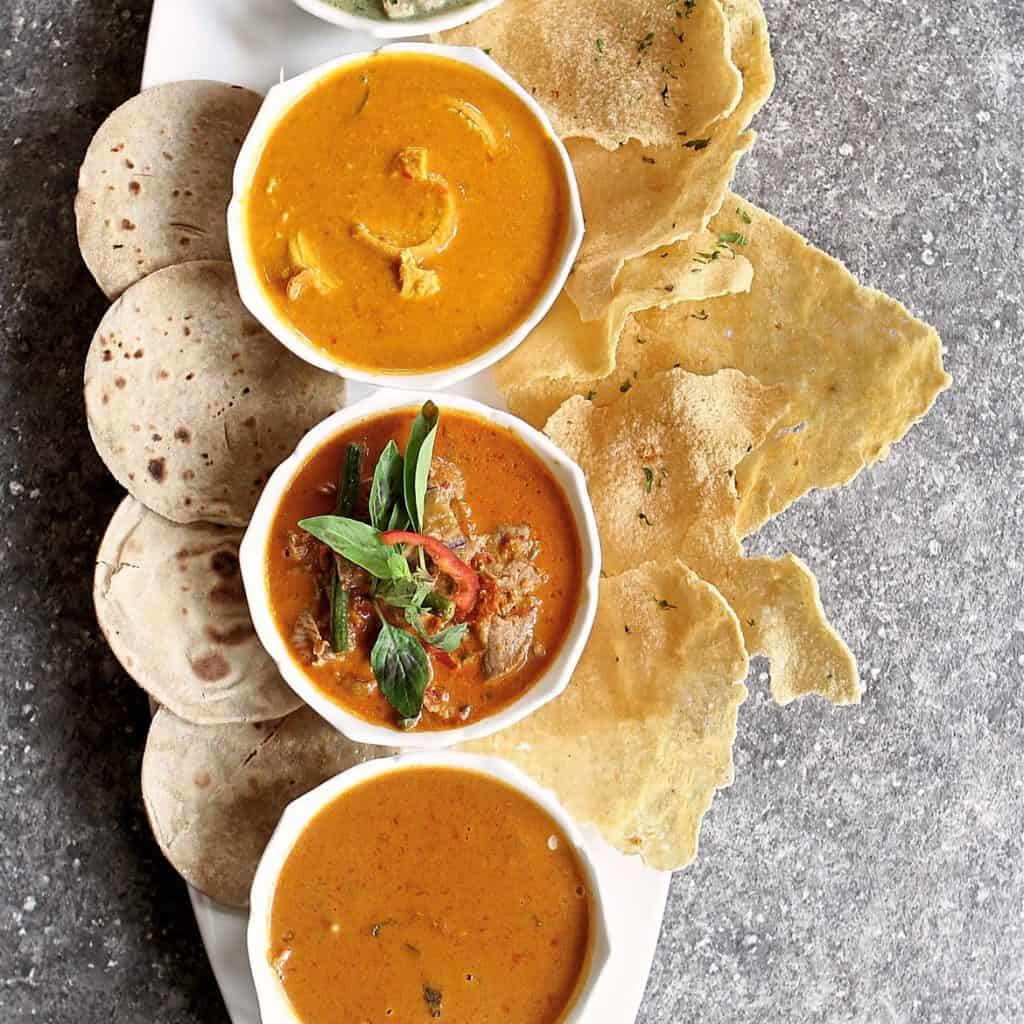 You can find all sorts of curries in Malaysia, which constitute a whole genre rather than a distinct dish. This one is no exception, but I loved this prawn curry in Majapahit! The flavours were aromatic, moreish and it had a nice heat kick.
Where to get your mouth around it
Majapahit's flagship restaurant is in Mont Kiara and due to its great success, they've opened up another branch in KLCC. It serves a range of mouthwatering South-East Asian dishes, predominantly from Thailand and Indonesia, with a few hailing from Malaysia and Vietnam.
If you want to go all out, I'd recommend their Curry Galore, serving four awesome curries that pack a punch (Thai red with beef, Thai green with chicken, Malaysian prawn and Indonesian with squid) as well as their Malaysian chicken satay and finger-lickin' Indonesian sweet sauce wing (aka- sticky yet crunchy chicken wings).
---
10. Char Kuey Teow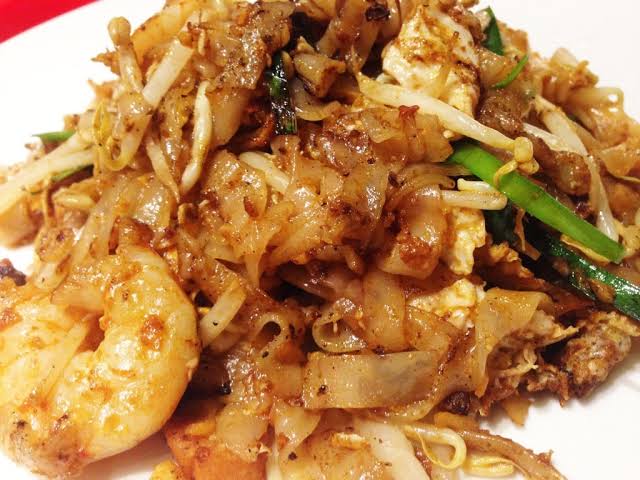 Some Malaysians might argue that Char Kuey Teow rivals Nasi Lemak as the national dish of Malaysia. Concocted by the Chinese-Malays, it consists of super tasty, wide rice noodles that are wok cooked to get them slightly caramelised and smokey. It's cooked in a flavoursome mix of garlic and shallots that's tossed in some dark soy sauce. Additions vary, but can be a combo of fish balls, prawns, cockles, scrambled egg, Chinese sausage, as well as bean sprouts and garlic chives for some fresh crunch. Lip smacking!
Where to get your mouth around it
You can find this dish at many hawker stalls and kopitiams across KL. I've only ever eaten it in Penang, which Malaysians will argue has the best Char Kuey Teow anywhere. Nevertheless, locals are pretty obsessed with this dish, and each have their favourite hawker stall which they're fiercely loyal to.
If I were you, like with the Hokkien Mee dish, I'd head to Lot 10 Hutong. There's one vendor there called 'Penang Famous Fried Kway Teow' that's meant to offer a wonderfully authentic version of this dish. Open: 10am – 10pm.
Otherwise, you can check out Jan Alor in the evening and head to Cu Cha. Don't expect much from their service, but their signature Char Kuey Teow is meant to be pukka.
* * *
---
A bit extra…The Three Faces of Malaysian Food
Malaysian fare was born from the Malays, moulded by the Chinese and seasoned by the Indians, making it anything but one dimensional. One thing you can expect, is bags of flavour and varied textures blended into a melting pot of cultural richness.
Just like Turkish cuisine is an eclectic blend of Greek, Jewish, Arabic, Armenian and Kurdish food. Malaysian food is equally as colourful, diverse and cannot be defined in a single national dish.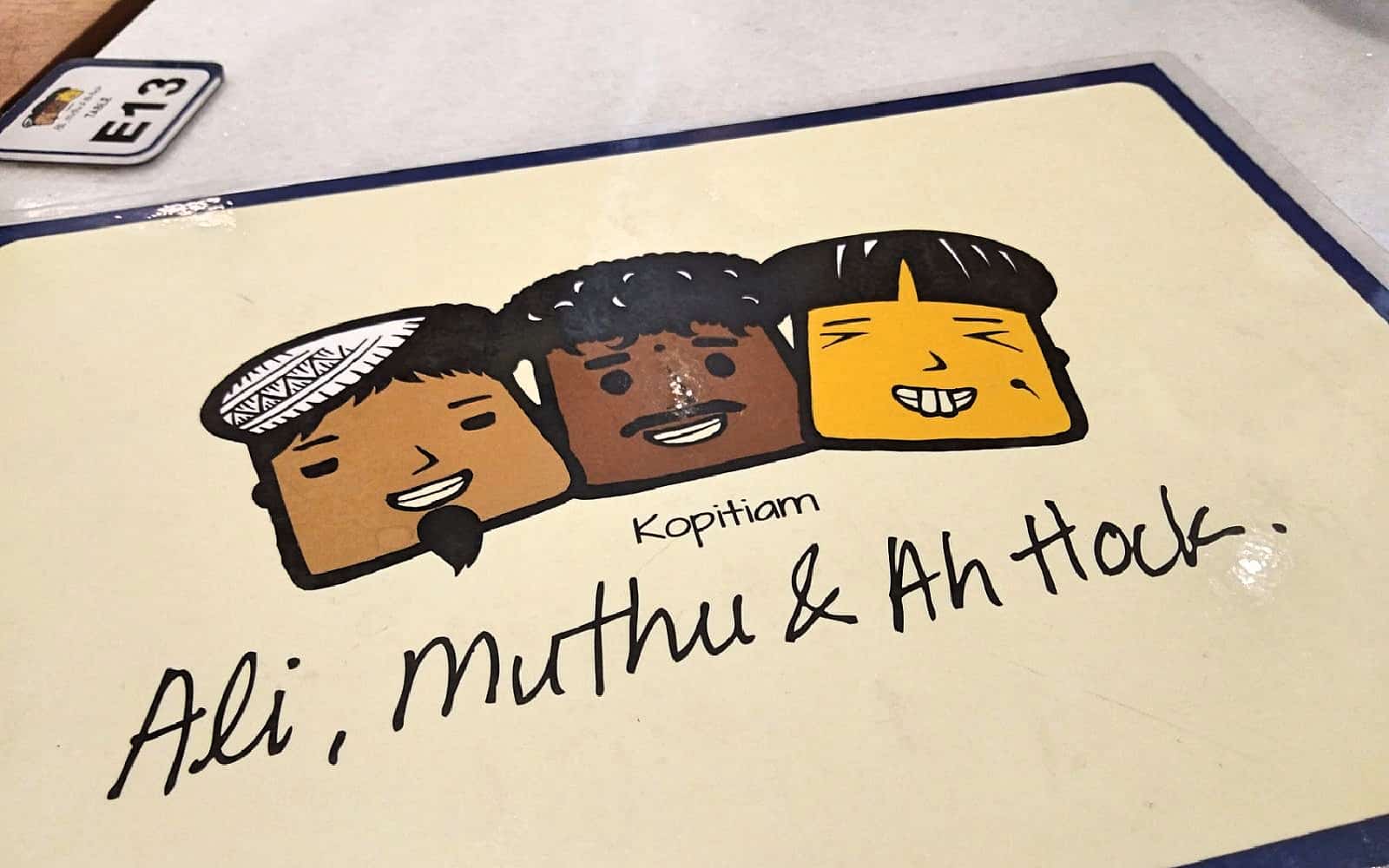 Traditionally, long-standing Malaysian dishes gilded by the Malays (and shared with Indonesia due to historic migration) are typically rice, rendang, satay and sambal.
Then added to the melting pot are countless regional influences from Southern Chinese settlers, establishing a range of noodle dishes, dumplings, soups and favourites from Cantonese, Hakka, Fujian and Teochew cuisine. I've honestly eaten some of the best Chinese inspired food in Malaysia.
Popular eateries such as Kopitiams, which you can also find all over Kuala Lumpur, were created by the Chinese community. The word kopi is Malay for 'coffee' and tiam is Hokkien for 'shop'. They traditionally serve a range of breakfast and lunch dishes, but also some classic 'Malaysian' fare. You definitely have to visit one when you're in town!
To further add to the pot, there's Nyonya cuisine. It was the early Chinese settlers that intermarried with Malays in Penang, Melaka and Singapore, who created this unique blend of cookery. Although arguably the best Nynoya food is from these regions, there's plenty of well-rated restaurants in KL.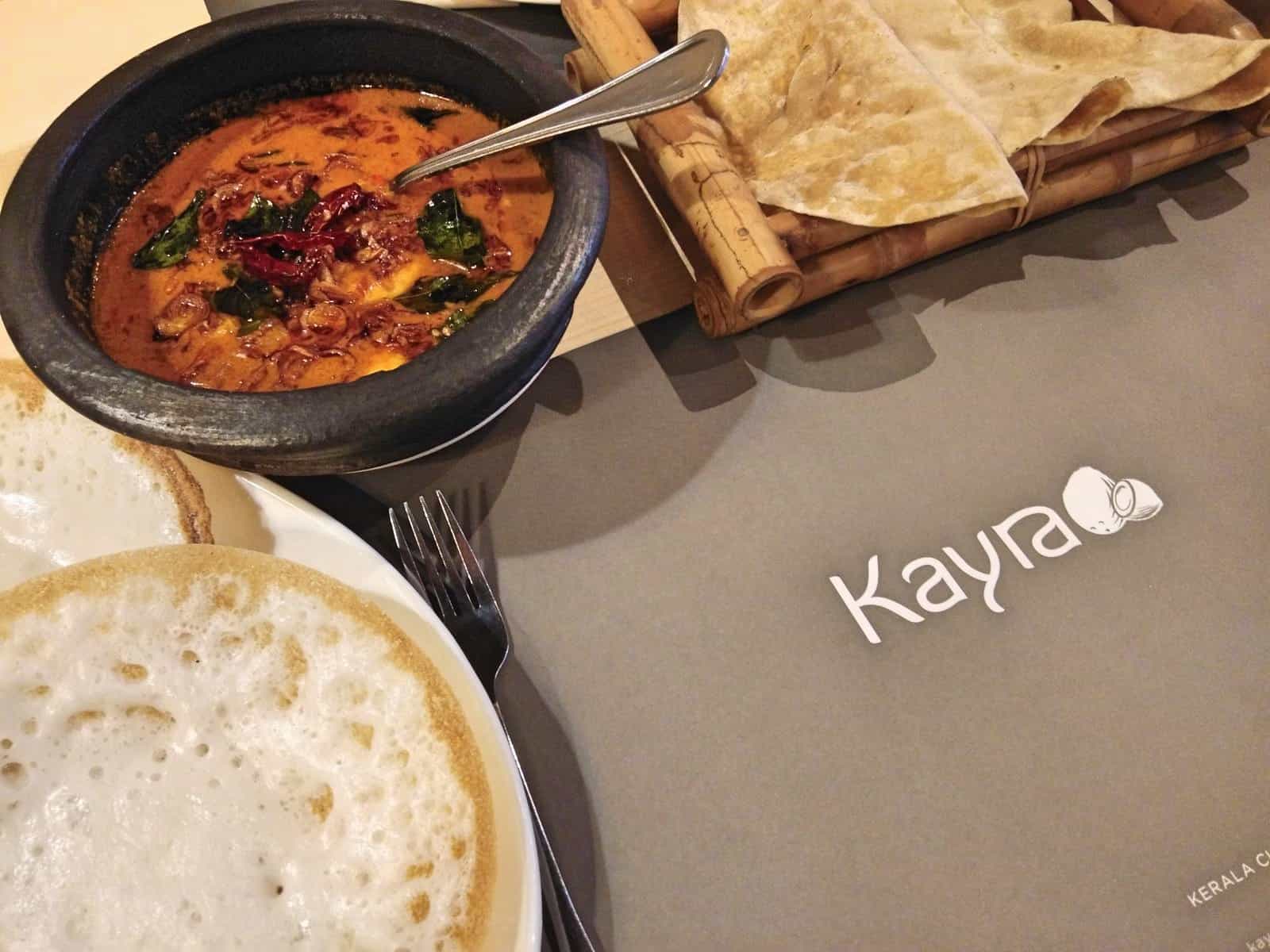 Then to top it off, South Indians brought a combination of fragrant spices, biryani, curries, chapatis, roti and dosa. Growing up in London, where Chicken Tikka Masala was equally as important on my childhood dinner table as were fish & chips and roast dinners, some of my favourite Malaysian food is Indian inspired.
It was also the Indian Malays who introduced banana leaf dining and a Mamak culture, which are typically 24/7 Indian-Muslim eateries that you can see all over KL. Specialist Mamak restaurants serve the Tamil inspired dish Nasi Kandar, a buffet-style selection of white rice or briyani, served with rich curries, meat, veggies and papadum.
---
Like it? Pin it for later!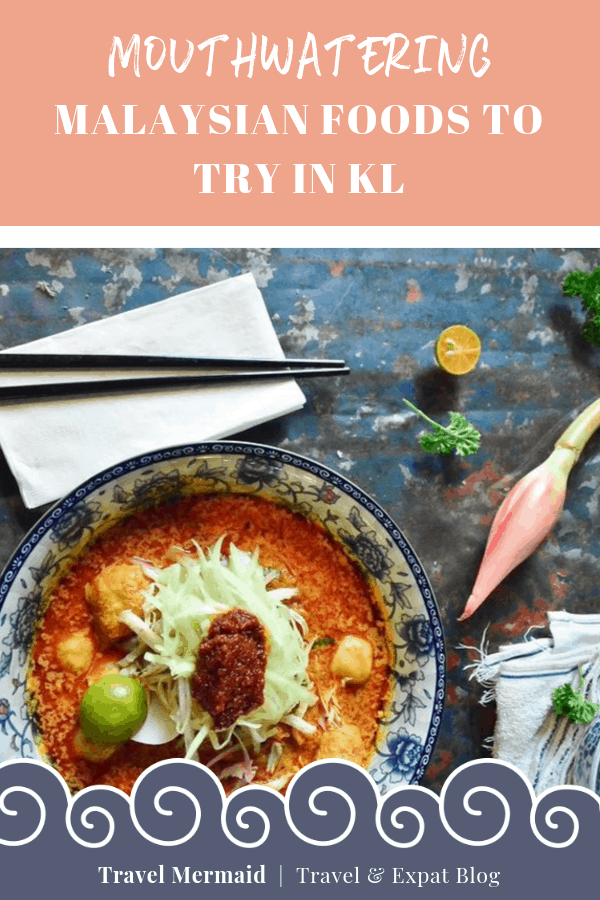 The WithLocals link in this post is an affiliate links to a company that I feel is ethical and will enhance your experience in KL. Any purchase you make through this link supports this site at no extra cost to you. Thank you for supporting Travel Mermaid.
XOXO