Wilderness is not a luxury but a necessity of the human spirit. – Edward Abbey
Bukit Kiara is a popular neighbourhood hiking and biking sanctuary, with plenty of rugged trails to explore. This detailed guide will take you 250 meters above sea level through my favourite unmarked and untamed track, which can be taken in either direction from Mont Kiara to TTDI.
---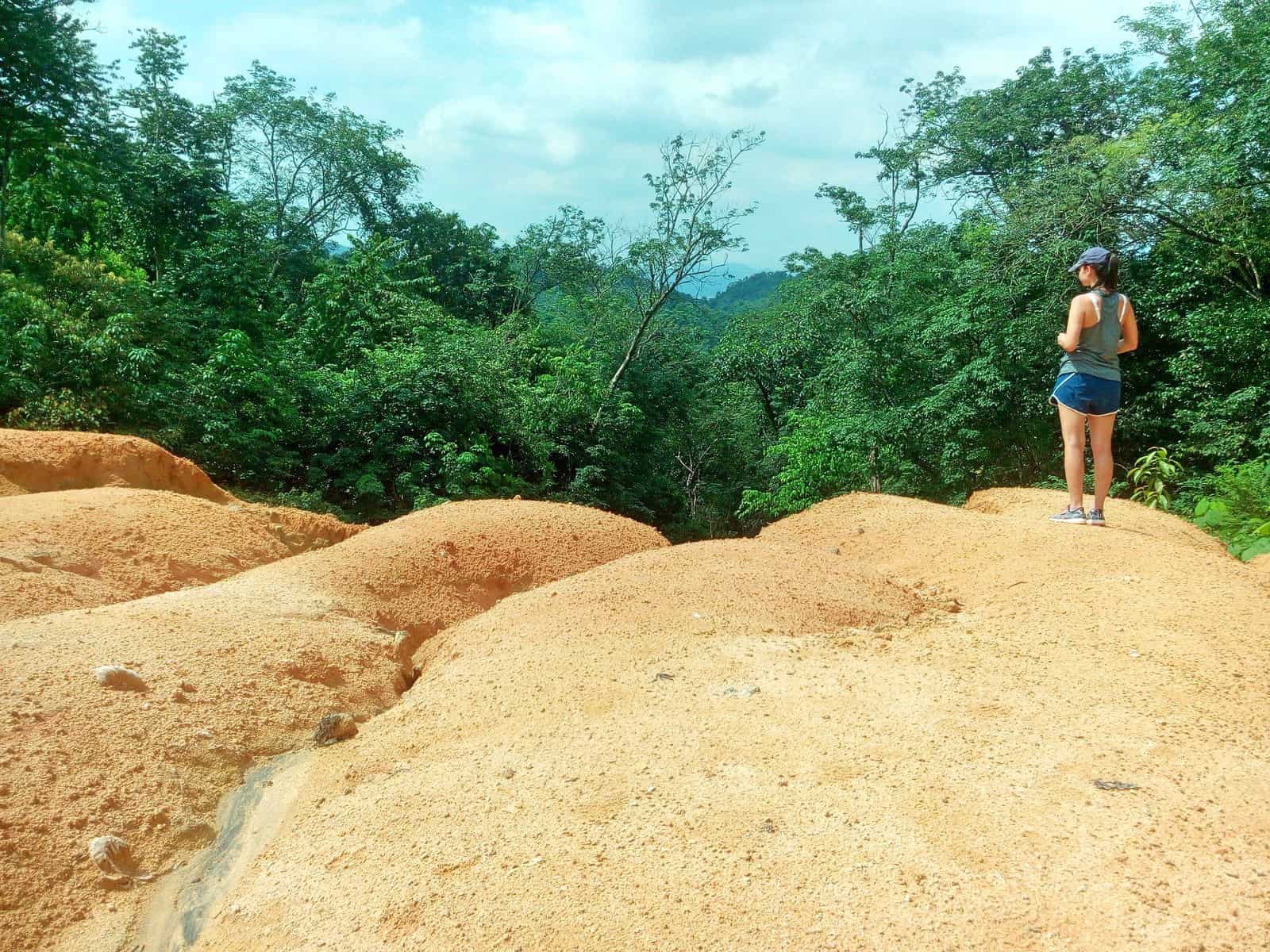 Jungle hiking in Kuala Lumpur might not be on everyones agenda when considering a day out. But a trek through these rugged trails will douse you in clean air, drench you in happy vibes, and give you a taste of KL's unspoiled wilderness that's not in the usual guidebooks. Or as a visiting friend once said, 'it's like actually being in the [TV] series Lost'!
This piece of jungle in Mont Kiara is, by far, my favourite place in Kuala Lumpur. At the end of each jungle hike I feel cleansed of any negativity, invigorated and inspired by nature. I call it 'jungle therapy' … it's a real thing!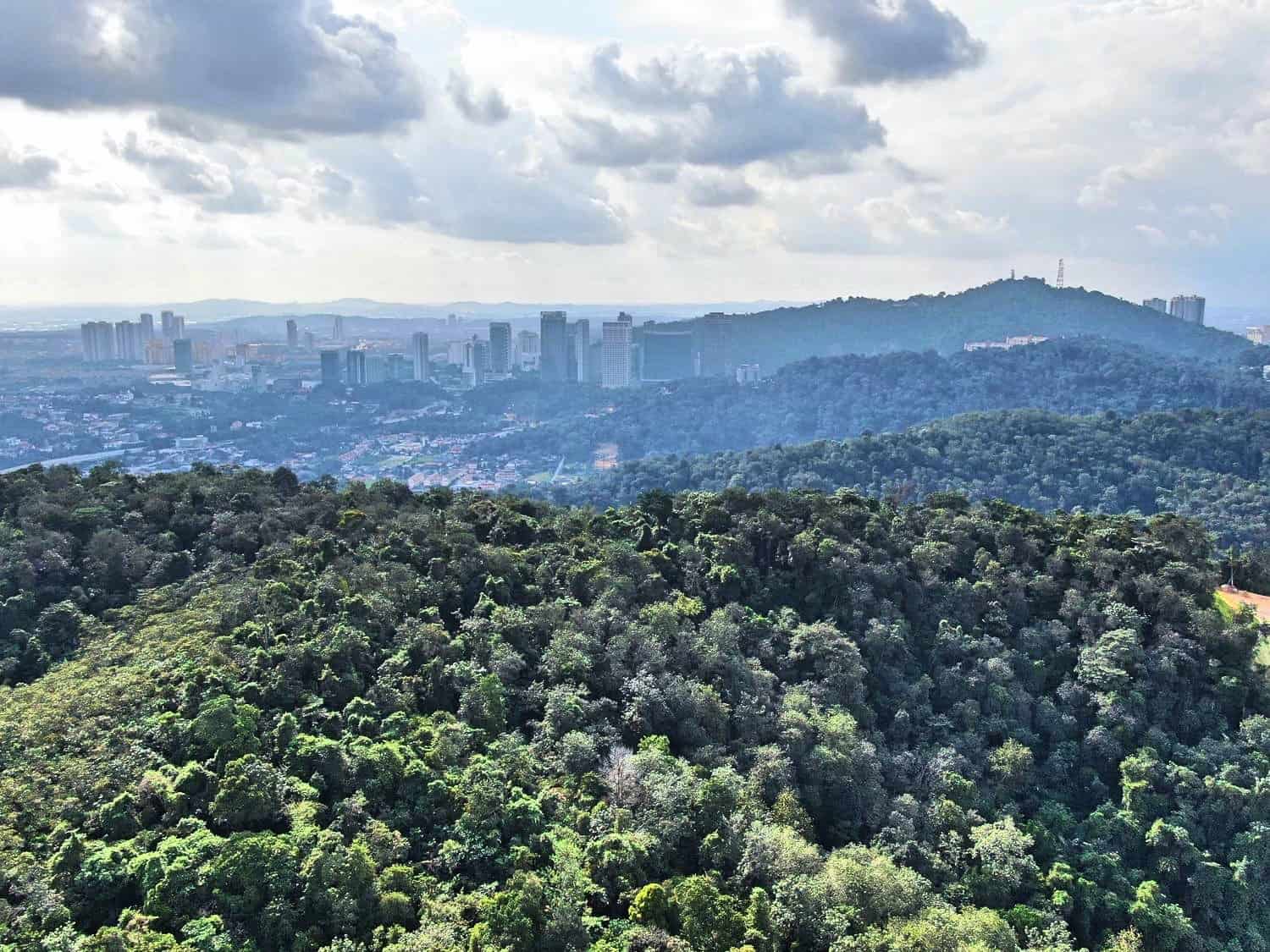 Hiking in Kuala Lumpur : A Detailed Self-Guided Trek in Bukit Kiara
Until a mere century and a half ago, this city was nothing but green trees and foliage. Luckily there's still quite a few pockets of jungle left and the city's surrounded by 'green lungs' – for now.
But unlike what I've experienced in Australia, with all its well documented trails, the unpaved routes here can initially be harder to navigate through successfully. When the Sailor and I first came into this jungle, we turned back after just 15 minutes! It took a few goes to master this route.
But not for you guys, not today 🤟🏼
I've waited two years to share my awesome hike with you. This detailed track will guide you along an unmarked path from Mont Kiara to TTDI (or vice versa), where you can finish up with a much needed drink or dinner. Monkeys are 100% guaranteed as you traverse through a range of terrains. From sticky clay footpaths, to beast hills, bamboo-clad tracks and remains of an old rubber tree plantation. There'll be a few cool lookouts along the way too, and plenty of fallen trees to clamber over. And just to think, you're still in KL!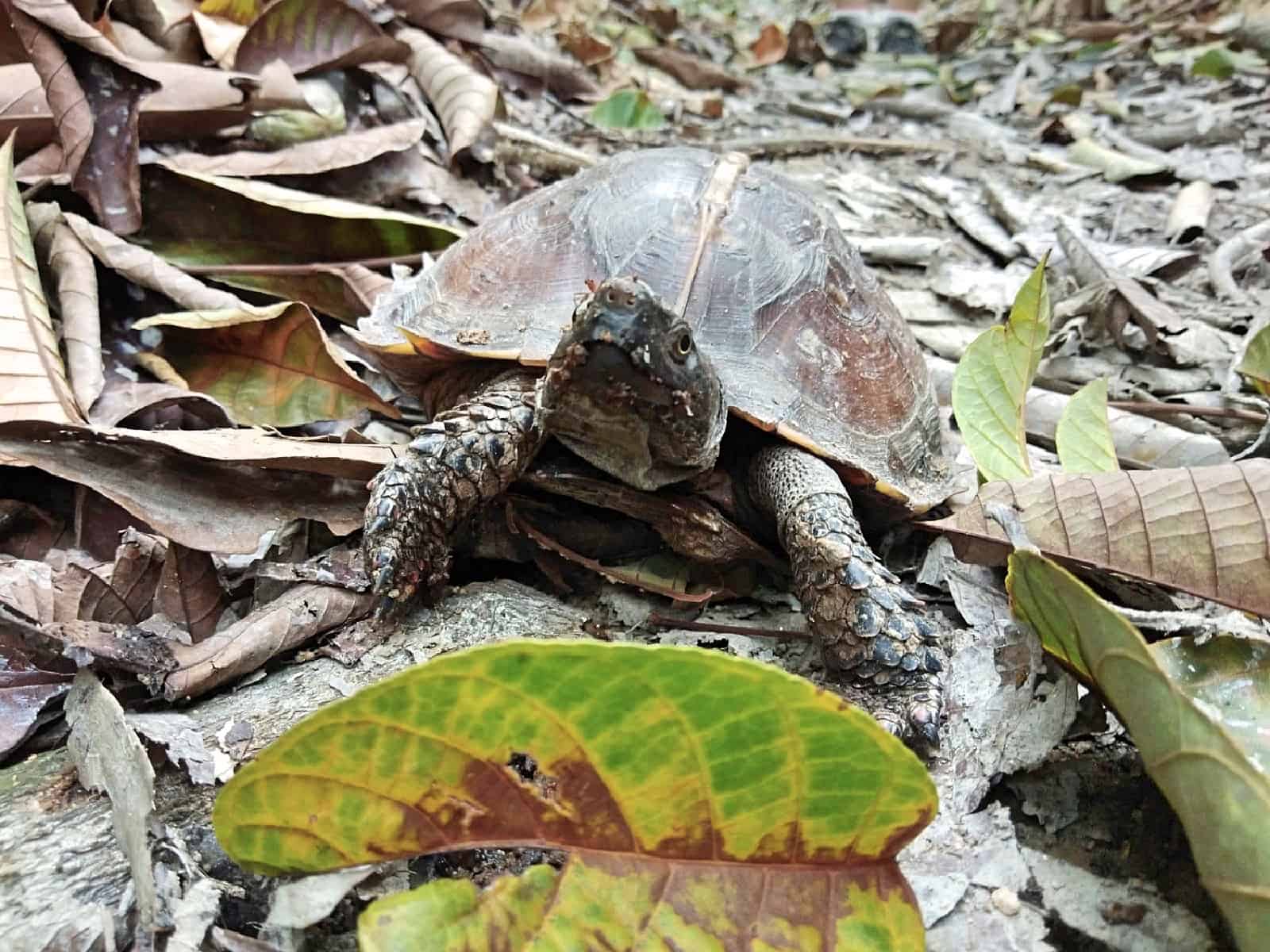 Wildlife
Typically, you'll always find macaques around. Although there's fewer hanging out at the beginning of this route now due to the recent construction that's taken down yet another chunk of this jungle. But from the sandy patch about 10 minutes in, all the way to TTDI you'll catch a few sightings.
About 50% of the time when the route is less busy and closer to dusk or dawn, I've seen the cute-faced dusky-leaf monkeys. They're usually more shy and sheepish, and hangout higher in the trees.
Snakes are around too, but seldom. We've only ever seen them twice and have been in at least 100 times. They generally keep to themselves and won't harm you unless provoked. Just slowly walk around them if you see one.
We have however, seen more tortoises than snakes on the track! Twice we saw one lone tortoise, and one day we spotted three. They like to make an appearance when it rains.
Apart from that, there'll be heaps of skinks, butterflies, squirrels and birds (keep an eye out for the yellow bellied oriole). I've also seen a scorpion and monitor lizard at the top of the hill near the entrance, so it'll all lurking in there!
Tip: If you didn't know, don't smile at a monkey! They see it as a sign of aggression when you show your teeth. And not like you would (you guys are awesome), but don't feed them, unless you want them to turn into the hostile hobo monkeys at Batu Caves. They have more than enough food in the jungle.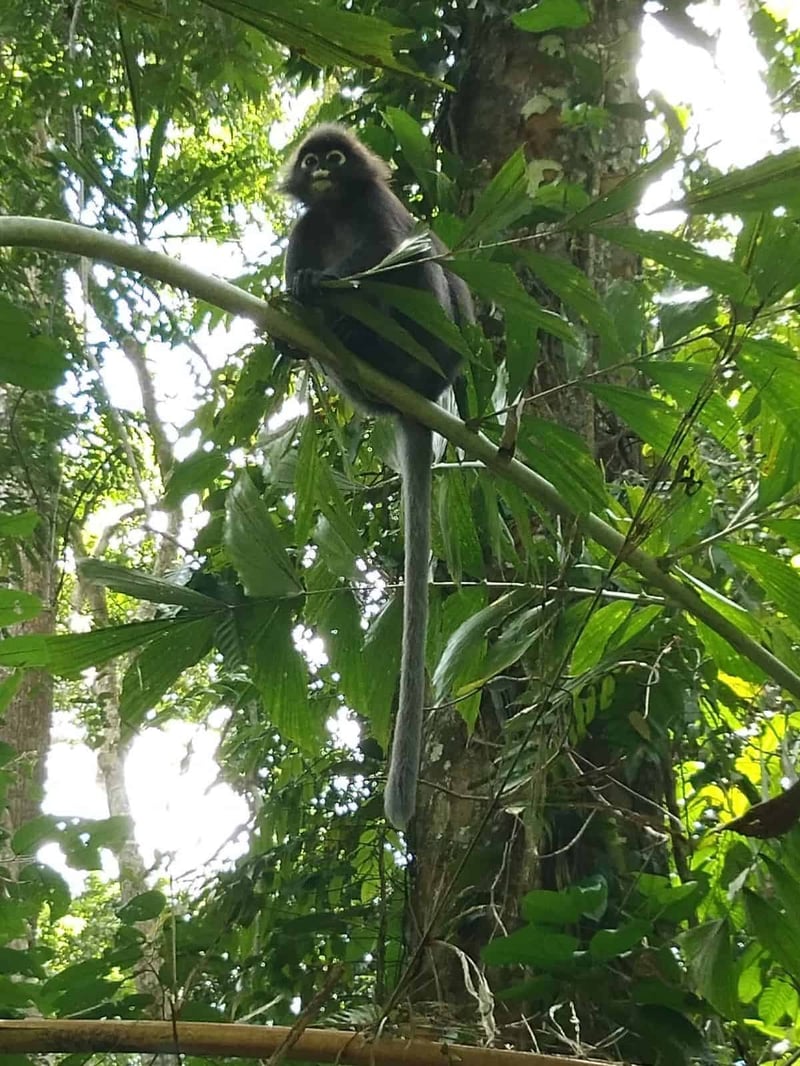 When to go
This route has gained a bit of popularity over the last two years, but it's still nowhere near as busy as Bukit Gasing in Bangsar South.
The weekends will be the busier days, particularly in the morning and there's a fare few dirt bikers to watch out for. But during the week it's usually nice and quiet. Many times the Sailor and I headed in after work from Monday-Thursday and only saw a couple- or zero- fellow hikers. (Friday afternoon from 4pm is a teeny bit busier with jungle runners).
In an ideal scenario, the best weather conditions would be on a cloudy day when the breeze makes for a slightly less sweaty experience! Failing that, starting in the morning before 9am, or after 5pm allows for a little more respite before the sun's heat kicks in.
Of course, in Malaysia, downpours are frequent and sometimes unexpected. Usually you can judge when they'll occur as it likes to keep to a pattern for some time, but not always.
Whilst a hike in the rain is very refreshing, a heave downpour isn't as fun, and you don't always know if the lighting will join in. Once I went in and a storm hit a quarter of the way, which got a little bit freaky. Let's just say I beat a personal running time that day.
Tip:
Always check the weather forecast beforehand as a rough prediction before setting out.
About once or twice a year, there's a dirt bike race that sporadically appears. I'm not sure when it is (although it's usually on a weekend), but just be mindful that you could be visiting during the <0.05% change that it's on.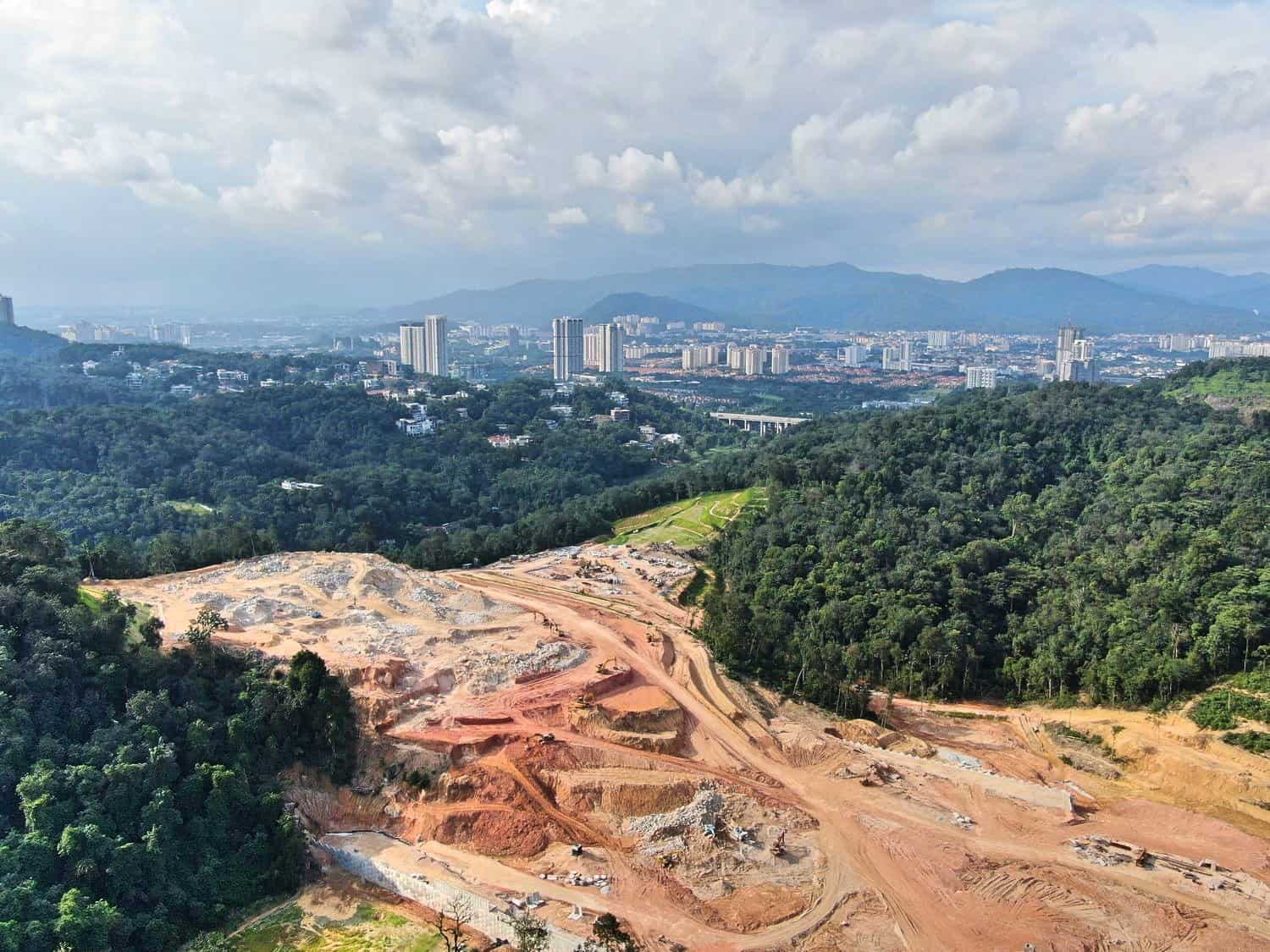 What to bring
Humidity will be 100% and the temperature will be hot, but you'll be nicely shaded by the trees en route. However as well as wearing

comfortable workout slacks

(dry fit, cotton based clothes are best) you may want a change of clothes for afterwards, particularly if you want to sit down for food. I never change as I don't sweat much, but the Sailor always had a spare in his bag! Although I do bring flip-flops.
Wear proper trail running shoes or trainers as it'll be way more comfy and safe. You can get away with flip-flops, but some parts will be more tricky or slippery in them.
Spray a decent layer or insect repellent for the mozzies. You may want a bit of sunscreen too for a few sunnier parts.
1 re-useable bottle of water per person.
A sweat band and cap come in handy.
Getting Here
You can start the track from TTDI park, but I'd recommend heading in from Mont Kiara as I prefer the restaurants in TTDI! Plus we find the route much harder from TTDI as it's mainly uphill all the way.
Order a Grab taxi to stop in front of Kiaramas Ayuria Condominium where the entrance is. There's a bit of parking there too if you're driving.
Grab Discount Code: If you're a first time user of Grab, type in GRAB4W to claim RM10 off your first two rides.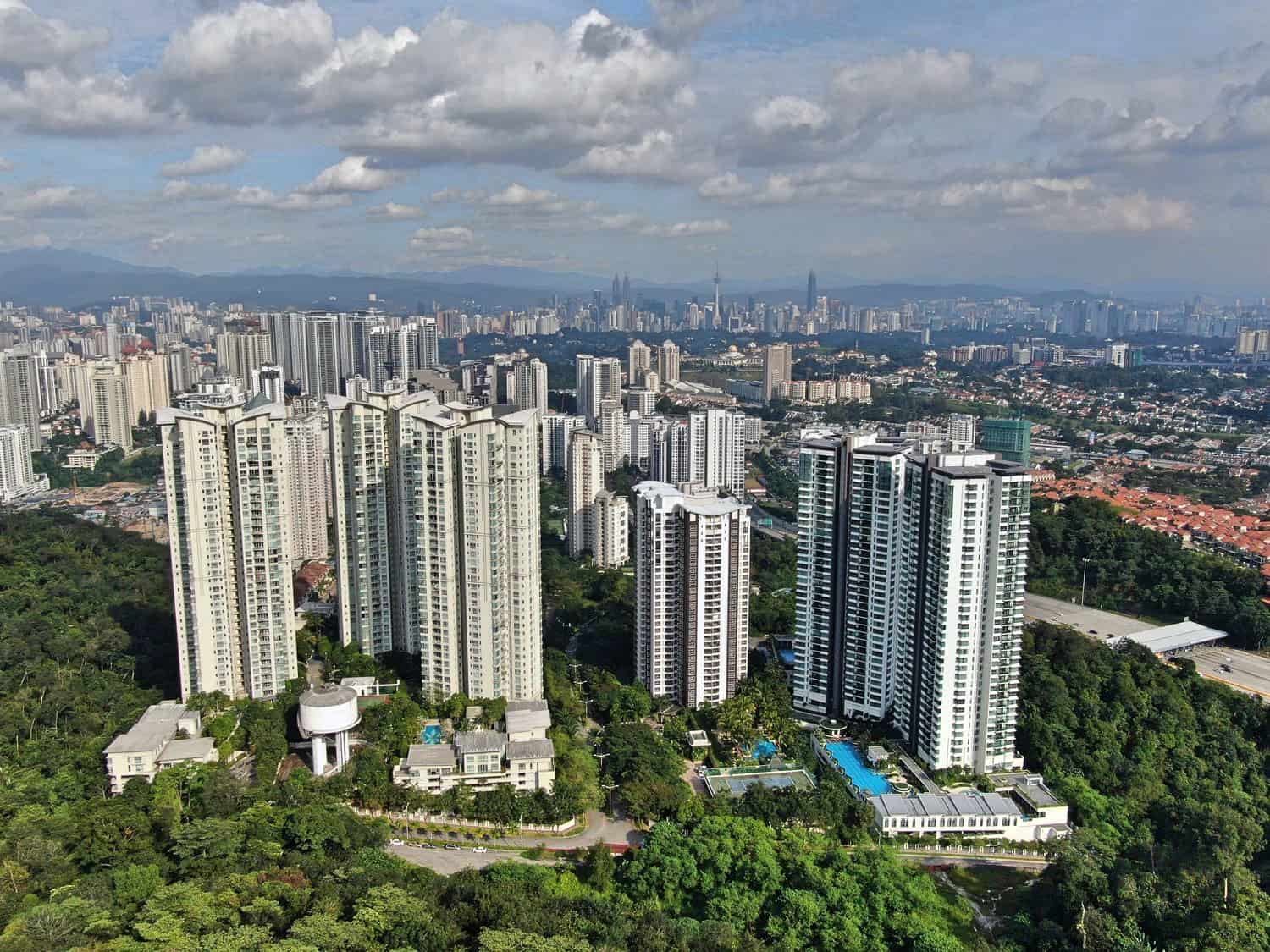 The Route
There's two route options I'm going to take you on, which both start in the same way for about the first 30-40 mins.
One is slightly shorter (about 1h20 walking/45 mins running) where you'll end up in TTDI park. From here, you'll get to experience KL park life in full swing – i.e. monkeys playing instead of dogs, tortoises in the lake instead of ducks, and the odd monitor lizard!
The other longer route (about 1h40 walking/1h running) will take you to another entrance point at TTDI car park. You'll end up on a concrete walking path for the last 15 minutes before exiting, where there's a nice lookout of Bandar Utama and Mutiara Damansara. This was my favourite route to run because it was longer.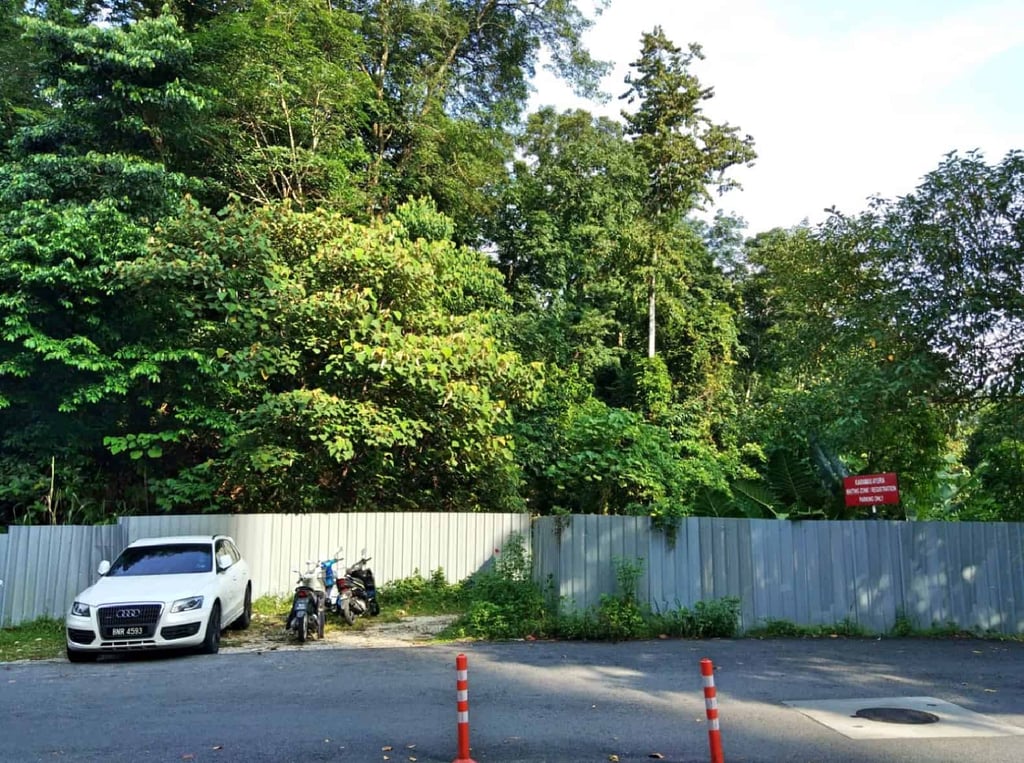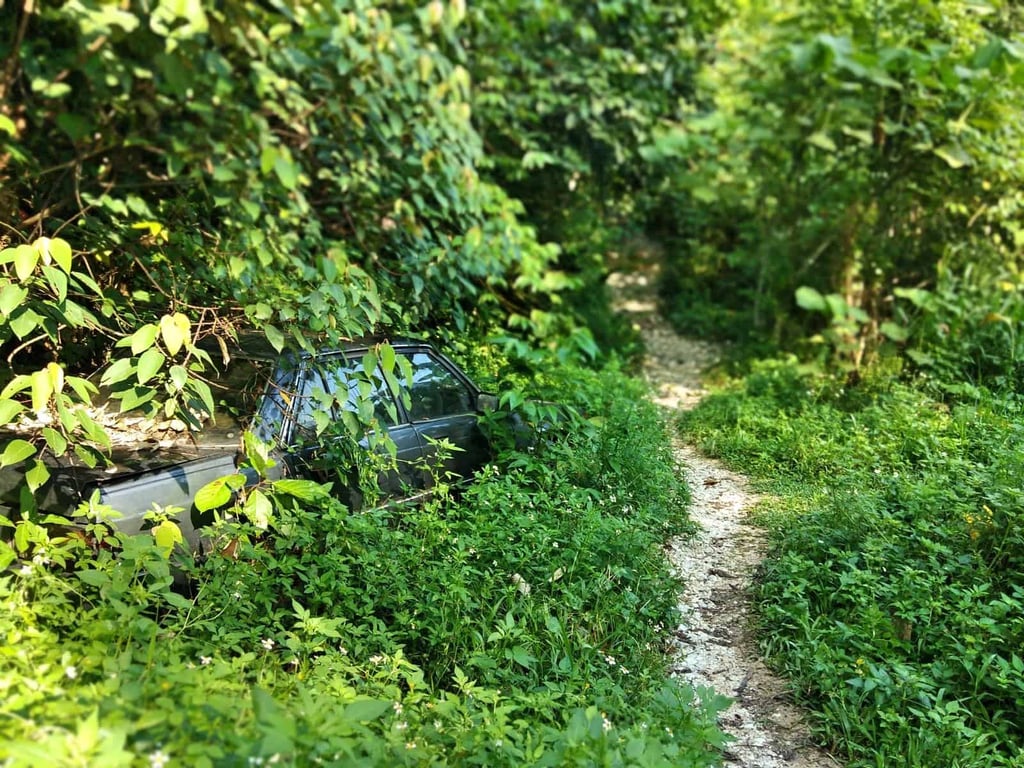 Start by entering the metal barriers. They were put up a year ago, although I'm not sure exactly why. However the land to the left of this path has planning permission, so it's only a matter of time before another chunk of jungle gets wiped away.
You may be able to hear/see the recent construction that started about 12 months ago (2018) to your right. Considering that condos in this borough are only around 50% occupancy, it's sad to see developers unnecessarily clear more trees in favour of concrete.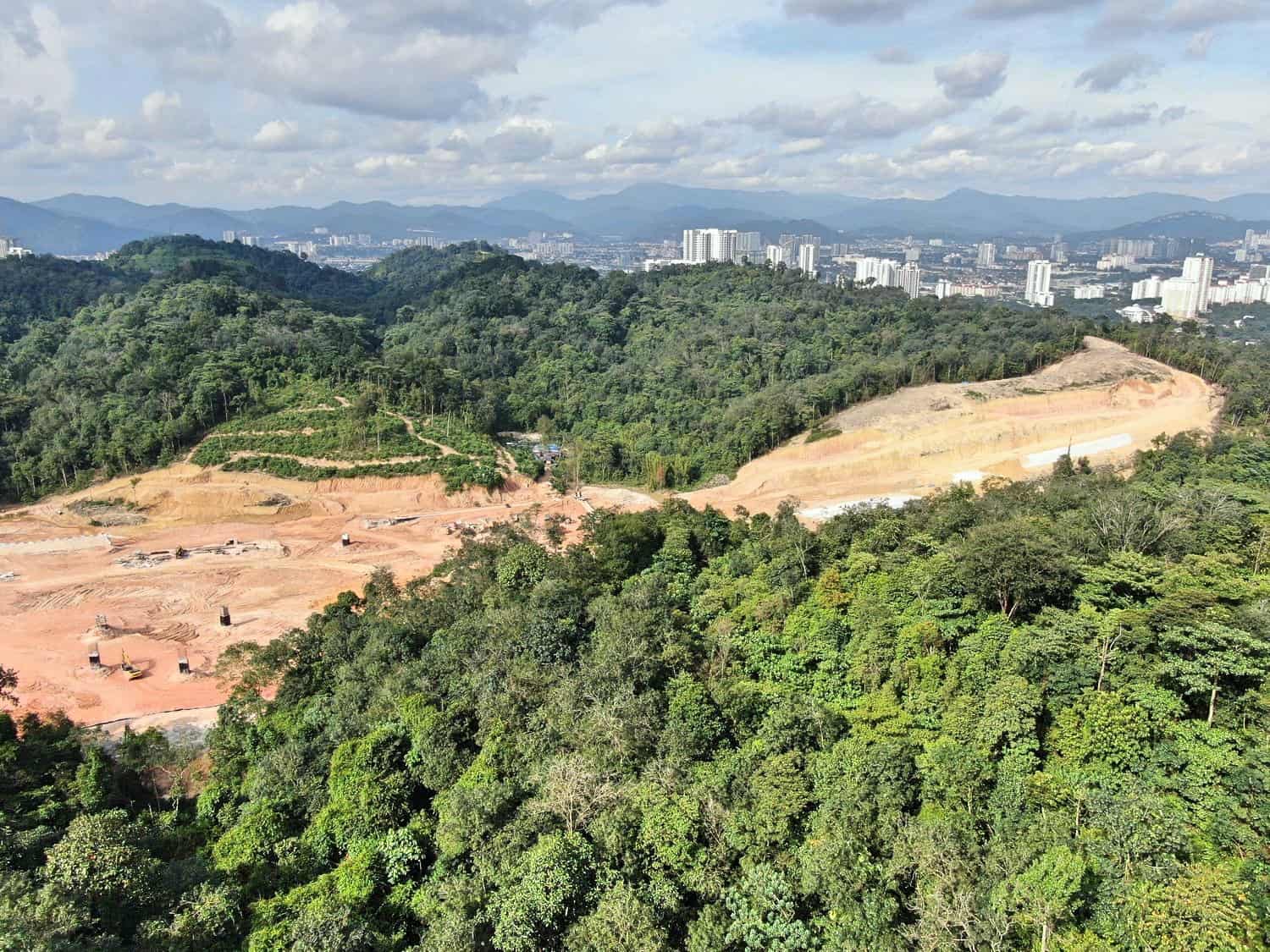 Continue up the stony and clay path, all the way to the sandy clearing (about 10-15mins). This bit is mainly uphill.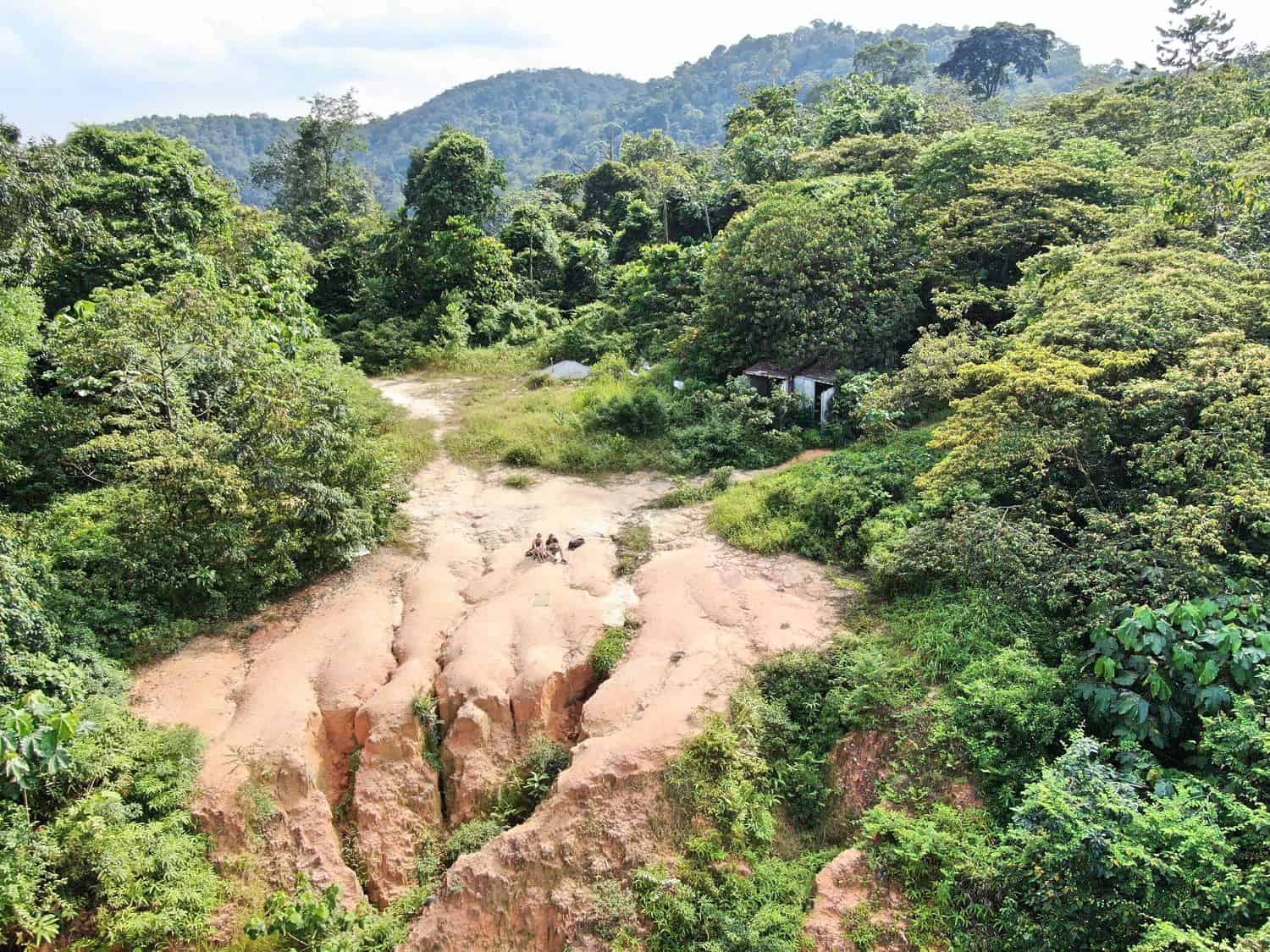 After stopping at the sandy clearing for a quick gaze, continue straight along the path (to the right of the metal bunker).
The path will then gently incline up and you should be able to spot monkeys from this point.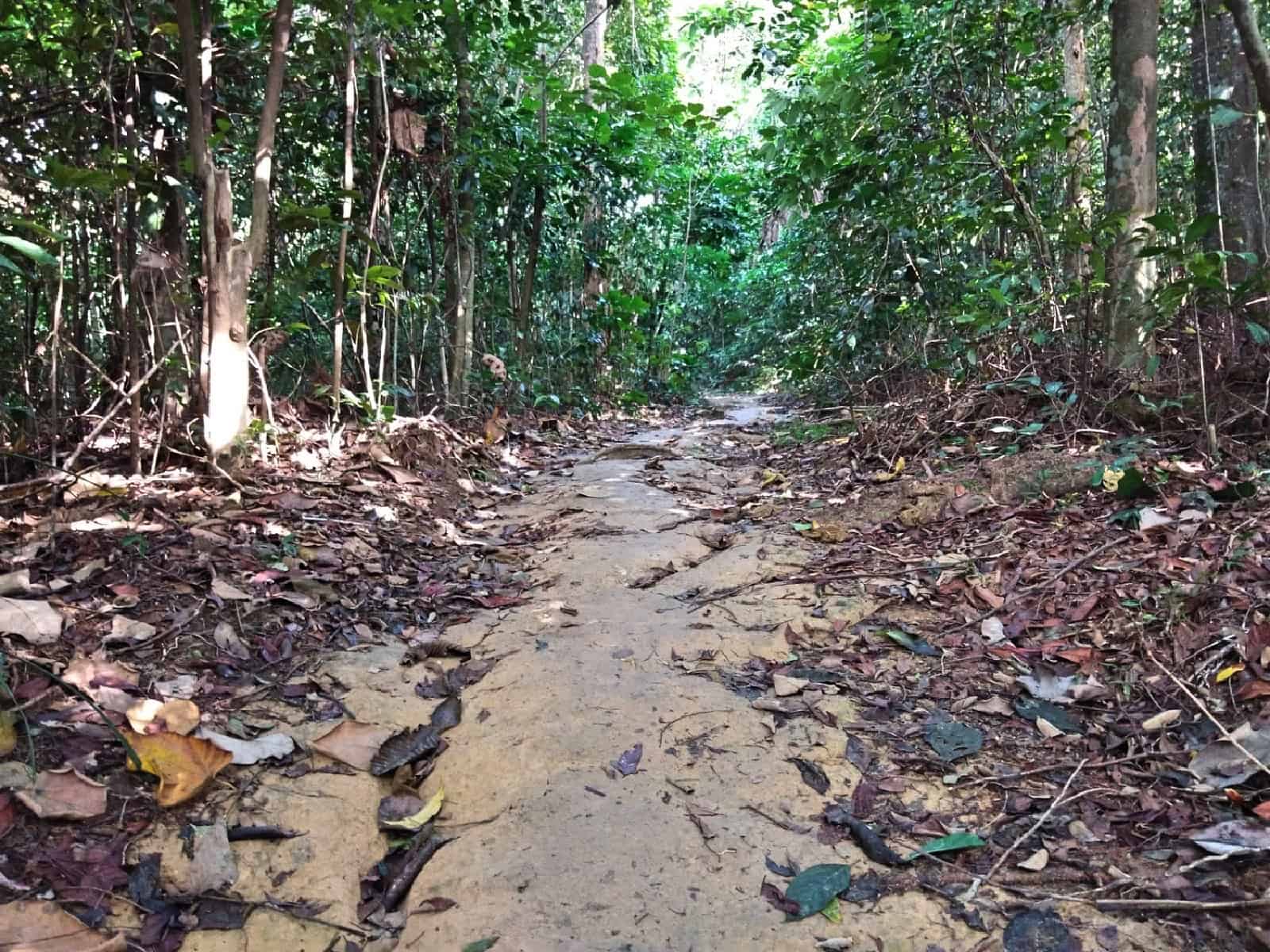 After another 5-10 mins or so, when you get to this fork (pic below 👇🏼) keep to the left of it.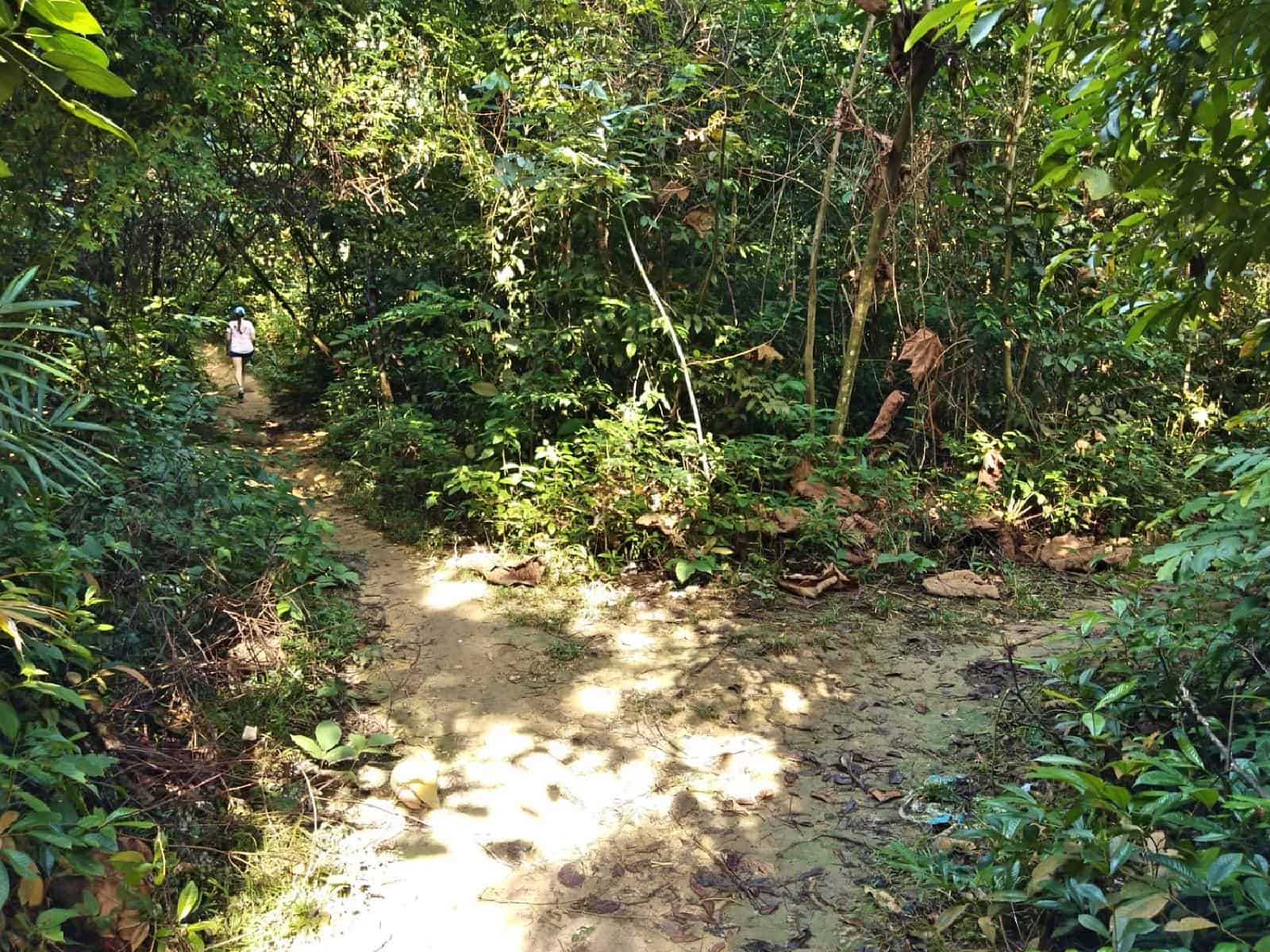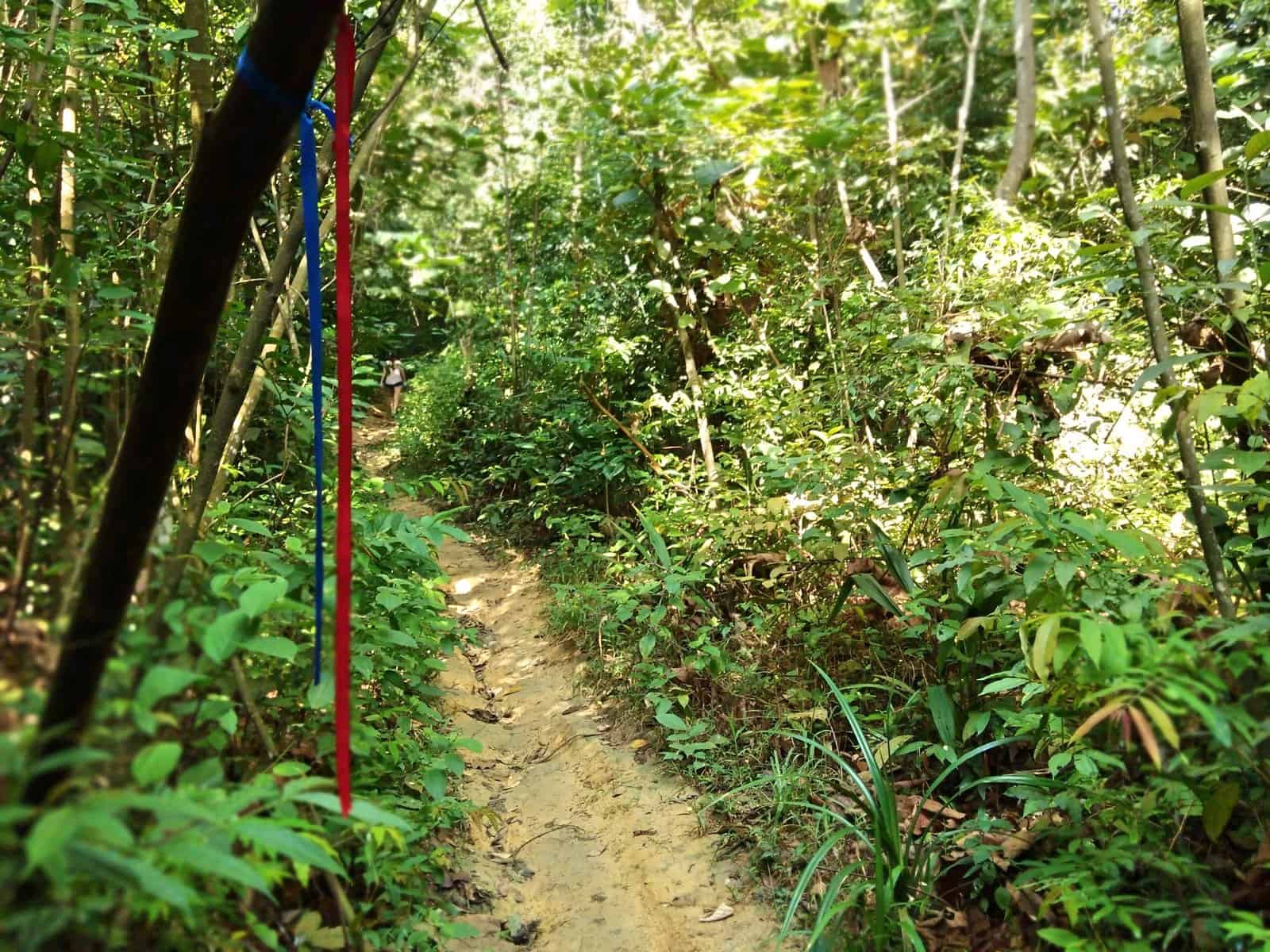 After, you'll be walking up the second steep-ish incline of the track, and will probably be sweating quite a bit!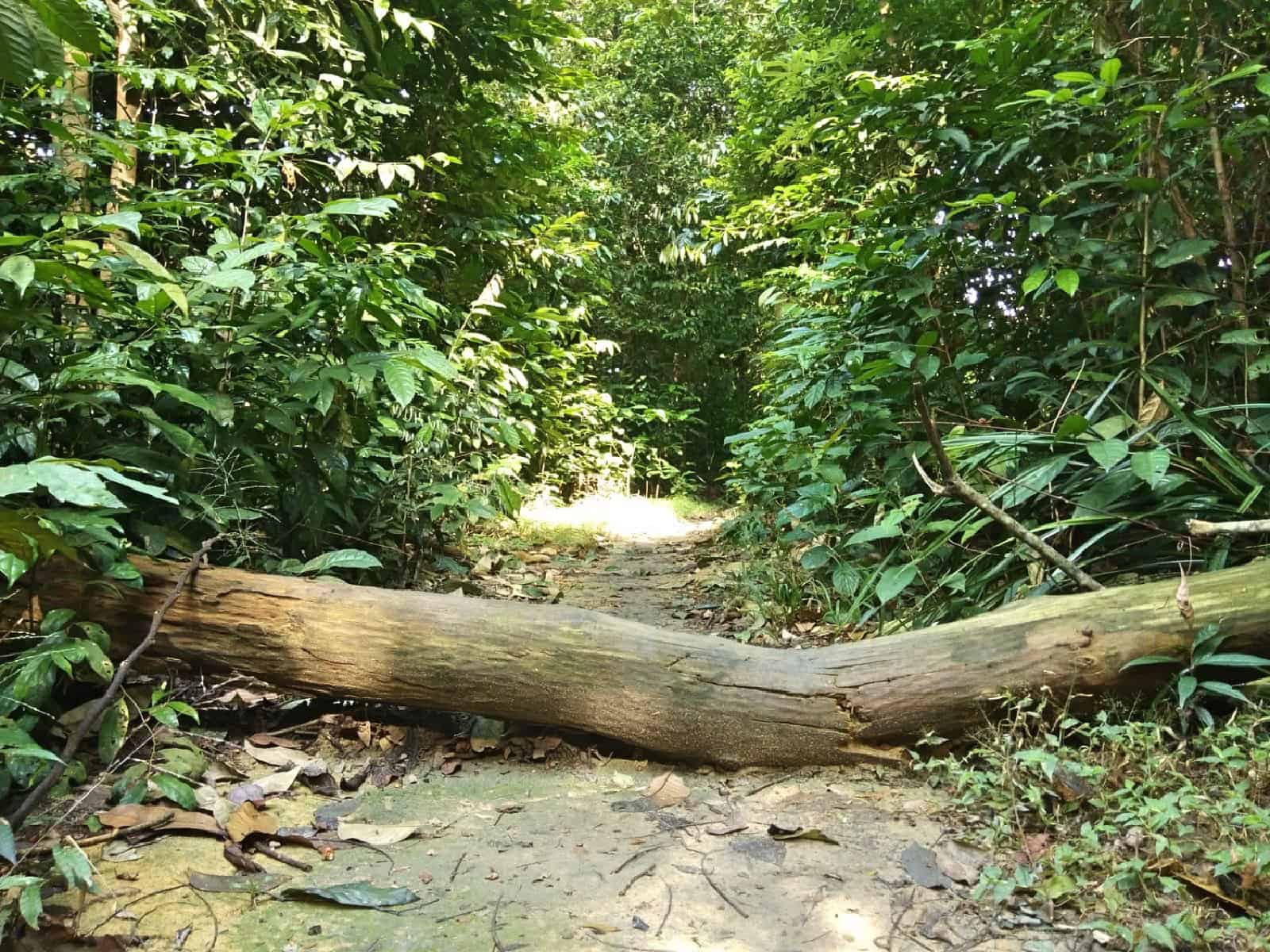 At the top you'll reach a muddy patch which you'll need to carefully dodge. Continue ahead.
You'll now be walking on a flat path, which will spur down a bit before coming to another fork.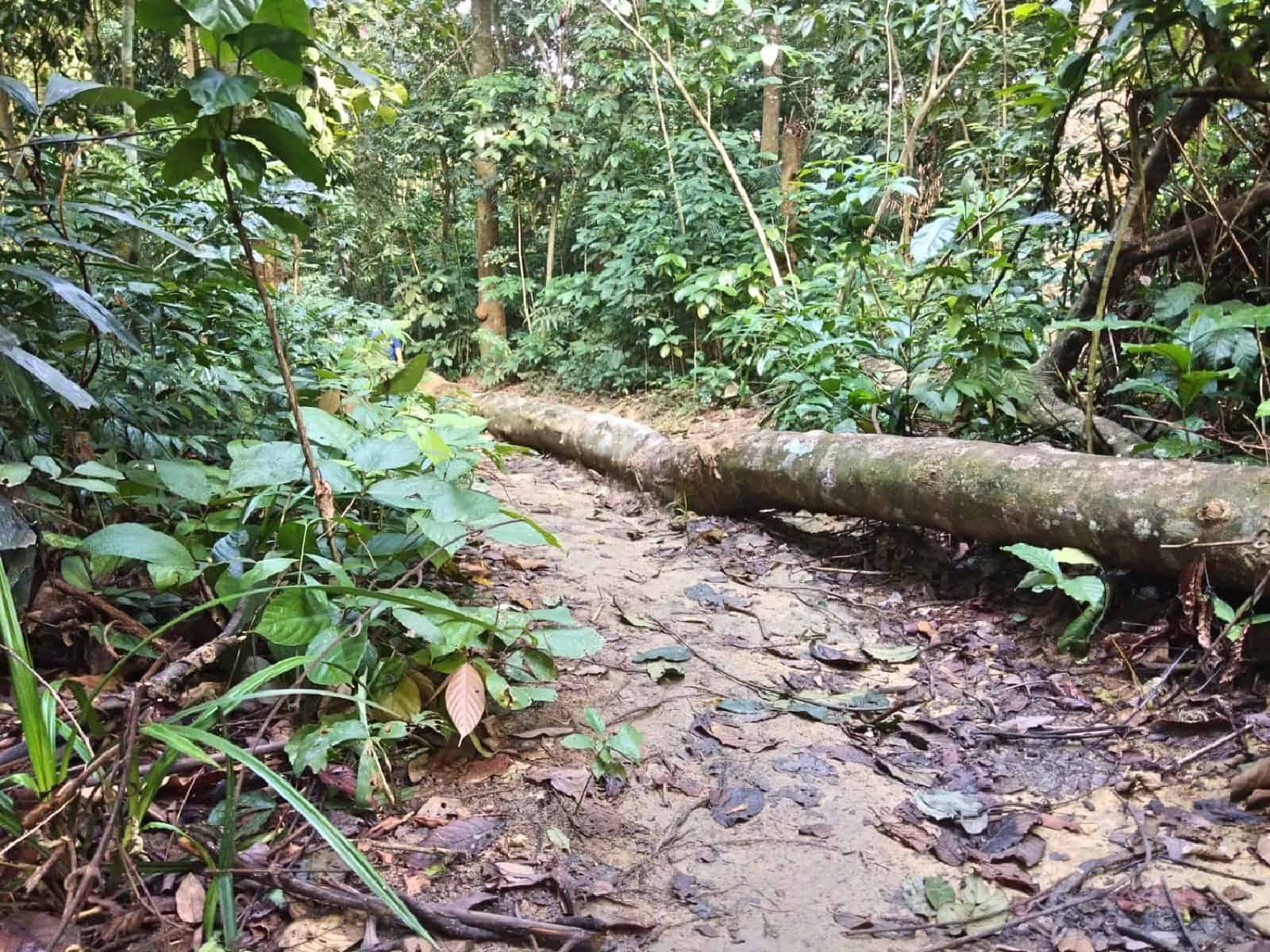 At the fork, turn right (I think taking a left will steer you deep into Bukit Kiara).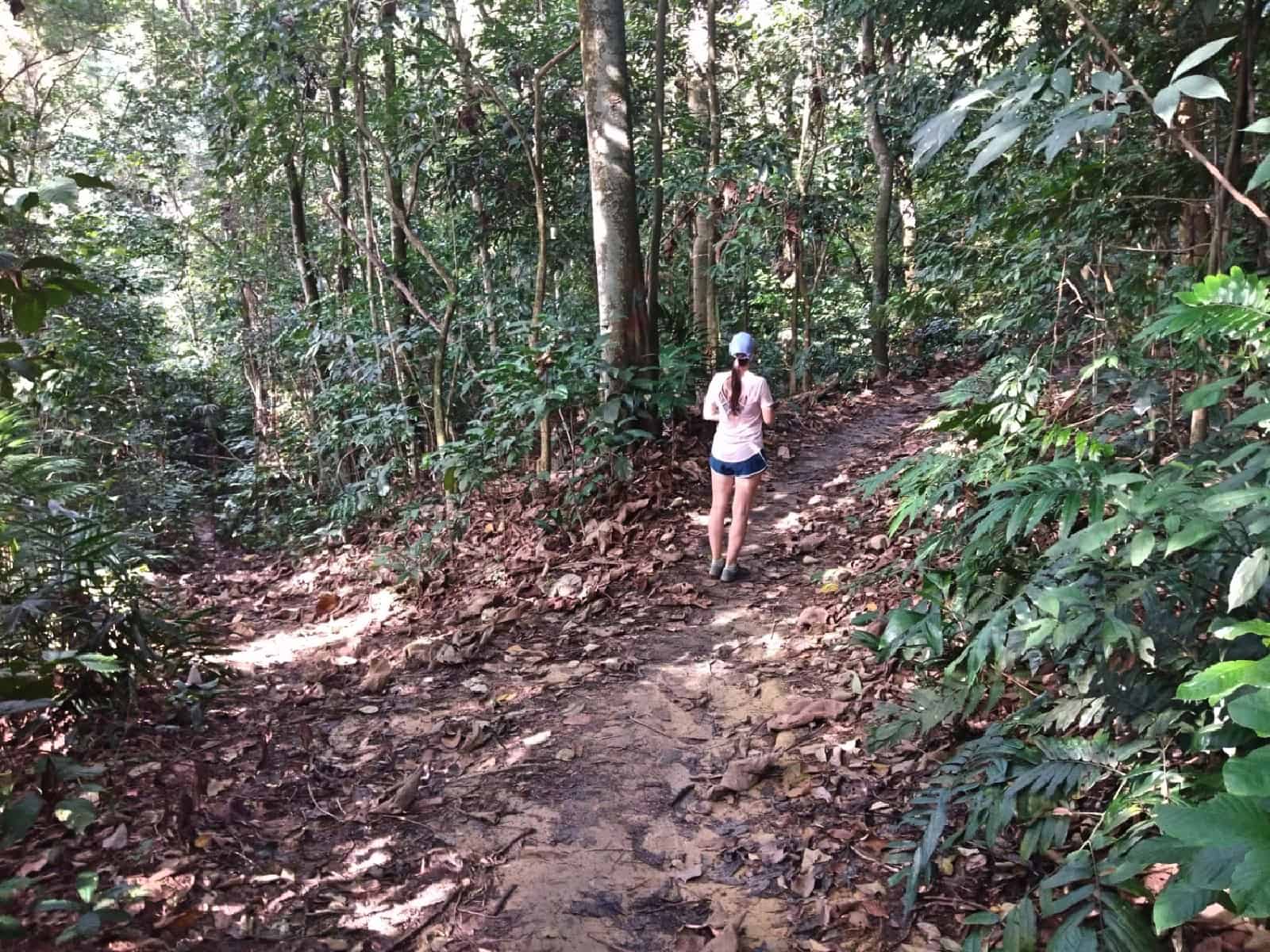 Follow the path and after 5 minutes or so, you'll reach your biggest challenge. The beast hill!
You'll definitely be sweating after this one! But don't worry, there's a coffee or beer stop at the end of this hike 😊.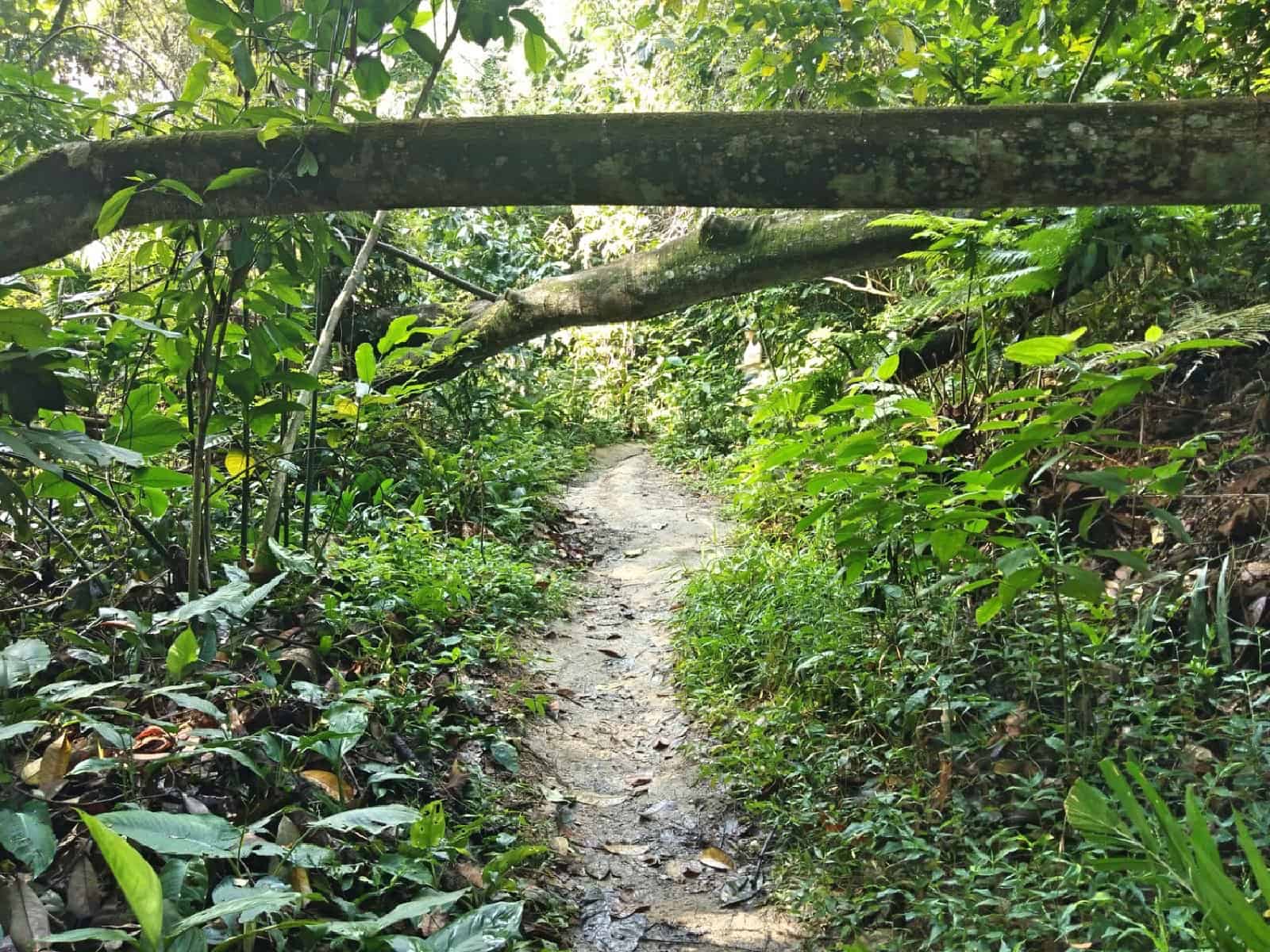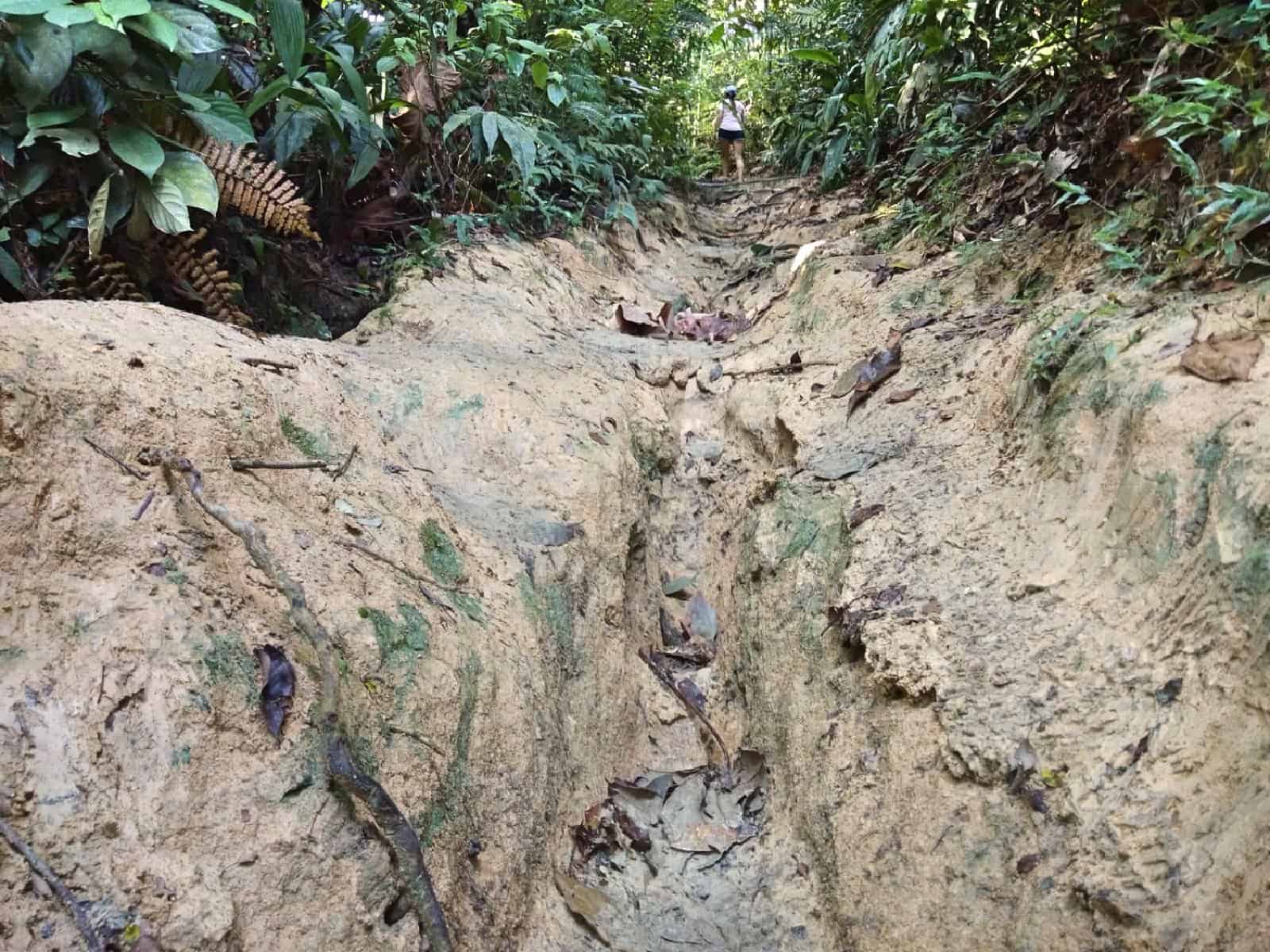 Phew, you made it to the top! Well done. The rest is easy compared to this.
Continue ahead and you'll pass the bamboo to your left, followed by a wooden step.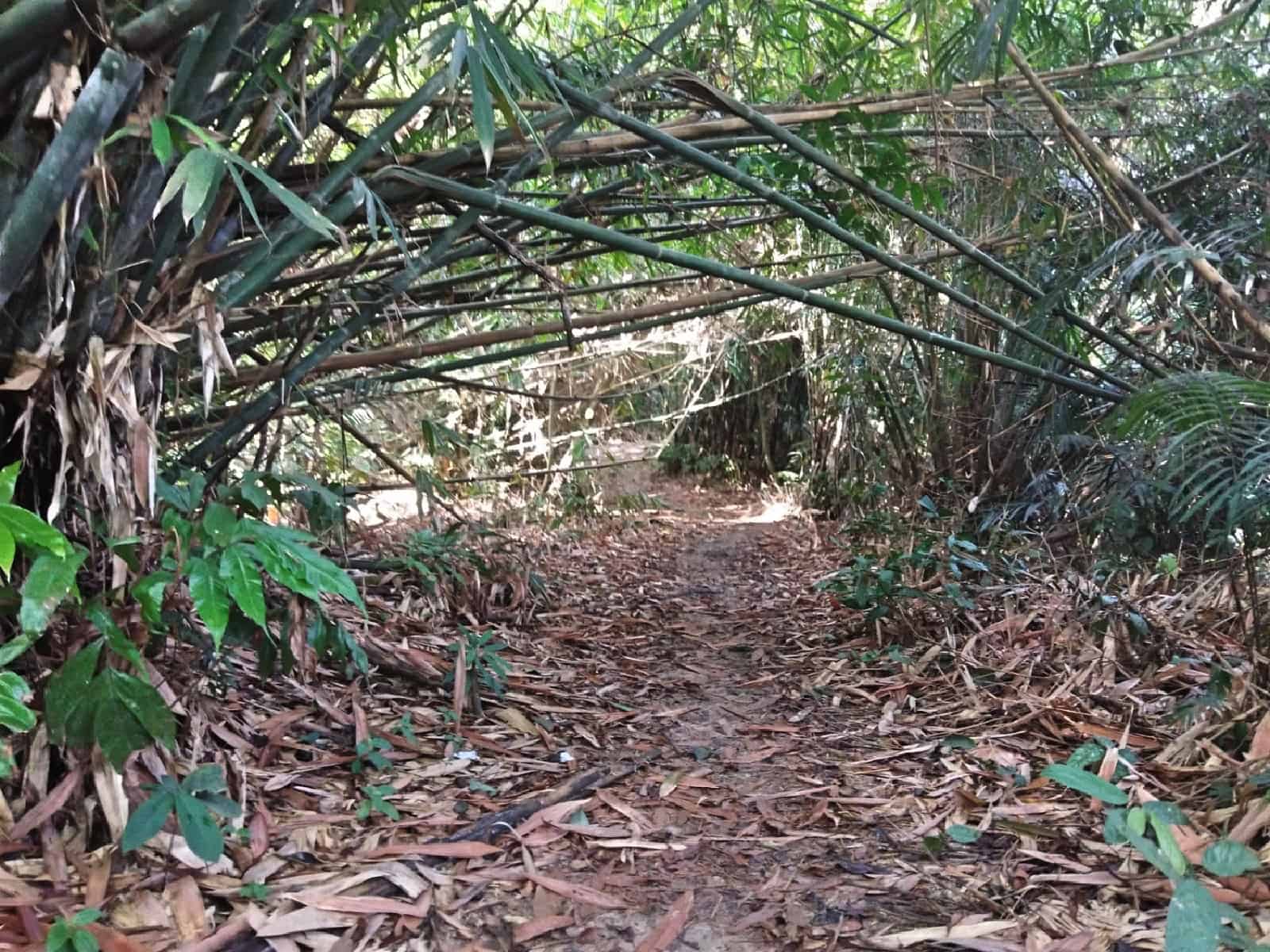 After about 10 minutes on this path, you'll come to the first metal gate. Go through it. You may be able to catch a glimpse of the city at the small lookout to your right, if the plants haven't overgrown!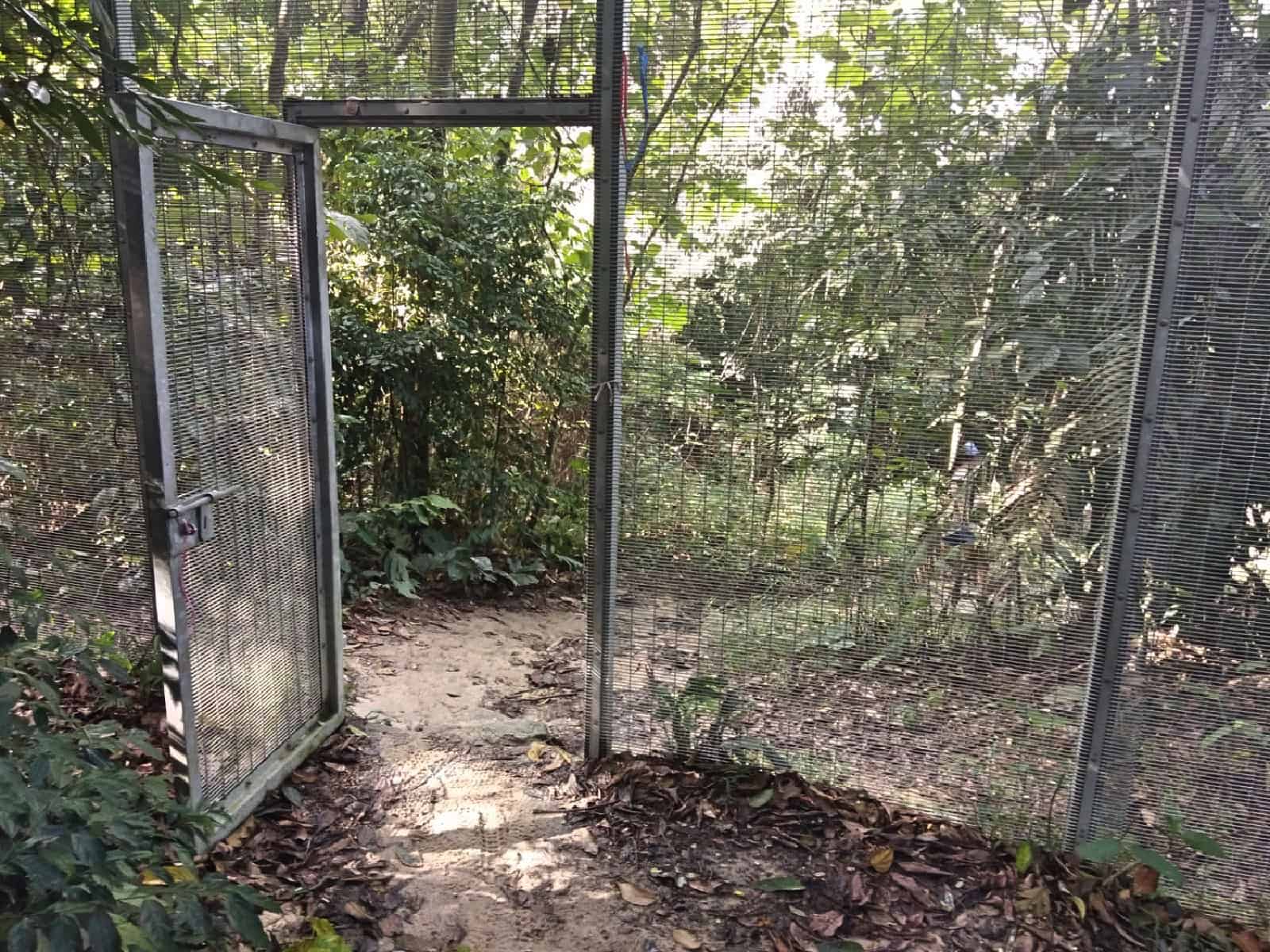 Continue down this little hill. Sometimes the bottom turns into a wet pit during the rainy season!  Then you'll reach another fork.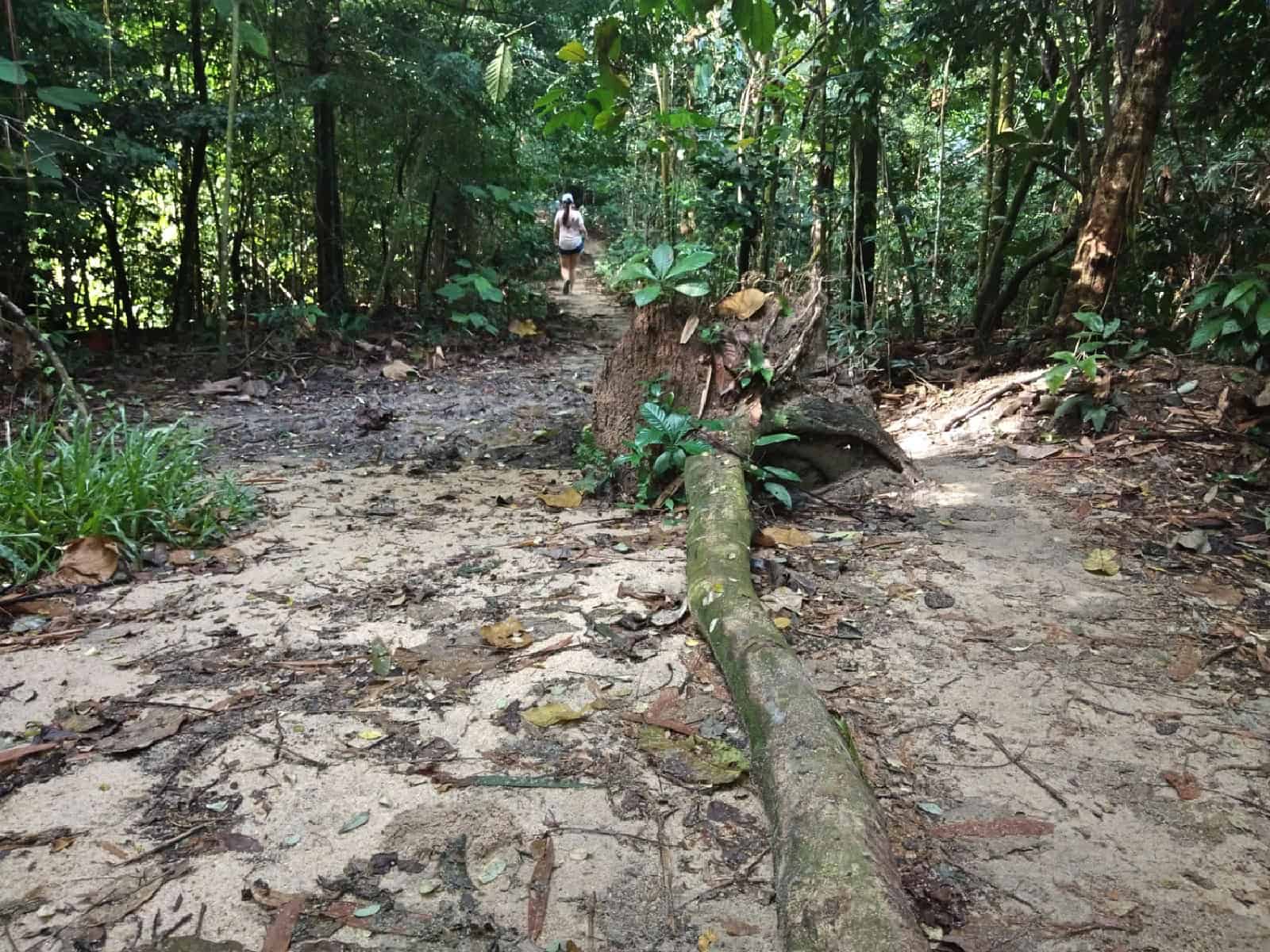 This is where you have a choice to take the shorter path on your right, or longer path on your left. Which will you take? 🤔
---
I'm taking the 'Right Path' (aka park route)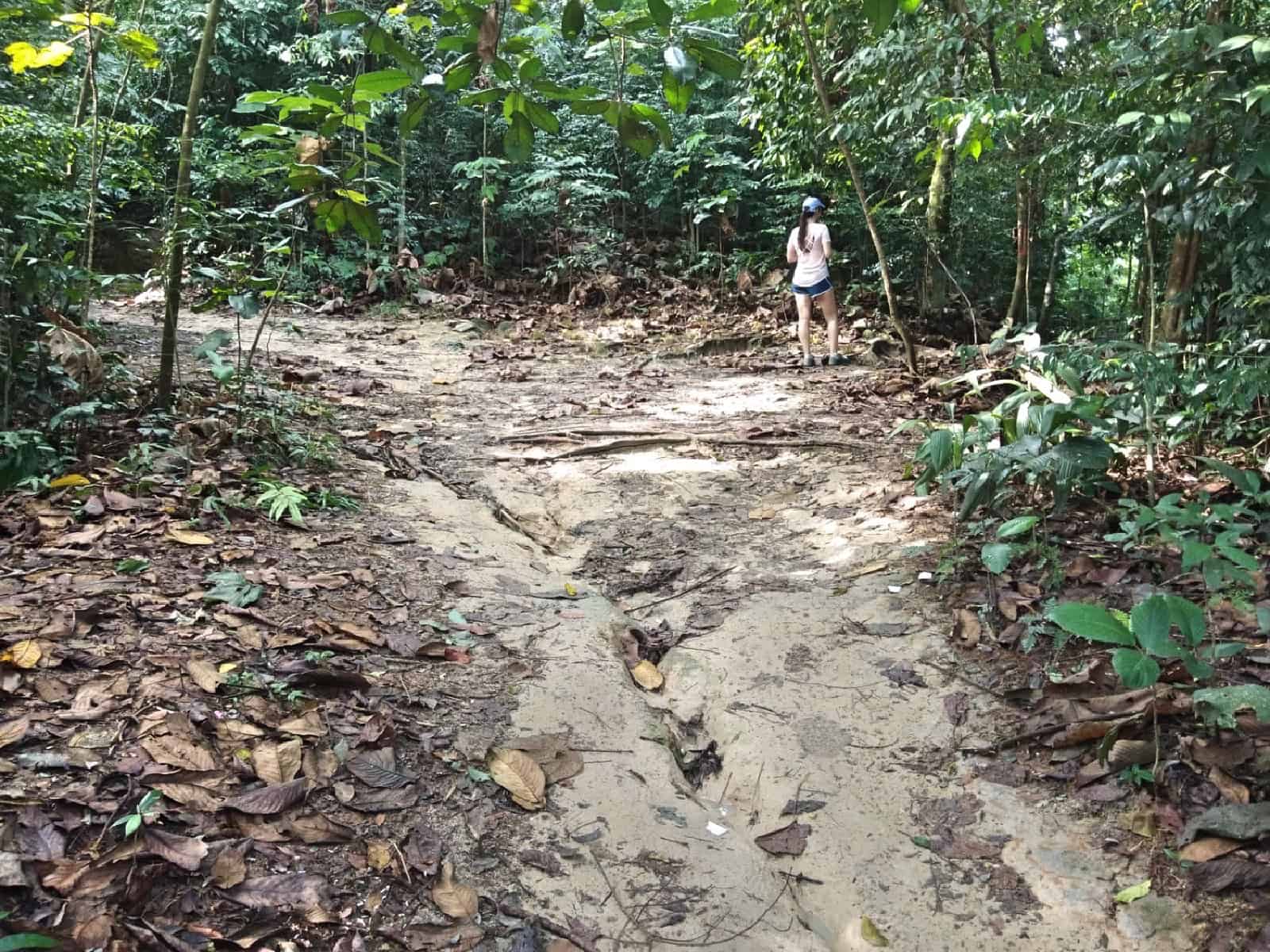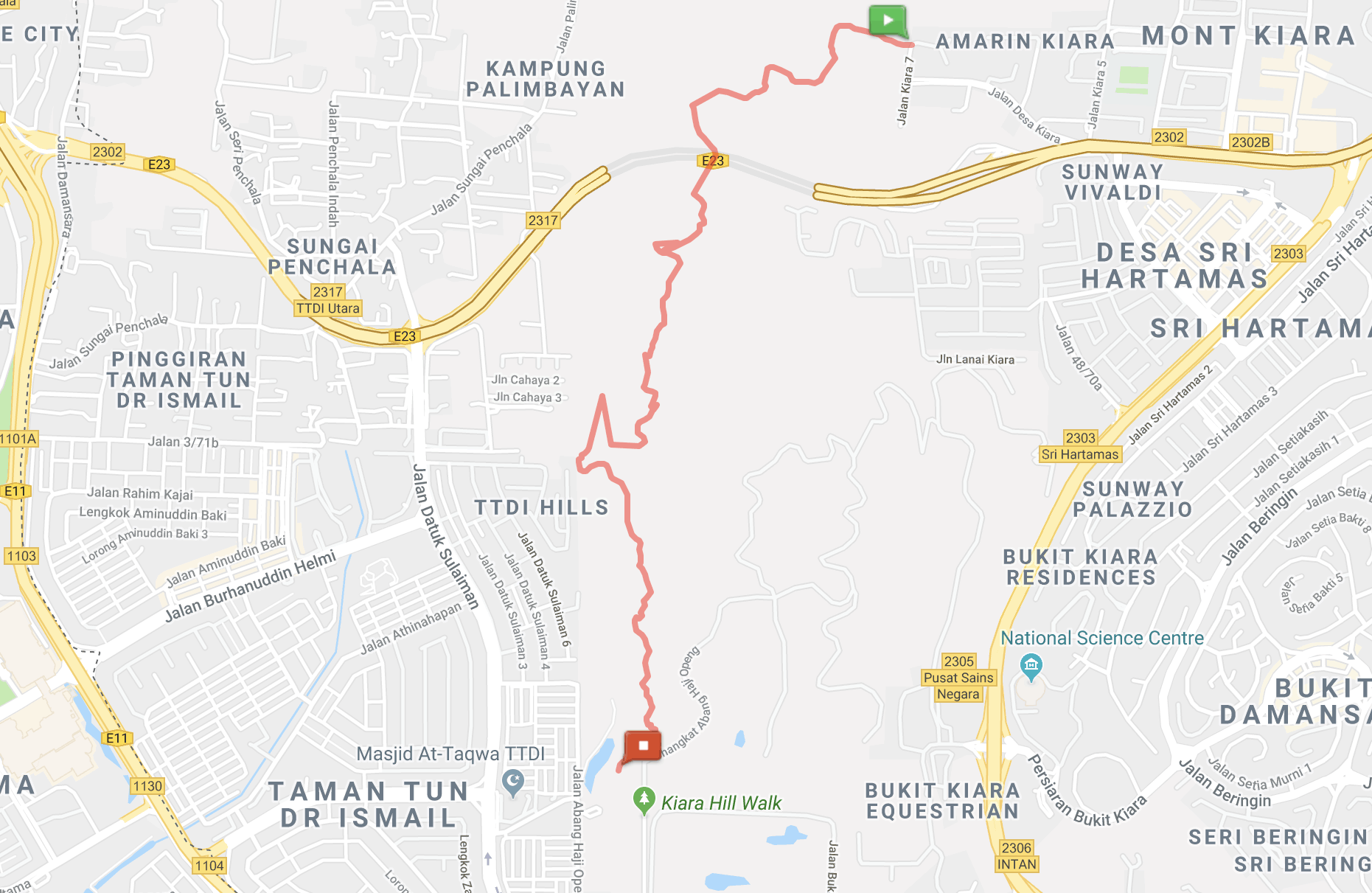 Continue along and you'll reach a lovely bamboo clad arch on the path.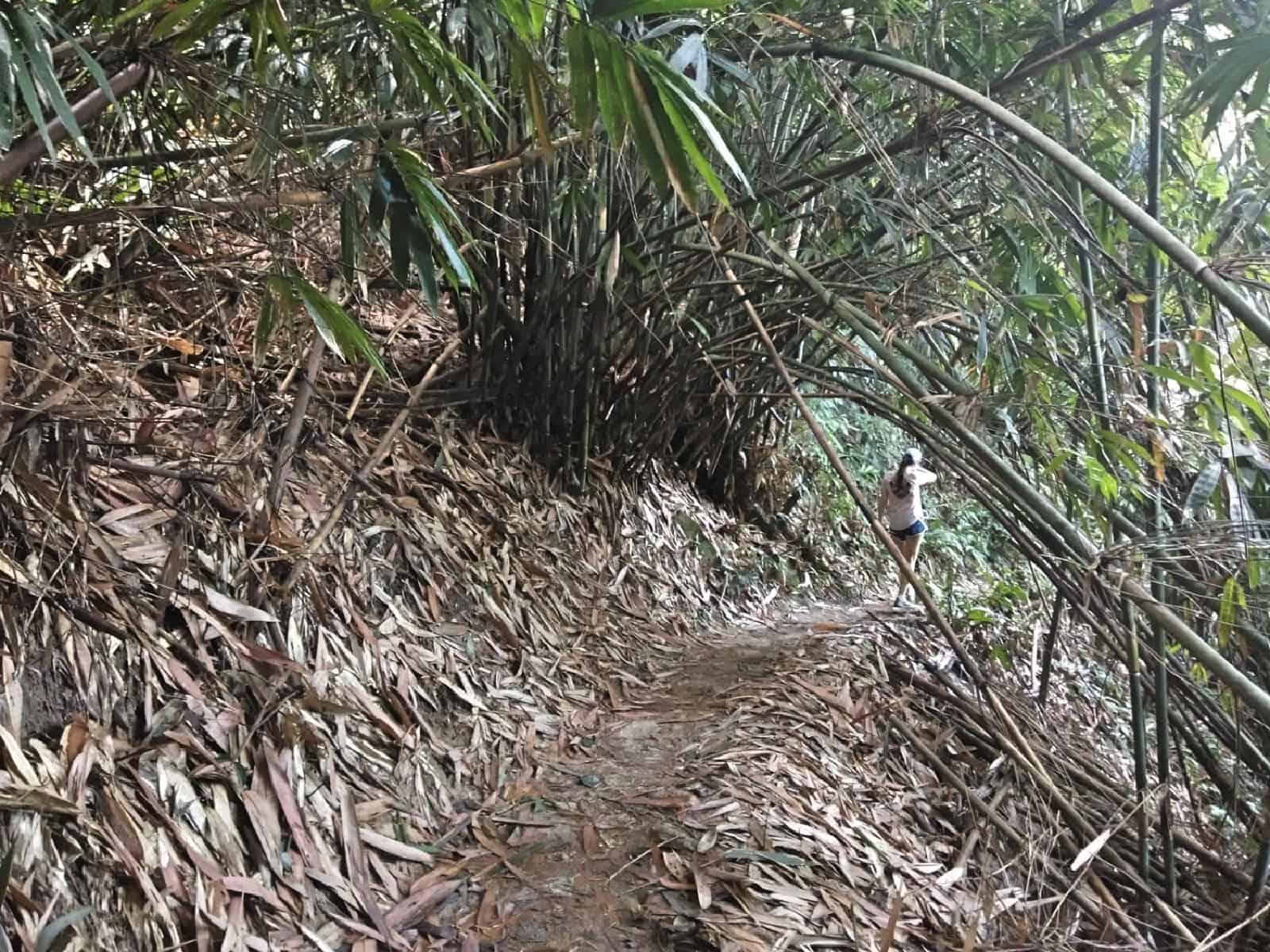 The path will start meandering a bit, steering downwards. You're basically starting the decent that'll take you to TTDI park.
Tip: There is a lake in TTDI park. You may wish to open Google Maps to check you're steering in that direction (if you think you may have screwed up any instructions in this article!)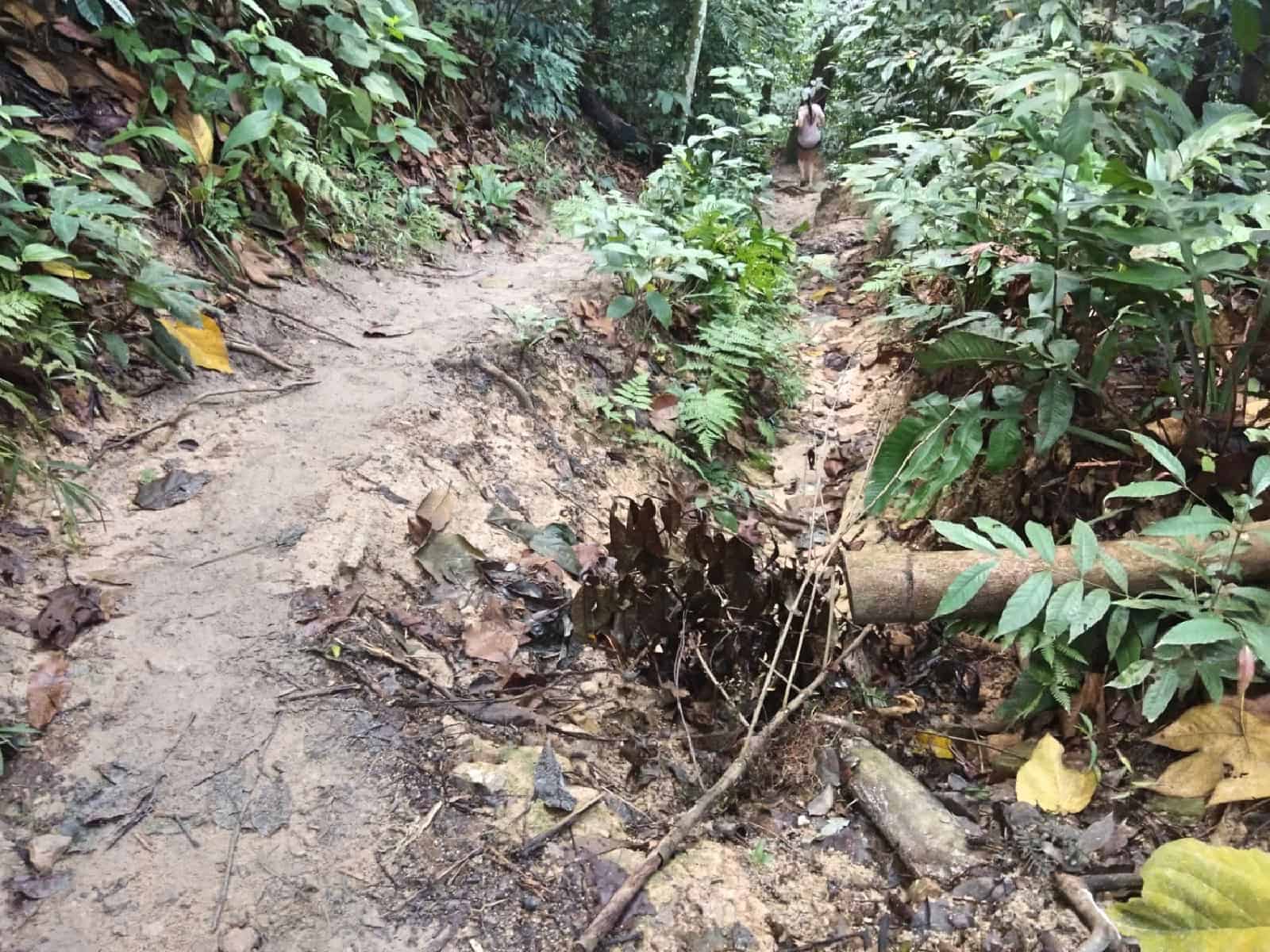 When you get to the first turn, follow it round taking a right…don't continue ahead.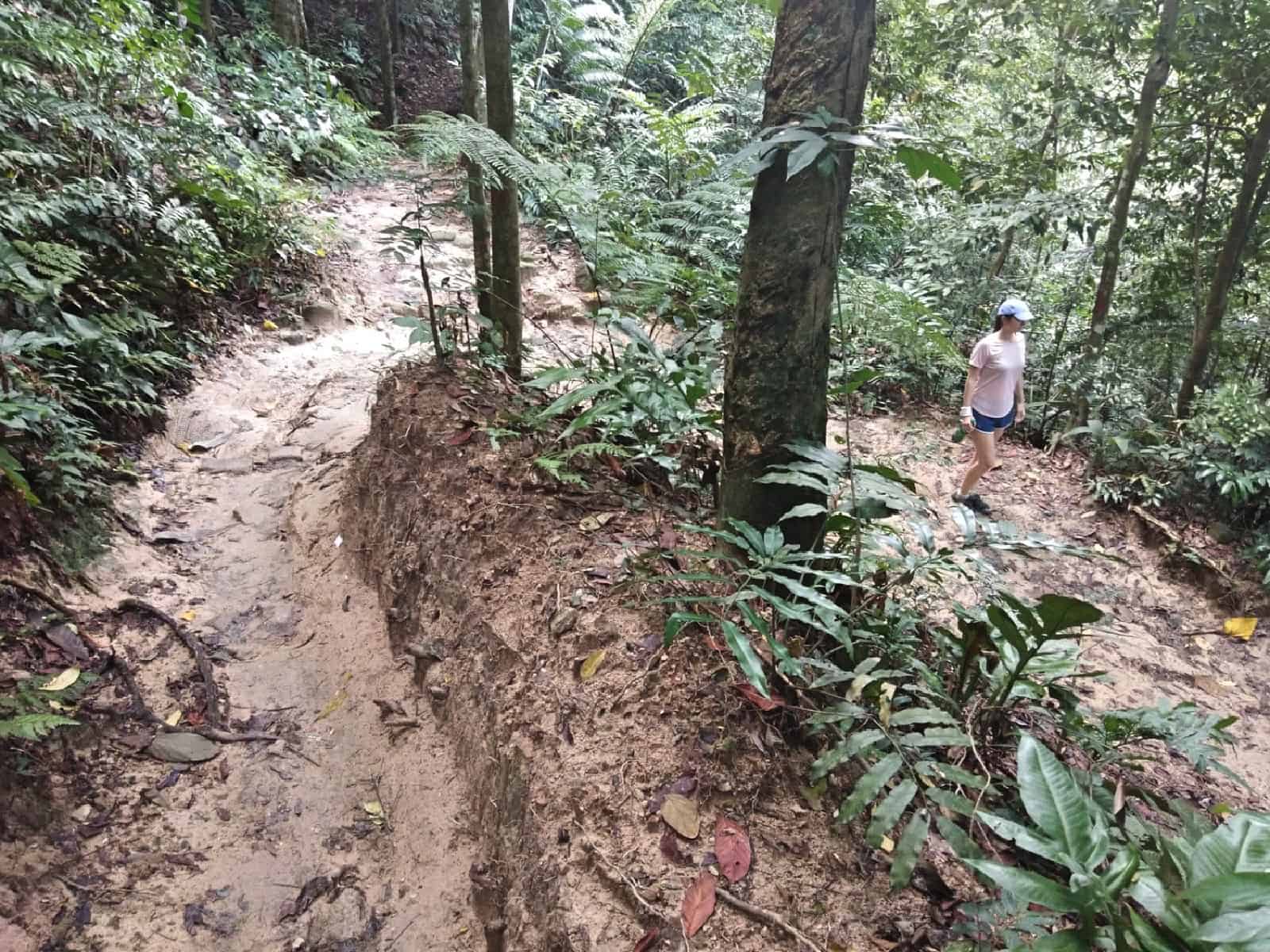 You'll soon reach another curve. Bear left and continue on the main path.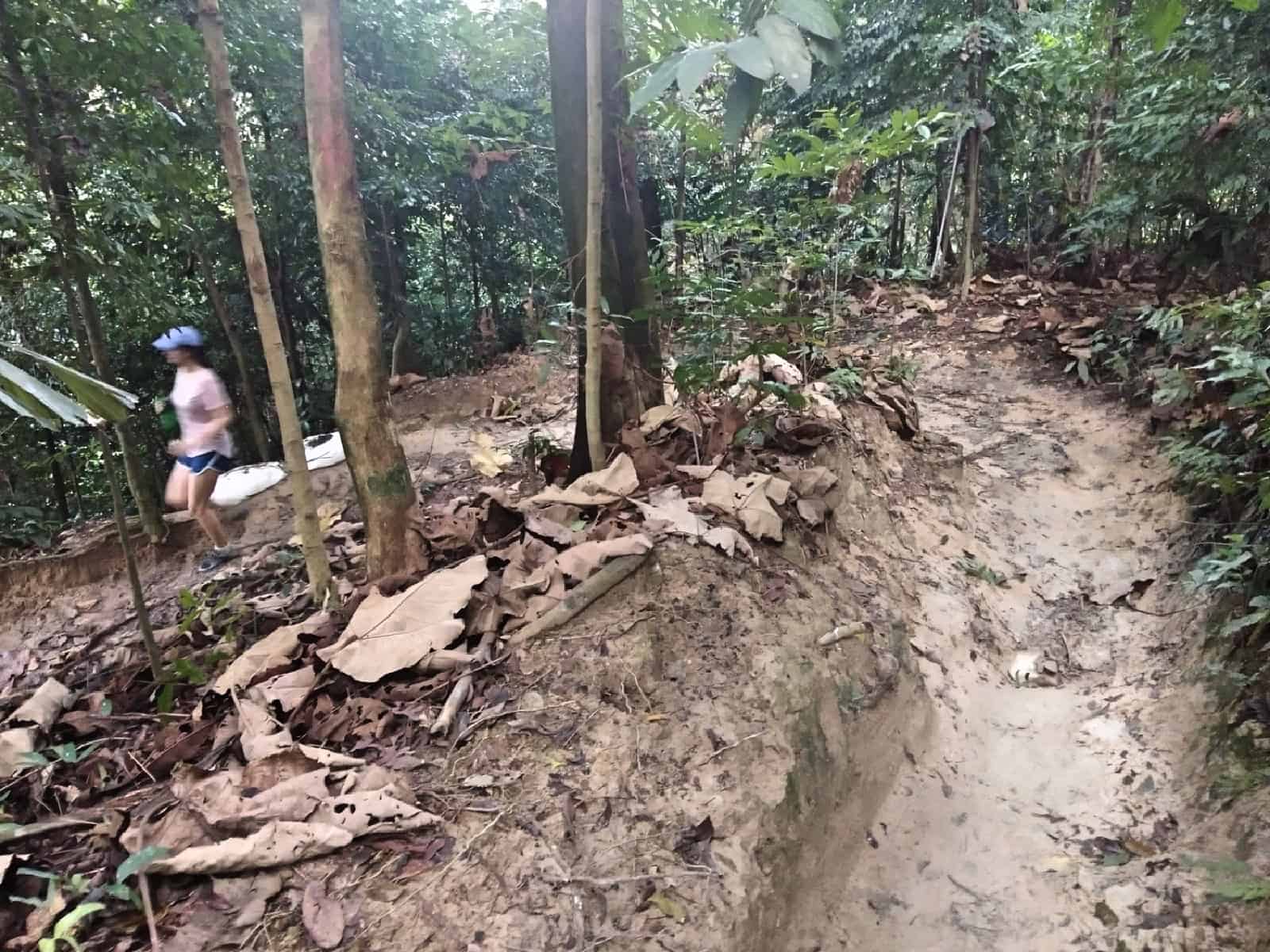 Keep on steering around the main path. Take this next right turn that comes up.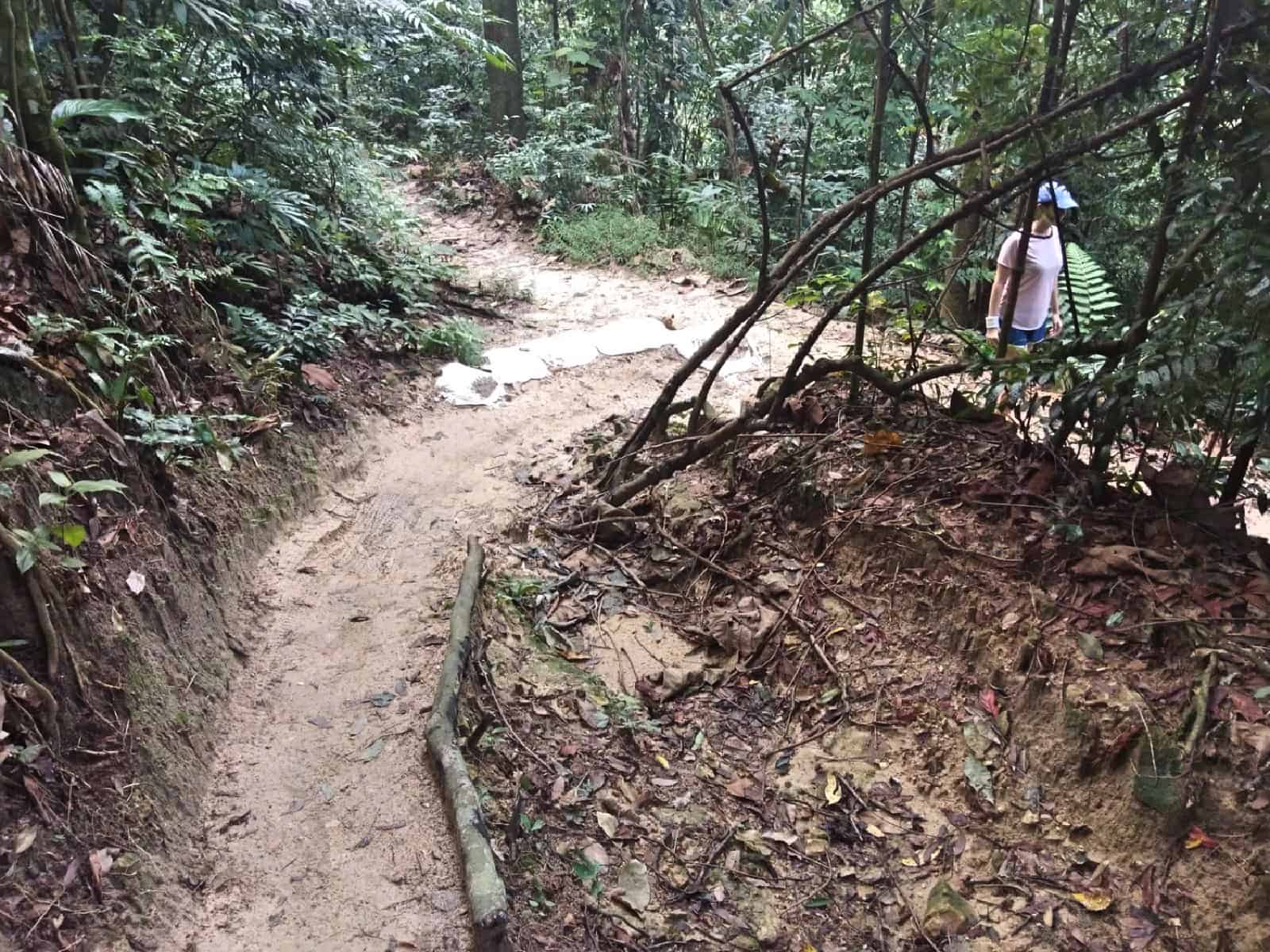 Then there'll be another turn taking you left. You can go around it like this 👇🏼 or take the smaller shortcut path on the left.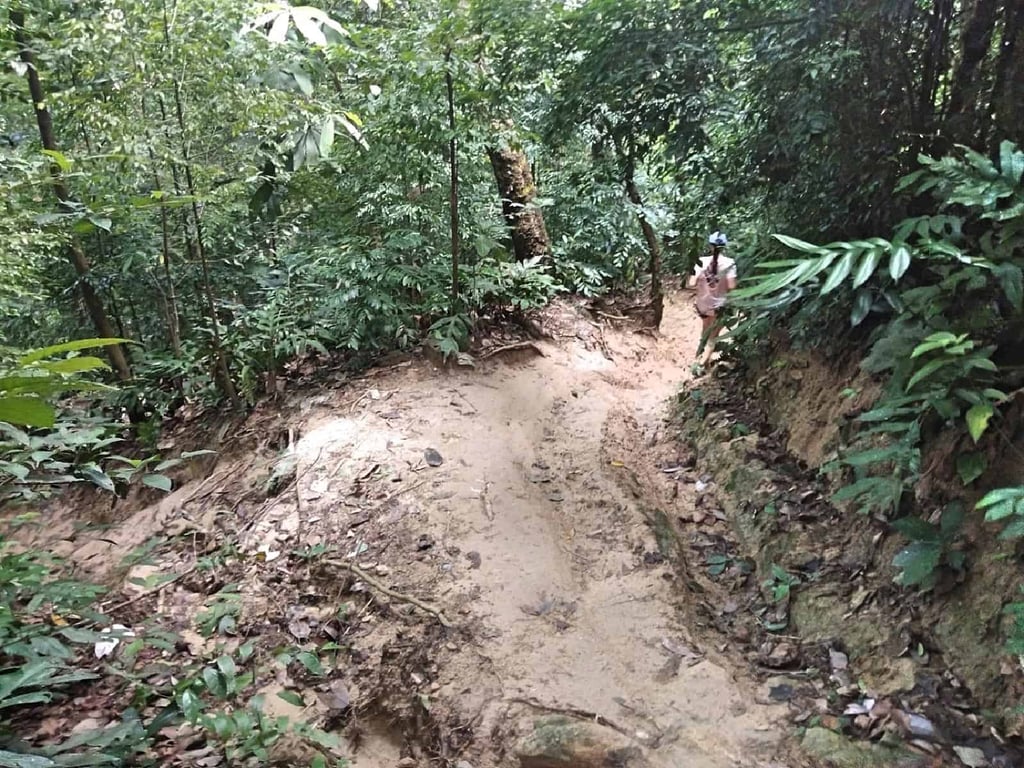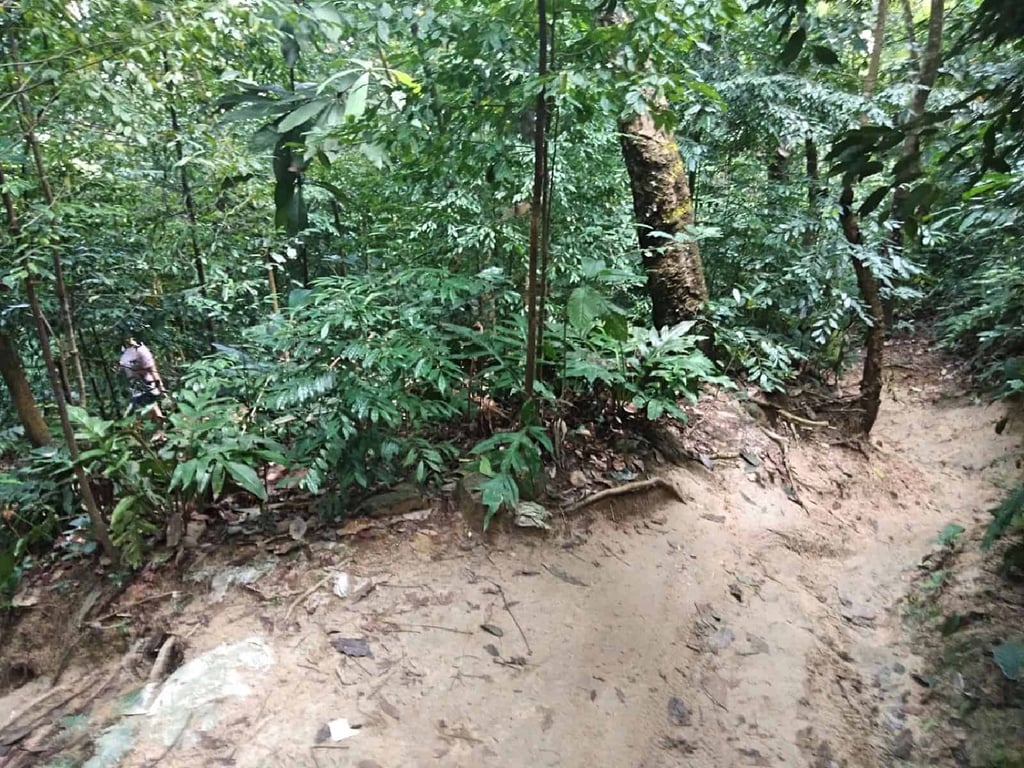 Then you'll soon reach a small rocky stream.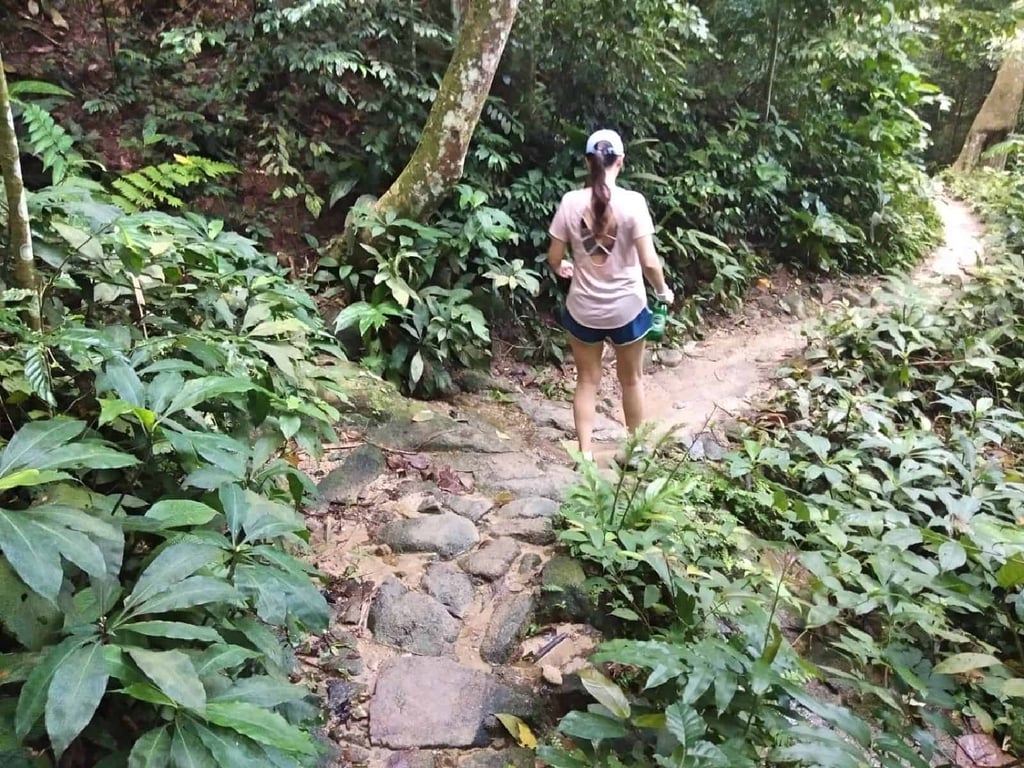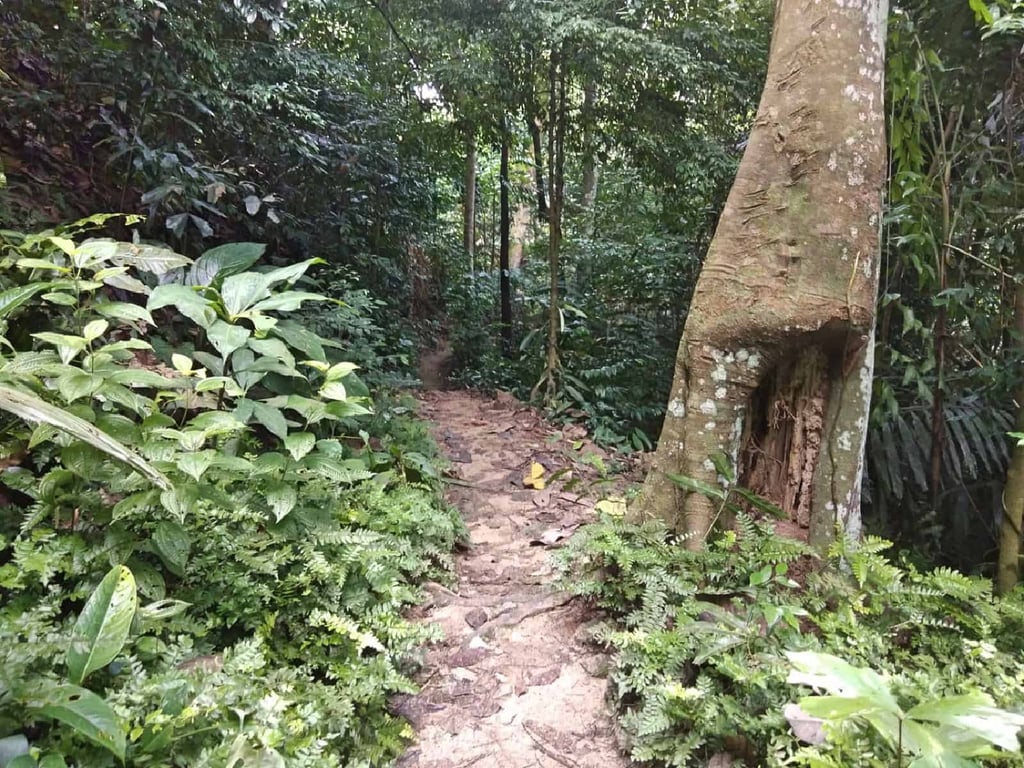 Continue ahead and down a few larger rocks.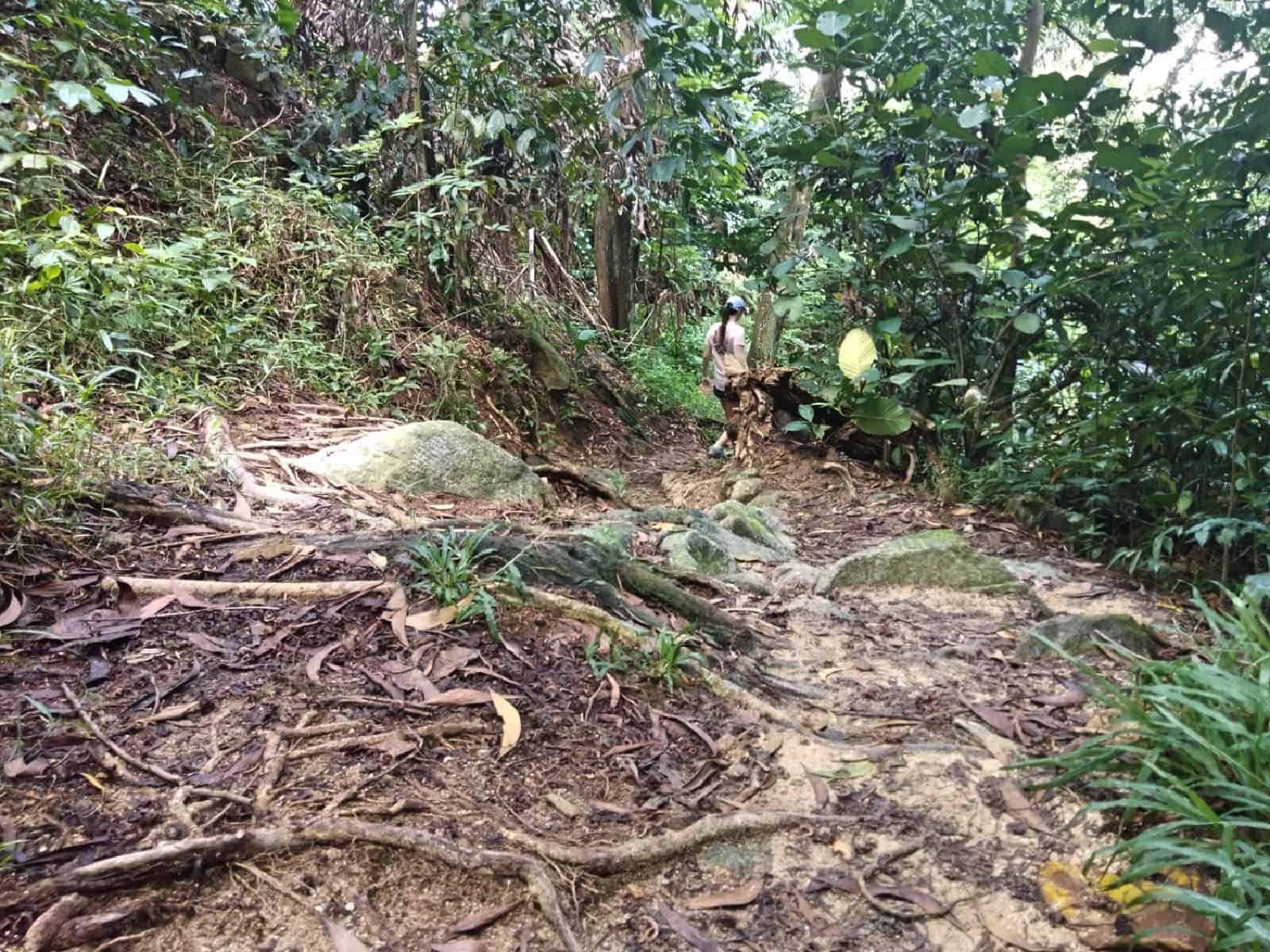 After you'll reach a grassier area. To your right you'll see a large white, circular water container. Continue along the path.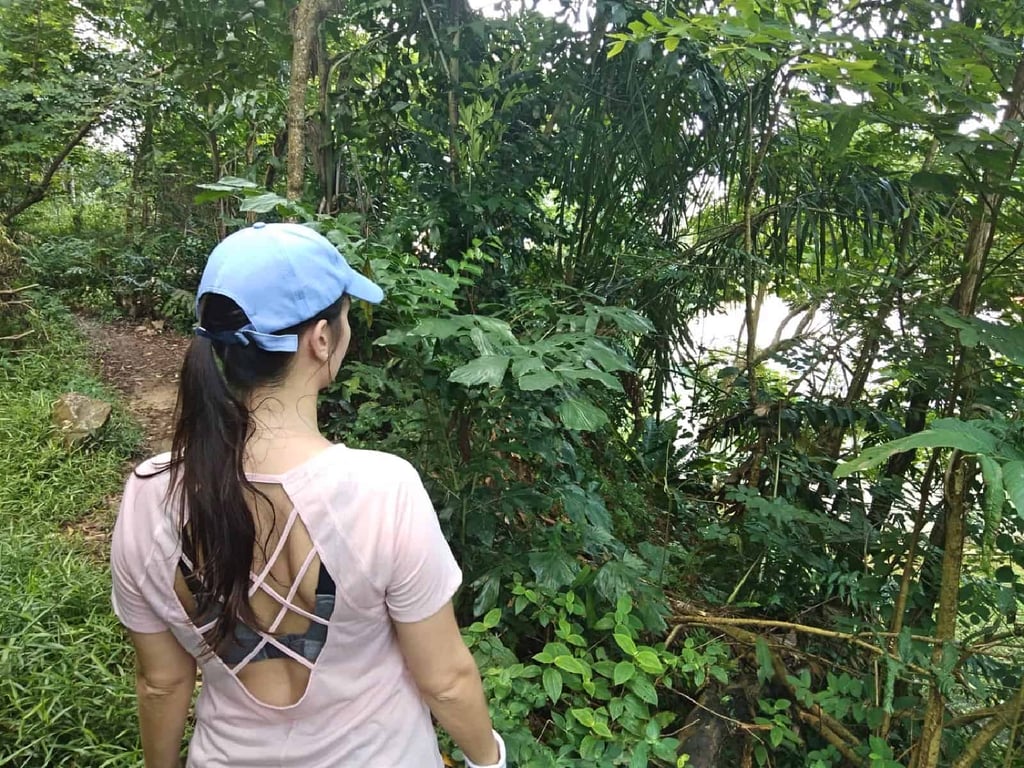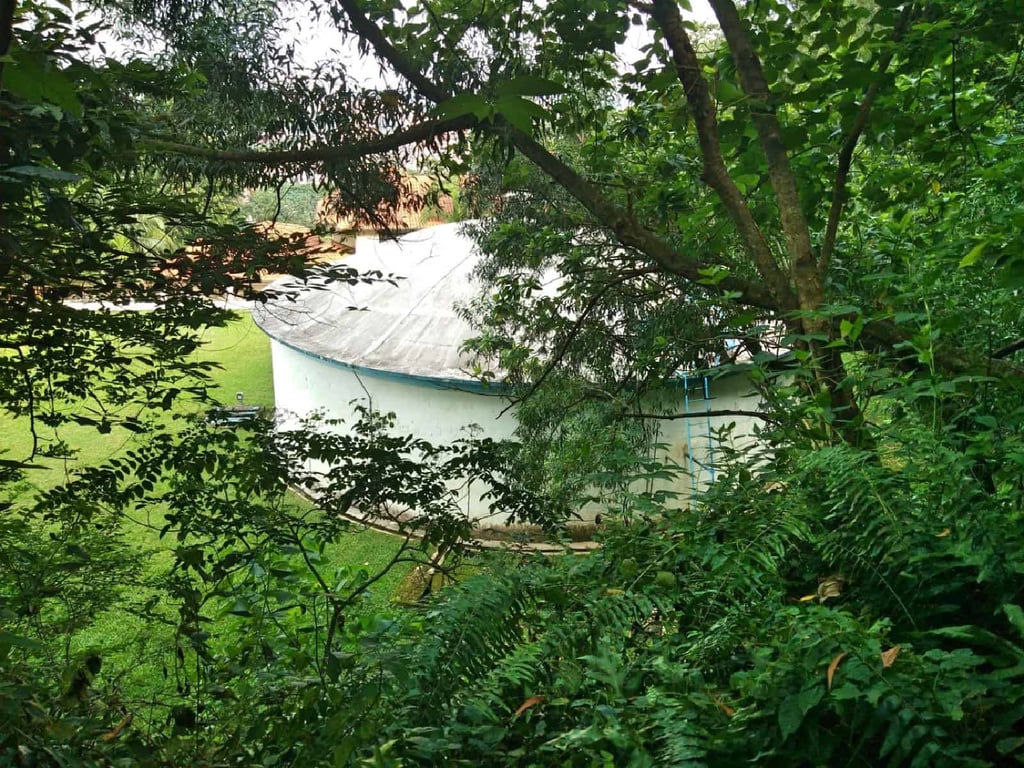 Next you'll pass a tree with a large buttress on your left, followed by another rocky path … watch your step!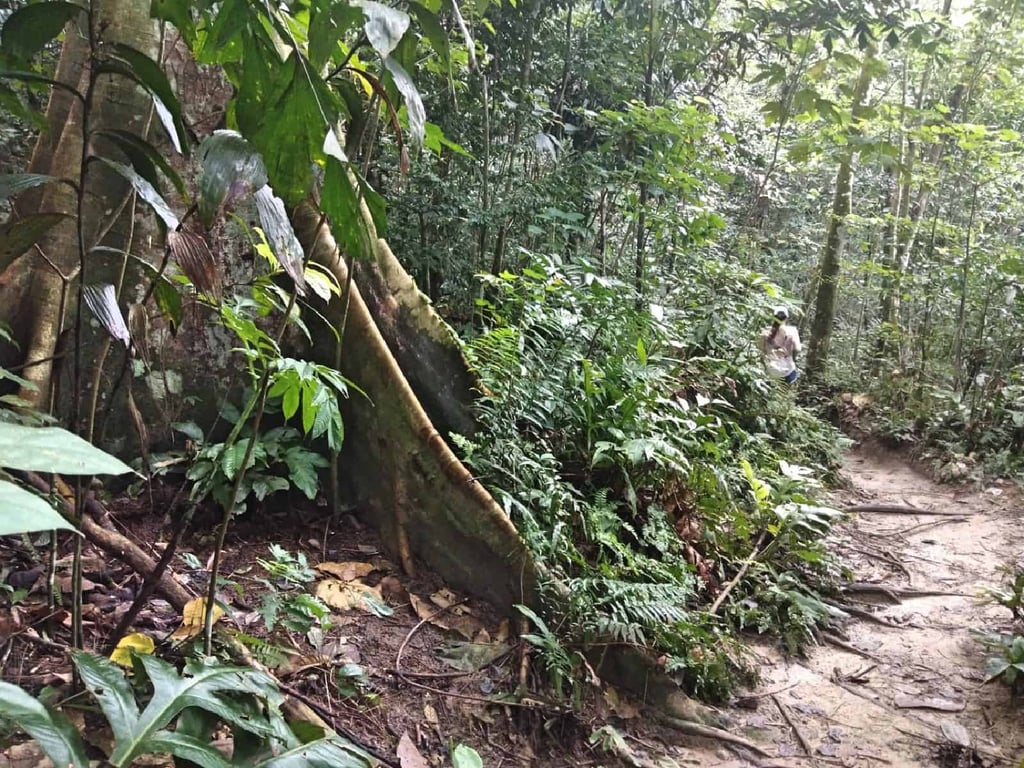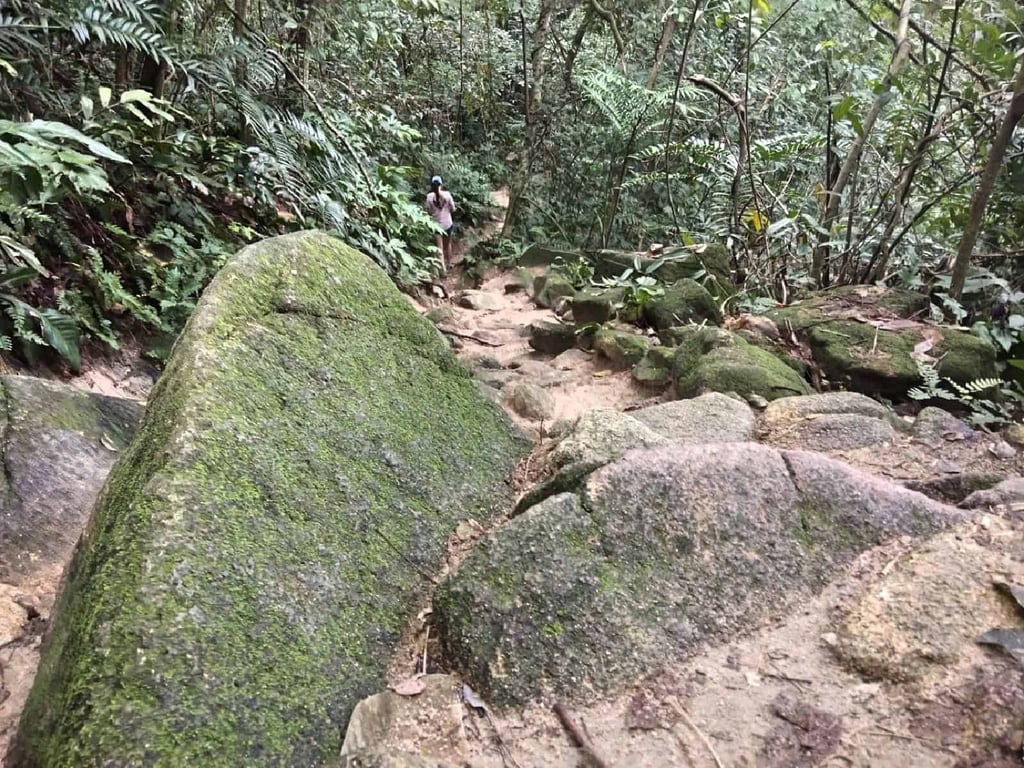 You're not far from the exit now. Continue along and you'll pass another [sort of] small stream/watery bit.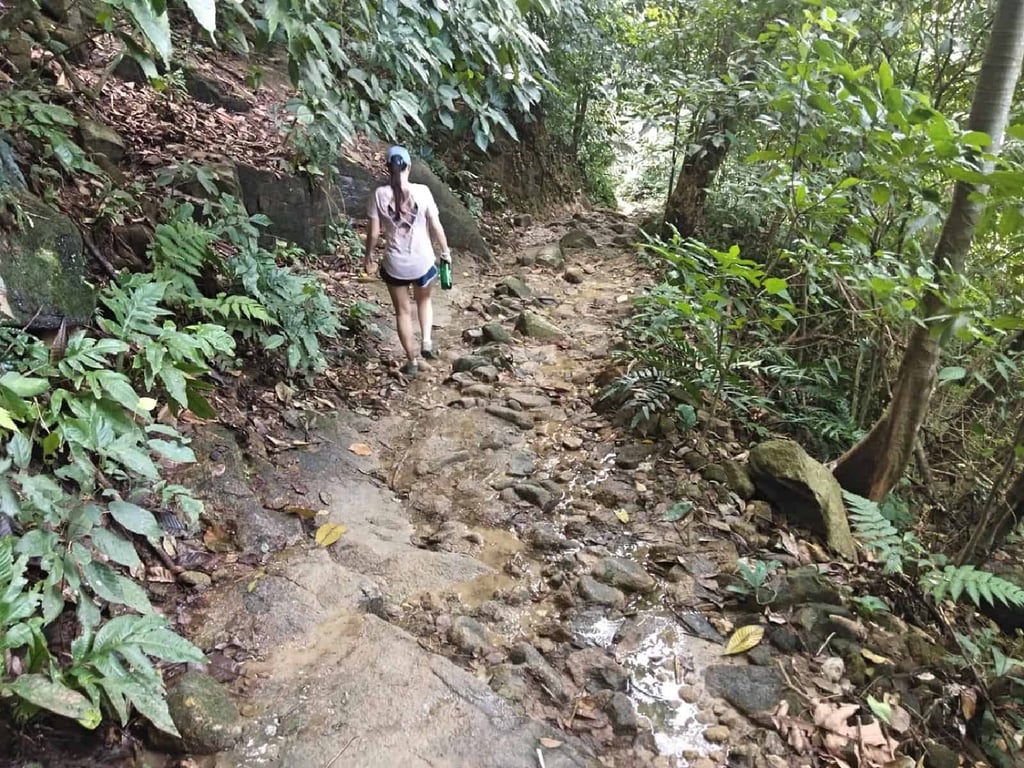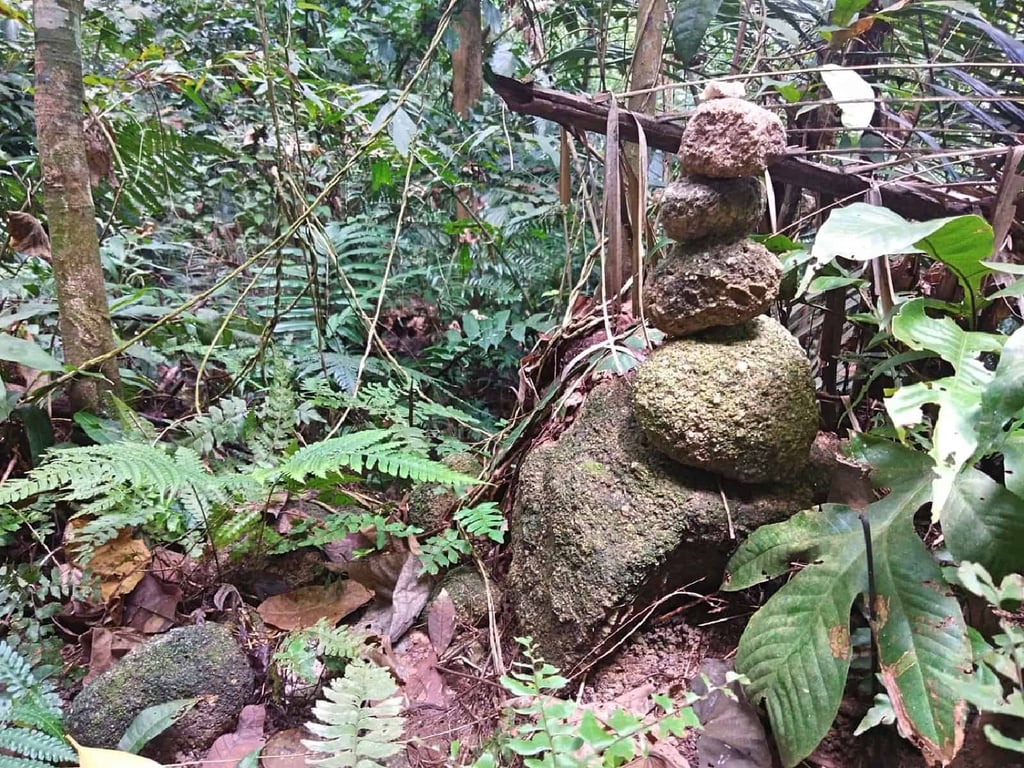 Continue along and you'll pass a wooden drain on the left.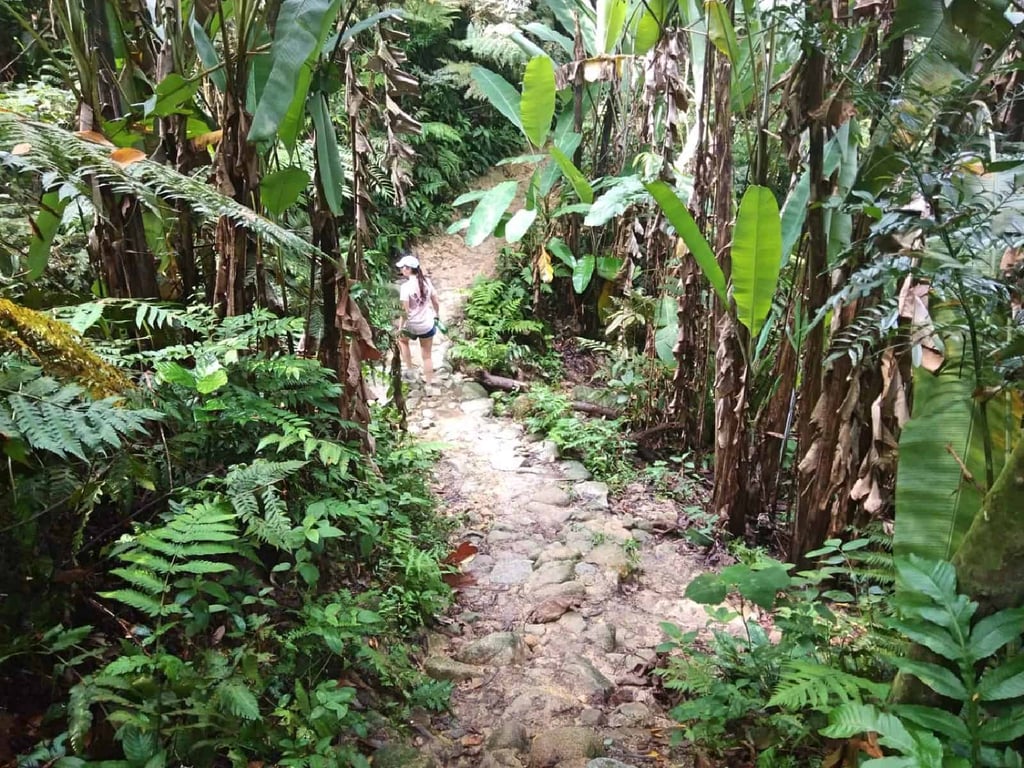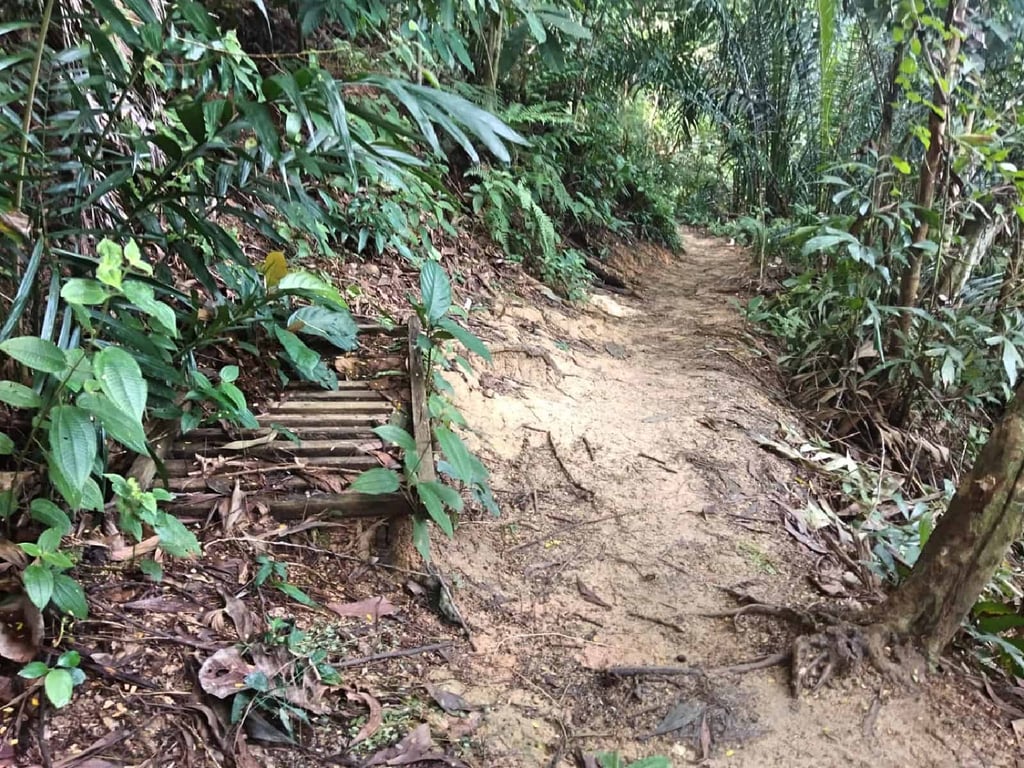 Shortly after, you'll reach this bit where the path steers up a tad (pic below). Take a right down the small path to get closer to the park.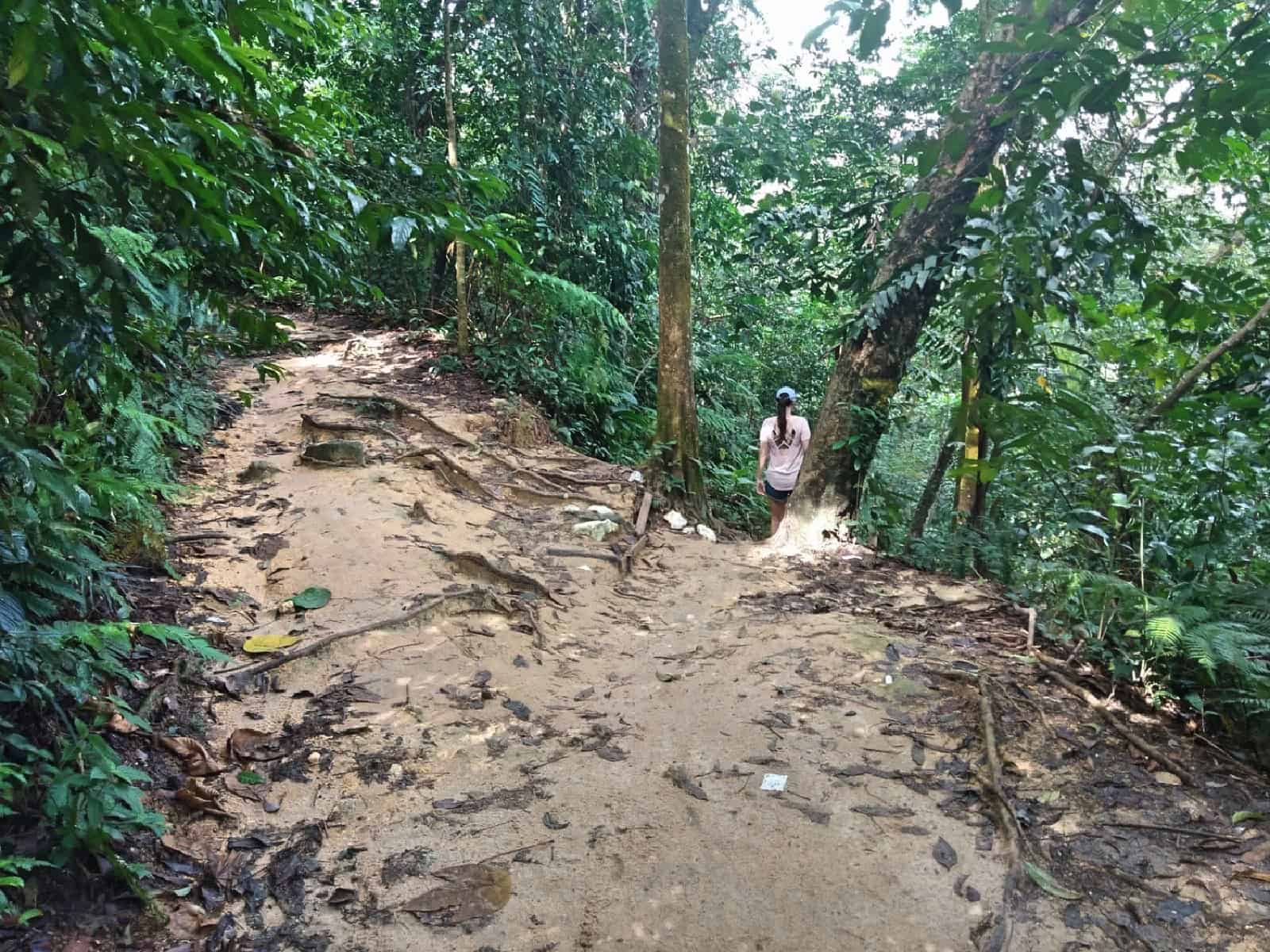 Just after is a white stony bit.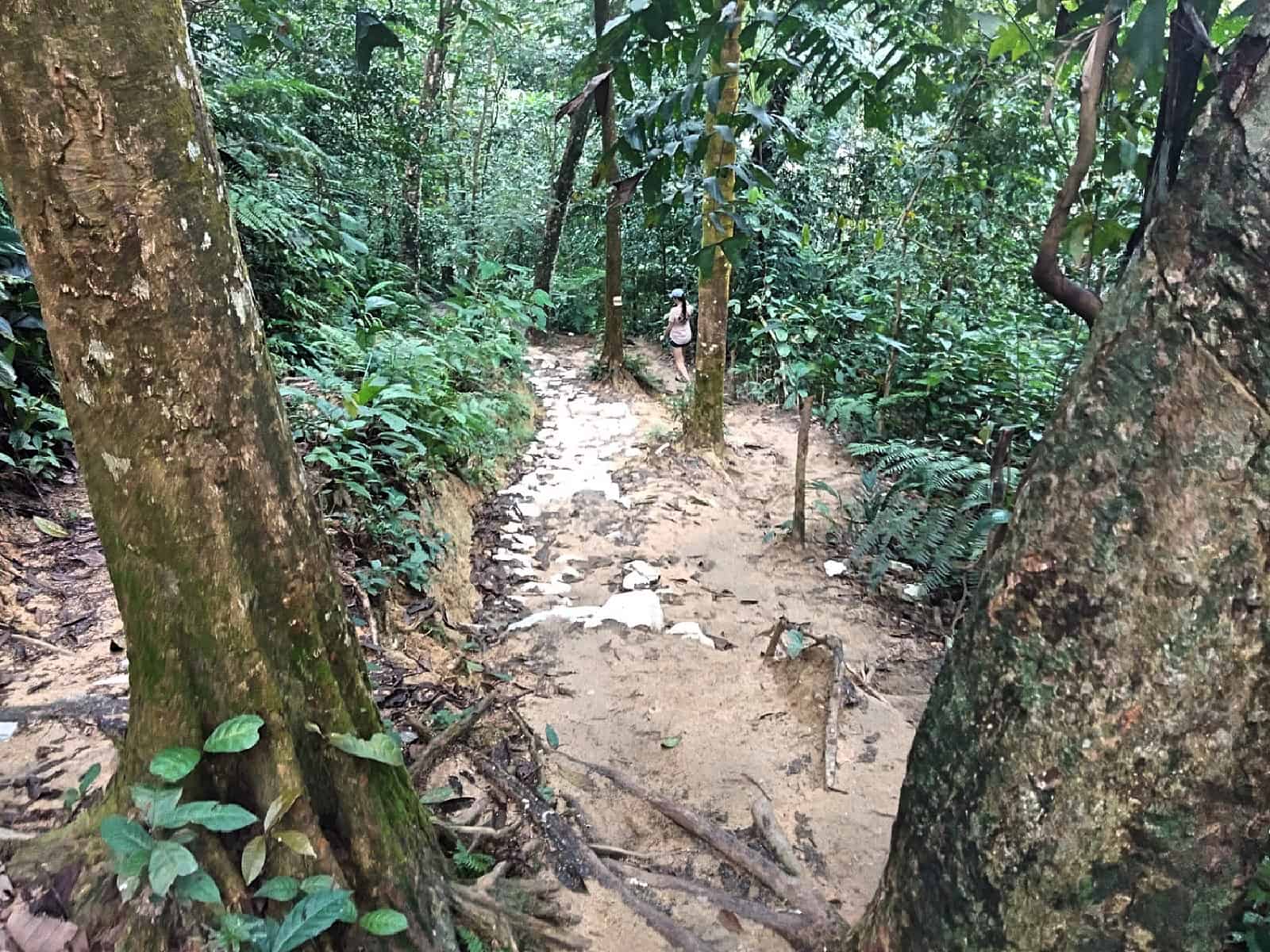 Now take a right onto the tiny path to exit the jungle to TTDI park.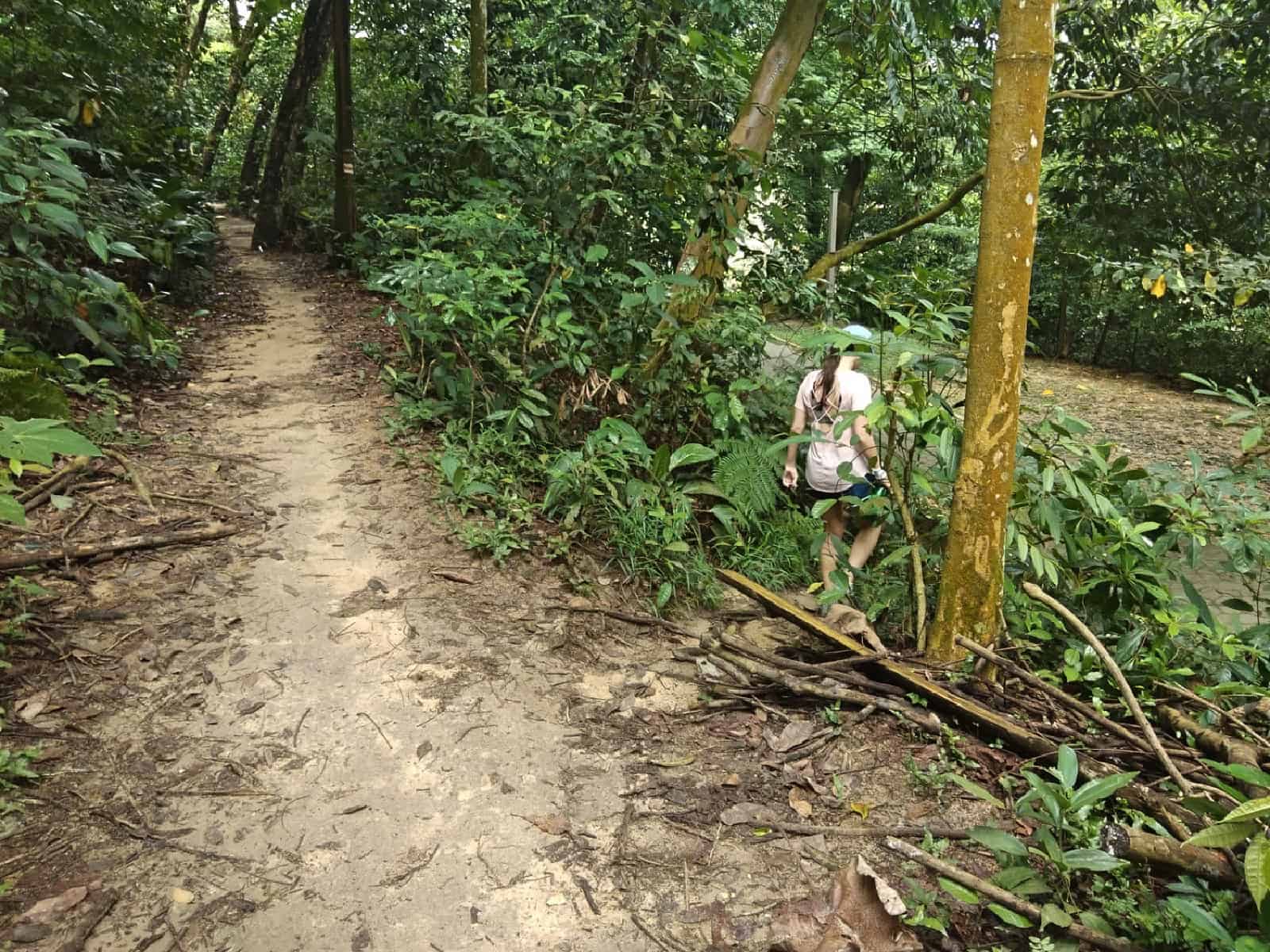 Finally, take a left on the concrete path and enjoy a walk around the lake!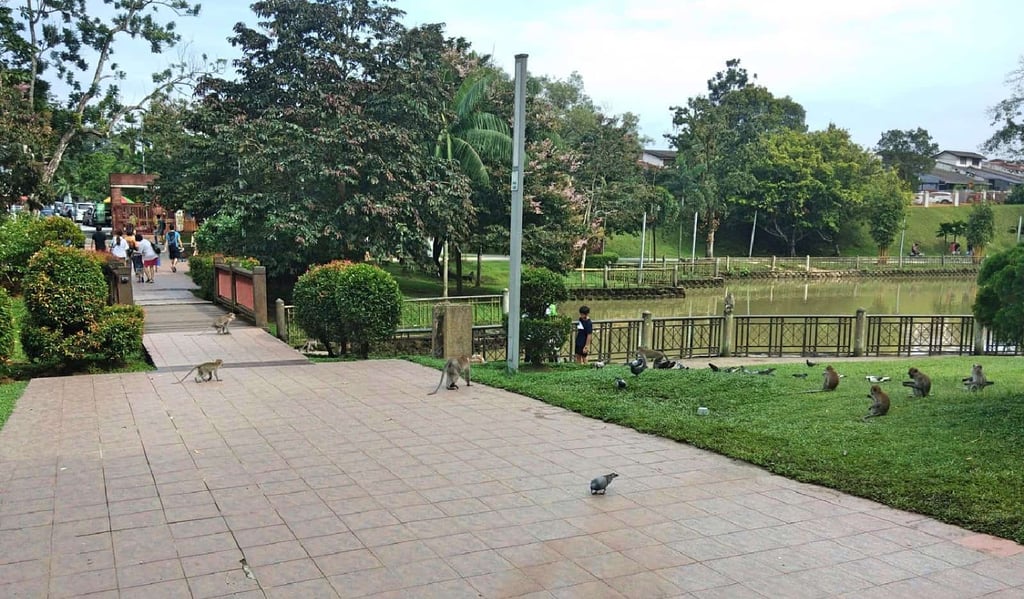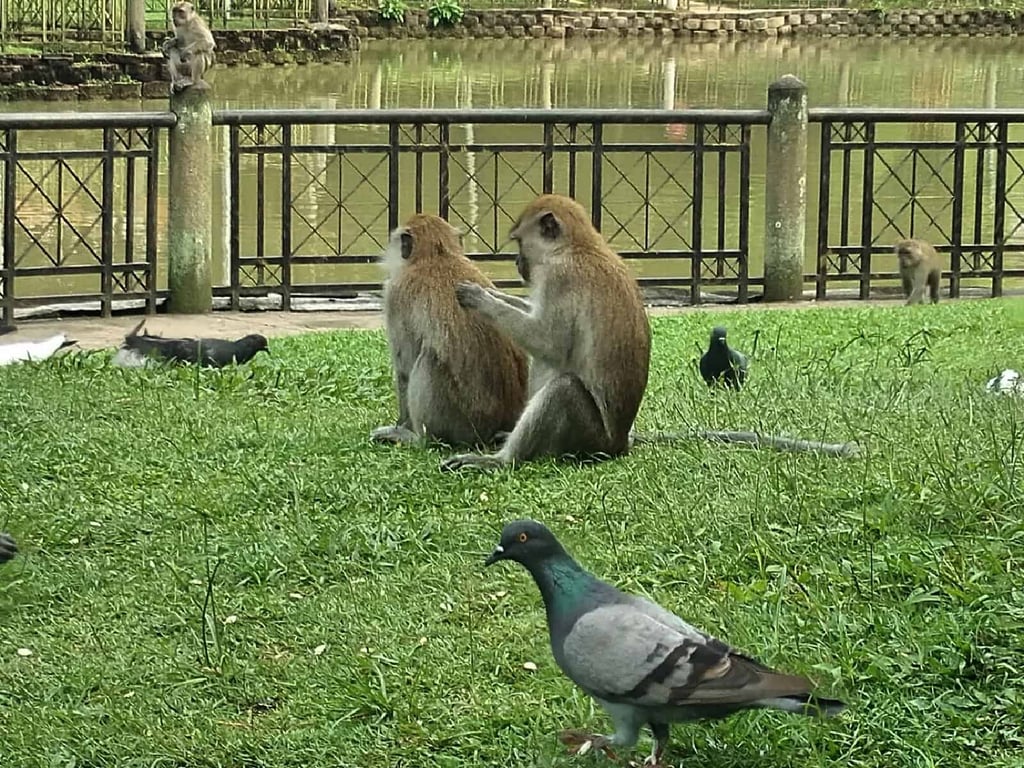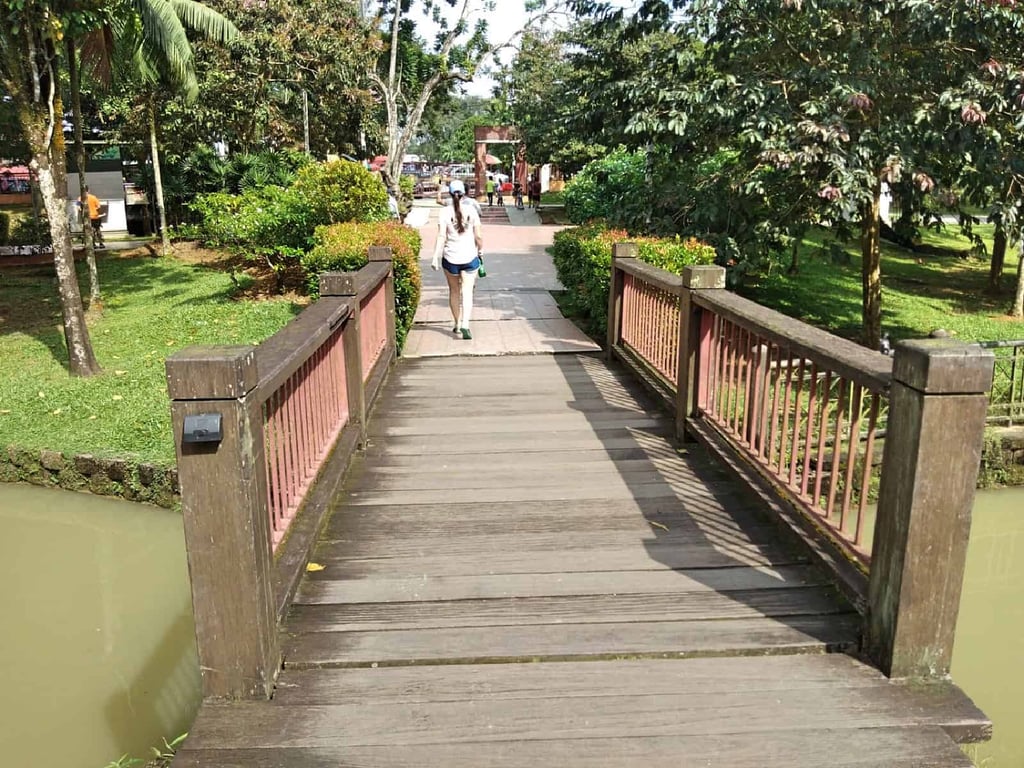 Before 11am on a Sunday, there's a fresh juice van sitting just outside of the park for a quick refresher.
If you're thirsty for more (i.e. a coffee or beer) and feeling hungry, there's a few awesome places you can check out nearby in TTDI.
My favourite brunch hangout in KL is Common Man Coffee Roasters. Or for a dinner stop, you can head to Ember (love this place!), Topshelf or Kayra (check out more details about them in my recent post).
Just take a left out of the park and follow the GPS on your phone. Most are only 5-10 minutes around the corner, which will give you enough time to cool off (Topshelf is a 5-10 minute Grab ride away).
Or, stop for an ice cold bevvy here first!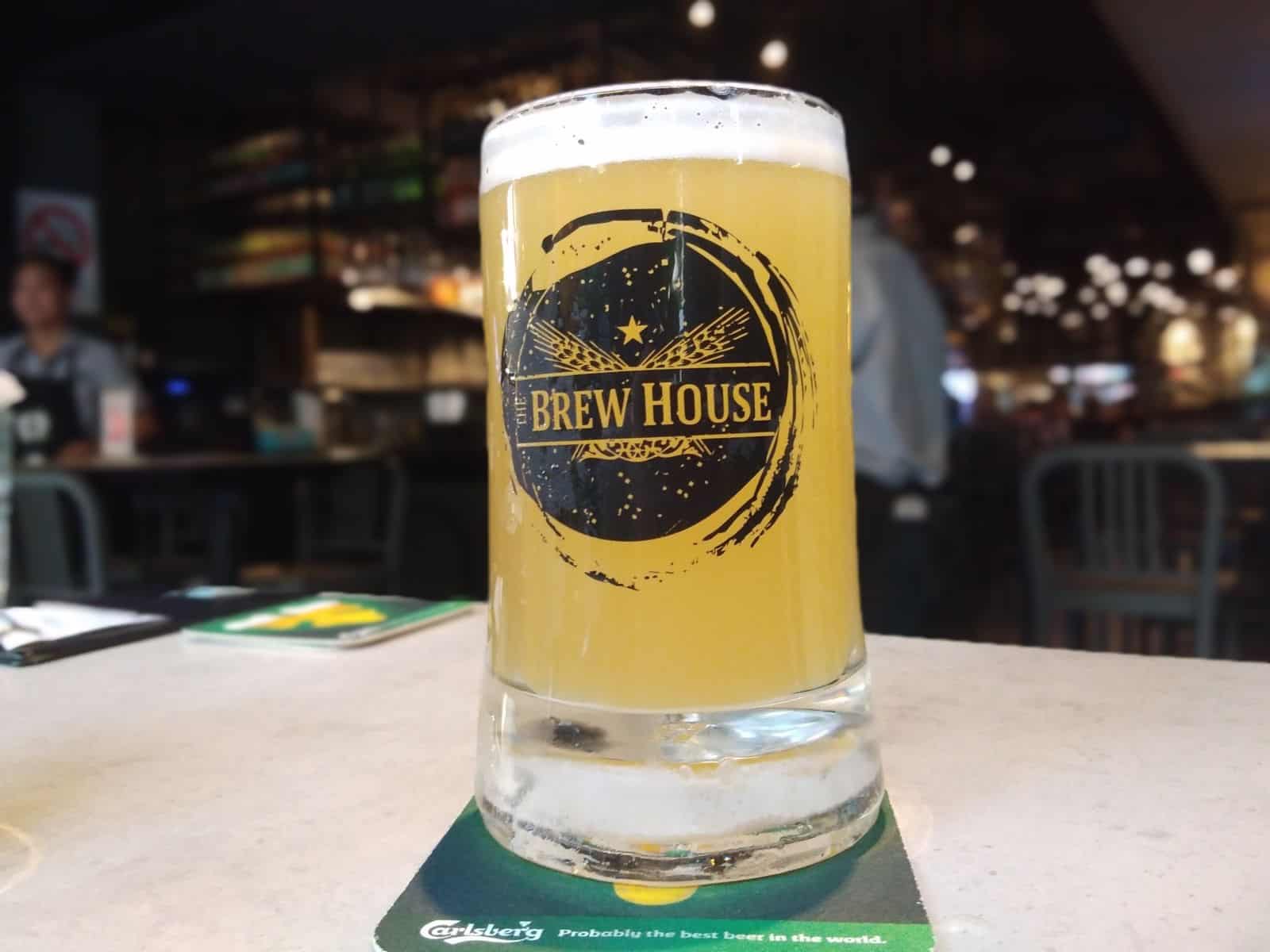 ---
I'm taking the 'Left Path' (aka champions route)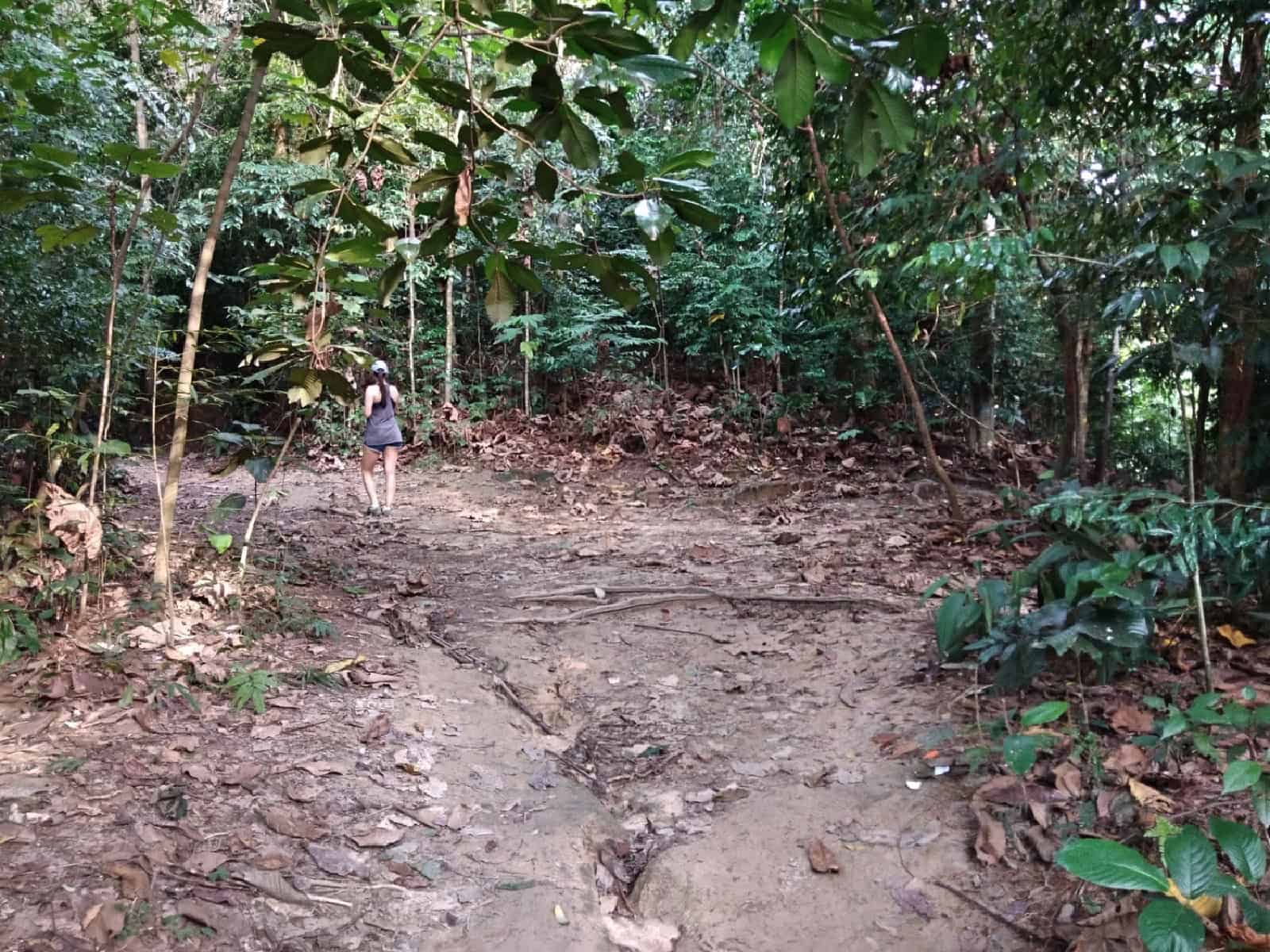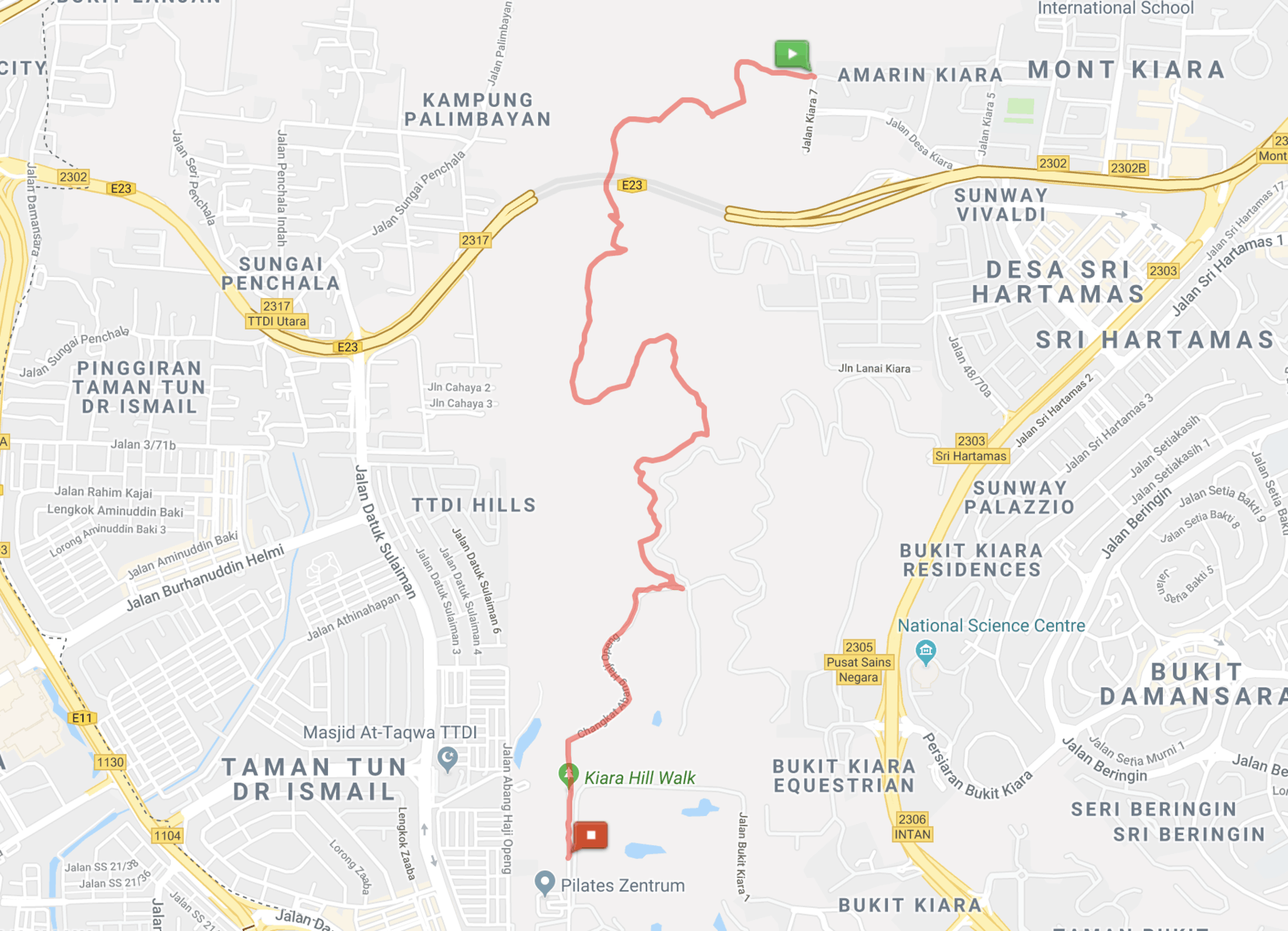 Continue straight. After about 5-10 mins, you'll pass a second metal gate.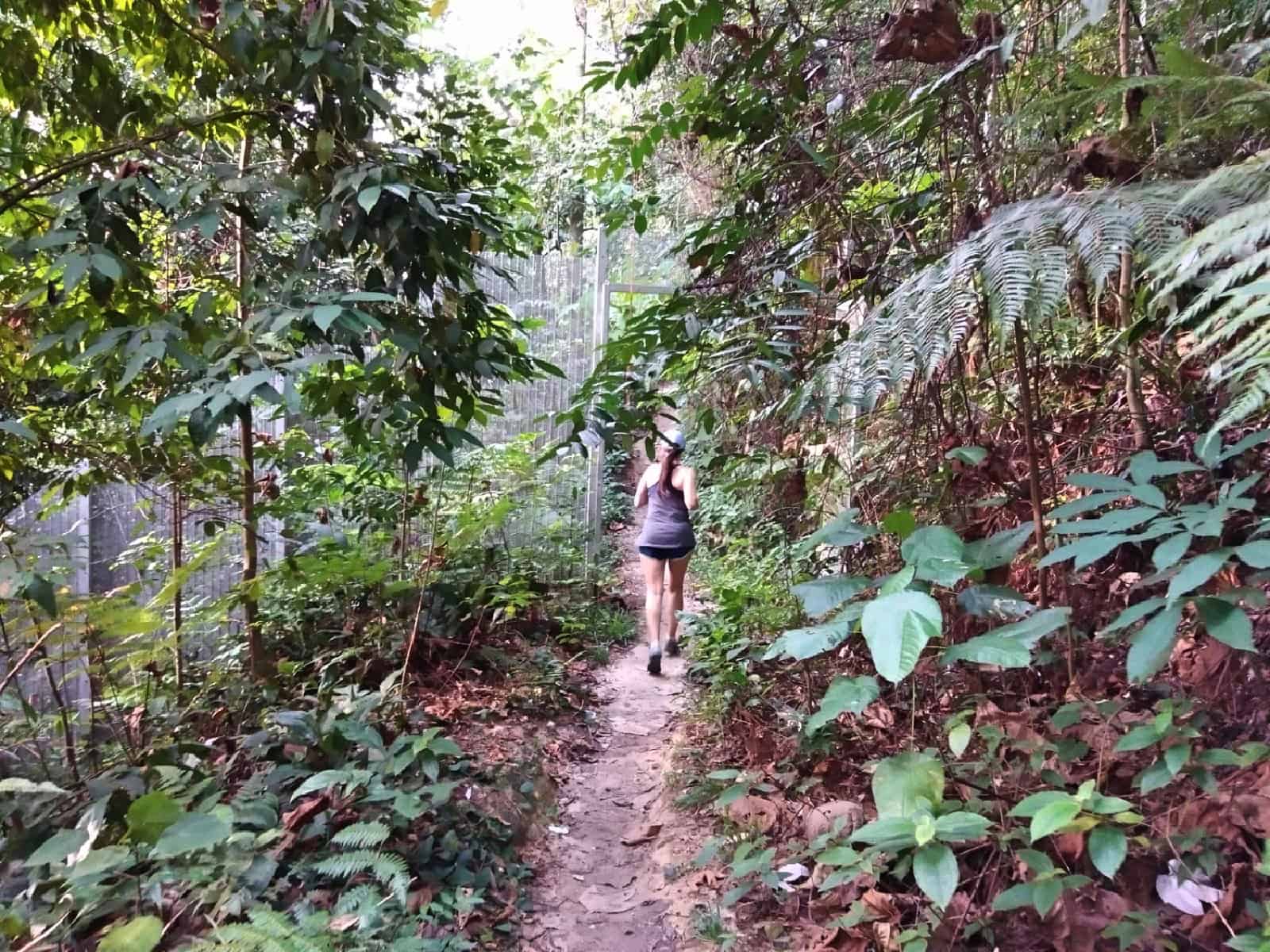 Then after another 5-10 mins, you'll pass a third metal gate. Continue a bit further along, then you'll reach this 👇🏼 fork. Don't go left (it'll take you back to Mont Kiara on the path you came on). Bear right, walk a few steps up, then take the instant left. You'll now begin your decent downhill.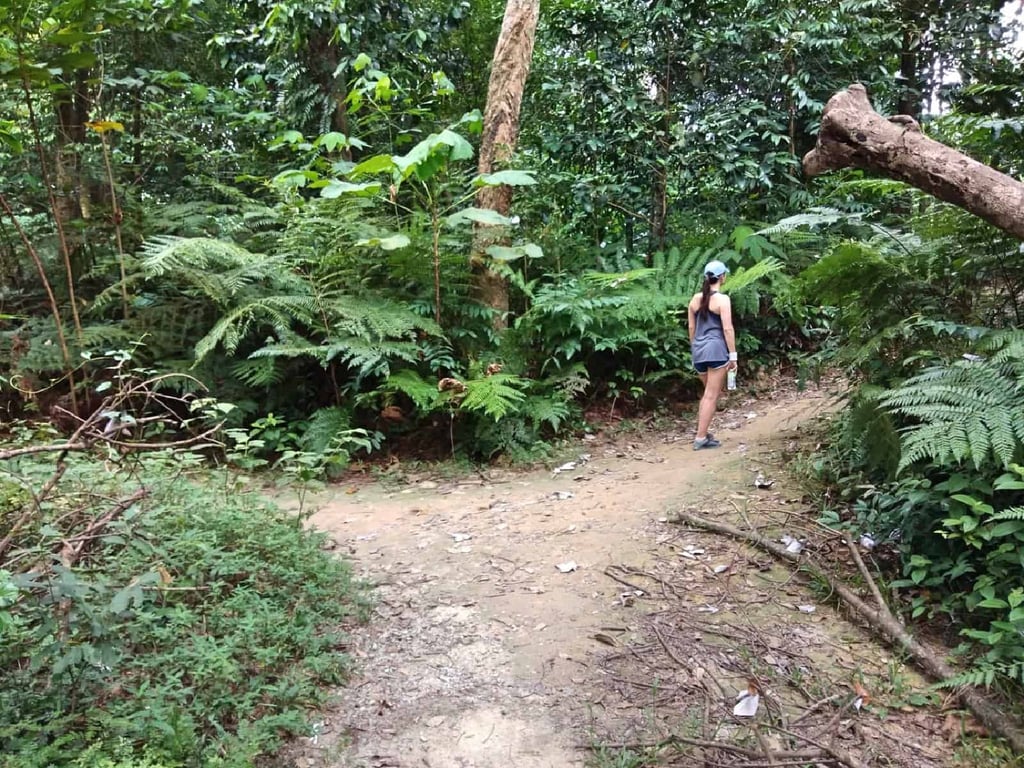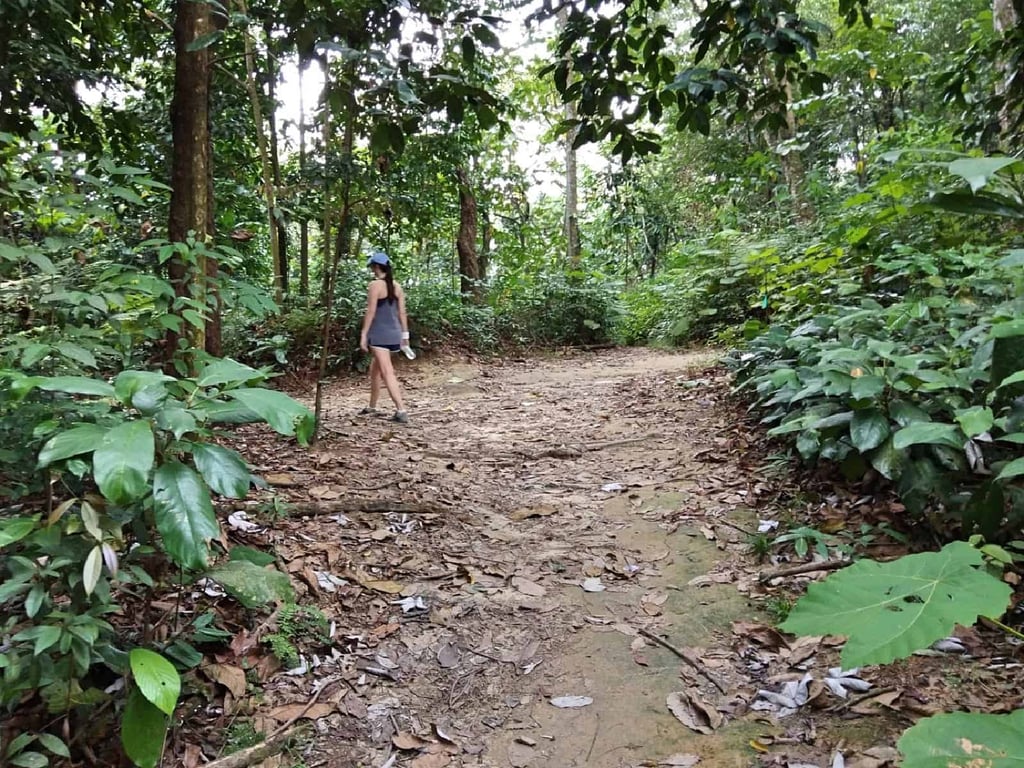 Continue down and around. Then the track seems to open up and you can see a few other paths around which are popular with dirt bikers.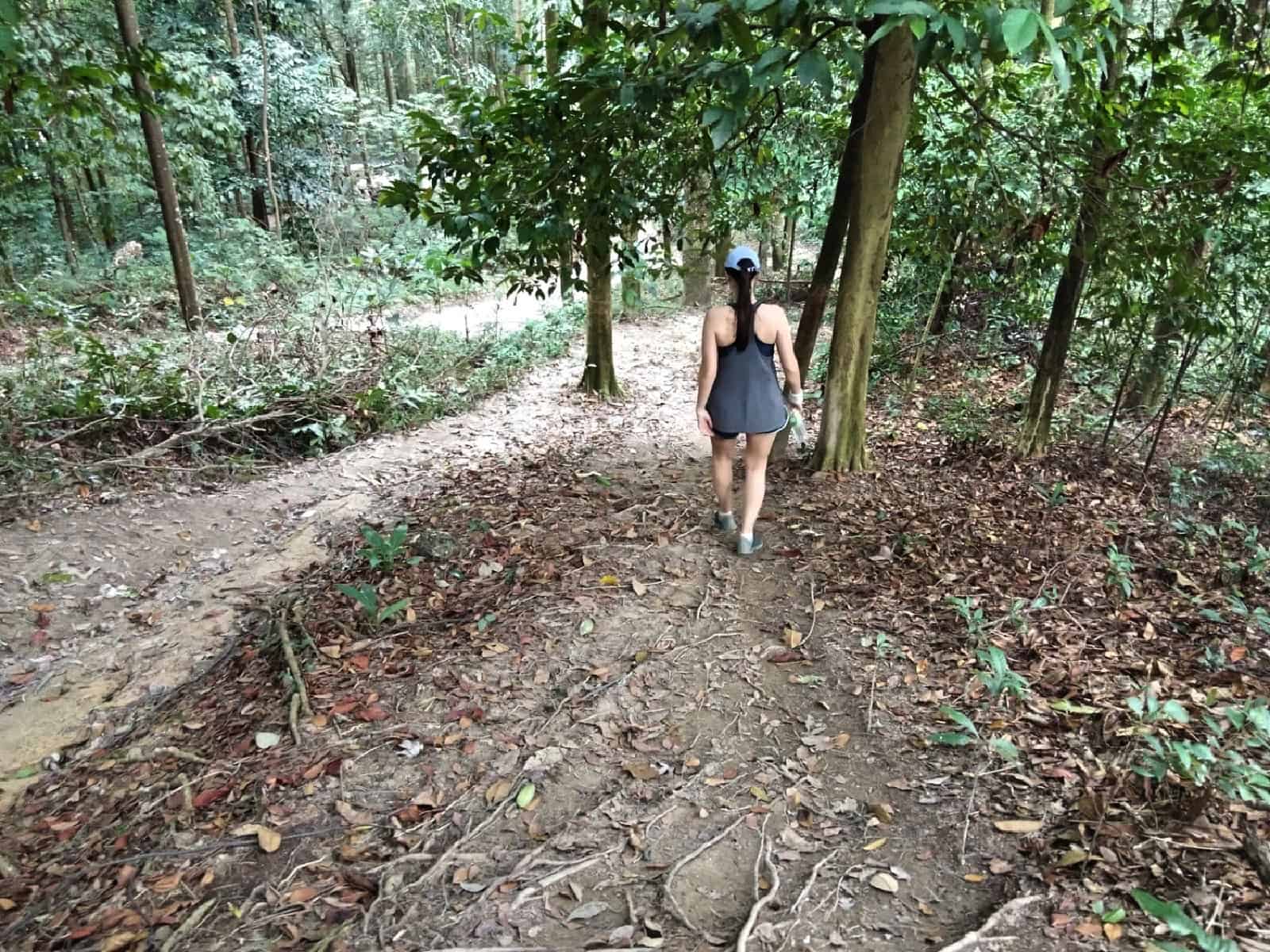 Bear right as you go down (crossing another small track), until you come to the path below where you'll take a right. (This bit may get a bit confusing! But just keep on bearing right as you go down and you should be on track!)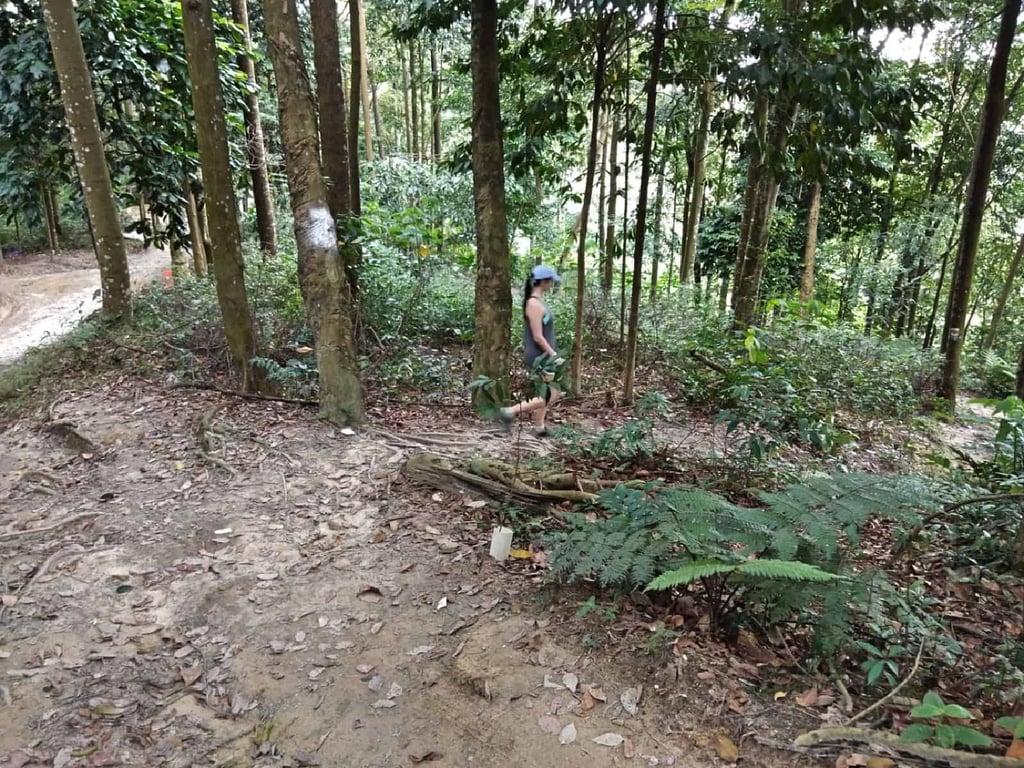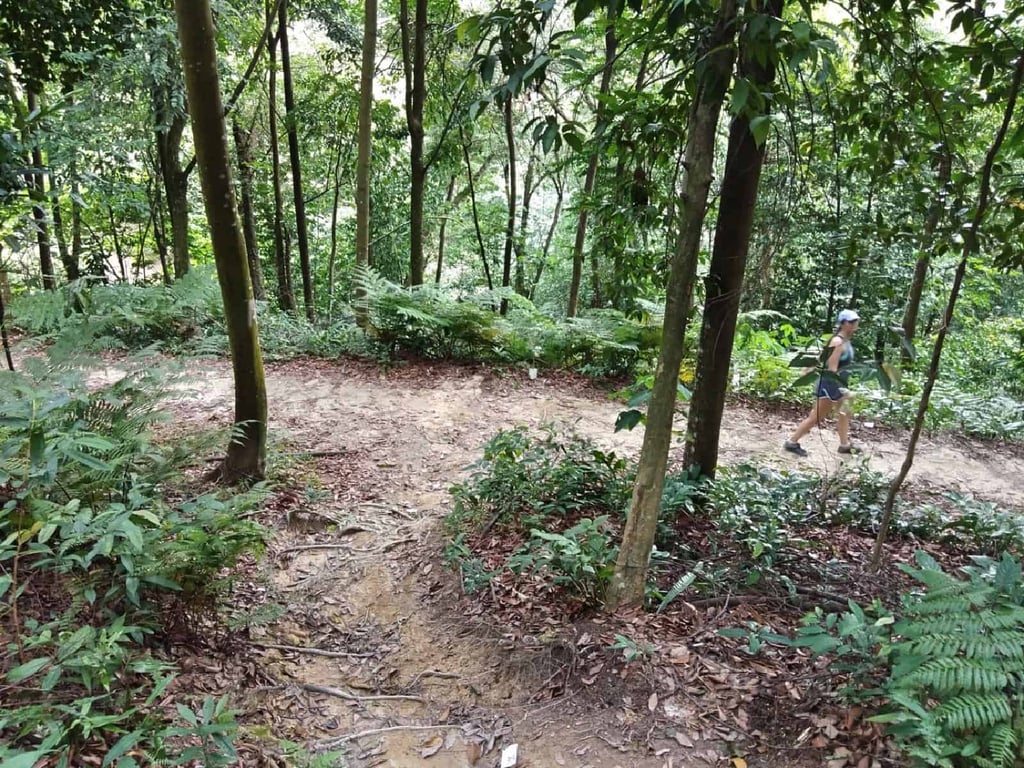 Continue along. You'll pass a large termites nest on your left, before soon reaching your first small wooden bridge. Keep an eye out for the rubber trees around here where you can spot the old carvings on them that would channel the rubber. This area used to be a plantation and you can see parts of the old brick track on the floor.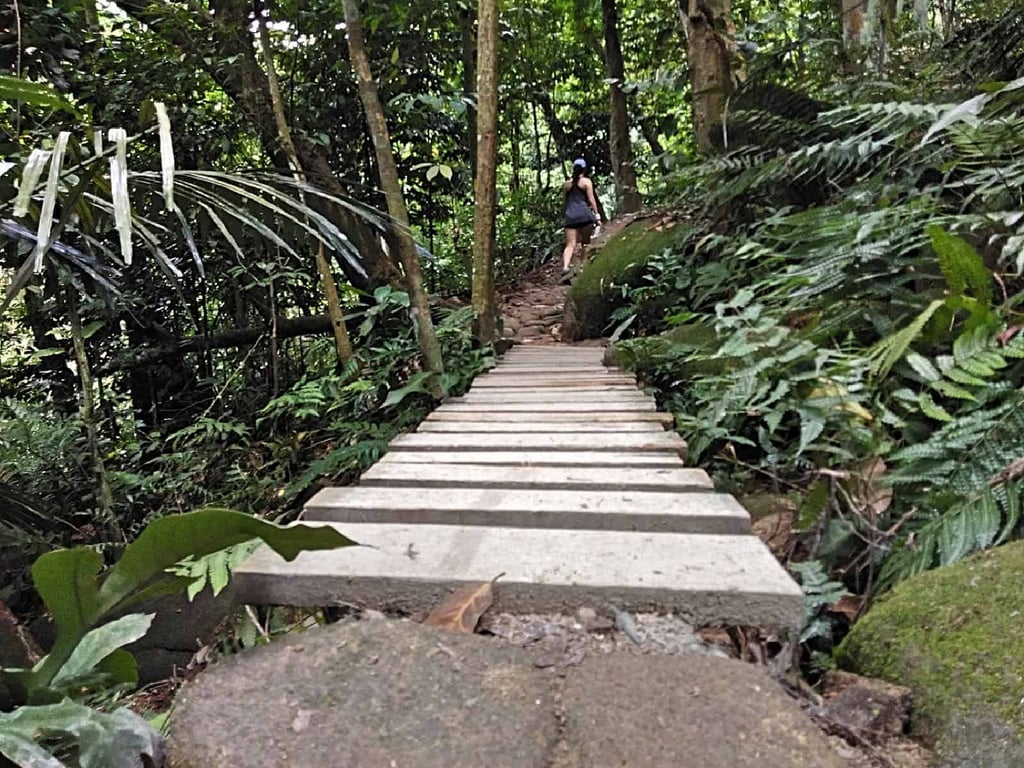 Continue along the track, where you'll come to another small wooden bridge.
Then keep on following this main path. When you reach another small fork (pic below), turn left.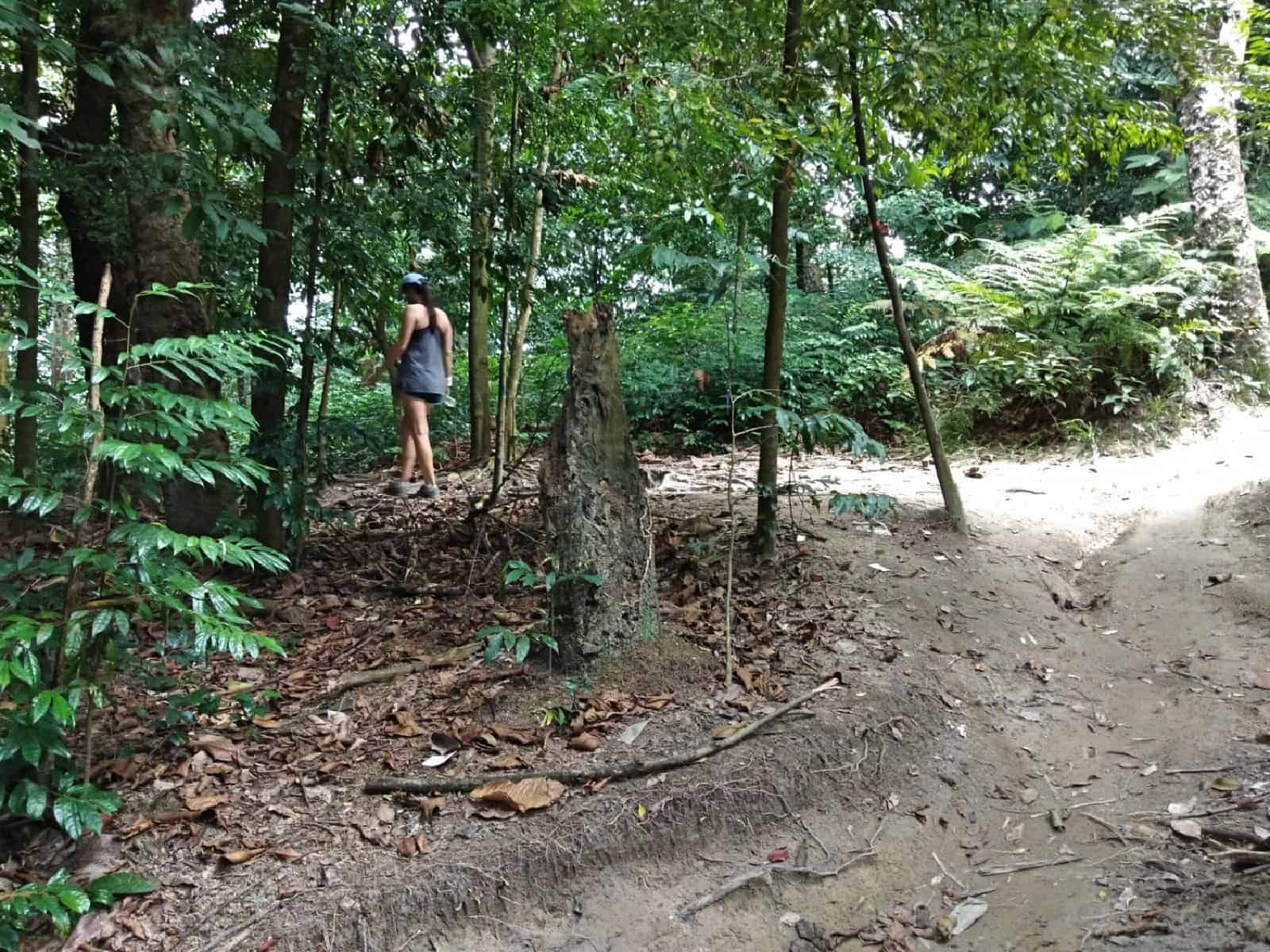 After you'll be spearing down again until you reach the concrete path. When you come out, take a right.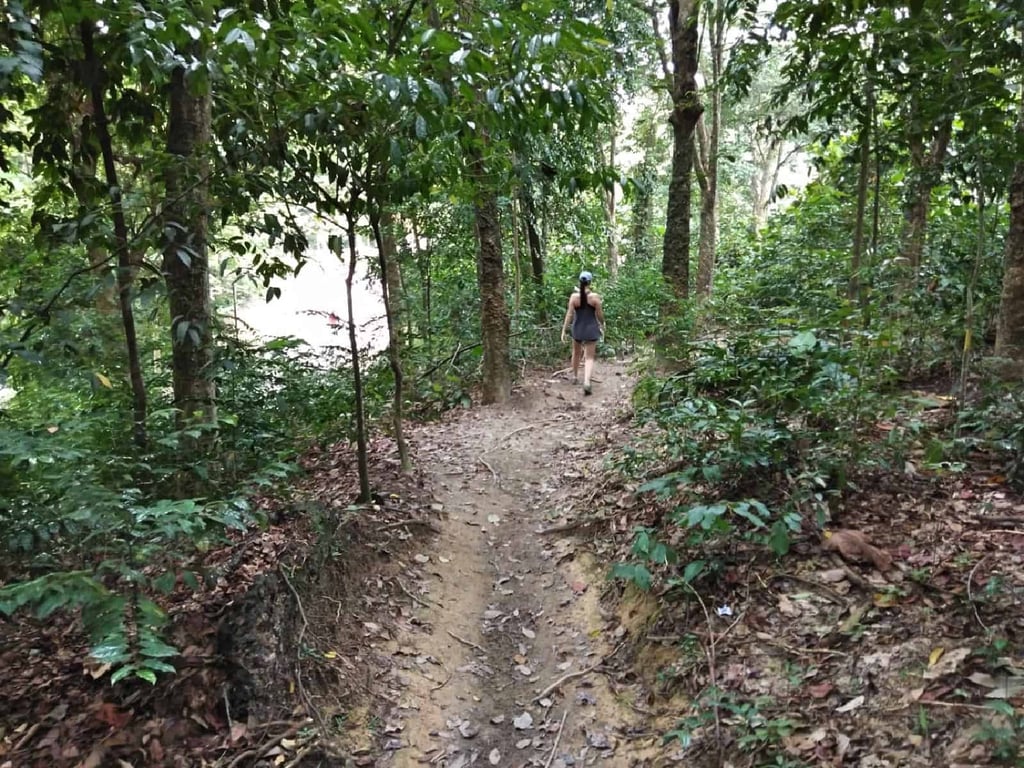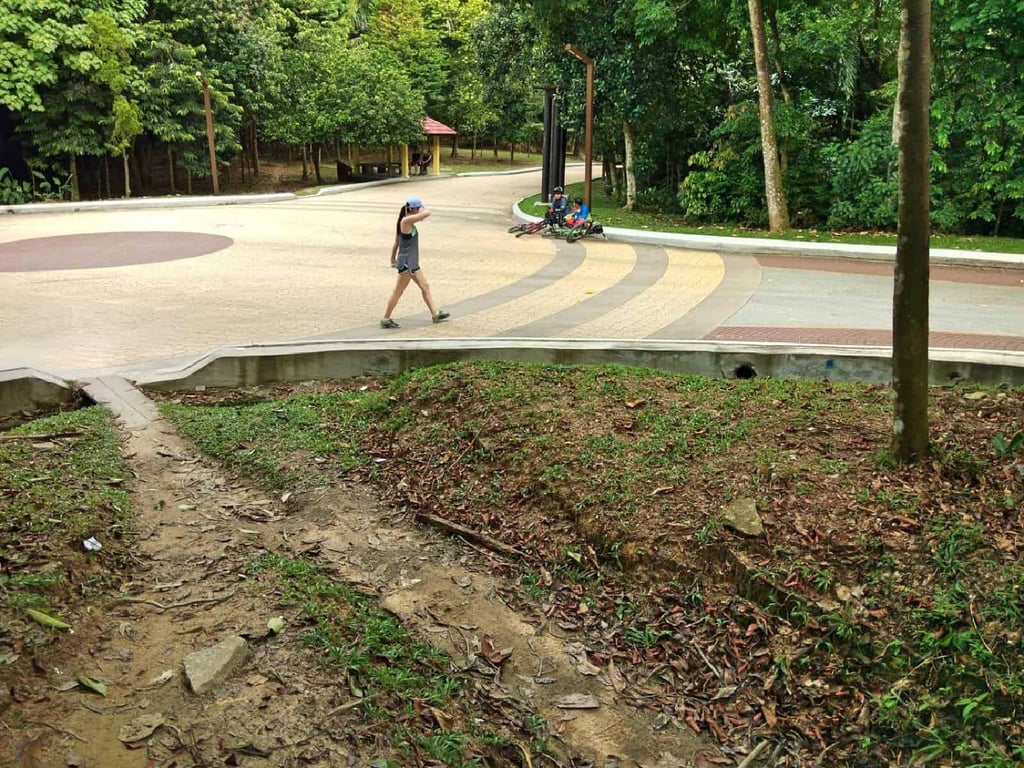 Follow the path all the way around, passing the small recreation area and lookout.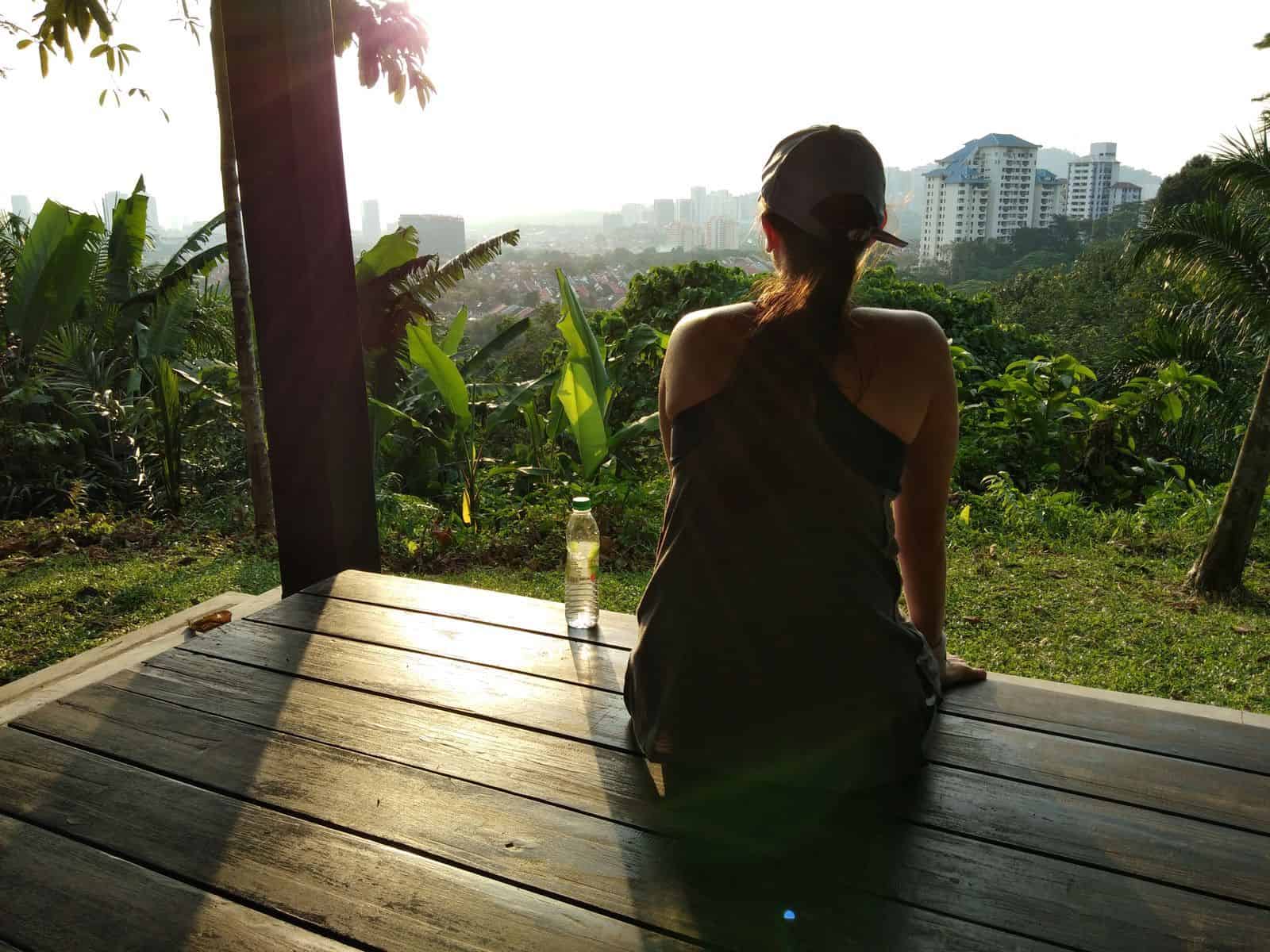 Before 11am on a Sunday, there's a fresh juice van near the exit if you need some instant vitamins!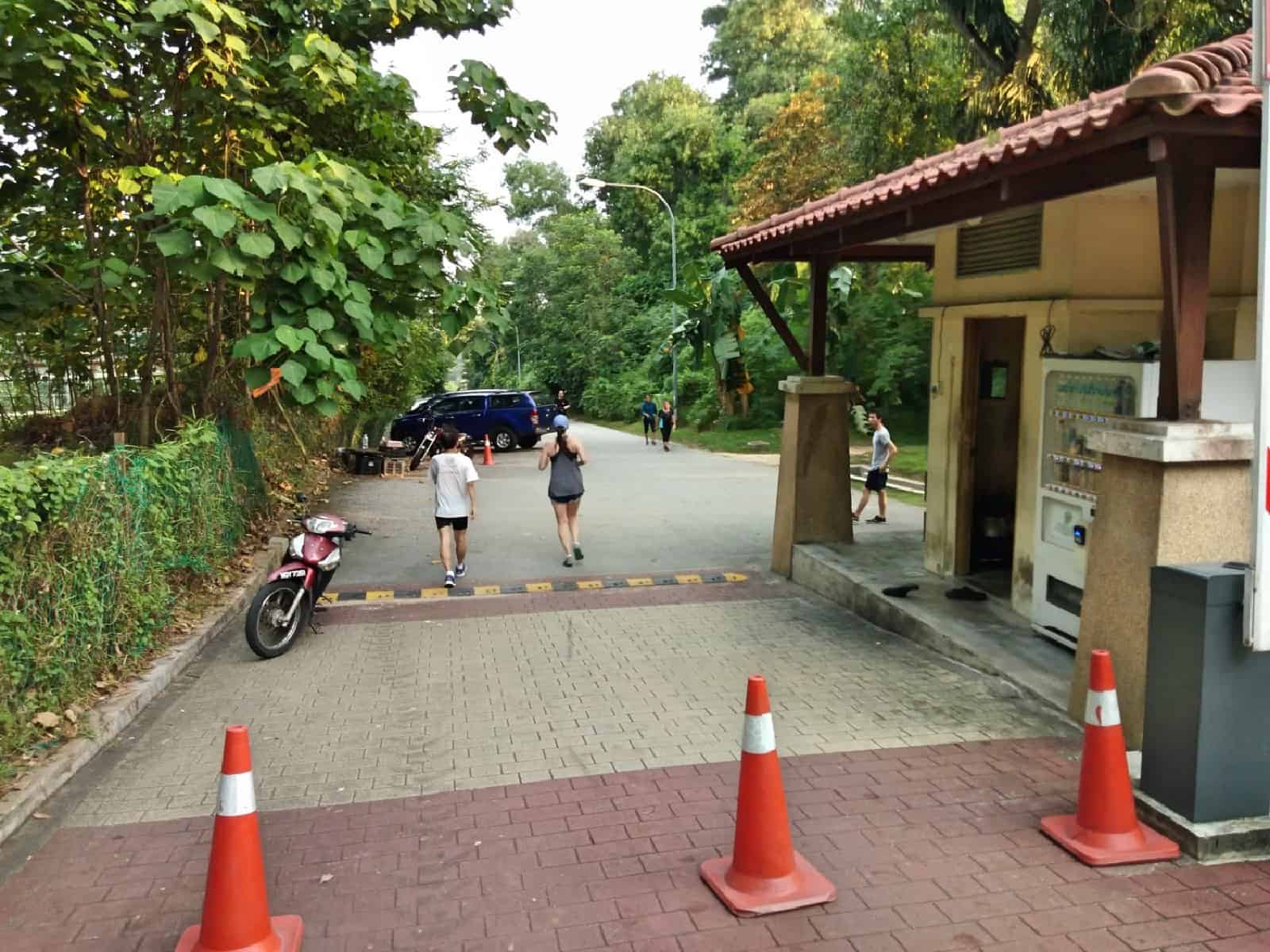 Well done you! Your jungle hike is complete! 👏🏼
Like the shorter route, if you're thirsty for a coffee pick-me-up or beer refresher and/or feeling hungry, there's a few awesome places you can check out nearby in TTDI. (Go back ☝🏼up to the end of the short hike for my recommendations!)
* * *
Did you enjoy this hike and want to show your support for the survival of Bukit Kiara? Sign a petition on Change.org, initiated by Year 6 at Garden International School.
Keen to jungle hike in KL? Pin it for later!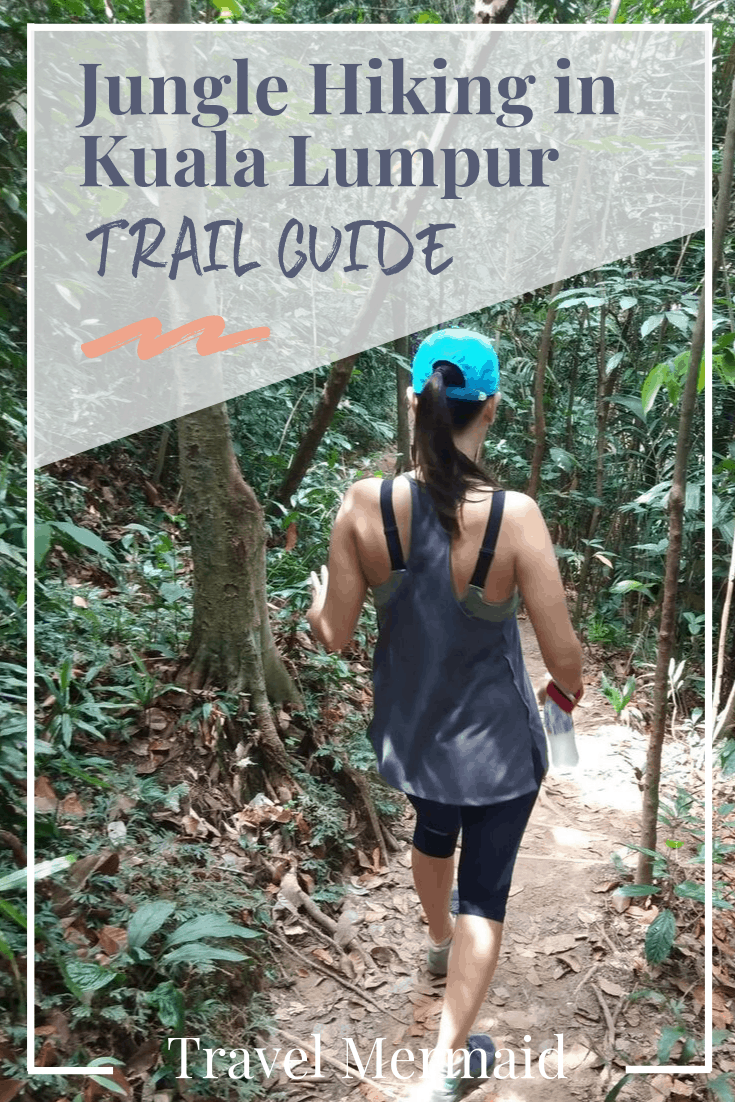 XOXO