Travelling from Kuala Lumpur to the Perhentian Islands takes about the same effort as getting to Koh Lipe in Thailand. With some top tips, travelling there isn't hard, but it takes about 5 hours and requires a few changes… which is just enough time to escape the main tourist trail and enter the pristine beauty of Malaysia's East peninsula.
This article will give you the easiest and quickest route to the Perhentian Islands from Kuala Lumpur and further afield.
---
Leg 1: Fly from Kuala Lumpur to Kota Bharu
Time: 1h05
Cost: from around RM190 return p/p
For the lowest fares, you can fly to Kota Bharu's Sultan Ismail Petra Airport with Air Asia. They're cheap, efficient and have the most amount of flights per day.
Malaysia Airlines fly there too, but it will work out at least RM100 more expensive per person. And for such a short flight, you won't really notice any difference in value.
As another option, you could also fly from KL to Kota Terengganu's Sultan Mahmud Airport. Although the taxi ride to the jetty takes longer than from Kota Bharu (about an extra 45 minutes.)
For the best search results, I always use Skyscanner to check available flights.
Tip: Take out some cash at the airport as there's no ATM's on the islands! There's a few located near the exit of Kota Bharu Airport.
Coming from Bangkok or Singapore? Unfortunately there are no direct flights to Kota Bharu airport, so you'll need to take a connecting flight in Kuala Lumpur.
---
Leg 2: Take a taxi from Kota Bharu to Kuala Besut Jetty
Time: around one hour
Cost: a Grab taxi costs around RM70
The only way to get to the Perhentian Islands is via a speedboat from Kuala Besut jetty. If you download the Grab app (Asia's Uber equivalent), then it's easy to book a taxi to the jetty upon arrival at the airport.
Grab Discount Code: If you're a first time user of Grab, type in GRAB4W to claim RM10 off your first two rides.
Tip: As wine and spirits are expensive on the islands, we normally add an extra stop via the Grab app and head to a bottle shop in Kuala Besut town called SoonLee Agency.
They sell a range of wines, beers and some spirits, (although the spirit selection is quite costly and not all brands are well known.) Expect a markup compared to KL, but it'll still be cheaper than the Perhentians.
Taking this stop will add about another 20-30 minutes to your journey.
---
Leg 3: Take a speedboat from Kuala Besut Jetty to the Perhentian Islands
Time: 30-45 minutes + waiting time
Cost: RM70 return p/p + RM30 Conservation Fee
Speedboats leave the Kuala Besut jetty between 9am and 4pm, so you should factor this in when organising your flight.
Many operators leave every hour, but may wait until there's more passengers before departing. Some hotels can organise the boat for you, but we've always done it upon arrival at the jetty and stopped at Perhentian SeaWorld Holidays.
There are enough sales operators around wanting to sell you a boat ticket so you won't find it hard. The cost should always be the same, RM35 one way/Rm70 return.
Once paying for a ticket, there will normally be someone to take you to the boat and they'll ask you which hotel you're heading to. If the seas are calm, then getting to any hotel is easy. But when its choppy, they may not be able to stop at some hotels and will drop you off at the nearest jetty they can get to.
This happened to us once when we stayed on Long Beach in Perhentian Kecil. We were dropped off on the other side of the island and had to trek with our luggage through the jungle to reach our hotel. Once we arrived, we realised that we could have taken a smaller boat taxi to the jetty! 😆
Sometimes the boats can be crowded and the ride can be a little rough, but overall it's not bad. Just be prepared for squidging up to fellow passengers and some potential splashing (you may want to already be wearing your tropical island clothing at this point!)
Note: Before entering the jetty itself, Non-Malaysians will need to pay an additional RM30 conservation fee (Rm5 for Malaysians.)
Note: Speedboats only leave 3 times a day from the Perhentians to Kuala Besut: at 8am, 12 midday and 4pm. In the low season during February and October, this may reduce to just the 8am and 12pm crossing. Check with your hotel before booking. If, like me, you're not a fan of early mornings on holiday, then avoid booking a return flight before 3pm to avoid the 8am departure!
Related Read:
10 Ways To Experience The Best of Malaysia's Perhentian Islands
---
Looking for a hotel? Check out my article on which island to stay on and the best value for money hotels. Accommodation can get pricey and the quality isn't always on par, so make sure you don't overpay for what you get.
---
Helpful? Pin it for later!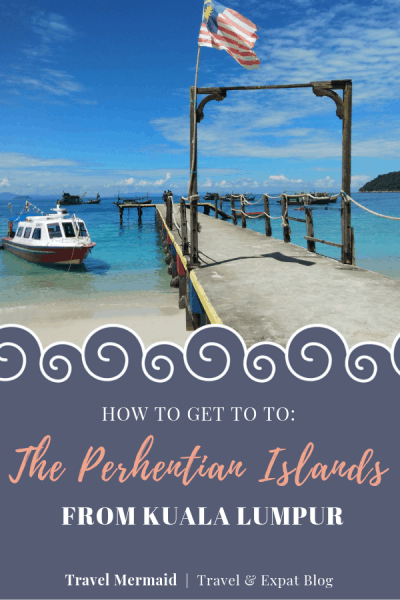 XOXO