For over 30 years, tourists have been travelling to the Perhentian Islands for a piece of its paradise. Unlike Langkawi, Penang and other west coast islands in Malaysia, it has resisted the erection of flash hotels and maintained its local feel. Whilst this is part of its attraction, there's generally a large disparity between the quality of its accommodation and the price you pay to be there.
In contrast to Thailand- who in my opinion offer much better hotels for a fraction of the price- many hotels on Malaysia's east coast islands still have a way to go when it comes to quality vs cost.
I've stayed in much nicer beach huts in Koh Lipe, that offer better food, service and boast the same enchanting sea views. They were also significantly cheaper than most resorts in the Perhentians.
But don't give up just yet.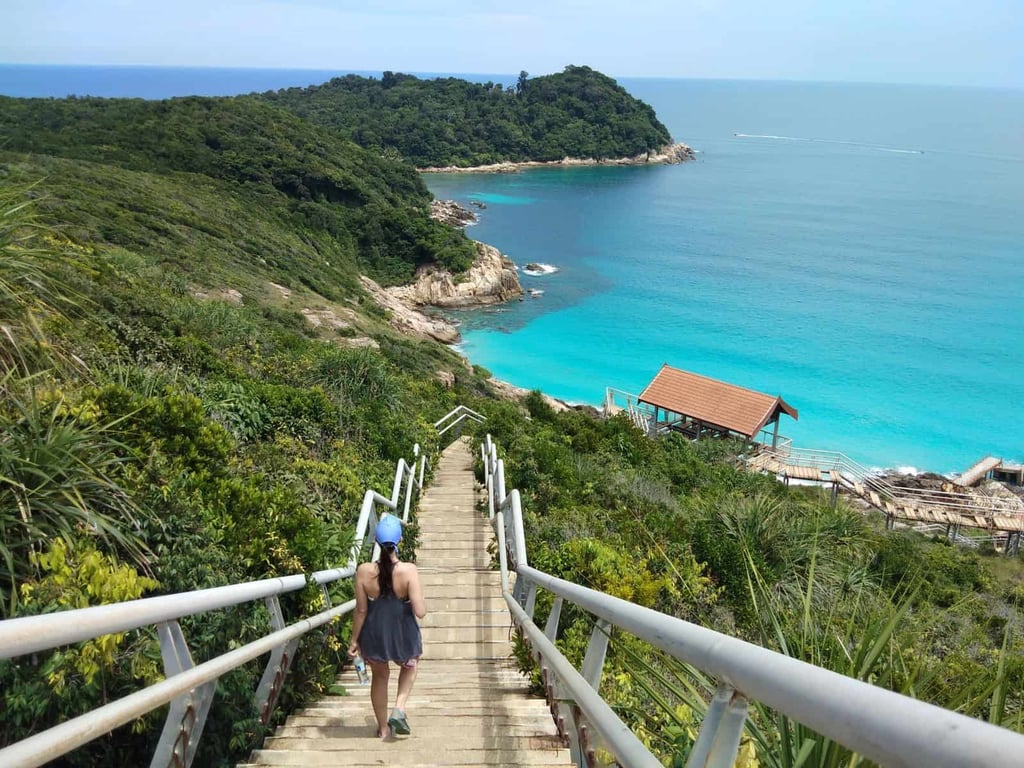 Most east coast Malaysian islands are less touristy than Thailand and relatively underdeveloped. They haven't [yet] been spoilt by mass construction or by abolishing the very thing that makes them the paradise they are today- its nature.
Also, from what I've researched, the Perhentians are better value for money when compared to other east Peninsula islands like Redang or Tioman. It's meant to have far better snorkelling too. 🙌
Related Read:
10 Ways to Experience The Best of Malaysia's Perhentian Islands
Which island should you stay on?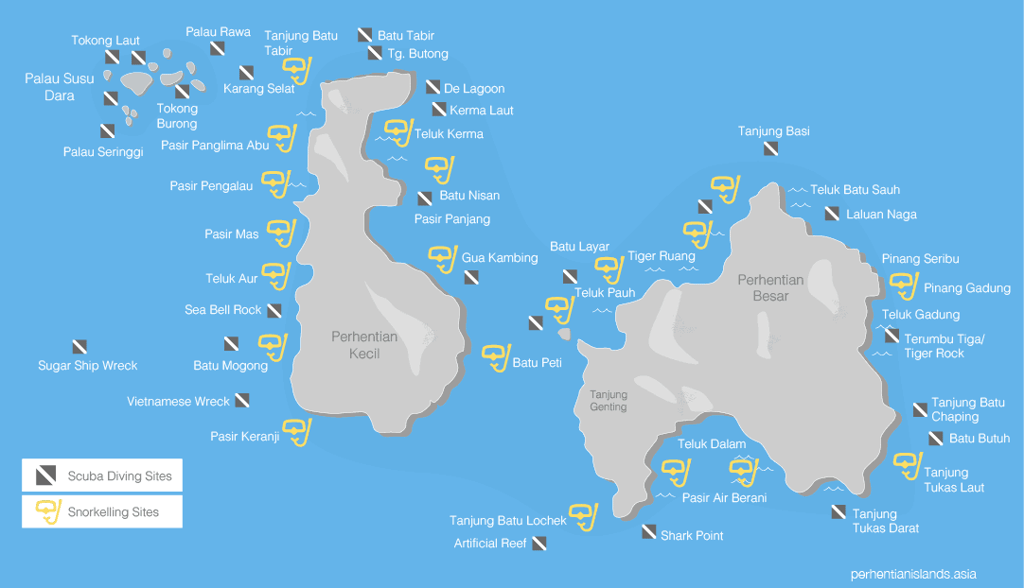 The Perhentians are made up of two islands- Kecil on the west (small island) and Besar on the east (big island).
If you prowl the internet, then Kecil is written heavily as being a backpacker island with budget accommodation. Besar is also portrayed as more of a luxury destination for families or honeymooners.
Although I think this is only party true.
What to expect from Pulau Kecil
This small island undoubtedly has many budget lodgings that line the middle of Long Beach and Coral Bay. Most appear to have been erected in the 80's with minimal maintenance since then. But some are highly recommended by budget bloggers.
For many of the cheaper stays, you cannot book a room via Booking.com and will need to call them or just show up to make a reservation. But this article isn't recommending backpacker style accommodation, I left that behind in my 20's ☺ However stick around if you want those value for money finds.
I would estimate that backpackers on Kecil account for around 75% of its tourists. But with the growing number of mid to high end resorts on the island, these numbers are continuing to lower. Interestingly, Kecil is dubbed 'the backpacker island' but it accommodates the only two high-end resorts between both islands, Alunan Resort and Bubu Villa.
Whilst the young-er backpacker presence and vibe dominates, it's not as over-the-top like you might find on some Thai islands.
What to expect from Pulau Besar
Much of Besar's resorts sit along the west coast, from Abdul's chalet at the end of Tuna Bay to Perhentian Island Resort. There's also some family run/flashpacker style accommodation along the Teluk Dalam Beach on the south coast.
You'll find a few budget resorts on Besar but on the whole it's mid-range. It generally attracts a more mature crowd giving it a chilled, laid back vibe. Due to the lack of high-end resorts and eateries I wouldn't call it a honeymoon island, unless you're after rustic and low-key.
Both Kecil and Besar are just as beautiful as each other, and I'd therefore recommend splitting your time between them to give you the best of both worlds.
But if you had to choose one, then I'd recommend Besar. I've twice had a wonderful stay at Tuna Bay and liked the crowd, vibes and impressive snorkeling conditions from just off the beach, which Long Beach lacks.
If you're struggling to decide, then don't stress! You're bound to spend a decent amount of time on both islands anyway. There are plenty of water taxis that can cheaply take you to the other in 5-10 minutes.
Value For Money Hotels & Resorts in the Perhentian Islands
Nature-wise, the Perhentians are beautiful. Hotel-wise, they're generally aging and basic. But there are a few you'd be happy to stay in. However, you'll probably want to lower your expectations a tad. You're mainly paying for the sea view or proximity to a great beach.
I don't boast to have stayed in all of the hotels and guesthouses, but I have slept in a handful, eaten at many and researched Booking.com to get an idea of what they offer.
Firstly, booking a sea-view or beachfront room is always my recommended option to get the most out of your Perhentian experience. So don't be stingy, it'll be worth it, I promise!
---
1. Abdul's Chalet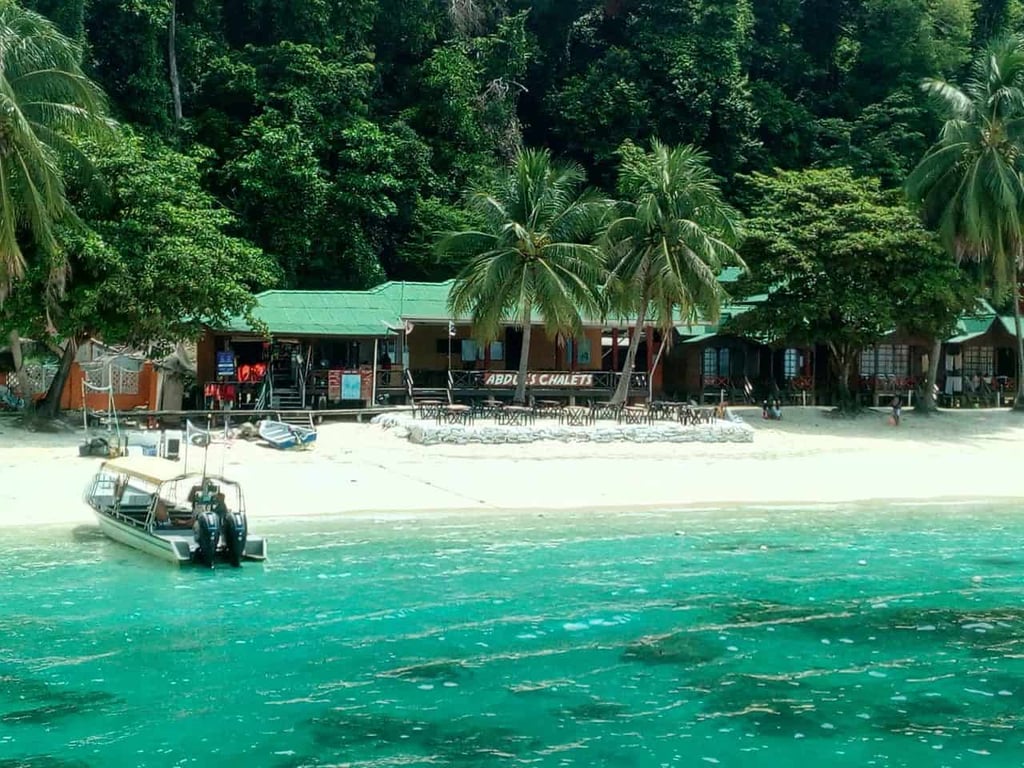 Location: Tuna Bay, Perhentian Besar (west coast)
Abduls is by far the best value-for-money you'll get on the islands. It's basic, but has everything you need. Rooms are clean and have air-con, a fridge, as well as a private balcony.
Cost: A beachfront chalet will set you back a very reasonable RM200 (price remains the same in the low and high season.)
It's situated on one of the island's nicest snorkeling beaches, where you can get up close and personal with a range of sea life from just in front of your chalet. Waking up each morning and sipping coffee overlooking a sunrise, or stepping down a mere 2 feet from your bed into the soft, white sand is priceless. (Well, a bargain at least!)
What's also nice about Adbul's is that it's at the end of the bay so there's less people traffic. It appears to be family run and the staff are pleasant. Breakfast is very simple, so don't expect much from it.
Internet in general on the island is very lacking, but at Adbul's it's okay (note, if you have a Mac then I needed to use a Firefox browser for it to work.)
Overall we had a truly enjoyable stay and knowing we grabbed the biggest value for money find on the island added to the satisfaction.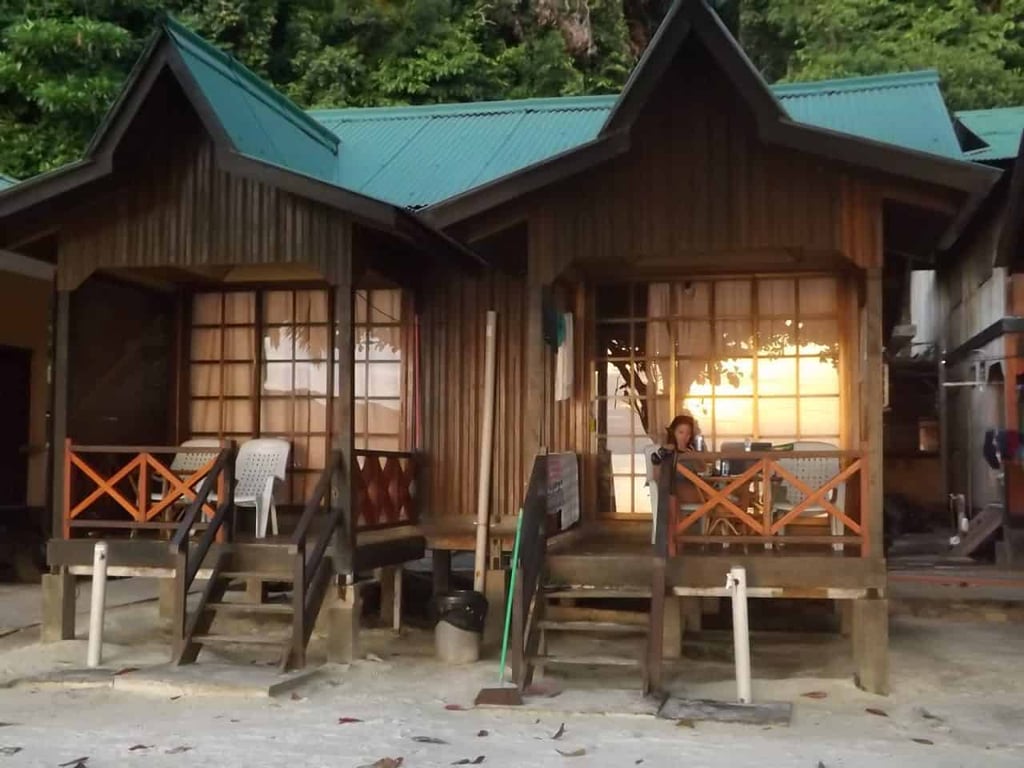 Booking: Check out their website and send them an email to reserve a room (they are not on Booking.com or Agoda.. it's back to the 80's people!) One of the nicest things about staying here was being right on the beach, so be sure to book their 'Sea View' chalet!
To confirm the booking they will ask you for a 50% deposit which can be made via bank transfer.
---
2. The Barat Perhentian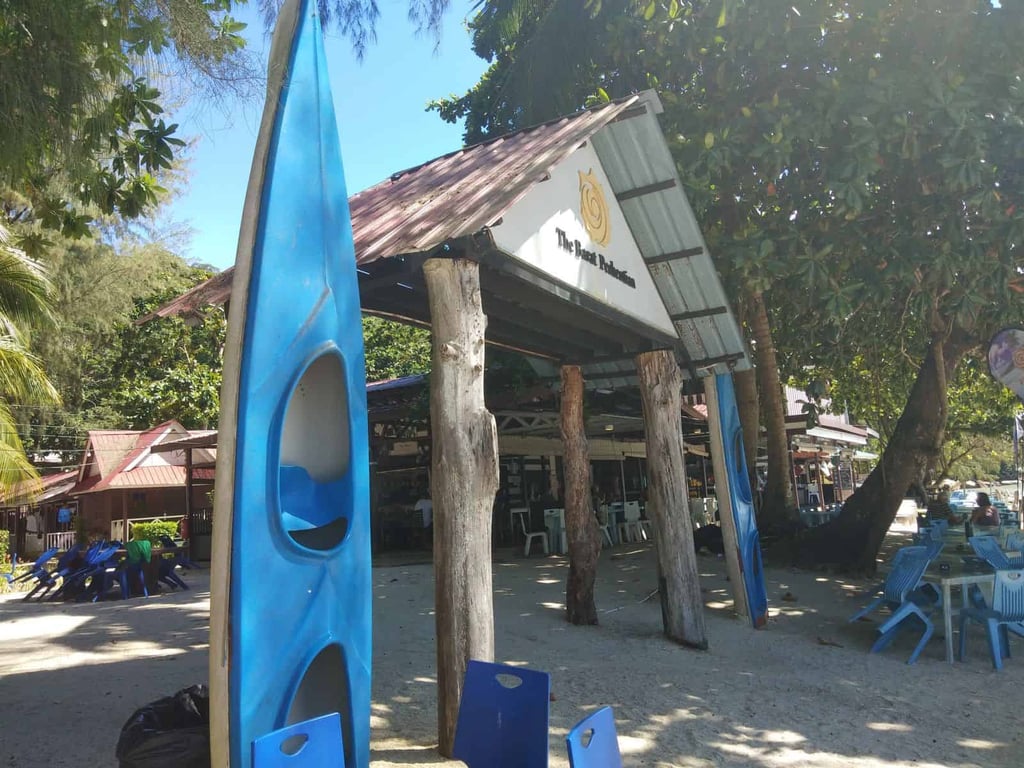 Location: In between Tuna Bay and Perhentian Island Resort, on Besar (west coast)
This resort stayed off our radar until we ate at their restaurant after a jungle hike. There's not many places I'd recommend to eat at on Besar island, but The Barat would be on the list.
Staff were really friendly and efficient (a bit rare on the island), and the Asian food was tasty. They also sold beer (it's one of the few places- if not the only one- above Tuna bay that sells alcohol.) They have international dishes to please some foreign guests too, all at a reasonable price.
Our great lunch experience and its locality put this place on our list of recommended stays. The beach right in front isn't really fit for swimming, but go 2 minutes around the corner and you're on perhaps the best snorkeling beach on the island at Teluk Pauh (in front of PI Resort.) It is meant to be one of the best spots to swim with turtles.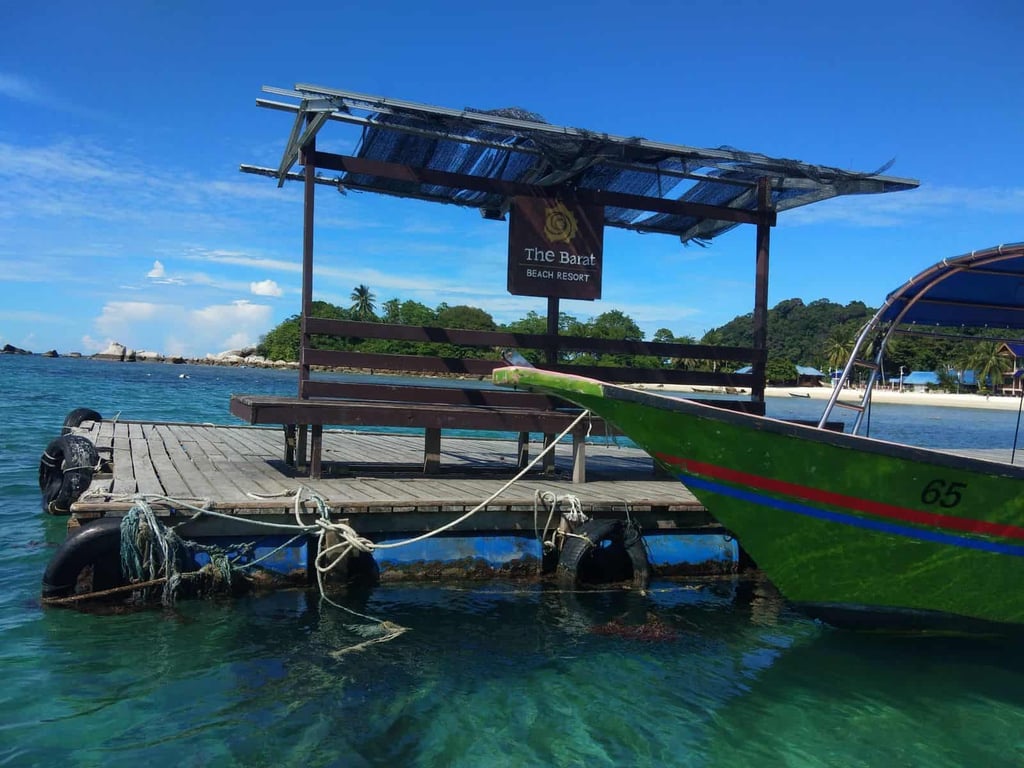 Cost: A Deluxe Room with Sea View (looks to be the nicest room) cost RM360.
Although you can bag a Chalet with sea view for RM300, a deluxe Garden View for RM250, or a standard Garden View for RM200. (This is the low season cost, add an extra RM50-100 for the high season, or visit their website for rates.)
Booking: For the best rates, bookings can be made via Booking.com.
---
3. Tuna Bay Resort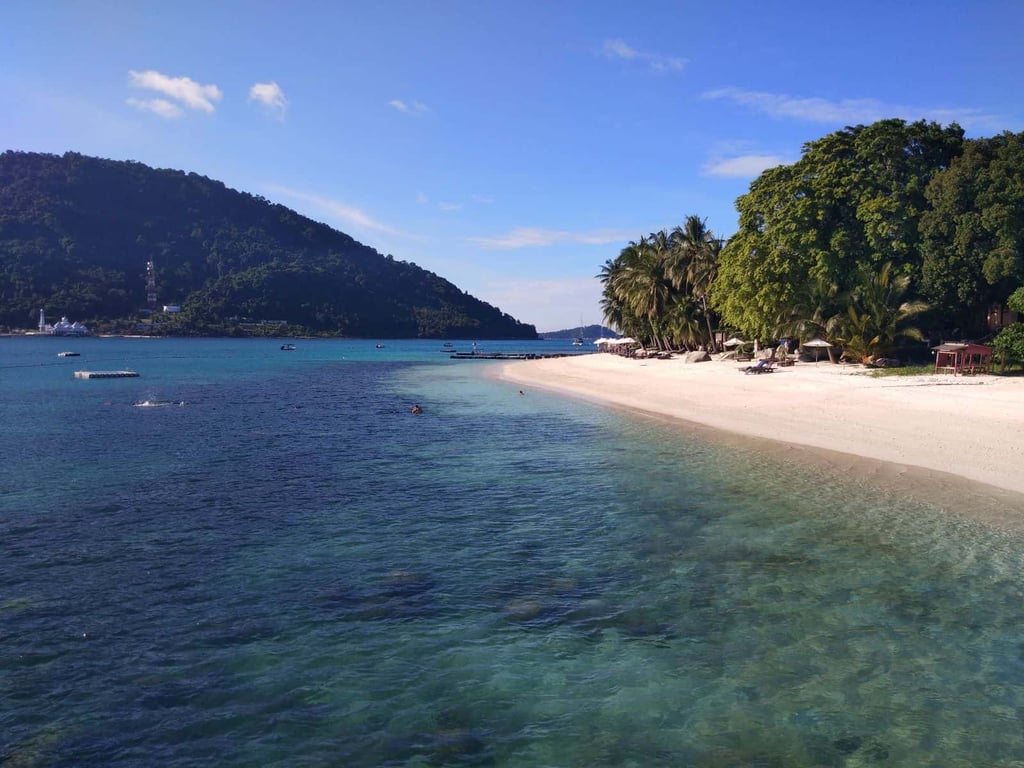 Location: Tuna Bay beach on Besar (west coast)
Apart from our recent restaurant find at the Barat, I ate every other dinner on Besar at Tuna Bay. They offer a decent breakfast buffet for guests in the morning with good coffee and have a tasty menu for all-day dining.
But the best bit is heading there for a sunset whilst sipping on a cocktail, and then ordering a fresh seafood BBQ. It has the kind of ocean proteins that you'd expect from an island resort- including enormous, straight-out-of-the-ocean jumbo prawns and a catch of the day cooked a few different ways. You don't have to stay here to enjoy the food, but it's nice to have it on your doorstep.
Food aside, the resort staff are friendly and the room we had was spacious, with everything we needed (except perhaps a kettle..gotta love a coffee on the balcony first thing.) We went for a Super-Deluxe Sea View Chalet, although it was far from what you would consider 'super deluxe.' It was a basic double room at best, but it overlooked one of the best beached on the island. That was the deluxe part.
Although Abdul's is on the same beach, it's the little perks that make the difference, like having decent sunloungers in front of your room. When I stayed at Adbuls, I did find myself wandering to Tuna Bay Resort for a lay on their beds!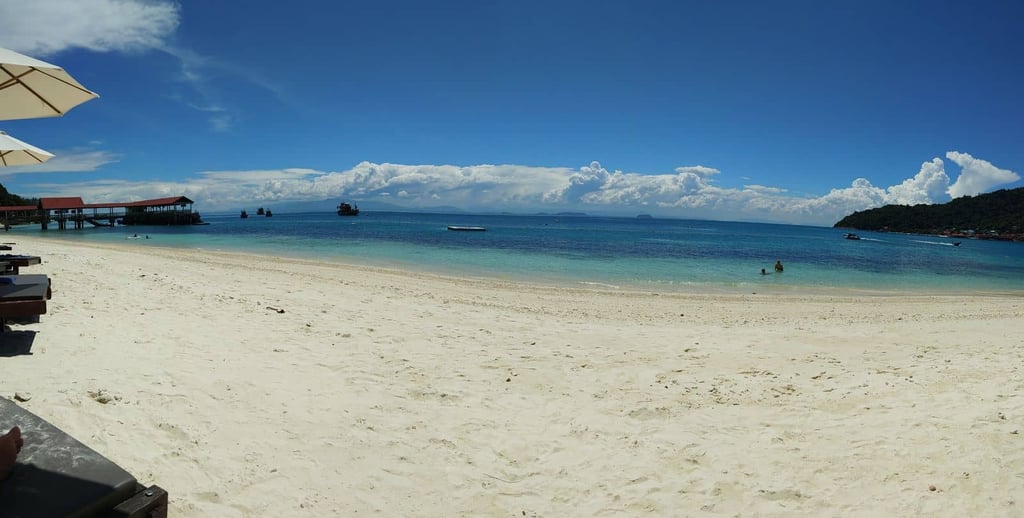 Cost: We paid RM420 per night in October for a 'Super Deluxe' Sea View Chalet, which costs RM500 the rest of the year. Although cheaper rooms are available, like a 'Deluxe' Standard Chalet for RM250 in October, or RM330 thereafter.
Booking: You can book with Tuna Bay Resort directly out of season, or via Booking.com thereafter.
---
4. Bubu Villa
Location: Long Beach on Kecil (east coast)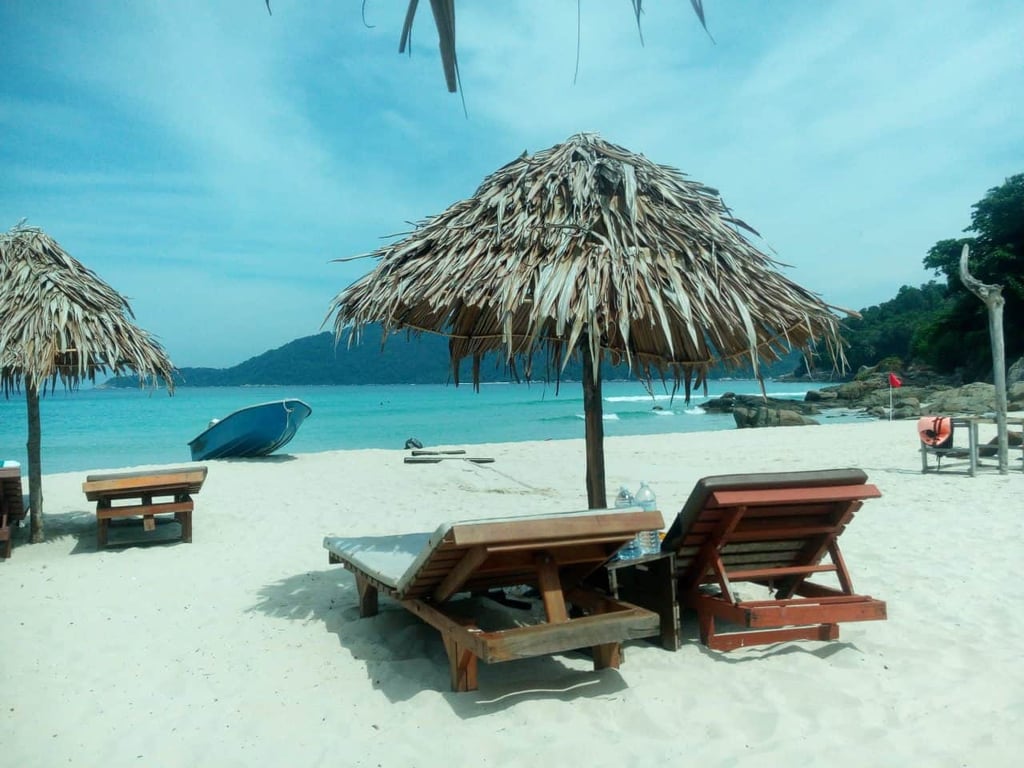 Bubu Villa is at the higher end of the pricing scale but if your budget can afford, it probably offers the best resort on both islands combined.
At the other end of the beach, it also has a sister resort called Bubu Long Beach Resort. Unfortunately both times I'd visited the Perhentians, BLBR had already closed for the season so I didn't get a look in.
But Bubu Villa looks to be the better option. Although it's slightly higher in price, it offers a better location at the southern end of the beach, which is the nicest part for swimming. The rooms also look more secluded (you can't even see them from the beach) and are set in smart looking white cottages, with thatched roofs and wooden furnishings.
Added niceties are the beach-front massage options (I've personally had a 'Beautiful Dream' massage there that sent me to heaven!) and the restaurant in front, aptly named 'World Cafe' is delightful.
This semi casual, al-fresco eatery offers the best food I've eaten in the Perhentians, which would make it the only honeymoon hotel I would consider here. A tell tale sign to the delicious Italian food coming from the kitchen, is the Italian chef you can see in the kitchen. The service is also attentive.
Related Read:
From KL to the Country: A Weekend Retreat at Mangala Resort and Spa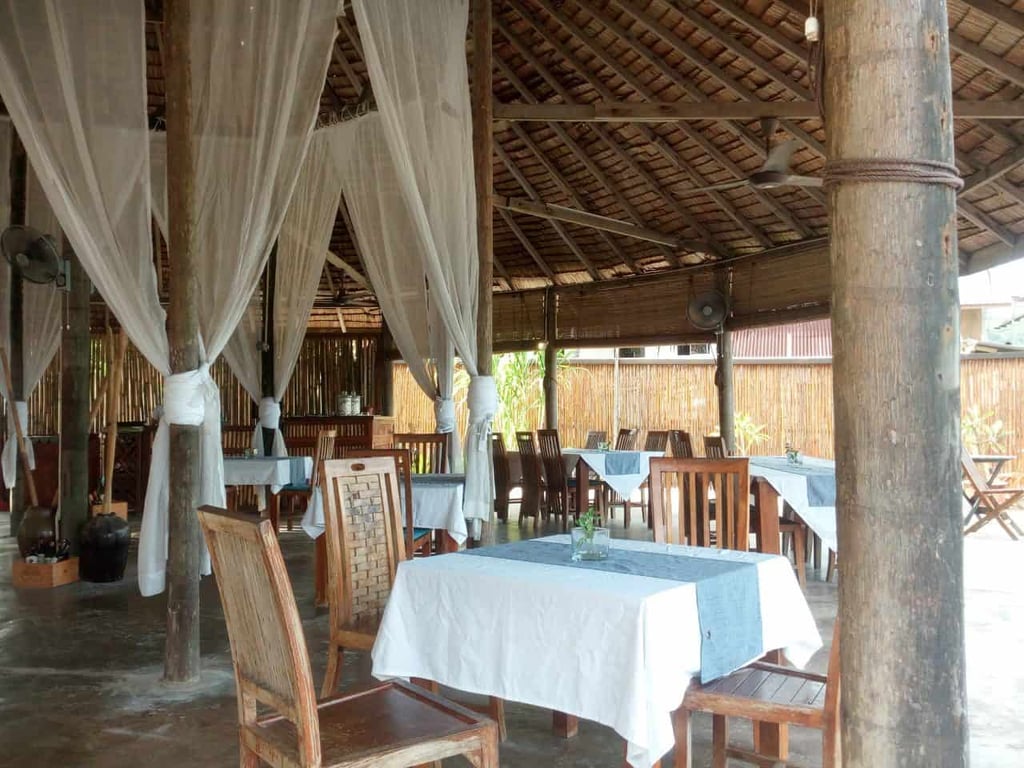 Cost: Starting at RM680 for a Garden Villa.
Booking: Visit their website or get the best rates on Booking.com.
---
5. Alunan Resort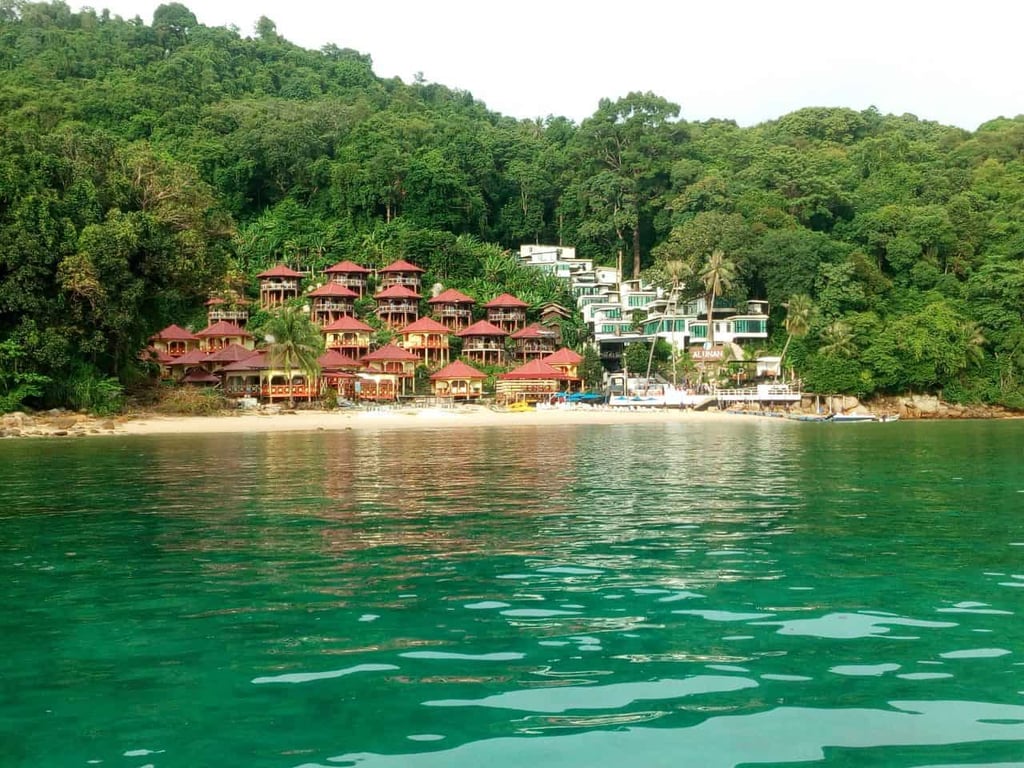 Location: Petani Beach on Kecil (south coast)
As you arrive at Alunan resort to the small jetty in front, it definitely has coast appeal. It's one of those resorts that you pull up to with a boat full of holidayers, where everyone looks at you with gazes of admiration- because you seem to have chosen the nicest looking resort on the island.
Alunan resort itself is nestled at the end of Petani beach in a semi-remote location. You won't have to worry about people traffic or noise here, which it holds superior to Bubu.
Although a downside is that the beach in front isn't great for swimming or snorkelling. But you can always rent a kayak to find nicer ones, or boat taxi's are quick and cheap.
I haven't seen the rooms personally, but from the pictures online they appear to be modernly decorated and furnished, complete with a tempting double hammock on the deck.
The restaurant also serves good international and Asian food and has a dreamy view.
Cost: Starting at RM740 for a 70 square meter double room with a balcony/deck, including breakfast.
Booking: Visit their website or get the best rates on Booking.com.
. . .
Places that aren't value-for-money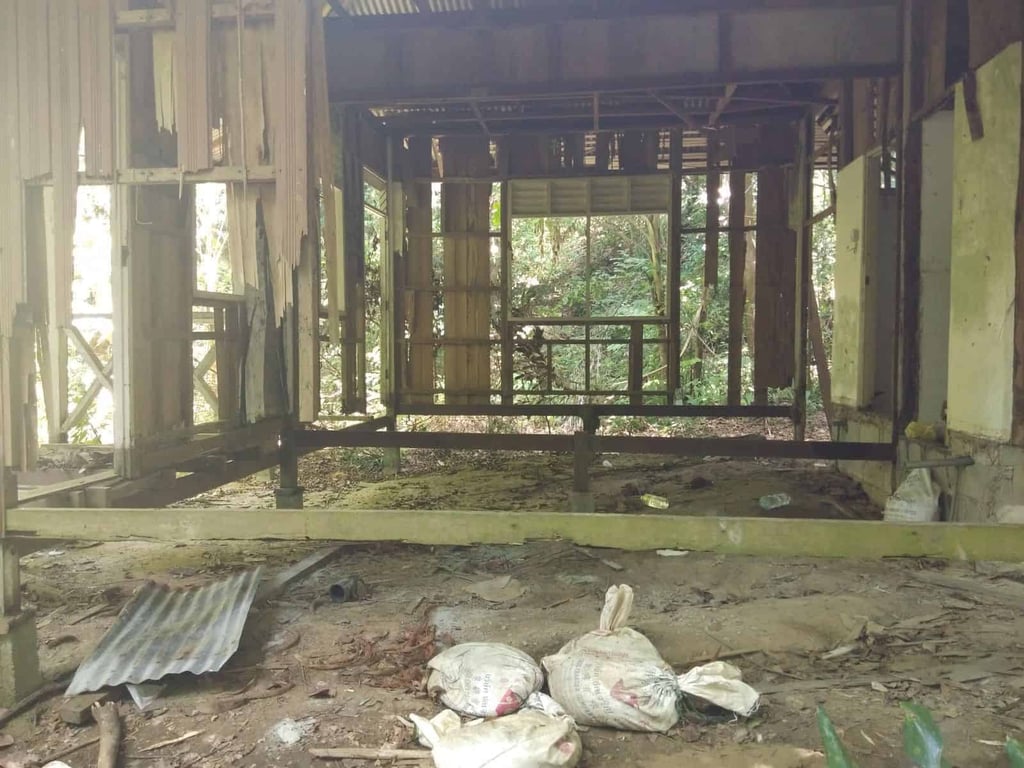 Here are a couple of hotels that I personally wouldn't part cash with.
Perhentian Island Resort (PIR) (Besar)
Price: The low season price is RM500 for a beachfront chalet.
This resort is right in front of Teluk Pauh (the best snorkeling beach in Besar) but seems grossly overpriced for what it is.
Chalets appear run down and look in need of an upgrade. Considering the high price tag, it's charging solely for access to the beautiful beach in front.
The restaurant at this dry resort is dark and uninviting, with the staff seeming a little too nonchalant. From the Booking.com reviews, the breakfast is poor, the internet is bad and the chalets are in need of maintenance.
But, if you don't mind the price tag, then this is deemed the most 'high-end' on Besar. Although I'd personally head to Tuna Bay Resort instead. I'm sure the food is better and at least you get a sundowner, or a glass of wine with dinner.
Price: An Ocean Deluxe King room in the high season cost RM720. We paid RM550 for this room on a Saturday night in the low season, although other days it went down to RM370.
Another resort that is grossly overpriced for what it is. Although newer than PIR (and it looks a little better) Mimpi is basically a paper hotel built with minimal cost to make the maximum profit. No doubt there is a big moneybags owner behind it who's making a huge return for his bucks.
I personally stayed here for two nights but left earlier than intended, with help from Booking.com as the hotel initially refused my request for a refund.
Hotel Perks: Honestly, only the sea view.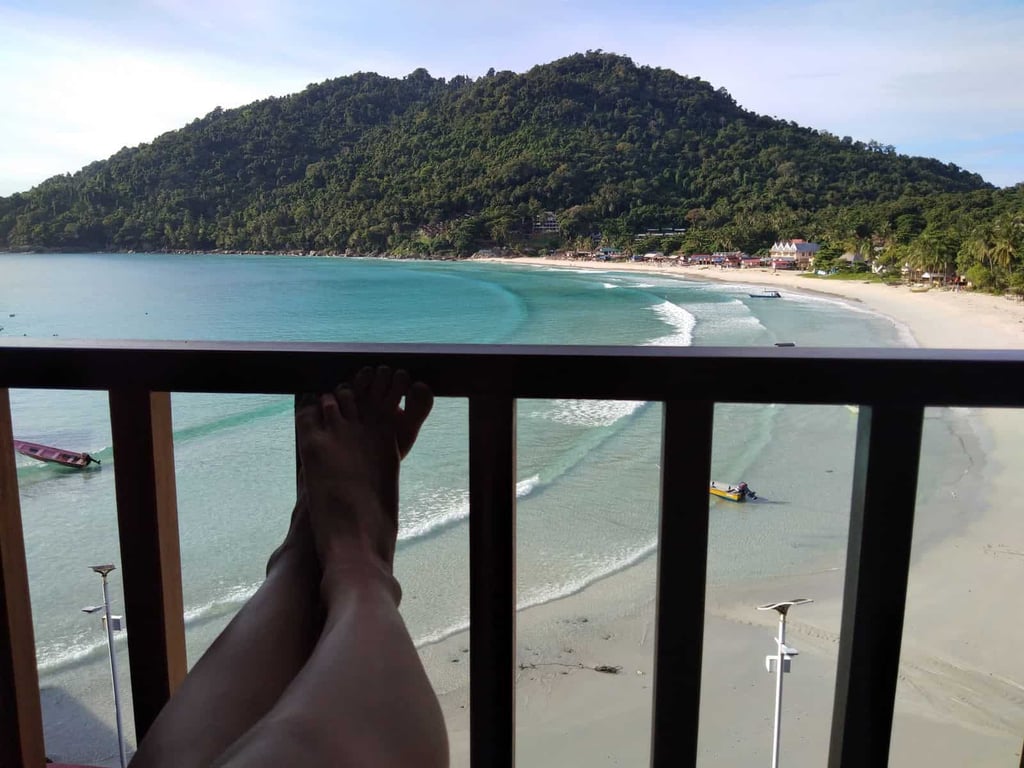 Hotel Cons: The walls were so thin that I struggled to sleep on the first night from all the noise. Plus there were lots of other little annoyances you wouldn't expect for the price, like stained bedcovers, a crap shower, a very basic breakfast, and an air-con extractor on the balcony. The balcony was also really loud if you had neighbours on theirs too. Basically, it was just a loud box room that made you feel agitated.
The hotel doesn't have the best bit of beach in front of it too, so you'll be heading further down to the Bubu Beach end for a swim. It tried to compensate for this by adding a pool, which didn't end up being a perk either- it was small, busy and had minimal sun-loungers for the number of guests.
There is a jetty right next to Mimpi, but when we arrived from the mainland by boat, we were dumped on the other side of the island. Although unprepared for the change in destination, we understood at this time of year the water can be a little choppier for the bigger boats. However, it wouldn't have hurt for the hotel to warn guests of this. We ended up hauling our luggage through the jungle to get there.
The staff were polite, but not particularly well trained, welcoming or understanding and it lacked the personal touch of a family run place.
Although it rates an 8.1 on Booking.com, of the 43 English commenters on Tripadvisor, more than half rated it from Average to Terrible- with terrible outweighing poor and average combined.
Considering you can have a gorgeous snorkelling beach just in front of you at Abdul's Chalets, and pay on average half that of Mimpi, this place is not worth your time.
Related Read:
How To Get To The Perhentian Islands From Kuala Lumpur
---
Useful? Pin it for later folks!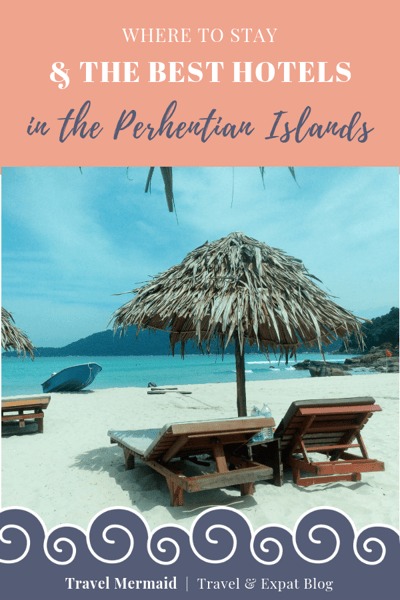 XOXO