For a fun weekender near Cairns, we had a real blast visiting some hidden waterfalls and swimming holes around Wooroonooran National Park. This post is a complete lowdown of our trip so you can plan a similar nature escape, including places to eat and stay. 
---
This year's wet season has been pretty epic! La Niña has brought a generous drenching these past few months and I've been eager to get out and explore more waterfalls south of Cairns. With our trip to WA cancelled due to border closures, we made a last minute trip to visit some this Easter.
The most popular cascades near Cairns are the trio that form the waterfall circuit in the Atherton Tablelands but there's heaps of other great ones nearby that aren't on the main tourist trail. In particular, the World-Heritage Listed Wooroonooran National Park has many to boast of. This park houses Queensland's highest and second highest mountain so it's pretty peaky, and as it's one of the wettest places in Australia there's plenty of permanent waterfalls.
We visited two that were tucked away in the rainforest so we had to hike to get there, packed our bathers for a dip in the rock pools and made a day of each one. The rainforest here is truly stunning and many parts felt like an enchanted forest from the movies.
On the third day we we drove to Mena Creek Falls which is along the scenic 'Canecutter Way'. This one isn't hidden but it's a little further out the way and just next to the heritage icon Paronella Park. I've wanted to come here for years and it's such a little gem in the most unlikely place! If you have time and haven't been before then I'd highly recommend a visit. We had a great day exploring the old castle, ruins and 13 acre botanical garden.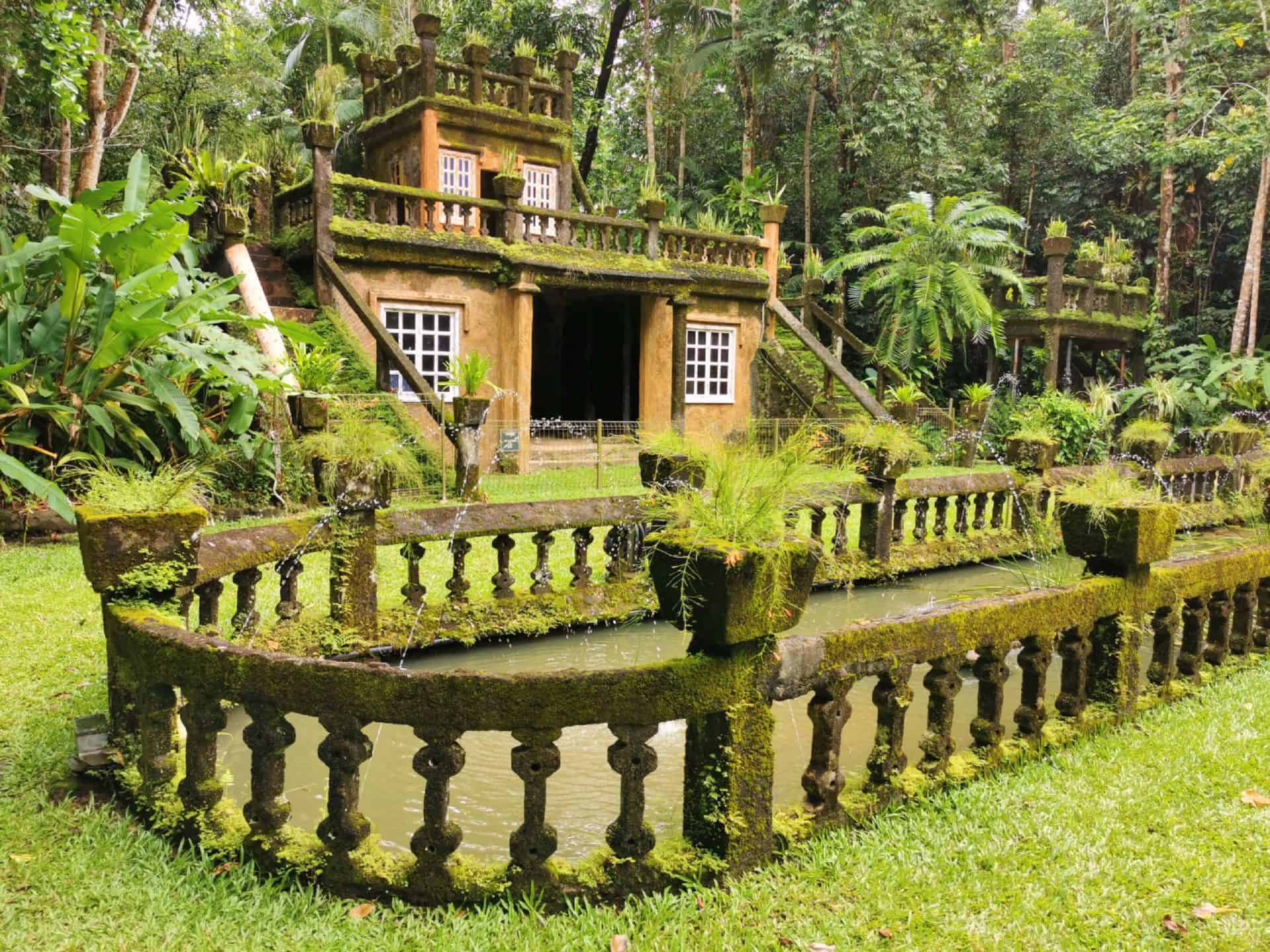 ---
Map of Waterfalls near Cairns ~ Wooroonooran National Park
Wooroonooran sits between the Atherton Tablelands and Innisfail and the start is an easy 20 minute drive from Cairns. Below I've mapped out the stops on our trip which you can open up in Google Maps for driving directions. Just be careful on day 2 when you get to Nandroya Falls as my phone reception cut off!
I've also marked a few more swimming holes and waterfalls near Cairns that you may want to check out along the way or come back for, which are in black.
---
Exploring Hidden Waterfalls Near Cairns
---
When is The Best Time To Visit Cairns Waterfalls?
Most waterfalls around Cairns feed off permanent streams so they can be viewed and enjoyed anytime of year, however they'll be particularly spectacular in the wet season (November to April). As this is also the summer and stinger season, the rock pools are a great way to cool off from the heat and you don't have to worry about getting stung.
Word of warning though, a few of these spots can see torrents of water gushing through after a heavy downpour which could be potentially dangerous. Reconsider your plans if there's a heavy storm as don't want to get caught out at places like Babinda Boulders or Clamshell Falls where water surges can happen very quickly. Sadly, each year I hear of one fatality around the park where people have taken risks.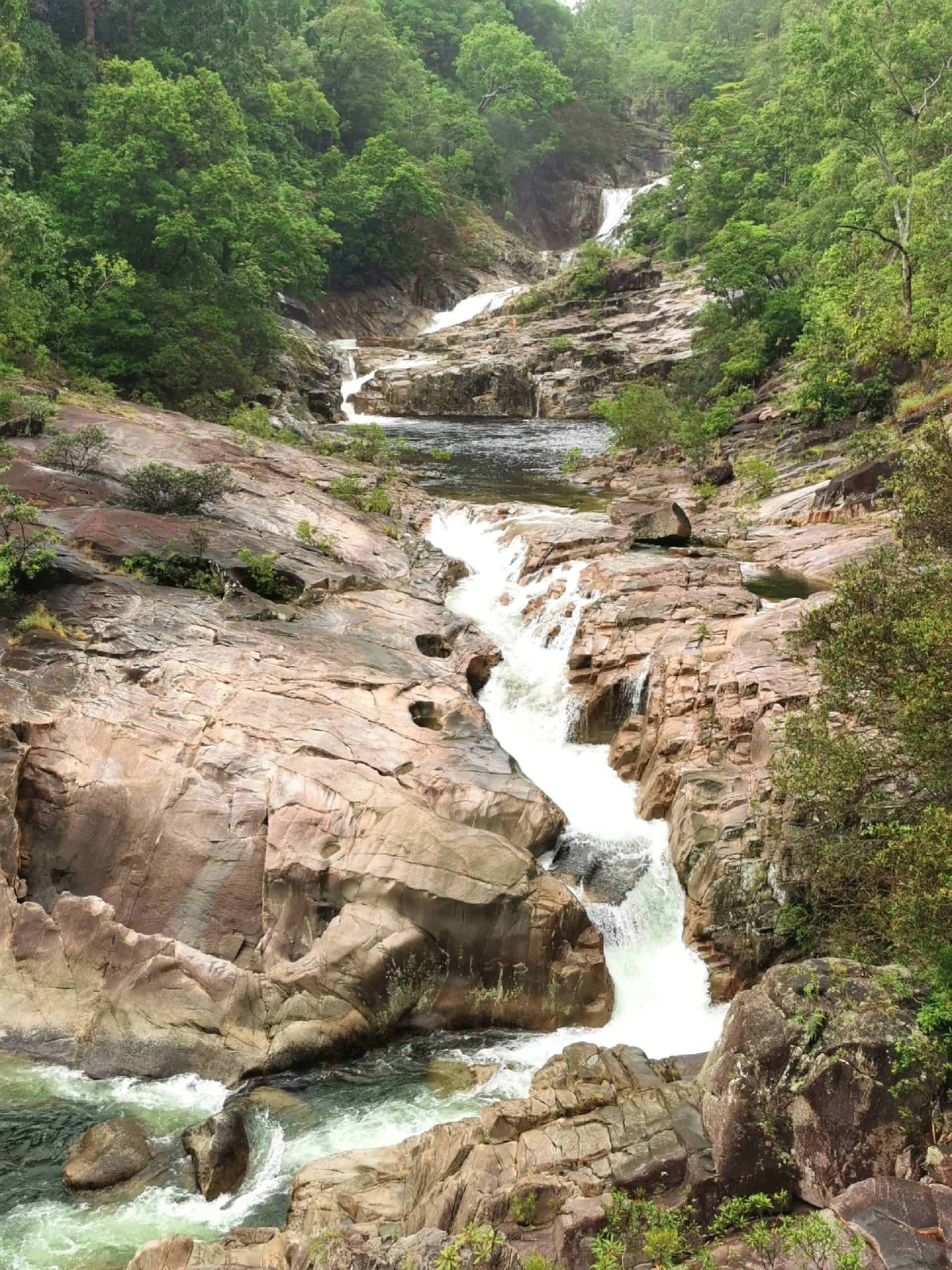 ---
Stop 1. Behana Gorge and Clamshell Falls
Clamshell Falls is a waterfall that sits at the end of the Behana Gorge hiking trail. I didn't get the best picture on my phone but it's really impressive up close, split into a lower and upper cascade. There's multiple pools to swim in below and the area is really scenic and peaceful. We spent a good few hours hiking and swimming here.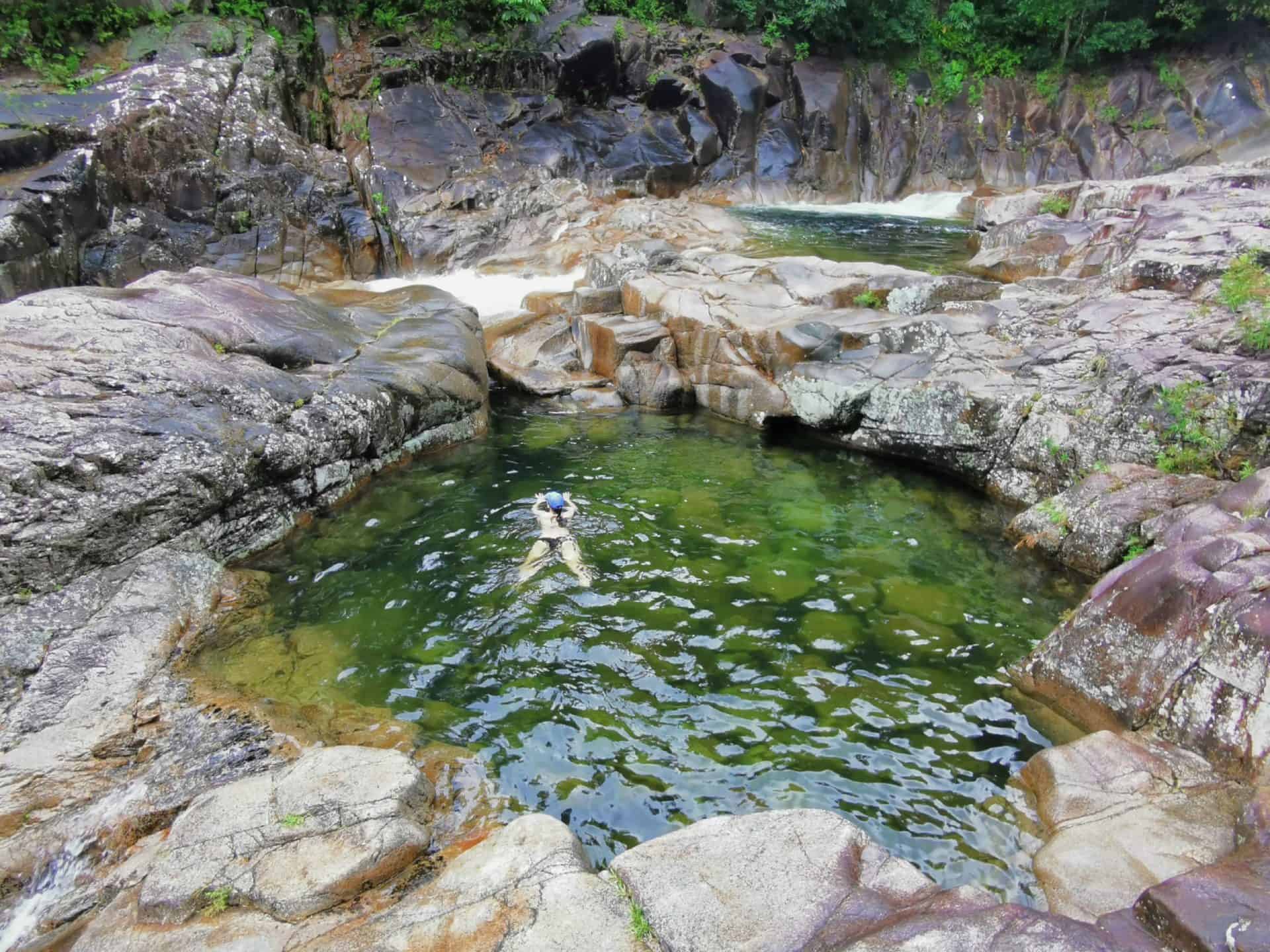 To get to here from Cairns it's an easy 40 minute drive along the Bruce Highway and through sugarcane fields. The track begins next to the carpark and goes on for a relatively easy 3.3k to the falls. It has a couple of slightly steeper inclines but it's more energetic than difficult.
The path is concrete with a water pipe next to it as the Gorge is also a major water source for Cairns (so no cheeky wees in the water, mkay). When we came it was Easter Friday and popular with locals, but I reckon it's pretty quiet during the week and the swimming hole is big anyway. It takes about 50 minutes to reach the gate at the top by Behana Gorge Intake which is next to the cascade.
Roughly 15 metres before the gate we had to carefully walk down the rocks to access the fall and swimming hole. If it's been raining then definitely go slow here as the rocks get really slippery. When we reached the bottom I took my shoes off as I thought I'd have a better grip, then two minutes later I fell flat and cut my toe! Nothing bad but it was constantly raining so we had to carefully navigate across.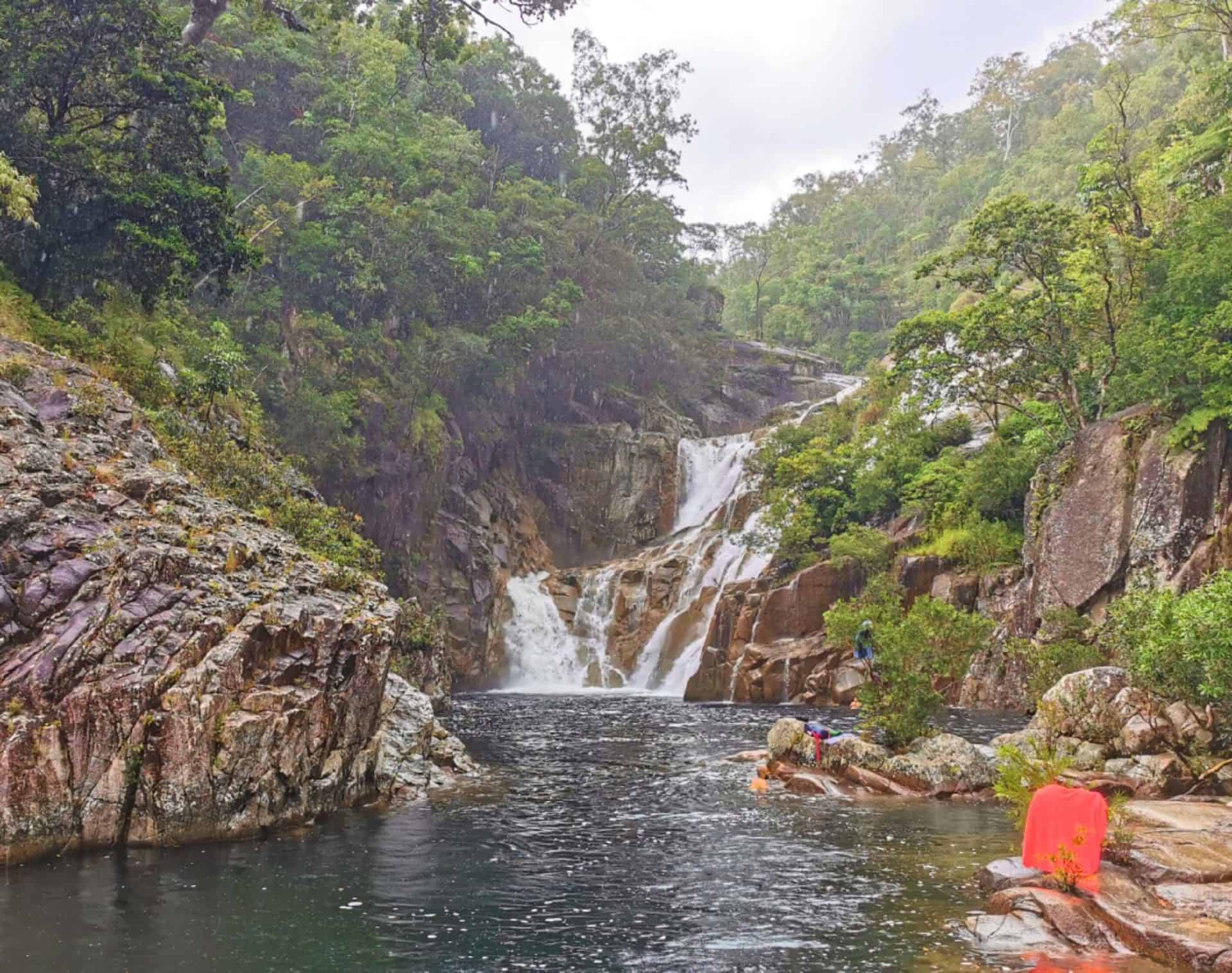 While I didn't go in the main rock pool under the cascade, it looked like a good few metres in depth for a swim. Instead I took a left and walked down the rocks where there's a small separate infinity pool to take a dip. There's a couple of other spots by the creek you could stop off at on the way up.
I tried to entice the Sailor in but he's not a fan of ice-cold rock pools! Have you been in one before? It was bloody freezing and getting in was the worst part, but I was surprised with how much I enjoyed it. Afterwards I felt really sprightly and chipper, deffo give it a go!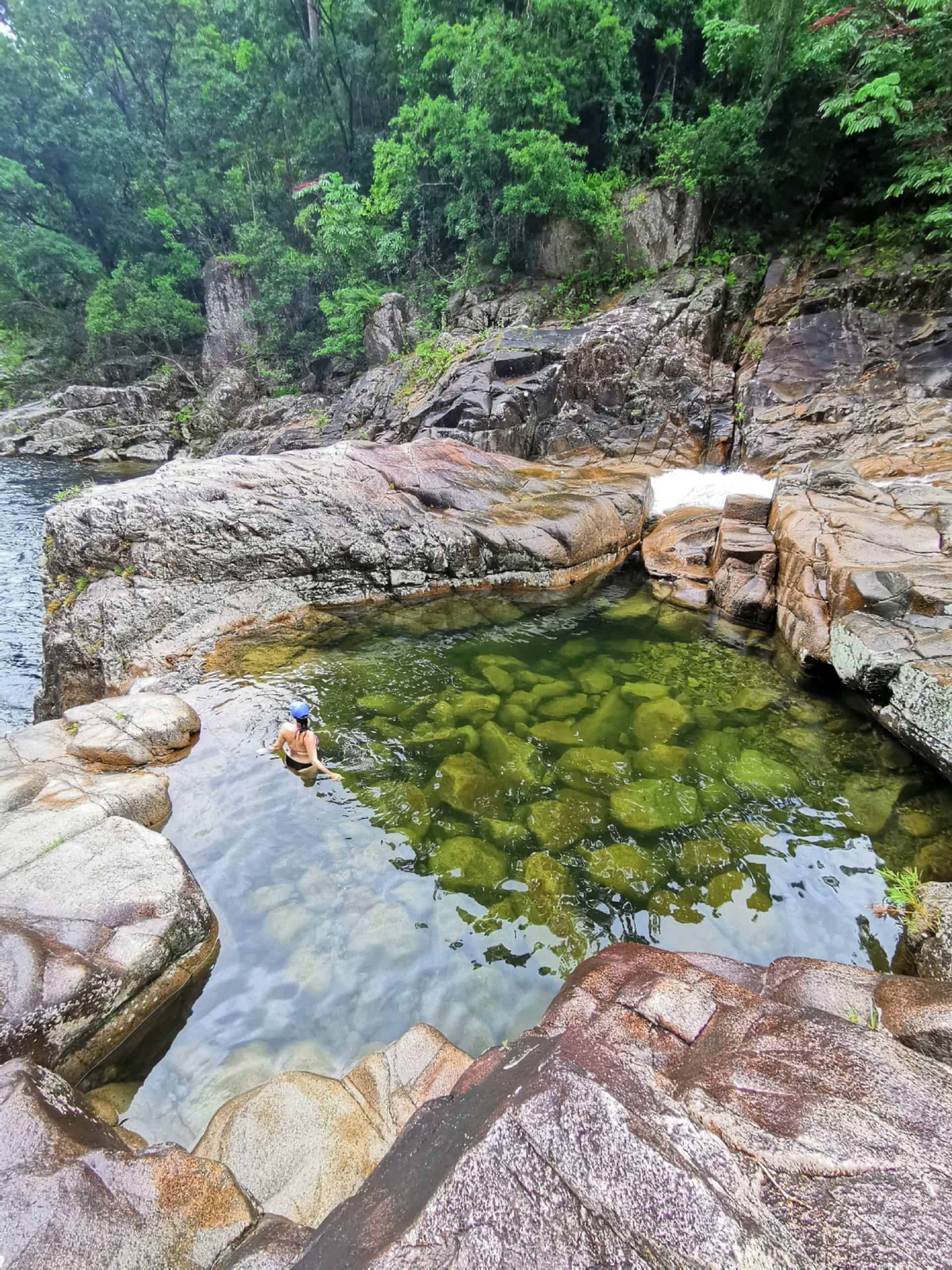 Onwards to Babinda
Driving back out of the sugarcane fields we were treated to the best view of Walsh's Pyramid. It's the tallest natural Pyramid in the world (872m) and each August the locals do a footrace up it. I read about one local that trains for it about three times a week, which includes two half runs up and one full run to the top, which must be an undertaking!
On the Bruce Highway you'll also pass Queensland second highest mountain Bellenden Kerr which is almost always shrouded in cloud, if not raining.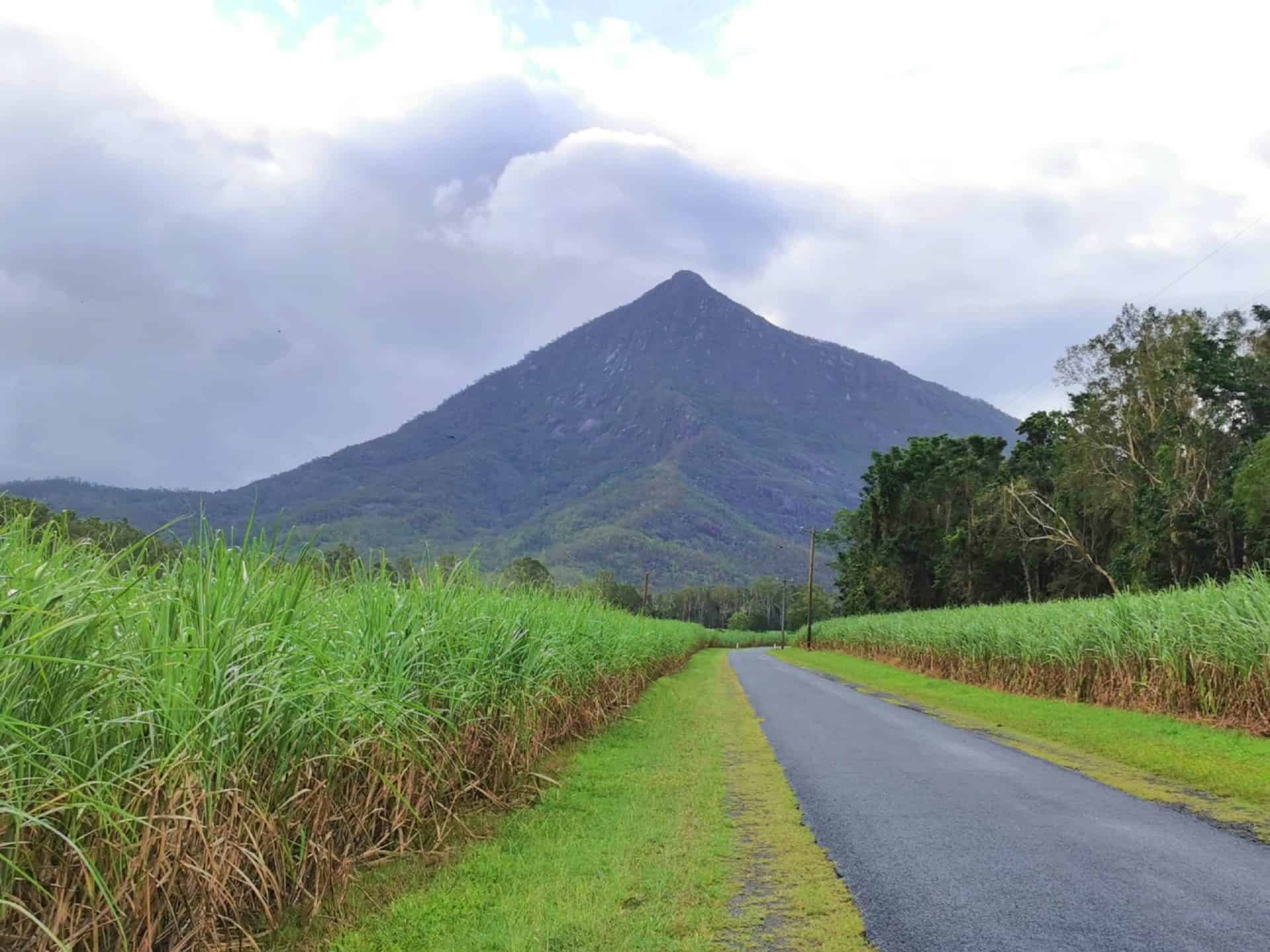 There not much accommodation on the east side of Wooroonooran and the few stays that are there had mostly booked out on our trip. But I managed to find a room in Babinda which is just half hour away and on route to tomorrow's waterfall.
We booked at Babinda Quarters which is set inside an Art Deco building (apparently nearby Innisfail is the Art Deco capital of Australia). The room was clean, comfy and pleasant with everything we needed. I think some people stay here long term so it had a bit of a hostel feel, but it was good value at $98 a night with a welcoming host. This place used to be an old nurses quarters, hence the name and picture of the winking nurse out front (definitely not a former brothel which was our first guess, lol).
There's also only a couple of spots to eat out in Babinda which are pretty local, so dinner options are limited. Perhaps try the Tavern or cook your own (I wouldn't recommend Kool Spot Cafe). However for lunch you should definitely go to Babinda Bakery which is a proper hidden gem that does banging pies.
There was a queue outside about 15 people long when we arrived and the smell wafting out was amazeballs. There were no veggy options unfortunately but our pies were hearty and filled to the brim, possibly the best ones I've eaten in Queensland.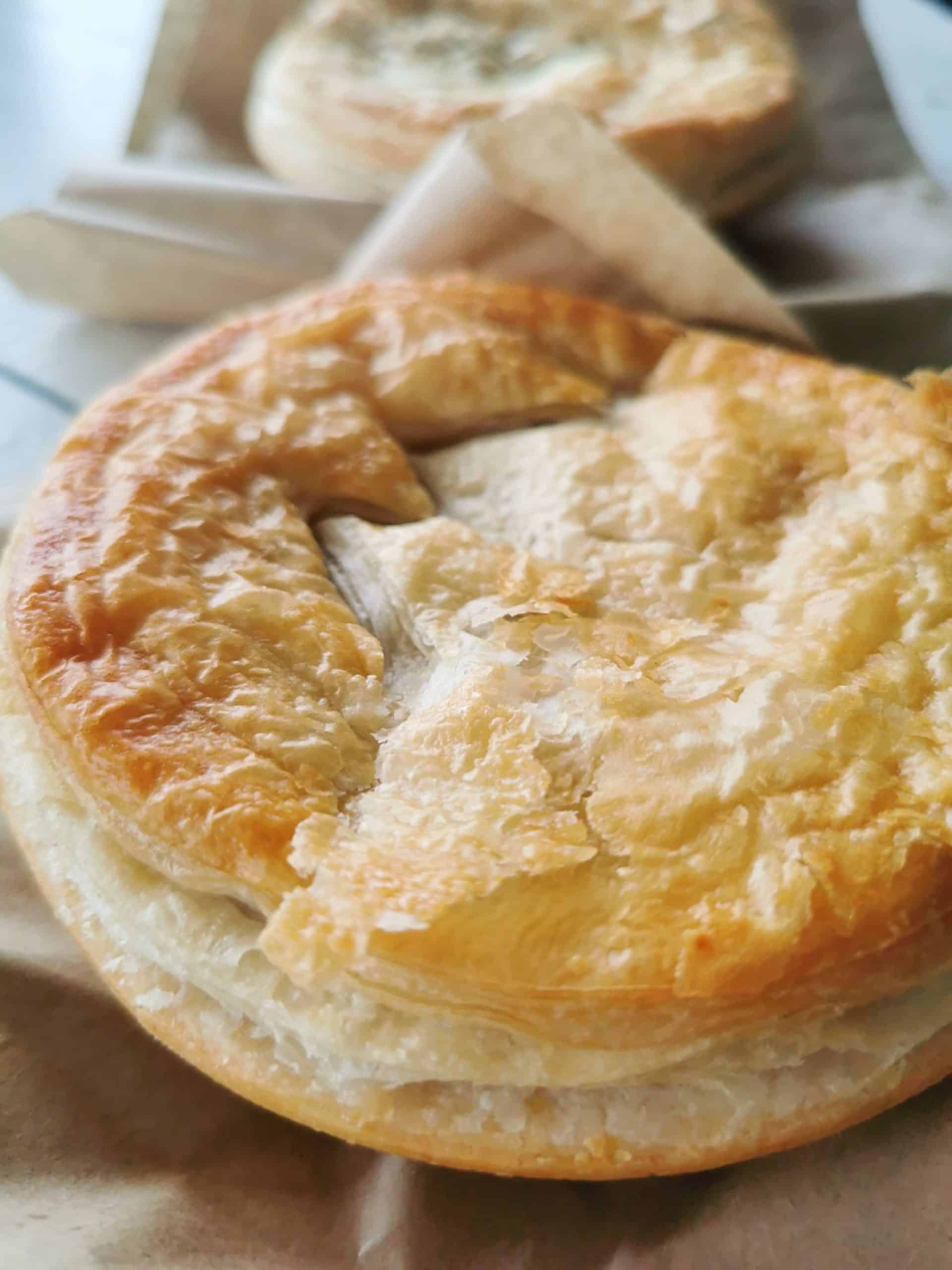 Optional Stop:
Before heading on, you may wish to visit the scenic swimming hole Babinda Boulders. This well-known spot gets busier with visitors but the rock pools are pretty and refreshing. If you want to make a day of it then there's BBQ facilities and an operator who loans kayaks and SUPs- see their
page
.
Stop 2. Nandroya Falls
A further 45 minute drive south along the Bruce and Palmerston Highway is Nandroya Falls at the southern end of Wooroonooran. On the way you'll pass the state's highest mountain, Mt. Bartle Frere. We climbed it last year and it was by far the hardest hike I've ever done! But it was also the most rewarding. If you're an experienced hiker then you should definitely put it on your bucket list.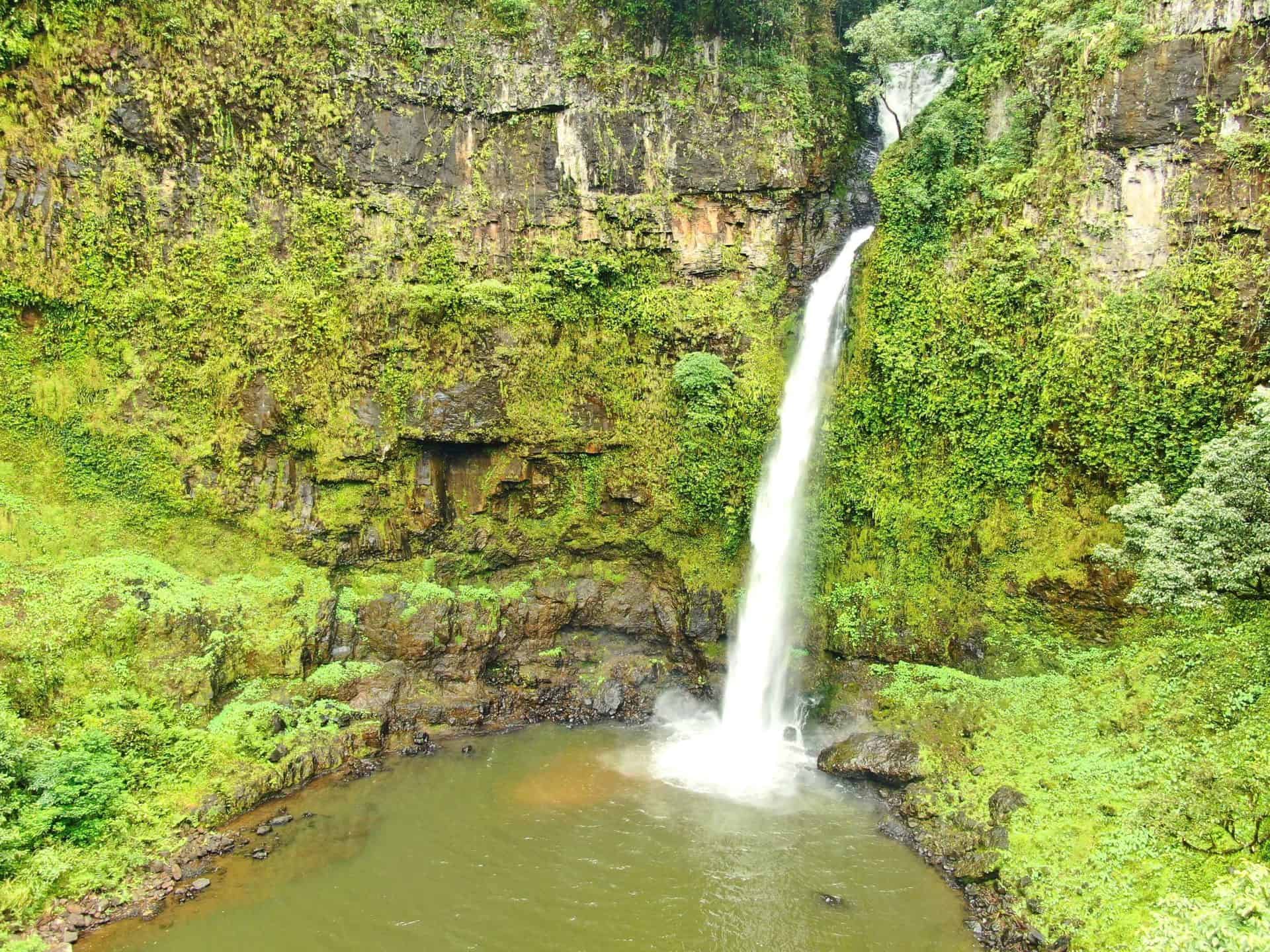 We thoroughly enjoyed our day out at Nandroya and it was a kind of complete package. The trail was further away from Cairns so it was even quieter, the rainforest was more lush and interesting, and you get two waterfalls for the price of one! About a quarter of the way in is Silver Falls, a great starter for the main cascade. This easy hike can also be a 6.6k loop or a shorter 4.4k return.
After parking up at Henrietta Creek, walk over the footbridge which leads to the start of the trail (we saw a cassowary here). The walk then takes you into the rainforest for 700 metres until you come to a fork- you can take the 1.5k track to the left or the 3.5k on your right. We did the shorter return but it should be really scenic by the rapids and stream if you have time to come back the other way.
Tip: Cover yourself in deet repellent before starting the hike to prevent leeches attaching and to warn off the horse flies when you get to the falls. They weren't too bad, but damn, everything wants a piece of you here!
The trail to Nandroya took about 40-minutes and it was really muddy after all the rain. It was such a nice walk though, really flat and enjoyable with lots of cool vegetation.
Nandroya is split into two sections, a wider lower fall and a plunging narrow cascade in the upper portion. Accessibility to the main cascade and pool (upper) is easy and the water gets deep pretty quick. Swimming there was heaps of fun and a great refresher after the hike as the water is freezing! My brain went numb afterwards, a bit like cats after eating ice-cream, lol. I tried to get as close as I could to the cascade but the force from Nandroya is huge, creating lots of spray and waves.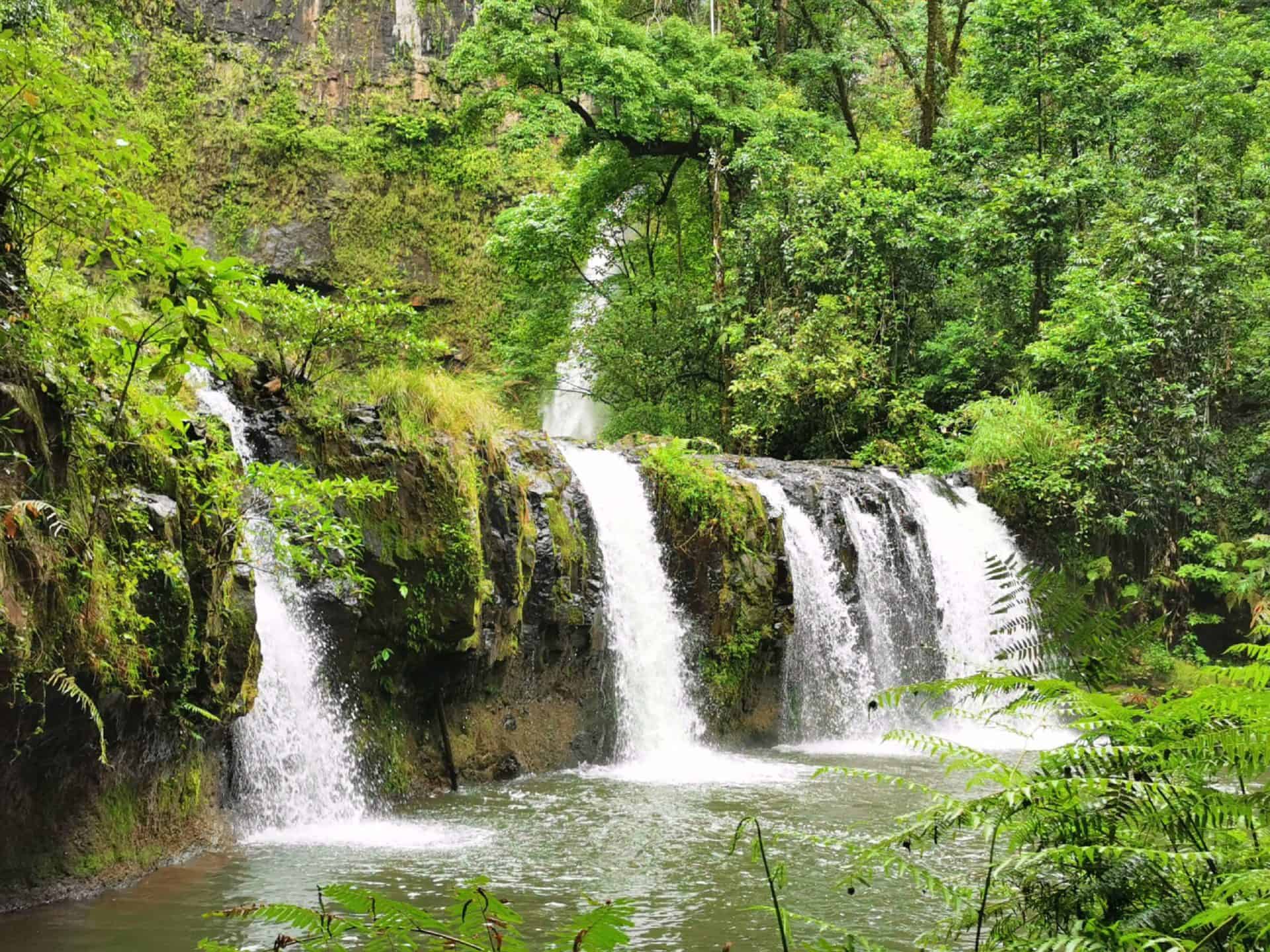 Bonus Waterfalls Near Cairns!
If you're feeling energetic and fancy another hike with waterfalls nearby Cairns, then just before Nandroya you actually pass two others on the highway- Tchupala Falls and Wallicher Falls. Both start off at the same trailhead a little east, with Wallicher branching off 1k to the left and Tchupala 600m to the right.
You can either drive down and access it from the main road, or via the walking track from Henrietta Campground. If choosing the latter, it's a 2k trek (one way) which includes both falls, approx. 45 minutes. I've added the approximate route of the walking trail to the map above. We skipped it this time as I wanted to get to Mungalli Creek before it closed.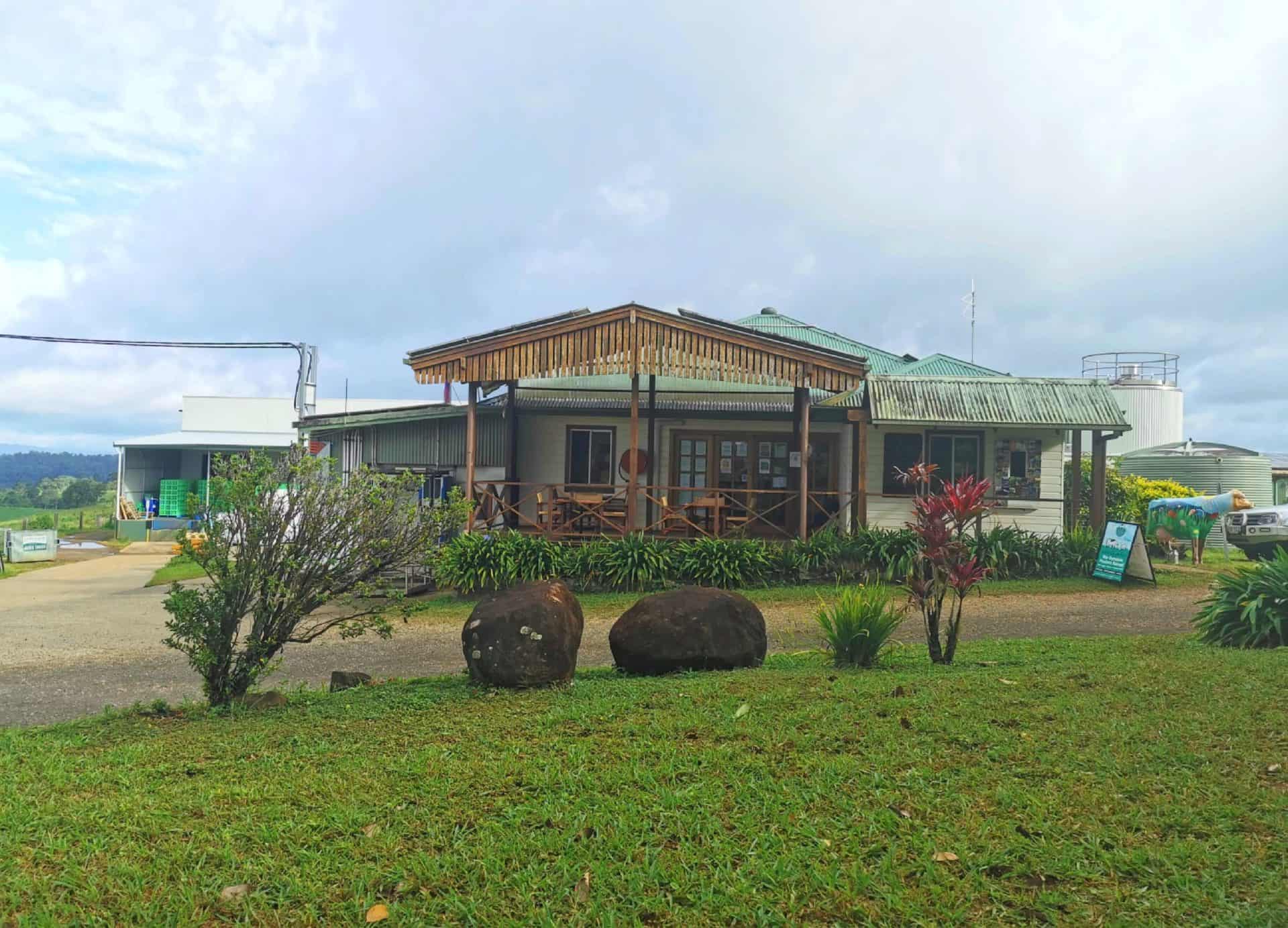 Onward to Mena Creek via Mungalli Creek Dairy
I've only been to Mungalli Creek Dairy once before but I couldn't wait to return. Everything is made fresh on site and the food is awesome, just the fuel we needed after an energetic day. The Dairy is only a 15 minute detour on the highway towards the Tablelands and the hills around this way are so bucolic. Our paninis were delicious- honestly, the best I've had in a long time (wish I grabbed a pic but it went down quick!).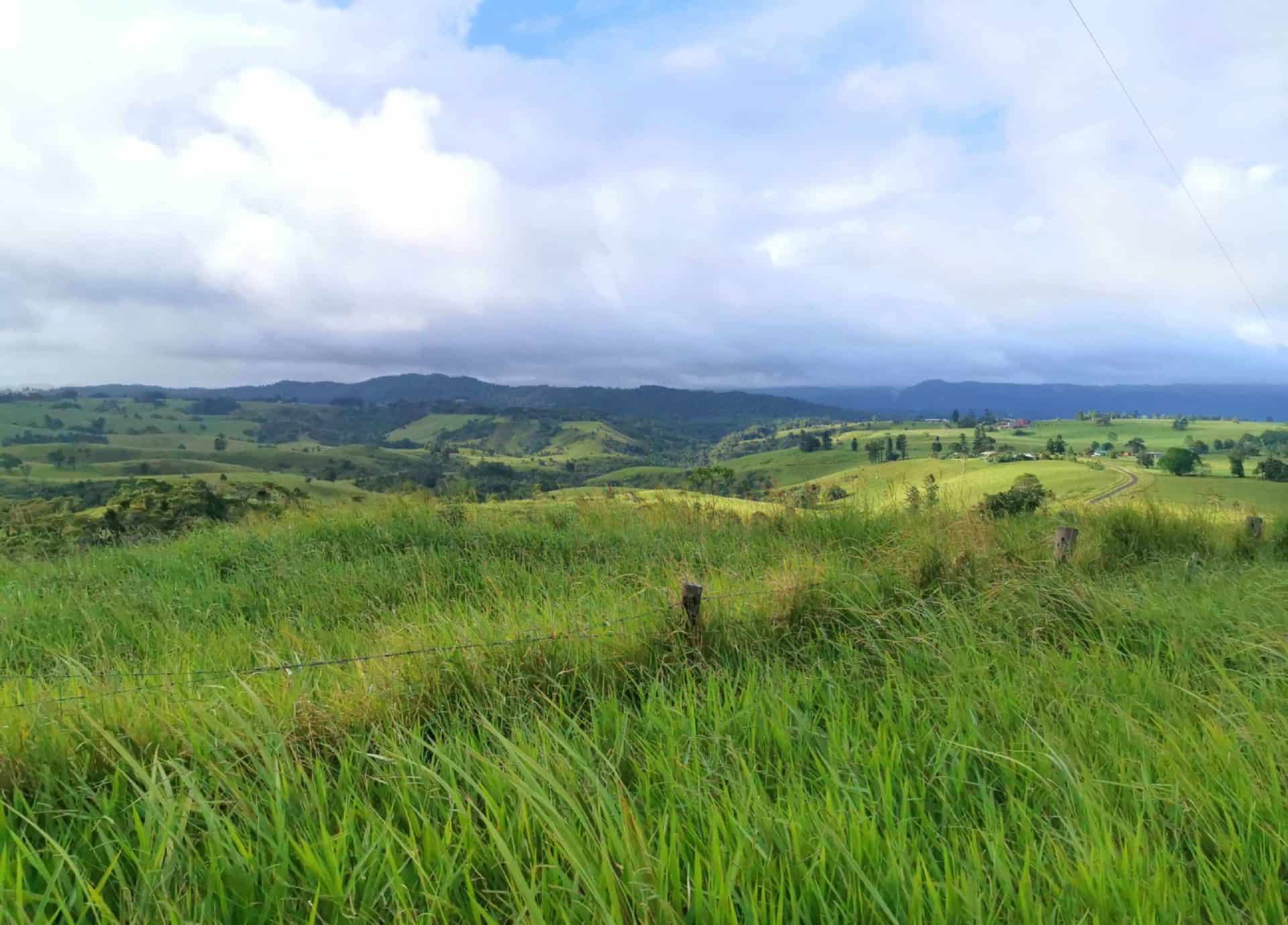 After, head back on the highway up the way you came towards Mena Creek. When you get near Innisfail the road then follows The Canecutter Way which is the old Bruce Highway. It's a really scenic inland route that passes through vast sugarcane and banana fields, surprised I haven't heard of it before.
For accommodation, almost everything around here was booked out on our trip and I wouldn't really recommend where we stayed next, however there's a few places I found which we'd consider for next time.
As the next top is Paronella Park, this is a convenient option and they have cabins for only $98 after the admission fee. If you've paid for park entry then you can also camp here for free, but it was a pretty wet weekend when we came so skipped it! We'll definitely go back though as the ticket is valid with accommodation for a year after purchase (or two years just for park entry) which is a good deal.
Otherwise Mena Creek Flower House looks gorgeous. They have modern and private self-contained cabins on a 40-acre property with rolling hill views for only $155 a night.
My third choice would be Mena Falls Guesthouse which is a cracking Airbnb set inside a beautifully renovated church for $160 a night. Failing those, another option is staying in Innisfail. There's a caravan park there called August Moon which has some decent looking cabins from $120 per night.
Stop 3. Mena Creek Falls and Paronella Park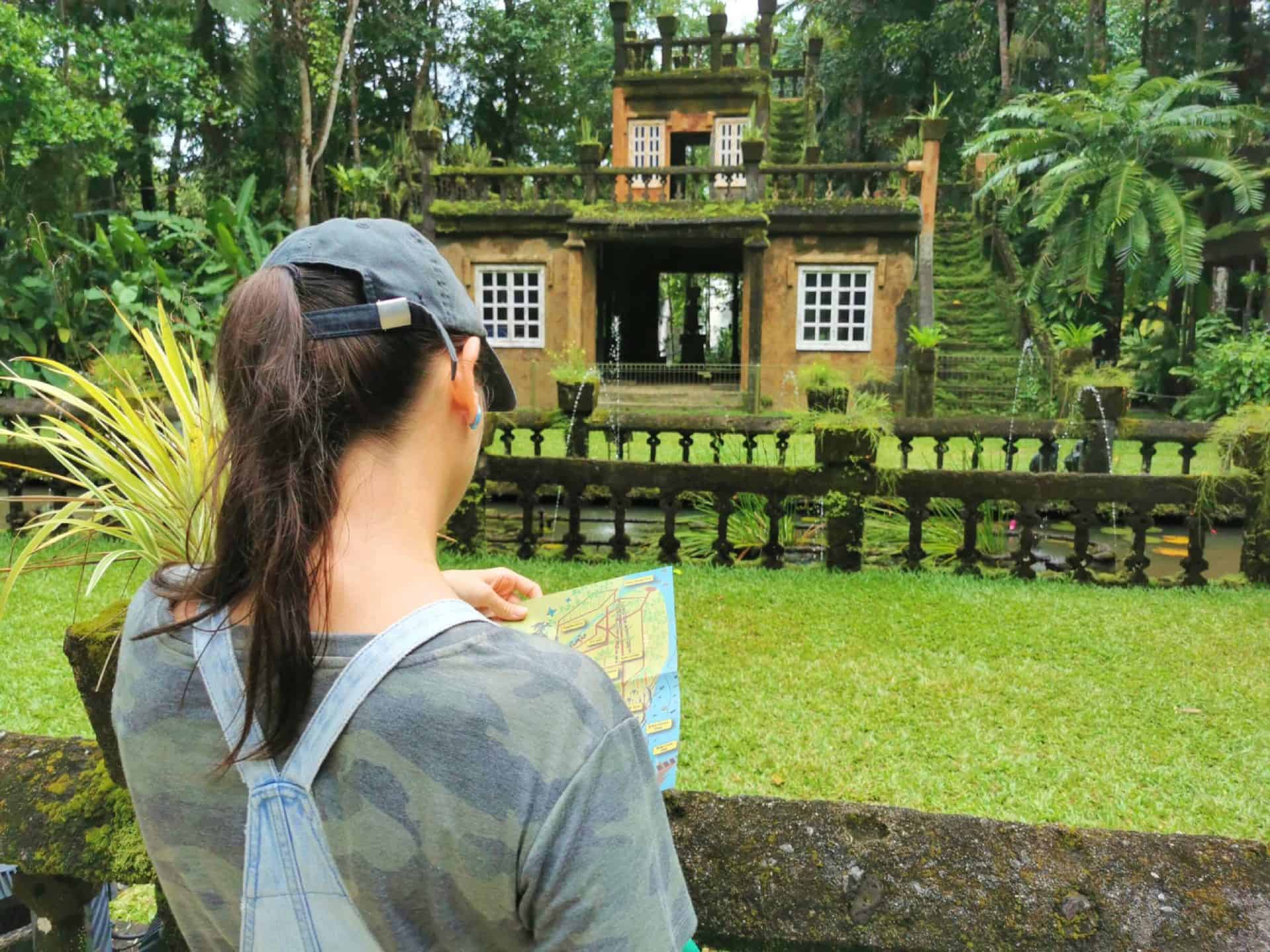 The picturesque Mena Creek Falls sits beside Paronella Park but it's separate from it, so you can access the Falls without paying admission. Walk over the footbridge to view it from above or take the short walking trail to the pool at the bottom where you can see it in full, though the view is better from inside Paronella Park.
There's crocs here so don't go for  swim! Apparently back in the day people used to swim in it a lot, and there was probably crocs then too.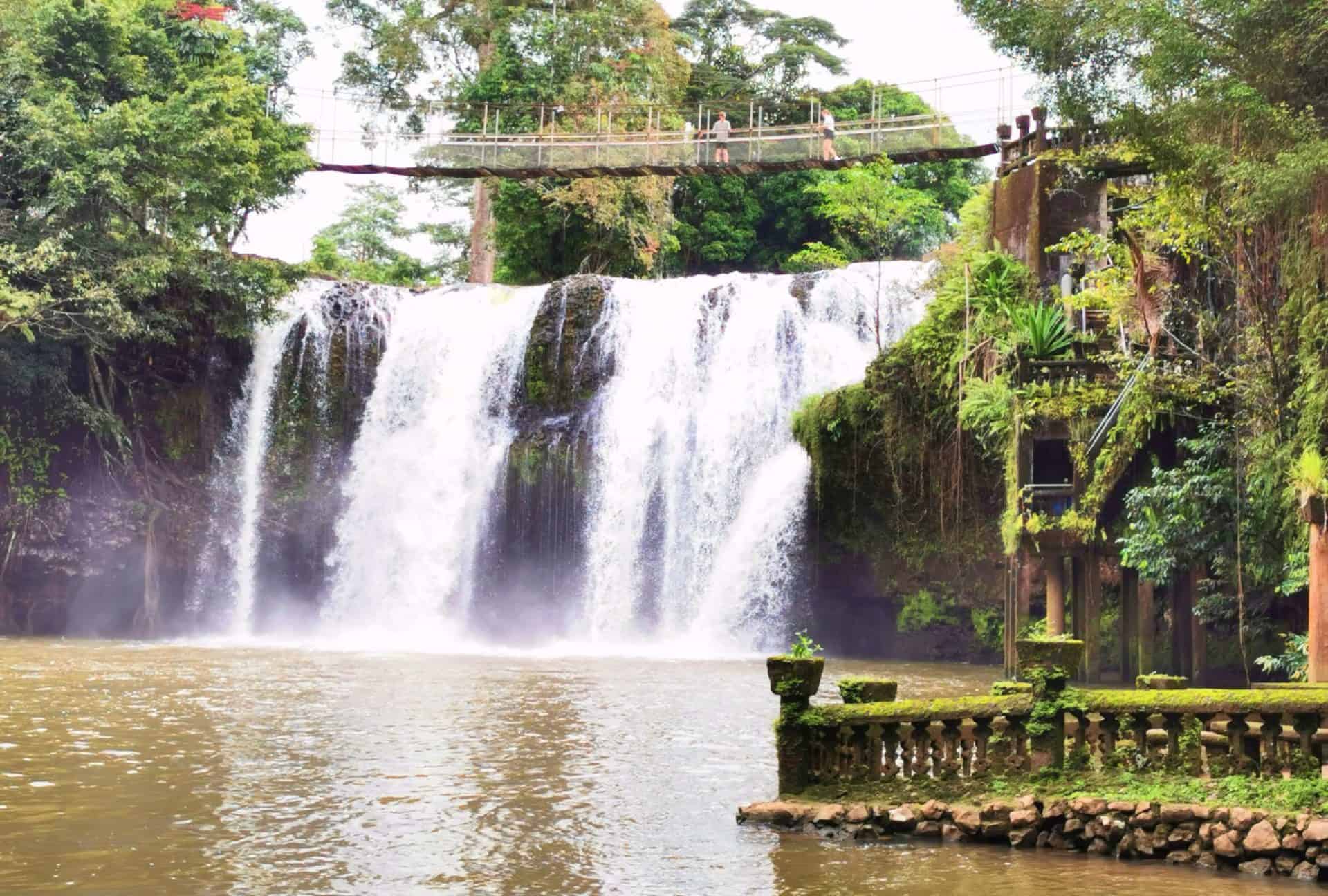 Paronella Park's history is really fascinating and seeing all the old buildings covered in moss now just makes it more enchanting. As a part of the admission fee we were given a free guided tour which you should absolutely do if you go, and there's a night tour also if you're sticking around. We were totally taken back in time and in awe of what one Spaniard accomplished nearly 100 years ago.
Let's finish with a short true story about it shall we.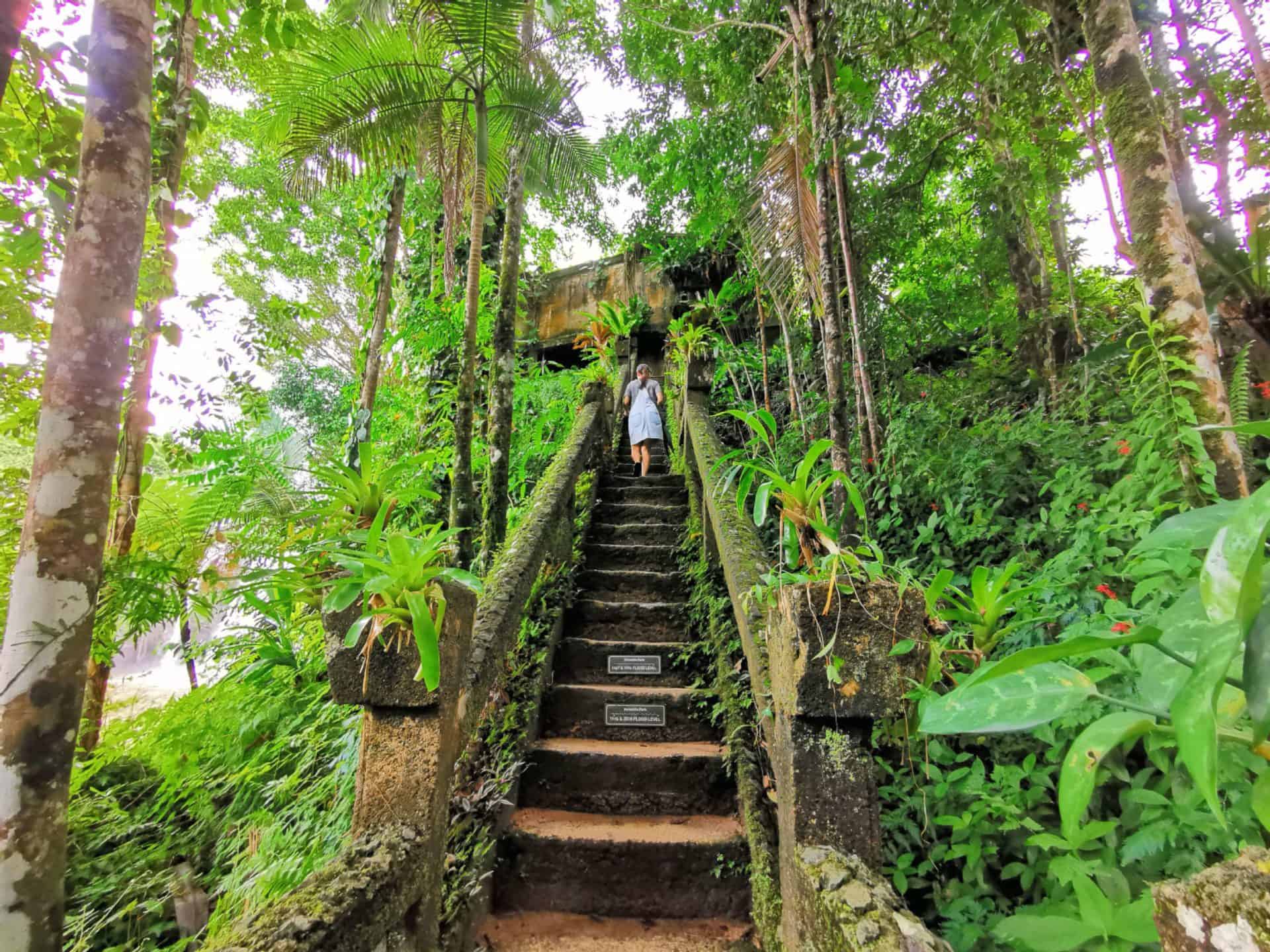 A Man With A Dream – Jose Paronella
In 1913, Spaniard Jose Paronella first sailed from Catalonia to Australia in hope to make his fortune. His intention was to make some money and then go back to Spain to marry his love Matilda.
After arriving in Sydney, Jose soon travelled up the coast and landed in Innisfail where he grafted hard on the sugarcane fields. Then he spotted a business opportunity and saved enough to buy an old sugarcane farm which he improved and sold on. For the next 11 years he kept on buying bigger and bigger farms before selling them for a tidy profit.
Once he had enough money in his pocket, Jose went back to Spain to marry Matilda and was planning on bringing her back to Australia where they'd start a new life together. However as no-one had heard from him in 11 years, they all moved on with their lives and she married. So what did Jose do? He married Matilda's younger sister Margarita of course!
After a year-long honeymoon around Europe, Jose returned to Australia with Margarita. He was fascinated by the Catalonian castles from his childhood and decided to replicate something similar in the middle of the Australian rainforest for everyone to enjoy. As you can imagine, back then this was no easy task. There was no electricity or running water, and practically everything was manual labour in Far North Queensland's hot and humid conditions.
He looked for land to set up a park around Innisfail and found his dream spot, a 13 acre plot beside Mena Creek Falls, all for a bargain £120.
Over the next six years with a clear vision and a lot of tenacity, he hand-built his castle, a cottage, picnic areas, a grand ballroom, his own botanical garden, a waterfall which he named after his daughter, tennis courts, tunnels and bridges, plus other things.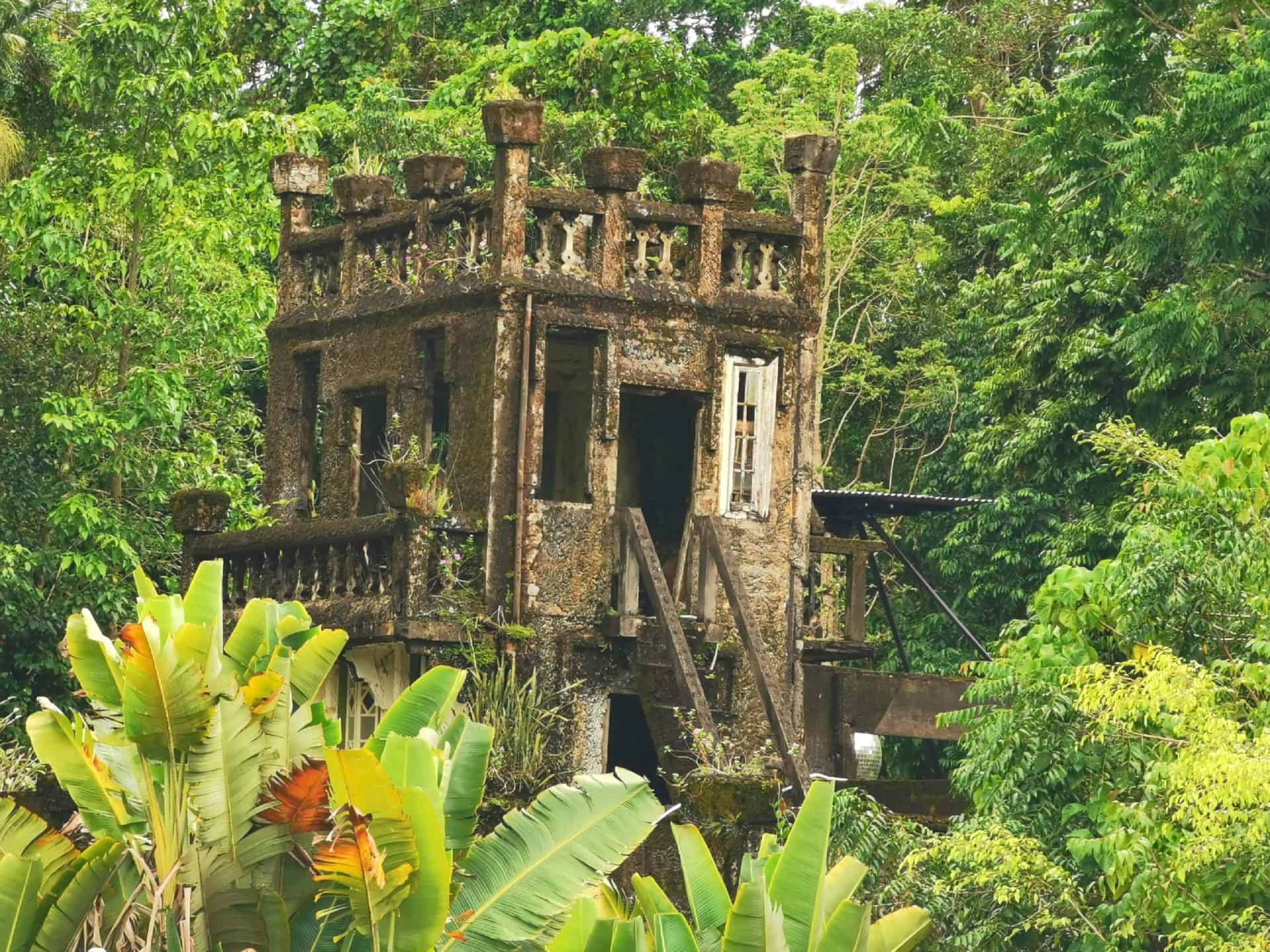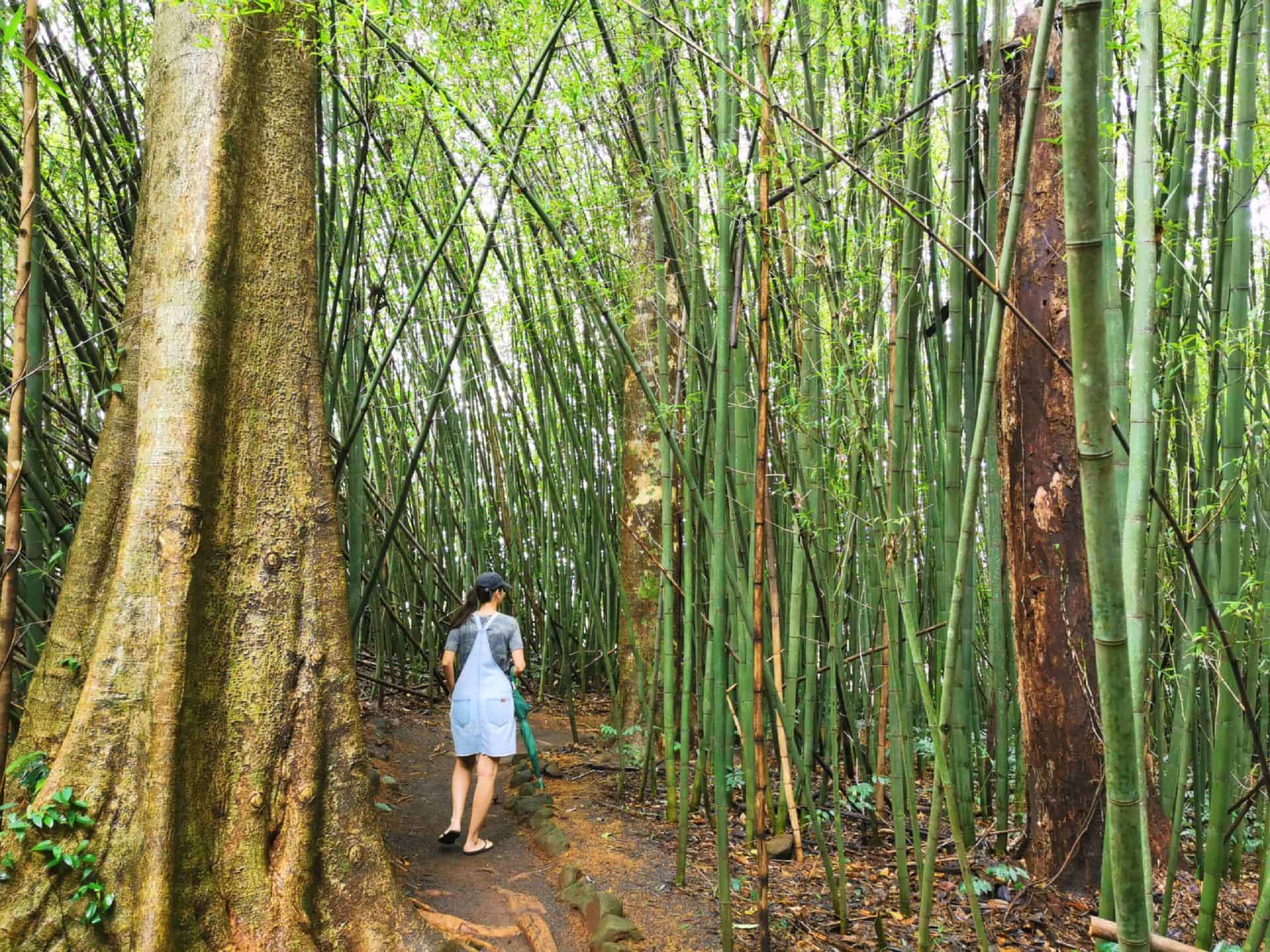 People would drive from hours away just for a picnic in the garden, kids would walk for miles just for Margarita's home-made ice-cream and their dances, parties and Saturday movie nights in the ballroom were insanely popular. His little piece of paradise brought the greater community together and it quickly became "the" place to be. For decades the park was the only place around with electricity (he built one of Australia's first hydro-electric systems), running water and flushing toilets- Jose was ahead of his time.
In 1948 Jose passed away and left the park to his children to take over. When they got older they eventually sold it on. In the past five decades it's since contended with a fire, multiple cyclones and multiple floods. It was eventually resold again in 1993 to Mark and Judy Evans who are passionate about maintaining the park's heritage and keeping it open for the public to enjoy. You can still find Mark working enthusiastically in the car park.
Over the years films have been set here and it's recently become eco-certified and World Heritage Listed. See more details on their web.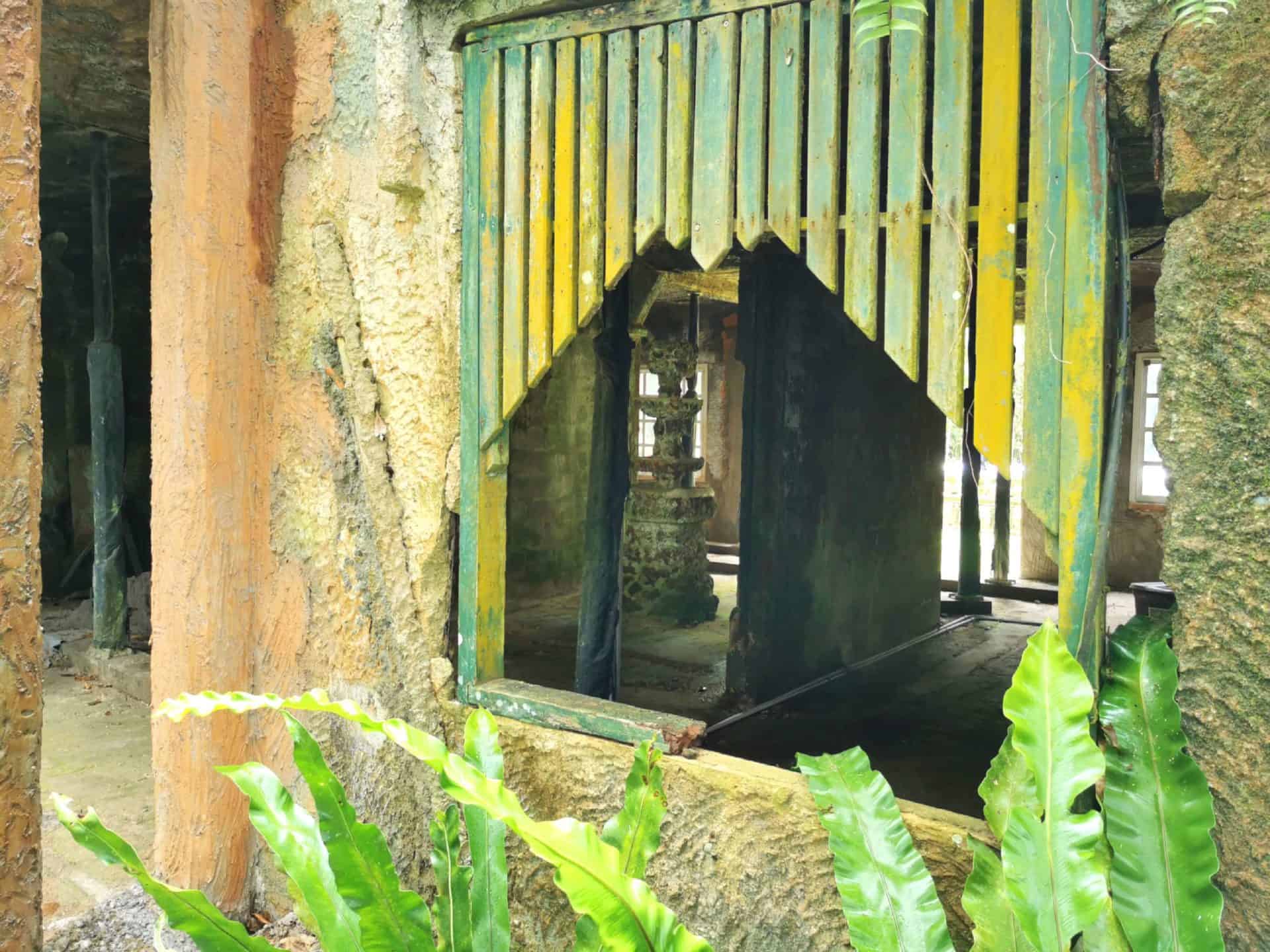 * * *
This short getaway was a real nature kick and lots of fun away from the hustle and bustle. I hope to have inspired you on your own adventure exploring more remote waterfalls near Cairns. This national park is a real gem and it's so easy to access from the city. If you go, let me know how you got on in the comments below.
Sticking around in the Atherton Tablelands? Check out my list of top things to do here. Or if you're heading back to Cairns, here are some cool things to do which includes a couple a great waterfalls in the city.
Like it? Pin it for later!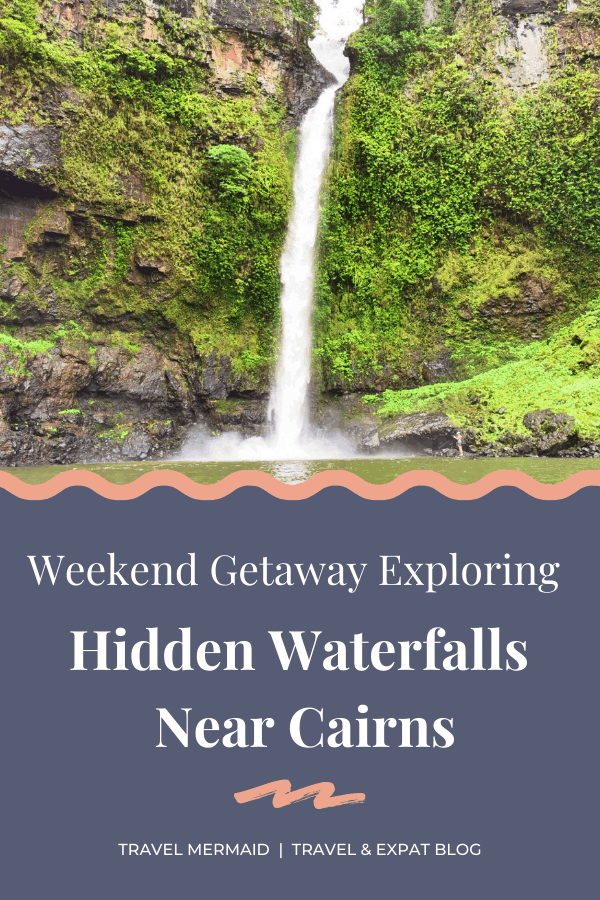 XOXO