Your complete guide to The Devil's Thumb hike near Port Douglas. Get ready to sweat!
---
If you're going through hell, keep going.
– Winston Churchill.
Unrelenting, unending and utterly unforgiving – are just a few word's I'd use to describe The Devil's Thumb hike. I'm not going sugar coat it guys, it's bloody hard!
There may be plenty of trails throughout the world that command respect from hiking enthusiasts, but this was the first one I ever completed. And true to it's name, this Devil's not for the faint hearted. However if you're keen to crack some bucket list stuff and conquer "yourself" as well as the mountain, then read on.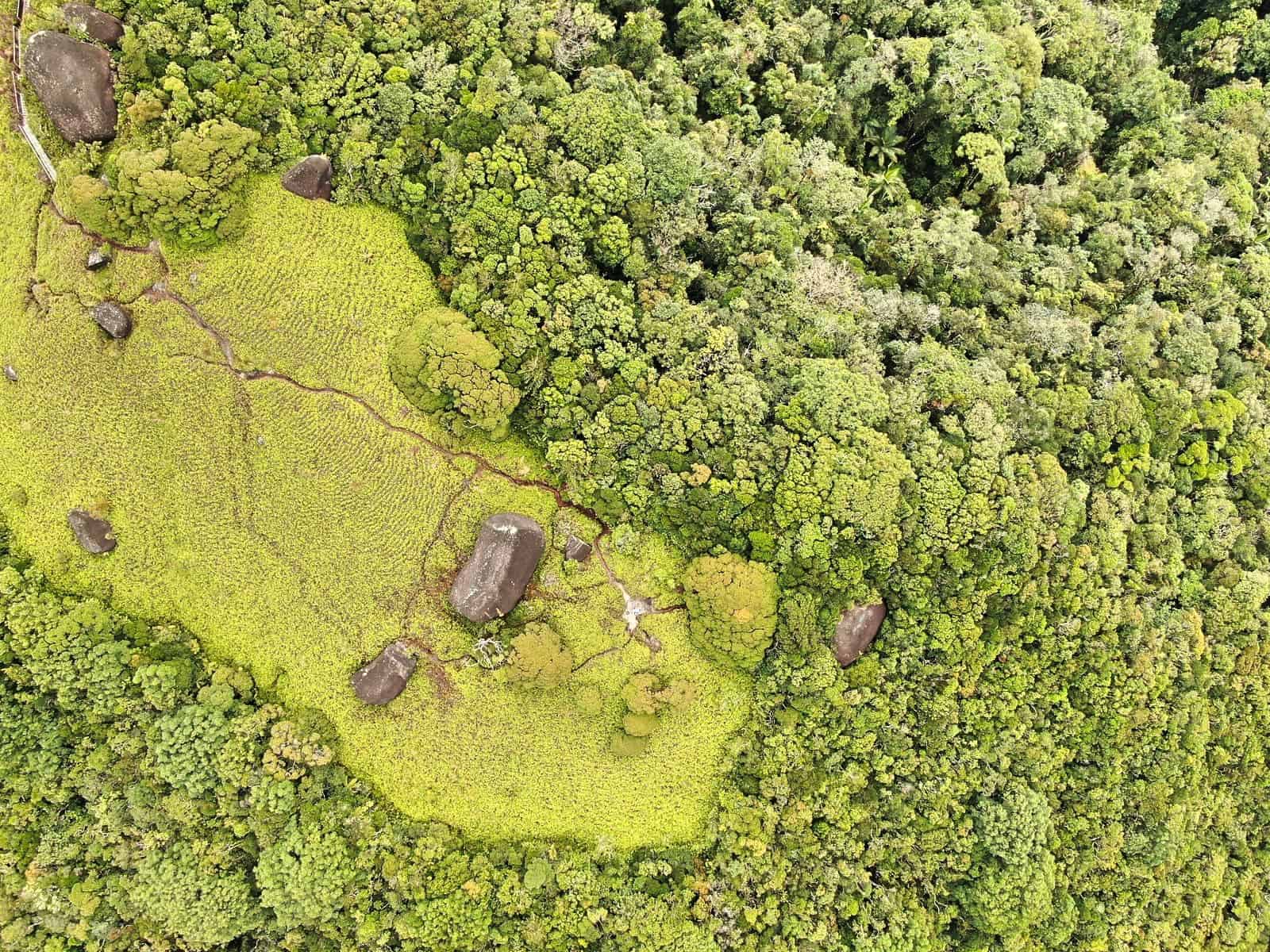 The Devil's Thumb is a epically steep, knee-quivering trek that leads through tall sweeping ranges of the world's oldest rainforest. Waiting at the summit is a massive granite boulder named Manjal Jimalji by the Eastern Kuku Yalanji people, a significant site where tribal lore states fire was created.
Dimur- the spirit of fire, is believed to have lit a blaze atop the Devil's Thumb to attract the attention of the tribe, after taking pity on them for not being able to make fire.
Then when a tribal warrior climbed to the top to check it out, Dimur put him to sleep in a cave beneath the rock to dream of how to make it by rubbing sticks together. Once he awoke, two firesticks were laying by his side and now the tribe had this tool at their disposal.
When I reached the top, I dreamed of a chairlift to take me back down. But unfortunately it never showed up! Too bad. You'll be dreaming of it too, I'm sure of it. 😉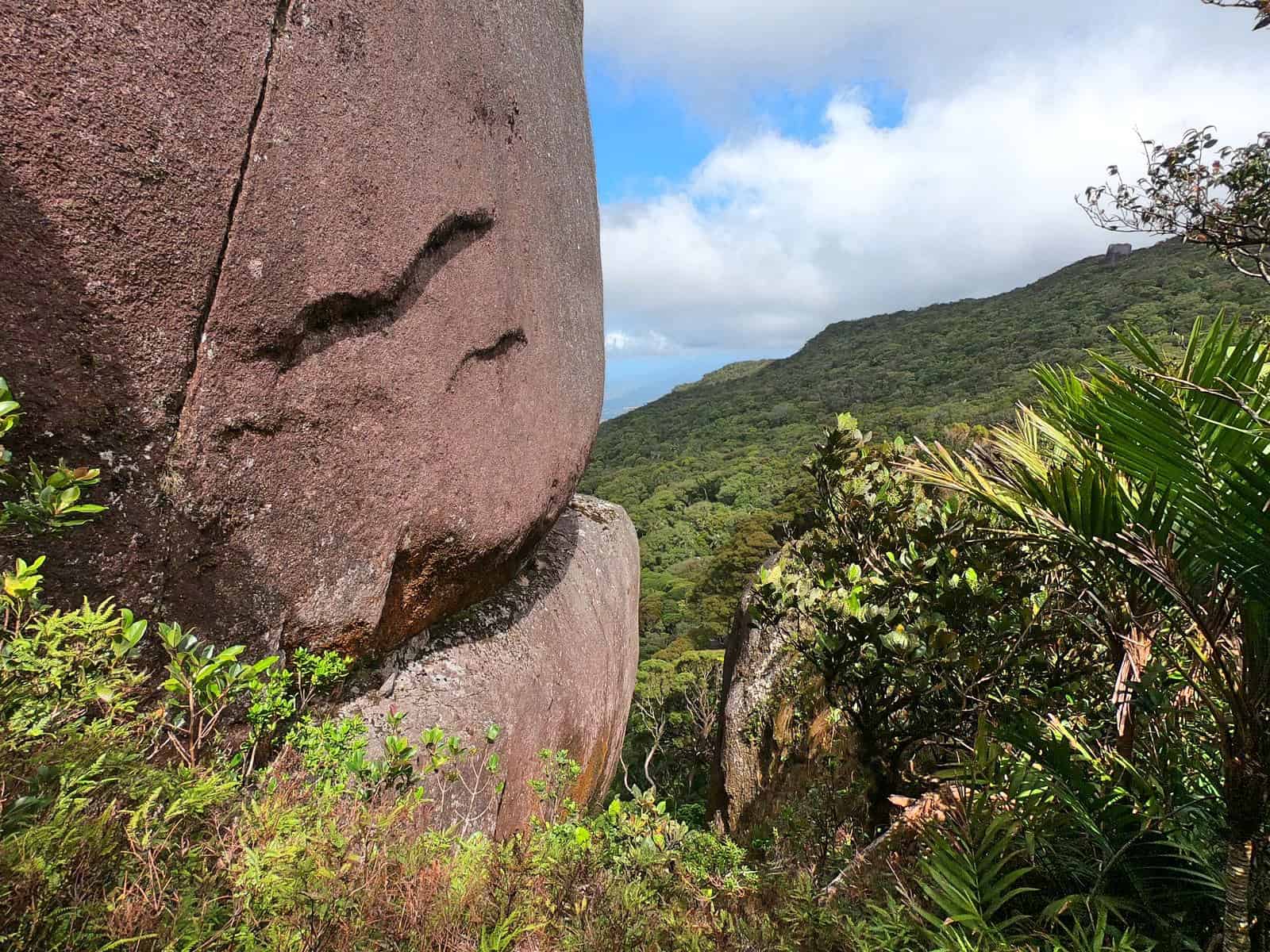 Making it to the end of the track, or near to, will deliver some astonishing views of Far North Queensland, moments of blissful hiker's euphoria and a profound sense of accomplishment.
To succeed, it's recommended that you have 'above average' fitness, climbing skills and reserve 8-9 hours, as you prepare for an ascent to 1020m. That day I realised I'm 'borderline average', at best, and probably shouldn't have had those cocktails the night before! 🤦🏻‍♀️
Seriously, it pushed me over a new pain threshold and I nearly gave up so many times before reaching the Thumb. But when you've come that far already, with 5 hours of climbing under your belt, somehow you manage to dig deep. The only alternative is regret as you head back down. Giving up is not as easy here.
---
The Devil's Thumb Hike
Overview
The Devil's Thumb - At a Glance
🥊 Grade: Extremely hard.
🏃🏻‍♀️ Distance: 13.5km return – but feels like longer.
⏲ Time: 6-9 hours (depending on fitness).
📈 Ascent/descent: 1020m.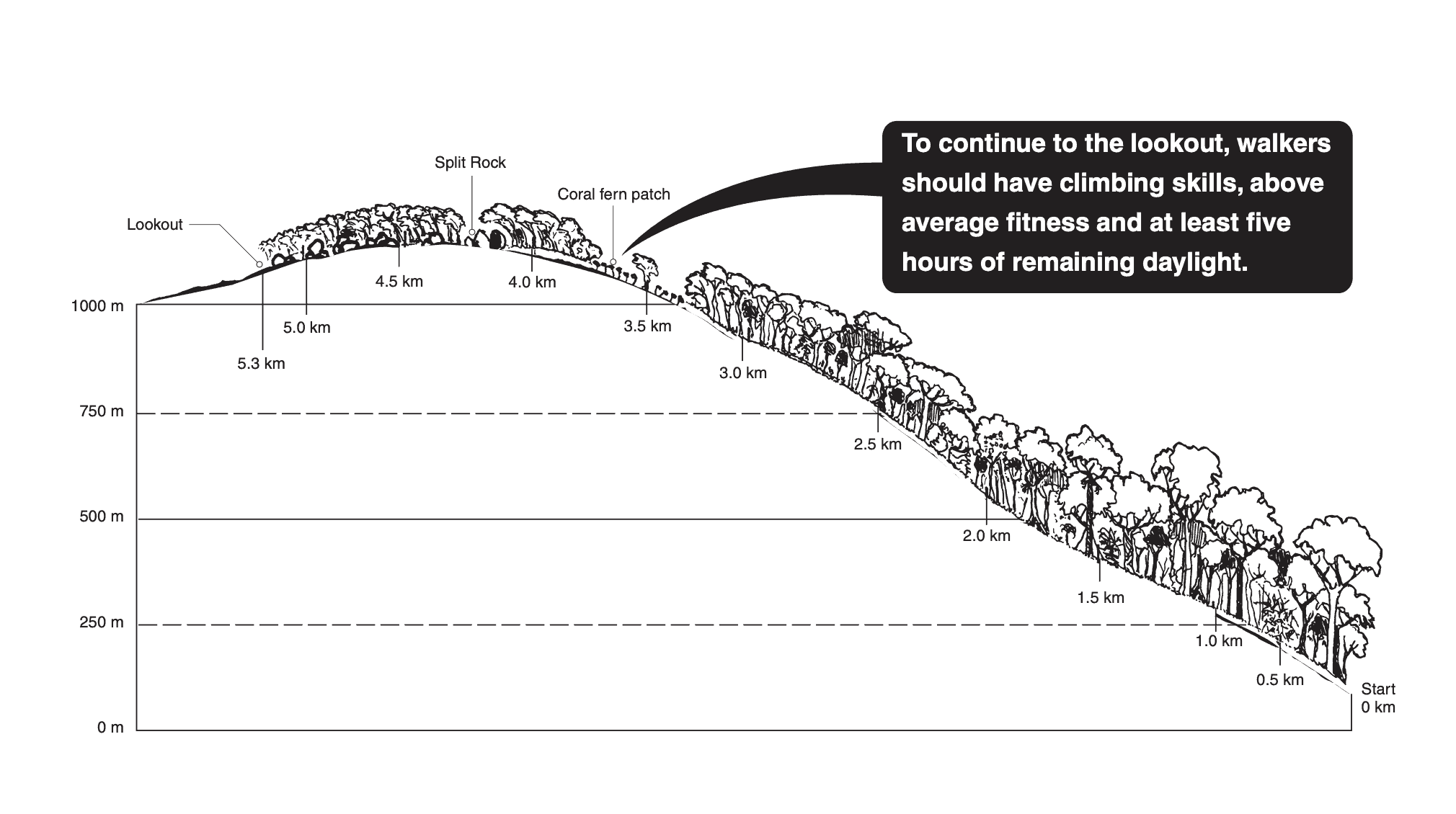 My video ☝🏼 really doesn't communicate the trail's physical torture! It's also not in the order we experienced the highlights…
In the last clip you see is us sitting on the Coral Fern Patch, but that's the first viewpoint you'll encounter after climbing 9020m (about 2.5-3 hours & a pathetic 3k). Many people who do the trek don't go beyond this patch as it offers stunning coastal views- perhaps even better than The Devil's Thumb Viewpoint– and either they run out of time or don't have the energy to continue. This is a good option for a slightly more manageable hike.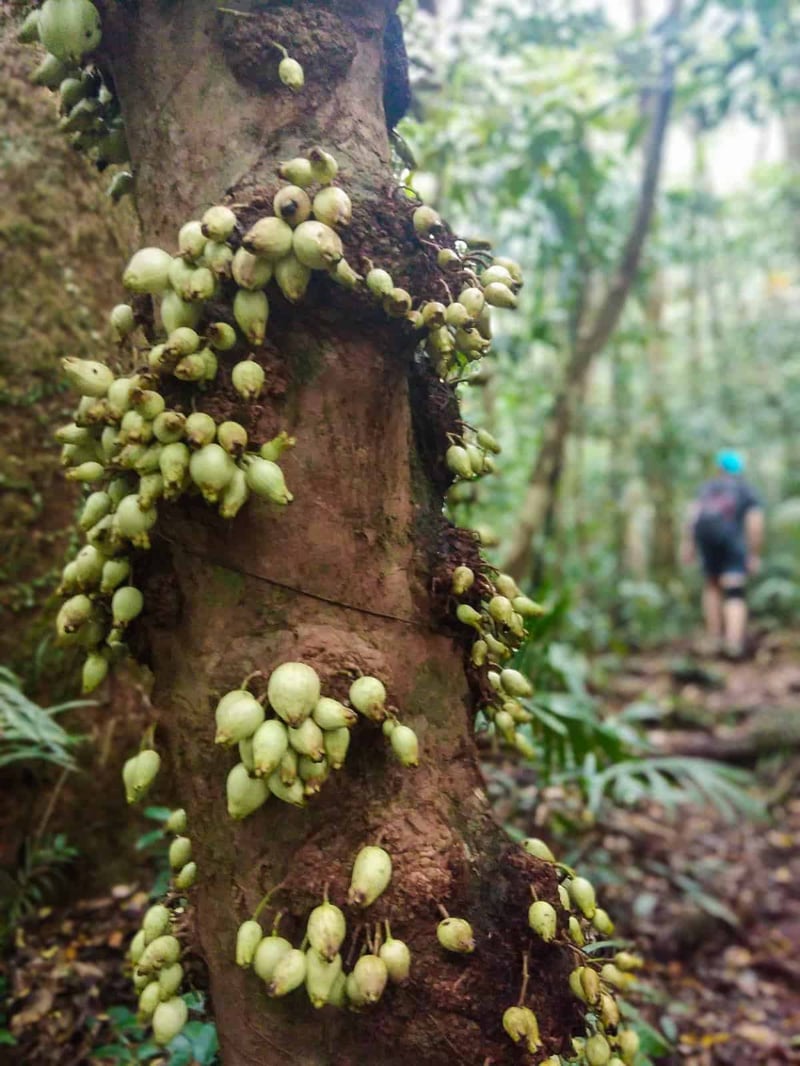 If persisting, then The Thumb's Viewpoint is only another 100m in altitude but still over an hour away (as it's a further 2.3k) and you'll be doing a fair bit of climbing. Warning too, there's heaps of leeches on this part as it's moist and humid, but they were small. Wear sleeves and longer slacks to prevent them latching.
This is the section we nearly turned around as the time was ticking and we were wiped; if it wasn't for the final 5k marker then we would have! However continuing was worth it.
As the Thumb is suspended on the edge of a cliff, it felt like we were unhooked at the top of the world's highest rollercoaster, the moment just before it goes over the edge. 😄 I'll never forget how I felt emerging onto it- euphoria best describes it. A real sense of accomplishment came with making it to the end too.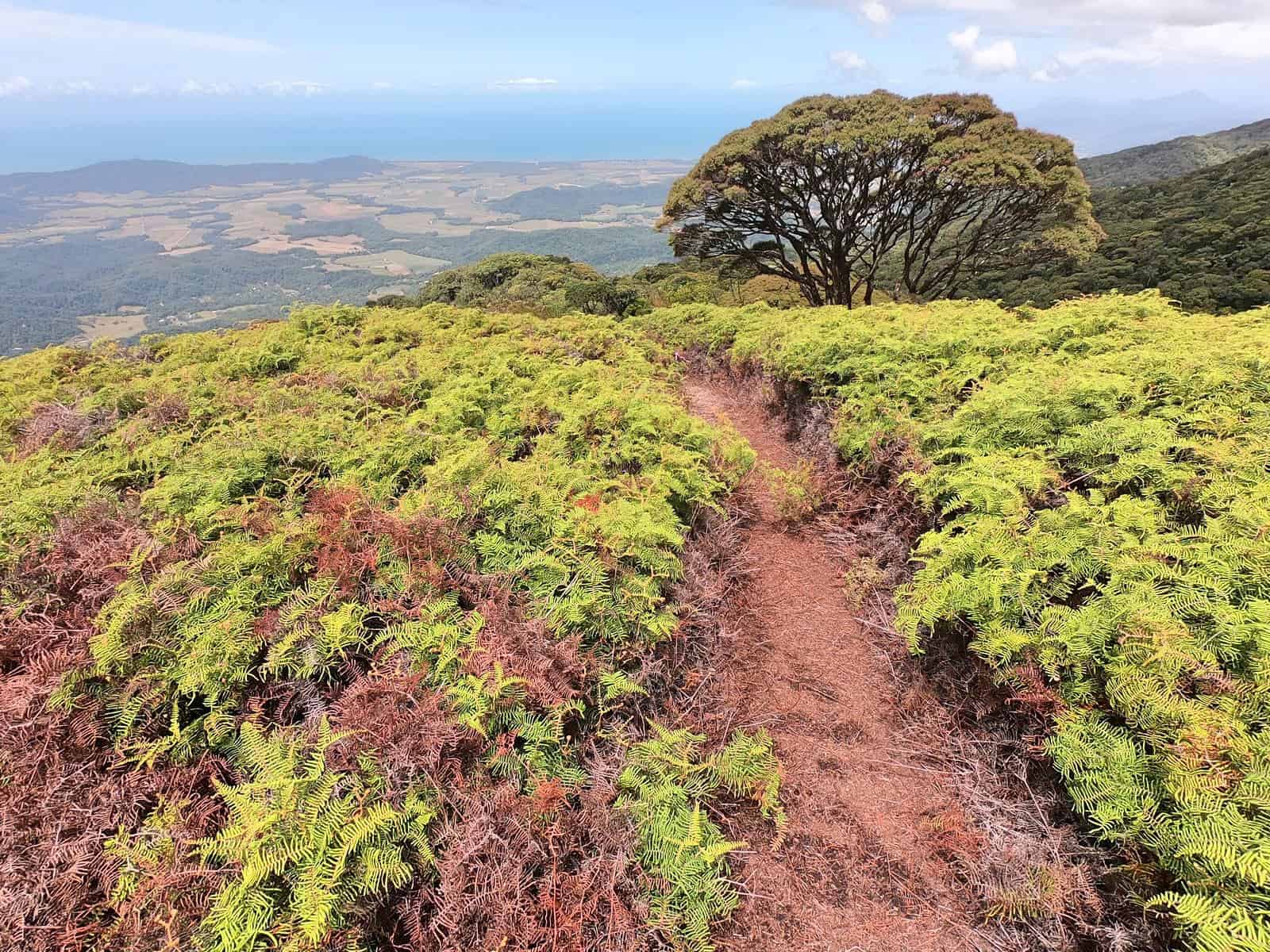 Yet just when I thought the hard part was behind me, coming back down was actually harder. It's steep and we were absolutely knackered, so my muscles were ceasing up and knees almost gave way a few times. There was serious amounts of cursing towards the end and I nearly cried- I'm pretty sure my literal words were "F**ing sh**ty piece of sh** hill! Why would anyone do this? I'm NEVER, EVER coming here again!!!'"
Take my experience with a slight pinch of salt though. I was hungover and had a really crappy sleep the night before, so that made it harder. Yet I still made it 🤟🏼. There were two youthful 20-something lads in front of us who finished in better time, so it's not as dramatic as my description for everyone.
Do as I say and not as I do, and you'll be okay my friend!
If you fancy doing the hike with a tour guide, then
BackCountry Bliss
are the only operators fit and brave enough to do it. You can certainly navigate your way through successfully without one, but for less experienced bushwalkers you may want someone with you for peace of mind. Plus, if you pay for it then there's no chickening out!
---
Getting To The Devil's Thumb Trail
As there's no public transport, you'll need to drive here. From Cairns it's about 76k (1h20), or 20k from Port Douglas (20mins). You can open up this route ☝🏼 on your phone for easy navigation. Just hit the enlarge icon at the top right corner and it'll open up in Google Maps.
Otherwise, drive North and continue past Mossman towards the Daintree. (If you want to grab a pukka breakfast bun to go, stop at The Junction Cafe …this 'hair of the dog' food saved me that morning!)
About 6k past Mossman, turn left onto Miallo street.
Then after 3k, chuck another left onto Whynabeel Road.
In 4k turn left at the Karnak Playhouse sign and drive past it for 500m. You can park your car where the sign is.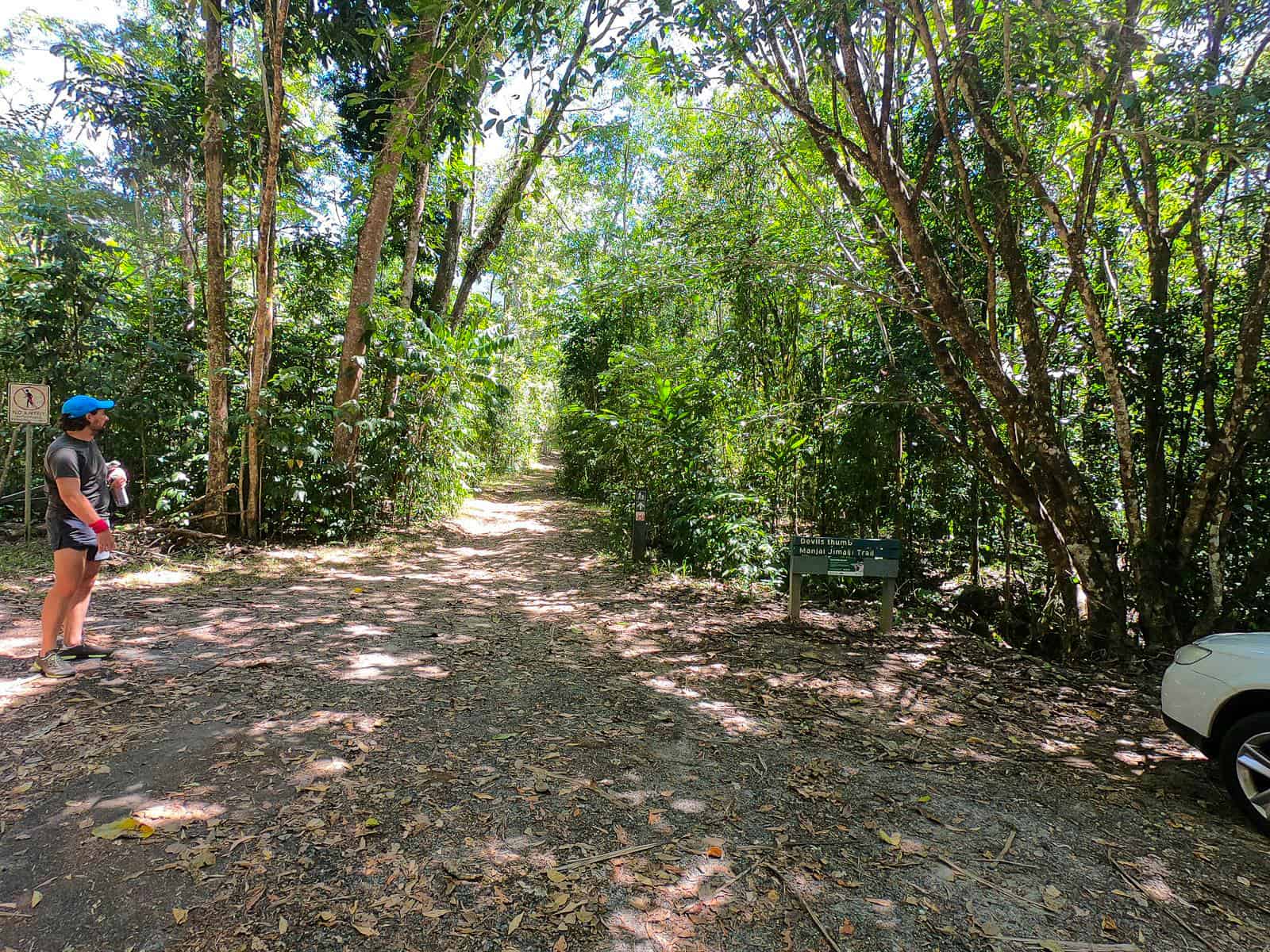 If you need to hire a car then we had a good experience renting from Cruising Car Rental in Cairns, or you can compare prices & cars using Vroom Vroom Vroom and earn points with Velocity or Qantas upon booking. 🤟🏼
Tip:
After booking, we always make sure we have car insurance sorted, especially after a few accidents (when the Sailor's been driving! 😉). Third party providers at the car hire are often well overpriced, so we always arrange comprehensive protection through
Rental Cover
who offer a great rate.
---
The Route
From the carpark, follow the pink ribbons and triangular markers for about 700m to the official start of the trail.
Carpark to the Trailhead
Soon you'll cross a small stream and then pass an old broken car, which is a sign of things to come. 😉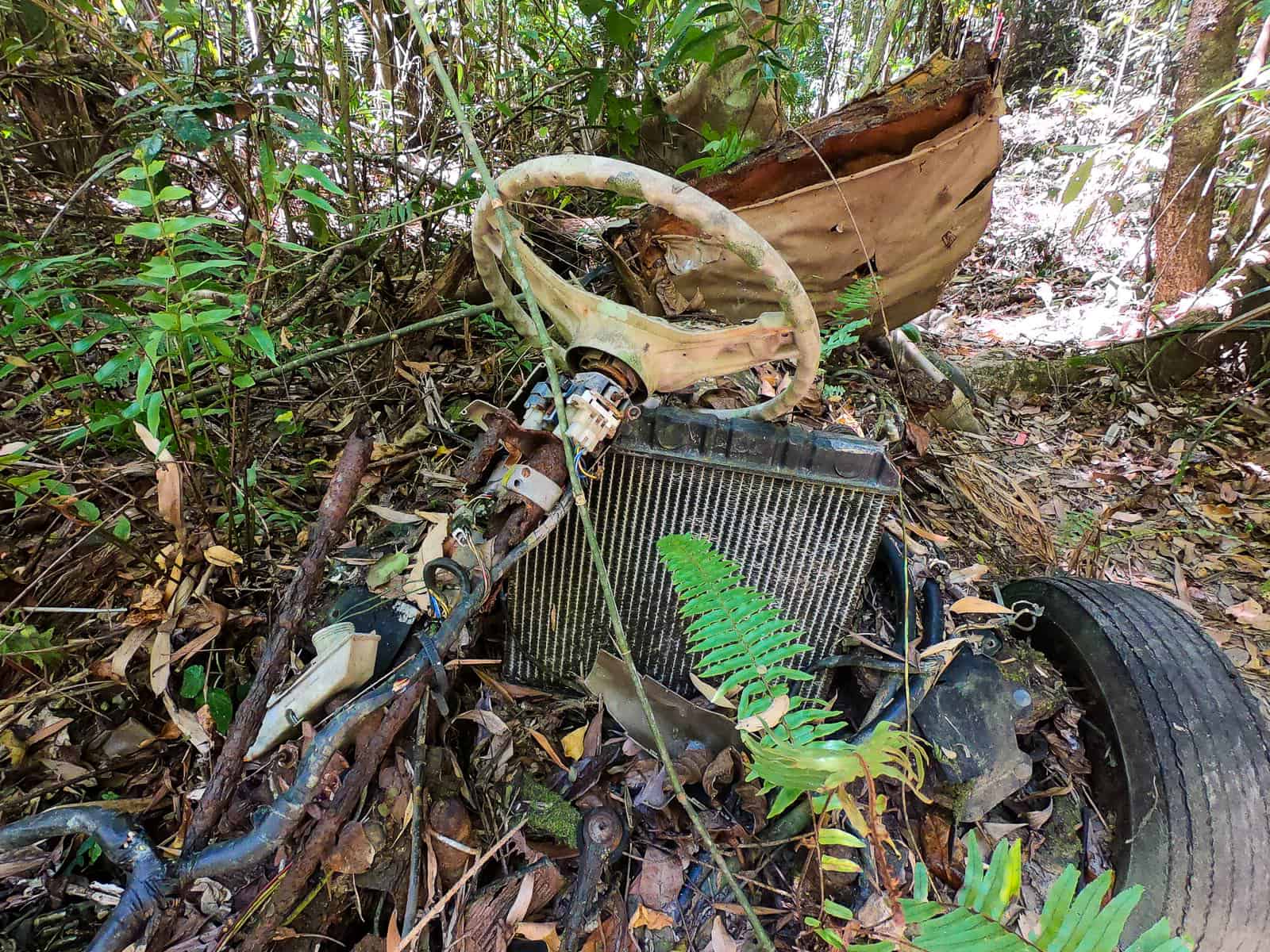 2. After a little trot, you'll see a stunning house on your left. I thought it was a guesthouse but it's a private property, so be mindful of that when you travel through and bear right.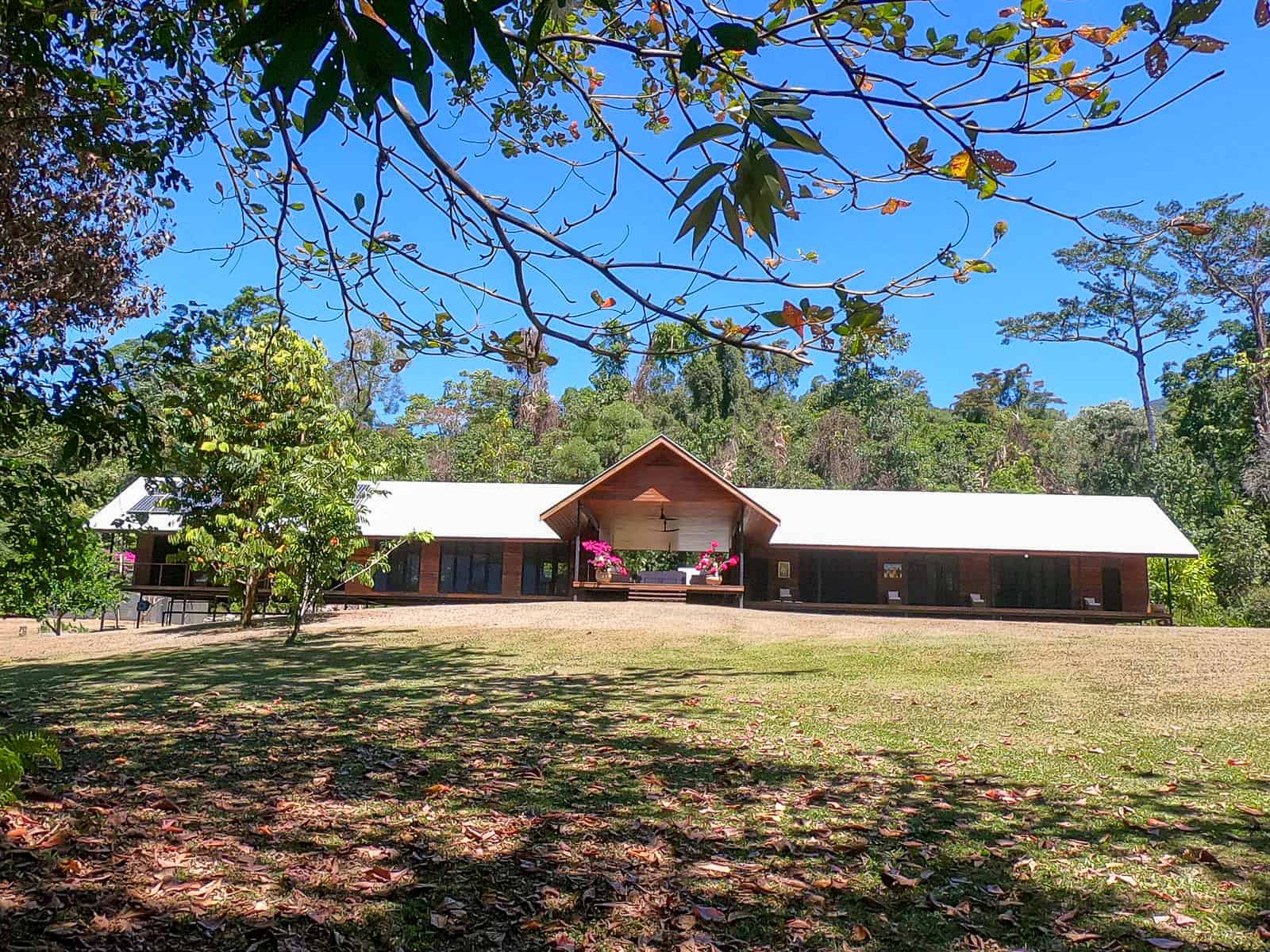 3. After you'll approach a bigger stream called Little Falls Creek which you'll need to follow downstream for about 30 meters before crossing it. It's a bit slippery here so watch your step.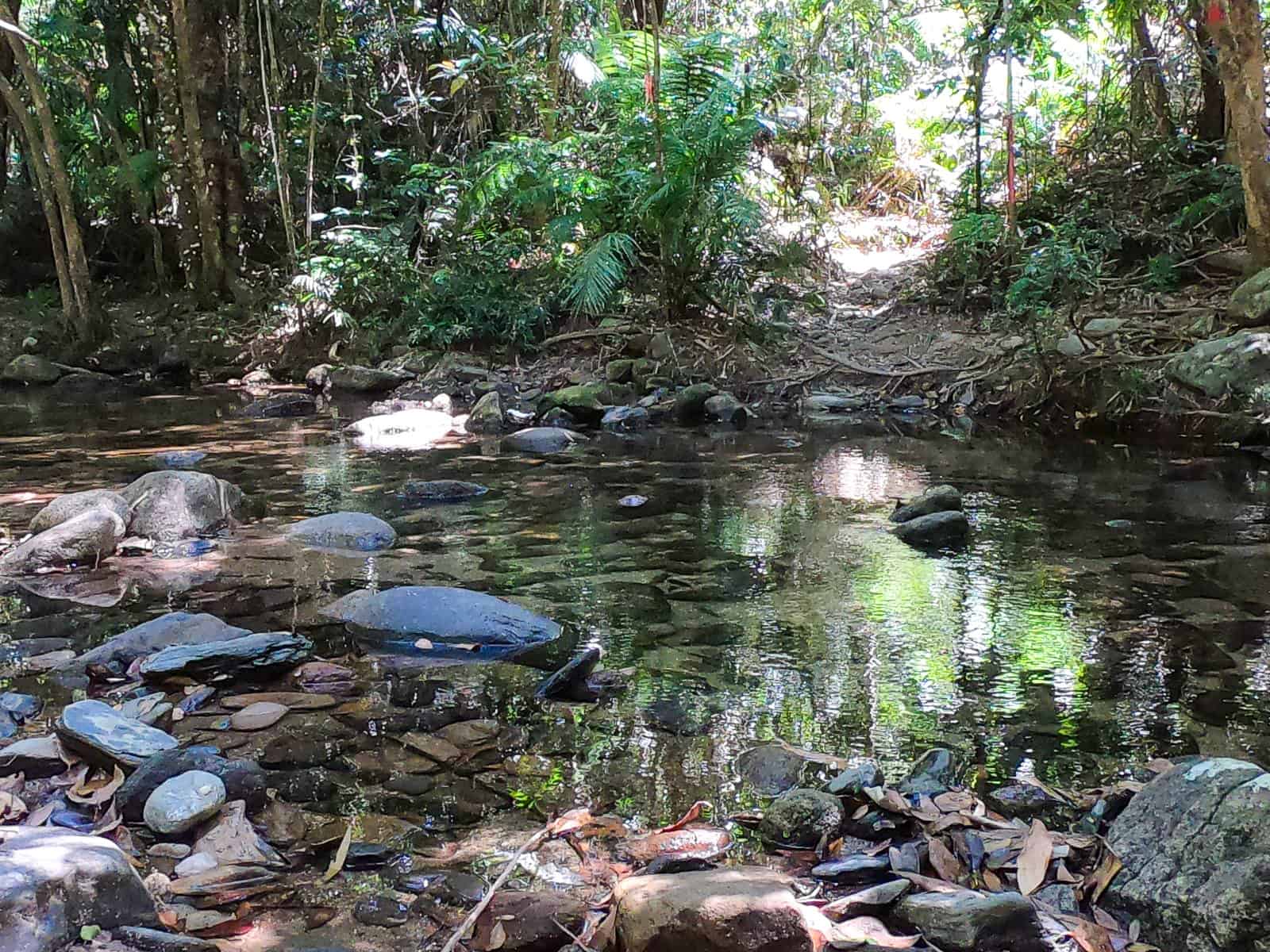 4. The trail then fools you into thinking it's going to be flat for a bit before abruptly sending you uphill…just before that happens you'll see the official trailhead sign. Now get ready for a mammoth uphill slog, only to find out you've just completed a laughable 1k! 😳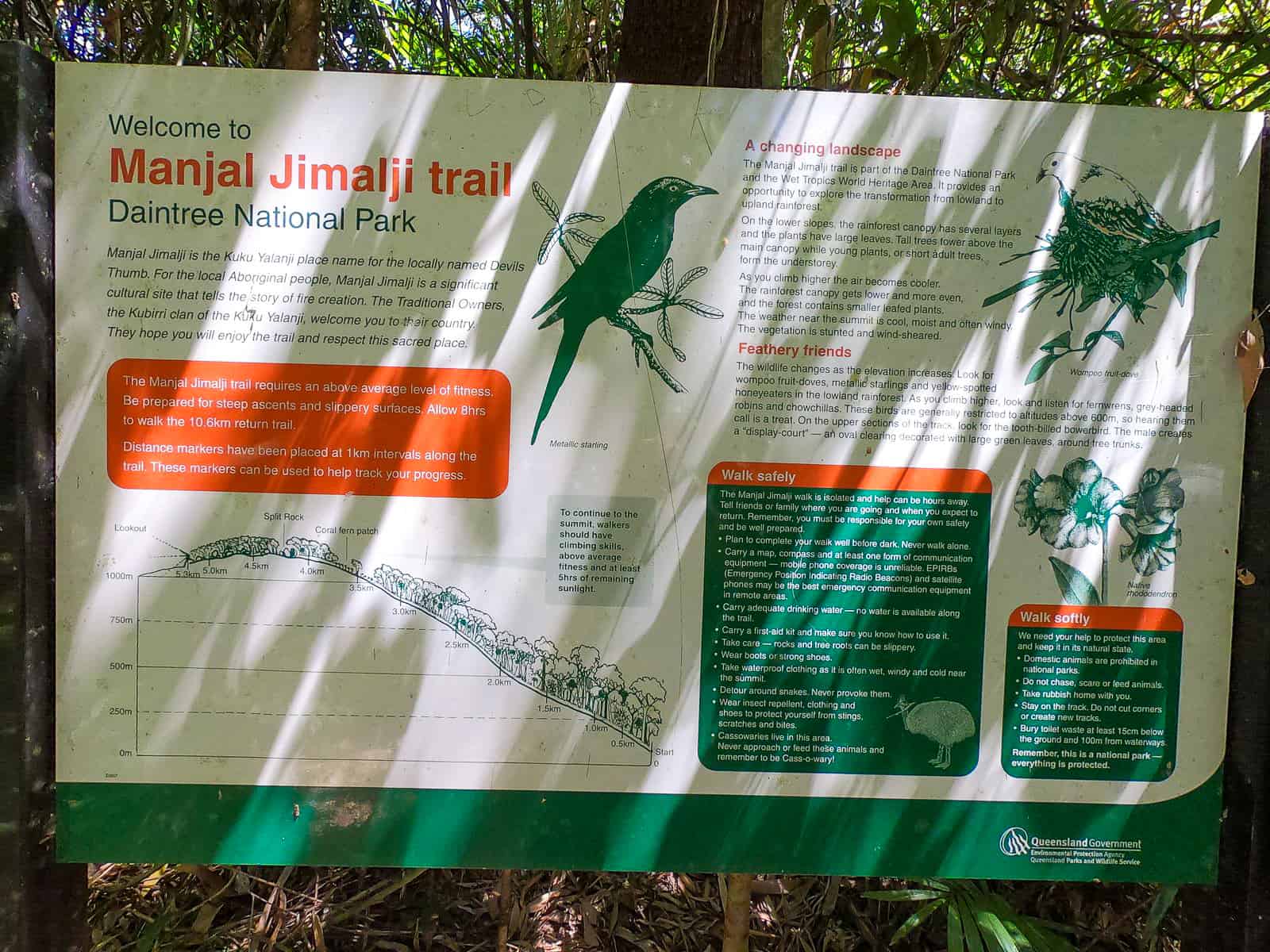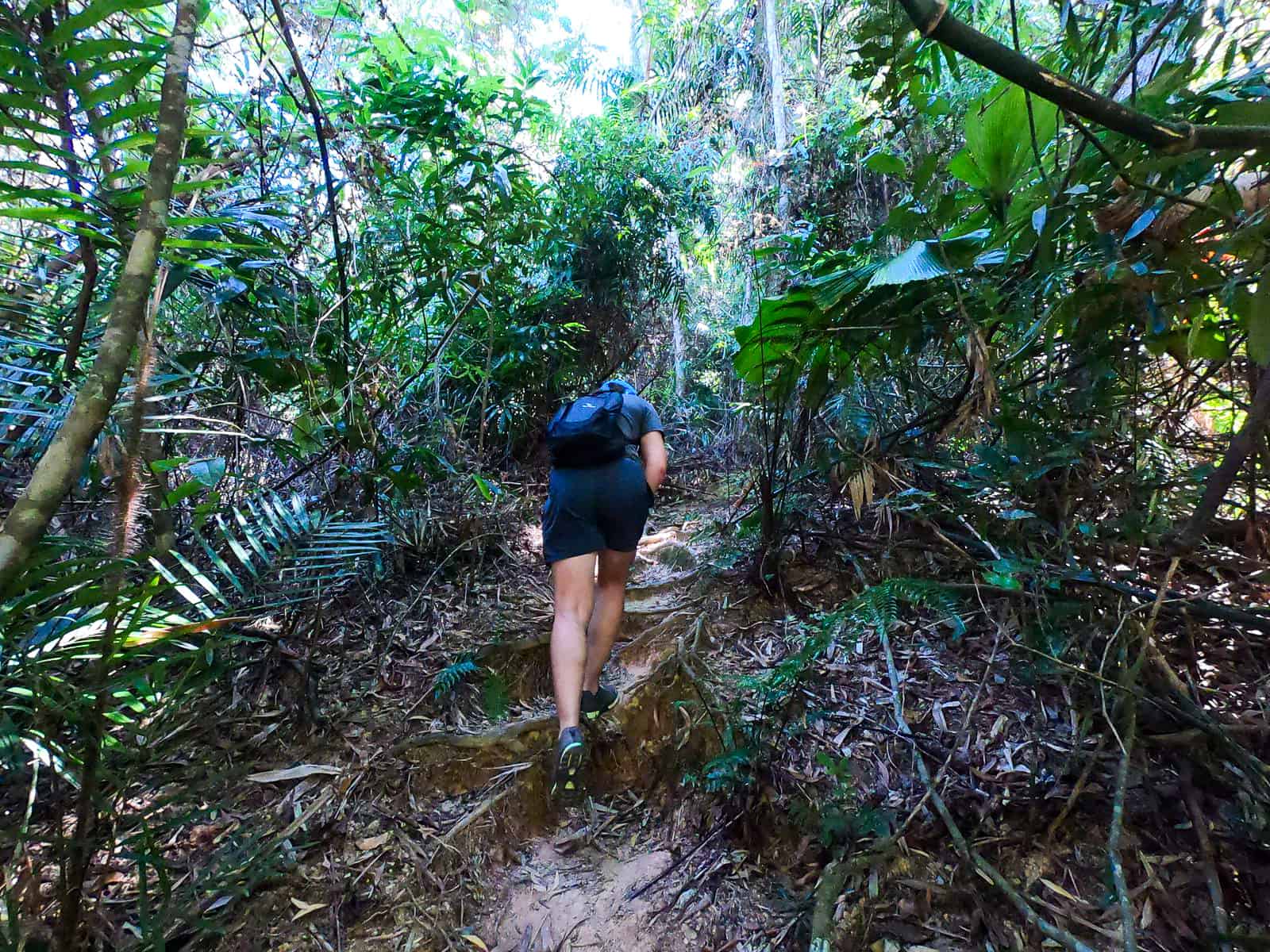 1. The Start to Karnak Falls (1.5km)
Continue uphill… (are you feeling it yet?!) Erm, this is probably not the best time to tell you this is the easiest part! 😆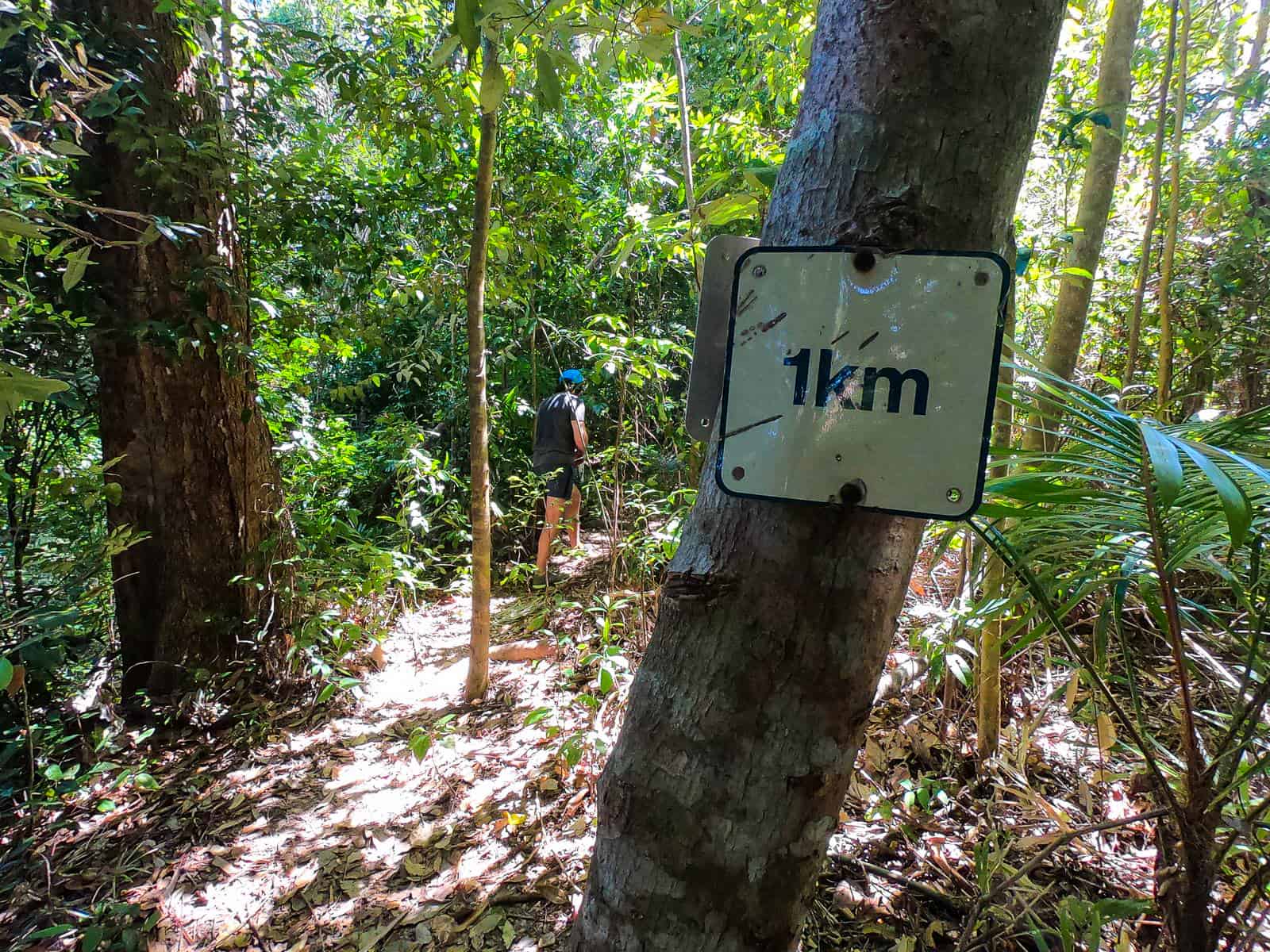 After about 1.5k there's a fallen tree at eye-level and a pink ribbon on the left marking the 10 minute detour to Karnak Falls. 👇🏼
If you're not doing the full track and fancy cooling off in the stream then head down, though be careful as it's REALLY steep. The marker is easy to miss but you'll hear the water rushing nearby too, so just keep your hawk-eyes peeled.
Once at the bottom, there's a rock pool which sits just at the top of the falls. Once you're done here, retrace your steps and head back onto the main track.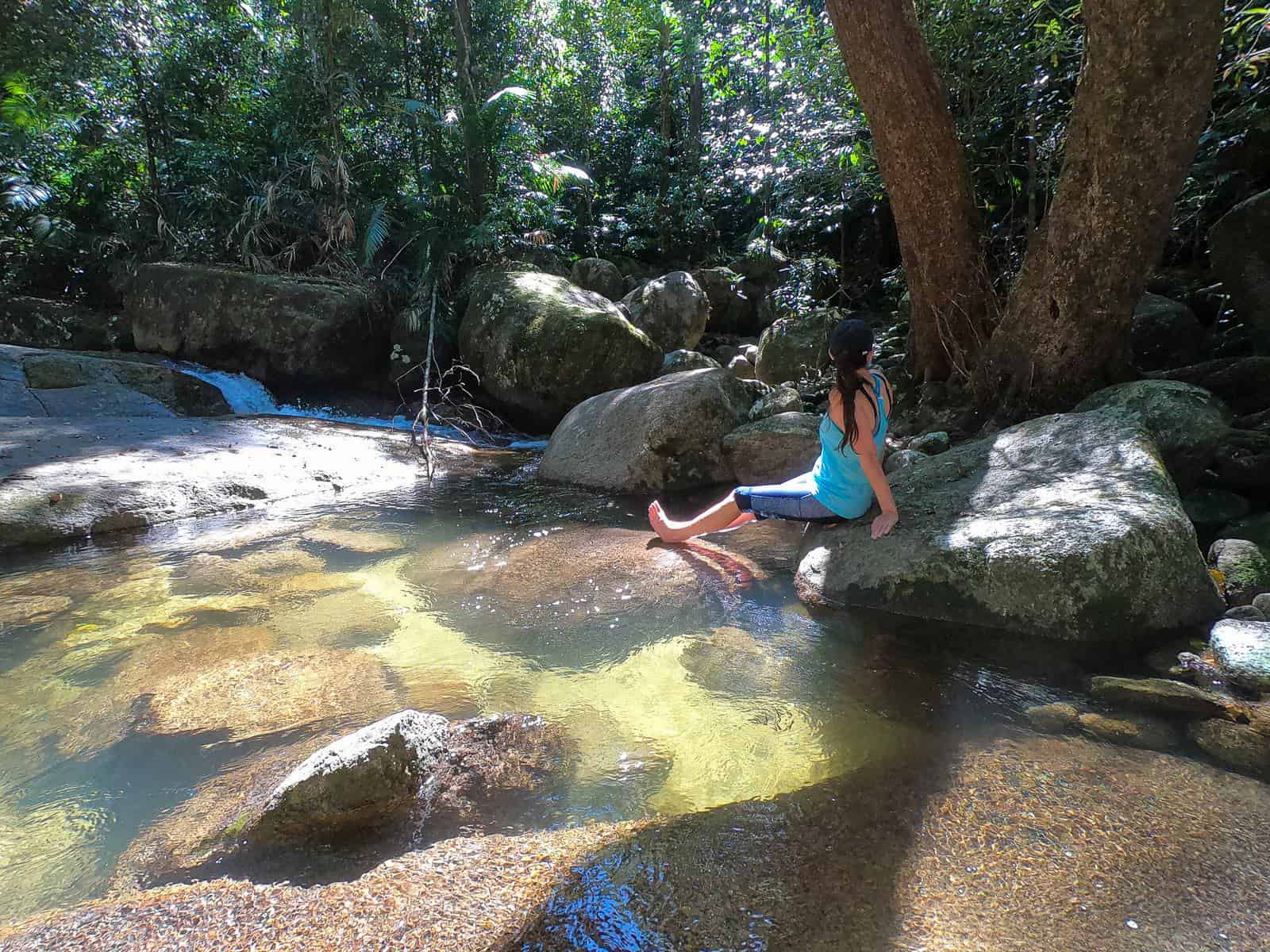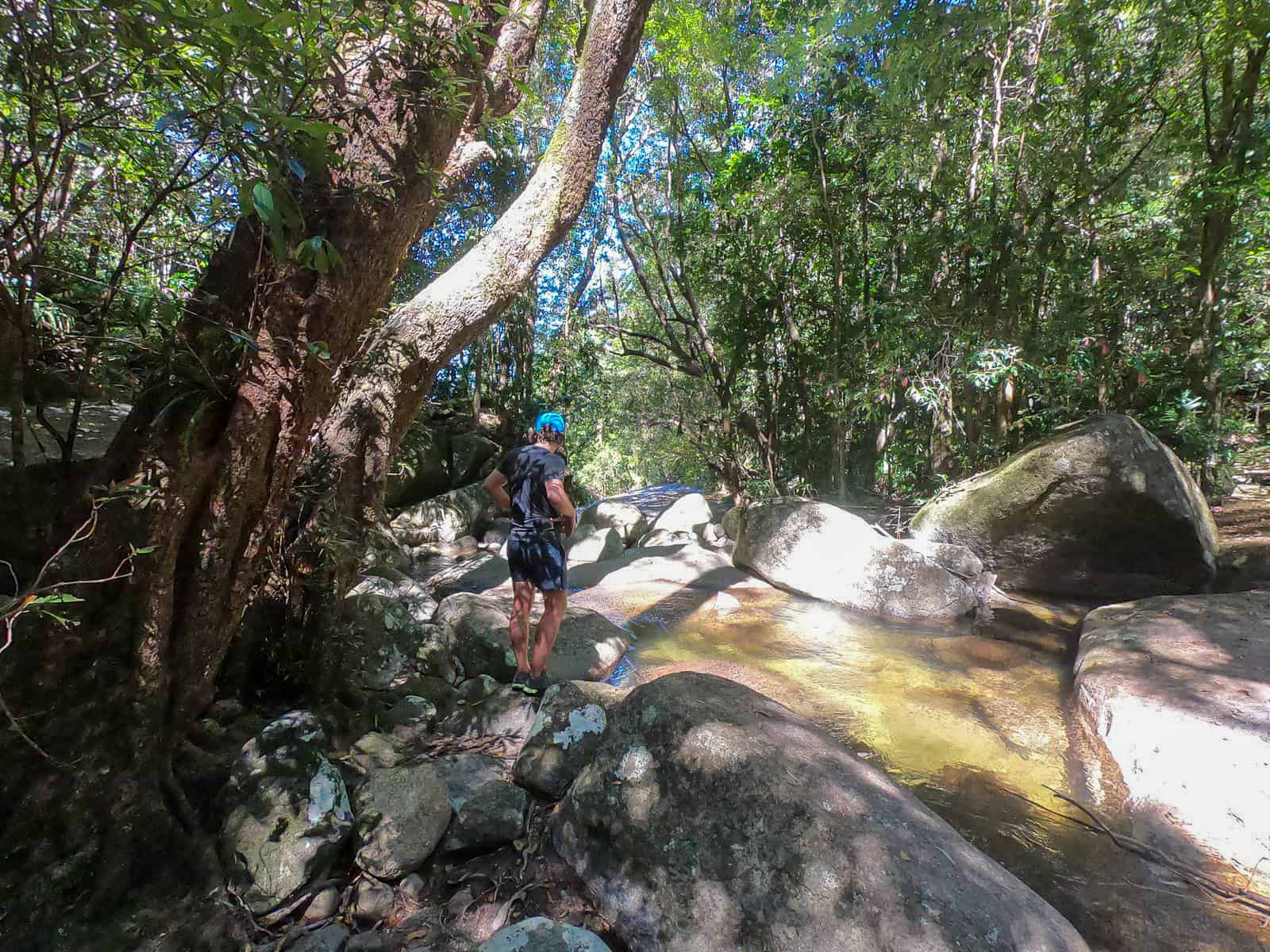 2. Karnak Falls to The Coral Fern Patch (2km)
Continue up, up, up, ducking and diving over fallen trees. This was one of the hardest parts for me as the trail just seemed to go on forever!
When everything feels like an uphill struggle,
Just think of the view from the top!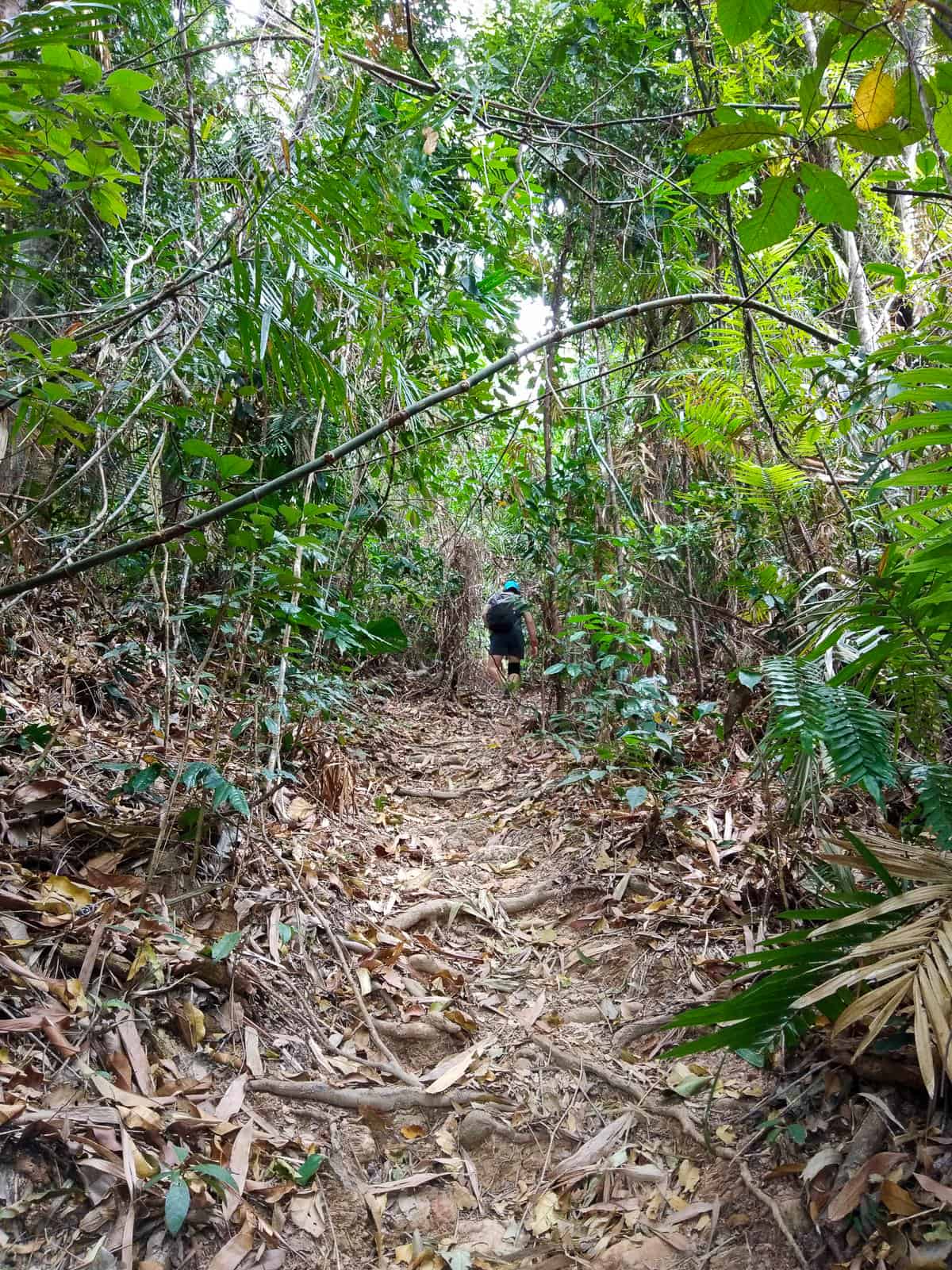 At some point you'll cross this interesting tree that looked like it had a freaky baby growth.
The birdsong should be pretty impressive from here too. After bout 3k up, you'll begin to see glimmers of hope through the trees. (Note: watch out for leeches).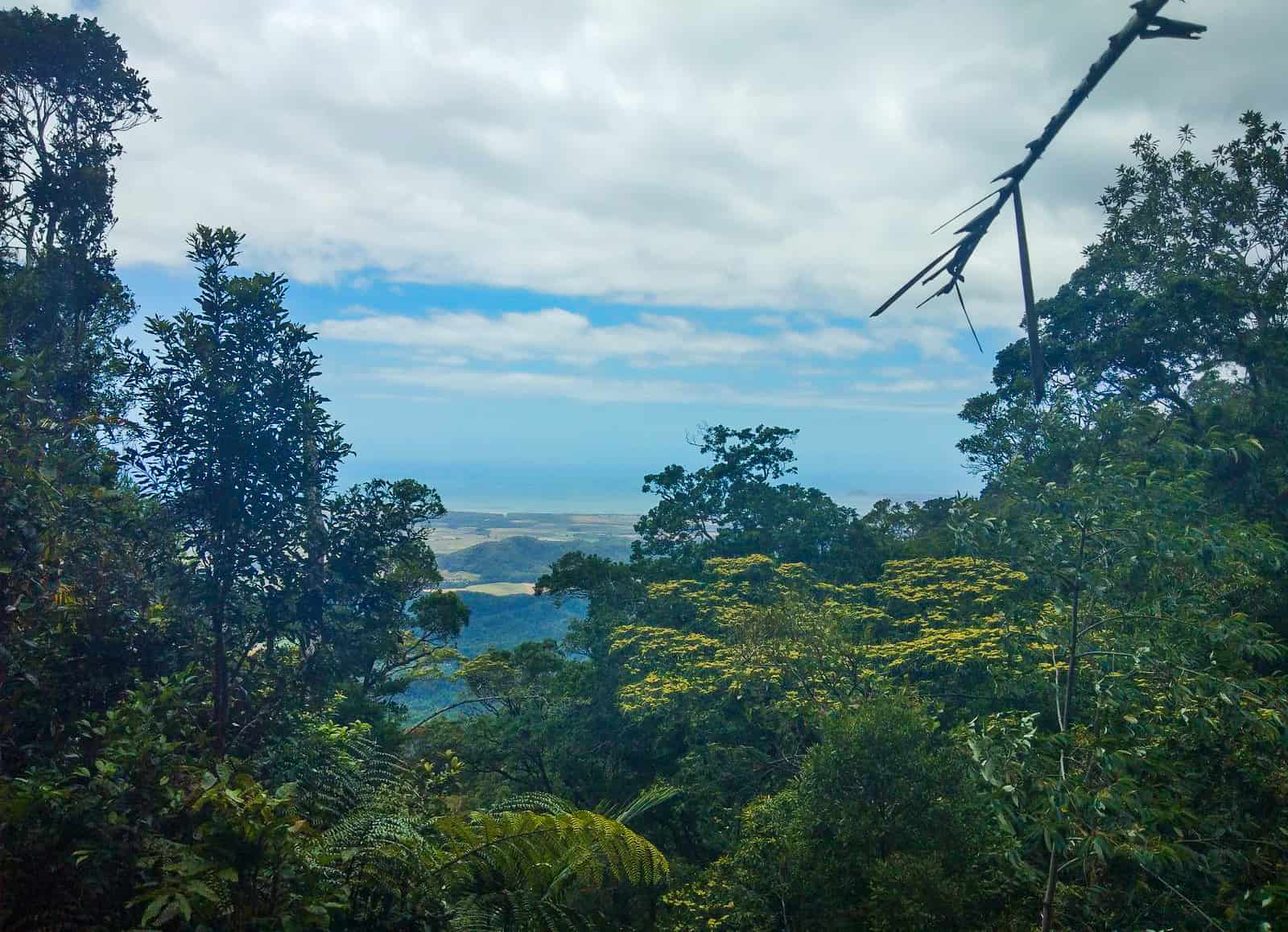 Then after climbing 920m and 3.5km, you'll emerge onto the long awaited Coral Fern Patch. Hip, hip, hooray!!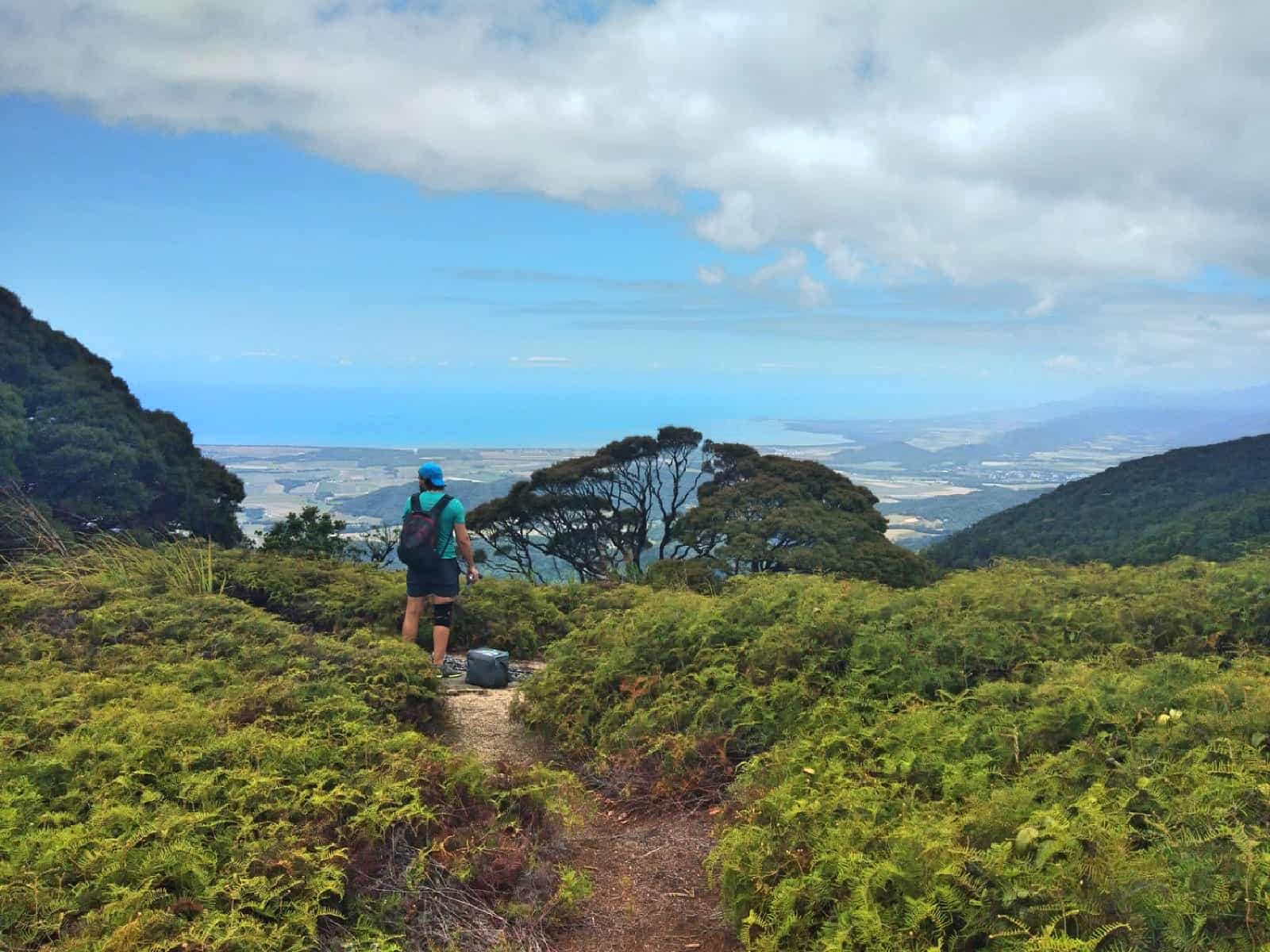 We brought a little picnic with us and stopped for about half hour to relax and soak up the views.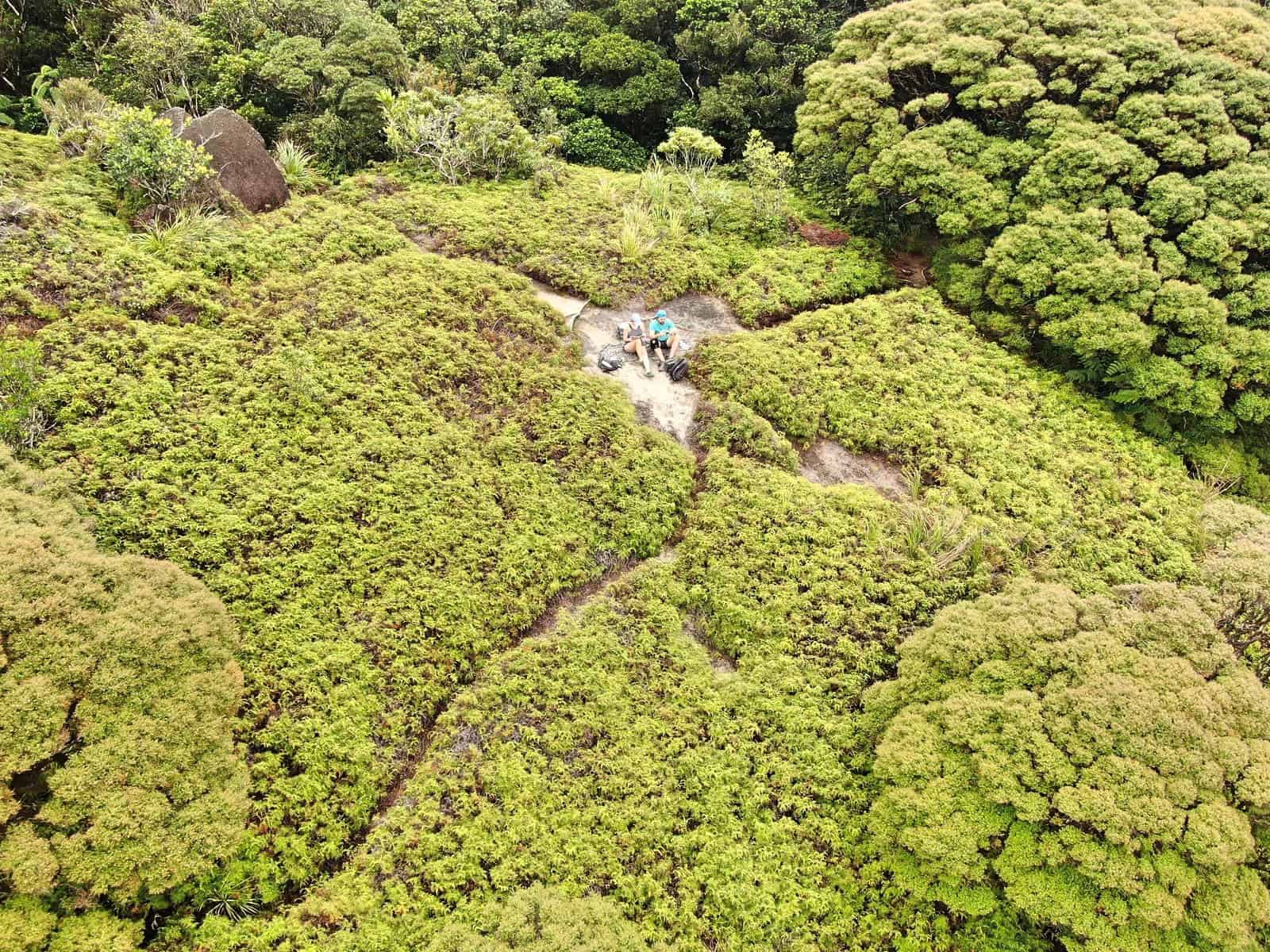 It's claimed by historians that on this patch, Chinese miners used to grow opium poppies. I can believe it, but there's no evidence of that now.
The views here are stunning, but when you go a bit further up the patch they're even more amazing.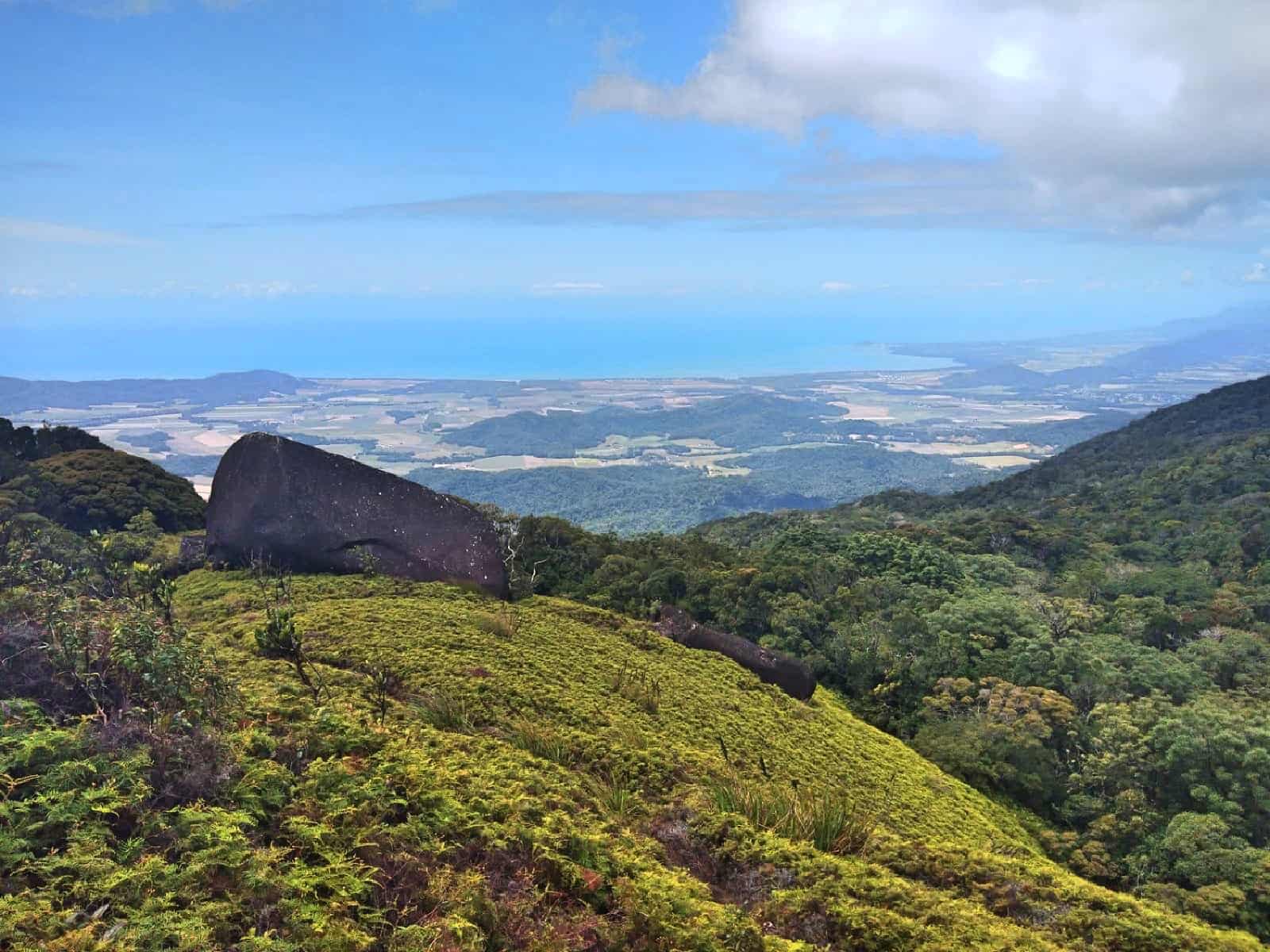 After continuing up a bit more and going up a ladder, you'll get unobstructed views of the entire coastline. It's a sight for sore eyes.
Now it's time to decide whether you have enough time and energy to continue to The Devil's Thumb Lookout. From here you'll need a further 5 hours of daylight to finish the entire track (it's about a 2-hour return walk back to The Fern Patch from The Thumb). Proceeding? Let's go! 🙌🏼
3. The Coral Fern Patch to The Devil's Thumb Lookout (1.8km)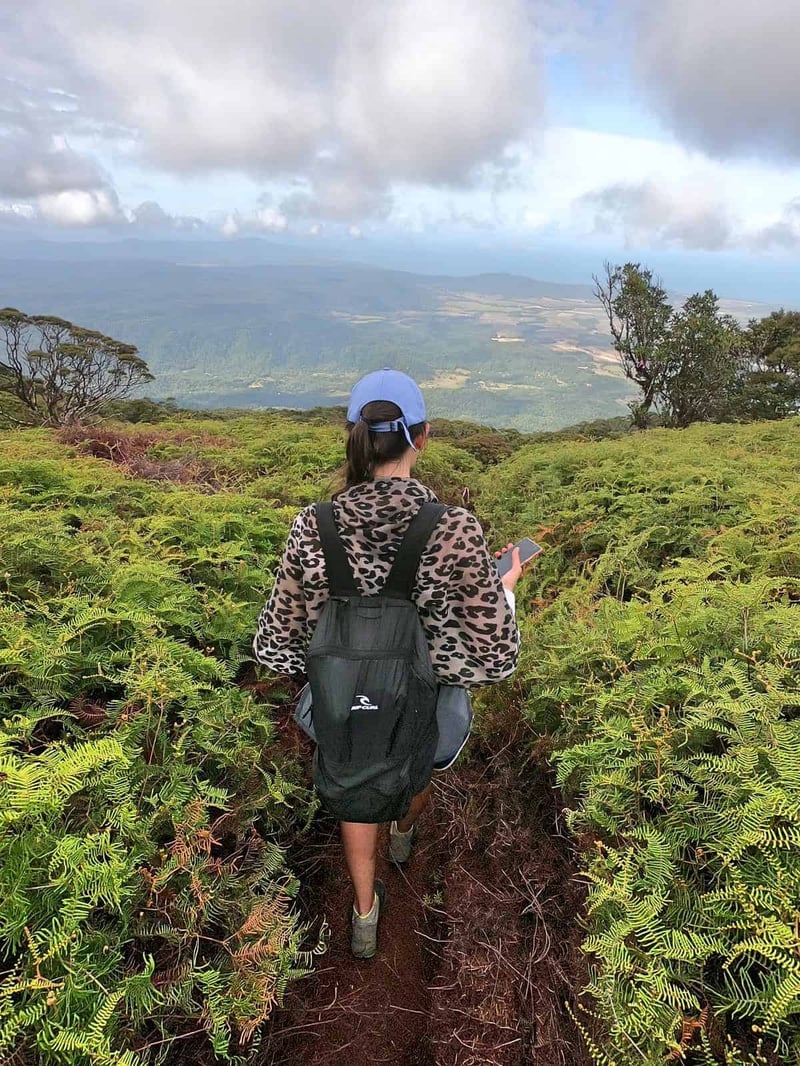 Finish bouncing through a second fern patch and the track will take you back into the rainforest.
Keep your eye on the pink ribbon markers as the trail here is a bit less worn and distinct. I don't think I've ever felt so deep and remote as I did in this bit.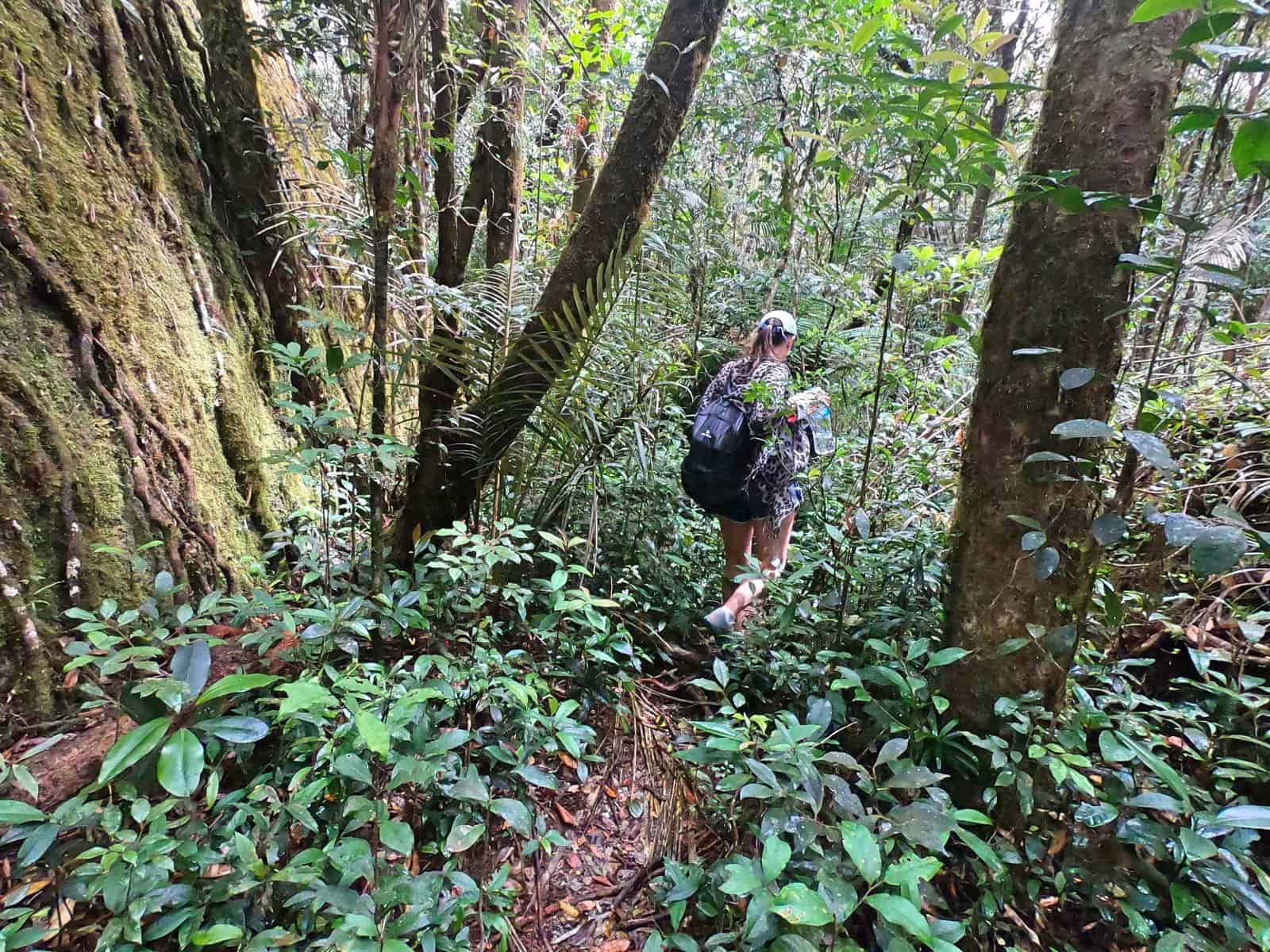 The track here isn't as steep and even levels out a bit with some downhill into the valley. It felt long though as you're covering another 1.8k of ground until you hit The Devil's Thumb Lookout.
After about 500 metres or so you'll reach split rock. 👇🏼 Yup, you guessed it. You need to climb over that thing!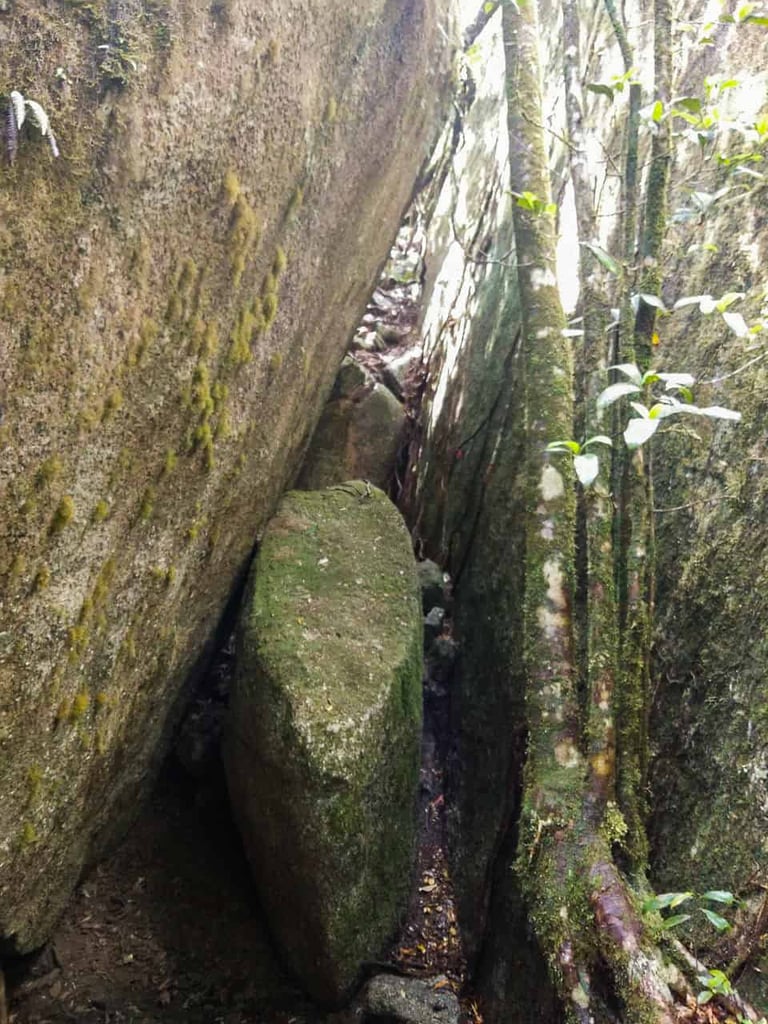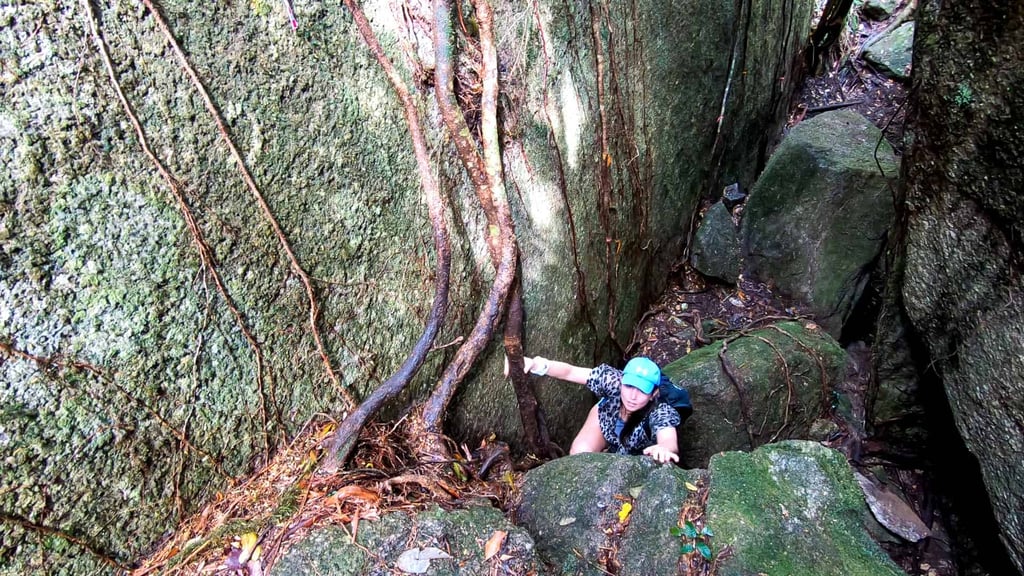 Grasp onto the vines to help push yourself up and be careful as it's tight, steep and slippery.
If you really think you can't manage it, then my hiking book says you can go around it via a small trail on the left. But I think we looked and I don't remember seeing it! You may have better luck though.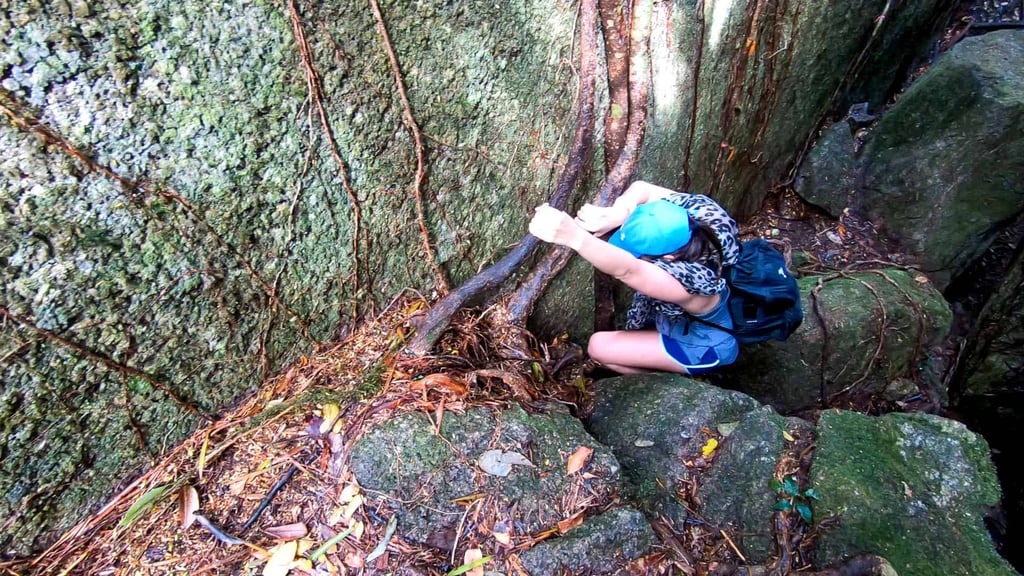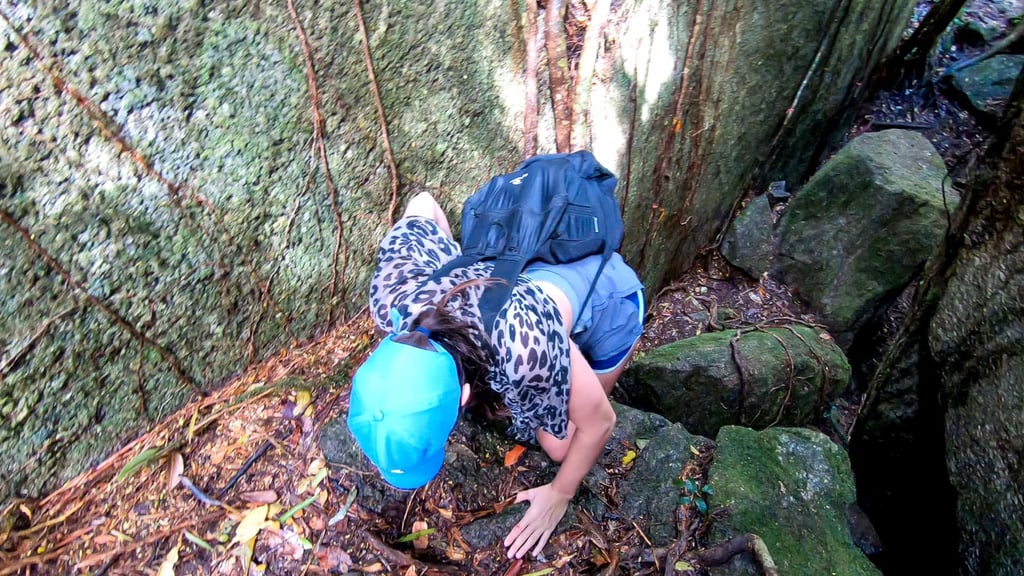 Once over, dust off your hands and continue on for about another half hour. Soon you'll pass the 5k mark (finally) and reach some large granite boulders below the crest of the ridge …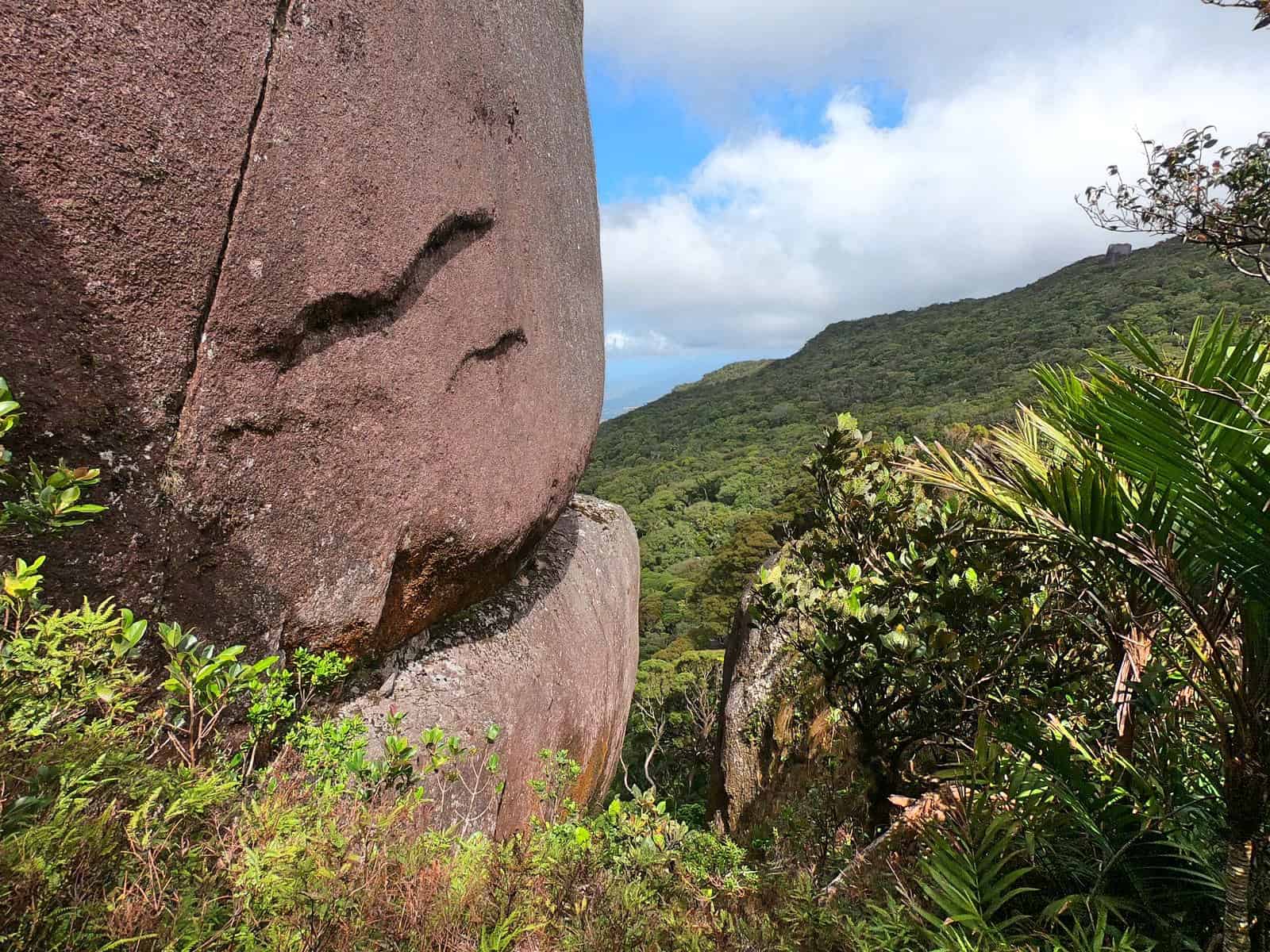 Now you're at the final climb. As there's a rope I found it less difficult than Split Rock, but you'll still need some muscle to get you up. Then cross the bridge until you reach the moment you've been waiting for!
Hold on to your hats and soak up the views! It's pretty impressive right? I had adrenaline pumping through me for a good hour afterwards. Hopefully it's not shrouded in mist or cloud so you can see the lush rainforest and coastal vistas.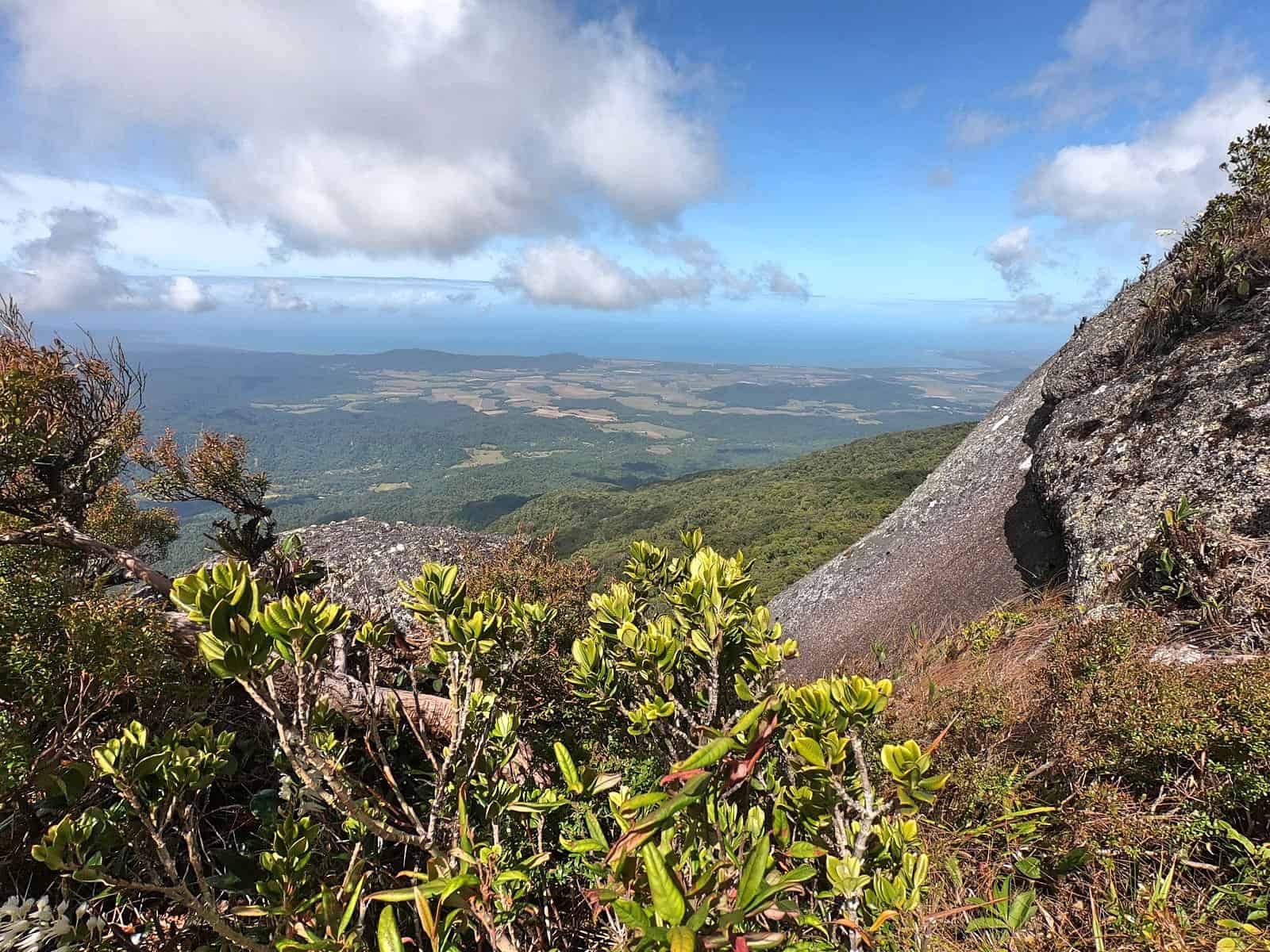 Now where's that chairlift?! 😁
Tip
: By the end of the hike, I know you'll be dreaming of a Jacuzzi or heated spa bath like we did! Plan ahead and check out my favourite
hotels & resorts in Port Douglas
.
---
Tips For The Trip 🤸🏻‍♀️
◇ Complete this hike during the dry season (May to September) as temperatures will be cooler and it'll be less wet. Don't even consider the hike if it's raining.
◇ Arrive early, ideally around 8am if you're planning on reaching The Devil's Thumb Lookout.
◇  Bring a litre of water per person minimum (we had 1.5l each and still ran dry towards the end), and a snack or light lunch.
◇ Lather on the insect repellent! It gets a bit chilly at the top so you may also wish to bring something to wrap around you too. Take a cap and sunscreen.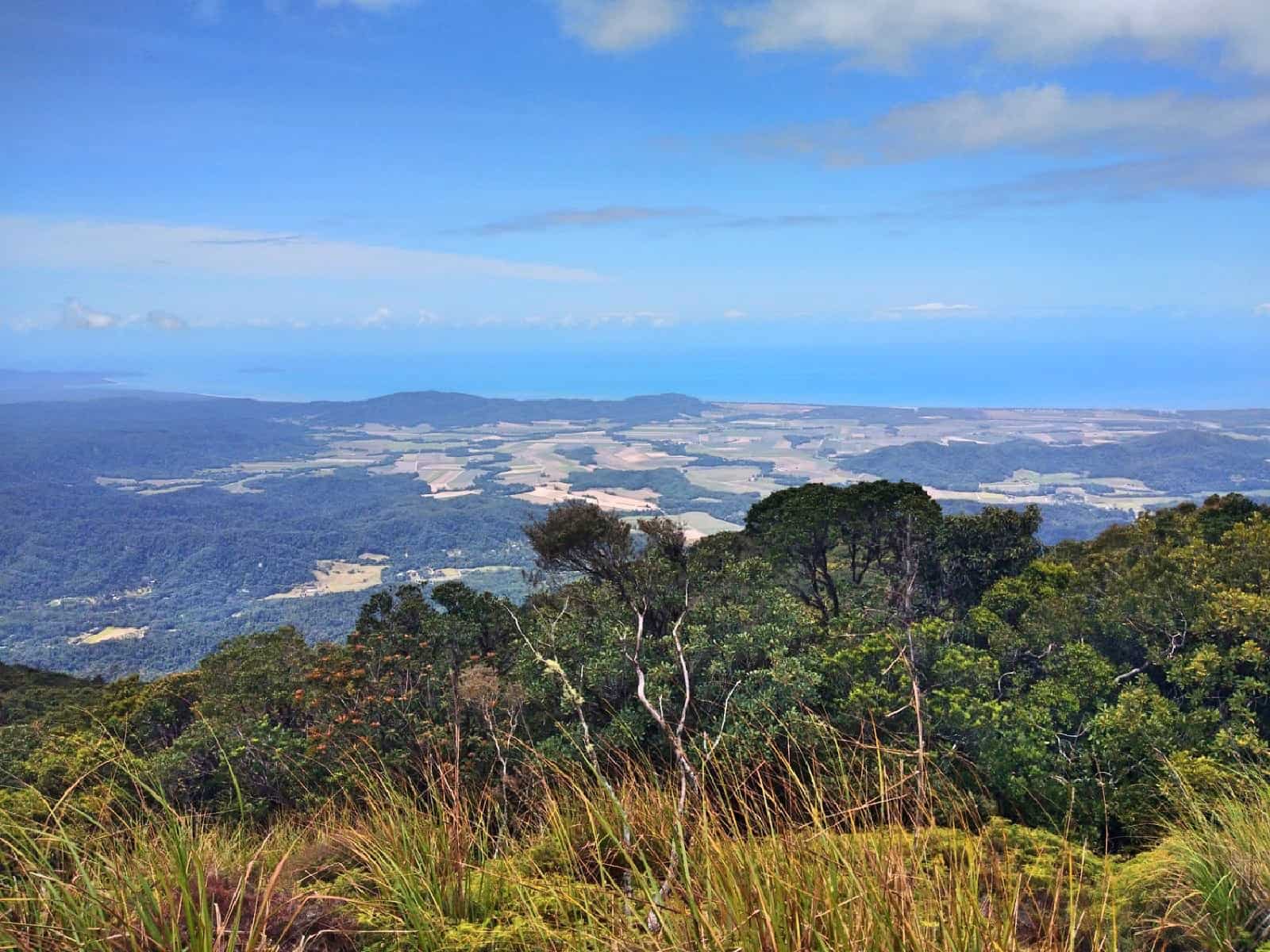 ◇ This track is really remote and difficult. If possible, tell someone where you're going before setting out.
◇ Like anywhere else in Straya, snakes could be about. If you see one just slowly back off and let it continue on its way.
◇ Once home, check yourself for tropics-loving paralysis ticks. Having one on you for too long can lead to flu like symptoms, rashes, partial face paralysis or in worst case scenario, lead to anaphylactic shock. To help prevent their latching, use a jungle strength insect repellant with DEET or Picaridin, which will also repel mozzies.
If you fancy checking out other tracks in the region then my new
hiking bible
'Best Walks around Cairns & the Tablelands' by Nat Geo is a goodie.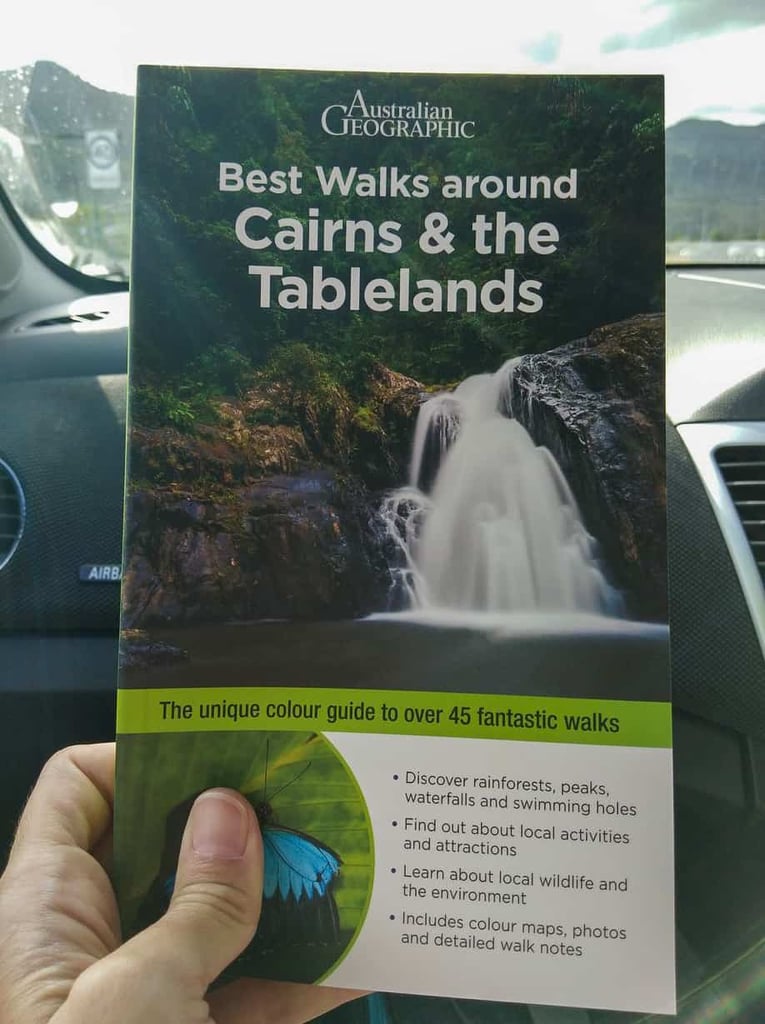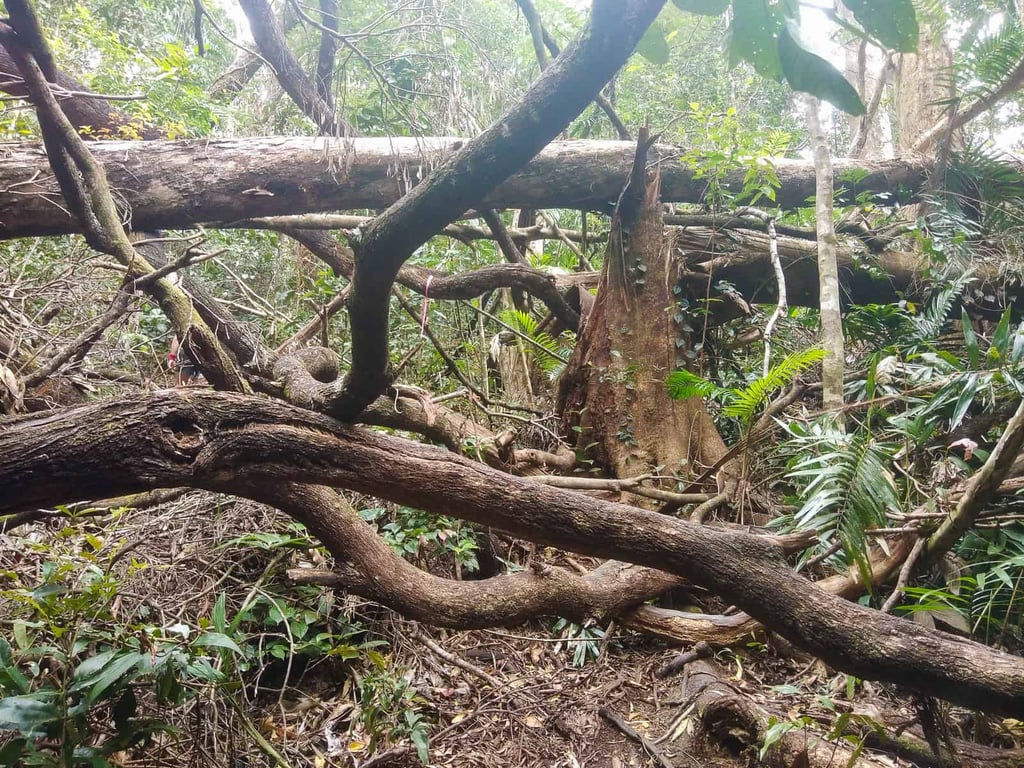 * * *
So that's it! I hope you found this guide useful and I'd love to hear about your experience if you had a go, whether it be good or painful.
Strenuous hikes like this aren't for everyone, but for me The Devil's Thumb was a turning point in my hiking hobby and gave me the resilience to go a bit further. So…
If you're a steely adventurer and fancy something even more epic scale near here (yup, this region has it all baby!) then check out my latest post on hiking Queensland's highest mountain, Mount Bartle Frere.
---
Like it? Pin it for later!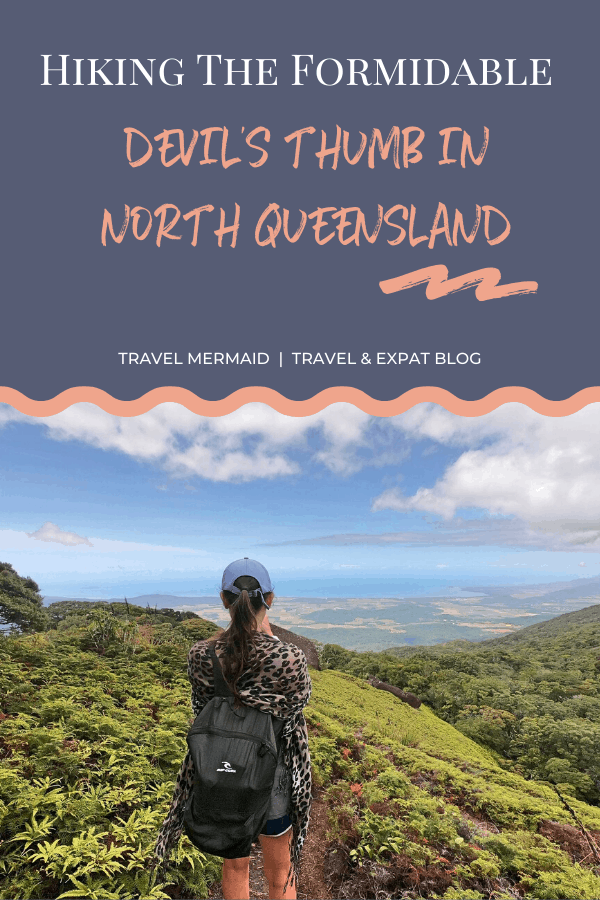 Disclosure: In this article I've included some useful links of which some are affiliates- at no cost to you- to help keep this website running. 🤙🏻
XOXO