As a local I've come to know many hotels and resorts in town. So to help you choose your accommodation in Port Douglas, here are my top picks for a range of budgets!
---
For a good couple of decades after the Sheraton Mirage opened up in Port Douglas, the town was branded a "luxury" destination- but thankfully it diversified. Whilst there's still a very sturdy catalogue of high end stays that dominate the market, nowadays it houses a range of accommodation for all budgets.
Situated in a semi-remote peninsular on one of Australia's best beaches, accommodation in Port Douglas is understandably pricier than Cairns. However it's still much better value than what you'd pay in Sydney, Melbourne or other southern hotspots.
Unless you stay in a campsite or backpacker style accommodation which go for less than $100 per night, then expect to pay between $120 – $220 for somewhere decent. For higher end stays, you're looking at anything from $300 and up.
I've lived here for nearly two years now and know many hotels well (you've got to spice up your pool days every now and then!). So to help you plan your trip, here are my top accommodation picks in Port Douglas that I'd personally be happy parting cash with.
Where To Stay in Port Douglas
This town is small so nowhere is too far. It's basically a five mile road that stretches parallel to the beach with homes and resorts either side. The majority of bigger hotels are located out of the "centre" as there's more space here. But trust me, you won't be complaining when you see the pool. 😉
Port Douglas township is located at the tip of peninsular, and this is where you'll find most shops & restaurants. The swimming enclosure is here too during stinger season between November and May.
Some people prefer to stay in the centre for convenience, although anywhere up to the Mirage Country Club is within a 10-15 minute walk. You can also head there via Four Mile Beach, which is only 4k long despite it's name. Hotels in town are on the smaller side.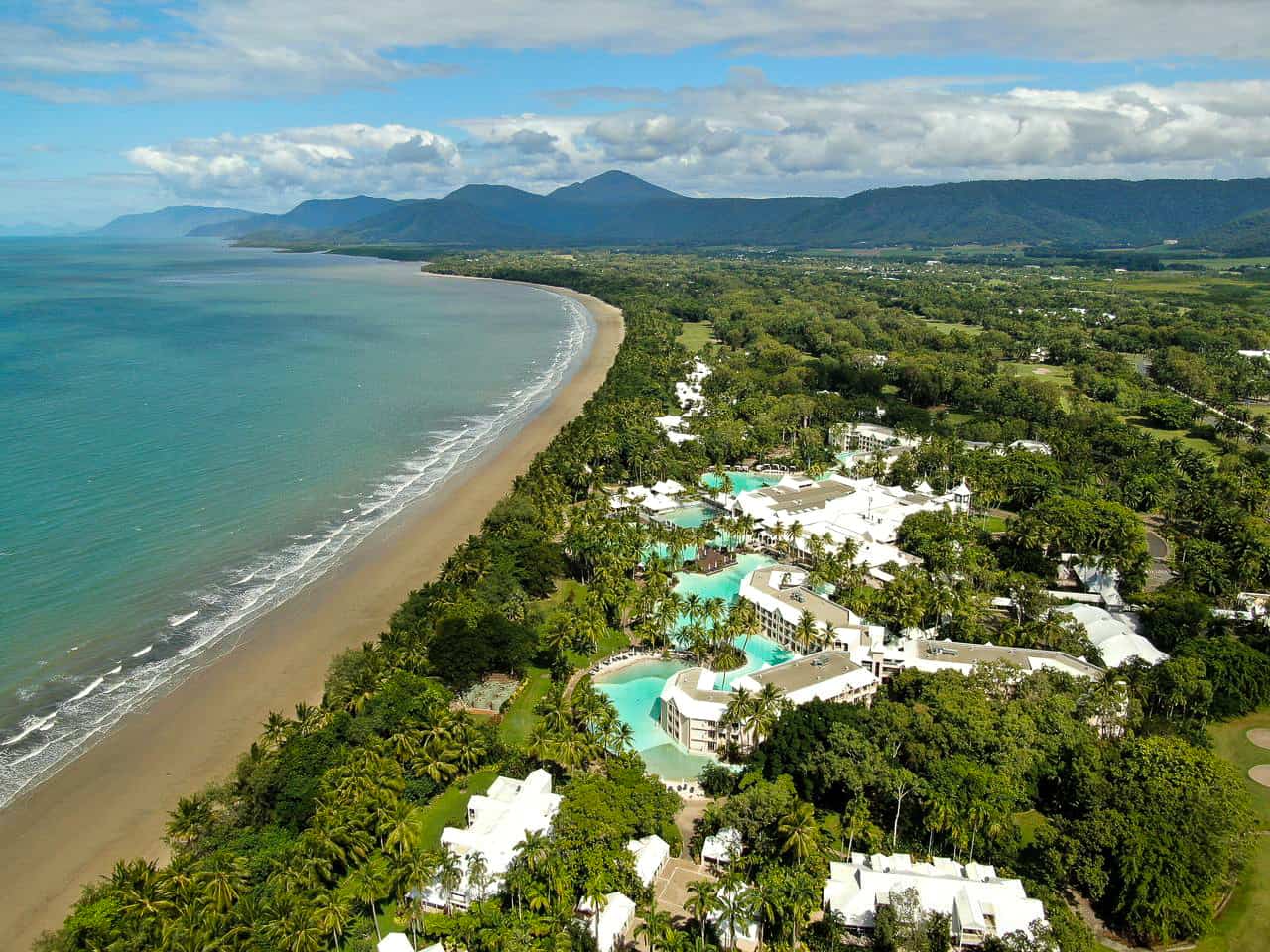 Most places offer a bike to rent for free which is my second favourite way to get around; it only takes 15 minutes to cycle the length of the beach. There's no public transport in Port Douglas and Uber is basically non-existent despite operating here, but there's a taxi & shuttle service if you need it.
If you need a shuttle bus, check out
SR Coaches
to get anywhere in Port for $5 one-way, or for a taxi contact
Maxi Taxi
.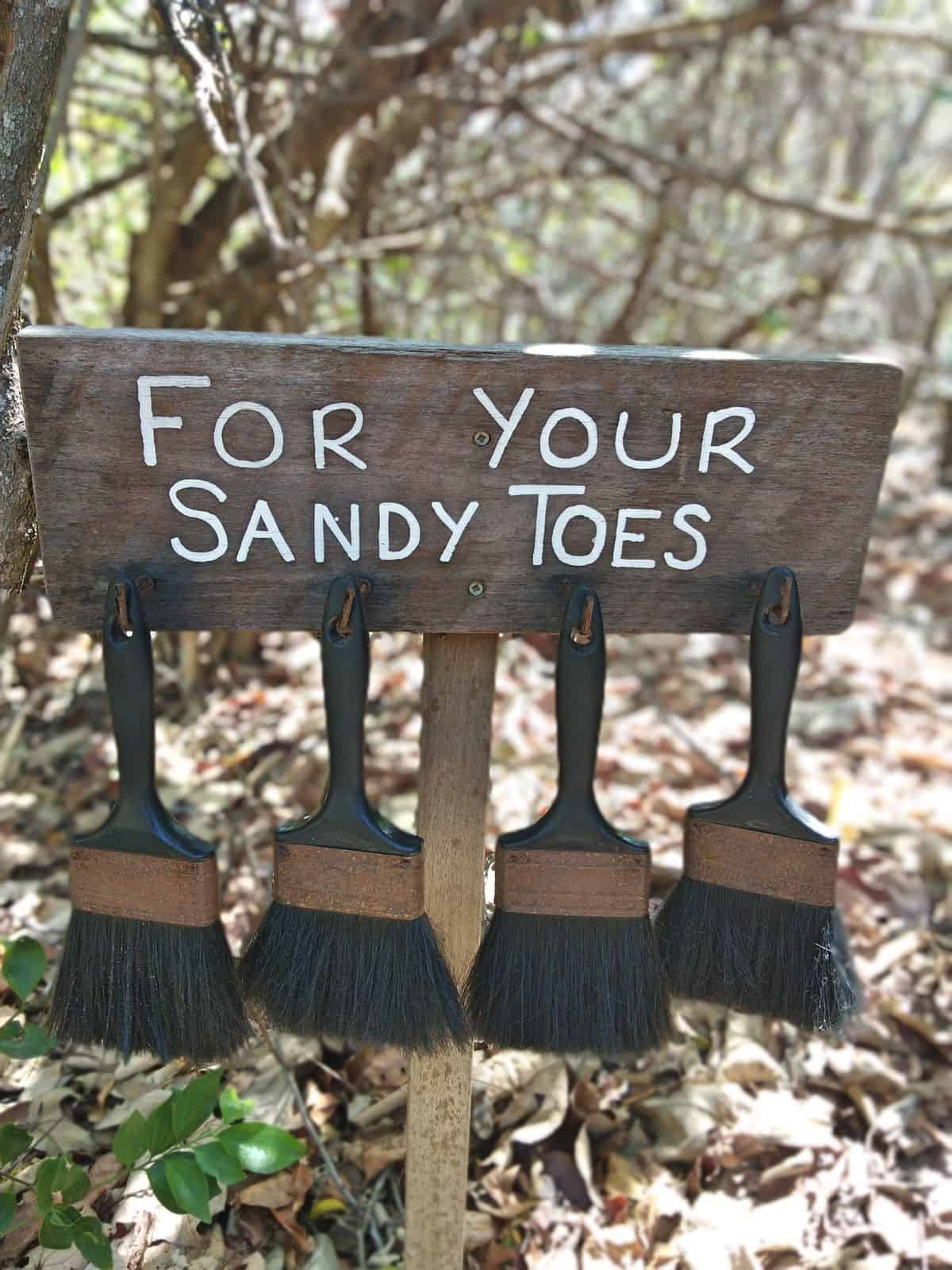 ---
Port Douglas
Accommodation
If you want to get even more bang for your buck when forking out for accommodation in Port Douglas, then stay during the low season. As a teacher though, I know it's not always possible!
The main high season runs from May to October and peaks between June-August, so many hotels will inflate their rates during this time. The other semi-high season is Christmas and New Year, and throughout the Aussie summer holidays (mid December to late January). Advance bookings are essential.
Outside of these seasons are where you're going to get the cheapest rates ~ between mid-October to mid-December and February to May (bar Easter). As rates fluctuate between seasons, use the prices below as a guide.
---
Port Douglas Accommodation – Best Low to Mid-Range Places To Stay
These resorts start from $130 – $180 per night.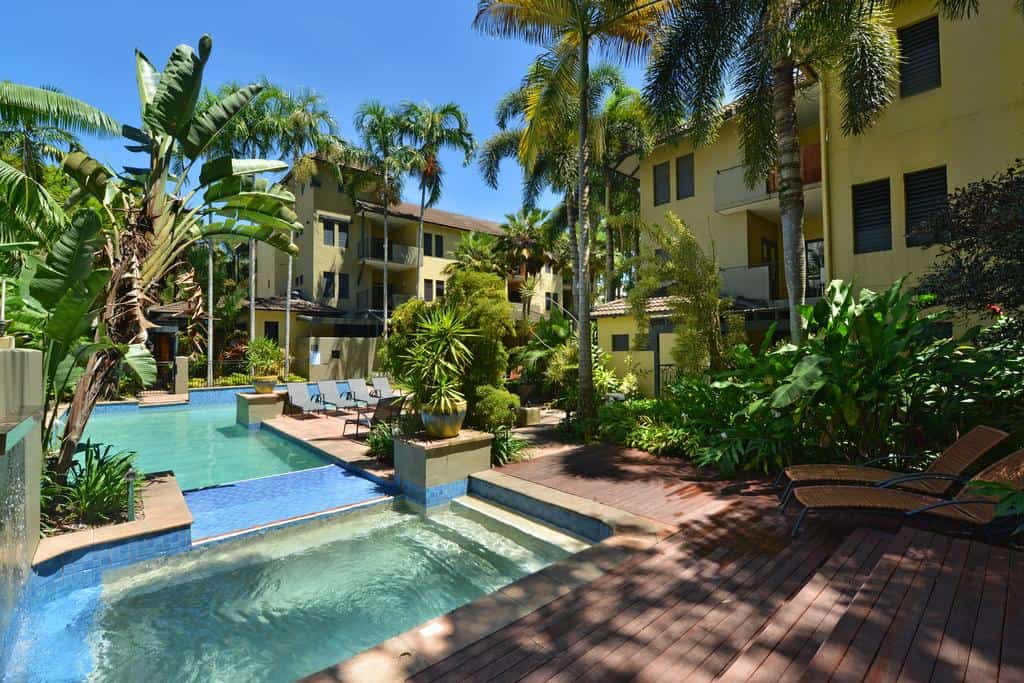 The Sailor and I actually stayed here for about 6 months when we moved to Port Douglas in 2014. The rooms are simple but well kept and have everything you need, including a kitchenette. There's a shared BBQ and the pool is a good size. It's a 3-minute walk to the beach or a 10 minute stroll to the town centre.
---

A relatively new addition to Port Douglas and also an easy 10-minute walk to town. The gardens & pool look simplistic and well-maintained, and I like the look of the modern rooms. I'm not quite sure what makes this a 'diving resort'! But for Port Douglas I think Uyoung is really well priced, and it's rated really highly on Booking.com.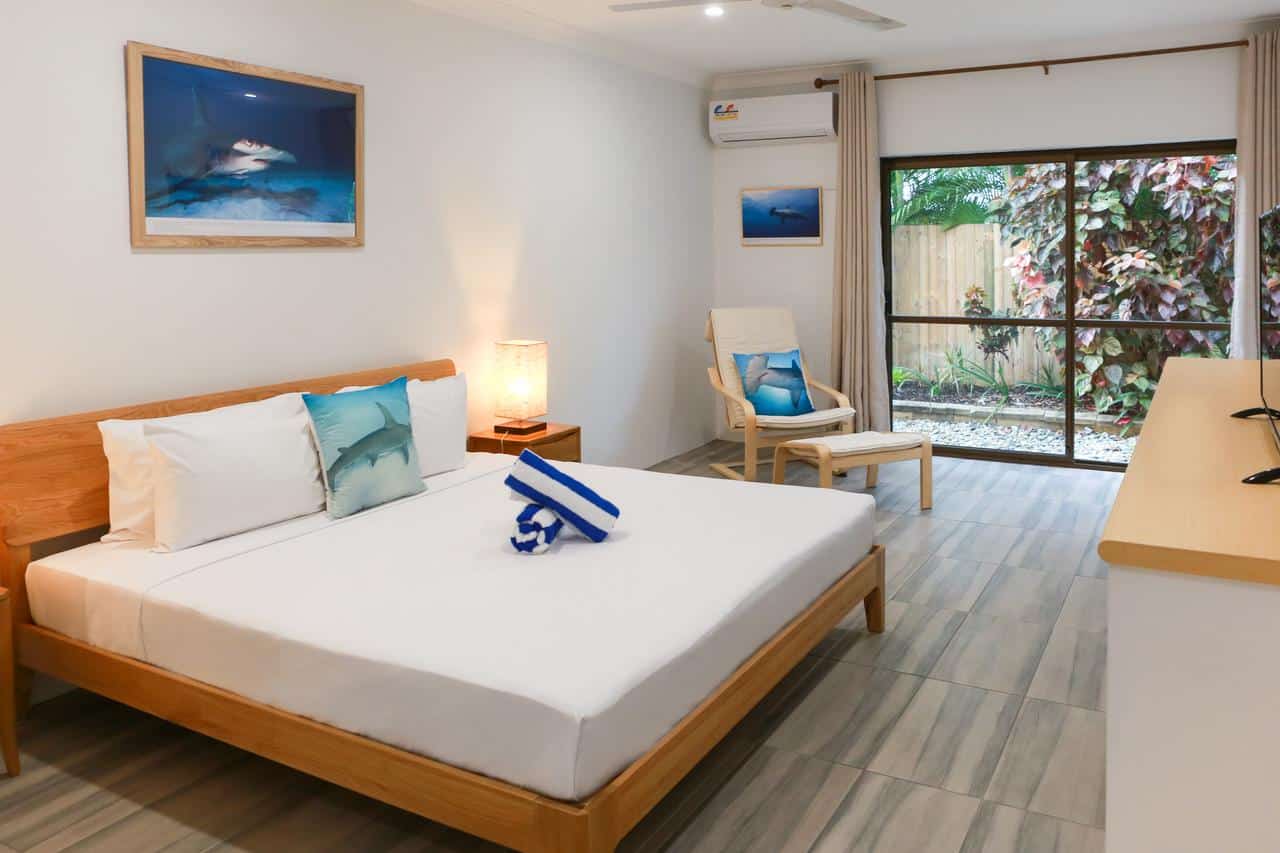 ---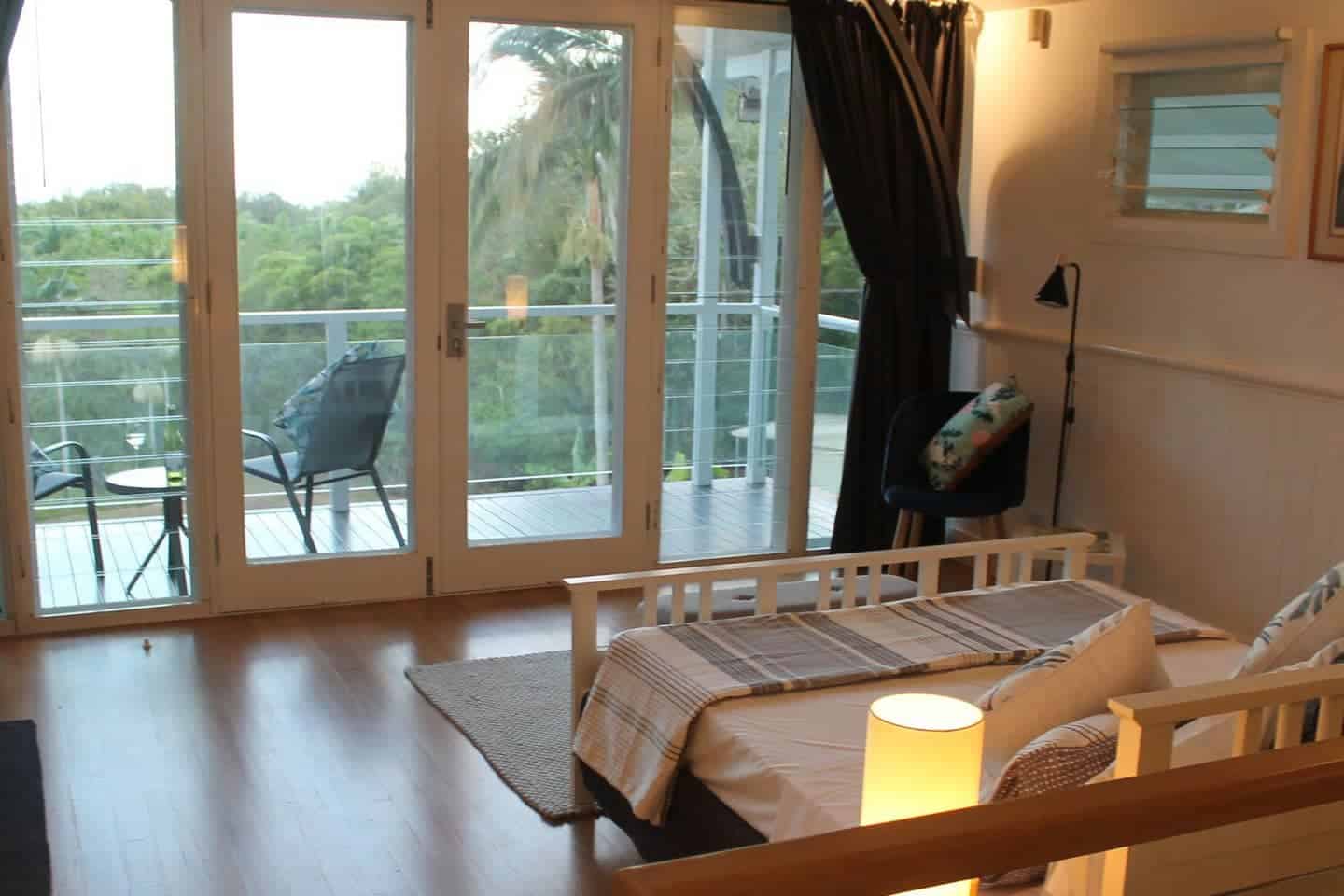 This apartment isn't in a complex and is independently listed by a couple called Richard & Marti. It's just outside of Port Douglas on Oak Beach (near Thala Beach Lodge) which I enjoy coming to for a bit of peace and quiet. It'll be a more chilled option for those with a car who don't need to be in the hustle & bustle of town. The studio is self contained, generously sized at 90m² and looks to be great value for money.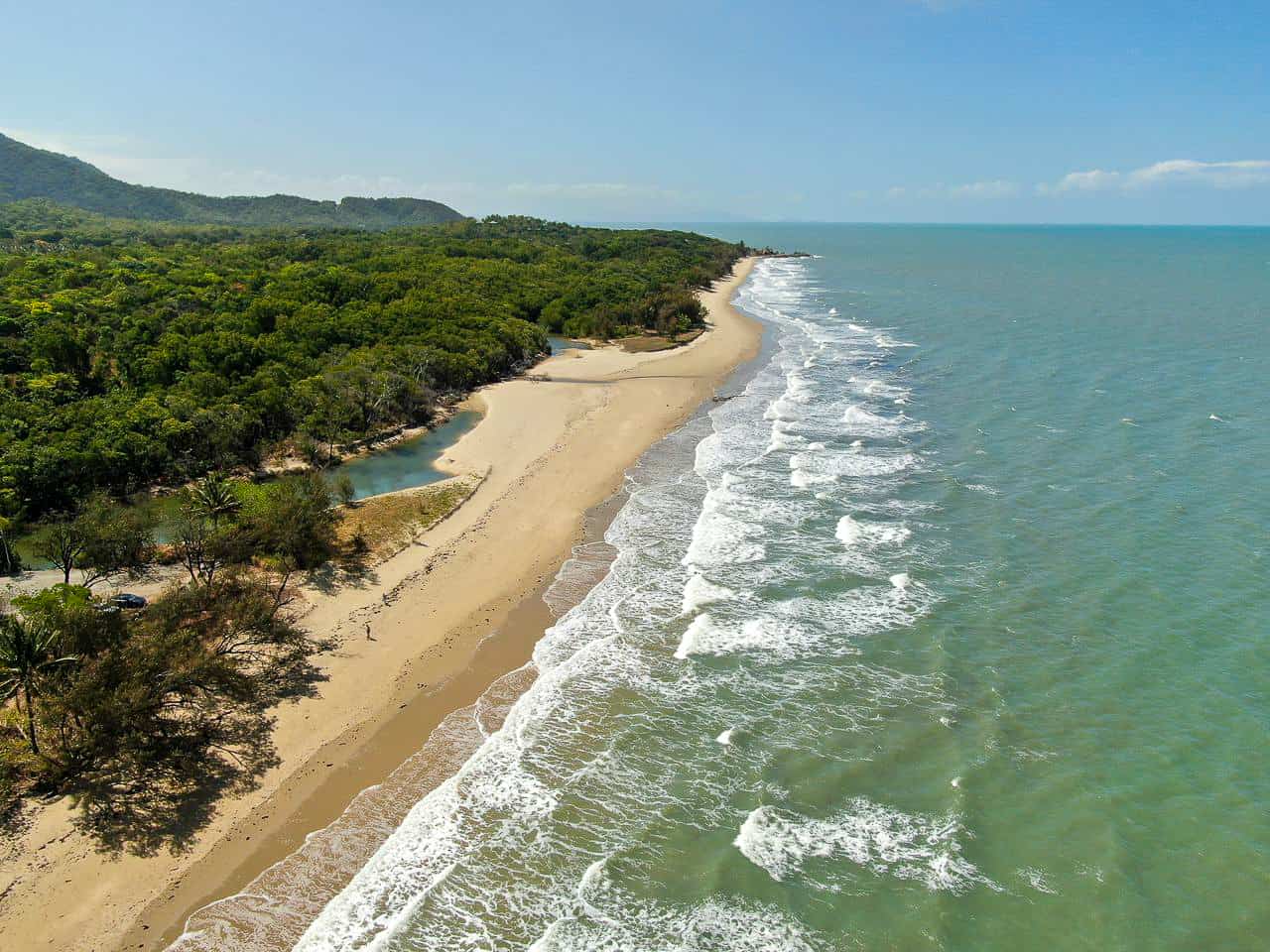 ---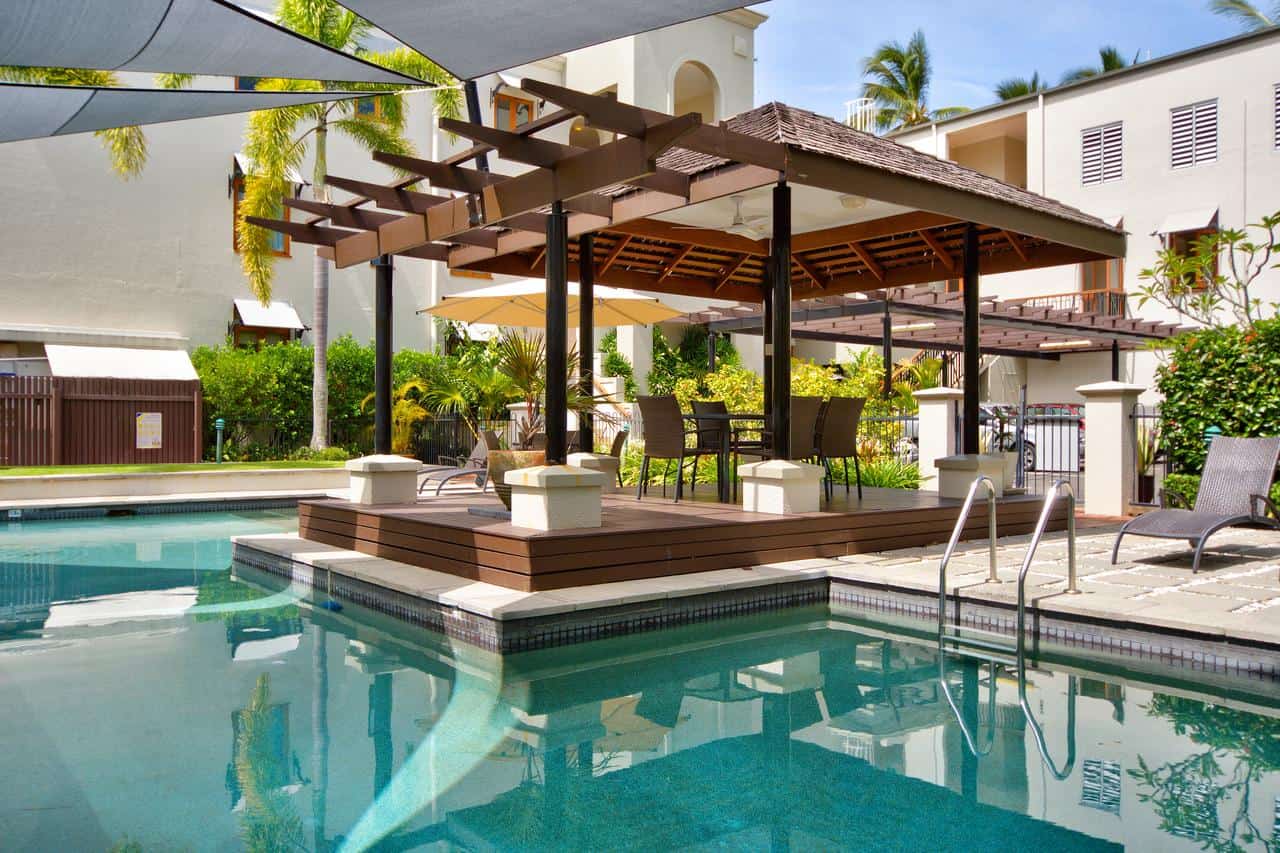 Located between Reef Club Resort and the Sheraton, but on the opposite side of the road, and a 15-minute walk to town. I nearly booked here for a few nights before we moved into our new apartment but the keys came through sooner- I thought the rates were really reasonable for what you get. The resort looked well-kept and the rooms are a spacious 70m², which includes a living room and kitchen.
---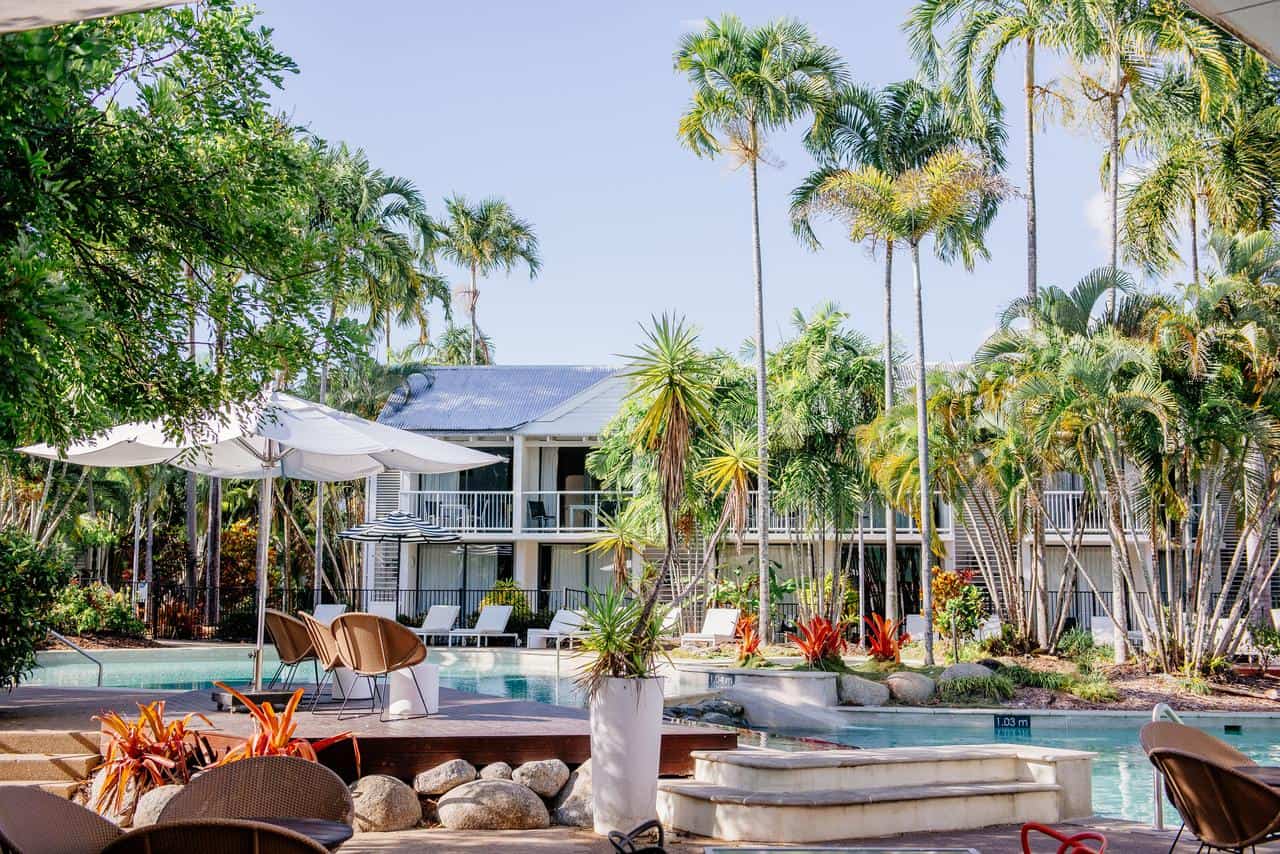 This hotel used to be owned & run by QT and was one of the liveliest spots in town, hosting regular events. Since Oaks took it over, it's perhaps not as well-maintained and lost a lot of it's spark, but the hotel itself is nice and the pool will still impress. It's a relatively chilled resort and quite popular with families, with a swim up bar and jacuzzi.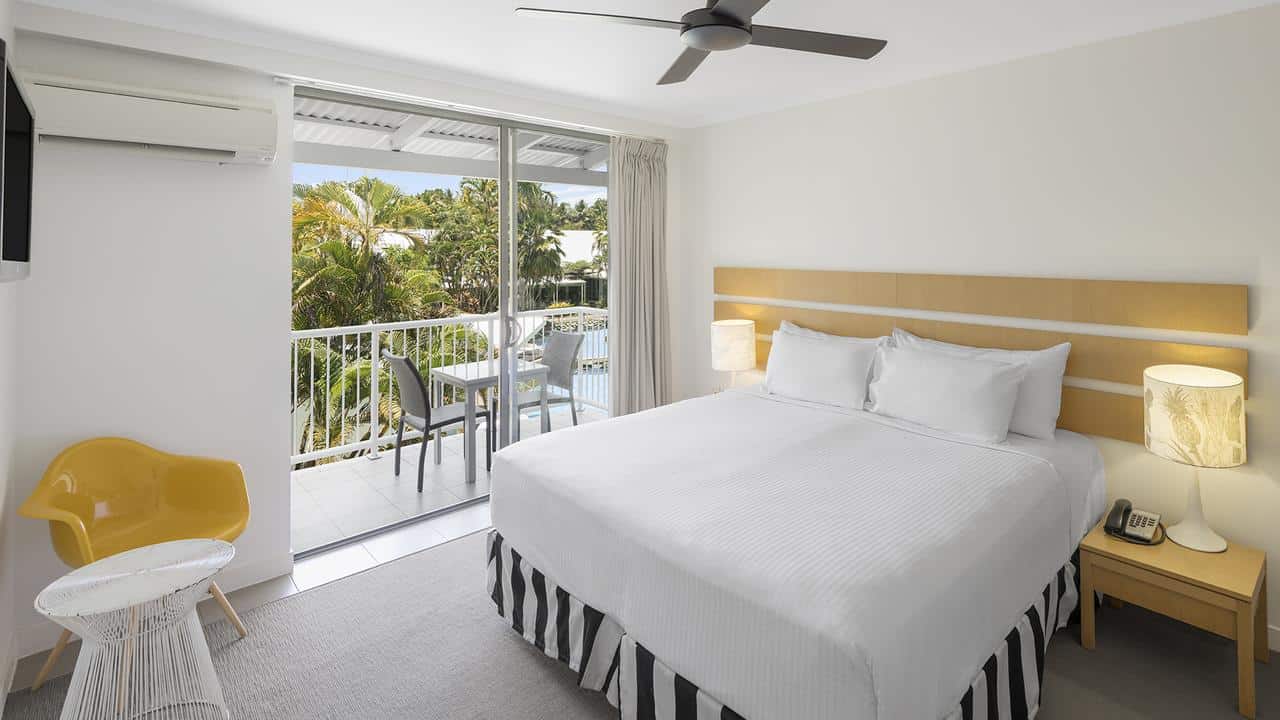 ---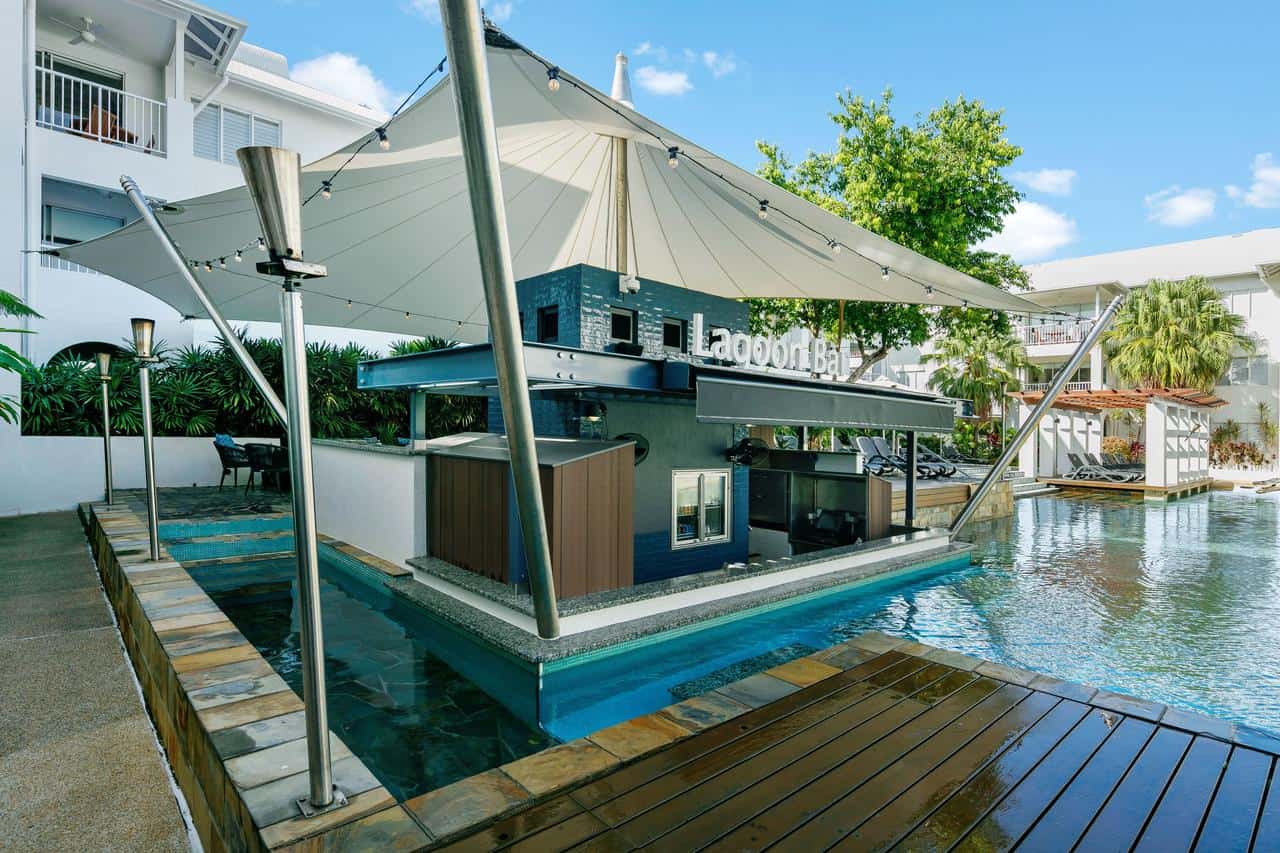 Well situated within a 3-minute walk to the beach and 10-minutes to town, this resort has a lovely pool with a swim-up Lagoon bar. Standard rooms are on the small side but look well-styled and comfy.
---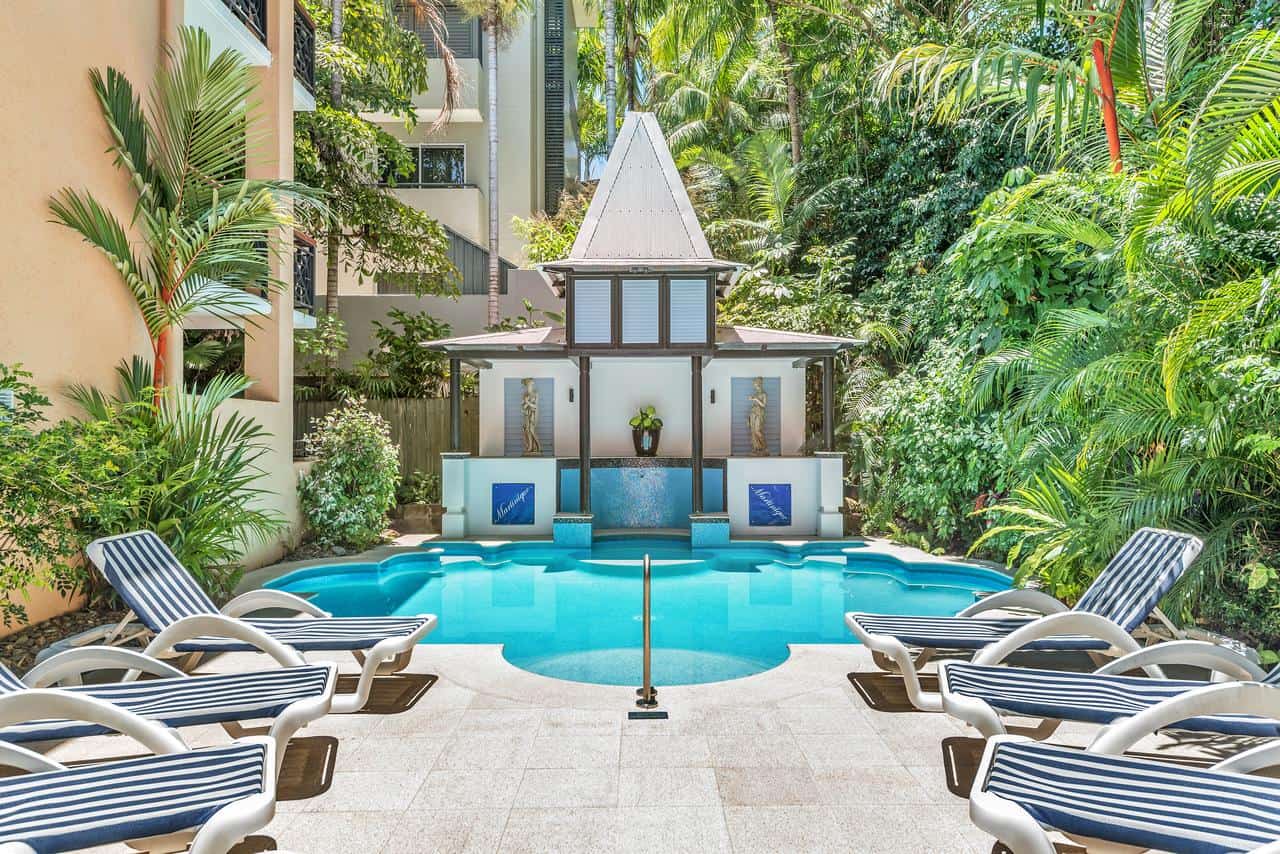 This place is a great pic if you want to be right in town and within a 2-minute walk of Four Mile Beach & the swimming enclosure. All boutique apartments are a good sized one-bedroom- 55 m² and come with a kitchenette and balcony- so it's better suited for couples. M'on'M also comes very highly rated on Booking.com.
---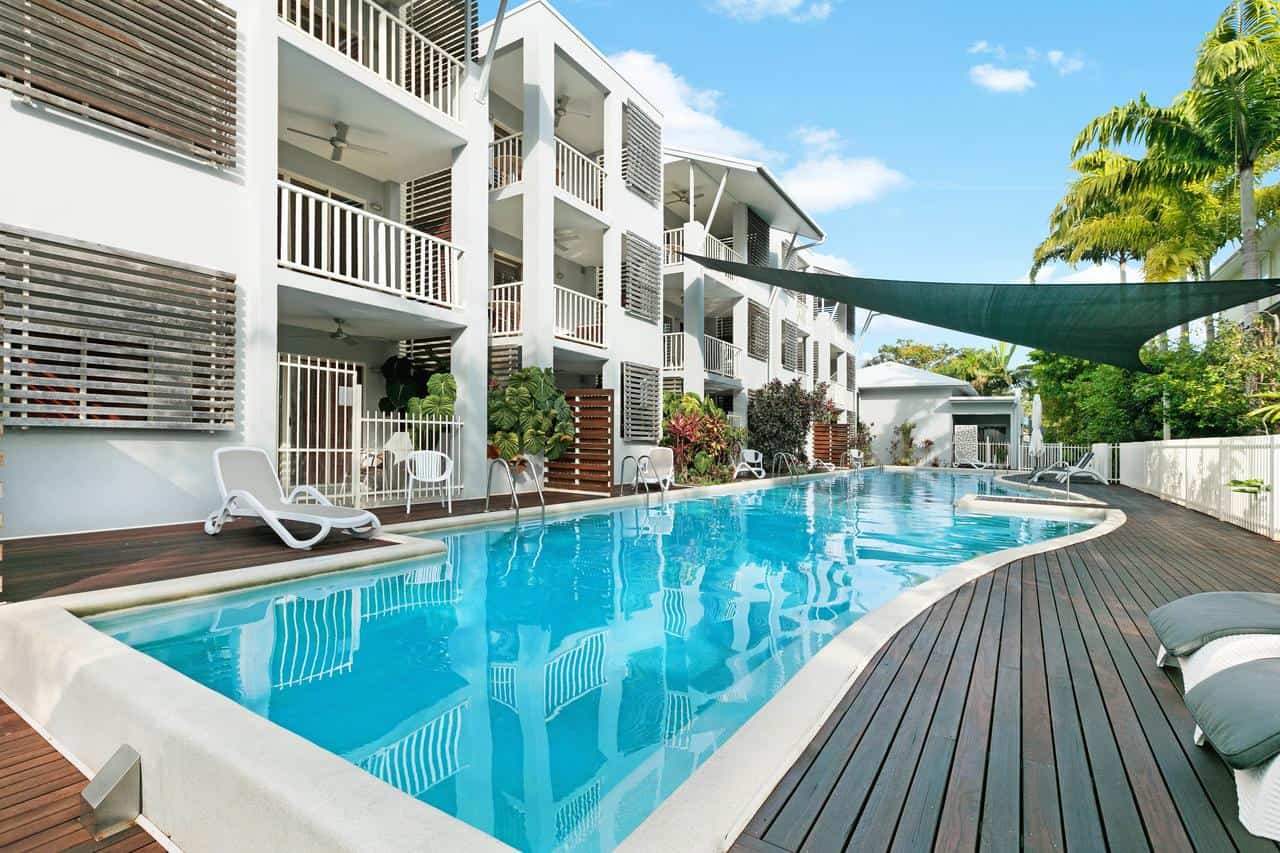 Another really well-positioned resort for those looking to be a stones-throw away from town. The rooms look nice and fresh, modern and come with a spa bath on the terrace- a huge perk!
---
Port Douglas Accommodation – Best 5-Star & Luxury Places To Stay
These resorts start from $250 per night.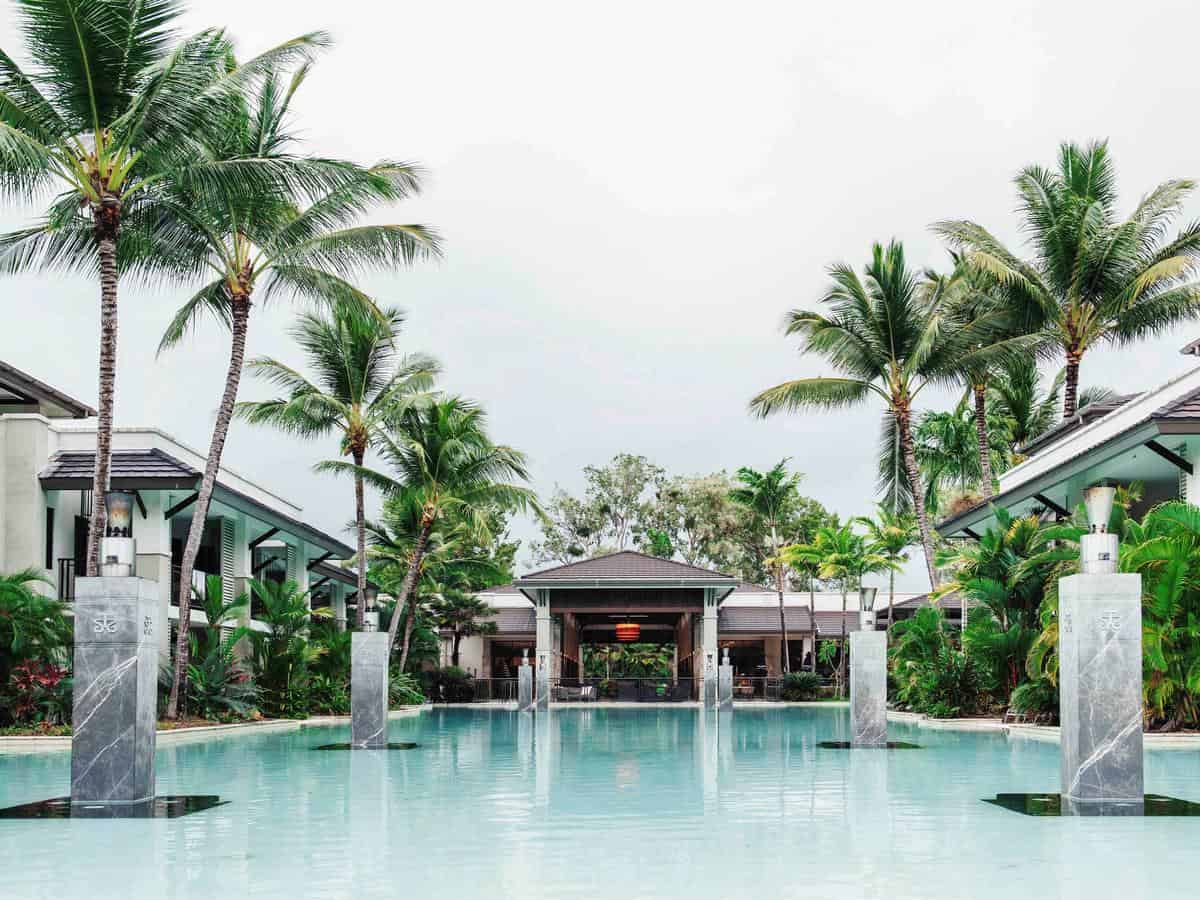 This is one of my favourite resorts in Port Douglas and I think it's great value for what you get. The pool is huge & never-ending, and goes all the way around the resort with many rooms being able to swim-out (those on the top floor get to have their own plunge pool). Rooms are stylish, modern and start at a spacey 45 m². A great pick for couples and families.
---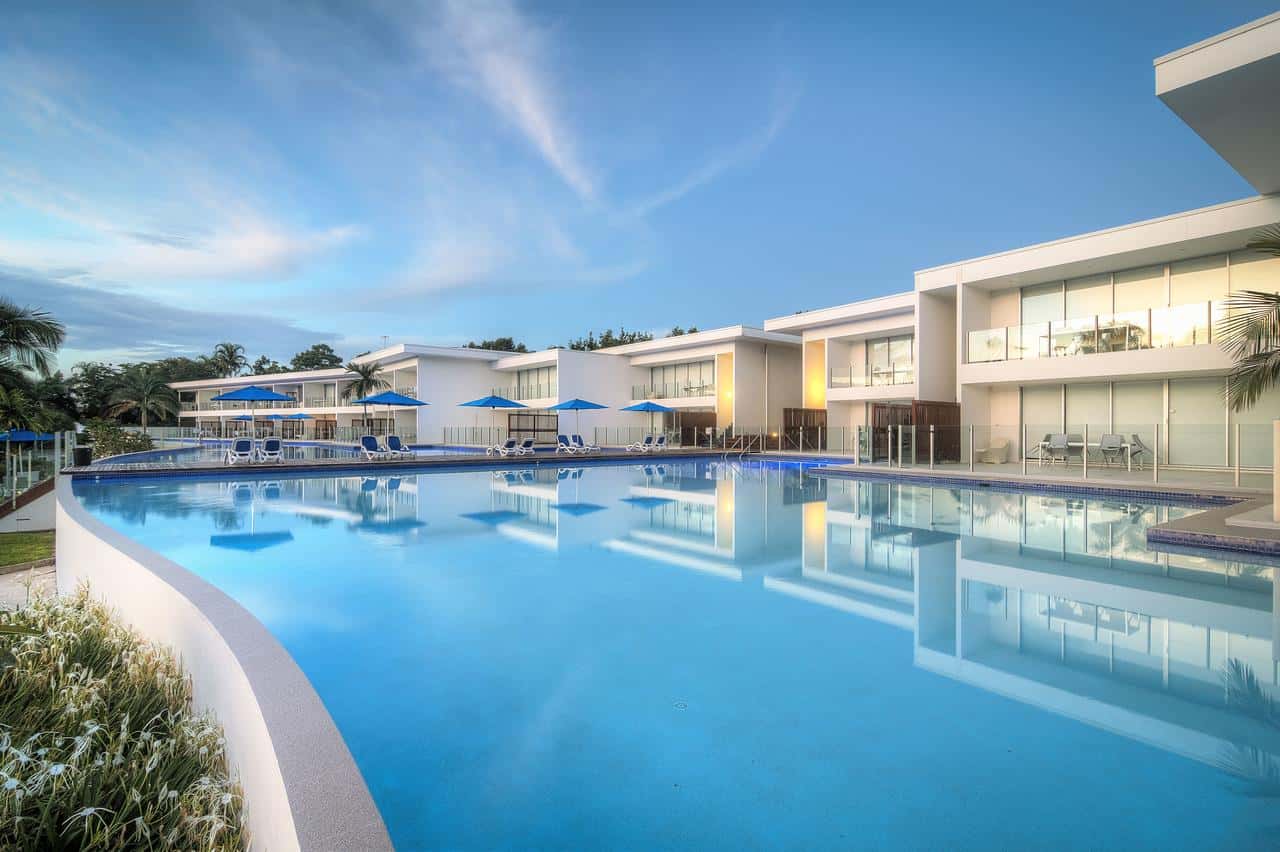 I really wanted to move into one of the rental apartments here but someone grabbed it before us! This resort is located in a quiet part of town and within walking distance of St Crispins, which is a great brunch spot.
Apartments are big (from 70m²) and there's 2-3 bedroom apartments up for grabs so it's a good choice for families or larger groups. Rooms are stylish, modern and ground-floor units have a swim-up pool, with those on the 1st floor boasting lush mountain views.
---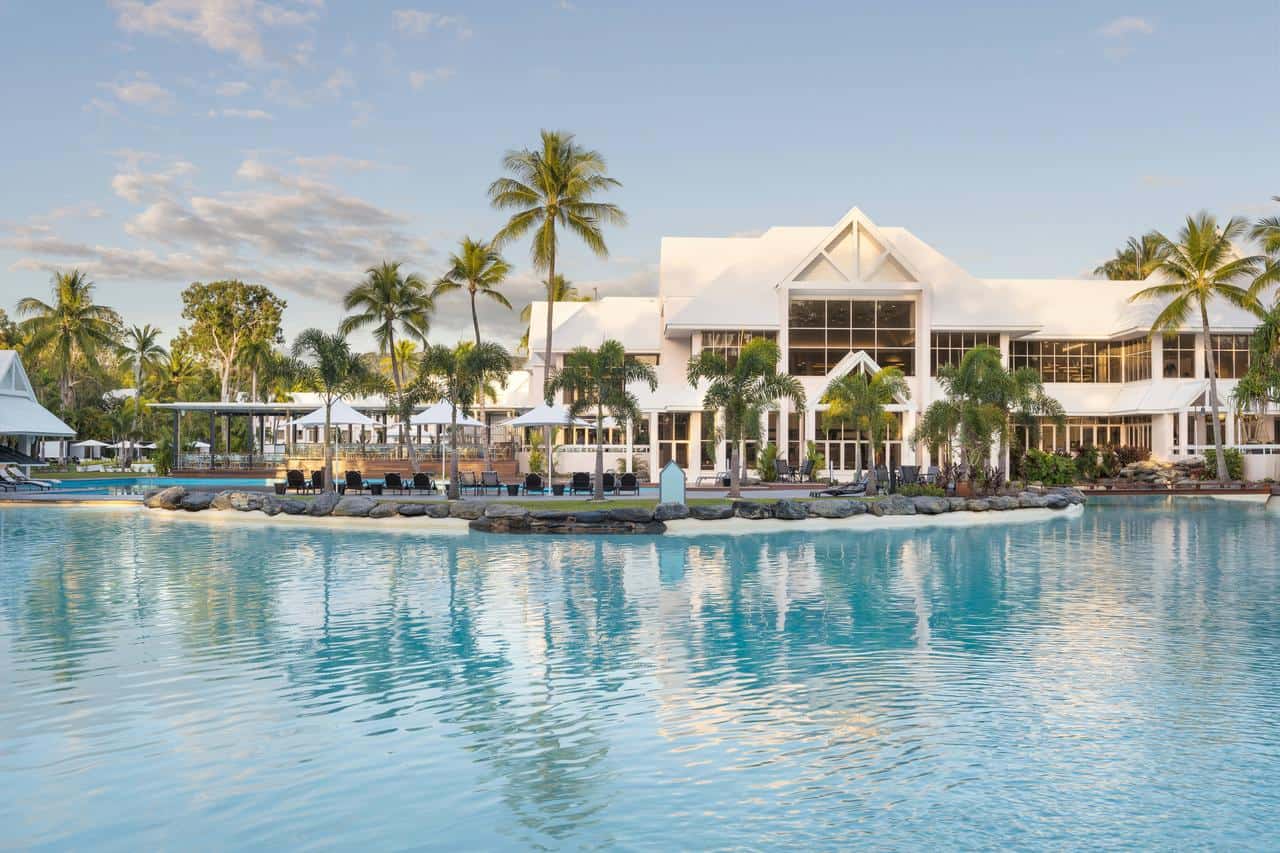 The Shero is a bit of an institution in Port Douglas and anyone who visits will have serious pool envy- I think it's the best in town. It was the first 5-star resort to be built int he 80's and received a much needed revamp a few years ago to bring it back to its sprightly self.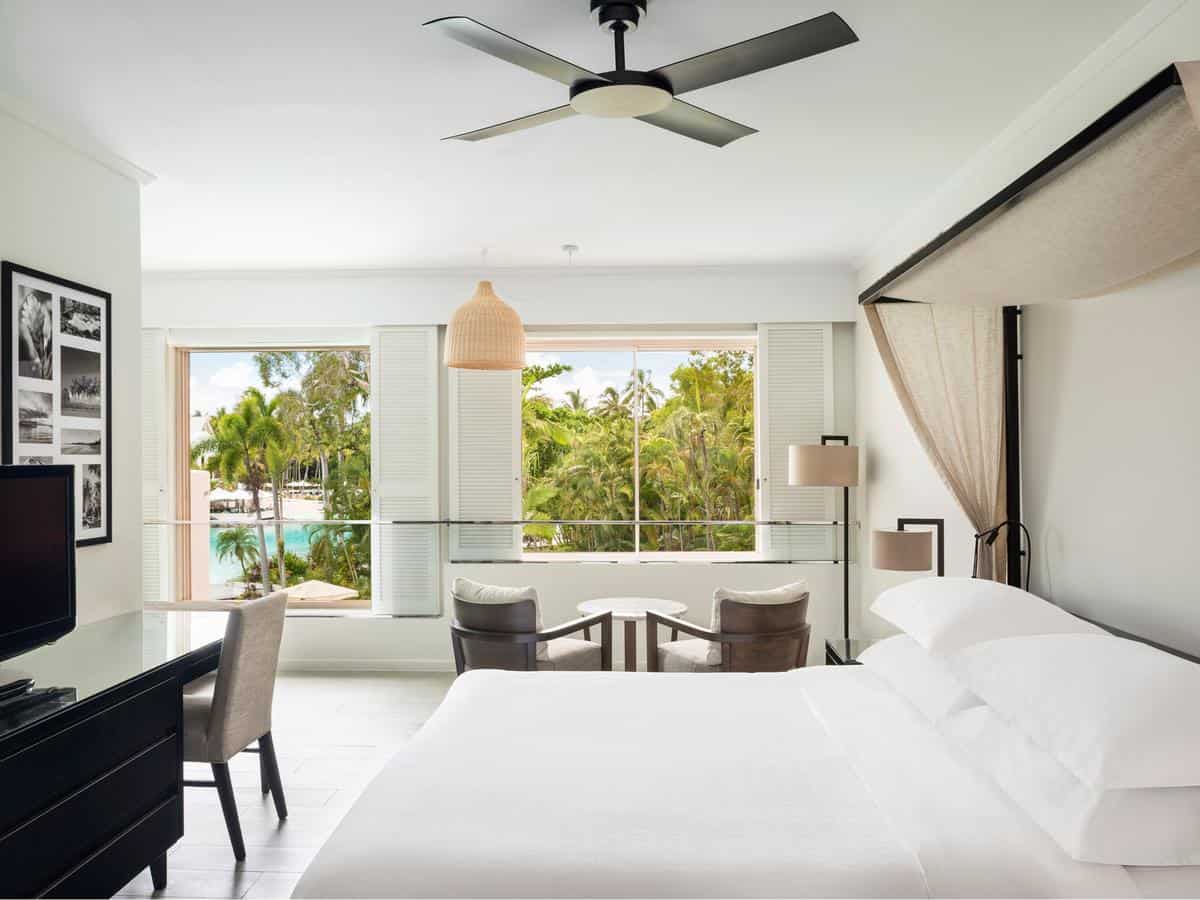 It's located on Four Mile Beach and has everything you could need and more, including multiple restaurants, bars, a golf course, tropical gardens, etc. Bedrooms are modern, spacious & airy, and standard rooms have two double-beds making it a good option for families.
---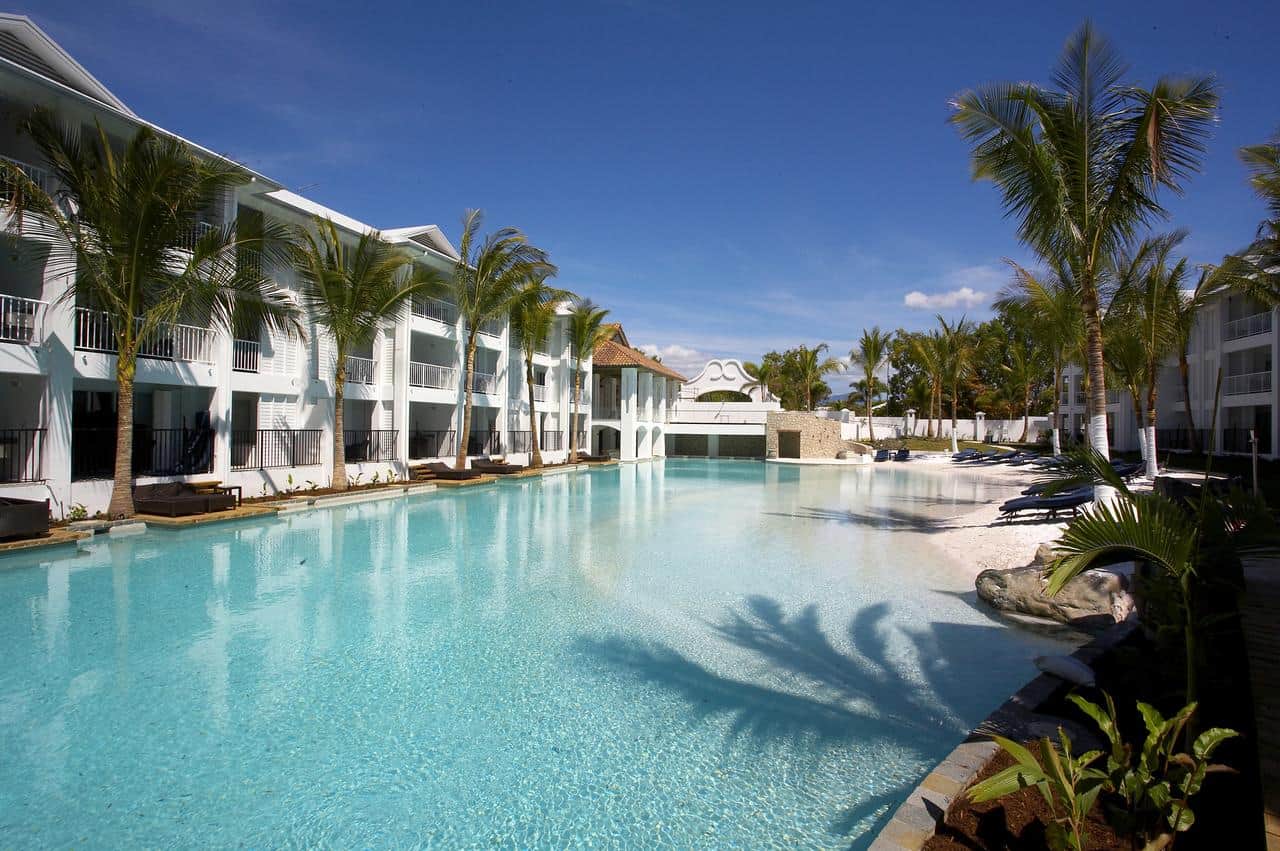 This is one of those places you pull up to in minibus and instantly relax knowing you've made a good choice. Peppers is conveniently a stones-throw away from town, a 2-minute walk to Four Mile Beach and it has a really nice holiday feel about it. The large lagoon pool "beach" is is lined with sand and has deck-chair service. Rooms are bright, airy and the standard rooms come with a spa bath.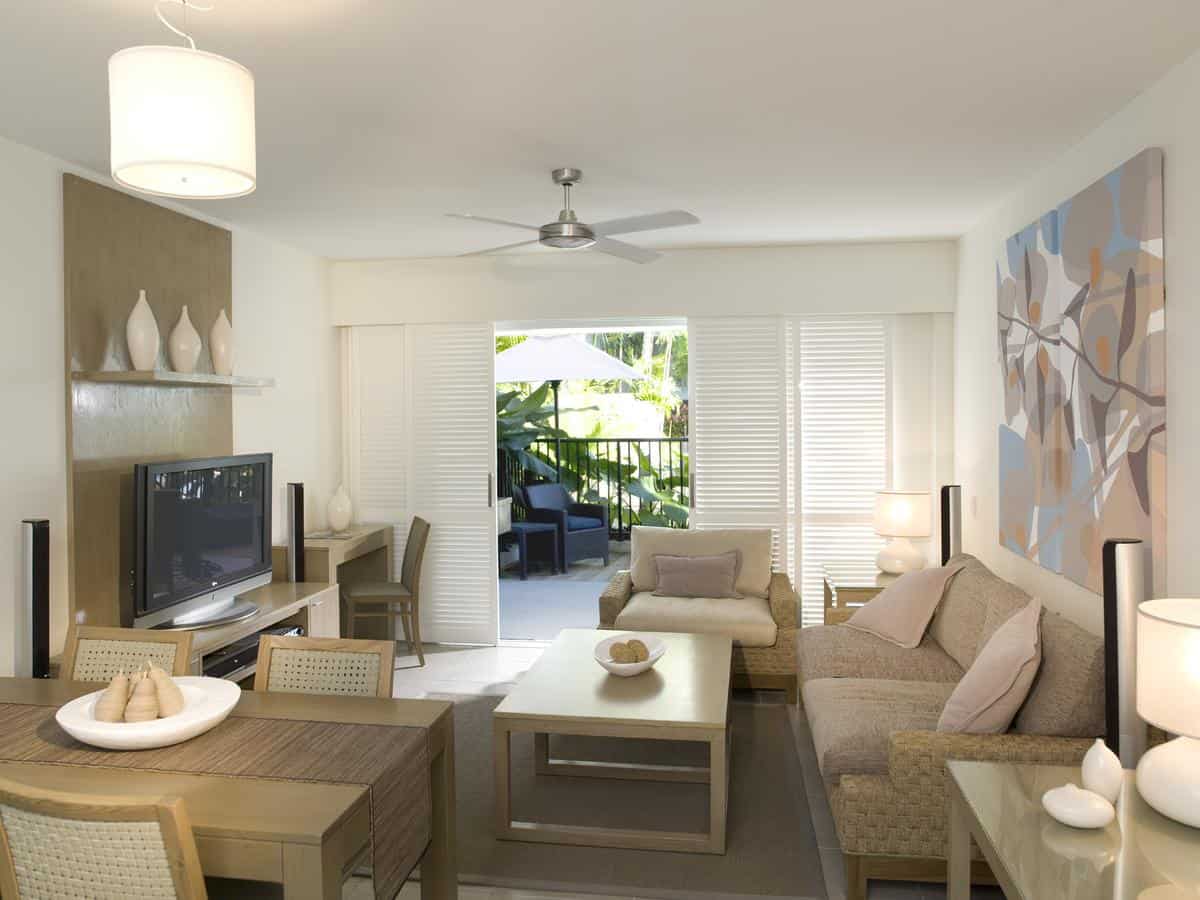 ---
Holiday Homes To Rent in Port Douglas
If you're travelling as a large group, family or just want extra privacy and comfort, then there are heaps of holiday homes to rent in Port Douglas. Most are owned by out-of-towners who lease their property to holidaymakers via a managing agent, which makes pickings for residential lettings slim for locals- but it's great for you guys!
If splitting the bill between parties, it may be a more cost effective option. Most start from around $300 per night. To check them out, visit these websites: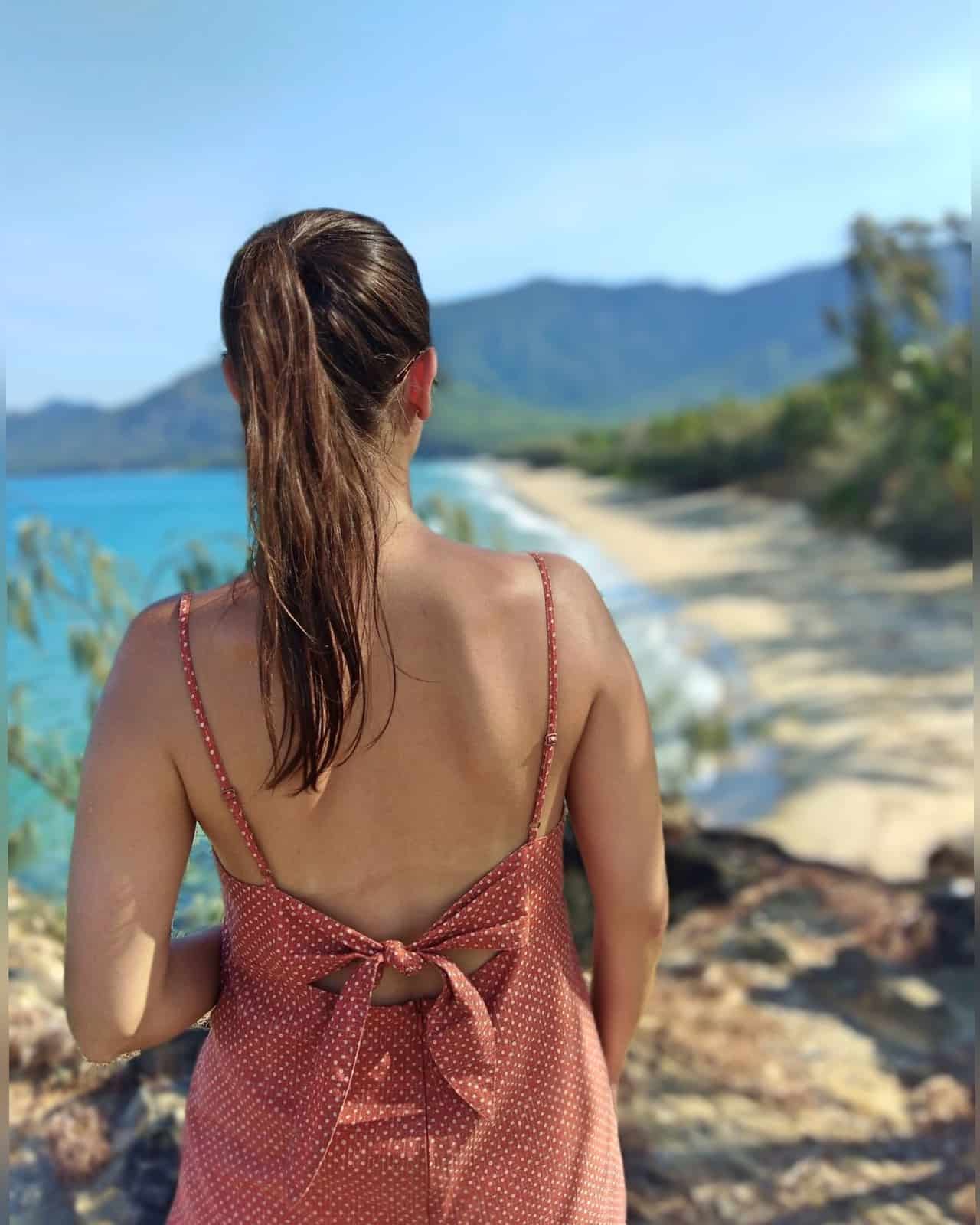 Whilst you can definitely let your budget get carried away if you're not careful, there are enough stays here for those at the lower end of the price line. Just be sure to book in advance!
Hopefully this article has helped you find your ideal accommodation match in Port Douglas. If you have any questions at all, free free to comment below or send me a DM. Otherwise, have an awesome trip!
Looking for things to do in Port Douglas? Check out my article on
top hikes
in the area!
* * *
Like it? Pin it for later!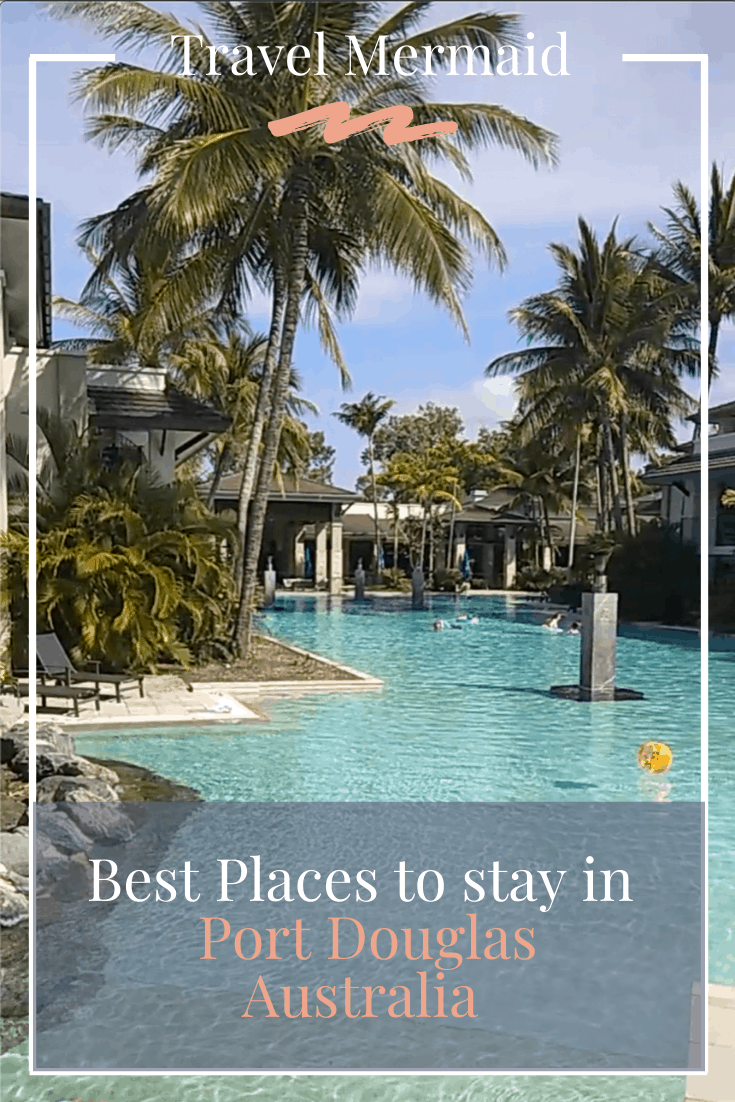 Disclosure: In this article I've included some useful links of which some are affiliates- at no cost to you- to help keep this website running. 🤙🏻
XOXO