When it comes to accommodation in the Atherton Tablelands, you'll be exchanging the grand resorts and and hotel chains in Cairns for more humble, family-run retreats. Think less Hilton, Pullman and Crystalbrook- and more country-style cottages, bucolic B&B's and rustic lodges. But that's what we love about the countryside, right?!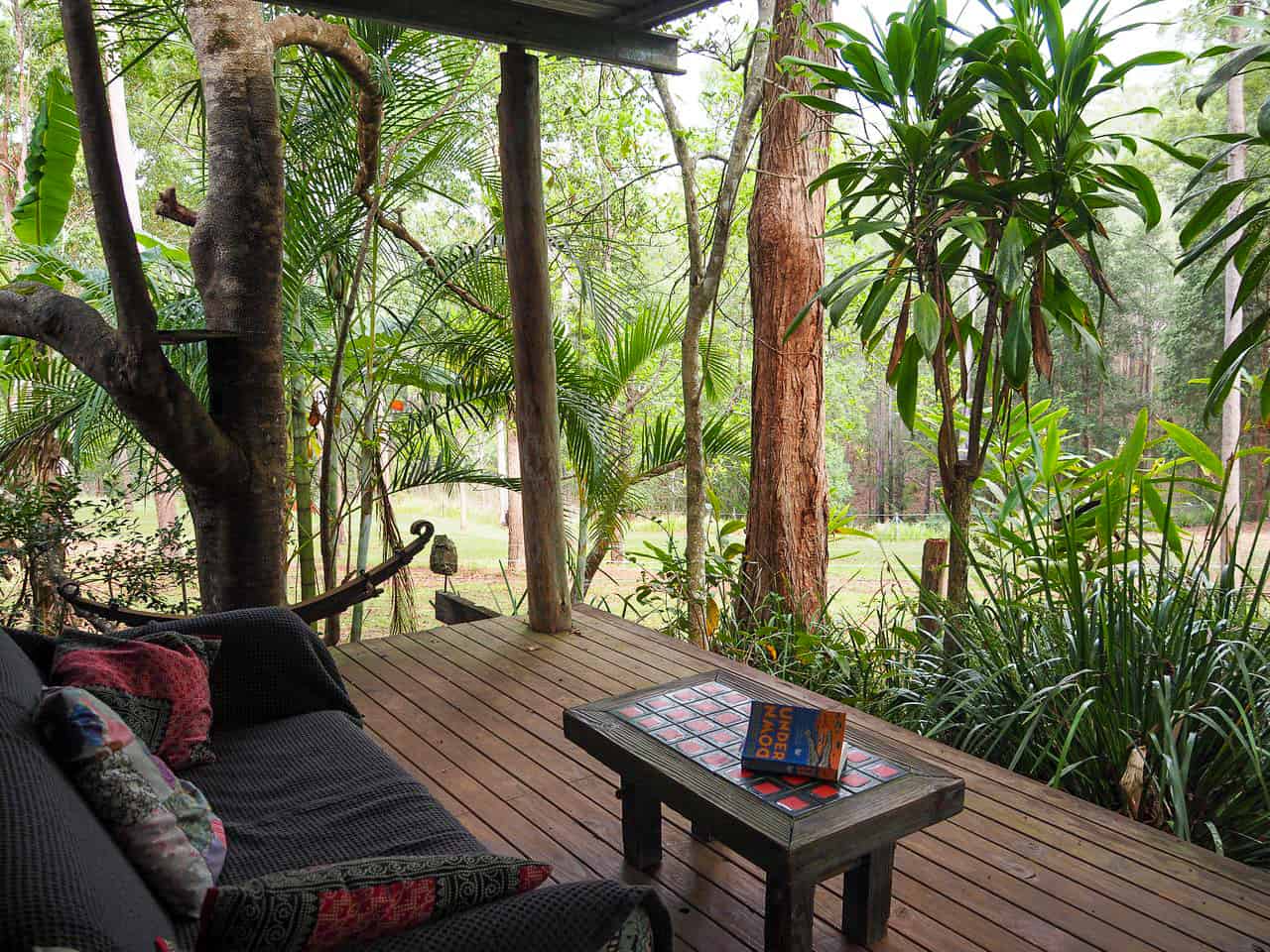 The Sailor and I have stayed in a number of places throughout the Atherton Tablelands, often choosing accommodation that allowed us to max out on it's rural setting. Usually they have outdoor provisions like a terrace or verandah (great for spotting nocturnal wildlife) and a campfire or BBQ. Conditions rang from basic to more affordable-luxury cottages with a spa bath and all the frills.
I'd firstly suggest penciling in what you want to do here before considering where to stay- that's what took me the most amount of time when holiday planning as the region's so vast and spread out! If you're still figuring all that out too, then here's a list of my favourite things to do in the area, geared towards sustainable adventures.
Otherwise, stick around for my top accommodation picks in the Atherton Tablelands for a range of budgets.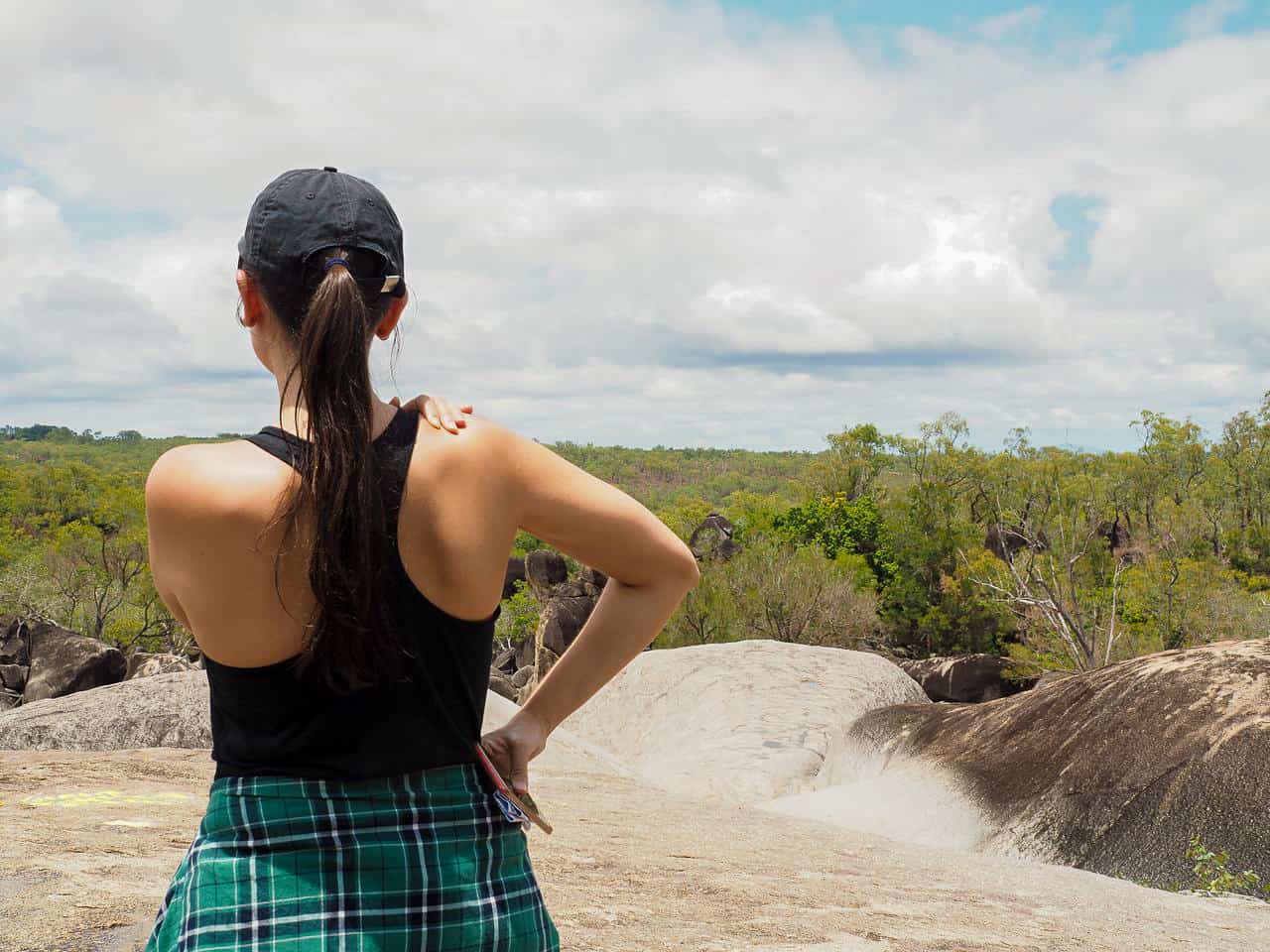 ---
Accommodation in the Atherton Tablelands
Rates for accommodation in the Atherton Tablelands do vary per night. We paid between $95 and $215 for each stay, which is on the modest side in this neck of the woods. If you manage to get here in the low season (between mid-October to mid-December, and February to May– bar Easter) then you should get more bang for your buck.
I've split this post into regions and drawn out a map to (hopefully) make choosing a little easier. Note that not all rooms are on Booking.com or Airbnb so you may need to book directly, and sometimes reserve a little patience with their booking systems! 😉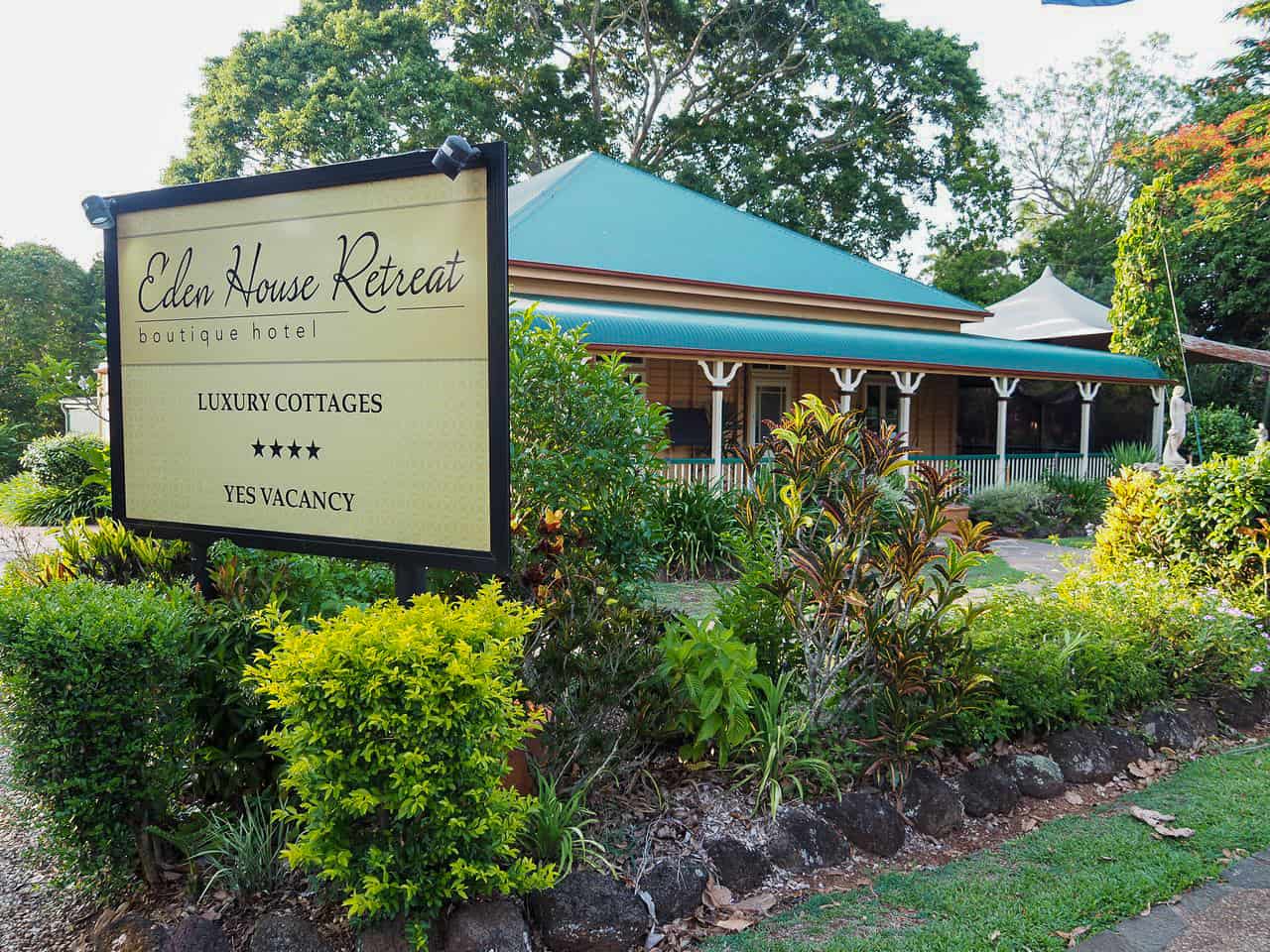 ---
Accommodation in the North & Mid Region of the Atherton Tablelands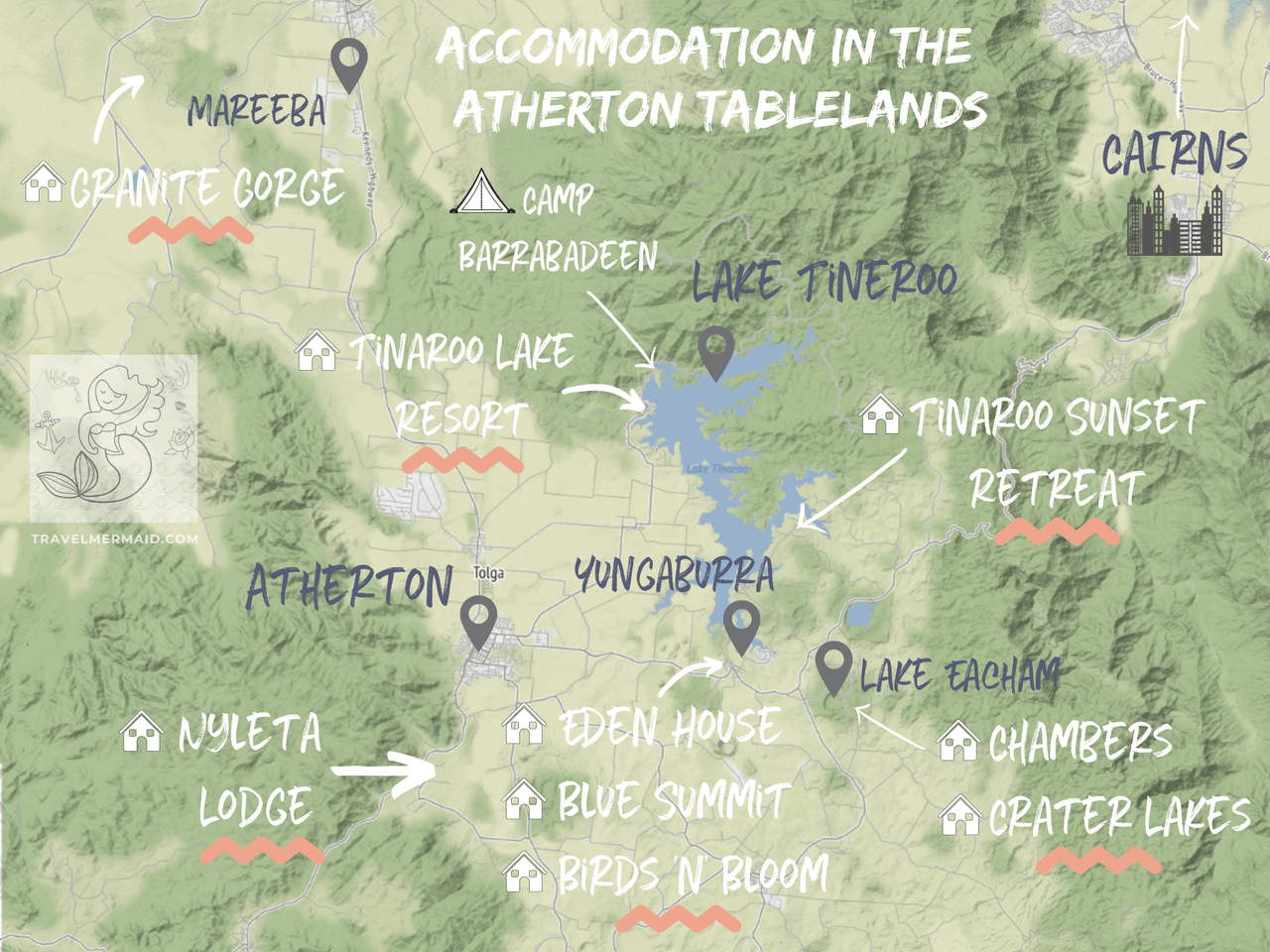 Mareeba
1. Granite Gorge Nature Park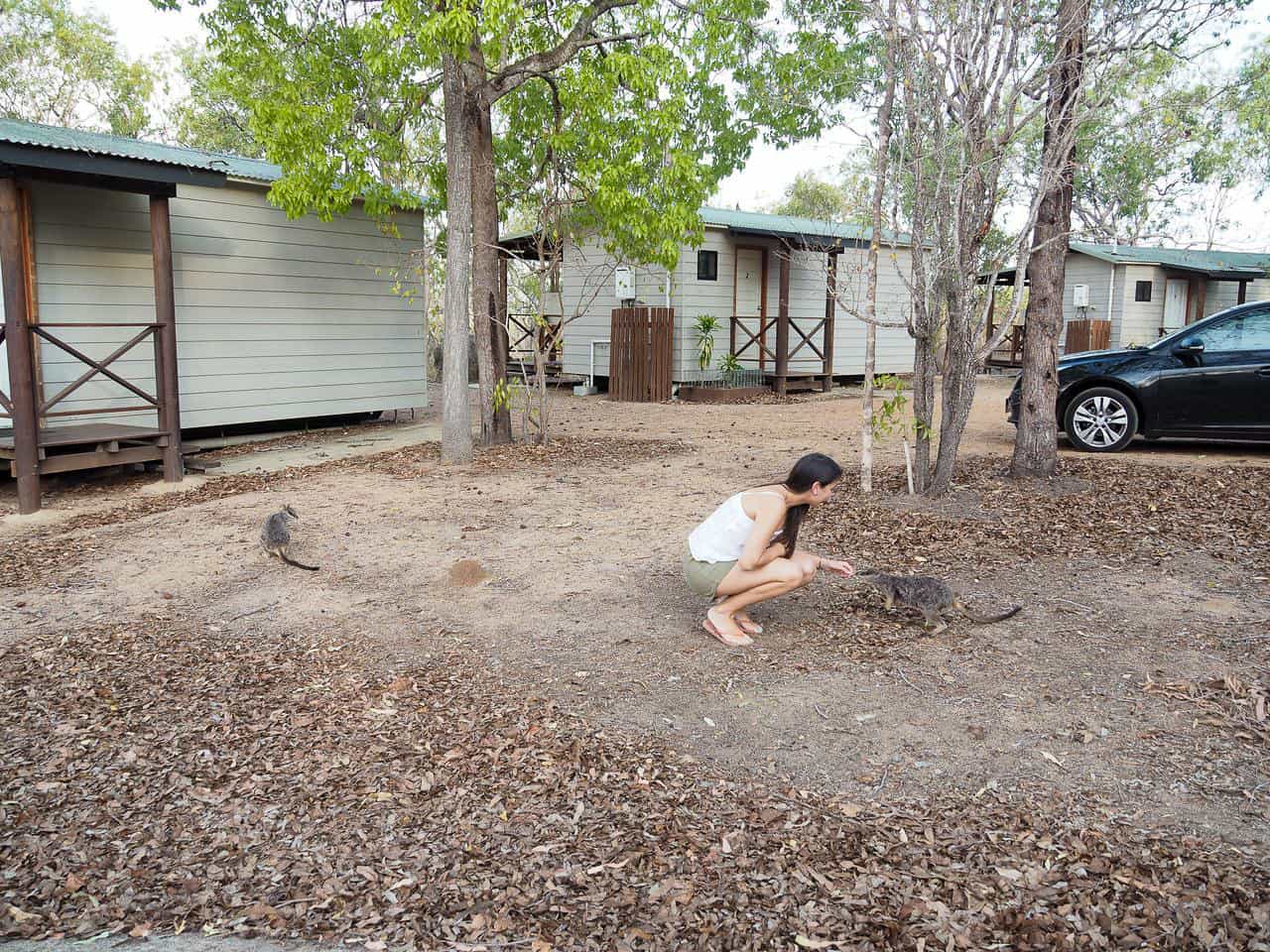 Granite Gorge was our first stay in the Tablelands and an awesome way to start the holiday. Apart from being blissfully peaceful and offering spectacular scenery, we got to hang out the whole time with a small colony of endangered Mareeba Rock Wallabies. They were identified as a new rare species in 1996 so this is the only place you can see them in Australia.
The accommodation itself was pretty basic but it had everything we needed and was fully-self contained. A huge perk was the BBQ and fire pit so we could spend most of our time outdoors.
Although if you're as picky as I am about using clean kitchenware, you may want to bring a few essentials from home like a chopping board, knife and plates, as well as tin trays for the BBQ which was a bit old and well-used.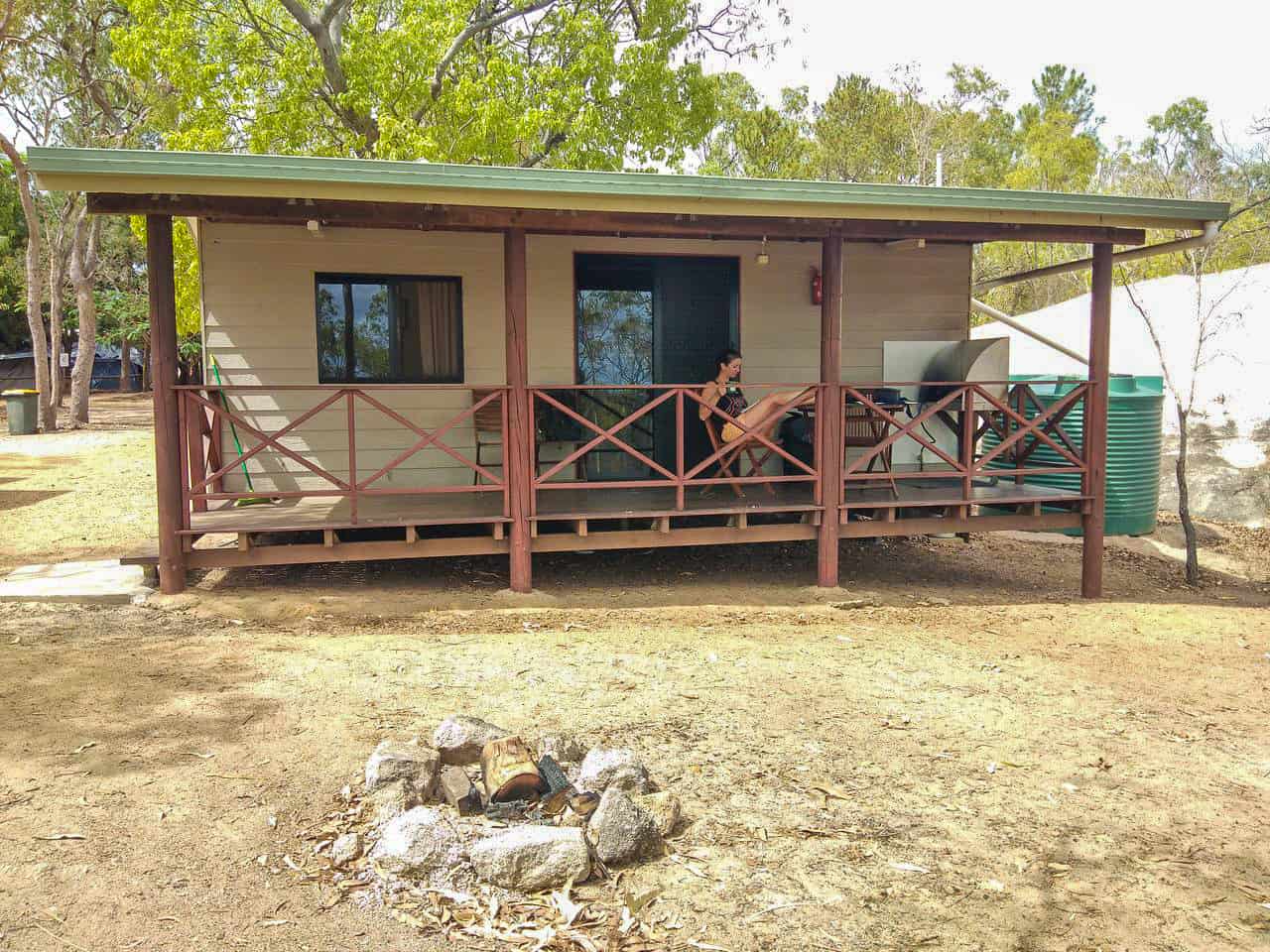 There are only 3 cabins available here so first come, first serve. The park also accommodates caravans and has a safari tent. I'd recommend staying here for 1-2 nights.
Note: Bookings are a bit old-school and you need to shoot them an email to submit a request.
---
Lake Tinaroo
Lake Tinaroo is a popular spot for watersports, and the dreamy water views makes it a popular place to stay in the Atherton Tablelands. There's plenty of hiking tracks around too and it's abundant in nocturnal wildlife.
Most of the stays around here are caravan sites and camp grounds with a few mid-range and luxury stays available, although in my opinion, some look a bit overpriced for what you get. Here are my top value-for-money picks around here.
2. Tinaroo Sunset Retreat (Families & Groups)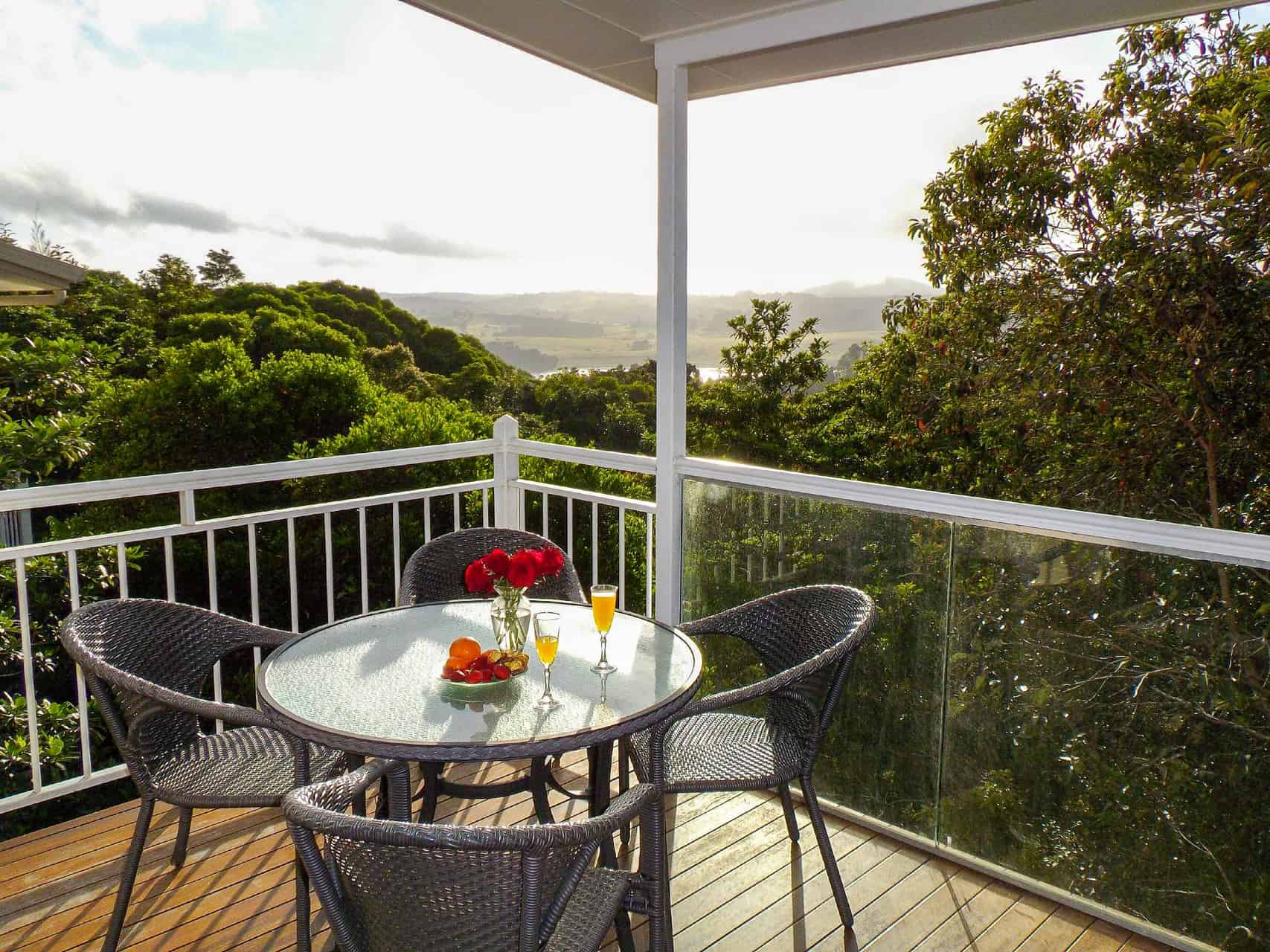 I haven't stayed at Tineroo Sunset Retreat personally as it's a bit expensive for just a couple, but it looks like great value if you're a family of 4 or two couples. This home is reviewed really well on Booking.com and doesn't sit on the edge of the dam so should be nice and peaceful (sometimes staying just by the lake can get a bit noisy from the boats during the day).
The cottage has loads of perks like a hot tub, BBQ, awesome mountain views form the balcony, a wood log burner in the living room, and its 120 square metre of space is ample. Both bedrooms offer a Queen bed and the house is fully self-contained.
---
3. Tinaroo Lake Resort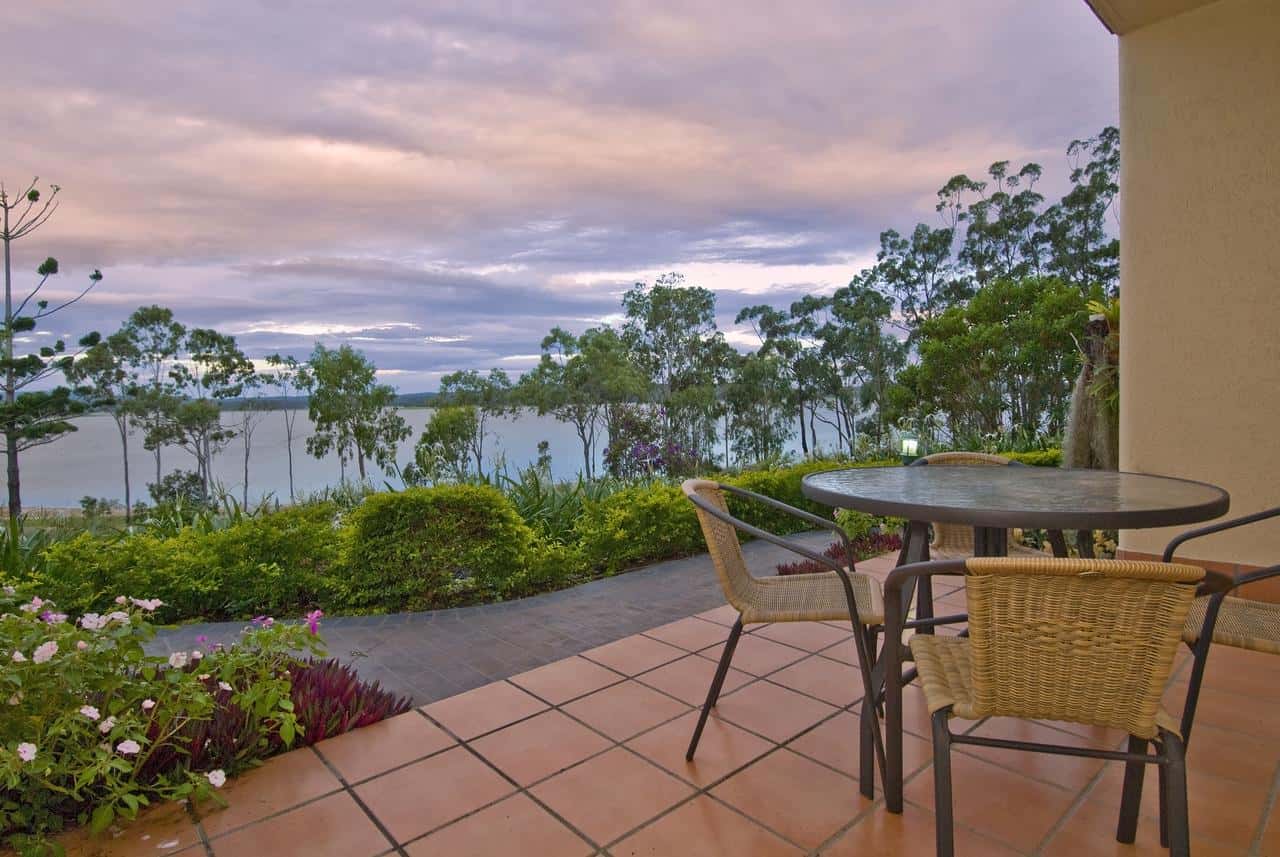 For a good-value, non-camping option around the lake for couples, I'd go for this resort.
Their 129 m² one-bedroom apartment is very spacey and has a balcony offering priceless lakeside views to side with your morning coffee. The nearest restaurant is about 20k away (apart from Kairi pub) so you'll probably be doing a bit of cooking which isn't a problem as it's fully self-contained.
Good to know
If you're looking to camp around Lake Tinaroo then there are heaps of
state-owned campsites
although it's BYO shower! I didn't have my own so I stayed at Camp Barrabadeen.
.
The facilities are very primitive but it has everything you need (bar a fridge) and there's plenty of nice sites overlooking the lake. It can get a bit noisy during the day from all the boats, although the sites at the far end of the camp are a little quieter. Find out more on their
website
.
---
Yungaburra
4. Eden House Retreat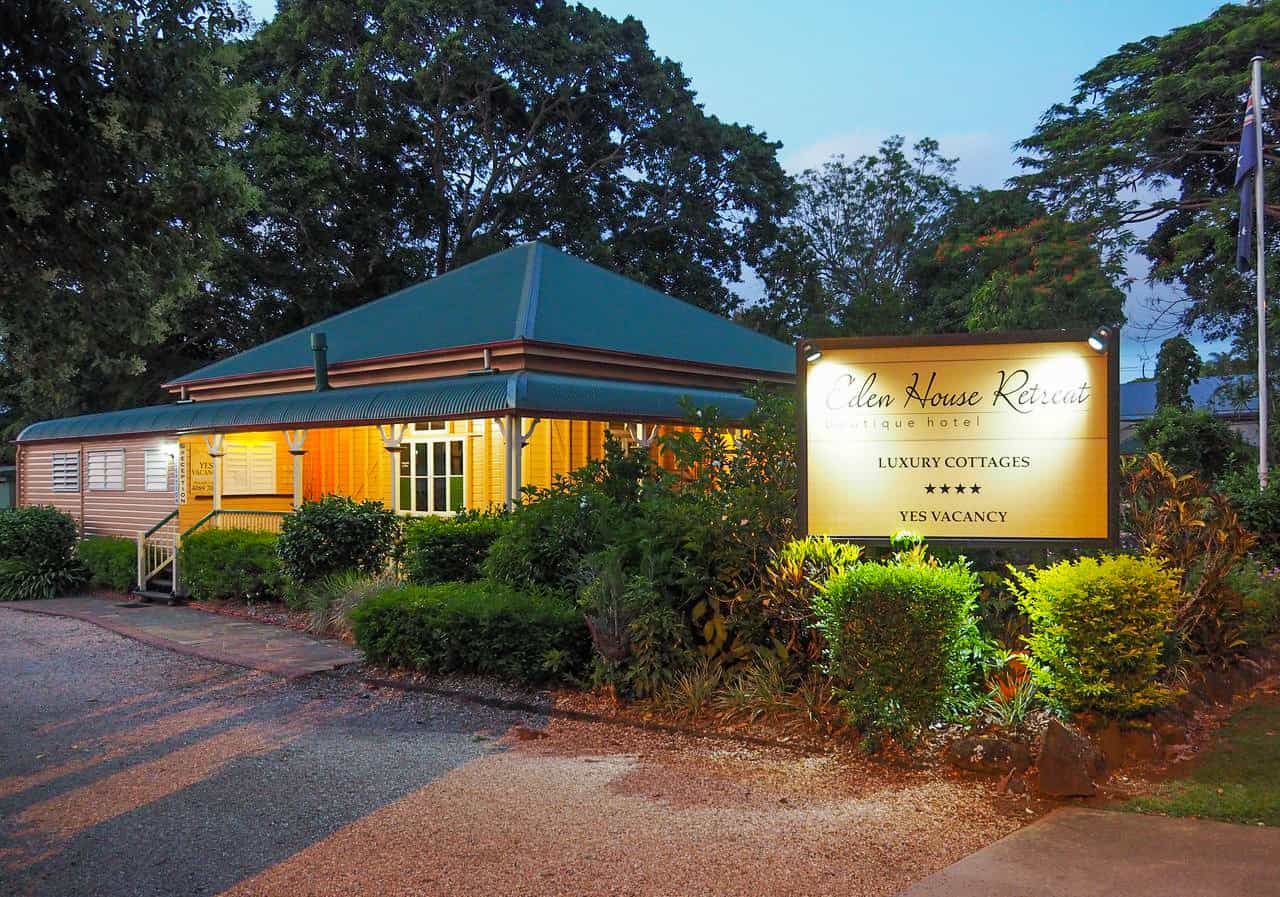 For the quality of accommodation, this was my favourite stay in the whole of the Atherton Tablelands. It was cosy, a little romantic and I loved the country-chic furnishings. Plus, they were pretty generous with the complimentary port on arrival (not going to turn that down at Christmas!) and taking a spa bath after our long, hard bike ride was heavenly.
The location is perfectly positioned in Yungaburra and everything is within an easy walking distance.
---
5. Blue Summit Hideaway
We weren't initially intending to stay here but made a last-minute booking during our camping trip for a few more frills on Christmas day! lol.
Blue Summit is right next to Eden House and is very similar in terms of layout, features and mod-cons. It appears to have recently been done-up and interestingly, they too have opted for a spa bath in their King Suite and port upon arrival! I guess every good idea is worth copying 😉.
We had a great night's sleep at Blue Summit and it felt even more luxurious after camping for 2 nights beforehand.
---
6. Birds 'n' Bloom Cottages (Families & Groups)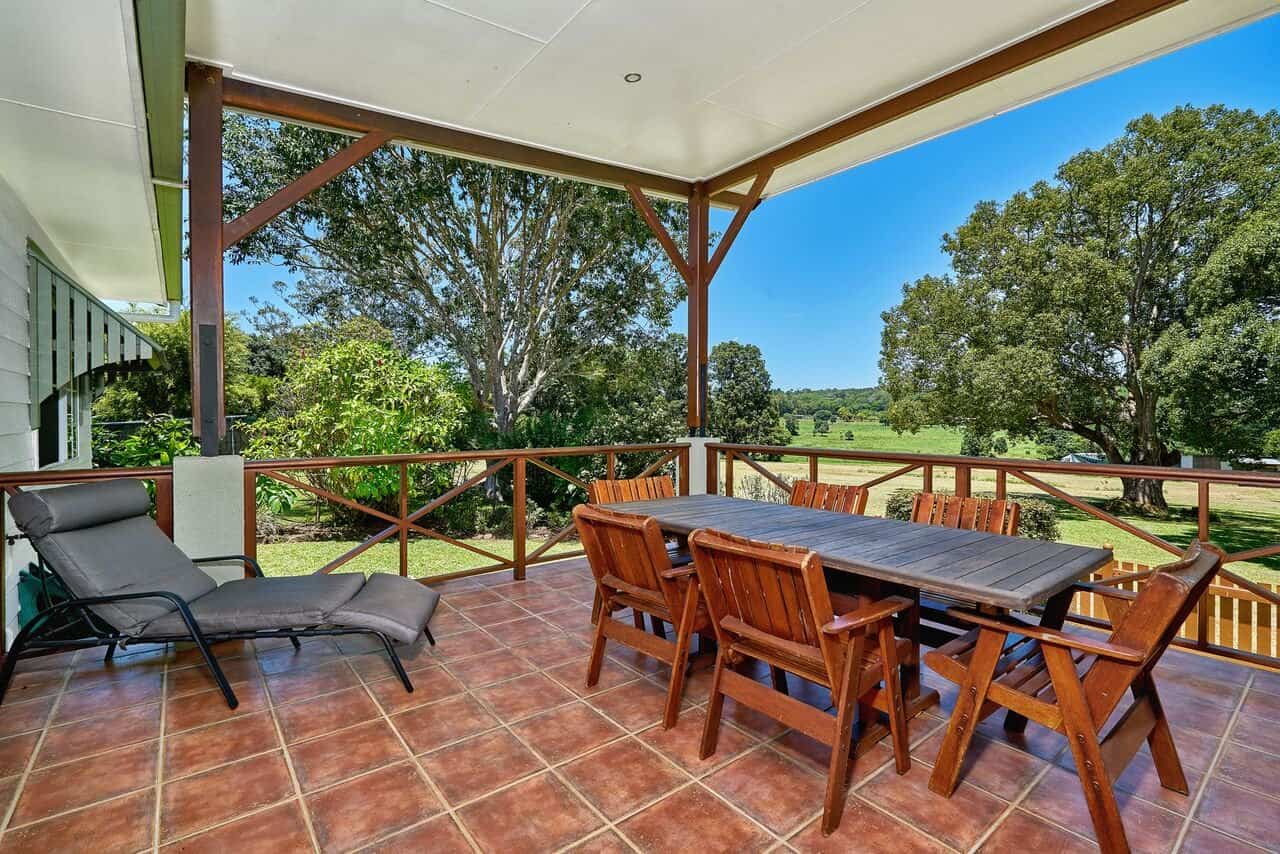 This place shares the same owners as Blue Summit so you can expect the same high quality. They have sizeable 2 and 3 bedroom cottages available that can sleep up to 8, including a spa bath and huge balcony overlooking their manicured garden.
It's well-positioned near the platypus viewing platform and a few minutes walk away from the shops and cafes.
---
Lake Eacham
7. Chambers Wildlife Rainforest Lodge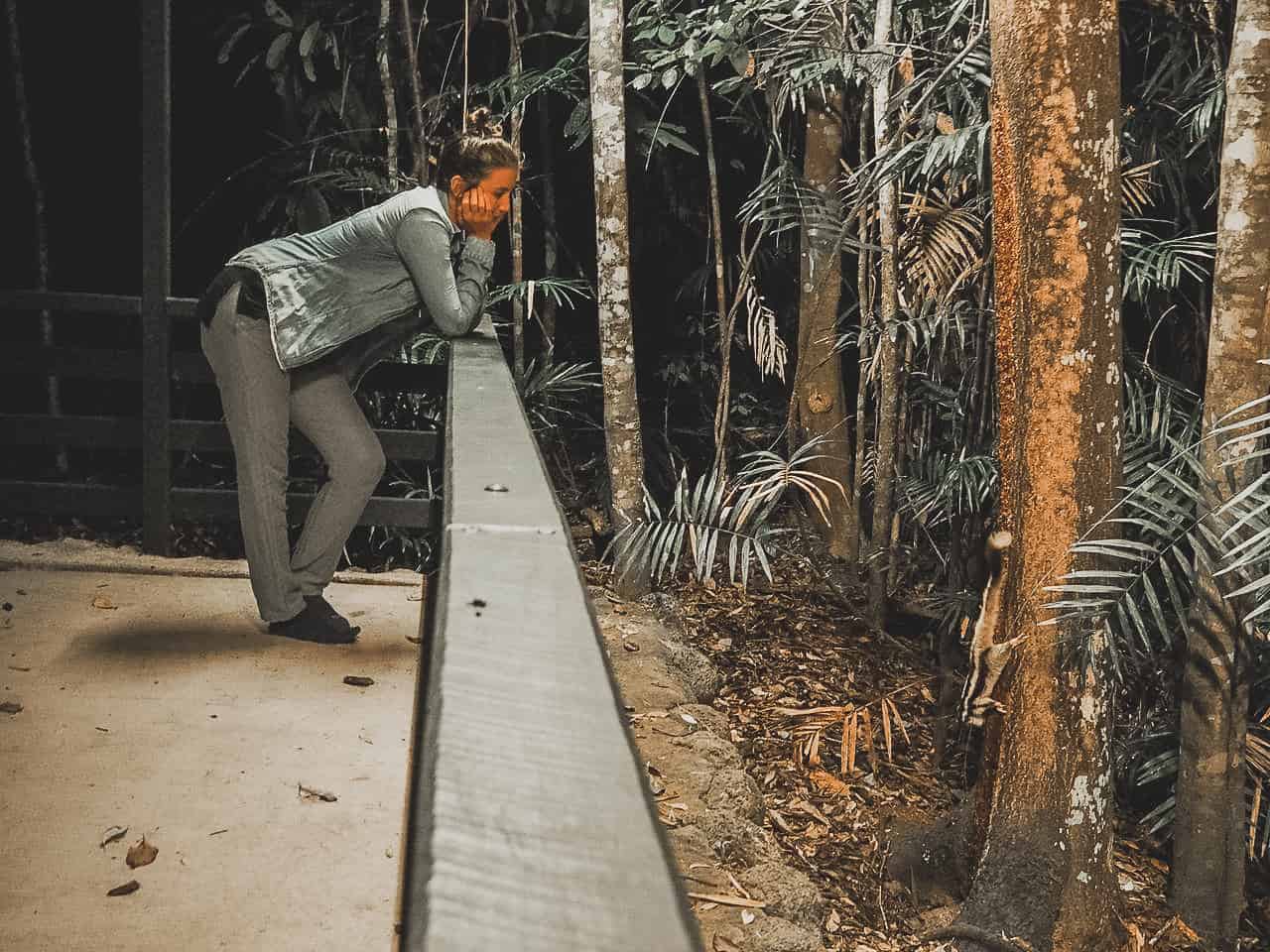 Chambers is peacefully located in the thick of the rainforest surrounding Lake Eacham. I was attracted to this place as I was keen to spot some nocturnal furry friends at their wildlife viewing platform and both nights we got lucky.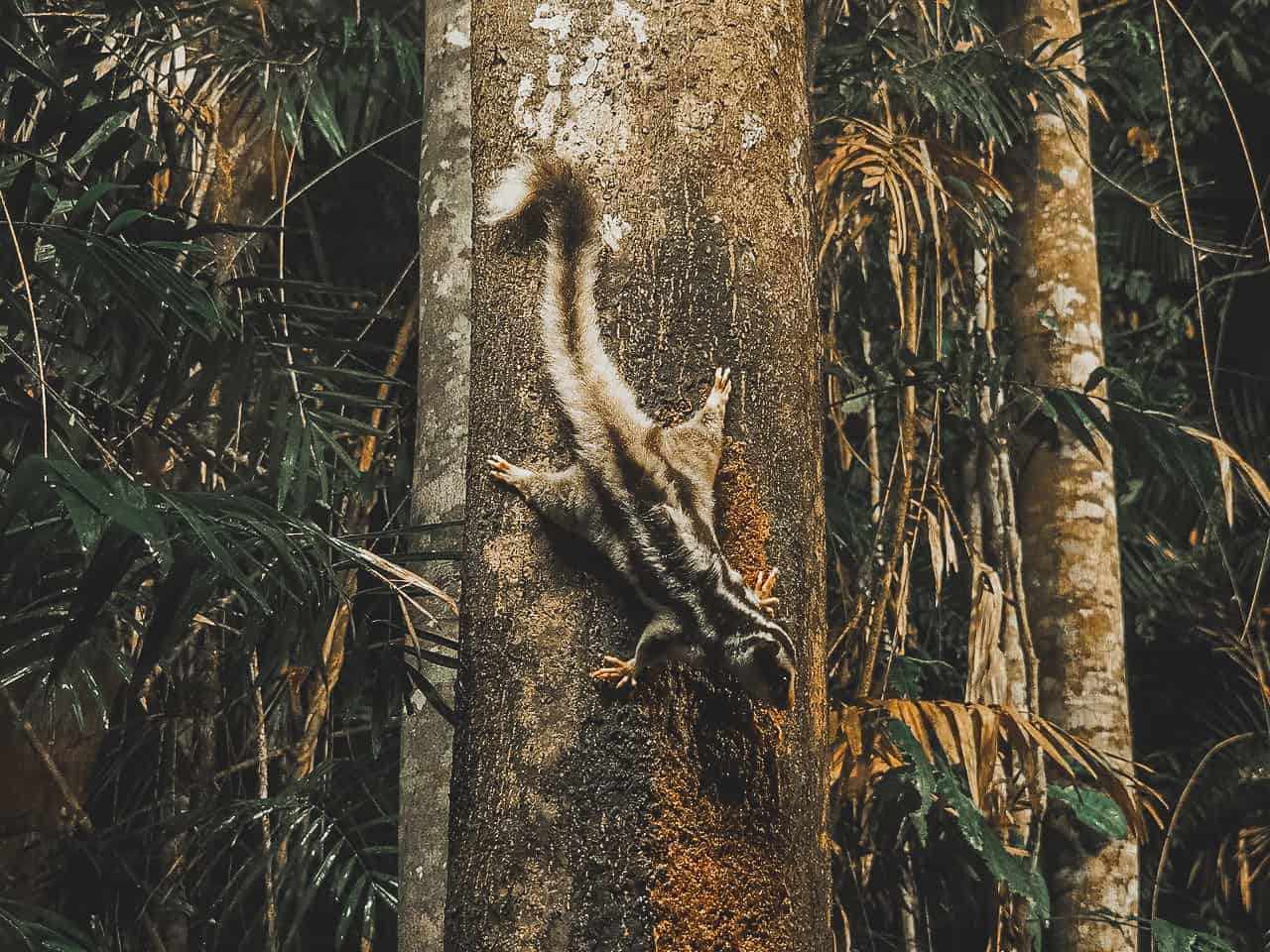 Although priced accordingly, the lodge itself was very basic and in need of an upgrade. All the towels, bedding and white furnishings were clean and crisp, but the floor felt like it needed a good scrub and some of the furnishings were tired. For that reason I would suggest just staying for 1-2 nights for the wildlife experience if that's your shindig. Hopefully they get around to renovating this place though because it has lots of potential.
On the plus side, our king-sized bed was really comfy and we had a great sleep because it was so quiet. There's also a pleasant hike you can take from the resort around Lake Eacham and reception will provide a map upon arrival.
---
8. Crater Lakes Rainforest Cottages (rural-lux)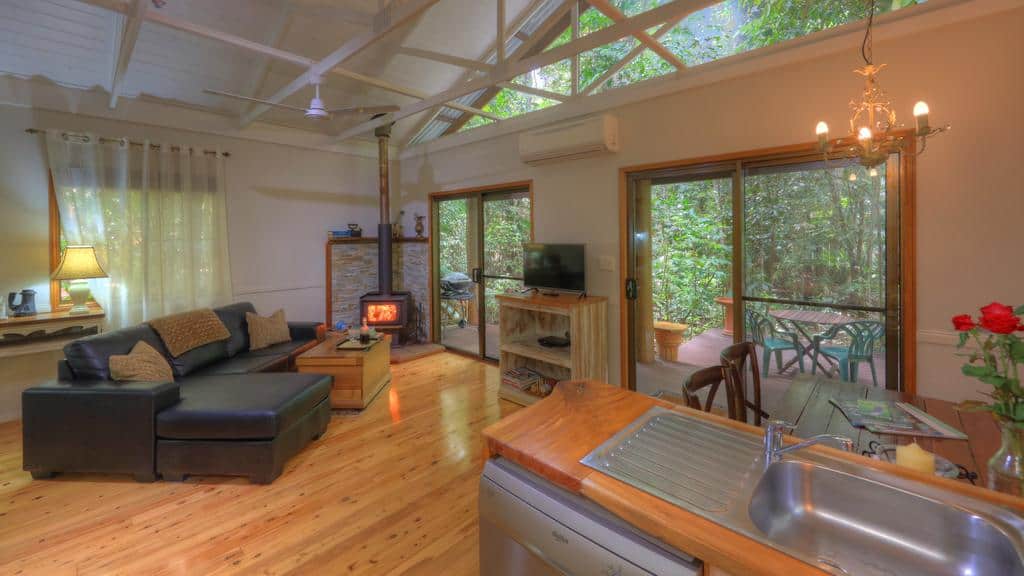 If you're here for a special occasion or you're after a few more frills in the area, then Crater Lakes looks lush. It has faultless reviews on Booking.com and it's said to be extremely peaceful with great wildlife spotting opportunities.
Their well-sized cottages have been finished to a good spec and provide a perfect set-up for a cosy and romantic retreat. Lodgings are complete with a king-bed, spa bath, port on arrival and a complimentary breakfast hamper for your first morning. Other features include a private deck with a BBQ, ideal for those balmy nights in the rainforest.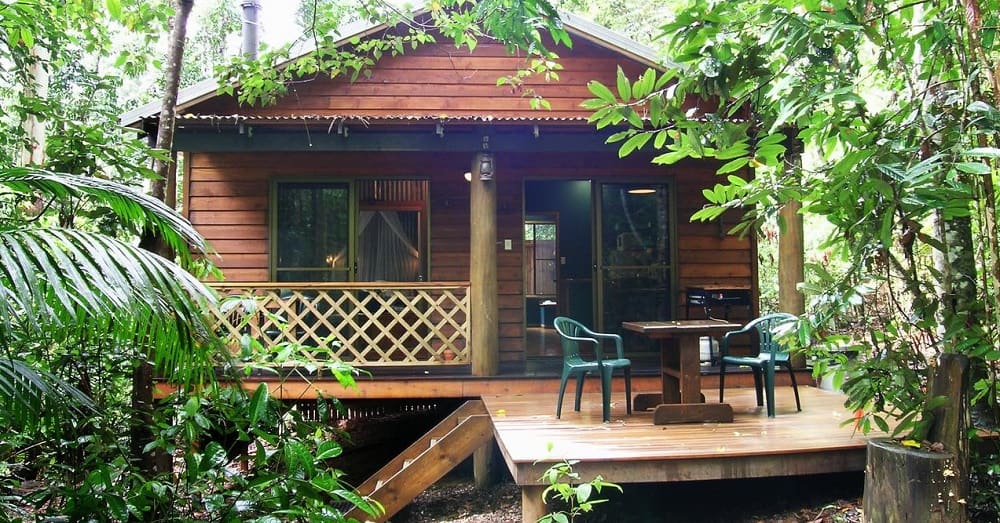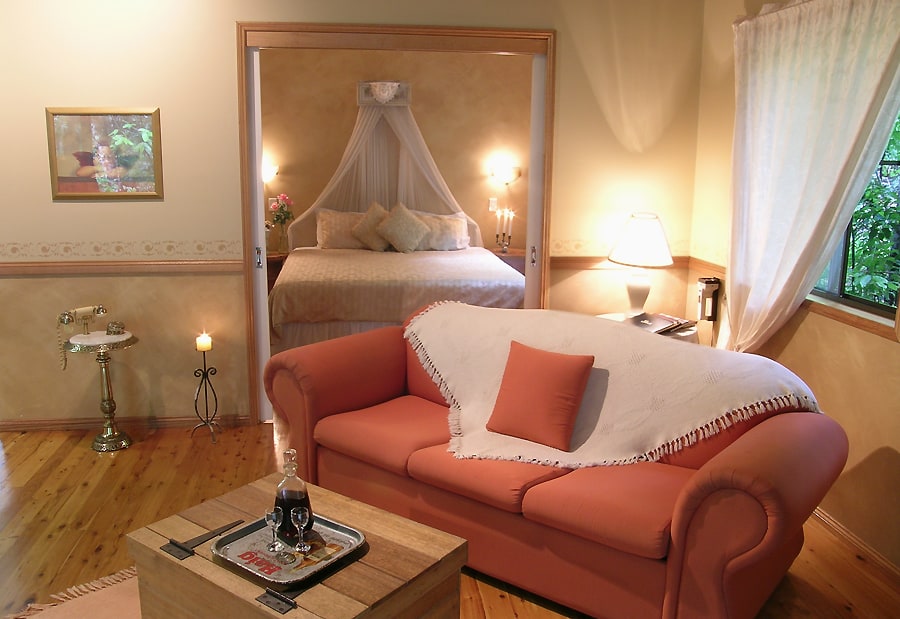 ---
Atherton
9. Nyleta Lodge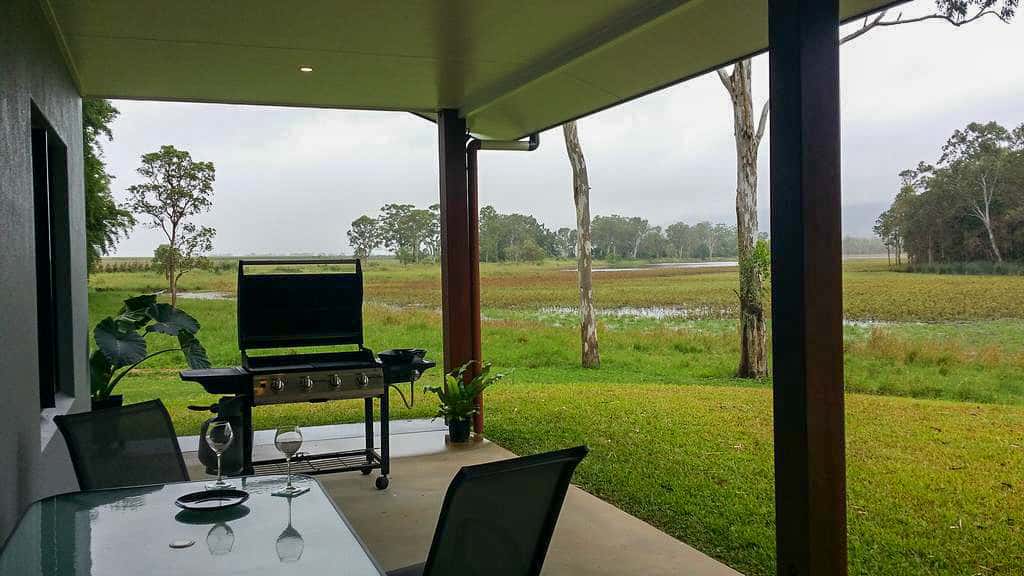 Atherton is the biggest township in the Tablelands and although it's tiny by city standards, I personally prefer to keep things more rural and avoid staying in the centre. However I know the other nearby spots can fill out in season so it may be the most convenient option, plus it's a handy stop for the supermarket (or maybe a restaurant- Bubba Curry is yummo).
I had a relaxing stay at the no-frills but scenic Atherton Motel which is positioned on the outskirts.
Otherwise Nyleta Lodge is a great location because its positioned close enough to town for its amenities, but far enough to completely chillax. The surrounding views look amazing and you can enjoy zenning-out on the terrace with a good BBQ dinner.
The house looks comfortable and offers 4-bedrooms within a generous 212 m² of living space (it can accommodate up to 6 people). I really wanted to stay here on our last trip but it was booked out, and as it's only one property it books out fast. Hopefully there's still a chance for me if you don't grab it first!
---
Accommodation South of the Atherton Tablelands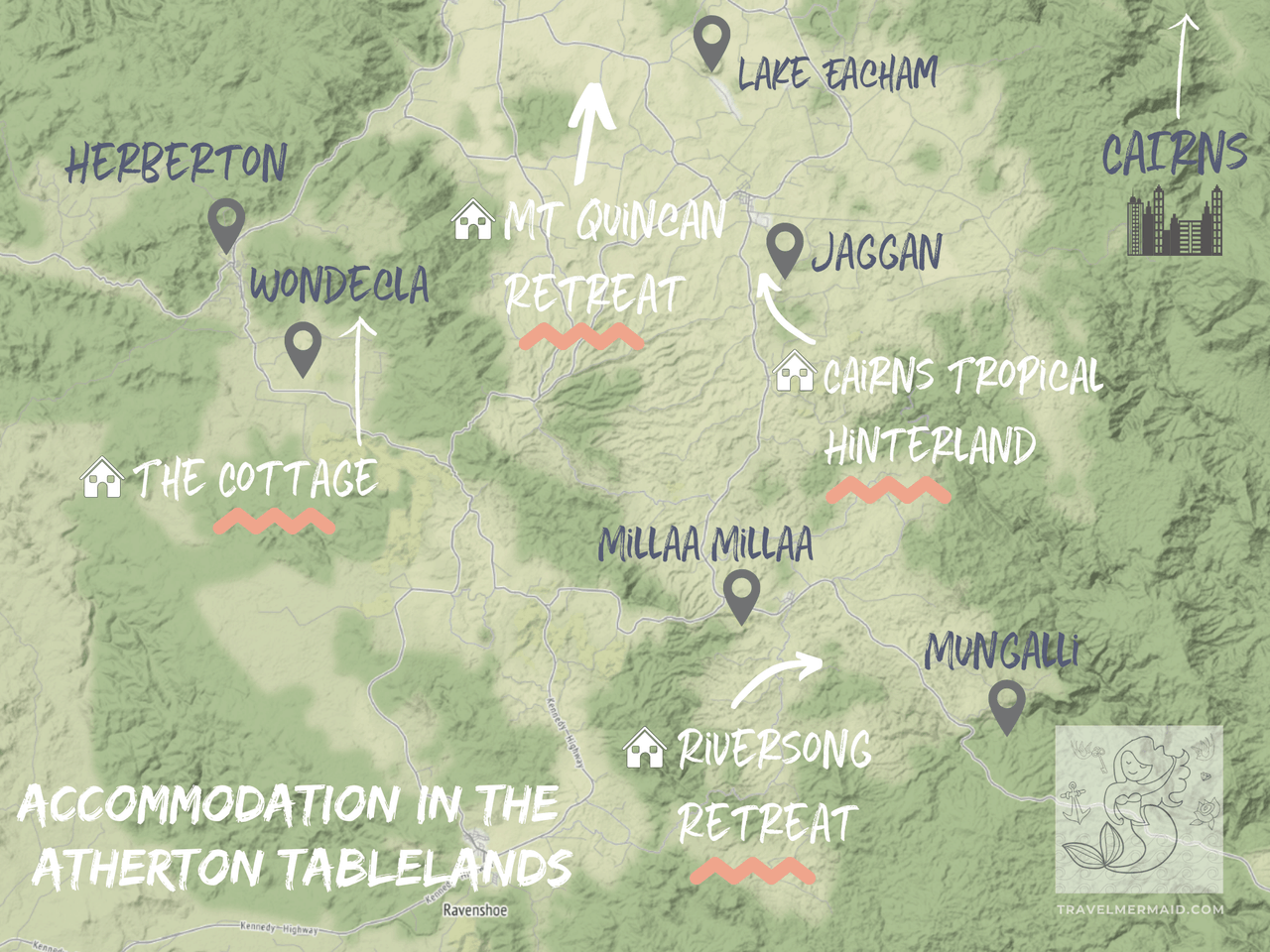 A lot of people miss spending time at the southern end of the Tablelands which is a shame because it has a lot to offer, and it's rolling hills are even more spectacular. Down this way accommodation pickings may be a bit thinner on the ground but there's still a few goodies to check out.
---
Jaggan
10. Cairns Tropical Hinterland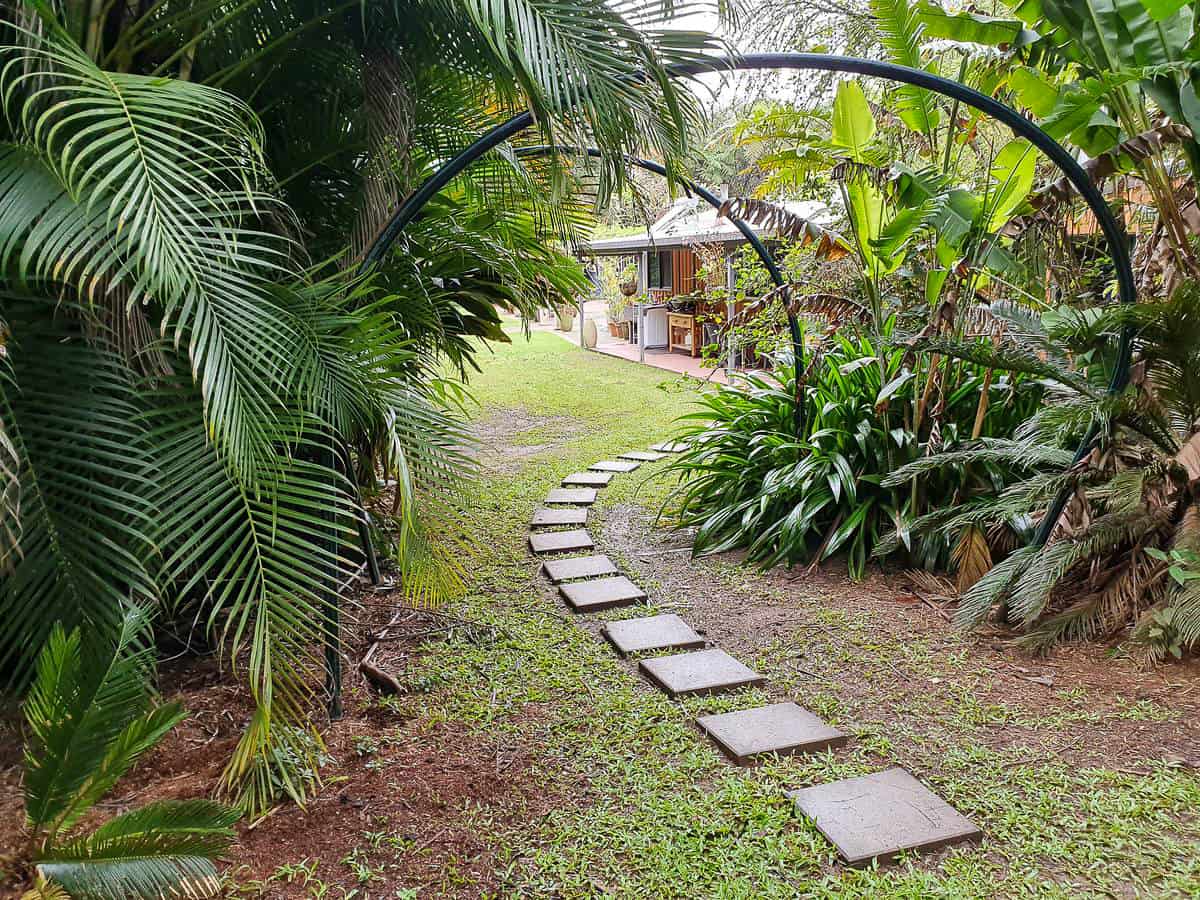 I didn't stay here personally but it I've bookmarked it for a return visit and as it looks like great value for money. The cottage sleeps up to 4 (of no extra charge for more guests) and provides everything you need for a comfortable stay. Perks include a king-sized bed, welcome breakfast hamper, BBQ and a well-pruned gardens to explore. It's located just a 15 minute drive south of Lake Eacham.
---
Millaa Millaa
11. Riversong Retreat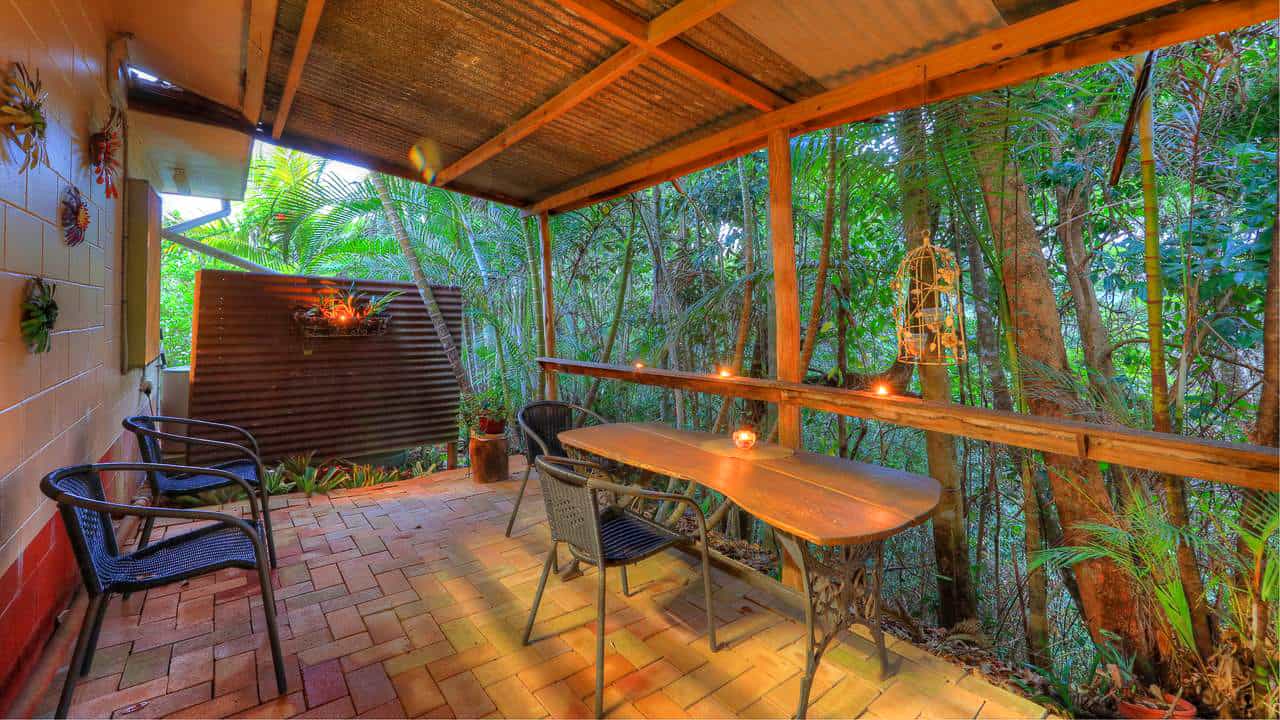 Riversong is a pleasant option if you're keen to explore all the waterfalls around Millaa Millaa and the south of the Tablelands. It offers a 45 m² studio or a two-bedroom self-contained apartment, complete with a balcony, BBQ and garden views.
---
Wondecla
12. The Cottage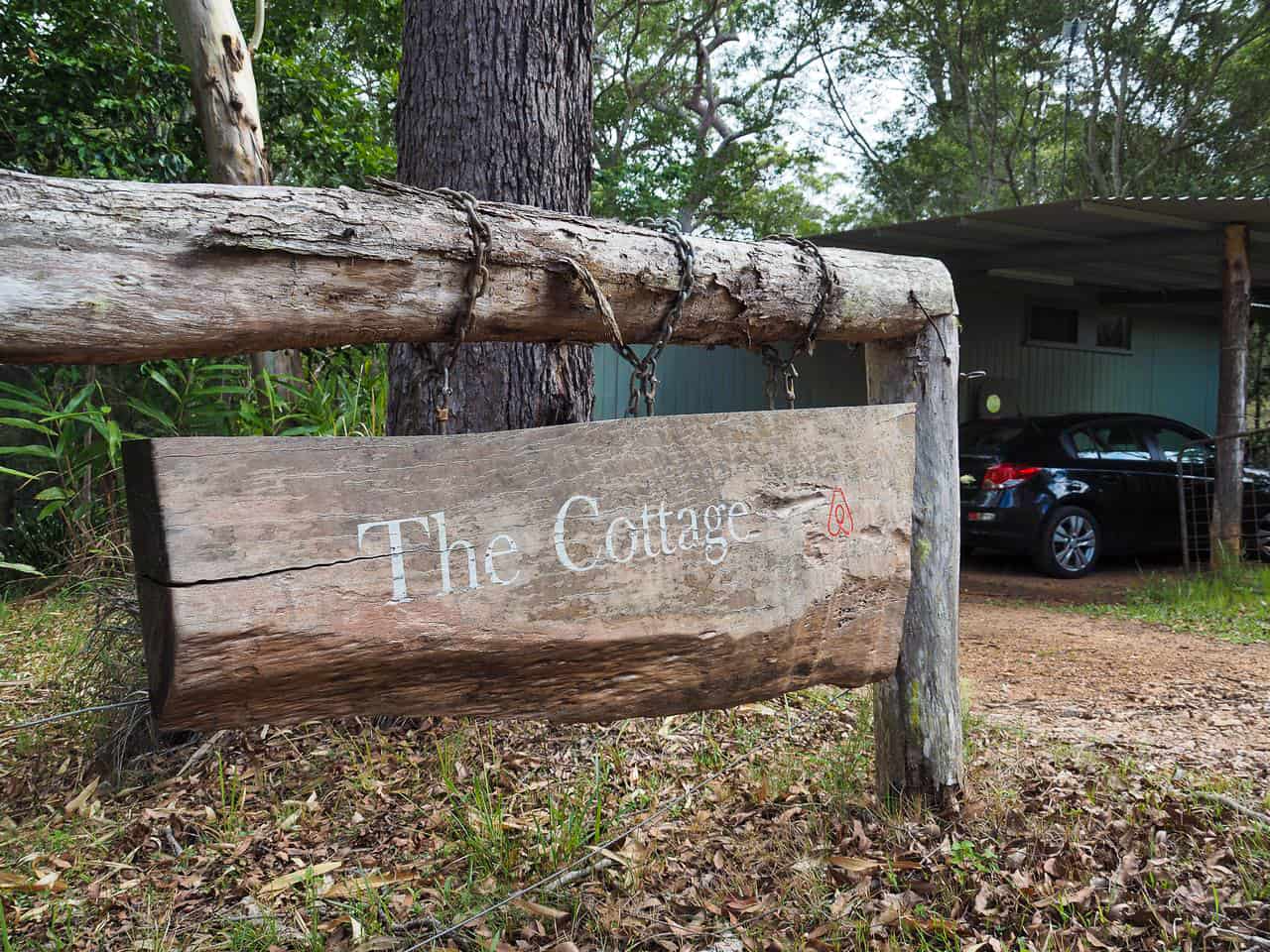 This was the Sailor's favourite place to stay in the Atherton Tablelands. He loved sipping a fresh morning coffee whilst sitting back in the comfy lounge chair and completing work with green views- it was one thing I loved about this place too. If you're a creative and looking for a remote work space far away from it all, then The Cottage is ideal.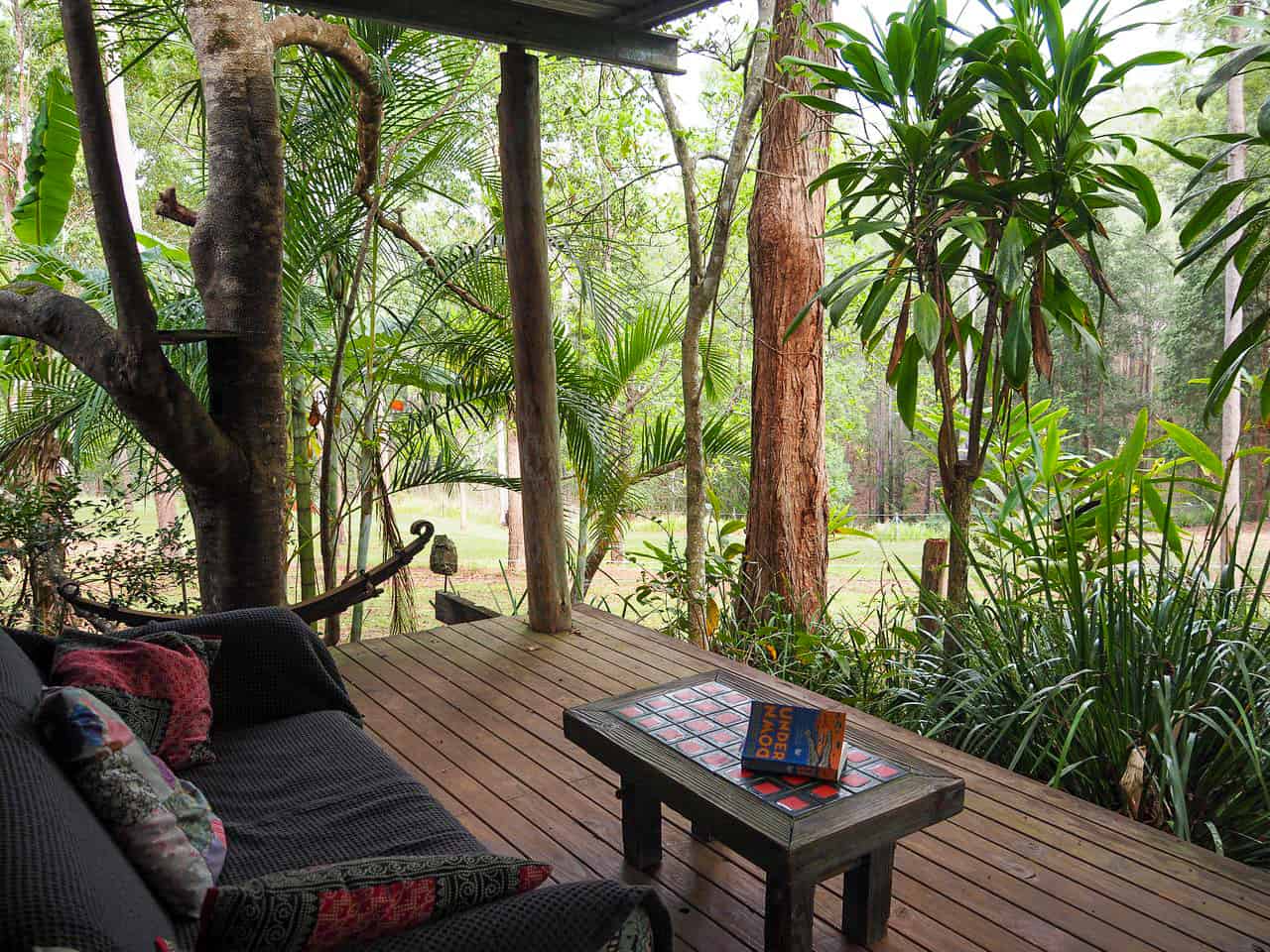 Wondecla is a short drive away from the intriguing town of Herberton, so you're close enough to explore this area but far enough from civilisation to completely switch off.
We accidentally ended up somewhere deep in the forest when driving in (tip: use Google maps for directions as recommended by the hosts, not Waze or other navigations!) but it was a good orientation to the area. You're basically just next to the Mt Hypipamee National Park and surrounded by forest, farmland and wallabies. It's utterly peaceful.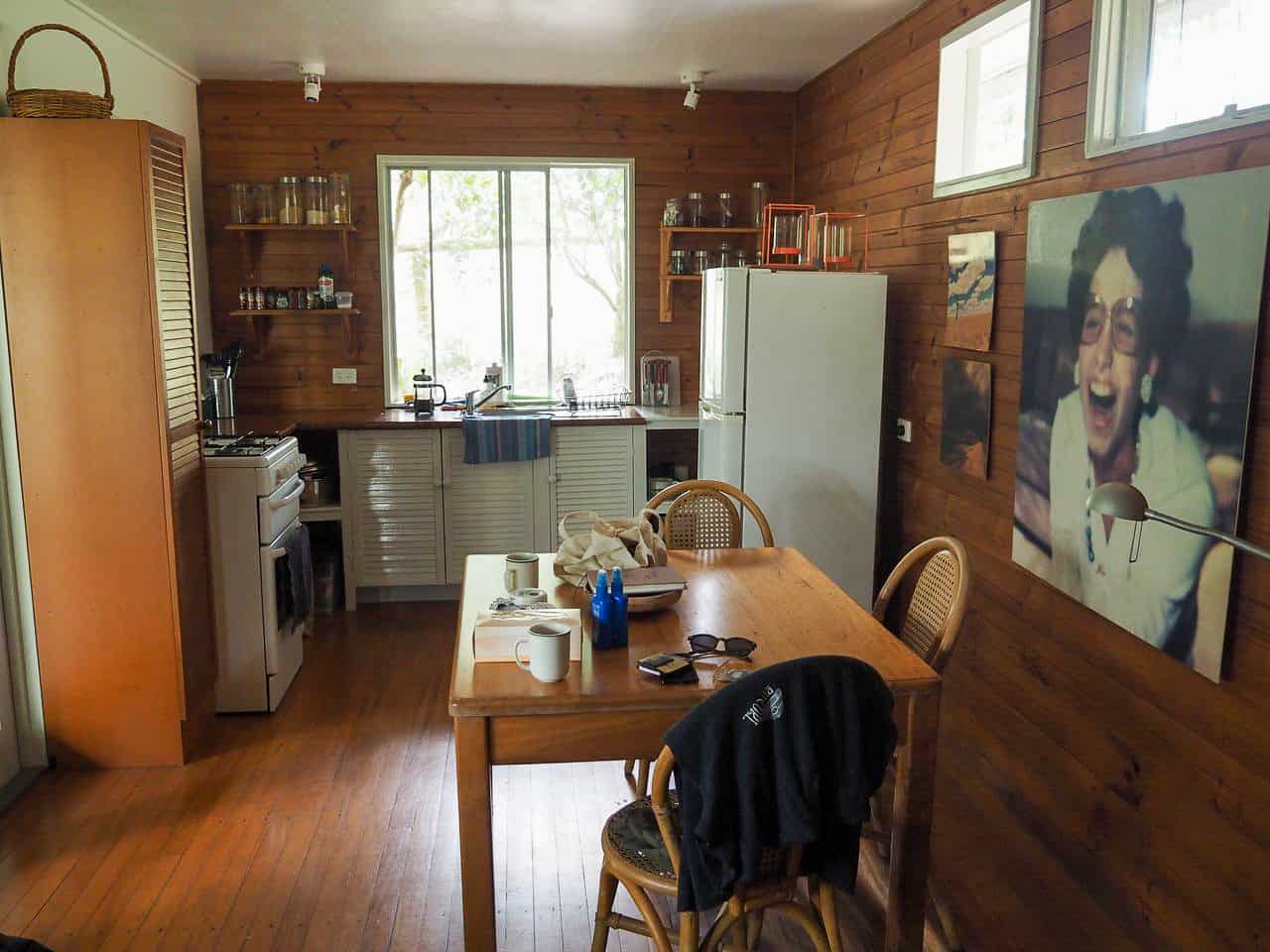 Over Christmas, The cottage is usually occupied for three months by Marty's parents who escape the Dutch winter, although they didn't come this year so we were lucky to rent it out. The unit is quite rustic and could probably do with a good spring clean as it's not really lived in, but for us it was perfect. It felt homely and like our getaway cabin in the woods.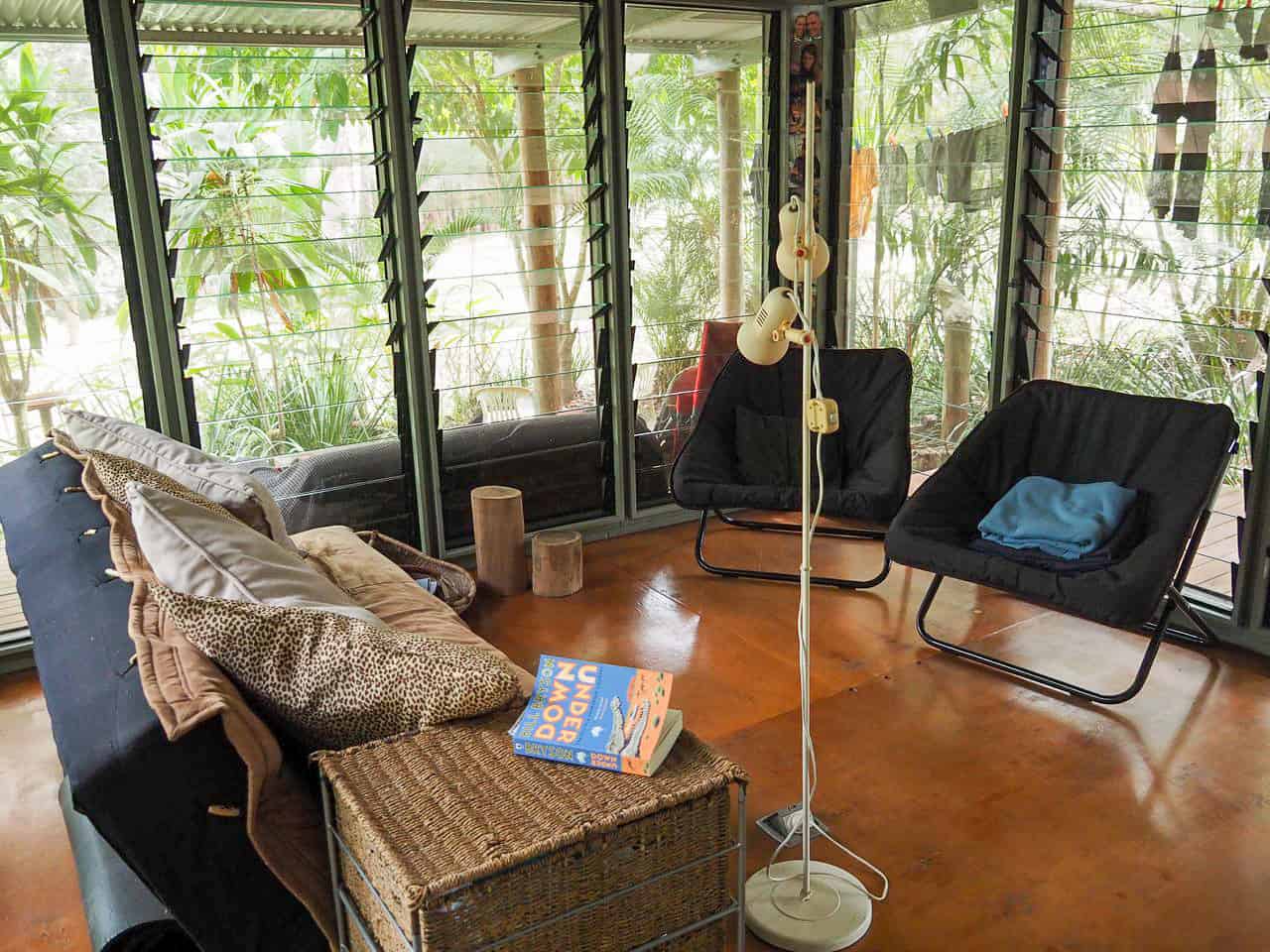 Another great bonus is how sustainable this property is. As well as recycling rubbish (which is so hard to find in hotel rooms these days), Marty & Jannie also compost, use recycled rainwater and have added eco-friendly products throughout. I wish more stays could be like this.
Tip: Similarly to Granite Gorge, you may with to use your own kitchen essentials and towels as theirs were quite rough.
Use this coupon code to get up to $76 off your first stay with Airbnb!
---
Bonus Resort!
13. Mt Quincan Crater Retreat (Luxury Escape)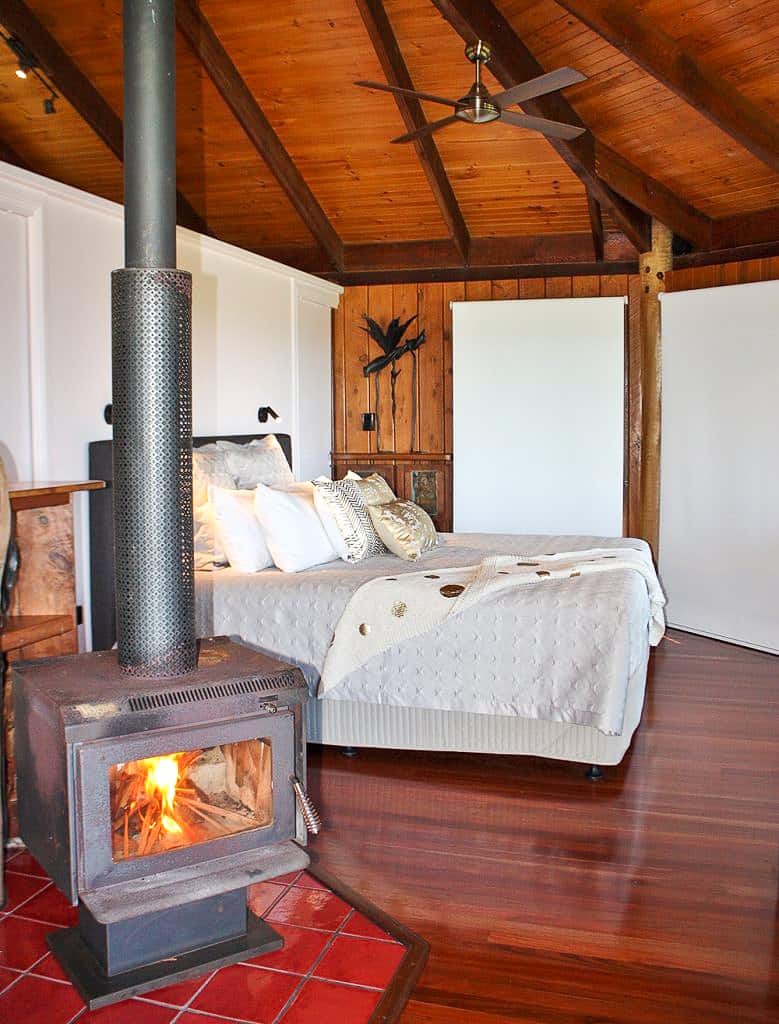 I was seriously eyeballing this retreat when I was searching for stays, but had to reluctantly bypass it as it was out of our price range for this trip. Big sigh.
We unintentionally passed it on our bike ride in Yungaburra and the setting is lush. If you have a special occasion coming up or a bigger budget, then Mt Quincan is one of the most exclusive luxury escapes up in these highlands. Situated close enough to Yungaburra for all its conveniences but far enough from it for that remote feeling, these tree houses are the bees knees.
I'm not sure I need to say much as the pictures speak for themselves, but all rooms come complete with a spa bath overlooking nature views, a breakfast hamper upon arrival, BBQ, king-bed, log burner and jaw-dropping scenery from your balcony, oh and the option for an in-room massage – I'm pretty sure you won't want to go home. Will anybody take me here please?! Just kidding. I might have to not forget my anniversary this year and treat the Sailor 😉.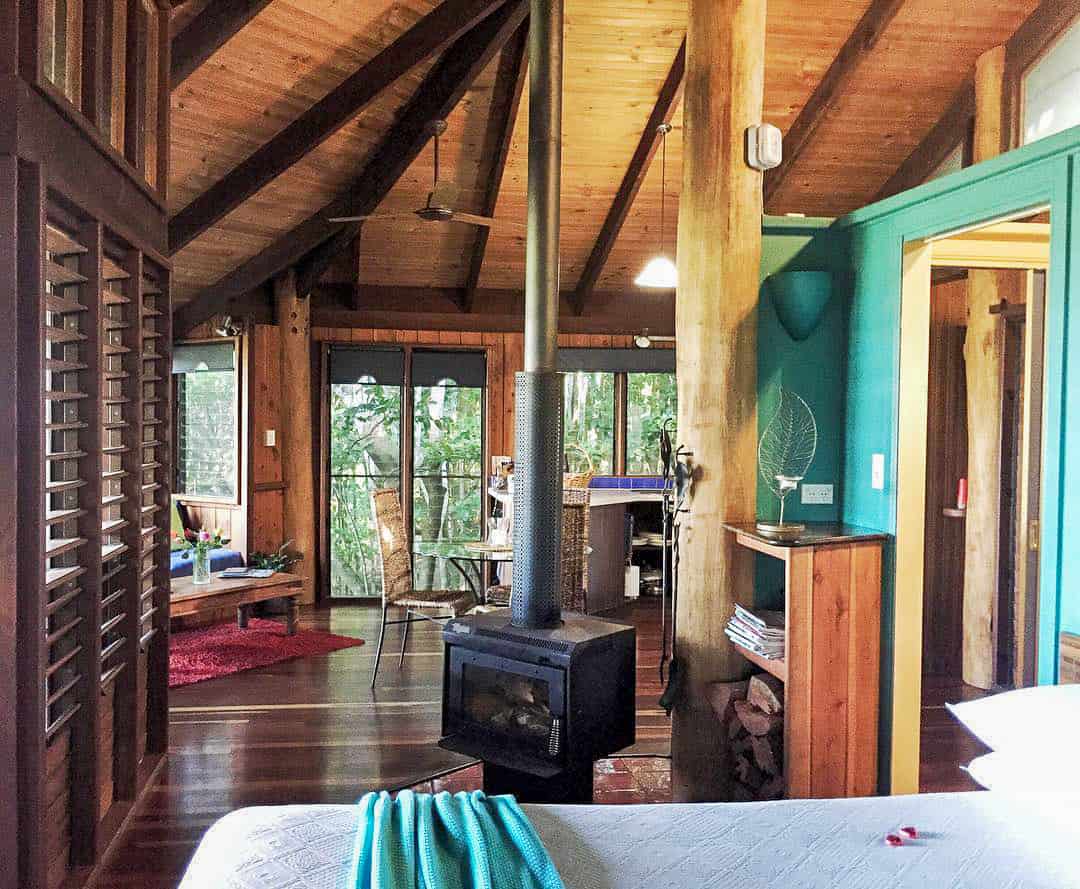 * * *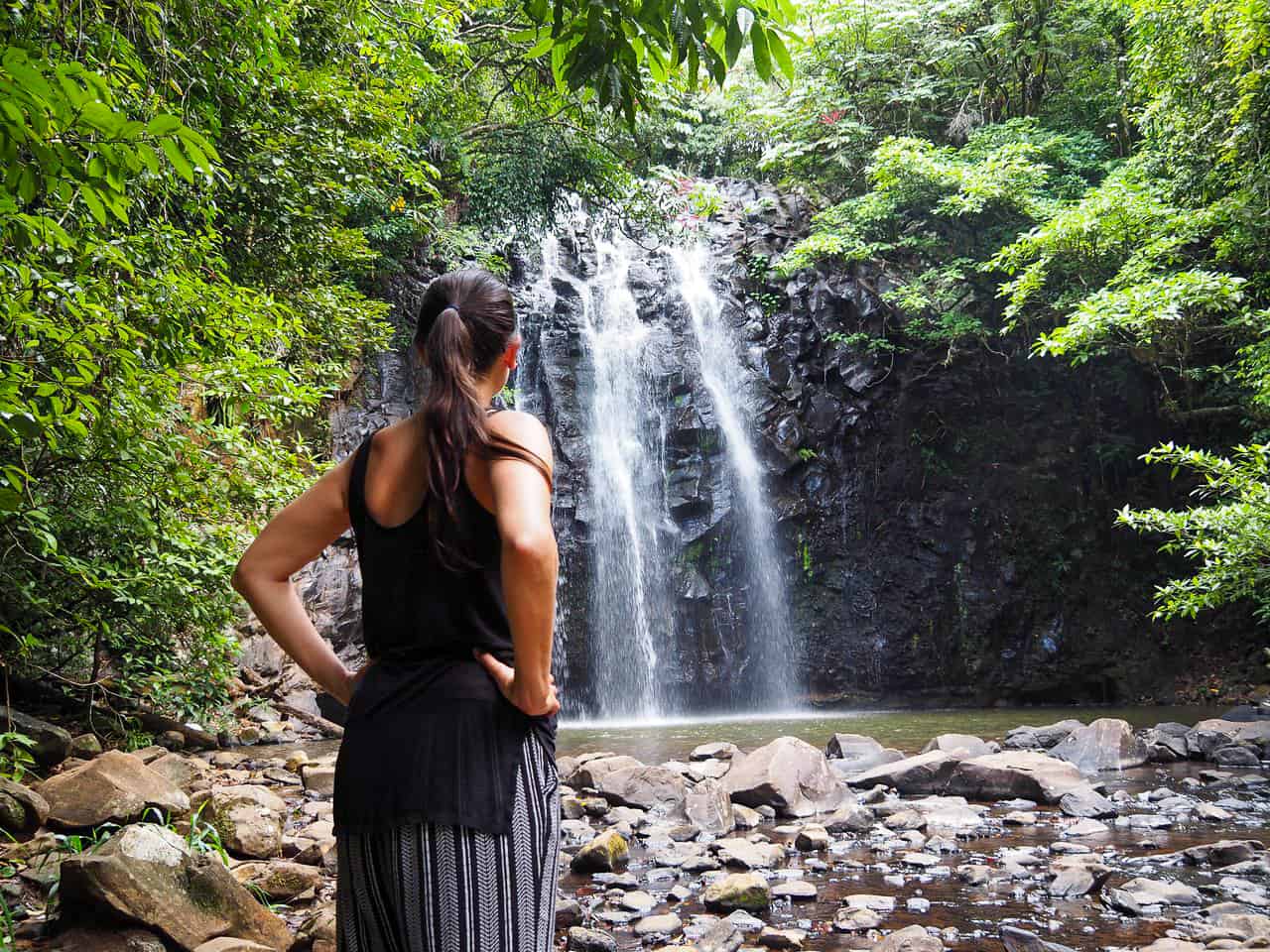 I hope you found my picks on Atherton Tablelands accommodation useful. There's a bunch of cracking stays and they generally feel really cosy and homely (or occasionally rustic), depending on your specs.
Do comment below if you have any questions about places in this list, and enjoy your trip!
Need more Far North Queensland juice? Check out my insiders guide to cracking things to do in
Cairns
and
Port Douglas
.
* * *
Like it? Pin it for later!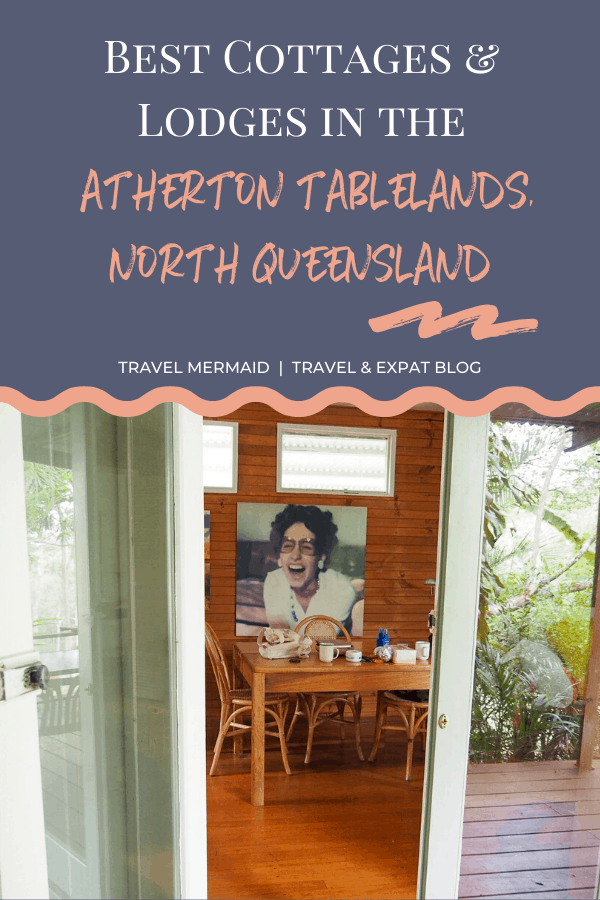 Disclosure: As I want to have the same authentic experience you do, I pay my way and no accommodation in the Atherton Tablelands was comped on this trip. In this article I've included some useful links so you can easily book your room and a few are affiliates that help keep this website running, of no cost to you. 🤙🏻
XOXO