---
It has the lush beaches, the wellness retreats, the hippie vibes and some of the best watersports offerings in Thailand. Those that have visited Koh Phangan outside of the Full Moon Party will know that it is an understated gem in South-East Thailand. It has made such an impression on me over the years that it's fast become one of my favourite Thai islands.
Unlike neighbouring Samui which is a magnet for high-end resorts, Koh Phangan has remained relatively modest in comparison.
Since its flower-power days, KP has been branded a 'budget' island with backpacker style accommodation. But all that is changing. With plenty of mid-range hotels and a decent pick of luxury alternatives, it's an island that caters for all holiday budgets.
Top Tip: I always prefer staying away from Haad Rin beach where the Full Moon Party happens. Although it's relatively quiet afterwards, I prefer the crowd & vibe on other parts of the island.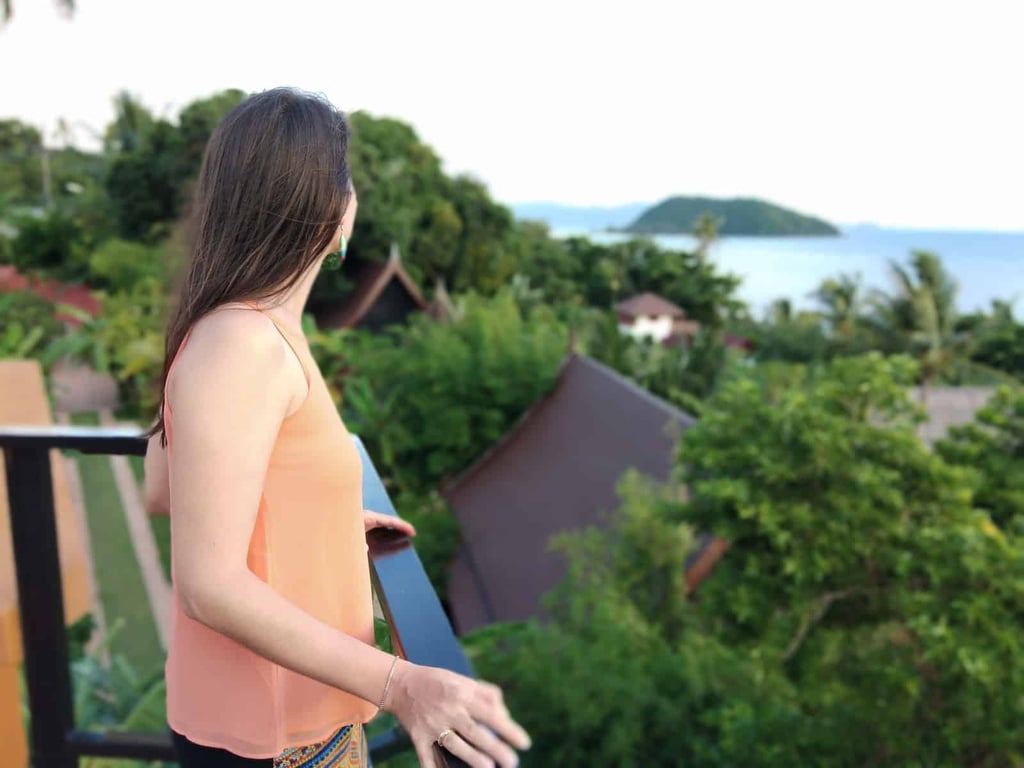 ---
Run by a totally loveable French duo Karine and Melanie, this place gives a personal 'French' touch and makes you feel more like a valued guest than a tourist.
Alcove only have 7 bungalows which adds to their homely feel and makes it quieter than other stays. I'd recommend the Deluxe with Garden View (or above) to get the best rooms. The bungalows were tasteful, well maintained, clean and overlooked a peaceful garden.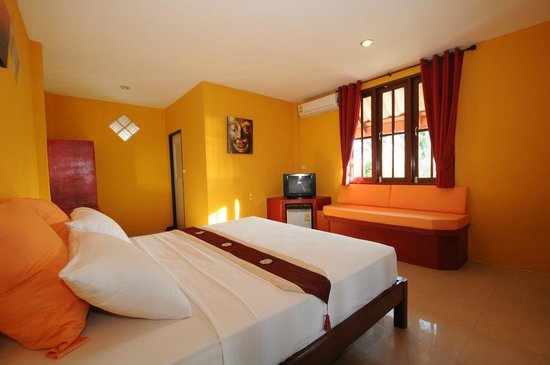 However, it's not just just the rooms that were an attraction. What 'sold me at hello' is their French bistro and wine bar on the beach.
Serving more than 60 wines by the bottle and a selection of traditional French favourites (including pâtés, cheeses and cold cuts) it offers a relaxed and elegant environment, complete with sunset views. Plus it's only a few steps away from your bed. 🤟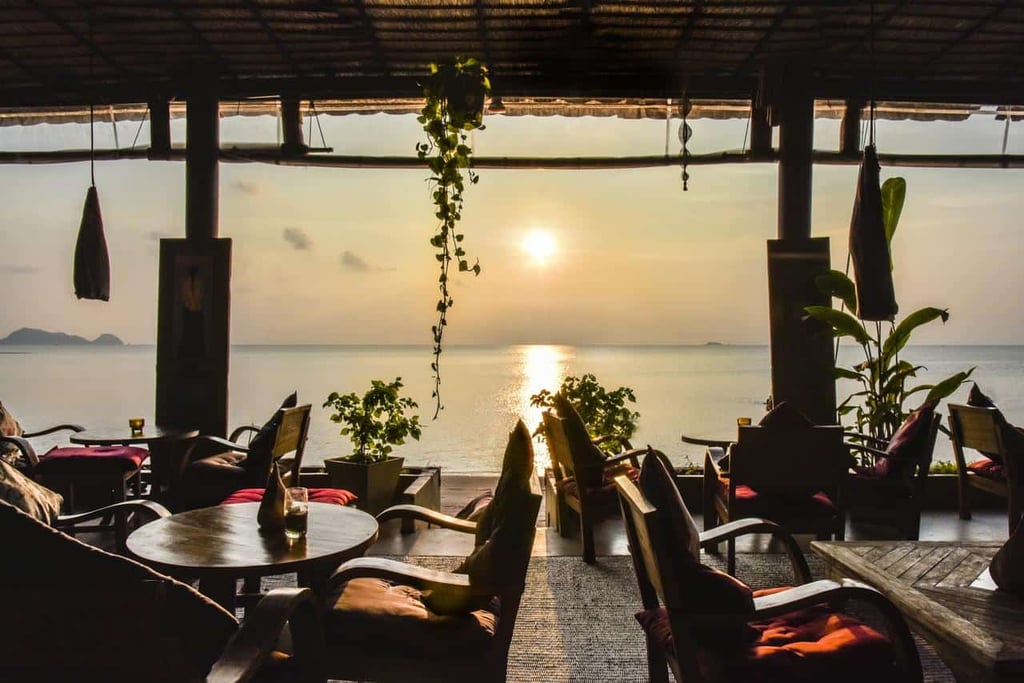 ◇ Location: Hinkong Bar (west coast)
◇ Bungalow price: from THB 900 per night (approx. £22 GBP/$29 USD)
◇ Bookings: To read reviews and take advantage of Genius discounts, book via Booking.com.
---
I first stumbled across this place when stopping by for a drink, and then I didn't want to leave! Apart from the most admirable vistas and a modern decor in the bar & restaurant area, they have an infinity pool sent from the Gods that overlook paradise.
Its chic vibes also take you far away from the hippie grooves on Koh Phangan and make you feel like you're at a high-end retreat in Sardinia or neighbouring Samui.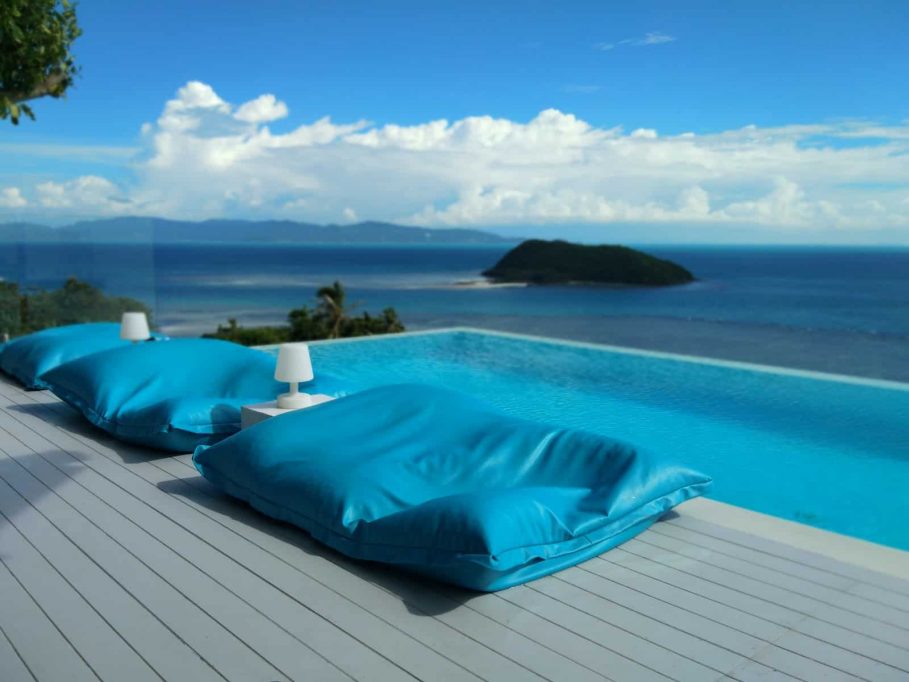 Accommodation at Bluerama is set inside contemporary Thai style bungalows with either a garden or sea view (sea views in my opinion are always worth the additional few dollars). This may possible be the best sunset room in town.
These guys seem to book up quick so book in advance if you fancy a stay. Or you can always spend 600 baht (about £12 GBP) to hang here for a day and use the facilities.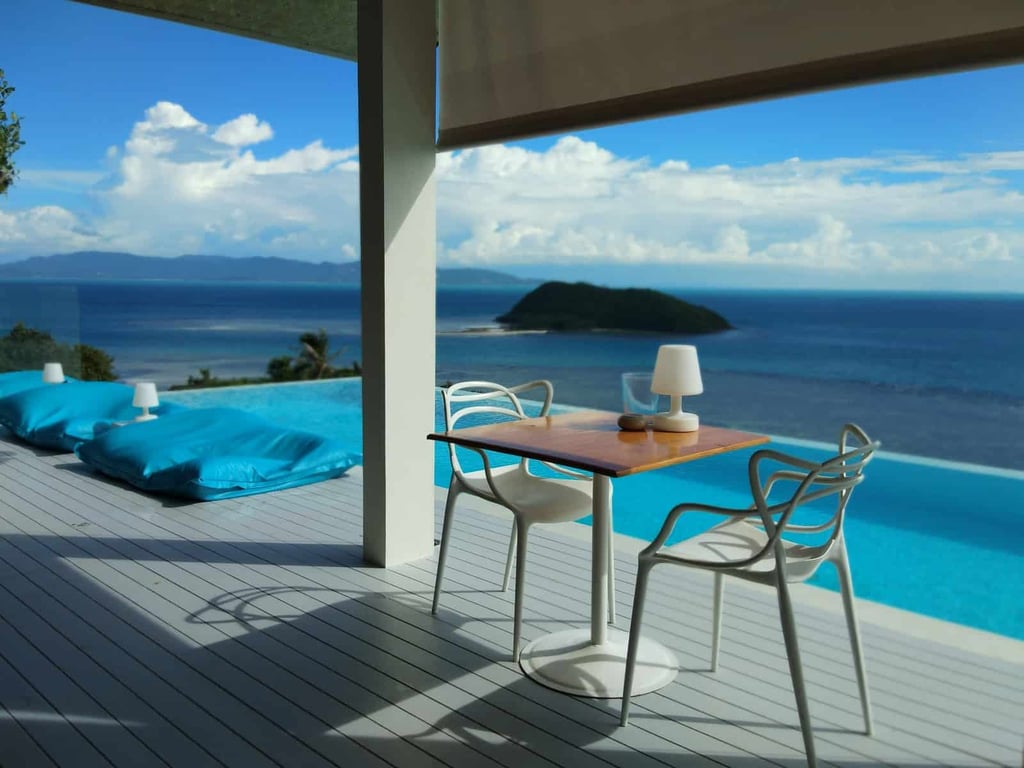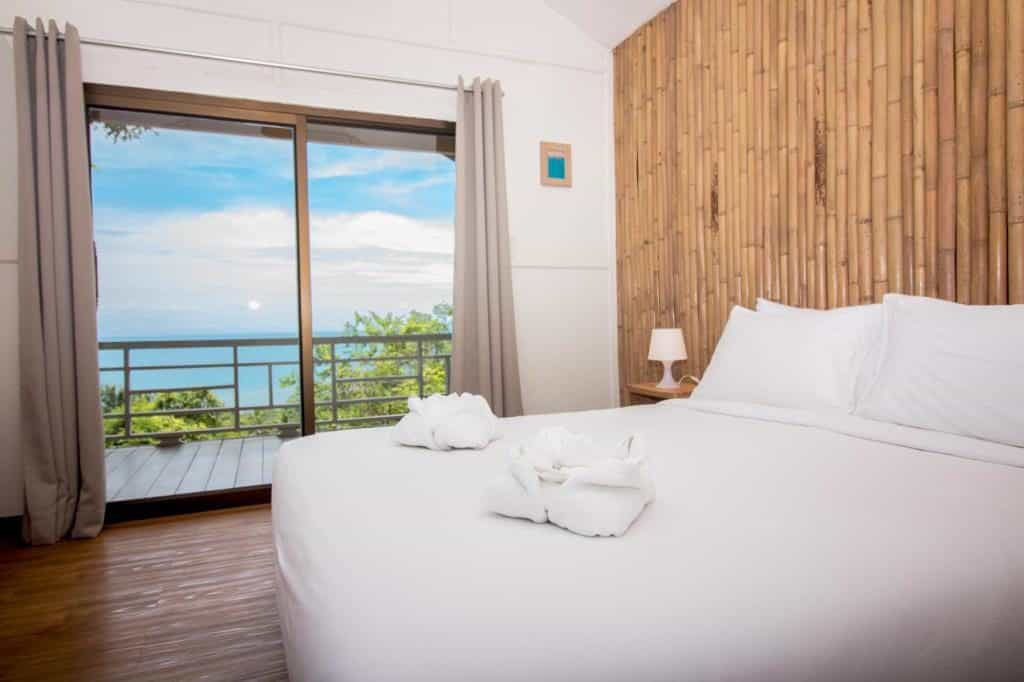 ◇ Location: Nai Wok Beach (west coast)
◇ Room price: from THB 1745 per night / 3-night minimum (approx. £43 GBP/$55 USD)
◇ Bookings: To read reviews and take advantage of Genius discounts, book via Booking.com.
---
Set in between two popular neighbourhoods- Thong Sala and Haad Rin- this gem is on the peaceful part of Baan Tai beach.
Although I didn't stay here, I enjoyed dining at their restaurant which offered cracking sea views, and their beachside spa treatments were awesome. On each visit, the service was friendly and efficient, and the food easily became one of my favourite Thai eats around.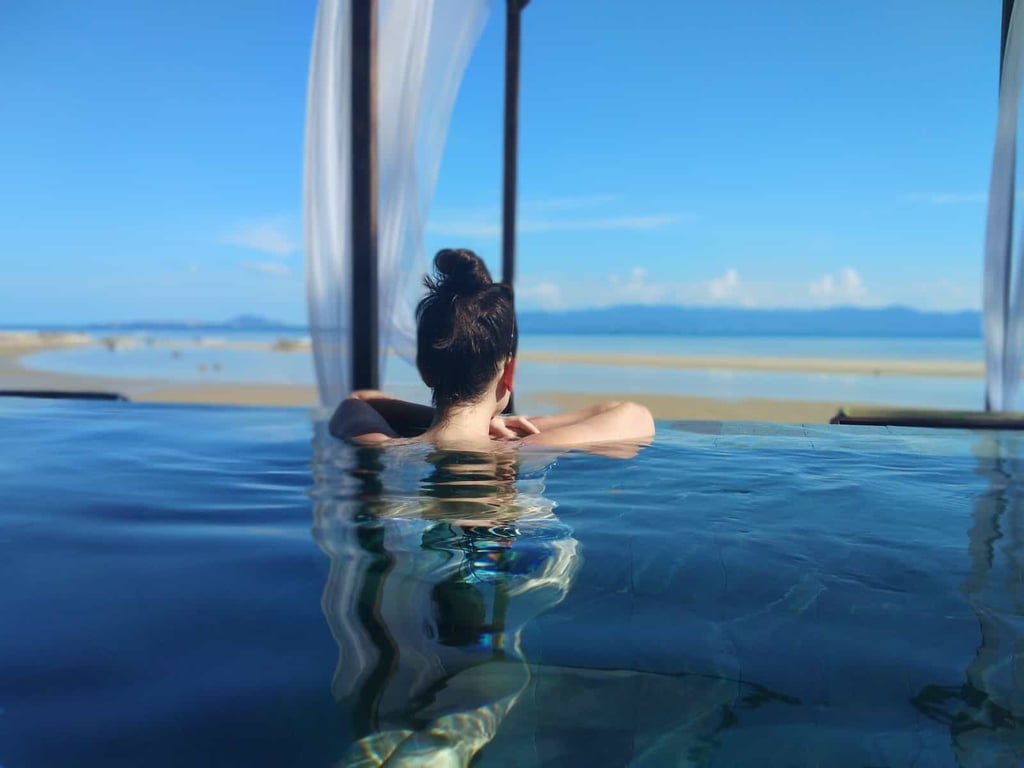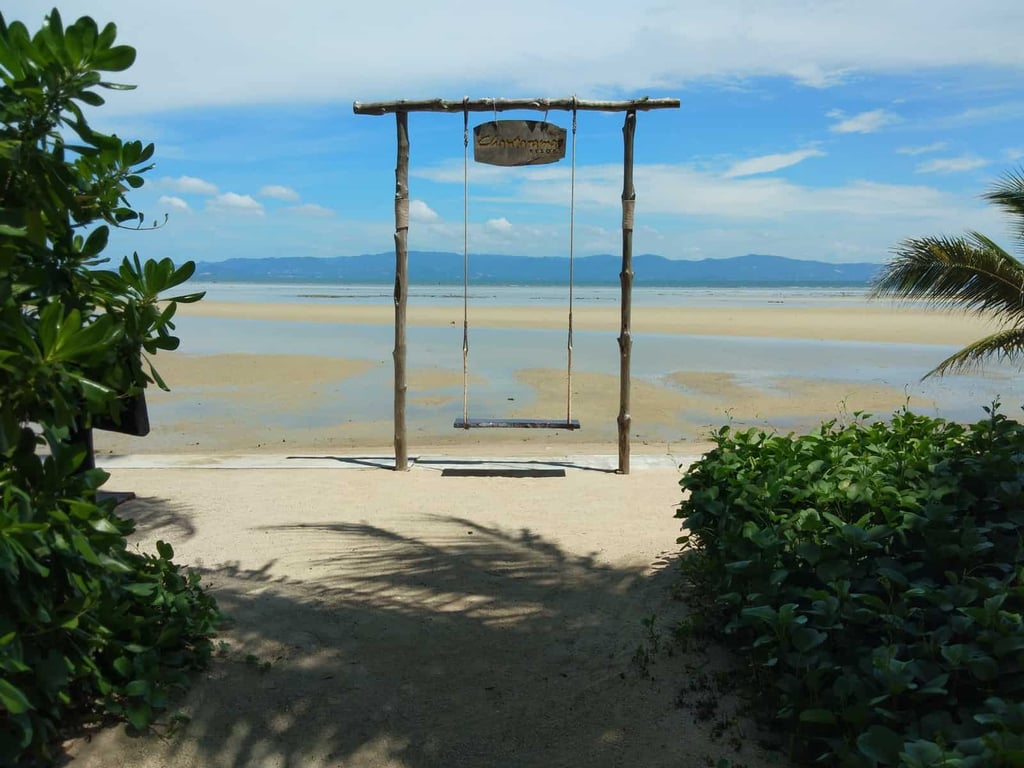 The rooms look a modern Thai-chic, and are generously sized at 52 m². It comes complete with all the mod-cons, a balcony and the beds are extra long too.
Their facilities include all of the additional perks you'd want from a tropical holiday, complete with a swim-up bar, sea-view infinity pool and beachfront massage gazebos. If you're looking to visit the zen den and really relax, then this resort will send you there.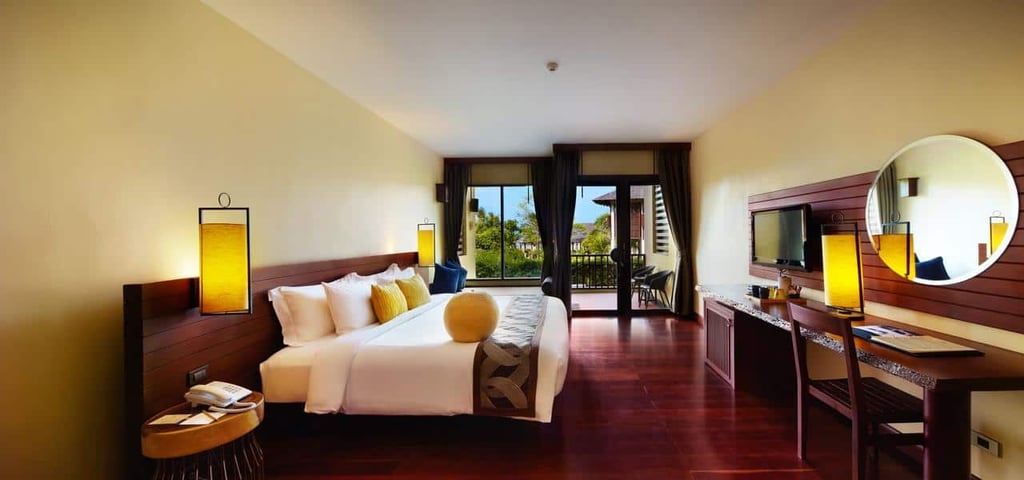 ◇ Location: Baan Tai (south coast)
◇ Room price: from THB 3850 per night (approx. £96 GBP/$123 USD)
◇ Bookings: For the best rates & Genius discounts, book via Booking.com.
---
As we were kitesurfing on our recent trip to Koh Phangan, regretfully we had to skip Bottle Beach this time around. But in 2015 we had one of the most memorable stays at Haad Kuad, a resort that sits on the island's lushest beach.
Firstly, don't be a cheapskate and go for a bungalow. We did (I was in my 20s at the time 😉) and our room was dark & smelt of mould, so we upgraded to the Standard Double Room with a sea view. It was definitely worth the extra few bucks – waking up on Haad Kuad was priceless.
I remember it being so peaceful in the morning and it felt like we had the whole beachfront to ourselves. Castaway vibes are huge! (Note: There are some day trippers who come late morning but then they're all gone again by dusk.)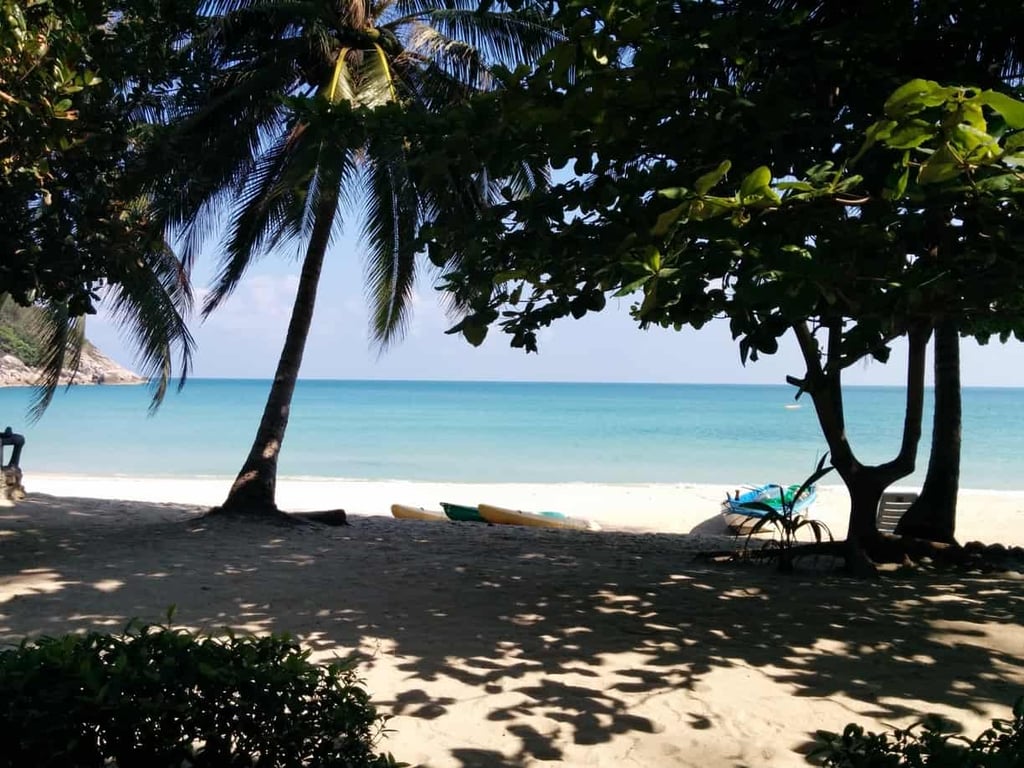 The sea view rooms are comfortable and spacious at 40 m², with modest Thai style decor. They have all the perks you need like AC, a balcony and best of all, a hammock just in front of your patio. Being able to merely take two steps from your door and feel the super-fine sand between your toes was barefoot luxury.
As it's a secluded beach (and you need a longtail boat to get there) I'd recommend 2-5 nights. That way you can totally chill and then enjoy the offerings on the rest of the island.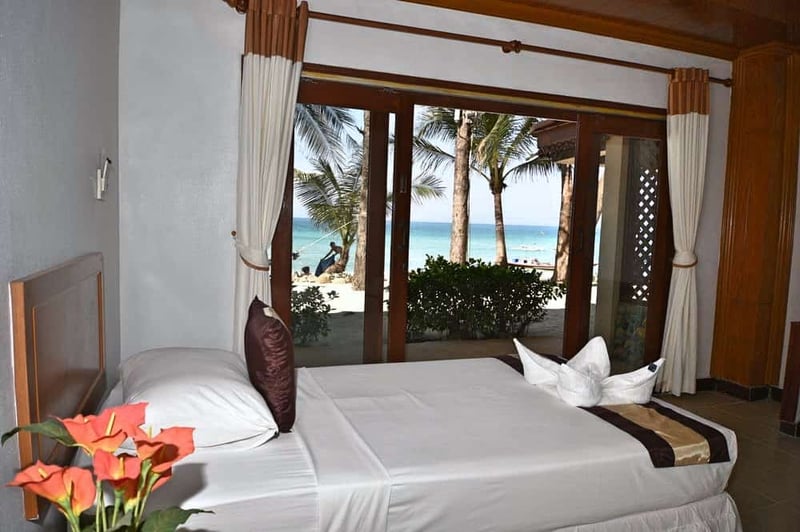 ◇ Location: Bottle Beach or Haad Khuad (north coast)
◇ Room price: from THB 342 per night (approx. £9 GBP/$11 USD)
◇ Bookings: For the best rates & Genius discounts, book via Booking.com.
---
Although a bit busier than Haad Khuad, Thong Nai Pan Yai offers a more remote beach experience compared to the rest of the island, yet you're not reliant on only a boat to get there. It's only a 30 minute bike ride from Thong Sala that takes you through the gorgeous hills.
Thong Nai Pan Yai is the kind of place you could happily spend a 1-2 week holiday and leave feeling regenerated. It offers an awesome beach with super-fine white and warm turquoise water. It also has a decent selection of restaurant and bar options if you want to venture away from the hotel.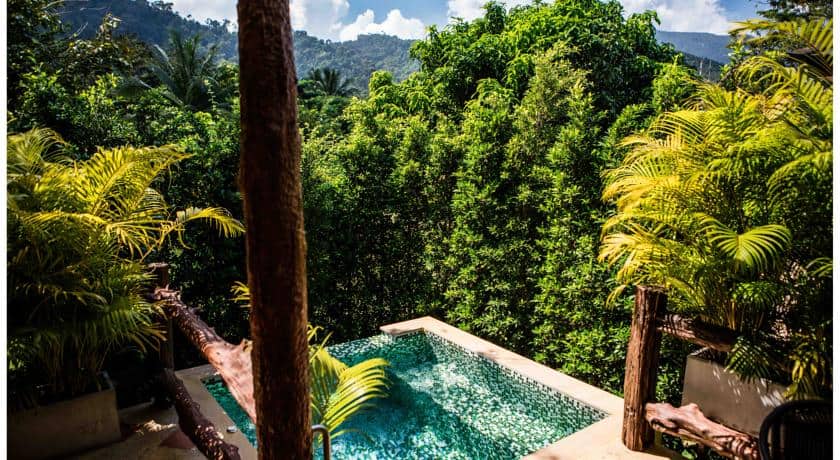 A Superior Chalet here is surrounded by nature, offering views of either their tropical garden, the jungle-clad mountain or pool. Their Thai style rooms are a spacious 40 m² & offer all the mod-cons like a private pool, large double bed (and a single) with a balcony and terrace.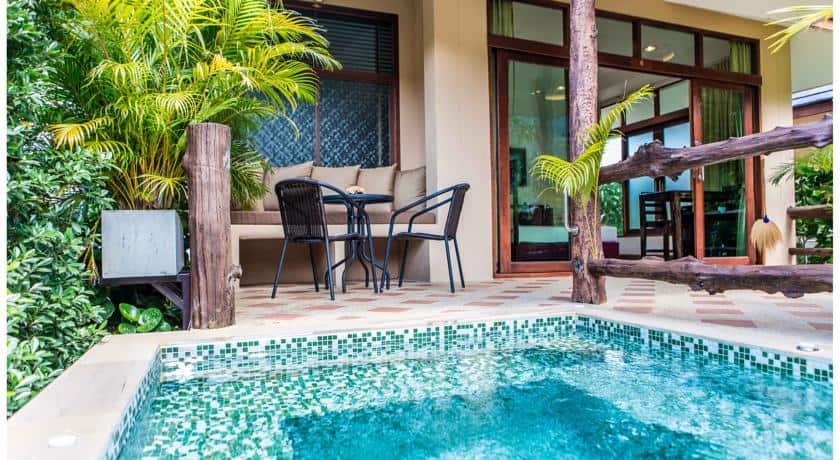 ◇ Location: Thong Nai Pan Yai (north-east coast)
◇ Chalet price: from THB 2250 per night / 2-nights minimum (approx. £61 GBP/$72 USD)
◇ Bookings: For the best rates & Genius discounts, book via Booking.com.
---
Located just north of Thong Nai Pan Yai, it's sister beach 'Noi' is even more remote and promises a romantic getaway.
It's slightly pricier than the other pickings so this is more of a special occasion or treat if your budget can afford. But scoring a very impressive 9.5 on Booking.com, value for money doesn't come much better than this.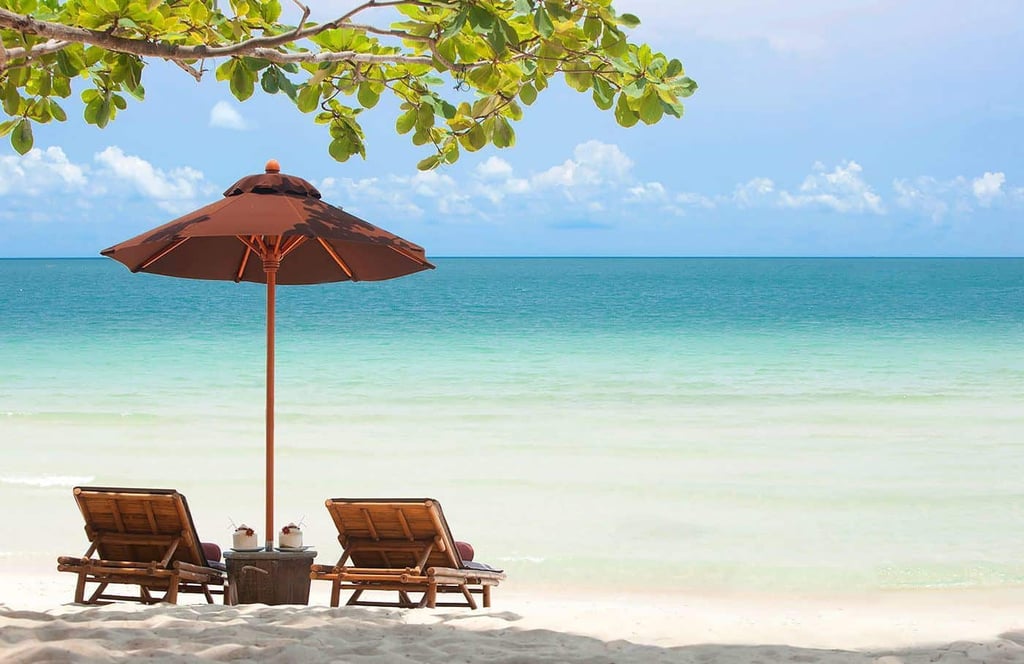 With most rooms boasting a sea view, they are also soundproofed and a generous 35 m².
As a 4* resort, it also comes with all of the bonus extras like a spa, an open sala used for massages, a fitness centre and some rooms even have direct swimming pool access.

◇ Location: Thong Nai Pan Noi (north-east coast)
◇ Room price: from THB 4405 per night / 2-nights minimum (approx. £110 GBP/$141 USD per night)
◇ Bookings: For the best rates & Genius discounts, book via Booking.com.
---
Like it? Pin it for later!
Want more Koh Phangan juice? Find out about kitesurfing on the island
and how to get there!
XOXO