Since 2009, Kalpitiya has emerged as one of the hottest kitesurfing spots in Asia, leading to a boom in the number of kite resorts and kite schools in the area. But which stays 'n' schools are hot and which are not? This article will give you a lowdown on what to expect.
During my 10-day stay in Kalpitiya, I didn't plan on checking in to five resorts! 🙈
It seems to be a recurring theme that the Sailor and I book the cheaper rooms and what we think is a cracking deal, only to find that in reality, the Booking.com description is just a teeny bit, false. I'm sure this has happened to you before.
Except when this mistake occurs at Christmas, it's a huge bummer because the top picks usually book out well in advance. Particularly in one of Asia's biggest kitesurfing destinations.
Live it, learn it.
But at least it's given me some awesome first-hand experience that I can relay to you guys 🤙🏻
This article will feature a low-down on kite resorts in the area that I have personally stayed in or dined at (bar one, which look awesome!), as well as a range of kite schools.
---

What you can expect from most Kite Resorts in Kapitiya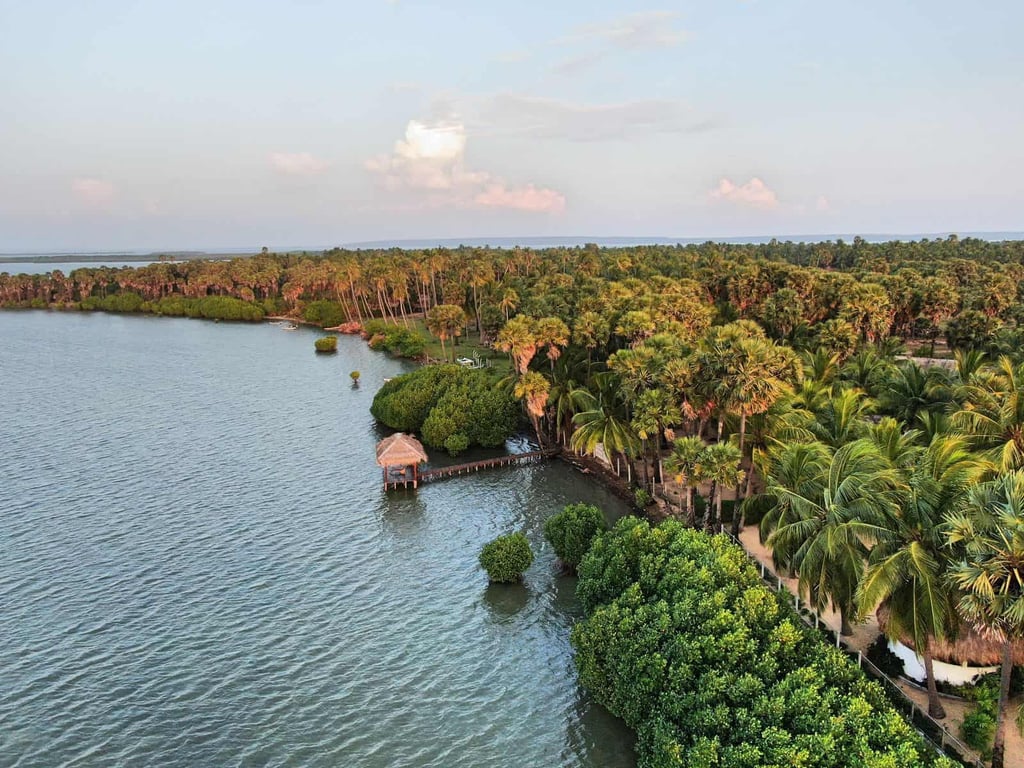 Essentially, Kalpitiya is a remote and underdeveloped fishing village that exudes authentic charm. To fit in line with the beautiful surroundings, many resorts are naturally styled and eco-friendly.
Most offer lodgings in partially open cabanas, so there'll be mosquito nets around the bed and no air-con. When I visited during the winter months, there was usually a good breeze coming in and they were quite airy.
A con to the lack of enclosure means you'll often hear a lot of what goes on outside. If you're lucky, this will be the sound of the sea lapping against the shore. But for those resorts with less open space around it, or that are right next door to families with children (and roosters!) then rooms can become a little noisy.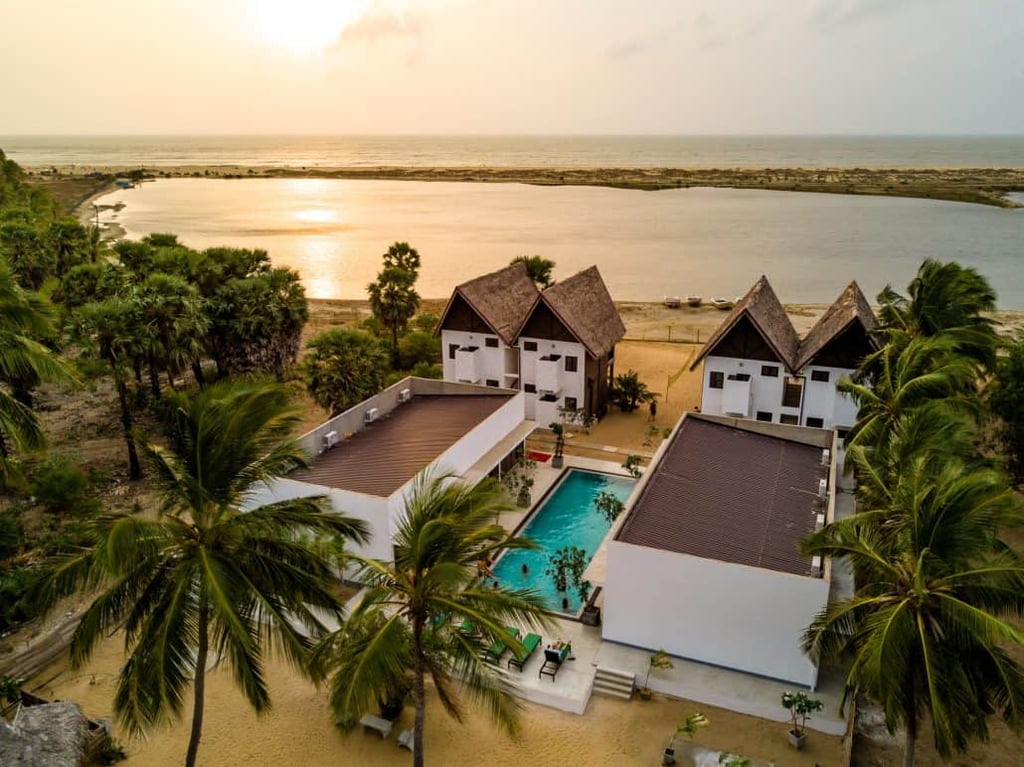 As well as most resorts being sustainable, my other favourite feature were all of the uniquely styled bathrooms that were set outside. Showers were cold but it was pretty cool showering in the open air each morning. It took some time to get used to doing everything outside though! Be prepared to embrace the complete al-fresco experience.
Many resorts offer full board options and provide you with breakfast, lunch and dinner. Around the Dutch Bay Road/Kandakuliya Beach area, there's a few places to dine (mainly other resorts, a great cafe called The BNKR and a few local eats.)
Most days we enjoyed having breakfast at the hotel and then ventured elsewhere for lunch and dinner. But if you're staying further out, then full board may be a better option as there's usually limited dining choices elsewhere.
Tip: For the best competitive rates and Genius discounts, I always book my stay via Booking.com.
---
What you can expect from most Kite Schools in Kalpitiya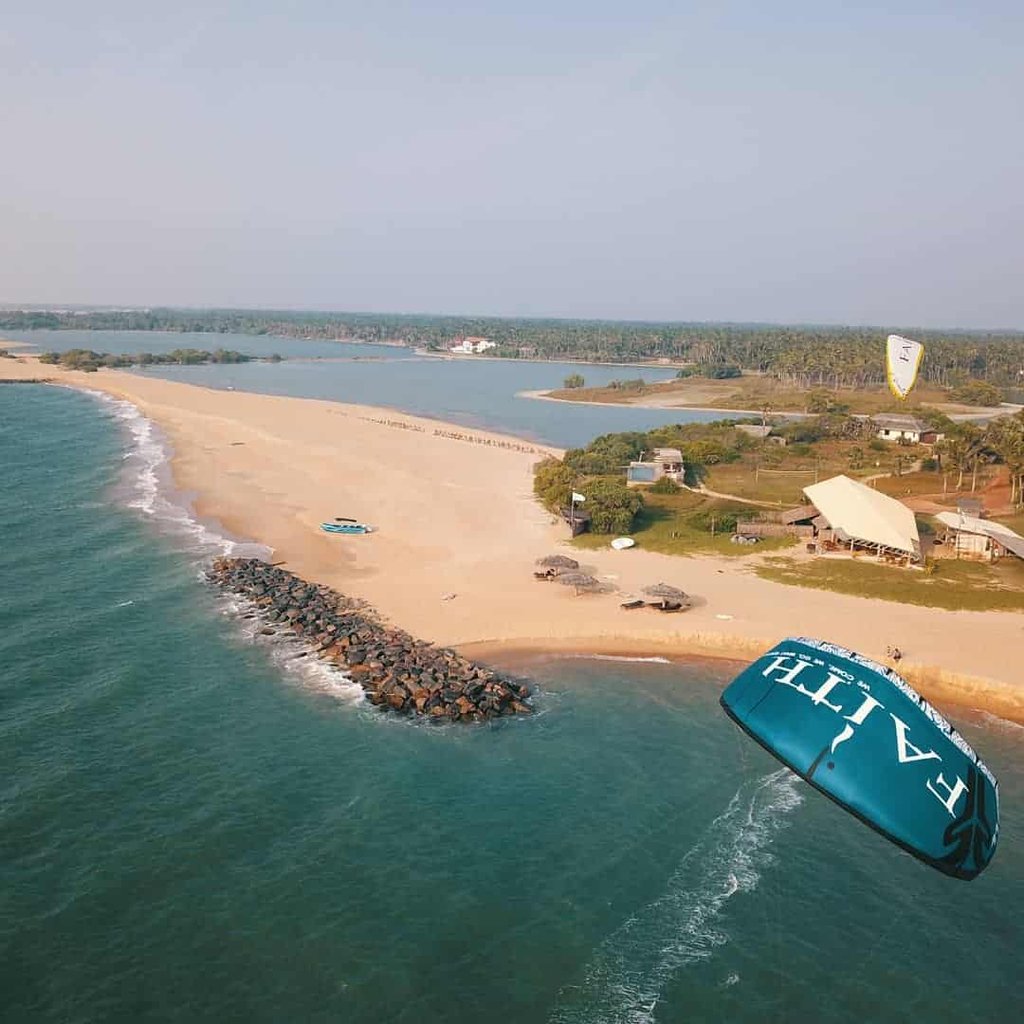 Most kite schools in Kalpitiya are based at resorts and a part of them. If you want kitesurfing lessons (particularly as a beginner) then it's preferable to stay at a kite resort that has a good kite school in it. Do be aware that there's plenty of resorts that call themselves a 'kitesurfing resort' but are only affiliated with a school. Find out before you book.
The benefits of staying at a kite resort with a school attached is that they can keep you updated with wind conditions and the best time to head out. Plus you won't need to go travelling to them everyday for transportation to the kite spot (although some outside providers may pick you up if you're nearby.)
If you're looking for a kite school that isn't at your resort, go to see them initially instead of making a call. You'll be more likely to receive lessons as an outsider (often preference is given to in-house guests) and you'll get a better idea of what they offer.
When you're seeking an instructor, take a look to see if the school is IKO certified with IKO instructors. Some kite schools claim all their instructors are certified, but this isn't always the case. When inquiring with kite schools, be specific about what you want and if in doubt, go to see the instructors personally.
During my stay I ended up having lessons with an English instructor as I didn't receive a good level of instruction with a couple of local guys. But, this is not to say there aren't some awesome Sri Lankan instructors in Kalpitiya, it's just that we weren't lucky to find them on this trip.
Related Read:
The Ultimate Guide To Kite Spots in Kalpitiya
---
Here's a list of Kite Schools & Kite Resorts for different budgets in Kalpitiya.


*Top Pick* The Rascals Kite Resort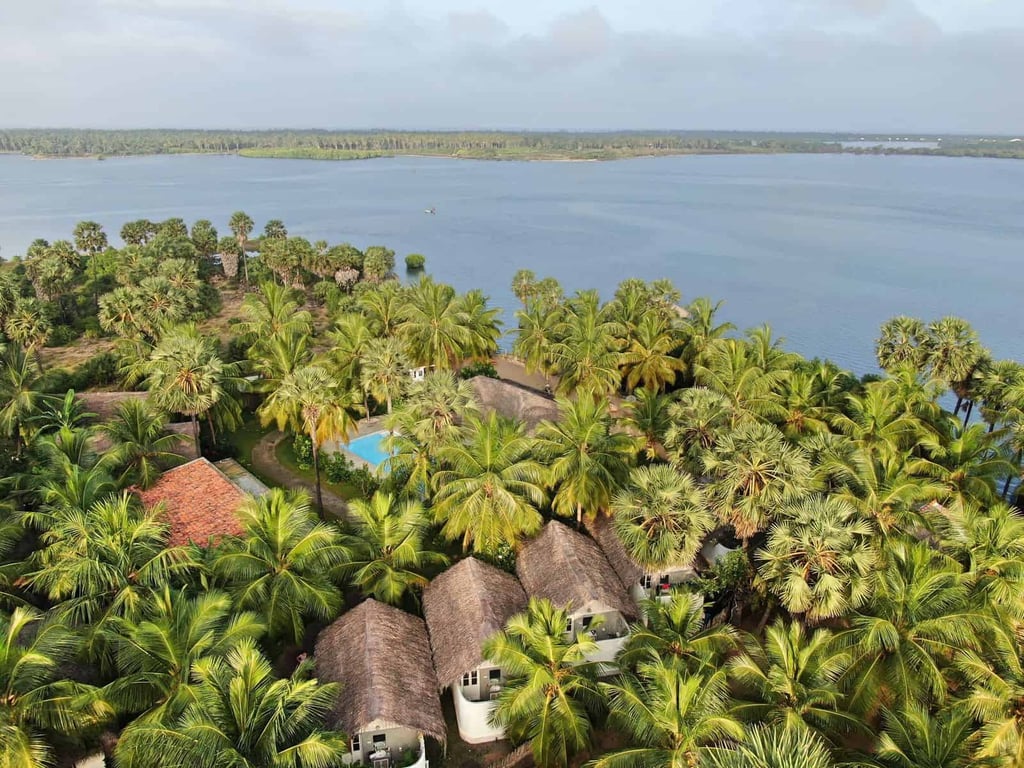 This was one of our favourite resorts in Kalpitiya. Surrounded by palm trees and overlooking the peaceful end of Kalpitiya Lagoon, it's the ideal stay if you want comfort, relaxation and nature in abundance.
We stayed in the Jungalow Escape room, which is top of their range. The room was fully enclosed and therefore quiet, unlike all other stays I had in town.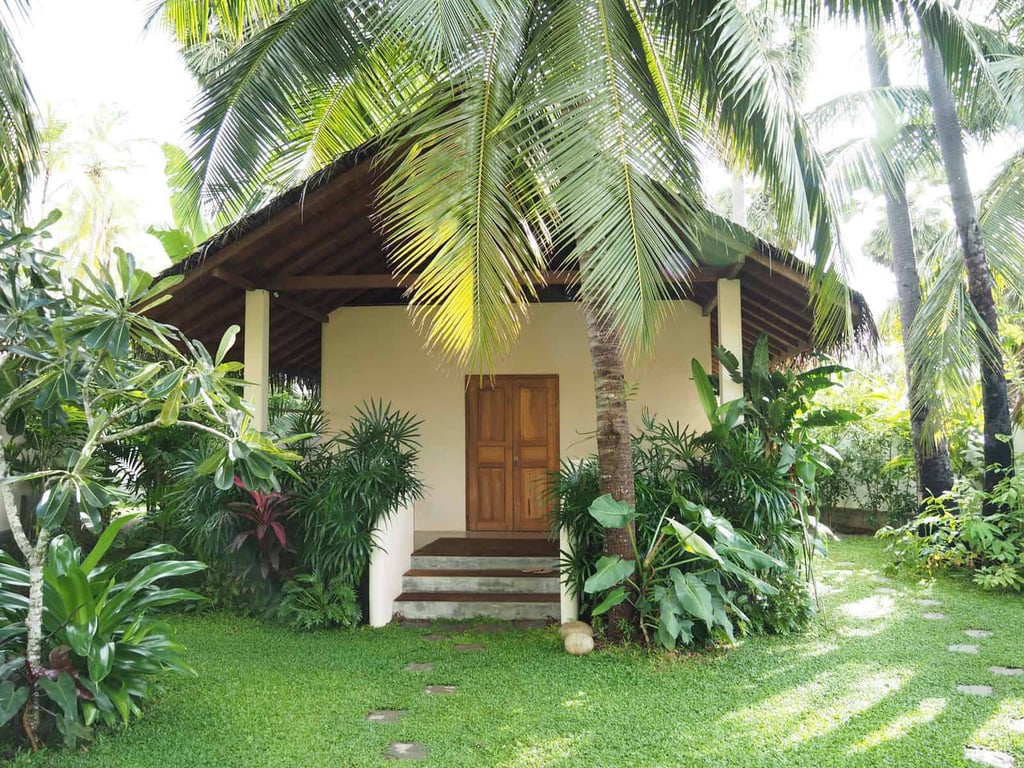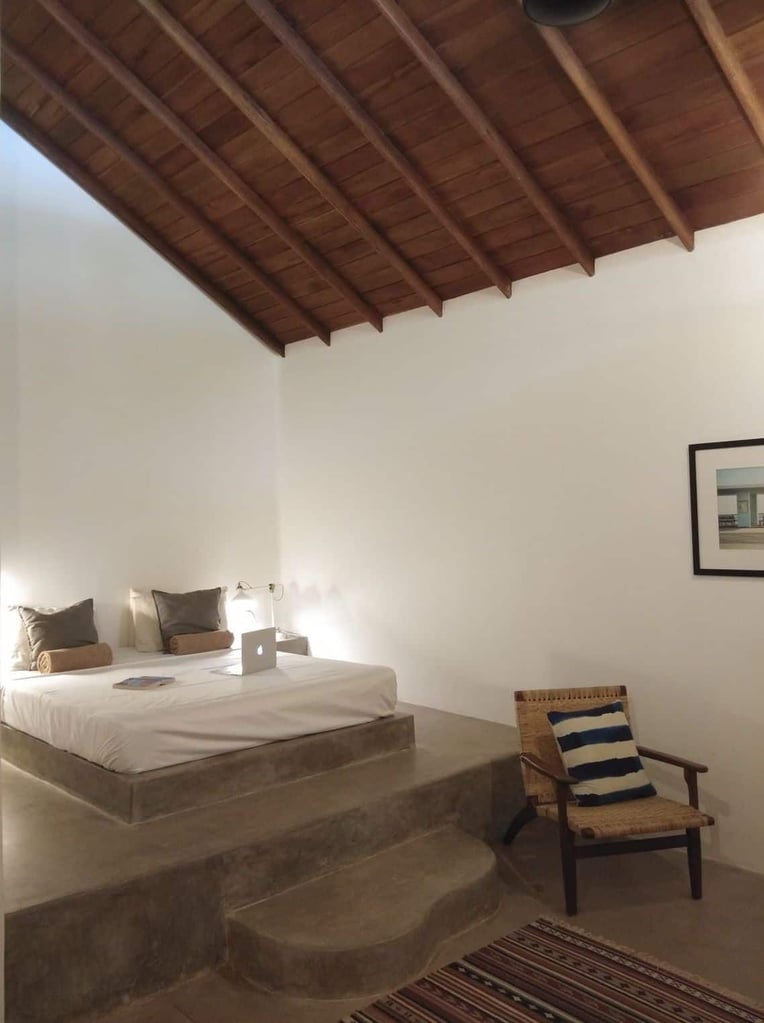 The Jungalow Escape was stylish, modern and minimalist. The bed was raised on a platform and had the most comfortable mattress I slept on the entire holiday. The pukka bed and quiet room meant that I always got a good night's sleep here. The bathroom was semi-outdoors, tasteful and clean, with two sinks for him and her.
In front of the room was a spacious veranda with two semi-private lounging beds for us to chill.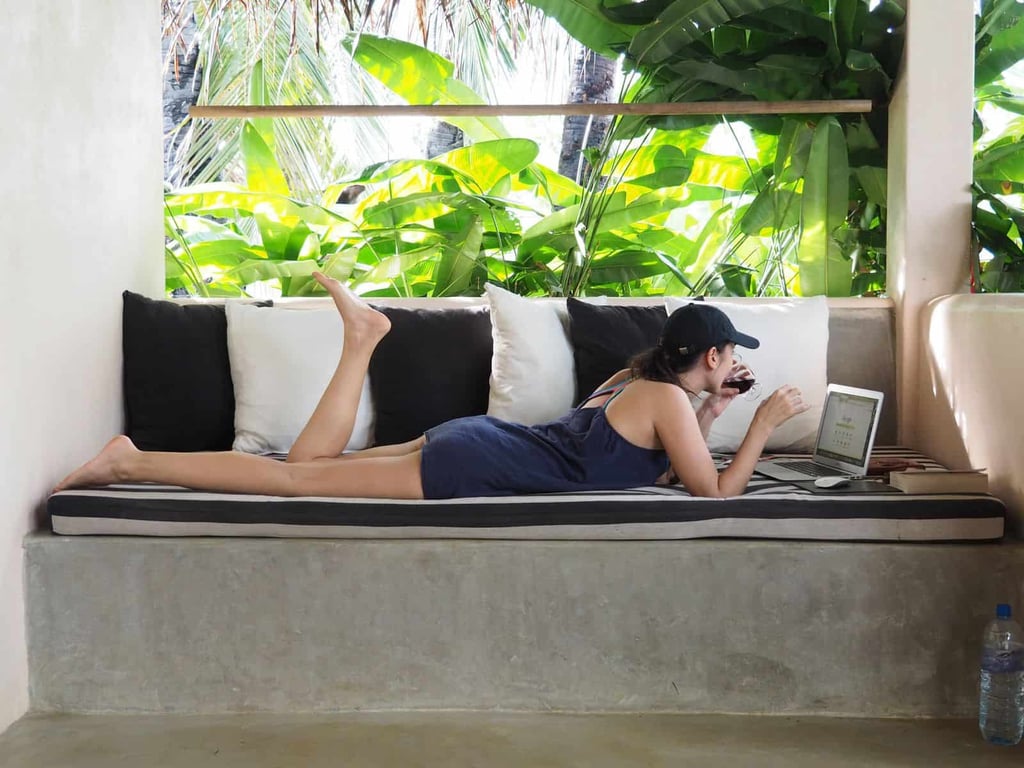 The pool was well maintained and the perfect shade of blue, surrounded by tropical flowers and large inbuilt sun-loungers. There were other areas to relax but my favourite was watching a sunset from the end of the jetty.
In the restaurant, the food menu was a mix of Sri Lankan and Italian, and each dish was always tasty and fresh. They also offer a nice selection of simple summer cocktails. It's a great place to come for lunch or a sundowner if you're an outside guest.
All of the staff at the resort were really friendly and helpful. The owners- Johanna and Monday- were awesome hosts too. All guests felt at home here and regularly bonded over dinner.
This place is perfect for couples and families.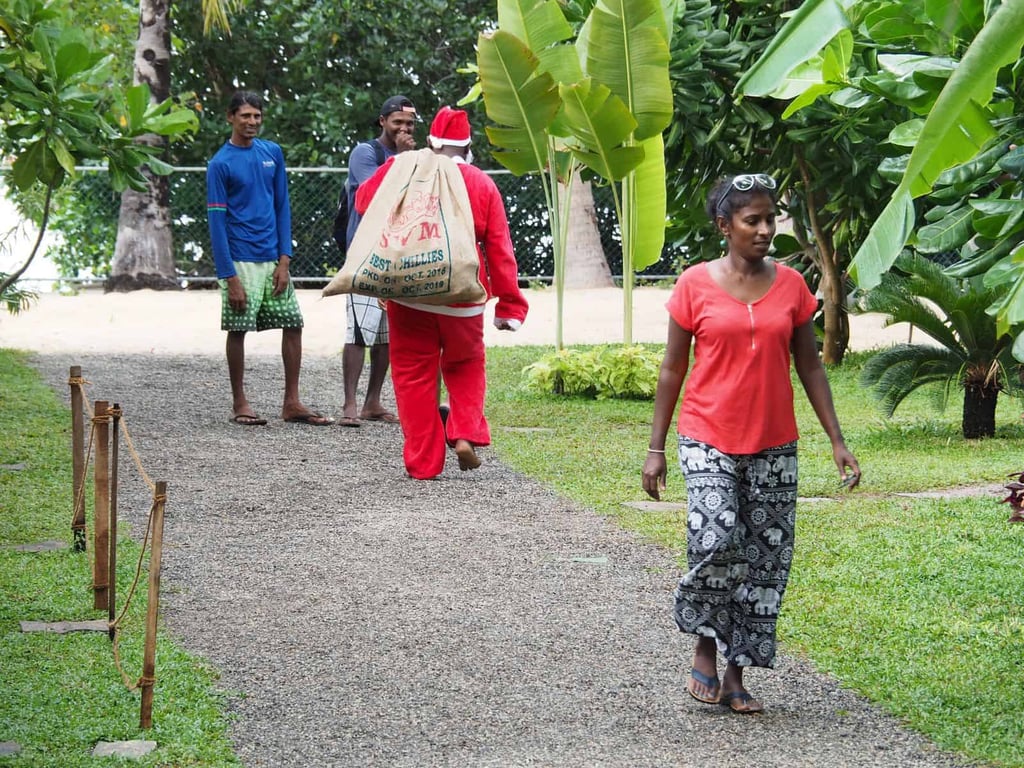 Tip: If you're looking for a trip to Willpatu National Park, then in-house Naturalist AJ if your guy. Apart from really knowing his stuff, he's pretty good at seeking out the leapards that occupy the park.
Price: £65-90 GBP ($115-160 AUD) per night based on two sharing. For the best rates and Genius discounts, book via Booking.com

Rascal's Kite School
Rascals have their own kite shop and kite school on site. You can organise all lessons through them and they're really good at keeping you posted with wind conditions.
The team will take you to the kite spots via speedboat from the resort, and it only takes 15 minutes to get to the main Kalpitiya Lagoon. Independent riders also have the option to kitesurf in front of Rascal's.
As they believe strongly in giving back to the community, all kite instructors are local and IKO certified according to their website.
---

Kitesurfing Lanka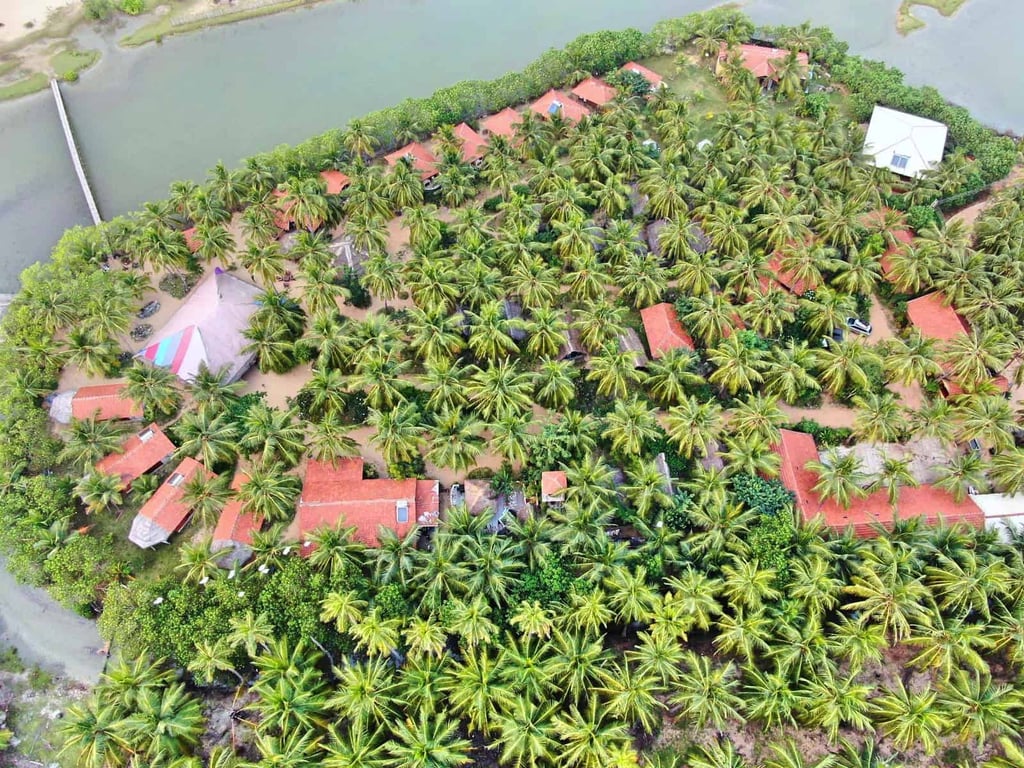 This place books out fast, so be sure to book at least 3-6 months in advance if you're heading to Kalpitiya during the peak season.
Along with Rascals, Kitesurfing Lanka is one of the big players in Kalpitiya. Accommodation is a bit more basic but has everything you need, with a mix of bungalows, villas and deluxe tents, or even a catamaran if you fancy it!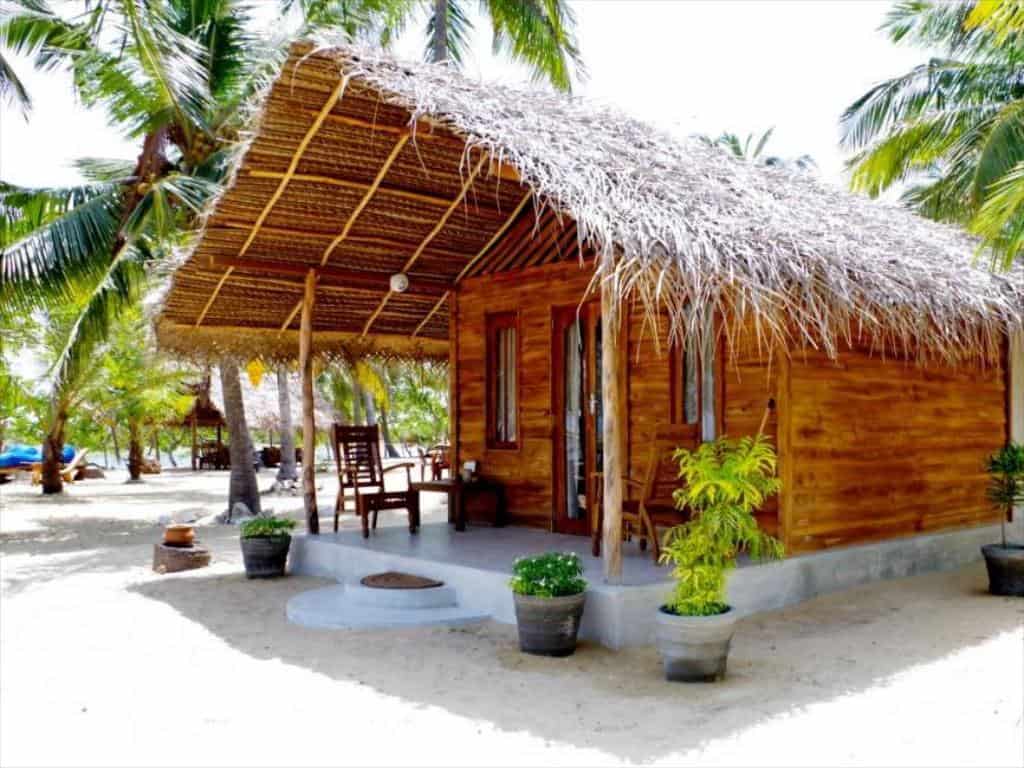 This resort is popular with solo travellers, couples and tends to draw in a slightly younger crowd. The vibes are chilled and it's a good place to meet fellow kiting enthusiasts.
KSL also own Vayu, the first kitesurfing resort and school in Mannar.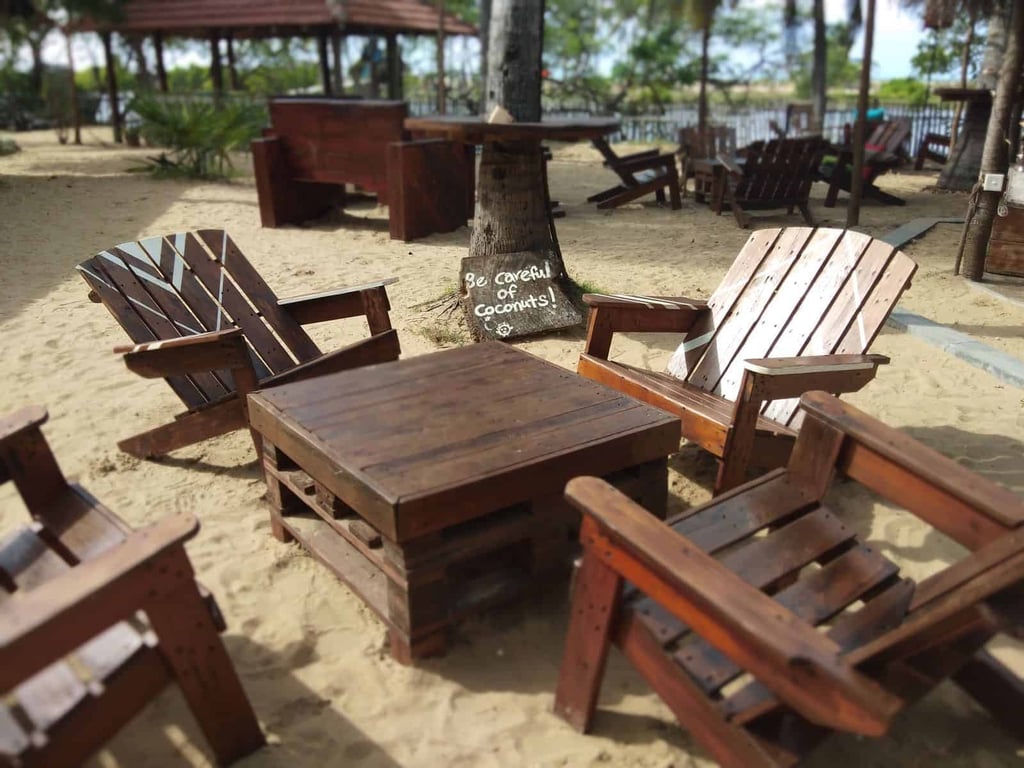 Price: The Deluxe Tent option (Full Board) is £32 GBP ($56 AUD) per night.
The lagoon and garden bungalow go from £100-115 GBP ($175-205 AUD) based on two people sharing.
The 3-bedroomed villa goes from £255 GBP ($451 AUD).
Kitesurfing Lanka on Booking.com

*Top Pick* Kitesurfing Lanka's Kite School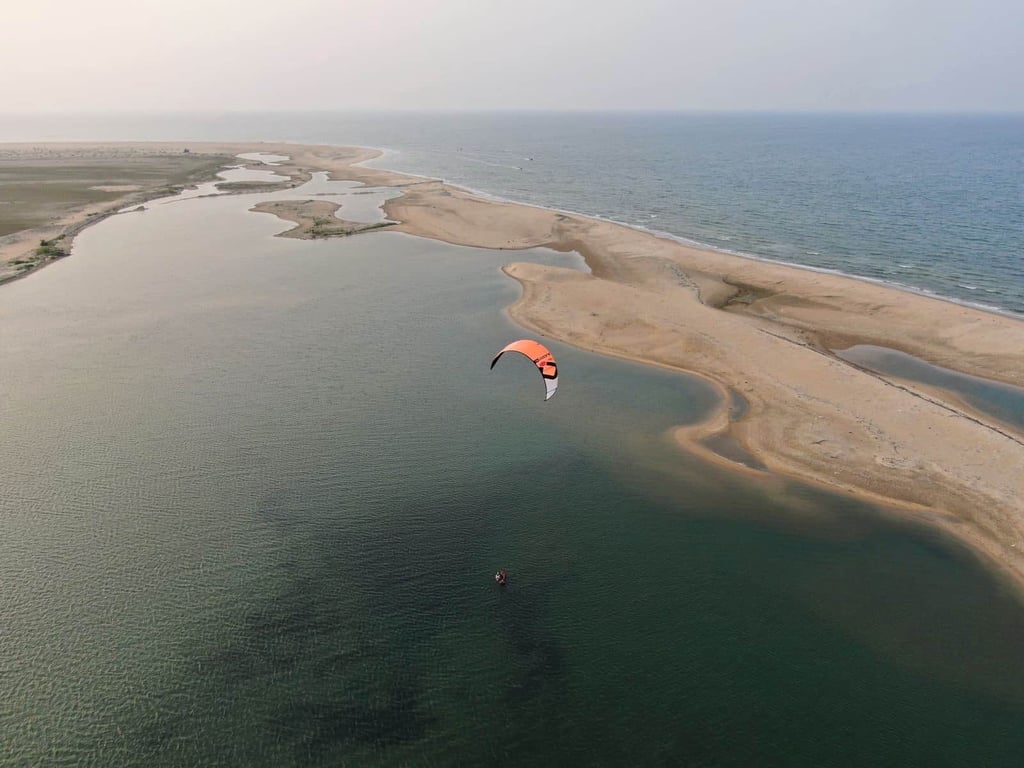 All instructors are IKO certified and they have many international instructors.
If you're not staying at the resort then you may struggle to get lessons here during the main seasons.
---
This resort exudes tranquility and relaxation. We booked it as a little treat for the last two nights of our stay and it did not disappoint.
Elements is a little more out the way in Kappalady, which is a 30 minute tuk-tuk ride, 15km south of Kalpitiya Lagoon. But it's worth it for the nice surroundings and cleaner beach which sits just in front.
Elements occupies a large estate so all bungalows are spread far apart, giving a feeling of privacy.
There are two accommodation options here. We stayed in their semi-open, eco-friendly cabana. It was rustic, inspired by nature and nice and airy. Needless to say, there's no air-con, but it didn't need it. The tree shower and upper lounging deck were my favourite features.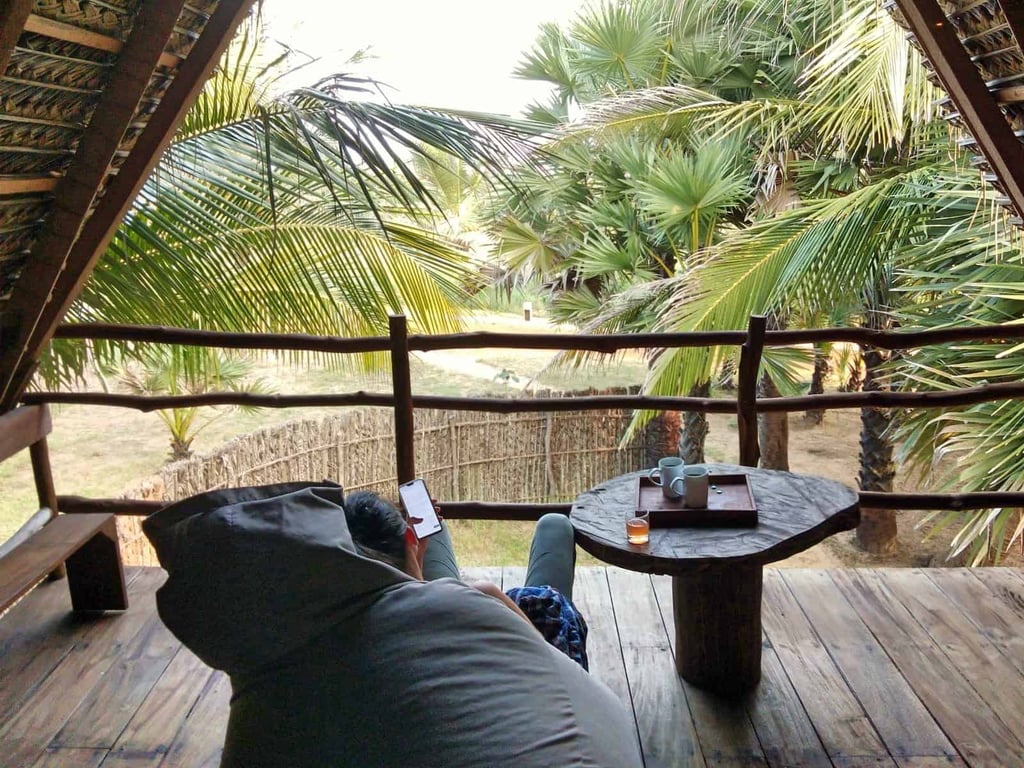 They have a beautifully positioned pool from just off the beach and a cool tree-house hangout with beanbags.
Right next to the resort is the Kappalady Lagoon where you can head to for lessons or just rig up whenever you fancy if you're an independent rider.
Apart from other resorts in the area (which were mostly closed in the winter season) there's not many places around to eat so you may prefer the full board option. They had the best resort food during our stay so you won't regret it.
This place is great for couples and families.
Price: £105-150 GBP ($220-270 AUD) based on 2 people sharing. They also have a family villa which can sleep up to 4.

Elements Resort on Booking.com

(Located at Elements Resort) – 'Kite Center Sri Lanka'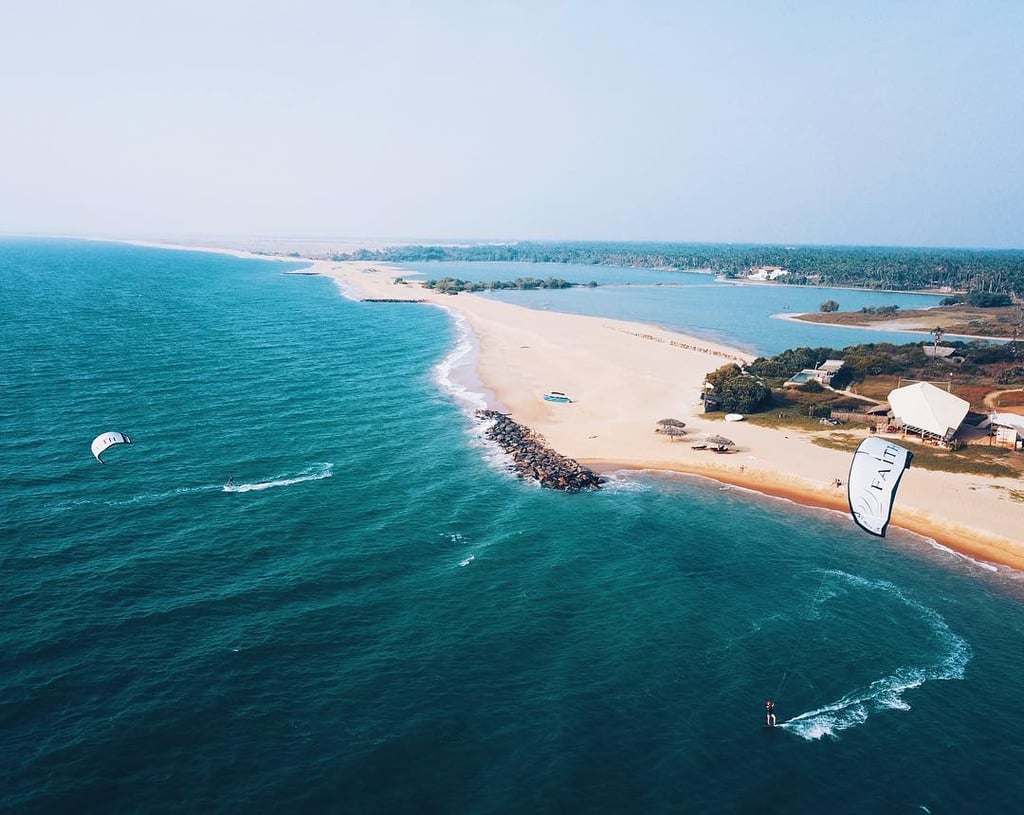 According to their website, all instructors are IKO certified and they can offer international instructors who speak a range of languages.
When we inquired at the kite school upon checking-in to the resort, we were told by a local chap that only local instructors were available. As there was quite a big language barrier, we decided to continue our lessons elsewhere.
It's also worth noting that Kappalady lagoon is meant to have great wind in the main season between May and September, but it changes direction in the winter months making it less than ideal. This is why many kite resorts in the area close at this time.
---
I haven't personally stayed at Ruuk Village but it looks like a nice set-up right by Kalpitiya Lagoon.
They pride themselves on providing an authentic experience in an eco-friendly and sustainable resort.
Ruuk Village have a couple of accommodation options, from spacious, en-suite wooden cabanas (semi-open) to a VW Surfer Camper. It looks rustic and simplistic with wooden furnishings and everything you need for a comfortable stay.
Price: 2 nights minimum stay. From £65-115 GBP ($115-203 AUD) based on 2 sharing, for 2 nights.

Ruuk Village Kite School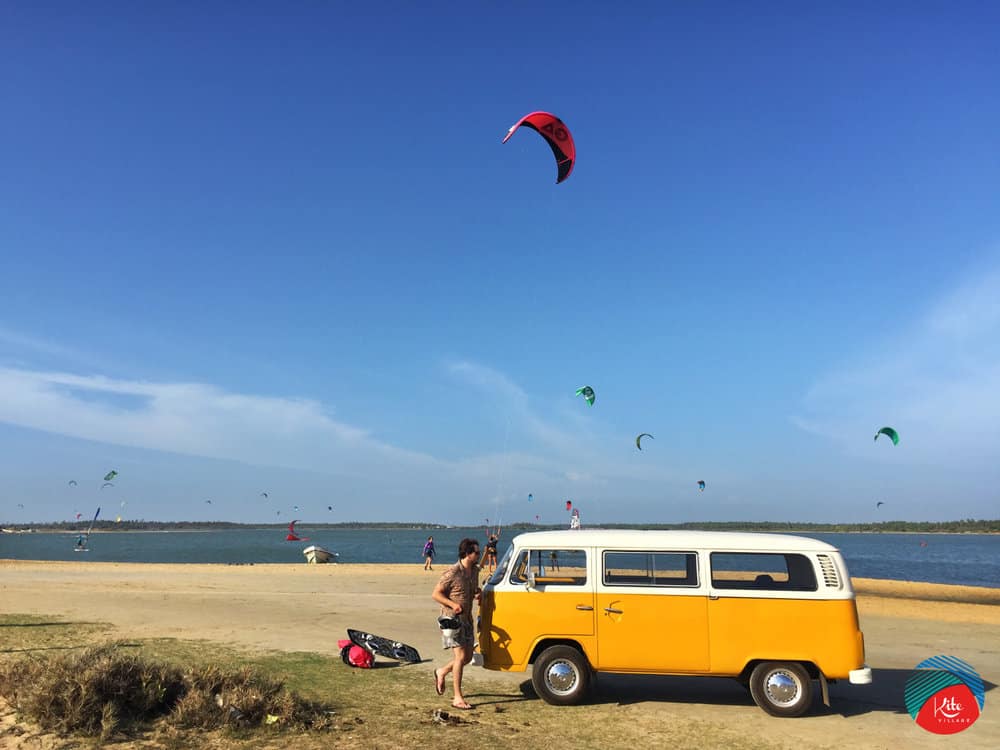 These guys have the added bonus of being able to kitesurf right in front of their resort at Kalpitiya Lagoon. Ruuk Village Kite School's motto is 'quality instead of quantity' and they've confirmed that all instructors are IKO/VDWS certified. They have a mix of local and international instructors available.
---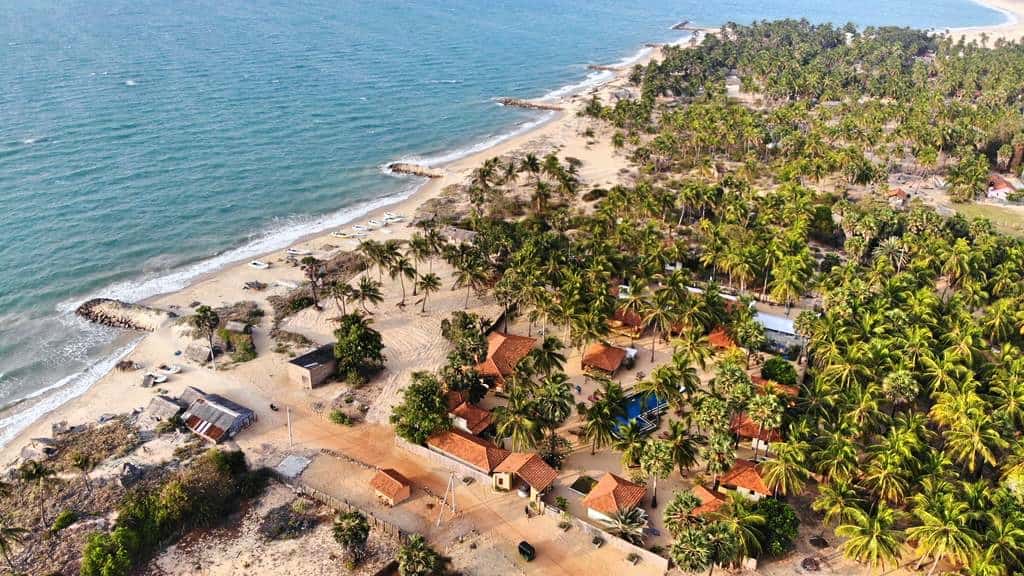 We passed through here a few times as we took lessons with their kite school. It offers a relaxing, peaceful set-up right next to the beach and appears to be good value for money.
Horizon's accommodation comprises of fully enclosed modern cabanas with air-con and a probably one of the only hot showers in town!
They also have an inviting pool area in the middle of the resort. The restaurant food is decent, although they could maybe pay more attention to cleanliness around the seating area.
When we arrived, they offered yoga lessons from a fully qualified international instructor.
Price: £62-68 GBP ($110-125 AUD) based on 2 people sharing.

Horizon Kite School
As Kitesurfing Lanka were too busy to offer lessons, they recommended we check out Horizons. Thankfully we did.
We organised a few lessons with them and I received instruction from an English guy, who was fully certified and provided great tuition.
They also have a few local instructors. The Sailor had two lessons with one, but after demonstrating a bit of a cowboy approach, he went with the English dude and made good progress.
---
These guys have a few resorts across the globe and offer a range of kitesurfing holiday packages, including flights, accommodation, meals and lessons. For those that appreciate all-inclusive options, then this could be for you.
The set-up looks sweet with modern facilities, a pool, restaurant and lounge area. There is a lagoon just in front too and it's only a short walk around the lagoon to the beach.
Lodgings-wise, they have modern bungalows with spacious rooms, dark wooden furnishings, A/C and views overlooking the lagoon.
They also have Pool Rooms with similar features, but the lagoon view is replaced with direct access to the pool.
Price: These guys aren't cheap. For 7 nights full board with accommodation (excluding flights and lessons), you're looking at £536-649 GBP ($960 -1'160 AUD) per person. Bookings need to be made directly through Kite Worldwide.

Kite Worldwide Kite School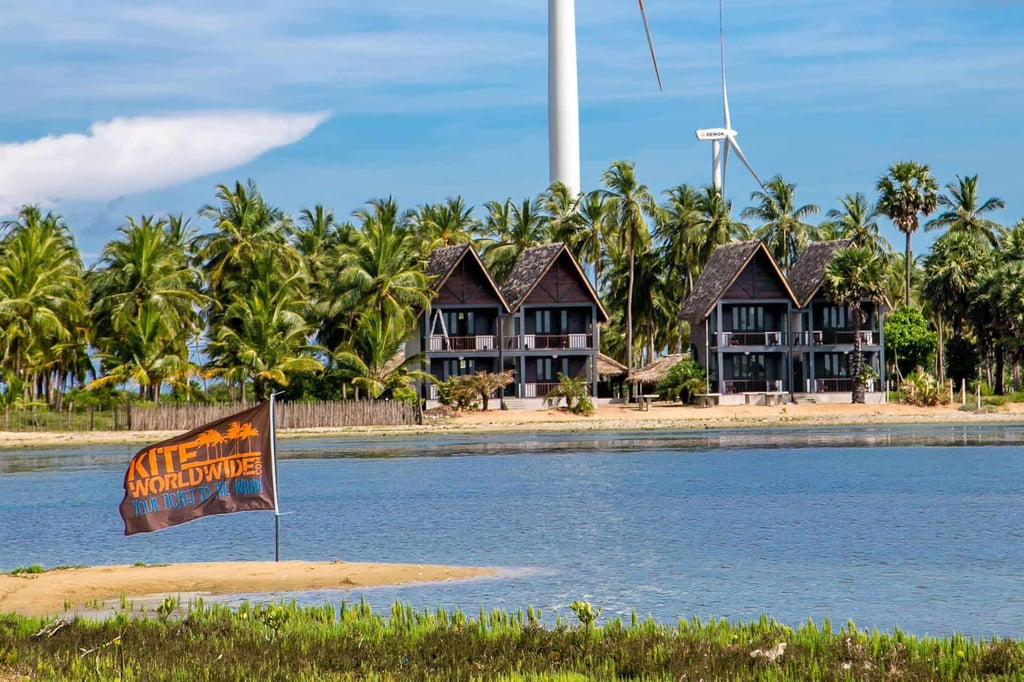 Lessons are only available for in-house guests. There is a lagoon in front but it's only for independent riders. Lessons take place at the main Kalpitiya Lagoon, a 10 minute drive away.
---
We stayed here for one night but initially booked for 7. It is a rustic, simplistic resort with a relatively low price reflective of what's on offer. Margarita Village is a good option for those looking to save a few bucks.
Like many resorts here, the cabanas have a semi-open bathroom and the rooms are partially open, meaning the sound does permeate. Our cabana was unfortunately situated right next to the kitchen/restaurant area and bordered local housing, so it was constantly noisy. I awoke at 3:30 to roosters crowing (who were literally a few meters away) and was then kept awake with kids playing…then the kitchen area…and people eating breakfast. Other cabanas should be less noisy though.
The cabana itself was a decent size, if not a little dark. A few things can still be worked on, like a replacement of the stained towels and a mosquito net that could actually fit properly around the bed. The cabana had a floor fan, but could get a bit stuffy as there wasn't much of a natural breeze coming in.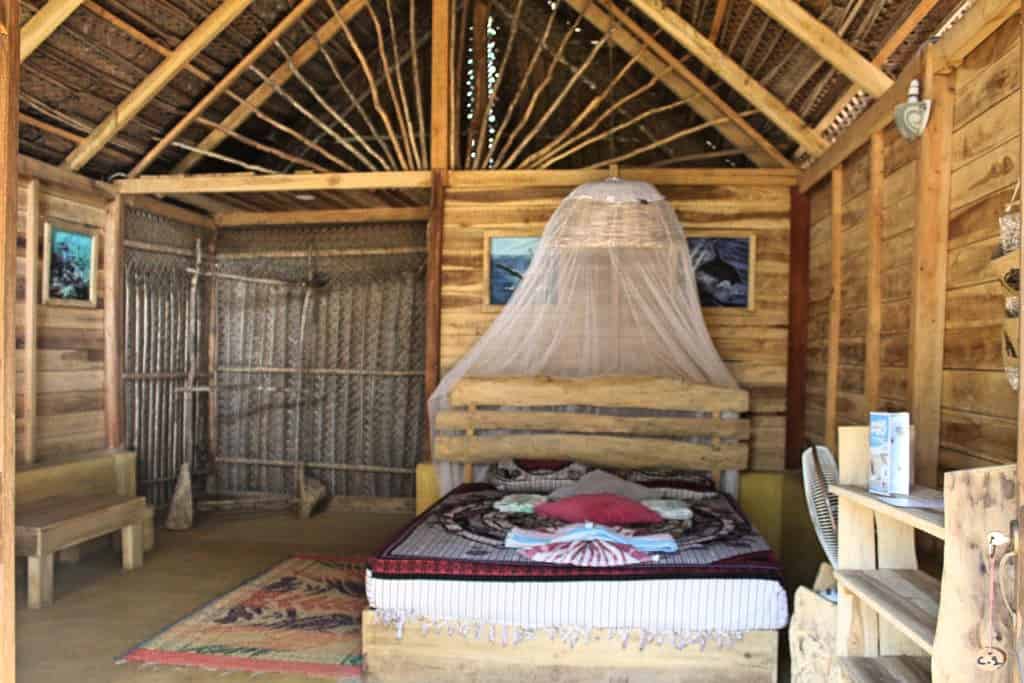 Margarita Village offer full board options, although their kitchen closes outside of 'breakfast' and 'dinner' hours, as does their bar, which I believe just serves soft drinks and beer (you won't be getting margaritas!).
The Spanish owner and staff were lovely. This place would appeal to many travellers, but we were after something with a few more frills.
Price: £21-28 ($38-51 AUD) based on up to 3 sharing.
Margarita Village on Booking.com

*Top Pick* Margarita Village Kite School
Ruben and his team of international instructors are fully IKO certified and professional. They have a good spot for teaching beginners at the south-side of Kalpitiya Lagoon and the resort is a short walk away.
---
This resort is in a nice location right next to Kitesurfing Lanka, which means it's right on the beach and has a small lagoon in front of it.
I came here for dinner and bevvies a few times. The food was decent and it is one of the only places in the area to serve cocktails, which made for a chilled-out sundowner spot in front of the lagoon.
They also have a range of room types available and appear to be a home away from home. Walking past the chalets next to the pool, they look modern, spacious and are fully enclosed with A/C, a hot shower (yippee!) and have a seated area out front. The pool looks clean and well maintained too, with deck chairs to chill during the day.
This place is perfect for couples and families.
Price: £53-106 ($95-177) per night based on 2 people sharing.
Blue Whale Resort on Booking.com

Blue Whale Kitesurfing School
These guys don't have their own kite school and are not a kitesurfing resort, but lessons can be arranged with an outside provider. Or just head next door to Kitesurfing Lanka!
---
We booked with Cocodance after Rascals which felt a bit like a downgrade, although it is cheaper in price.
The resort itself is well sized and peaceful. The chalets are a good distance from one another so it doesn't feel like you're on top of each other, although inside they're a bit small and dark.
Outside the seating area is a nice place to relax, however the cushions were a bit dirty when we were there.
Upon booking we were enticed by the pool. But unfortunately it was really cloudy. When we asked what happened to it, we were told that the pool man was busy and will be coming the next day to clean it. Although even after he came, you still couldn't see through to the bottom.
The manager was friendly and helpful and the staff were pleasant. This place wouldn't be at the top of my list, but it was well positioned to access the beach (from right out the back) or walk to nearby restaurants.
Price: £35-37 ($63-66 AUD) based on 2 people sharing.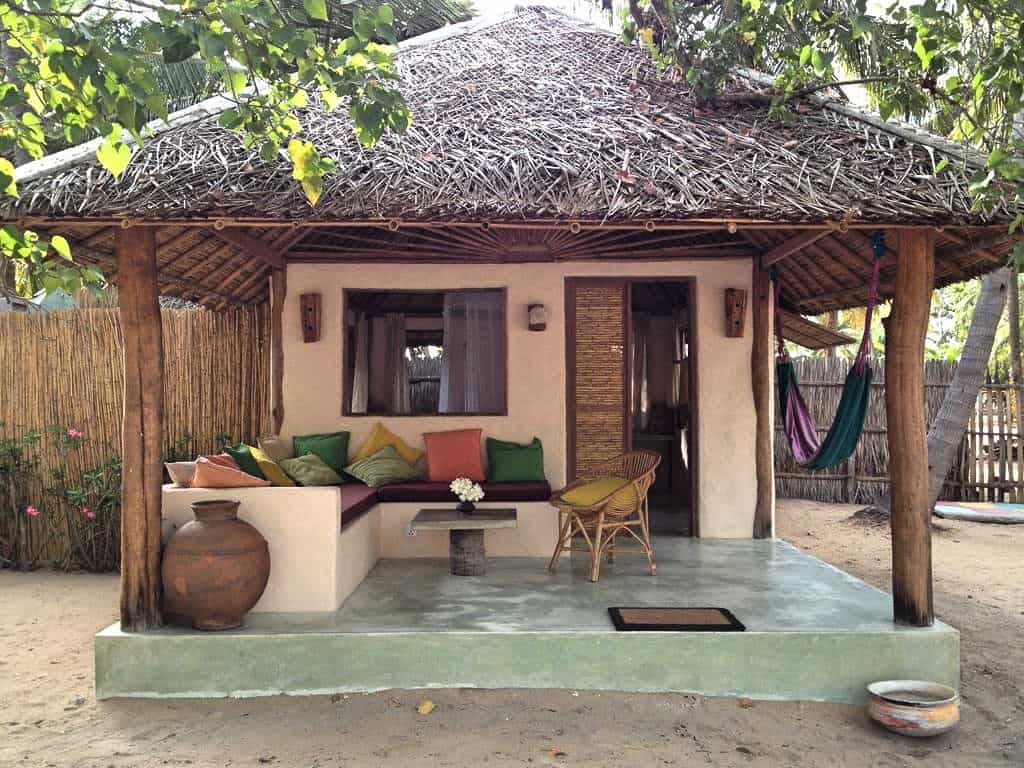 Cocodance Kite Resort
They hold their equipment in a room next to the reception and offer lessons with local instructors. According to their website they are IKO certified.
---
This resort has only been open for 6 months so everything was relatively new. We booked for a night before heading to Elements.
The resort itself was well-designed and embraced nature. There was an allotment next to it and an array of fruits growing on the premises, including passionfruit in the bathroom.
They had a nice treehouse above the reception area and offered lovely, authentic food in the restaurant.
The cabanas and outside seating area were well designed and private. The room was quite spacious and tastefully decorated, with a fan and kettle for a hot brew in the morning (always appreciated.)
Unfortunately the room we stayed in was pretty loud. There was some local housing just behind our bathroom and the noise permeated considerably.
The staff were friendly, although we felt a bit 'watched' by the manager who didn't quite give us the space or privacy we were after, and was always hovering around.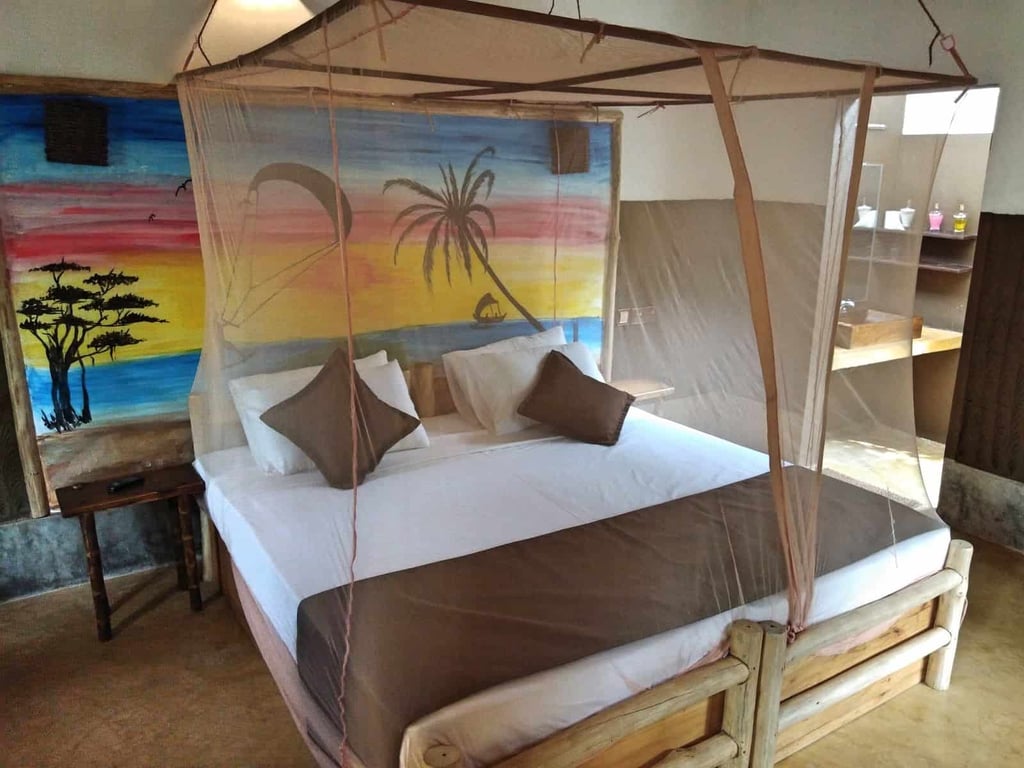 Price: Fairly overpriced for what it is at £71-102 ($127-183 AUD) per night.

Wind Blend Kite Resort
This resort does not have their own kite resort but is affiliated with Kite Center Sri Lanka who are situated at Elements resort.
---
(Some affiliate links may appear in this article, of no cost to you 🤟)
XOXO