---
It was two friends who visited us in Pattaya last summer that sold us the exciting Mae Hong Song loop, located in Thailand's Northern province. They had chosen to skip the gorgeous Thai islands in favour of a motorbike trip on the mainland. This had to be good!
What is the Mae Hong Son loop?
It's a picturesque 600km motorcycle road trip that starts in Chiang Mai (aka 'the rose of the north') and leads you around Thailand's highest mountain, through the town of Mae Hong Son, Mae Sariang, Pai and back where you started.
As well as all of the natural beauty you can muster- with its rolling hills, breathtaking views and waterfalls- this voyage allows you see an authentic part of Thailand. It leads you far away from the tourist crowds to remote hill tribes, through villages and local towns.
Sounds like my cup of tea!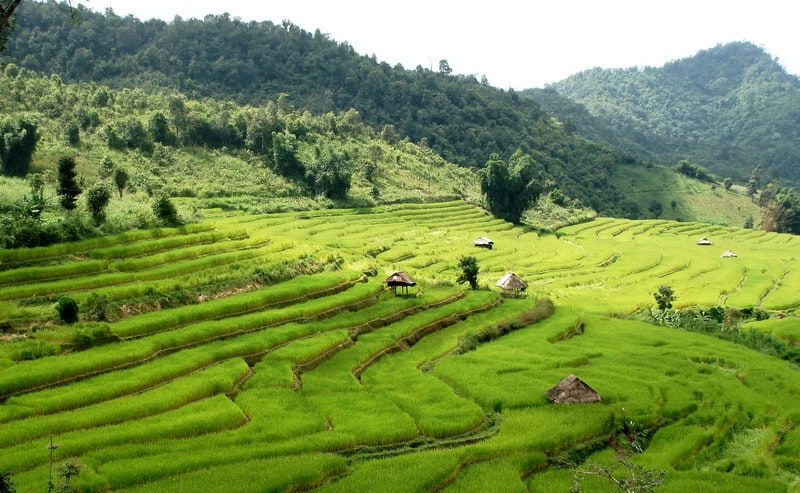 ---
How To Do The Mae Hong Song Loop
---
Starting out in Chiang Mai
Most people do the loop in 3-5 days, but as we had time to spare at Christmas, we dedicated 10 days for this trip. (It can be done brashly in one day, however I wouldn't recommend rushing it!)
The loop can be done in either direction, although it's probably easier to take it clockwise as the roads can be a bit tricky around Pai, giving you enough practice along the way.
The clockwise route will also mean you'll have the best bit to save until last: the cool hippie town of Pai. (Many people short on time skip the loop altogether and just head to Pai and back, but you'll be missing the best views if you do!)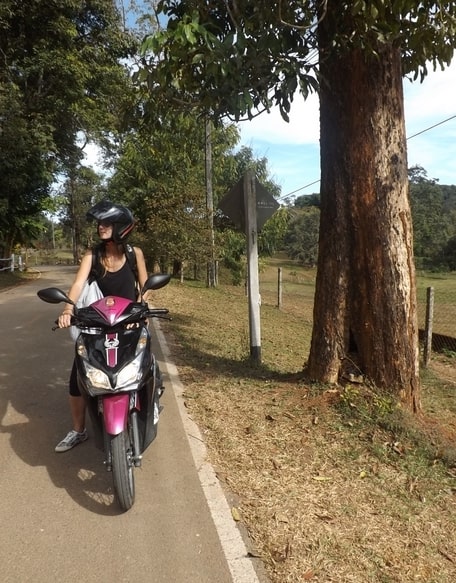 Bikes
As it's a long road trip and you're going around some steep and windy descents, a good set of wheels is important.
We researched thoroughly before choosing a bike rental. Back in 2014, we used this one on Thipanet Road who were really good.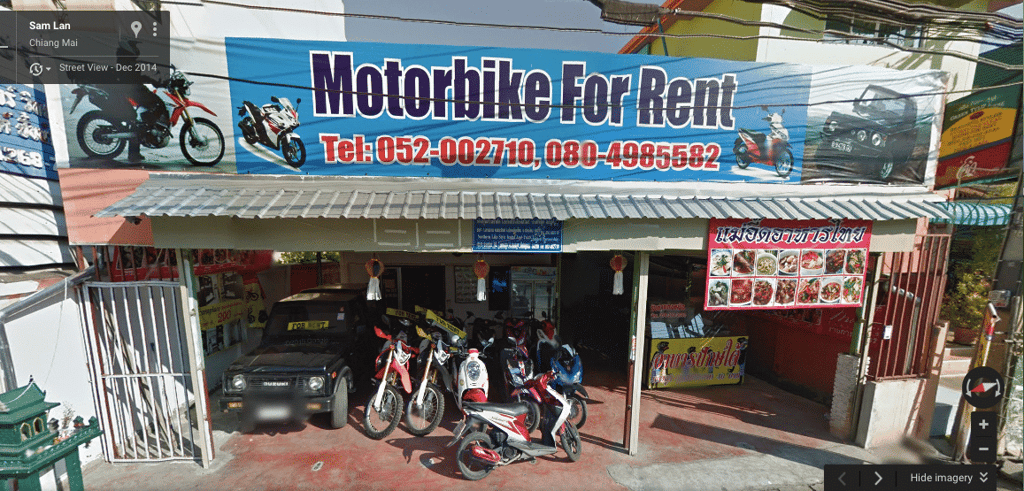 To find them: walk down Thipanet Road towards the centre of Chiang Mai, pass the city wall and the shop is on your right (directly opposite a shop called 'AMP Mobile'.)
Most people do the loop on a scooter (you don't need a huge motorbike engine to get you around). Ideally you'd want a 150cc, but you can do it just fine on a 125cc (we did). The bikes were near-new, automatic Honda Clicks and we paid 2'000 each for 10 days.
The hire company wanted to take our passports, which is a frequent request when renting bikes in Thailand. Thankfully we managed to get them to settle for just a photocopy and we didn't even need to pay a deposit either.
Tip: Check the bike thoroughly for scratches and damages (and take pictures of any) before taking it out. The Thai's are well-known for overcharging for bike damages, however minor.
Accommodation: Ban Bon Doi
As we were taking the loop slowly, on our first night we stayed just outside Chiang Mai in the cutest family-run accommodation. The hospitality was gorgeous and the setting was peaceful. We ate a delicious Thai dinner at sunset and a traditional breakfast in the morning. It was the perfect start to our adventure.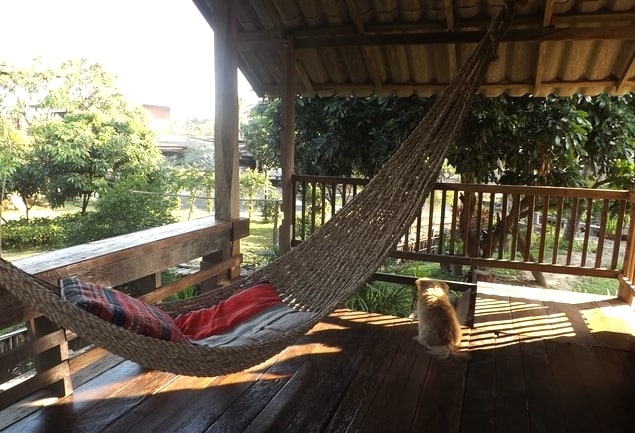 Leg 1: Chiang Mai to Mae Hong Son
Normally the Mae Hong Son loop takes you through Thailand's tallest mountain, but, we decided to go UP it! Well, part of the way anyway.
In hindsight, this probably wasn't the best method, considering I was a beginner rider. But it was fun and amped my rider skills somewhat. It was also a very scenic route.
This part of the trek, until Mae Hong Son, is the most remote, tranquil and rural. There will be plenty of hill tribes, views and villages that you'll meander through.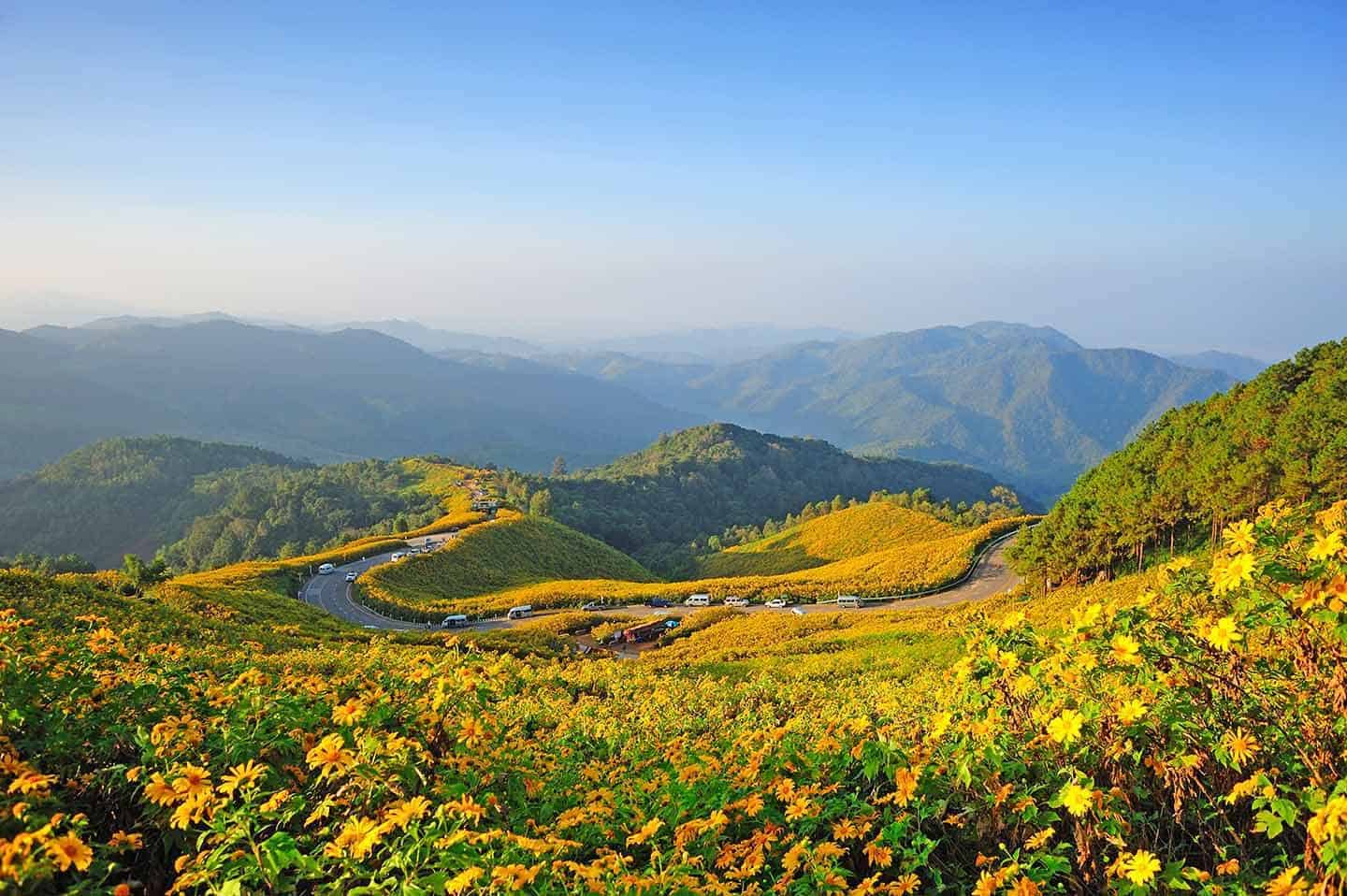 Despite reading on the internet how busy the route gets at Christmas, we barely saw fellow riders until we got to Mae Hong Son, and even then there were very few. Let's just say it was the quietest and most remote X-mas day ever! I think people were based in Pai for the actual celebrations.
We didn't stop at Mae Sariang, but I've heard it's a peaceful village with good rafting and trekking around.
Mae Hong Son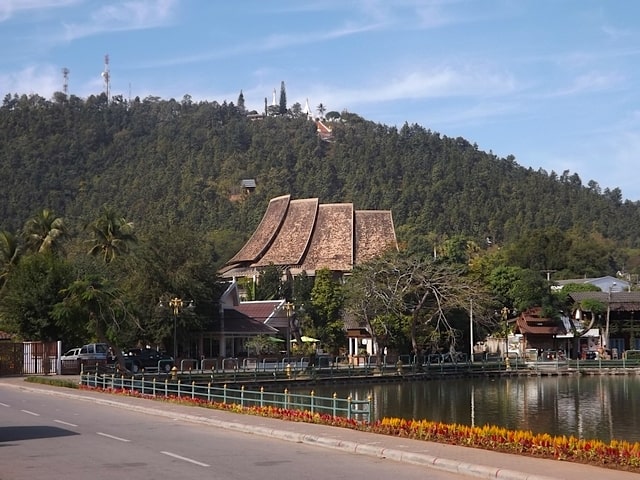 After 4 days of rolling hills, we finally reached Mae Hong Son. We were expecting to see masses of people and tourists, but we didn't!
There were a few travellers but mainly locals and the vibe was pretty chilled. The city was lined with mountainous views in the backdrop and cafes overlooking the lake.
It was nice to have restaurants around again and all the amenities you could need. The loop was very remote until this point, which will get you practicing your Thai!
There's quite a lot to see in and around Mae Hong Son with nearby waterfalls, hot springs and gorgeous temples, so staying a couple of nights is worthwhile.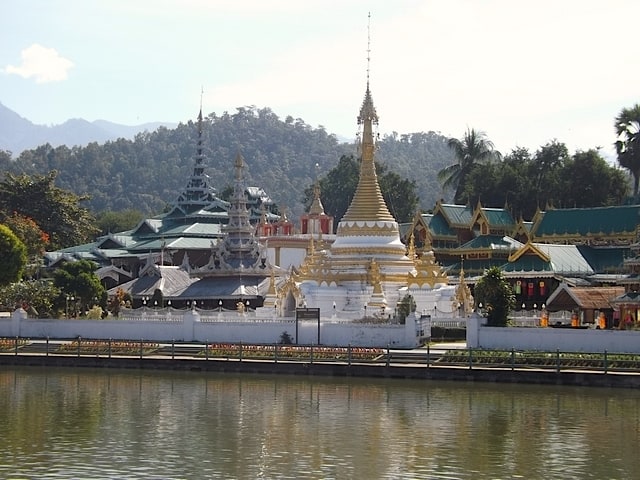 Leg 2: Mae Hong Song to Pai
When leaving Mae Hong Son, you'll be blown away with the hilly terrain. It's truly a sight for sore eyes.
Expect even more beautiful, scenic views and a few more bikes on the road. The roads also start to get quite windy en route to Pai.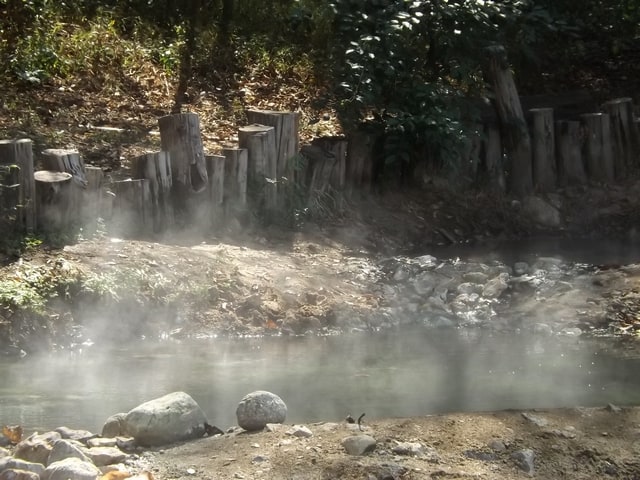 If you've got time on your hands, there are some caves you can visit on your way around that are meant to be stunning. We were starting to run short on time and missed it, but if you plan ahead then Lod Cave is worth a few hours.
Pai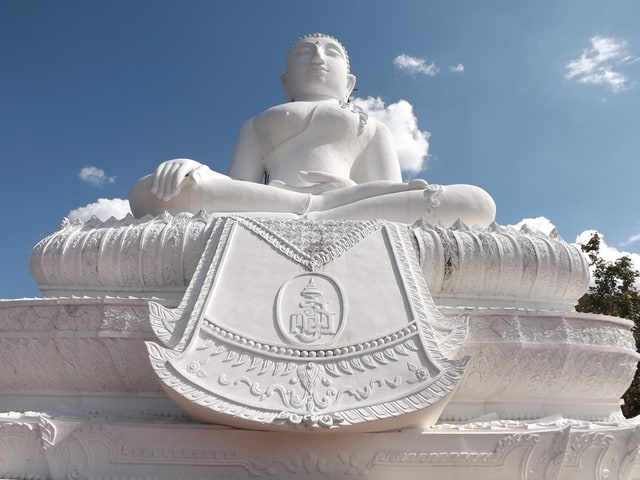 We loved Pai and most travellers fall for it quickly too. Filled with love hearts, hippie grooves and laid back locals, it's a very quirky town. It was fun spending a couple of nights here, although we wished we stayed longer.
There was a huge variety of restaurants in town and their Walking Street offered the best food markets I've seen in Thailand yet. The cool vibes make it attractive to young twenty and thirty something expats and travellers, who were there in abundance. If you want to see some natural beauty, then Mor Paeng Waterfall is a popular attraction.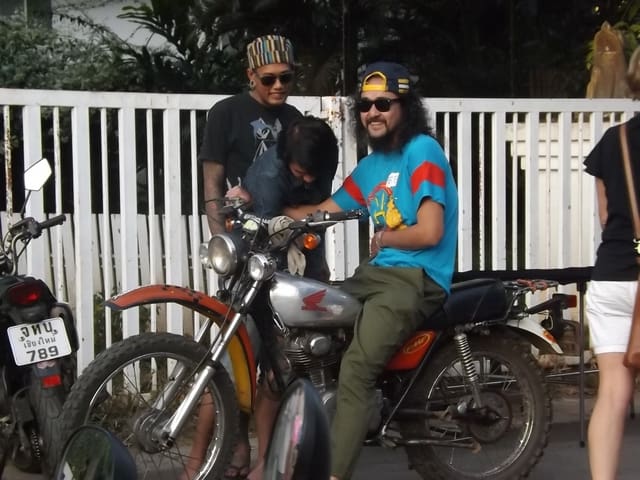 Accommodation
Accommodation is plentiful in Pai. We had a great time at Pai Bamboo Hut, located just a few kilometres out of the centre. The setting was rural and peaceful, yet only a 15 minute ride into town.
However it was in 2014 that I stayed there, so I'm not sure how it's been holding up since then. For the best rates on stays, I always book through Booking.com to take advantage of their genius discounts.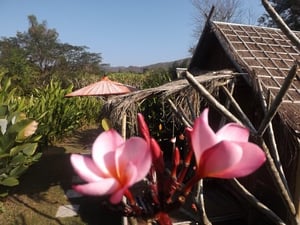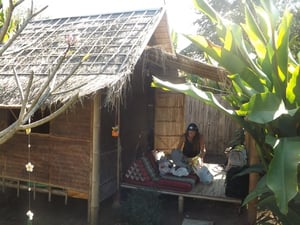 Leg 3: Pai back to Chiang Mai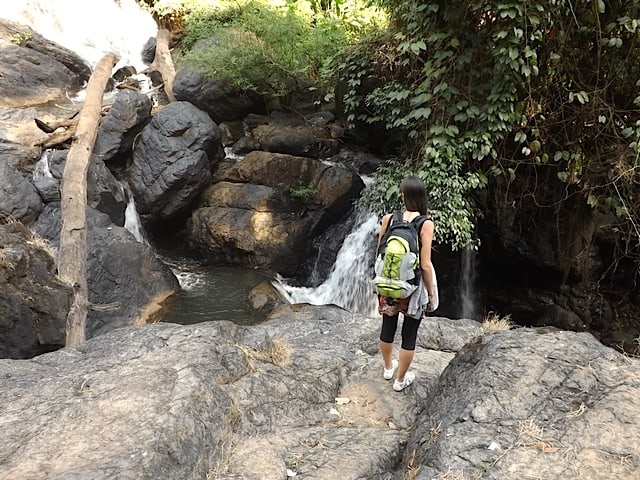 This final leg gave me the most 'crap my pants' moments. The roads were steep, very windy (762 turns to be exact!) and pretty busy. Because Pai is a popular town, the roads en-route showed their wear. They were't terrible, but I remember many potholes.
As a travelling couple, there were so many awe inspiring moments on the trip that the Sailor and I wanted to chat about, but couldn't because we were on separate bikes. Some form of hands-free device would have been handy for this, except we didn't have one. So we improvised by honking the horn.
One honk:

to signal for attention

Two honks:

for stopping

Three honks:

for 'OMG'

Four honks:

for '

OMFG I nearly crapped myself'

(four was honked along the tricky roads.)
Chiang Mai itself one of the coolest cities I've been to in Thailand. I can see why many expats choose this place as home. There's heaps to see and do, so make sure you reserve a few days for this place.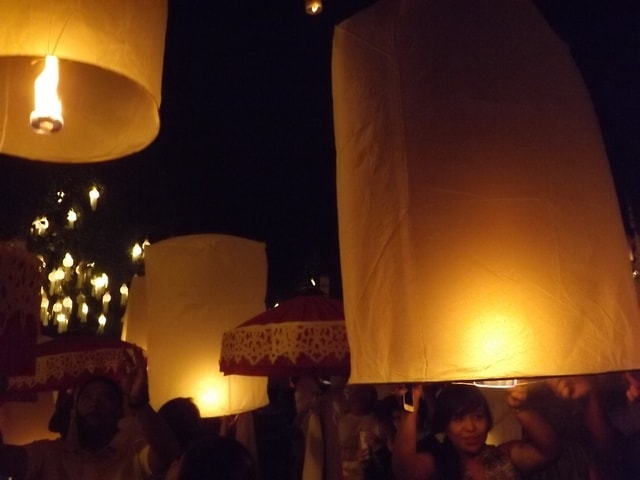 . . .
Aside from the stunning beauty of the loop, the thrilling road trip and Pai, I gained even more from this holiday than I expected.
Not only had I seen a remarkable and authentic part of Thailand, but I saw how local villagers and tribes live. In these remote areas, people traditionally live in hand-made wooden huts with very basic resources and the bare essentials to get by. Yet they pull together as a community and make the most of what they have.
Needless to say, it was a very humbling experience and one of those travel moments that start to change you as a person. The loop was definitely remain as one of my favourite Thai holiday yet, and there wasn't a beach in sight.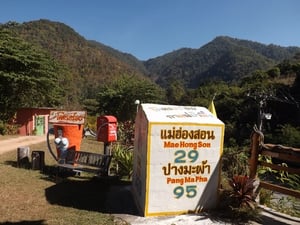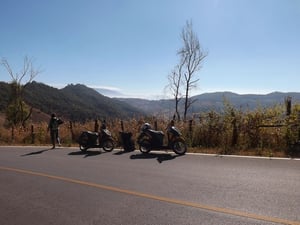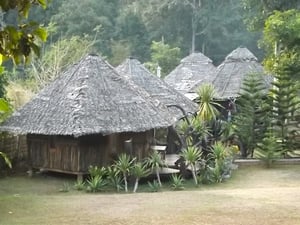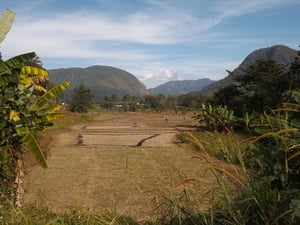 ---
Here's some more Thailand Travel Inspo:
XOXO