Last weekend I went on one of the most relaxing jungle retreats in Malaysia. Since moving to Kuala Lumpur, the jungle has become my favourite place to be. I'm fortunate enough that my condo faces one and for ages I've been dreaming of taking things one step further and sleeping in it too!
If you prowl the internet for jungle retreats from KL, heaps of results will show.
But what I've found is that many of them are either: 1. hugely expensive and not worth the money. 2. hugely expensive and lovely (but still overpriced). Or 3. they cater more for 'big' groups (not my idea of peace and quiet.)
I don't know about you, but when I seek a jungle getaway, I'm looking for nothing but undisturbed views, remoteness and tranquility. I want to feel like Jane with my Tarzan in the middle of nature without a condo or road in sight.
I definitely found it.
Just a mere 1.5 hour car ride south of Kuala Lumpur will lead you to The Dusun, perched opposite the hilly Berembun Forest Reserve in Seremban. The resort has been strategically positioned not only to be amidst nature, but have complete views of it.
Upon arrival we were greeted with panoramic vistas of tropical green foliage, with only the sound of cicadas gently buzzing amongst the trees. It was utterly therapeutic.
The living room was open plan without windows or doors, allowing the gentle breeze to keep us cool. We were showed around the spacious house by the friendly reservation manager and before she left, I coyly asked "Is there a key to the house?"
"No", she replied, smiling.
I knew it was a daft question before I asked it, there's no front door! I refrained from asking about the internet too.
We were in the middle of nowhere and it was perfect.
At sunset, the resort staff came to light our BBQ and provided coal for a modest 20RM.
Whilst the Sailor cooked up some tasty lamb cutlets, I sat facing nature speaking to my sister over Whatsapp as the noisy bugs woke up in song. Even though she loved the picture of where I was, I told her that she probably wouldn't be able to cope with all the bugs around! (She's from London and squeals at the smallest insect.)
We had quite a few uncoordinated cicadas, beetles and other unidentified bugs pay us a visit on the first night, as well as a couple of swooping bats. But we stupidly had all the lights on. (The second night was much better as we reduced the amount of lights!)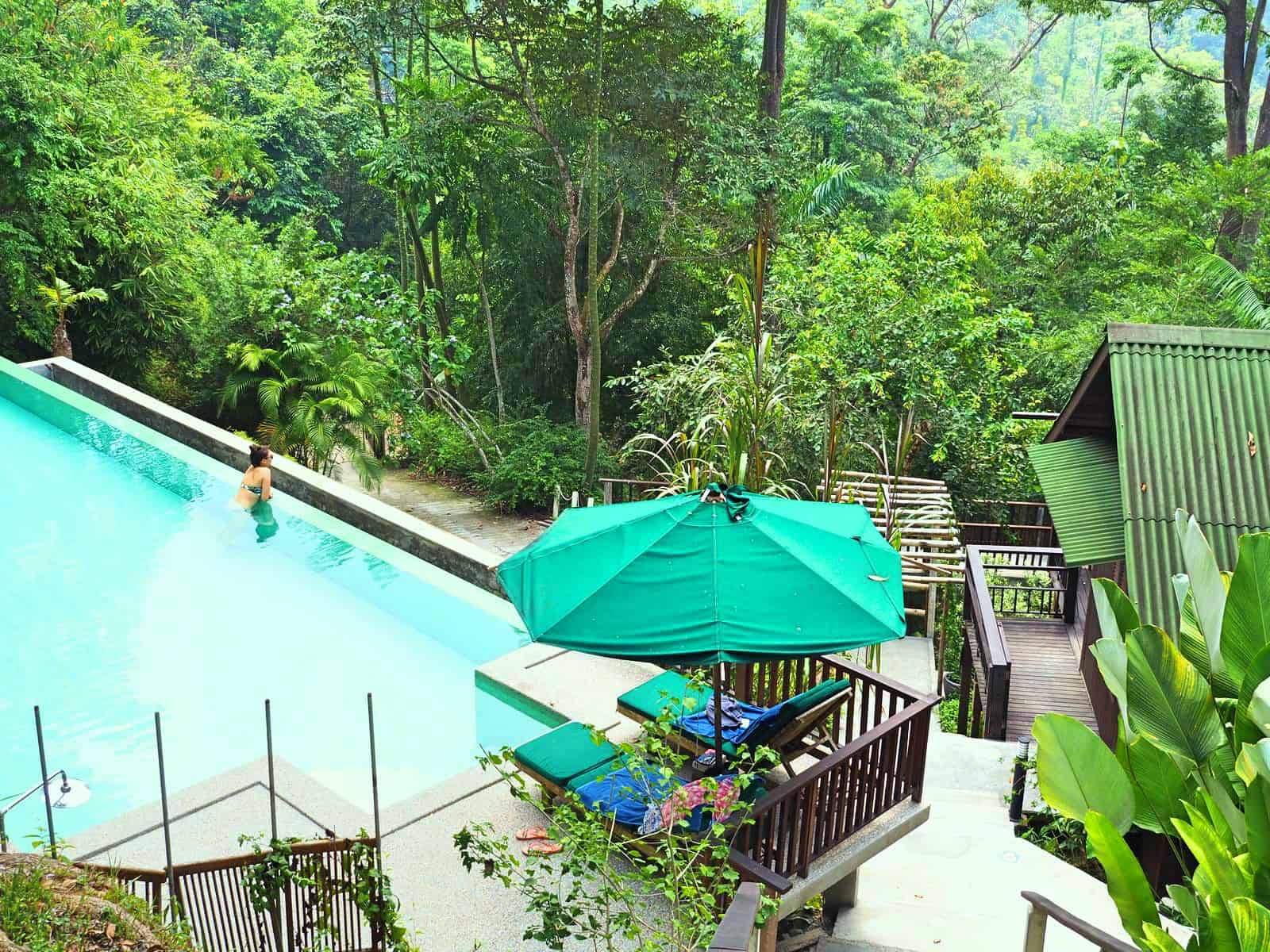 The resort has two well-maintained infinity pools that boasts the same panoramic views. We only had one full day so headed there after breakfast and had it to ourself for hours.
If we had more time, we would have went jungle trekking too. Parallel to the Batang Penar River that flows below, there is an entrance to a track that leads to a waterfall.
Although it's a relatively easy walk, the resort recommended that we take a guide as there are several forks in the track. It only takes about an hour to the fall, but you can get very lost in that time! Apparently they've had to rescue guests on a number of occasions.
Related Read:
10 Ways to Experience The Best of Malaysia's Perhentian Islands
The Dusun has a few different houses which are all sparsely positioned, as they believe in guests having privacy.
I thought our stay at Lanai House was even more lush because it was the most secluded. No-one needed to walk past as it was the farthest house in front and had its own path leading from the small car park.
After two nights of bliss, we could have easily stayed a week. The Dusun is the perfect place to recharge batteries after a crazy work schedule and leave feeling zen. As it was made so comfortable, it felt like a home in the woods.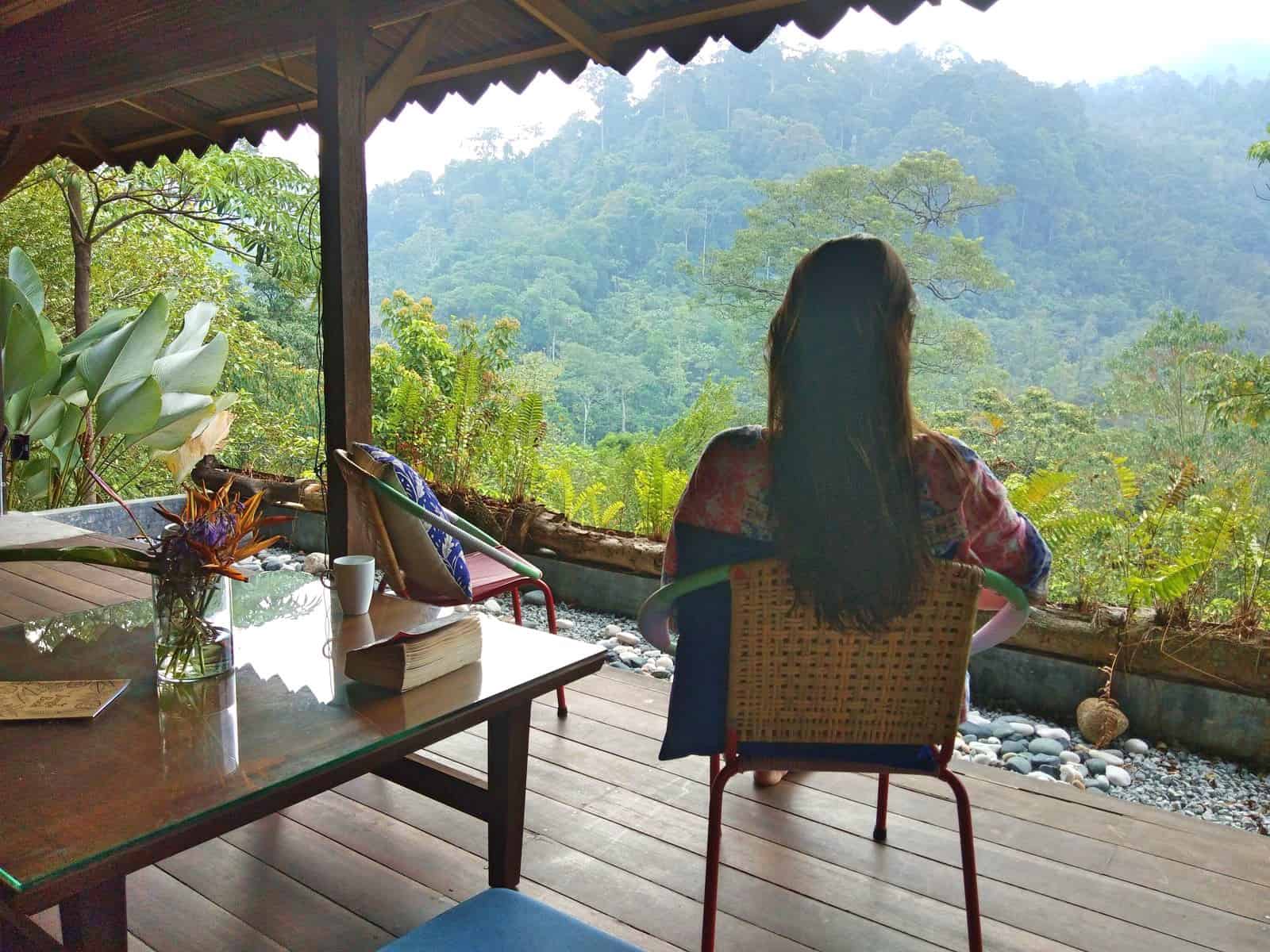 ***
Sustainable Tourism
The owners, expats Helen, David and their 5 children used to come to the region in the 80's for weekend chill-outs. Back then they had to do everything themselves, like sourcing water, clearing land and building their traditional Malay-style house.
After some time in 2009, they decided to open their retreat to guests and built five houses to accommodate. And we're sure glad they did!
I loved how sustainable their practices were. They pride themselves on hiring staff from the local Kampung (village) and shop from small entrepreneurs and other responsible businesses.
Their resort respects nature and honours sustainable farming and building. They clearly take responsible tourism seriously, visible from their eco-friendly body wash, to non-use of pesticides and composting in house, amongst much more.
Bookings
For the best rates, you can book via Booking.com.
As I searched for jungle retreats previously, a 20% off deal popped up in January as a sponsored link on my Instagram account. Do keep a look out at the beginning of the year for discounts.
Getting Here
The Dusun is just a 1.5 hour drive south of Kuala Lumpur.
We don't have our own car but always rent one using GoCar. There are multiple GoCars dotted around KL and it's usually more convenient than venturing to a car rental.
You can register via their website and then book via the app. They have a newer fleet of Renault Capturs at RM 109 per day, as well as their older Nissan Almeras at RM 90 per day.
Related Read: Fancy a weekend getaway in the country?
Mangala Resort and Spa
Tips For The Trip
Traffic from KL can be a nightmare on a Friday! Try to leave as early as you can to avoid the build up on your way out of the city.
Our kitchen was fully equipped with a stove, fridge, and enough pots, plates and utensils for you to whip up almost anything yourself. They even have a large water dispenser so you don't have to bring your own. Although you may wish to take your creature comforts from home, like a chopping board, kitchen knife, salad bowl and wooden spoon. They have basics like oil, salt and pepper so you don't need to take your own.
The resort is self catering, although they have a small restaurant on site that serves breakfast and pre-booked lunch/dinner. The breakfast was nothing special, but the coffee and fruit was worth the journey up the stairs. Although you may wish to cook your own brekkie for something more substantial.
If you rent a GoCar, get additional car insurance. We normally use RentalCover.com and it cost about £10 GBP per day.
For about 10 minutes, the road leading up to the Dusun is only big enough to fit one car. If you're going uphill and approach an oncoming car, let them reverse to a safe spot for you to pass. We tried to help by reversing into a small grassy area and ended up taking off the front number plate. (Get insurance guys!)
There are 3 big ceiling fans in the open living area which blow away the mosquitos, but don't forget to bring repellant. You may also wish to bring your own coils.
They have heaps of candle holders but no tea lights. It would be nice for some added ambience in the evening should you have some spare.
The altitude can make it a little chilly in the mornings and evenings, so pack some comfy trousers and a light jumper (note: I have however fully acclimatised to Malaysian weather!)
When I arrived, I asked if there was a key for our house. I was told no, so I didn't even bother asking about the internet! They do have the internet, but I can't vouch for how strong it was as we used our 4G coverage the whole time.
---
Fancy going? Pin it for later!