This self-guided tour will take you through Kuala Lumpur's Chinatown and Heritage Trail, brimming with history, food stops and photo ops!
---
Walking down the bustling streets of Kuala Lumpur, it's often overlooked how young it actually is. At least, I'm speaking for myself.
It's inconceivable that just a mere 140 years ago, what was a small town had only just qualified as 'the capital of Selangor'. For some perspective, that makes KL 1'860 years younger than London and Paris, 260 years younger than New York City and roughly 100 years younger than Sydney and Bangkok. It's also probably younger than the world's oldest person, at 146. That's insane!
Yet in such a short space of time, it has completely outgrown itself into one of Asia's biggest powerhouses, sprawling with outer suburbs and a population of over 7 million.
When I put this tour together for you guys, I was amazed with what I discovered. Together with Merdeka Square I learnt that Chinatown is one of the oldest and most fascinating areas of KL, filled with forgotten stories and shadows of yesteryear. Both of which I want to share with you.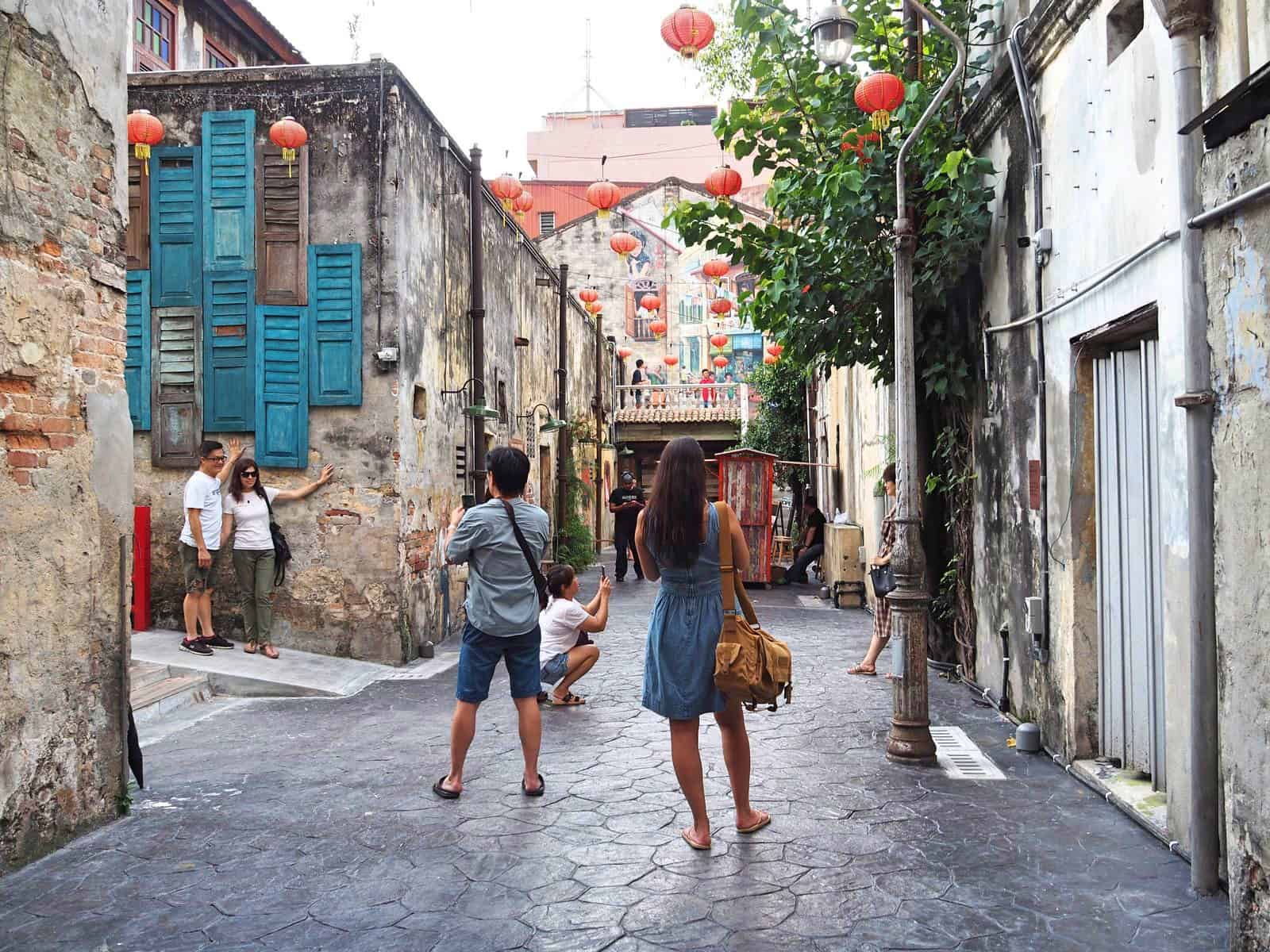 Tour Highlights
Starting in Chinatown, I've curated a route that will take you to all my favourite parts in the area before meandering to the colonial district- including:
a stop by the recently opened heritage lane Kwai Chai Hong
sighting the heart of KL's first settlement in Medan Pasar
viewing the exact point that the city was conceived along the Klang River
drooling over the impressive grand colonial buildings in Merdeka Square
pukka local eateries (so leaving an empty stomach is highly recommend…don't go crazy on that breakfast buffet!)
Aesthetically speaking, perhaps don't go to Chinatown with sky high expectations. It isn't as manicured as say George Town in Penang or Singapore, and many of its decaying 1920's shophouses are crying for a revamp. But there's some diamonds in the rough, and for the most part it's like walking through an unrestored museum.
Duration
I've walked this route a couple of times and without stopping, it's achievable in 45 minutes. But counting in time for photo ops along the way, as well as some exploration and optional food stops, it may take you anywhere between 1-3 hours.
Tip: You're going to sweat on this tour in KL's unrelenting heat, so try to wear light cotton or linen clothes and avoid synthetics! Don't forget your hat, sunnies and plenty of water.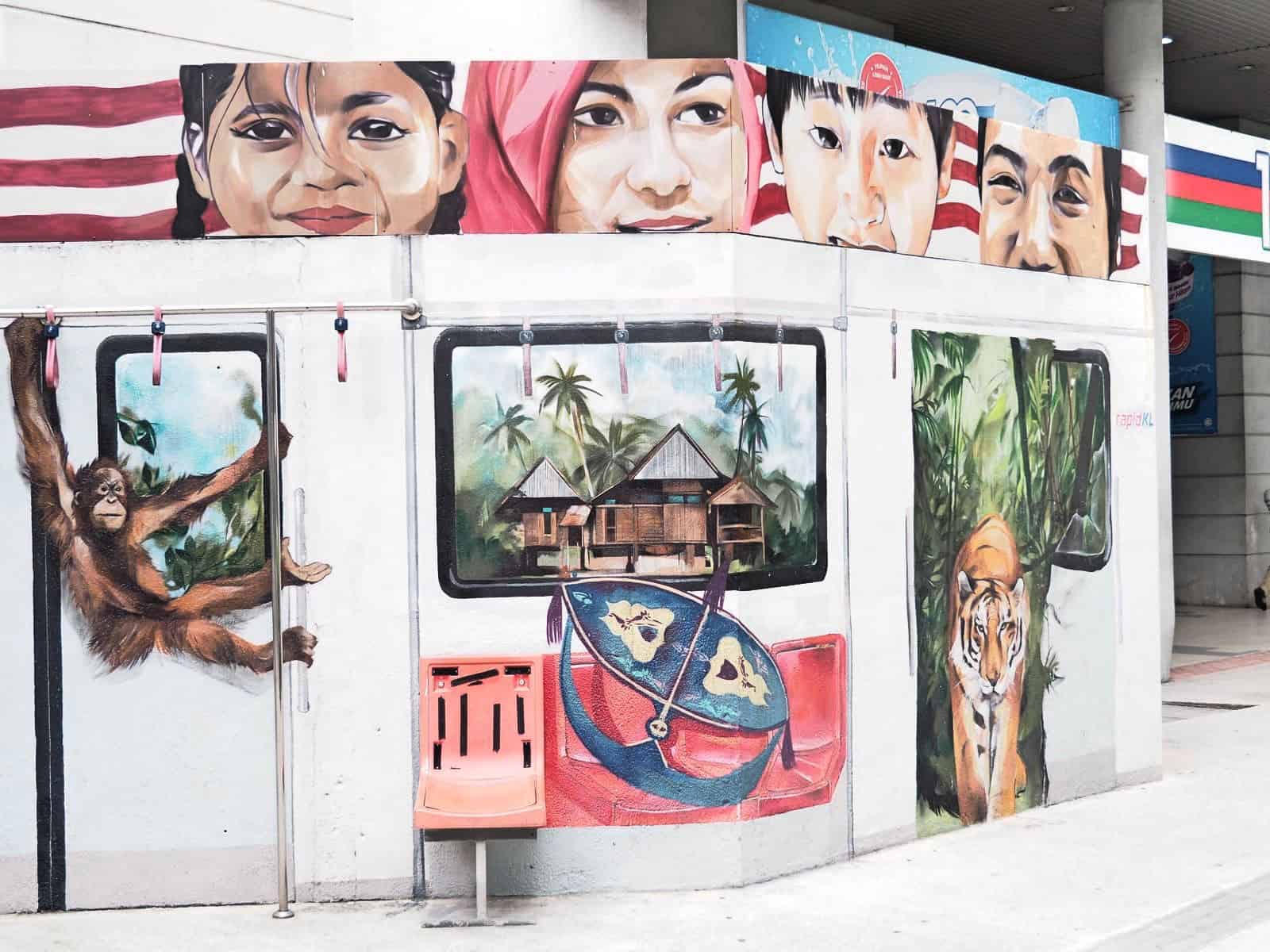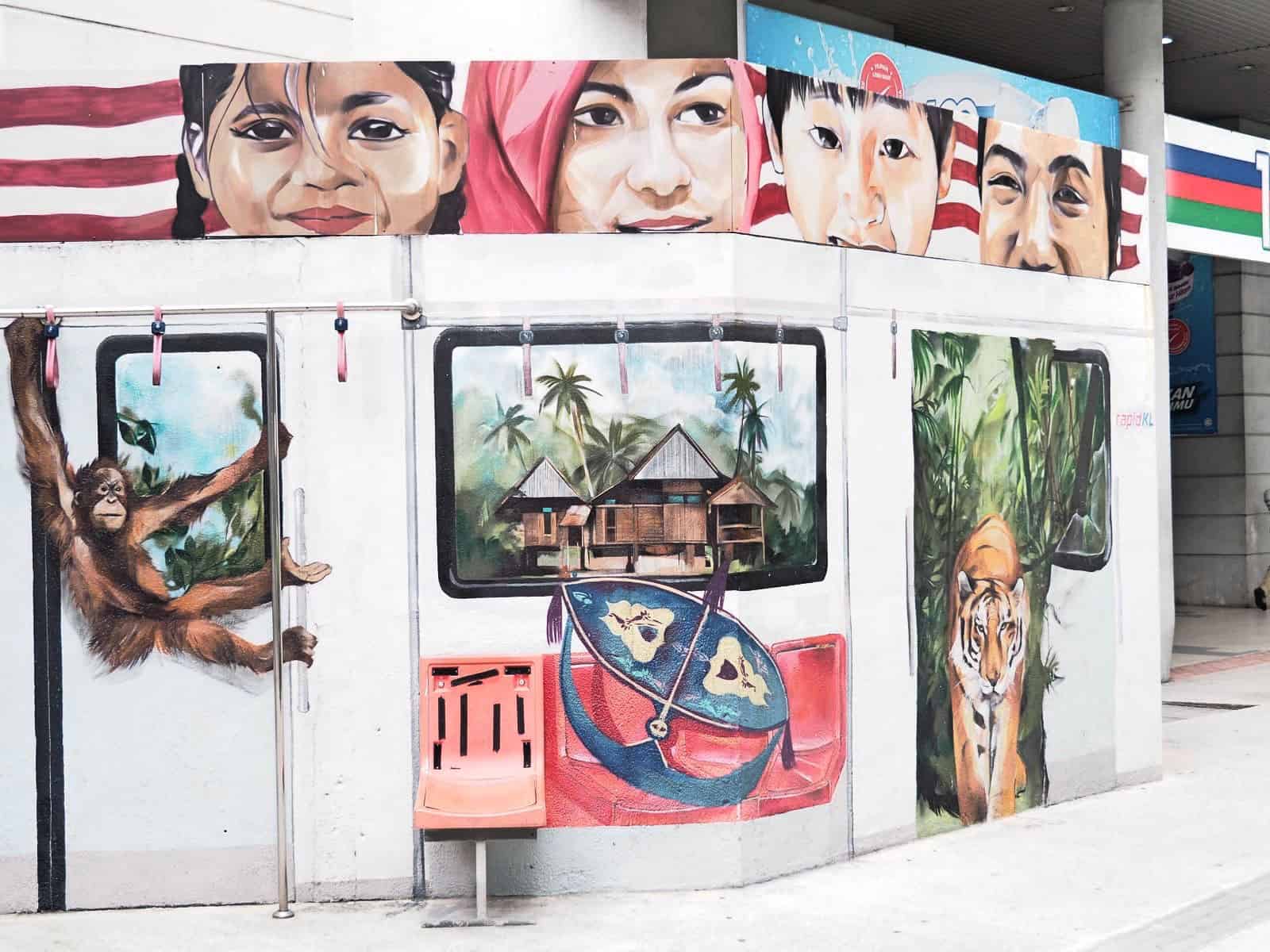 ---
The Ultimate Self-Guided Walking Tour in Kuala Lumpur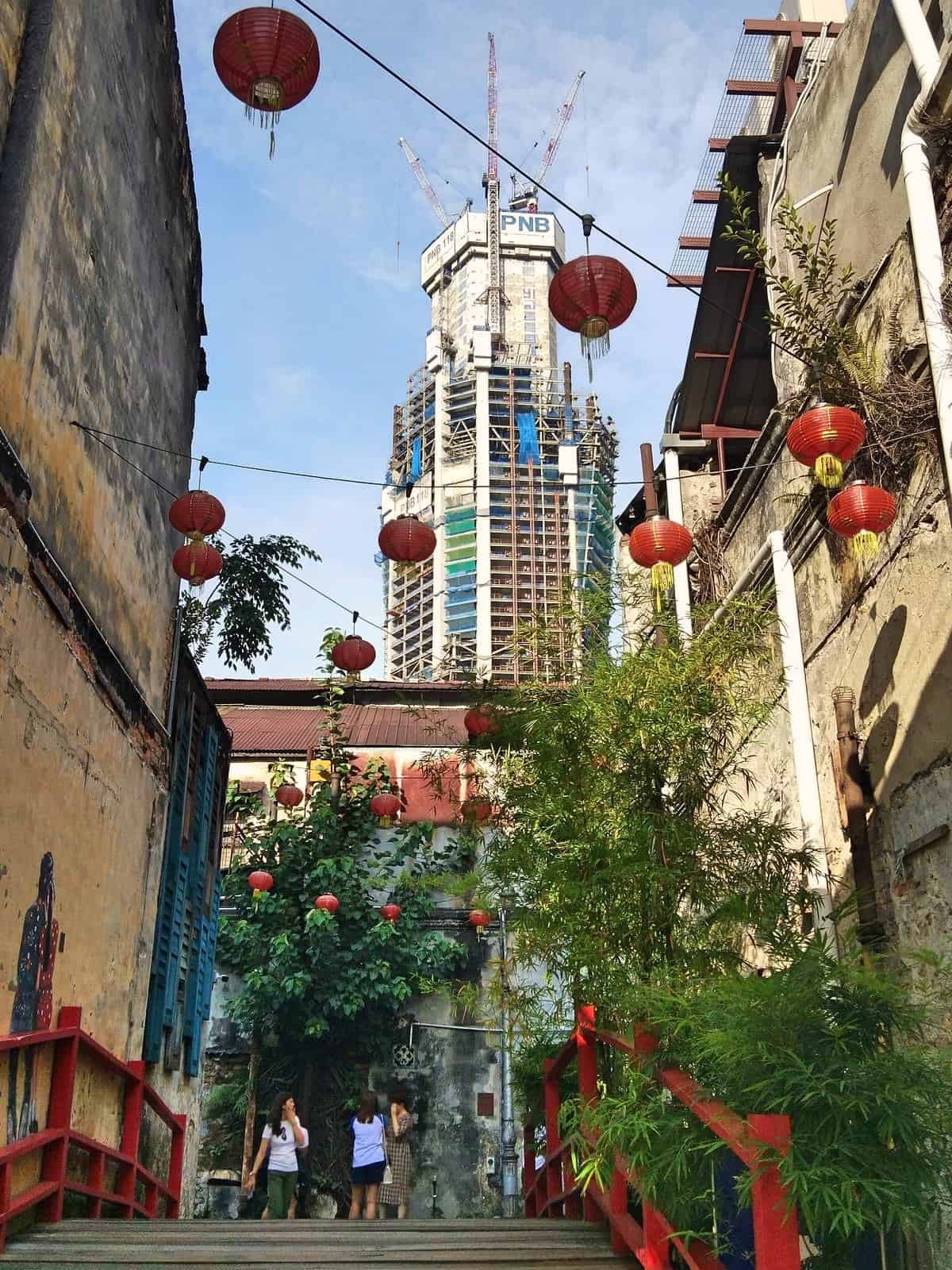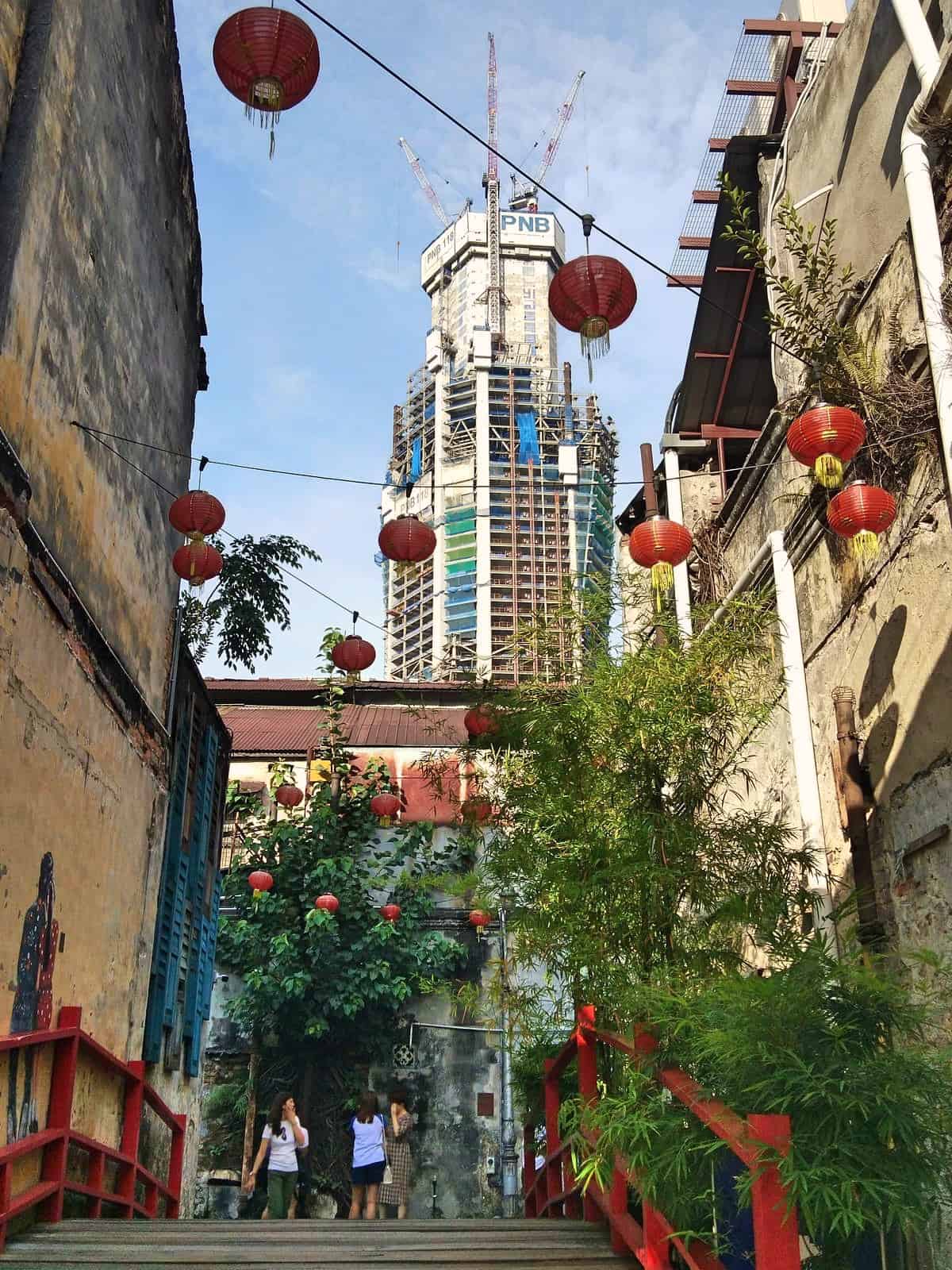 I created this tour using 'My Maps', so all you need is Google Maps on your smartphone. If your iPhone is missing it, you can download it for free from the Apple iOS store.
To access the tour, just hit the enlarge icon 👇🏼 on the map below and it will automatically open in Google Maps.


Once opened, a blue circle will appear showing your location so you can see where you are at all times. As it uses the satellite, even if you lose internet connection you'll still know where you're standing. Phew. No-one's getting lost today! (Joking, you won't get lost. Hopefully. 😳)
I've marked the points of interest on the map (30 in total) which are all the brown icons. If you click on one, then I've written info to explain what it is you're looking at. A picture will appear too (phones only…not sure why it doesn't show up on the computer!).
The blue line you'll see on the map is the walking route I've proposed. There's A and B which are connected to each other- A is for Chinatown and B leads into the colonial district. My Maps wouldn't let me do a really long line for some reason without it messing up…it has its limitations!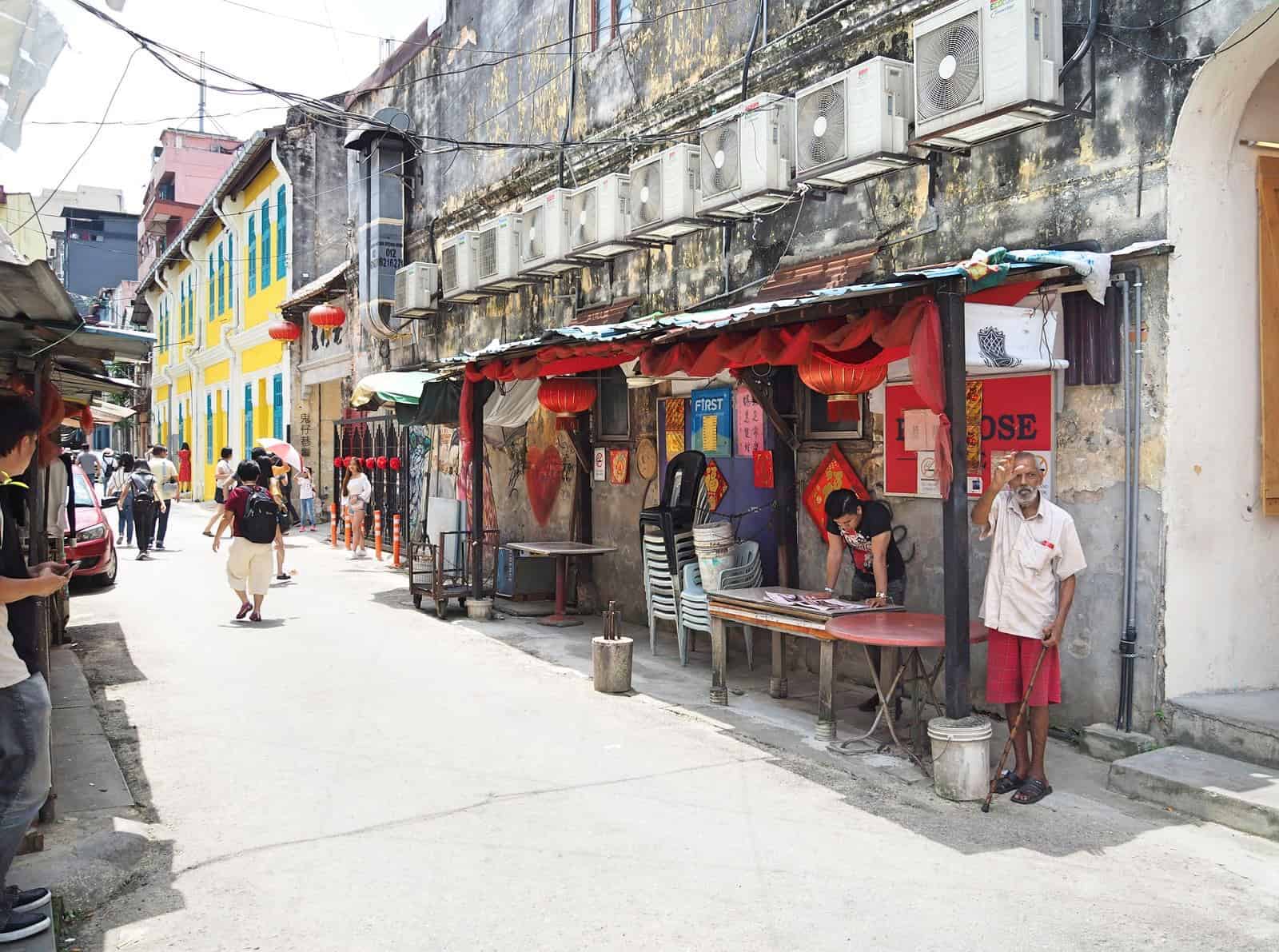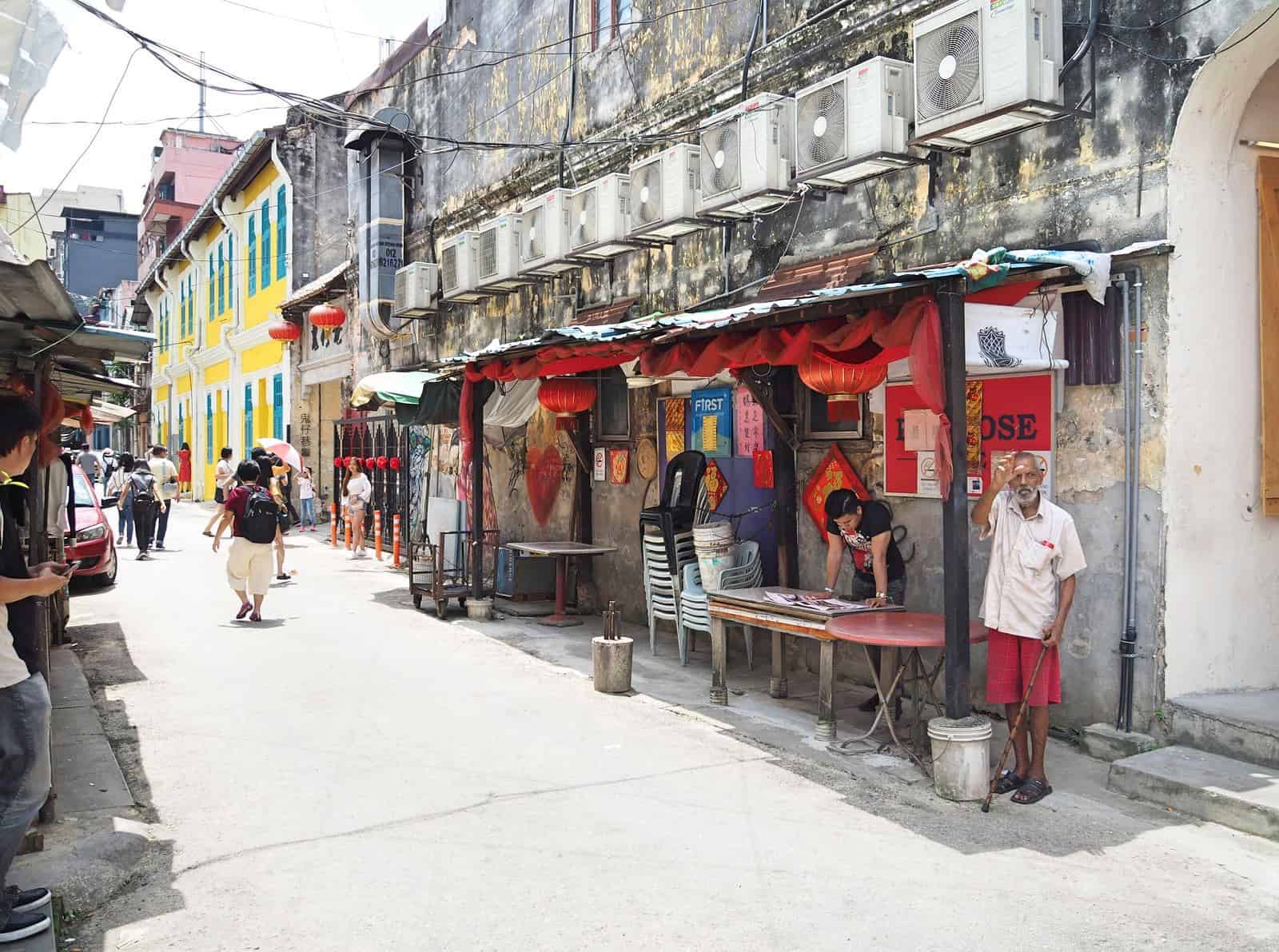 If you don't have the internet on your phone in KL, then you can buy a cheap MyMaxis SIM card from most malls. Then you just need to download the Hotlink app to top it up. You can purchase a 7-day 4G internet pass for RM10 (approx. £2 GBP).
Or if you can't get the internet, then you can still access the tour by opening up the map up as explained ☝🏼when you have connection at a hotel or coffee shop, and then it should stay on Google Maps even if you lose connection.
The only limitations is, that you won't be able to access the descriptions (or pics) this way. So just in case this happens, I'll write them all for you below in this article, which you can also open up when you have Wi-Fi. You're welcome! 🙌🏼
---
Optional First Stop: Petronas Towers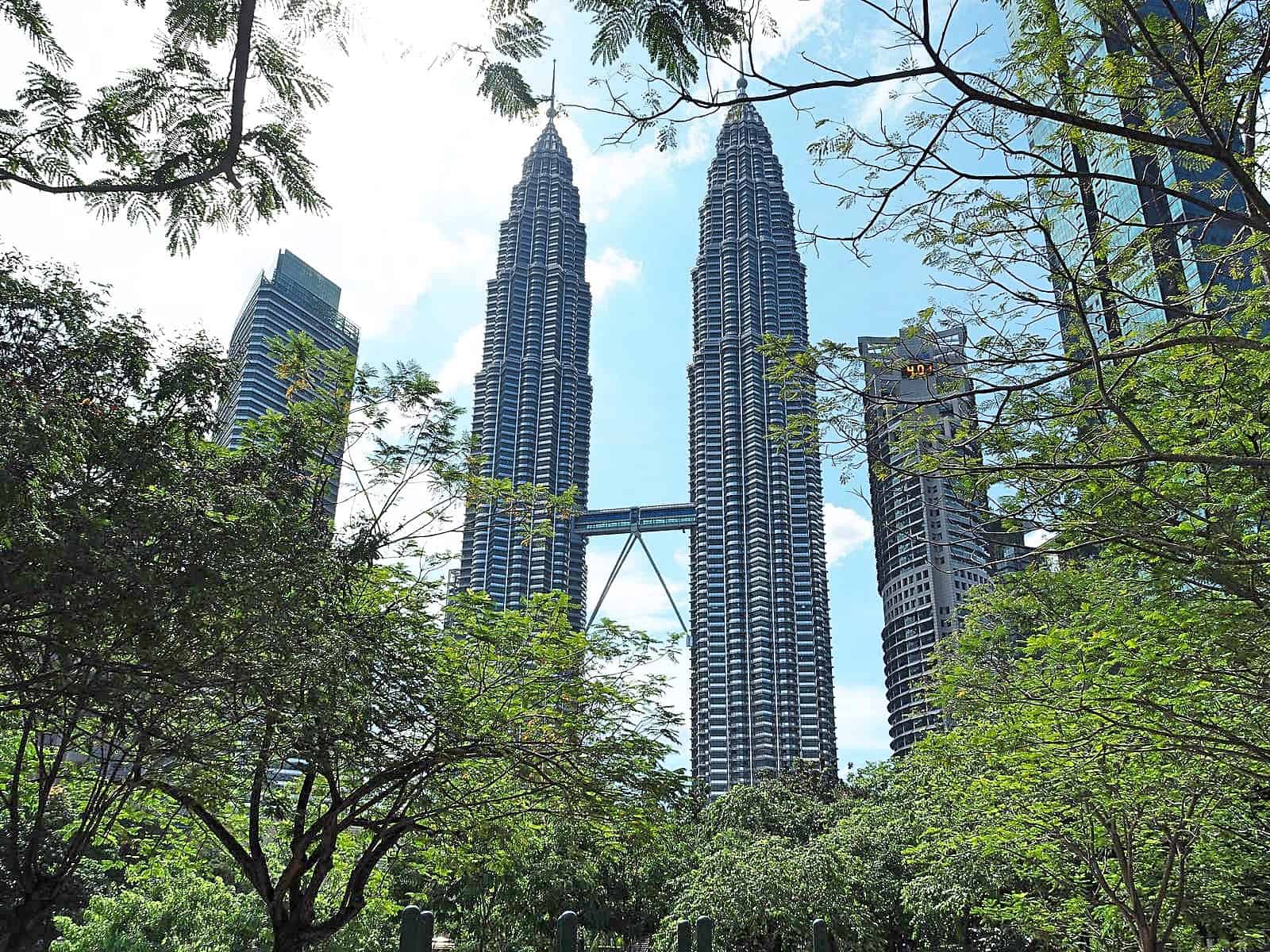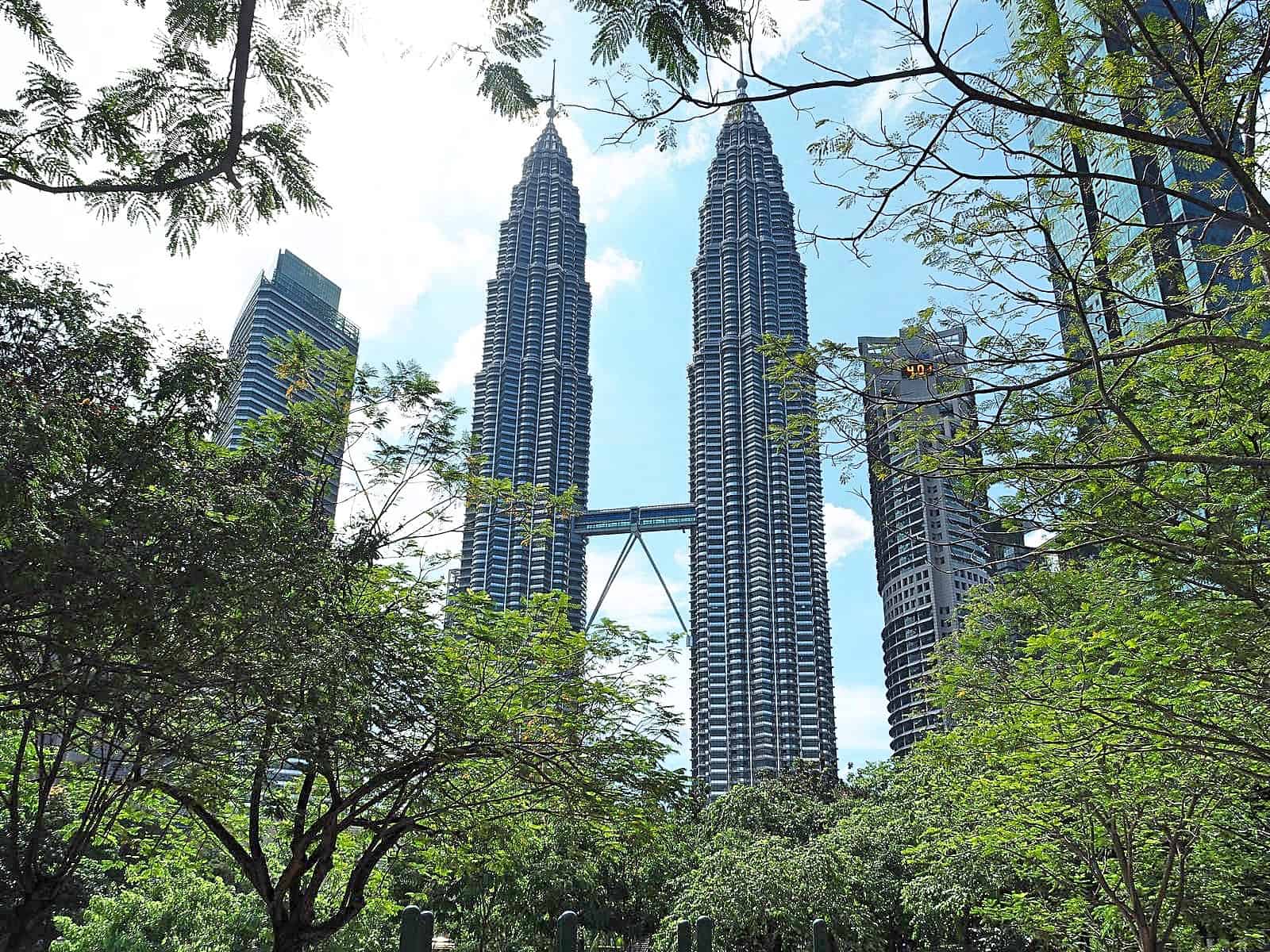 I've not included this on the tour, but if you're a complete KL newbie and haven't even seen these twins yet, then you've got to christen your stay and head there first.
Some people like to pay to travel up the towers and stand in the Skybridge and Observation Deck which you can prebook online. Although I haven't been up them, personally I always prefer to save my RM80 and visit a sky-bar or sky-restaurant where I'll have a view of them, rather than from it.
As Karl Pilkington once said about Petra, "You're better off living in the hole looking at the palace, than living in the palace looking at the hole". 😆
Just kidding, the view from the towers is awesome too and far from a hole. But if you head somewhere like Marble 8 then you can see both the towers and the impressive KLCC park from above, whilst filling your stomach.
But each to their own.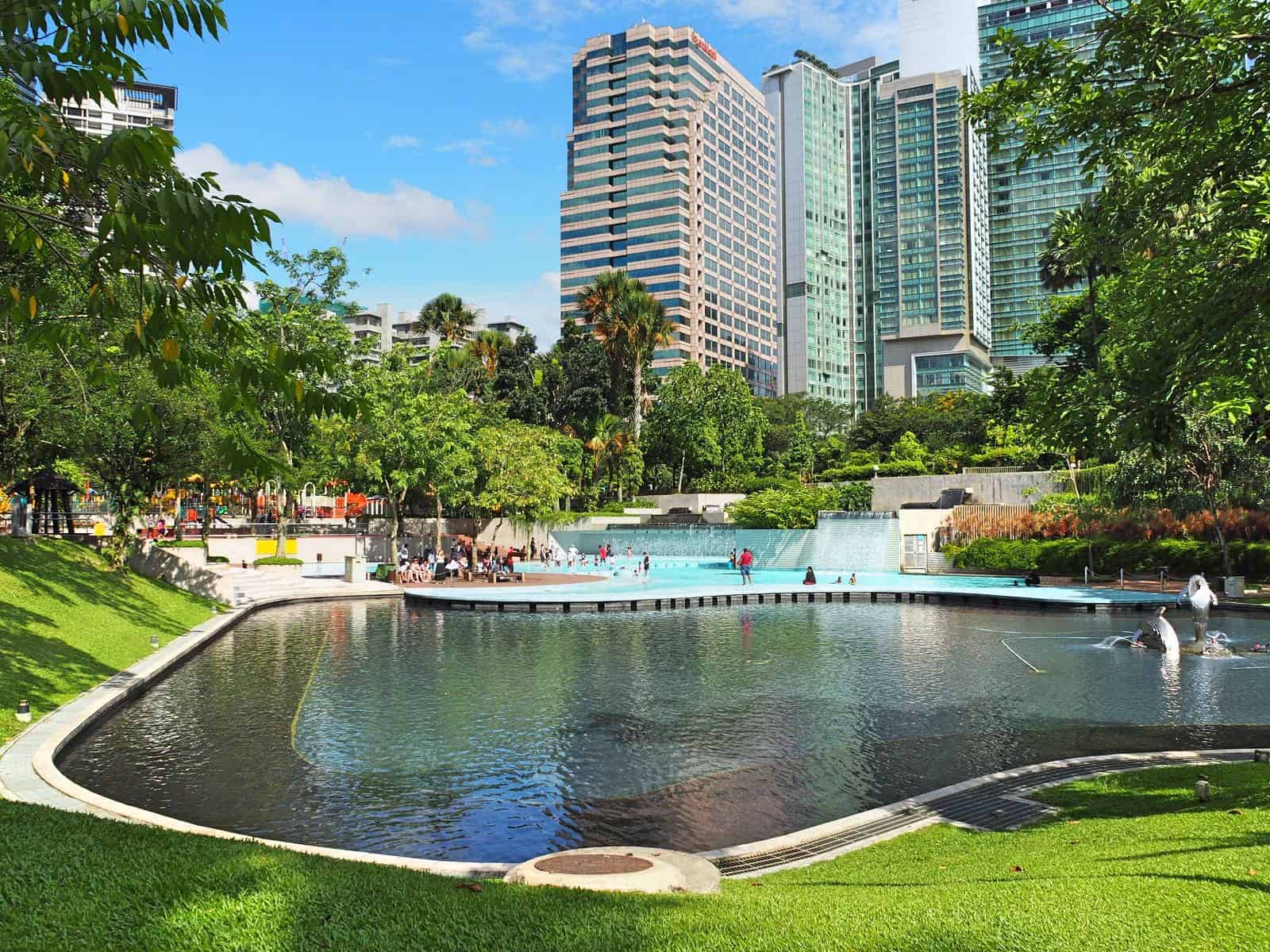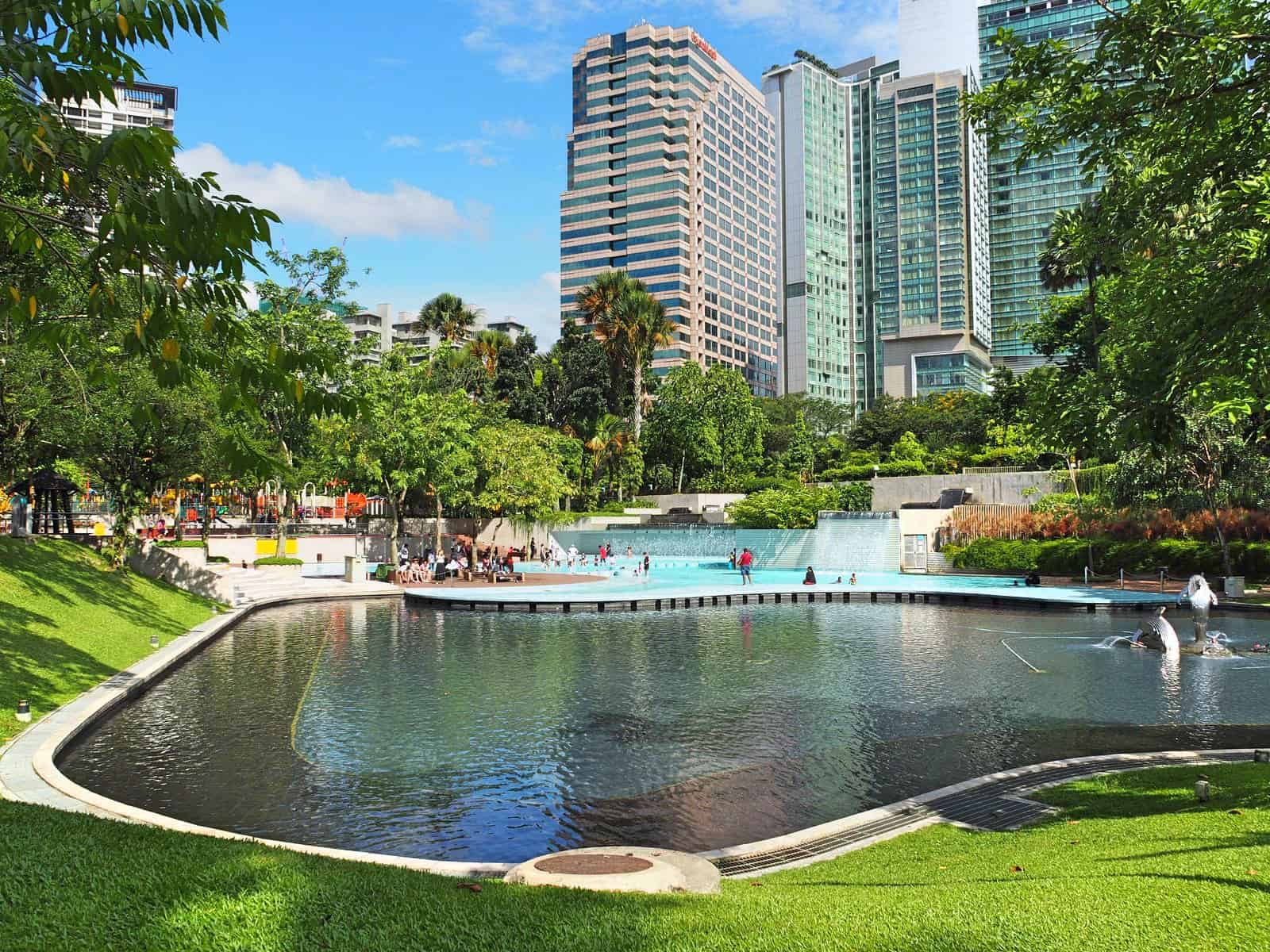 The Petronas Towers were opened in 1998 and designed by an Argentinian architect, Cesar Pelli. For six years they were the tallest structure in the world until 2004, were the Taipei 101 took reign. Although they still remain as the tallest twin towers on Earth. Impressive huh.
It reaches 88 storeys high with arabesque patterns, and the five tiers represent the five pillars of Islam. They are truly a symbol of KL's emergence into the 21st-century, from a humble tin-mining town into a mega Southeast Asian metropolis.
KLCC park makes for a pleasant stroll when it's not scorching at midday. Although there's plenty of shade and a wading pool for the kids to cool off, as well as outdoor restaurants and bars for the adults at Suria KLCC (I'd suggest heading to Delirium Cafe for a generous selection of craft beers).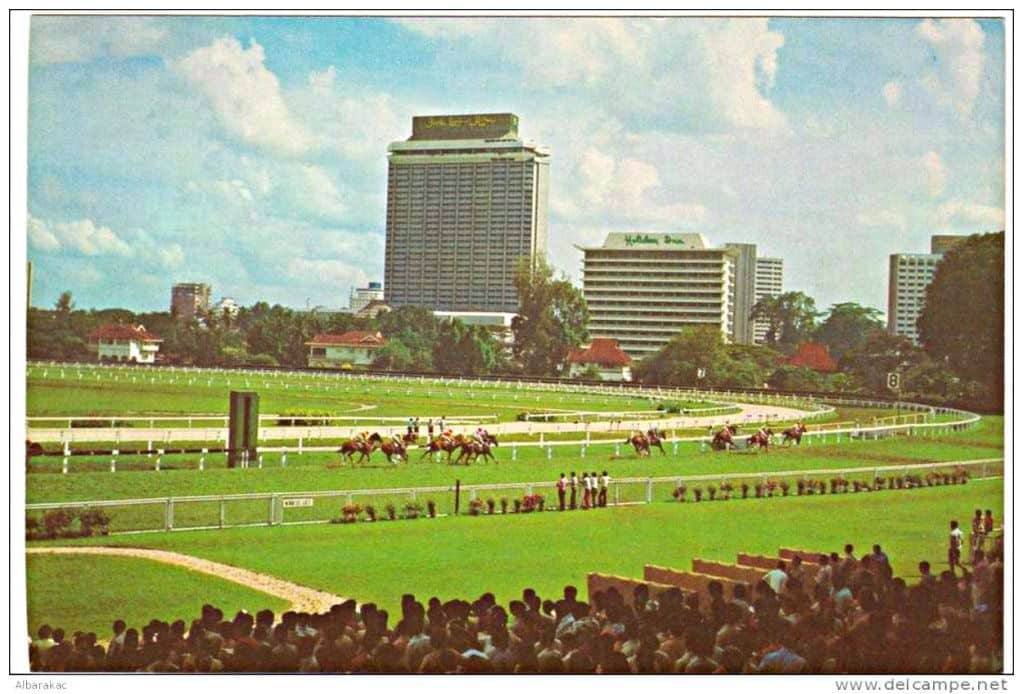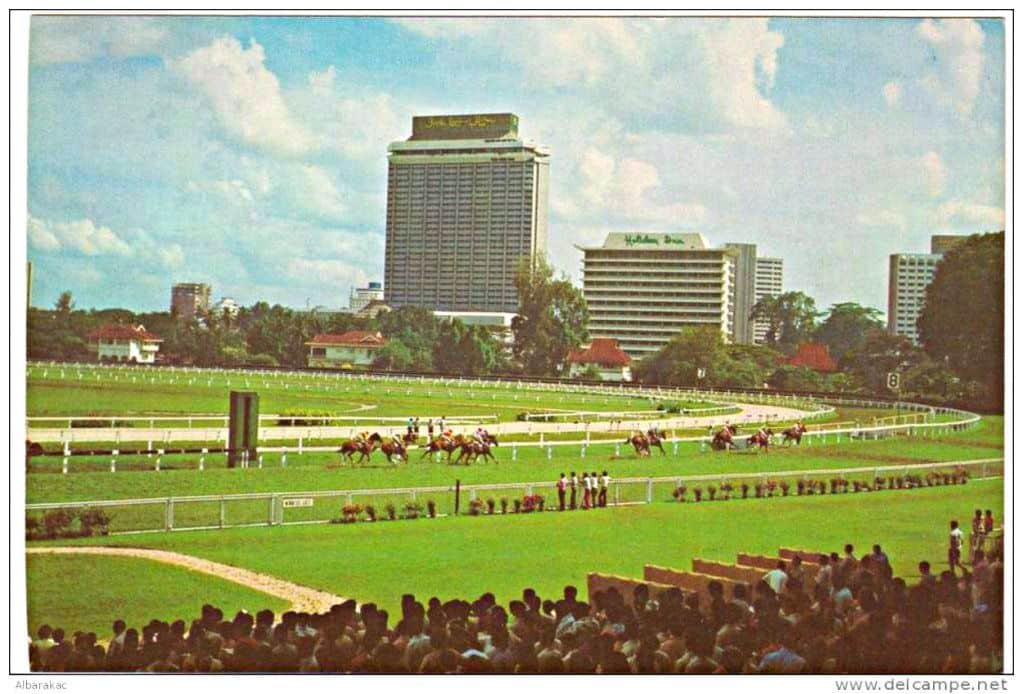 Before KLCC Park and the twin towers were erected, the site was used by the Royal Selangor Turf Club as a horse racing track. My taxi driver alerted me of this when I was on my way to research the tour, saying that he'd frequently go to bet on the horses. Hard to imagine that now.
Once you're finished here, you can jump in a Grab taxi to Chinatown and be there in 15 minutes (I'd call it to Chocha Foodstore, a restaurant a few doors down from Chan She Shu Yuen Clan Ancestral Hall as it's on a busy road). Or if you're feeling energetic, you can walk there in about 50 minutes. Just use Google Maps to navigate an easy route.
---
Stop 1: Chan See Shu Yuen Clan Ancestral Hall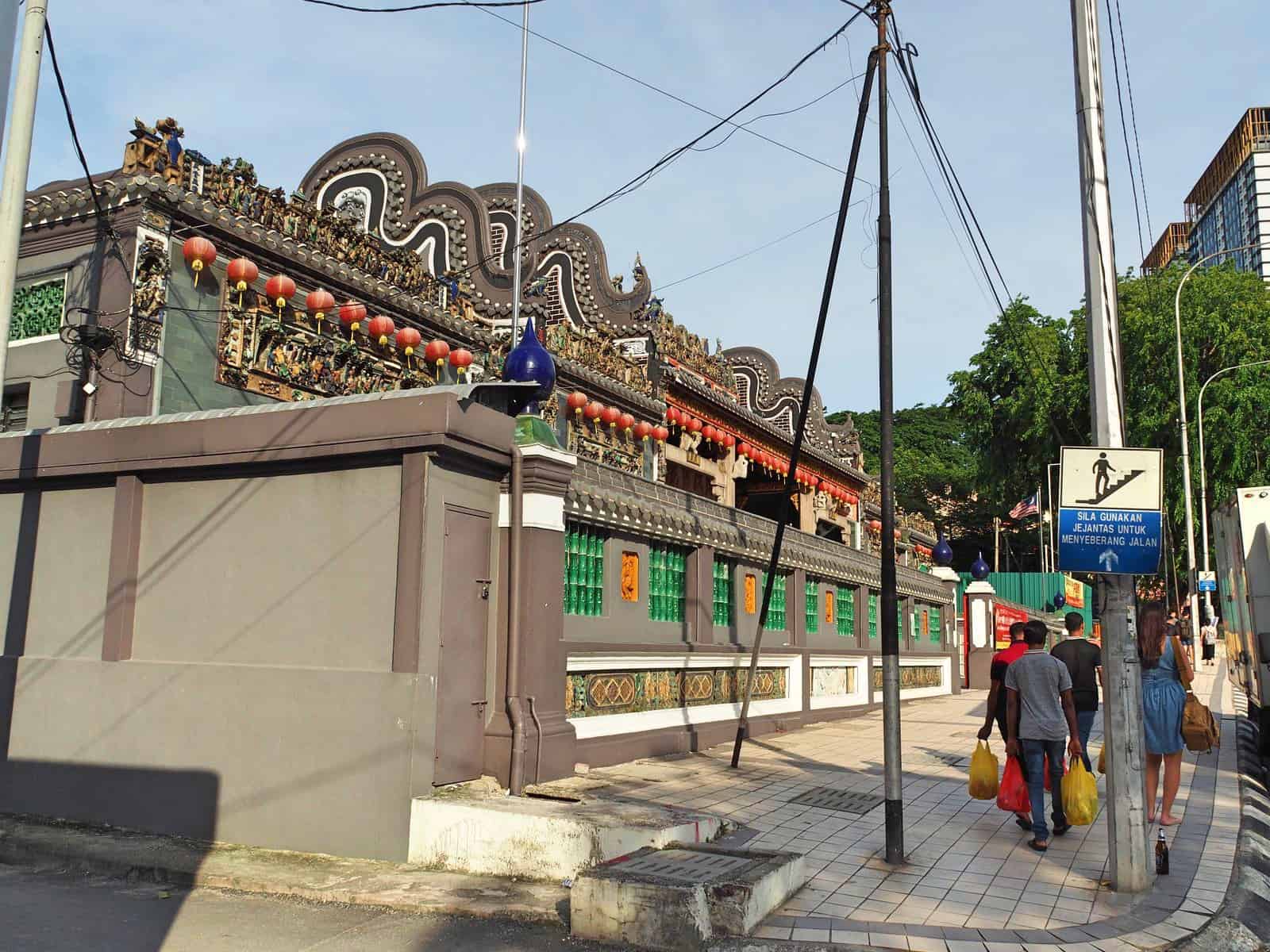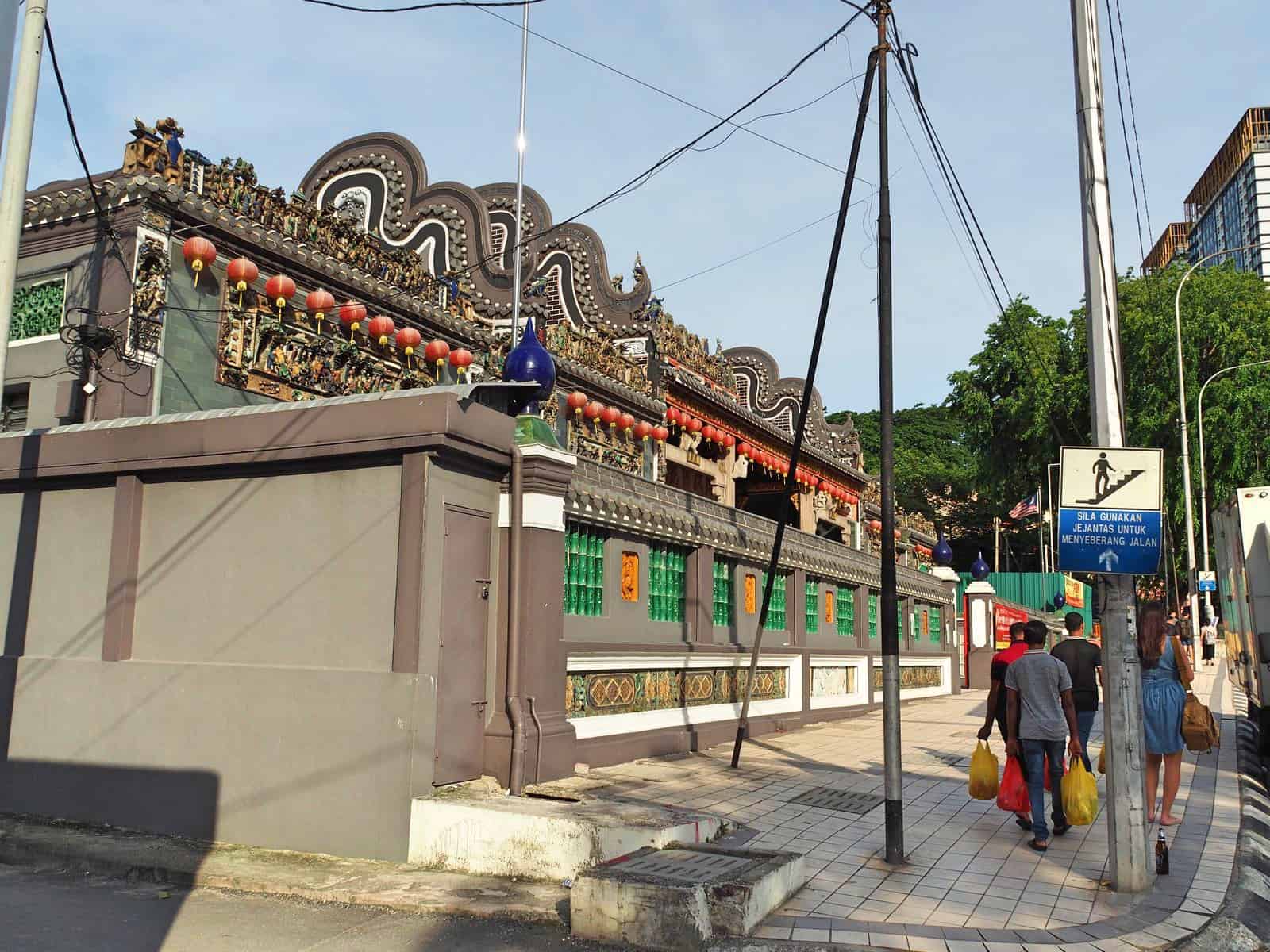 Clan houses in Malaysia were meeting halls for Chinese migrants who shared the same surname. Their purpose was to act as a place where new arrivals can get together and make friends with others who speak the same dialect, as well as to help them get set up and provide financial assistance.
The Chan See Shu Yuen Temple was erected between 1897 and 1906 by four tin miners and a few businessmen. It's KL's oldest clan house, once serving people with the surnames Chan, Chen or Tan. As you can imagine, this was a pretty epic group!
Nowadays, it's utilised as a Buddhist temple and is open to visitors. You can take a peek from 9am – 5pm.
---
Stop 2: Chocha Foodstore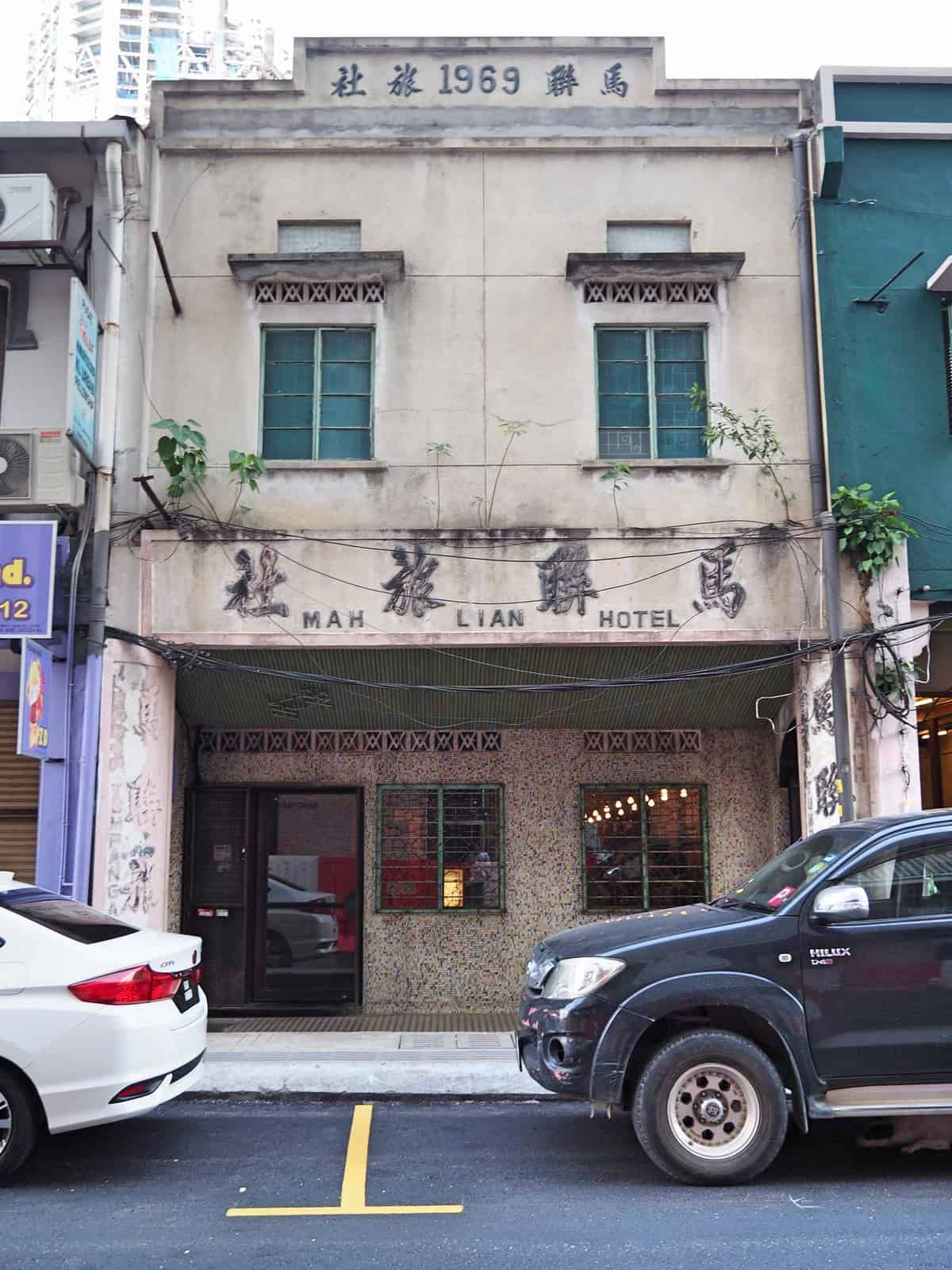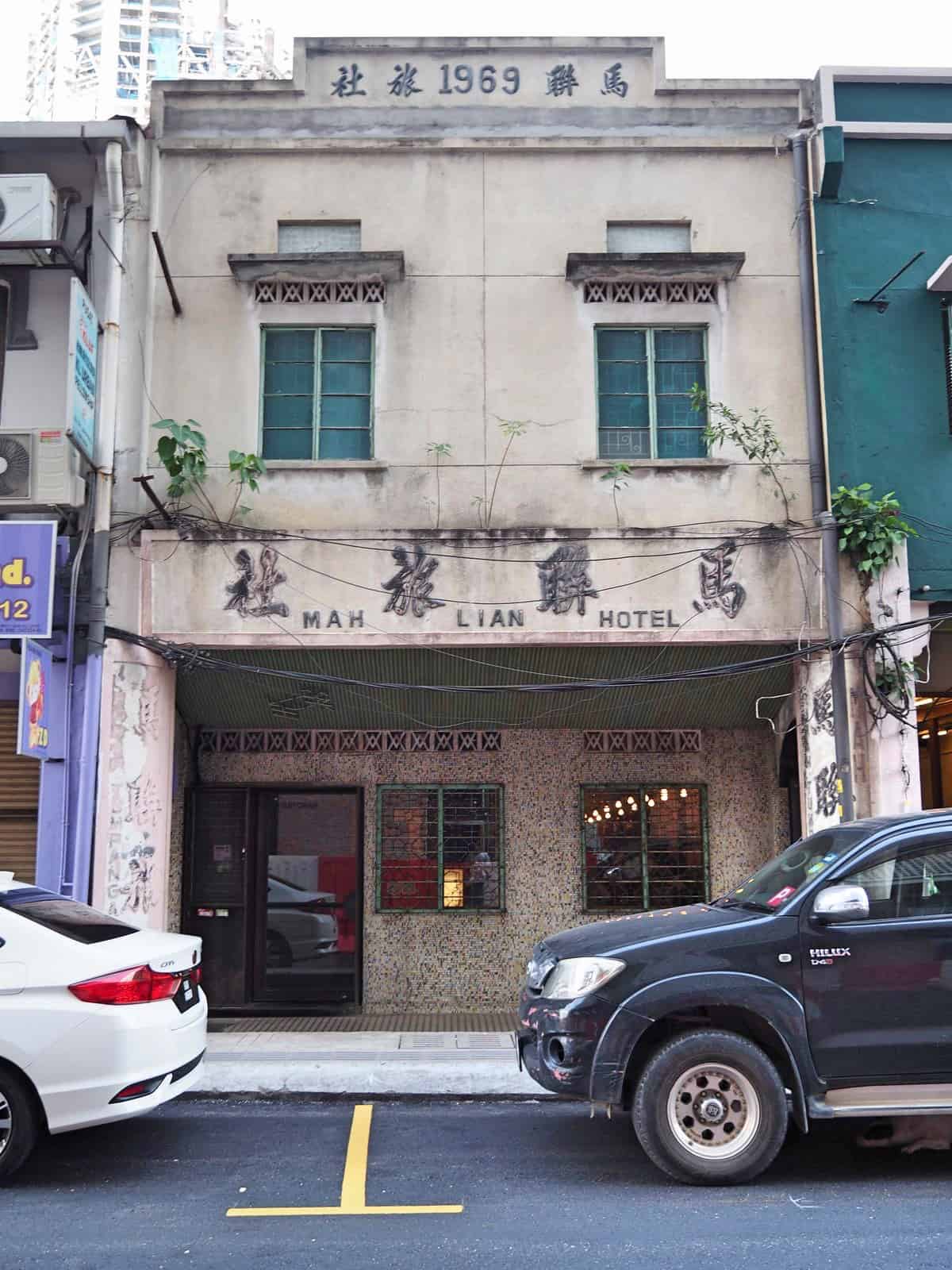 Take a look outside. What do you think? Is it a dreary, old-school hotel. Or something else?
Written on the front of this nondescript facade is the name of its former business 'Mah Lian Hotel', founded in 1969. But those days are long gone.. sort of.
Back in the day, one part of the building was utilised as a hotel, whilst other rooms were reserved for different businesses and a co-working space. Amongst them was a fortune-telling enterprise and a brothel.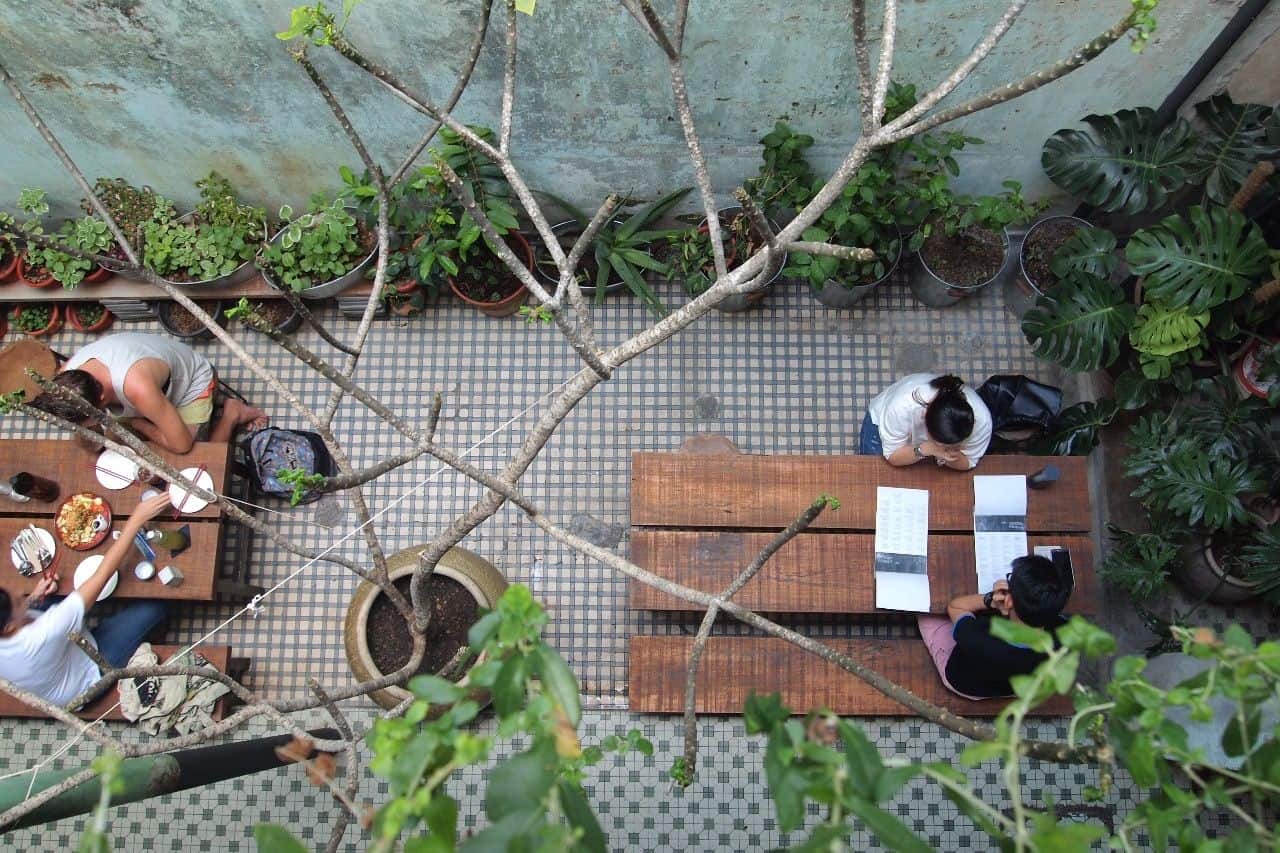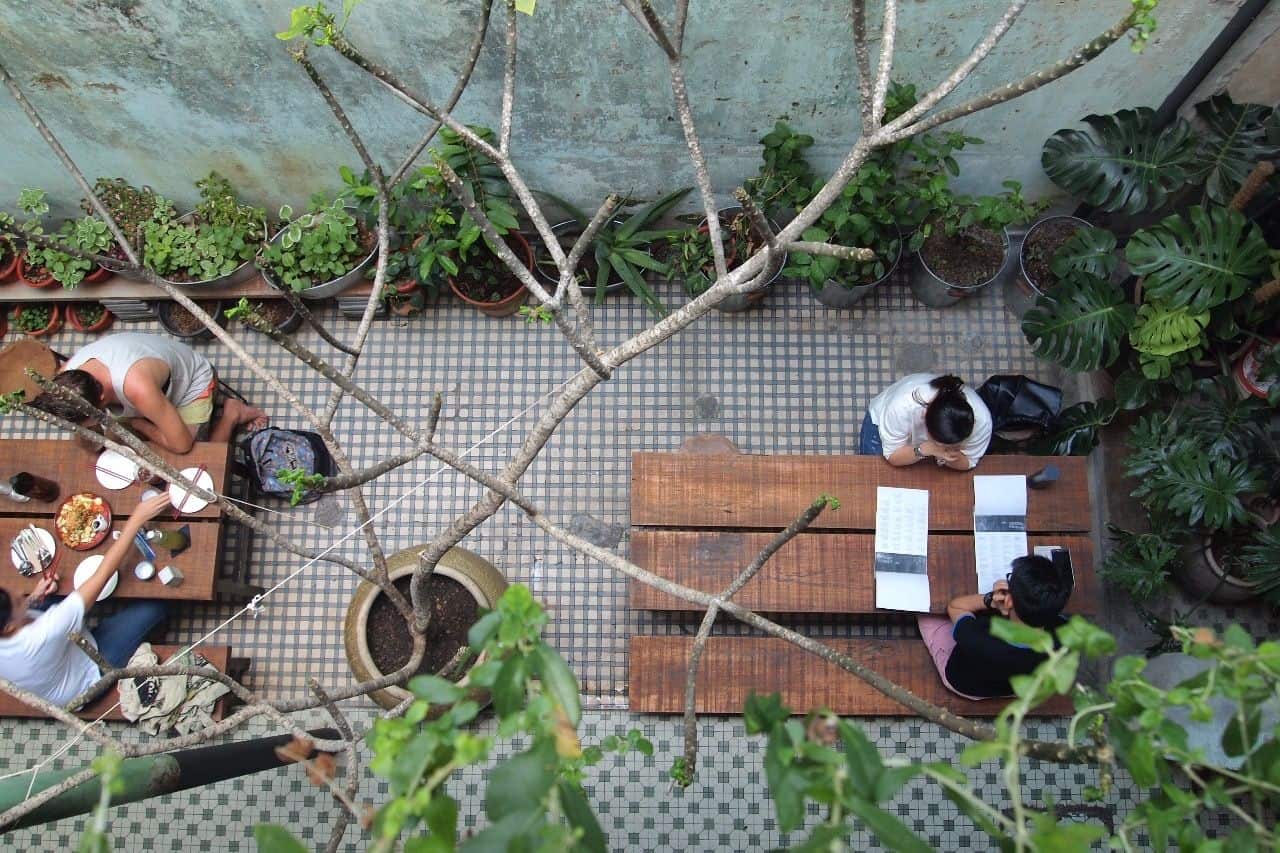 This former abandoned building has recently been beautifully restored inside by its current owner, architect Shin Chang. He made it structurally sound whilst maintaining its character and traditional features, even down to the peeling 40-year-old paintwork.
It's still utilised as a flexible working space, with the bottom reserved for Chocha Foodstore and a bicycle repair shop, whilst the top functions as a bar with a separate co-working office for a group of architects. The brothel of course, is long gone.
The restaurant itself is unpretentious and nocks up some awesome contemporary, local dishes, and is one of my absolute favourite KL restaurants. It uses a farm-to-fork concept, with produce supplied from a small plot behind the owner's parents house. I'd highly recommend booking a seat for dinner… the food alone will give you multiple foodgasms.
---
Stop 3: Ho Kow Hainam Kopitiam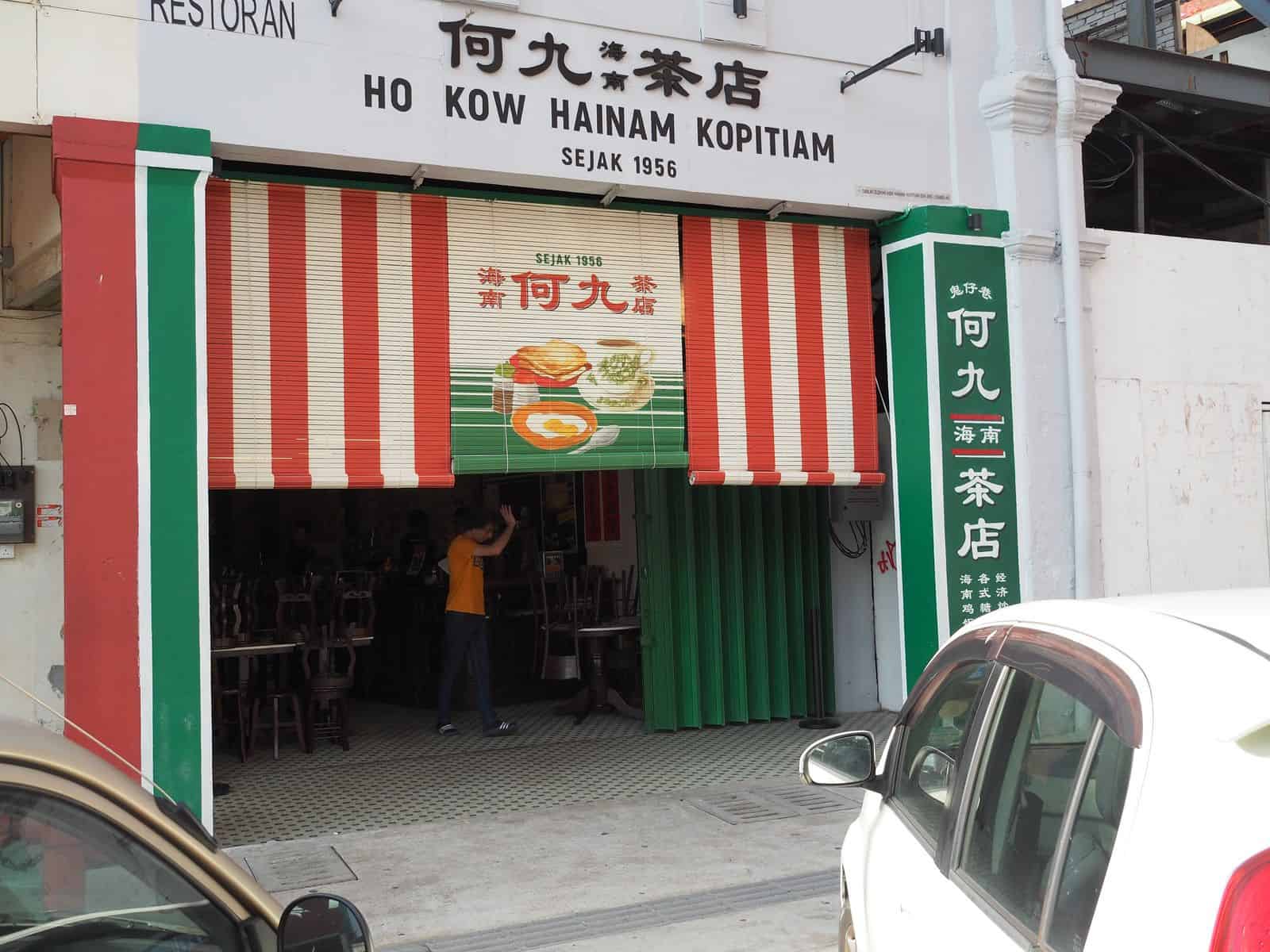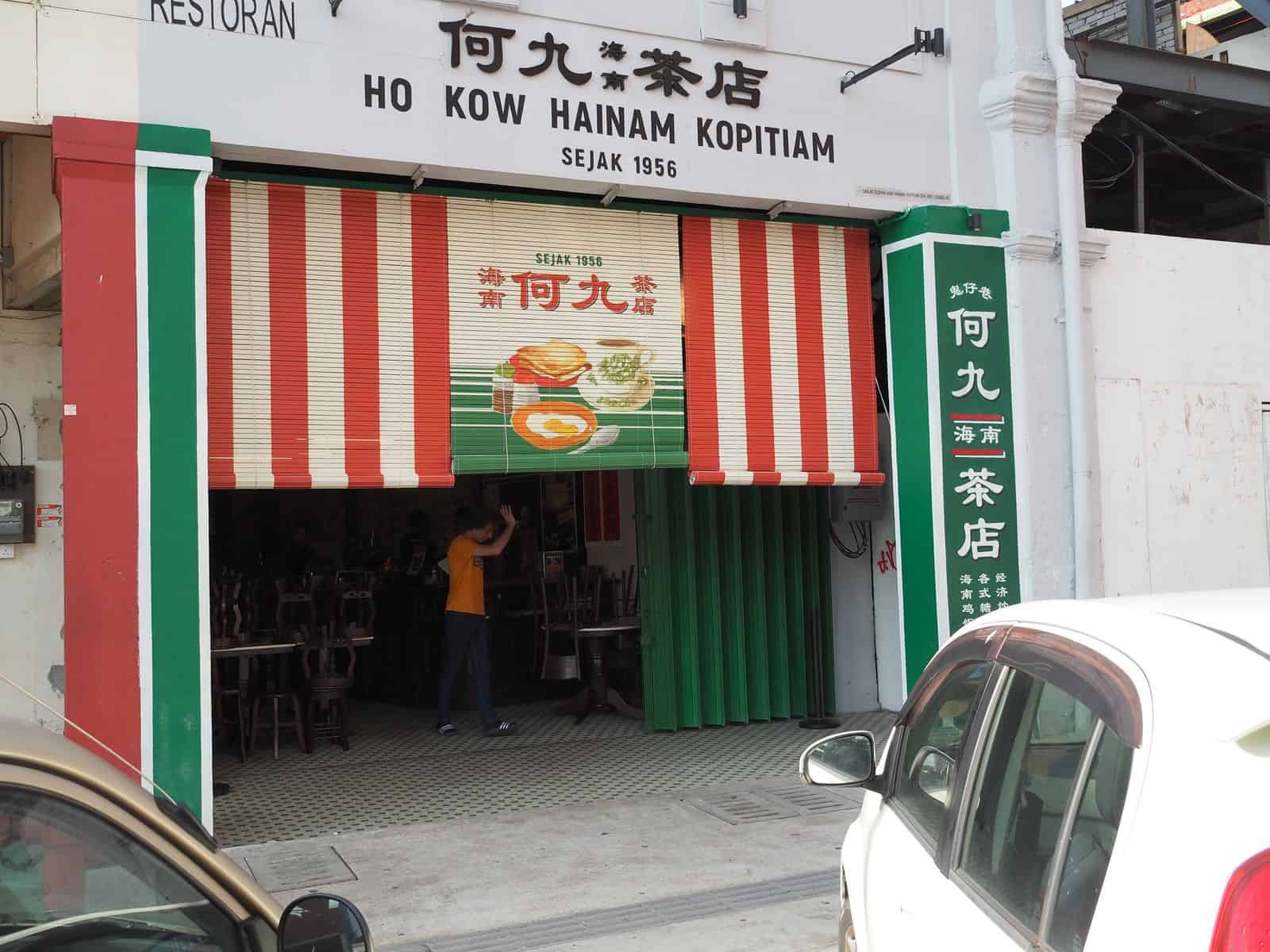 One of Chinatown's longest standing kopitiams, this place is a bit of an institution here.
A kopitiam is a coffee shop that serves food, and they're all over KL. The word kopi is Malay for 'coffee' and tiam is Hokkien for 'shop'. These popular eateries were originally created by the Hainanese-Chinese community, many of whom became chefs when they first arrived to Malaysia, working for Straits-born Chinese and British colonial families.
When the Brits left Malaysia, many cooks then went on to open their own restaurants and bakeries, and some established kopitiams.
Due to their experiences with the colonials, they traditionally serve up a hybrid breakfast consisting of buttered toast with kaya (coconut jam), and a soft-boiled egg which people seasoned with soy sauce and black pepper. They also usually serve a range of Hainanese-Chinese inspired dishes, as well as some old-school Malaysian fare.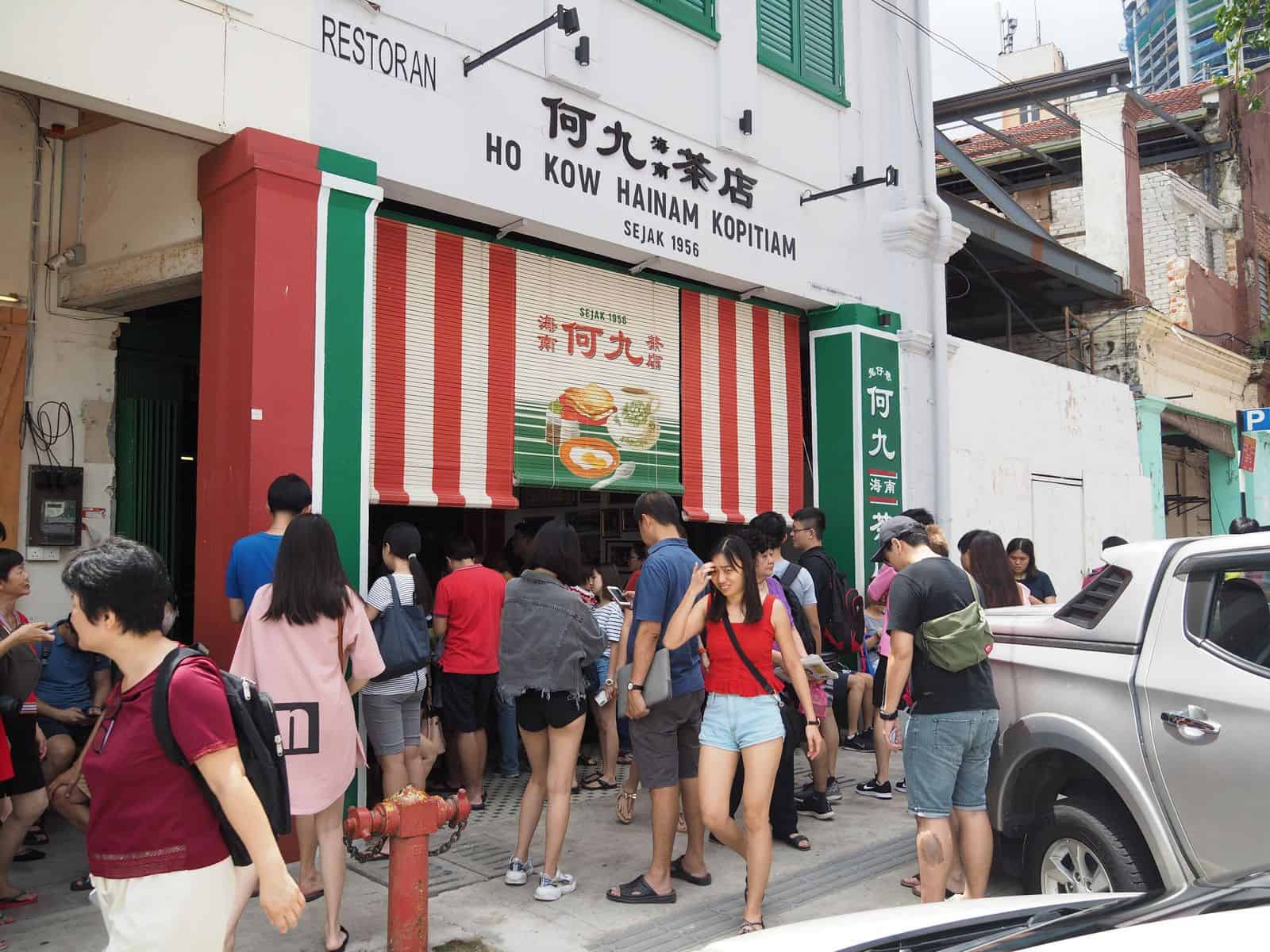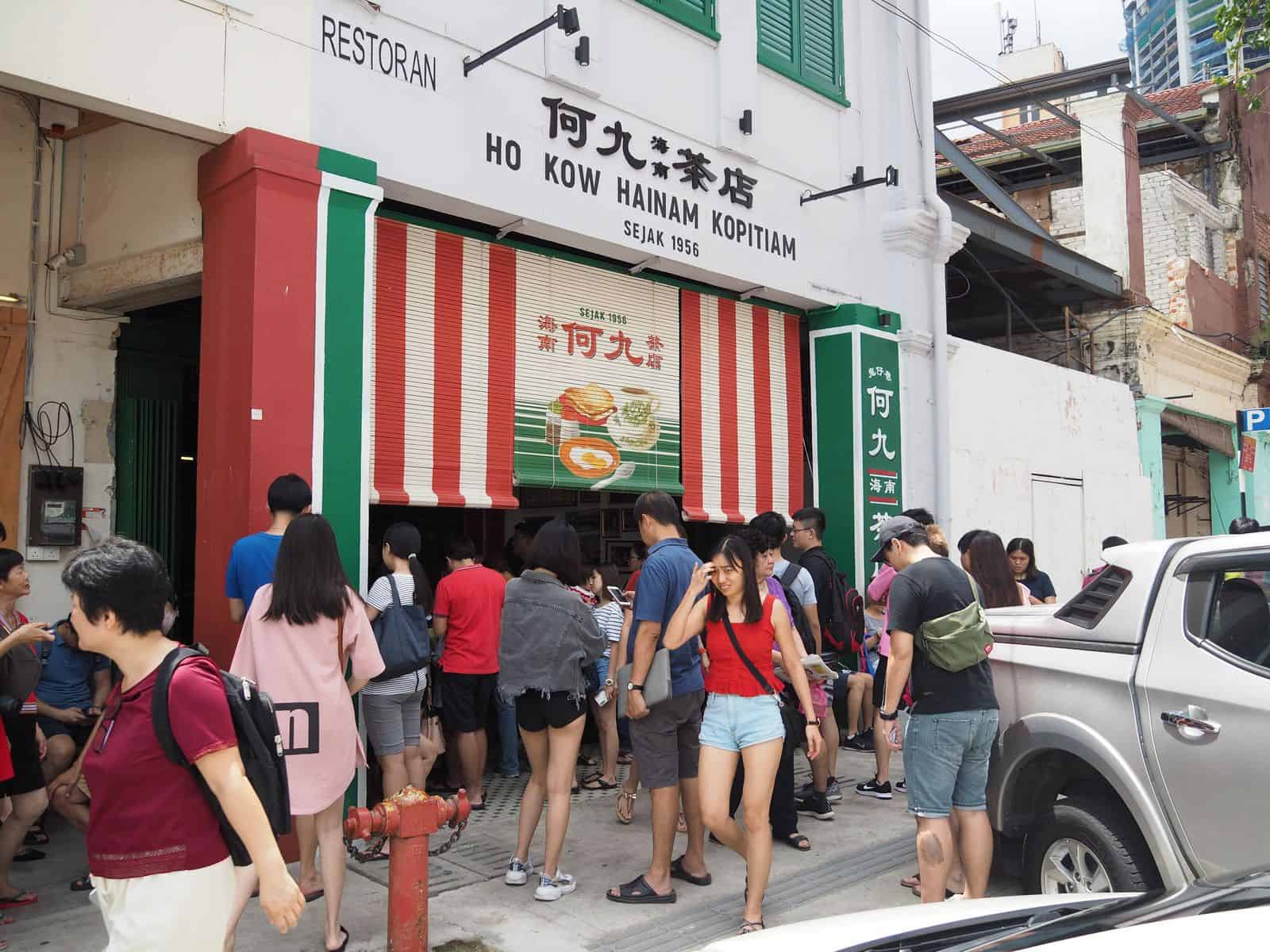 They're definitely nostalgic places for many Chinese-Malaysians, which is why golden oldies such as this will usually see a long line out the door. So if you're planning on eating here, you should come early! (Otherwise, if it's heaving, check out kopitiam 'Ali, Muthu & Ah Hock' a few doors down).
Ho Kow Hainam Kopitiam used to be positioned over to your left along Lorong Pangung, until they moved to this site to make way Kwai Chai Hong (you'll be heading there soon). Since then they've had a facelift and now don this fresh, insta-friendly look.
---
Stop 4: Ali, Muthu & Ah Hock Kopitiam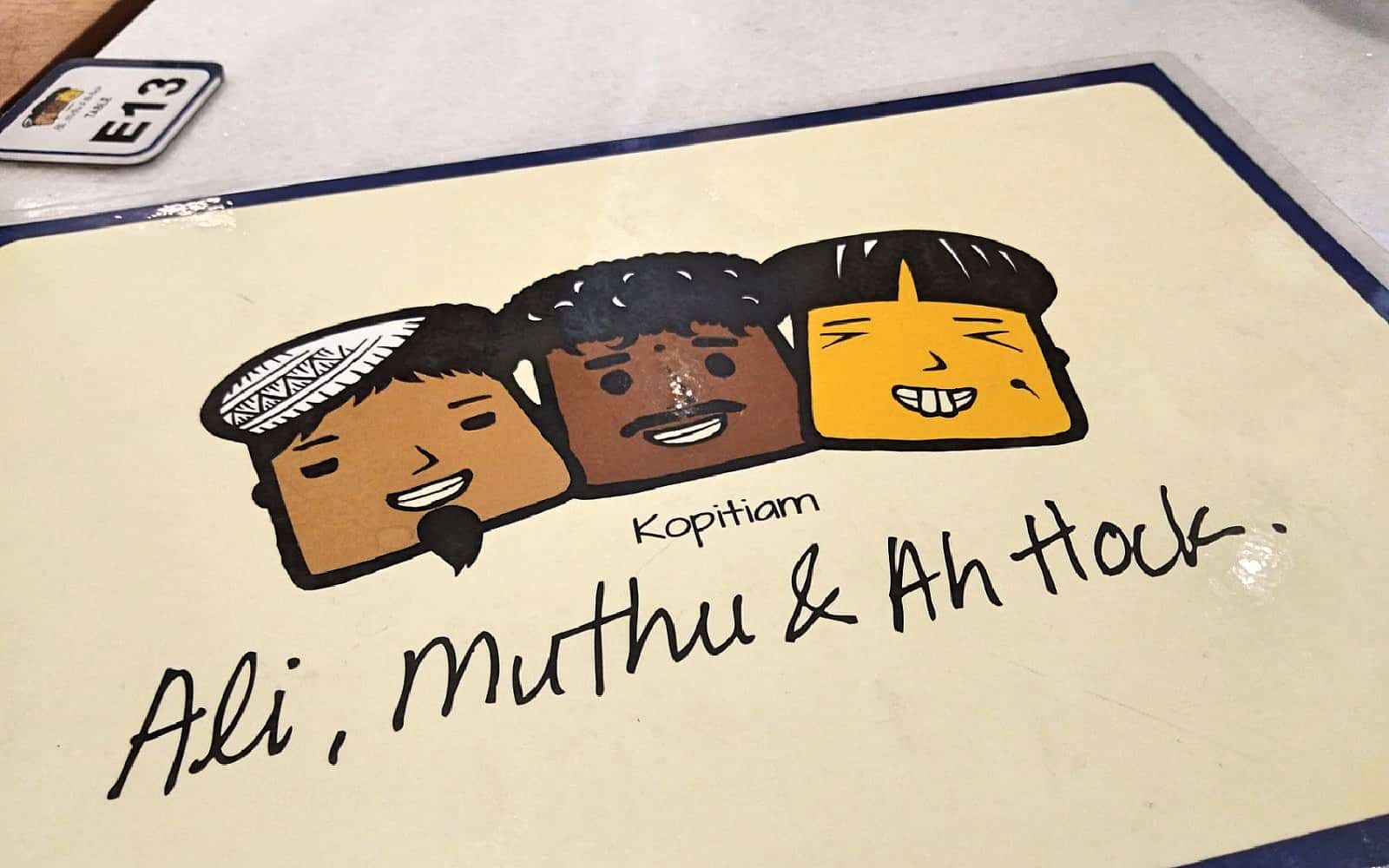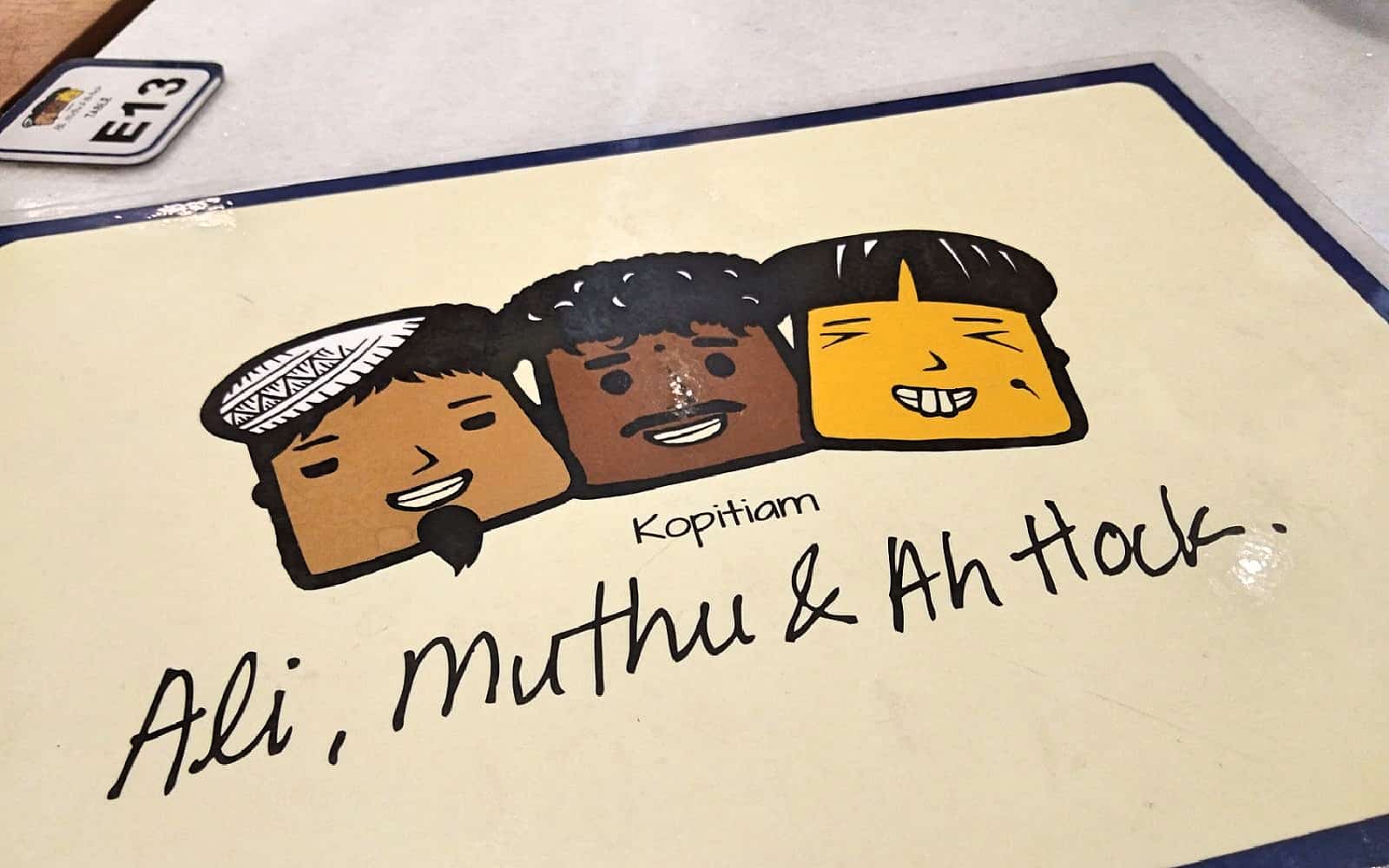 If you took my recommendation and came with an empty stomach (I told you to go easy on that breakfast buffet!), then this award wining kopitiam is a good place to stop. I ate at their Publika branch which recently opened in my burb of Mont Kiara, but this spot is their flagship.
Unlike most other kopitiams, Ali, Muthu & Ah Hock is unique in that it's run by a Malay, a Chinese and an Indian guy, whom I call 'The Three Musketeers'. Therefore you're presented with the best of Malaysia's eclectic cuisine.
I'd recommend trying their Nasi Goreng (or Nasi Lemak Ayam Goreng), Hokkien Mee and Chicken Rendang (Ayam Rendang). Just grab a seat and there's table service. You can ask your waiter for help if you're not sure what anything is.
Try having a traditional teh tarik with your lunch too, which is a tasty Malaysian 'pulled' tea with condensed milk that hails from India.
---
Stop 5: The Attic Bar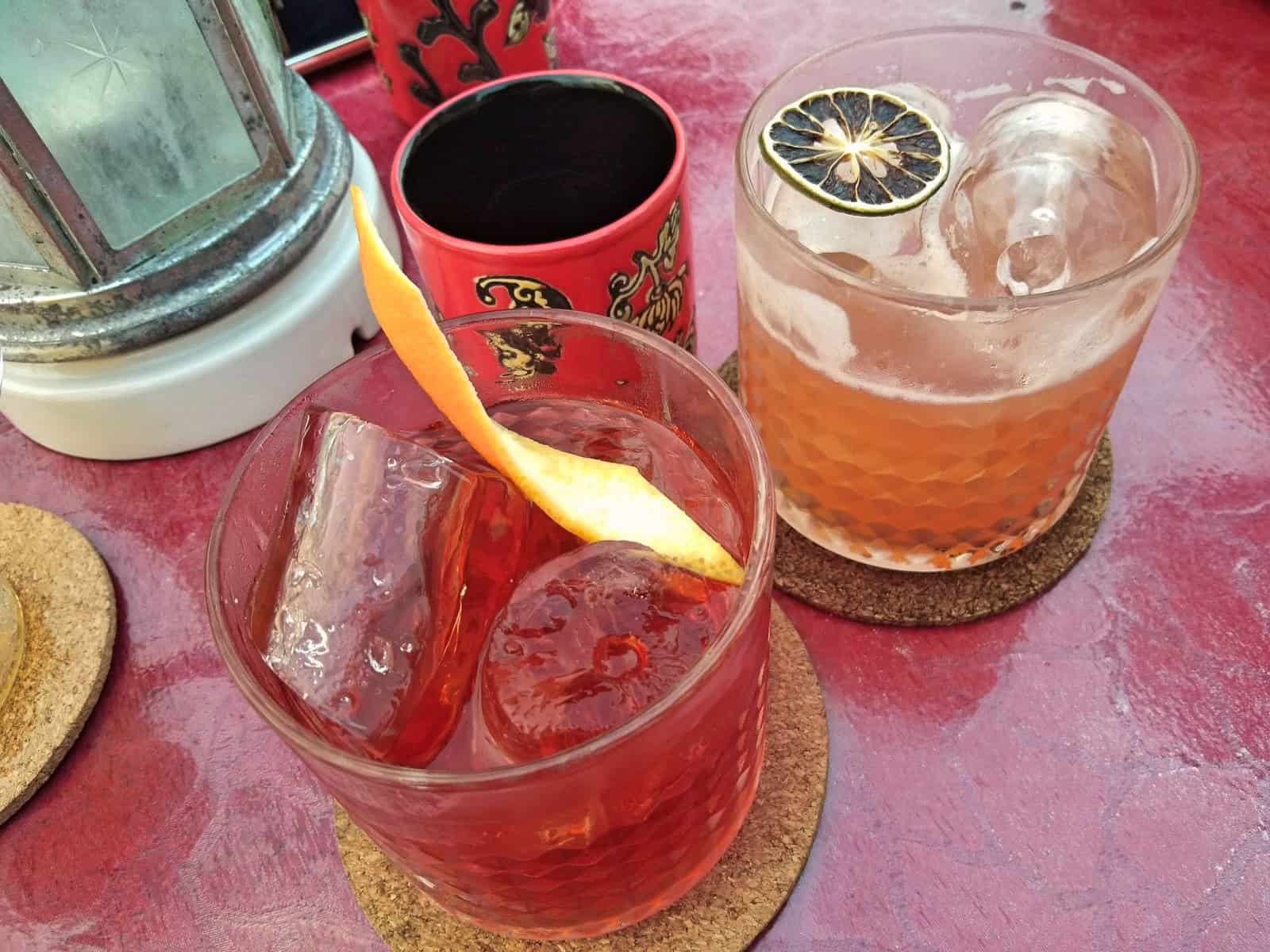 This awesome secret bar is hiding above The Travel Hub Guesthouse, which you should pencil in later for as a sundowner… or now if you want, I'm not judging! 😆 No wait, they open at 6pm so you'll have to come back (check out my post for more details on how to find it).
It serves pukka artisanal cocktails & has the added bonus of a rooftop offering a low-key KL view.
---
Stop 6: Old Post Office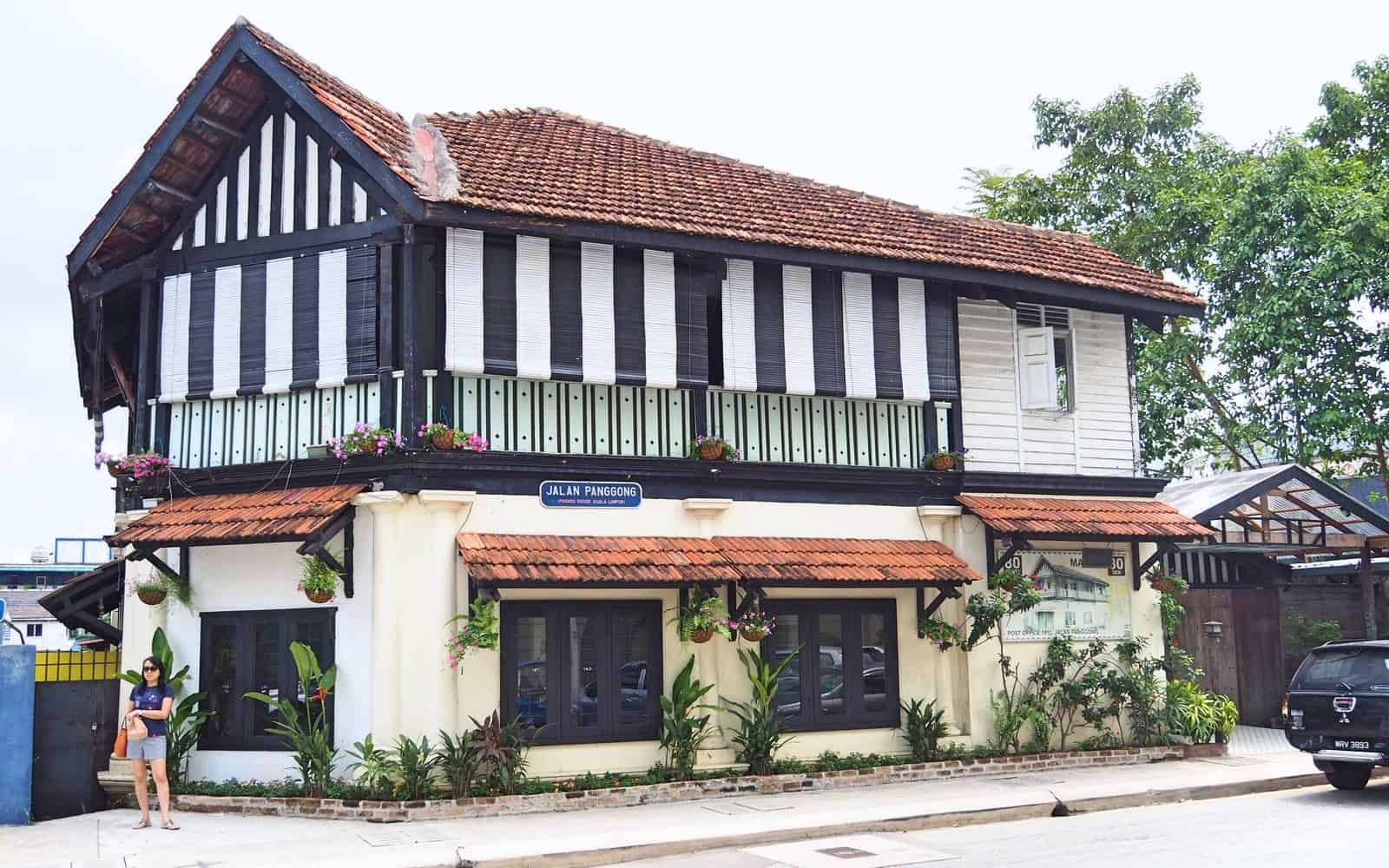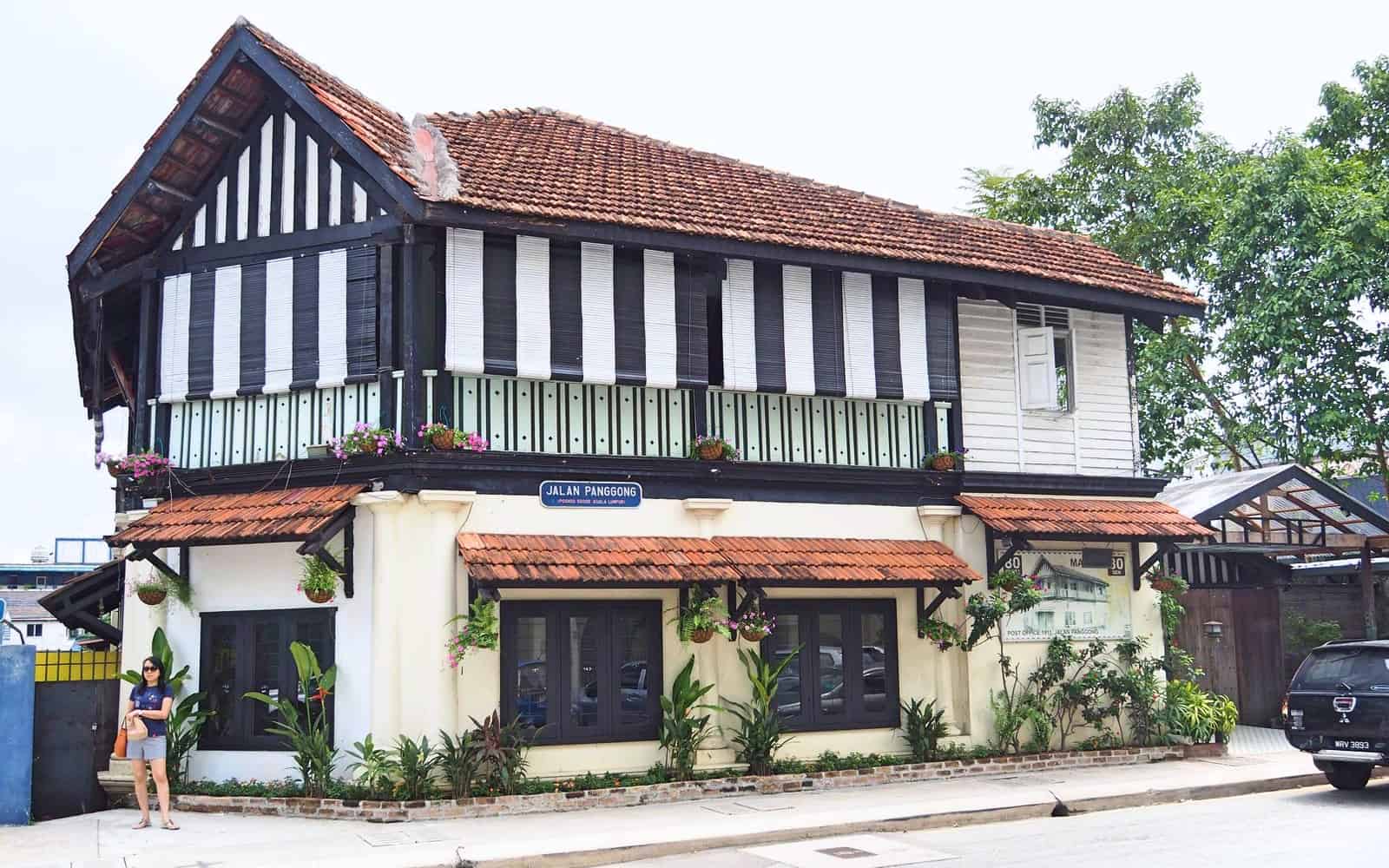 This Tudor style colonial building was built (I believe) in the early 20th century. It used to be a post office, and on the front you can see a poster of an old 80 cents stamp.
It was then turned into a traditional kopitiam called Malaya Hainan Restaurant for many years. An online source states that allegedly the owners were forced to close the business after sightings of a phantom lady on the upper floor.
Do you think this place could be haunted? Take a minute to see if you can spot her peering from between the black and white blinds. Or go one further and head inside for a coffee.
The premises has since been taken over and rebranded as Station Kopitiam. For now.
---
Stop 7: Goldsmith Mural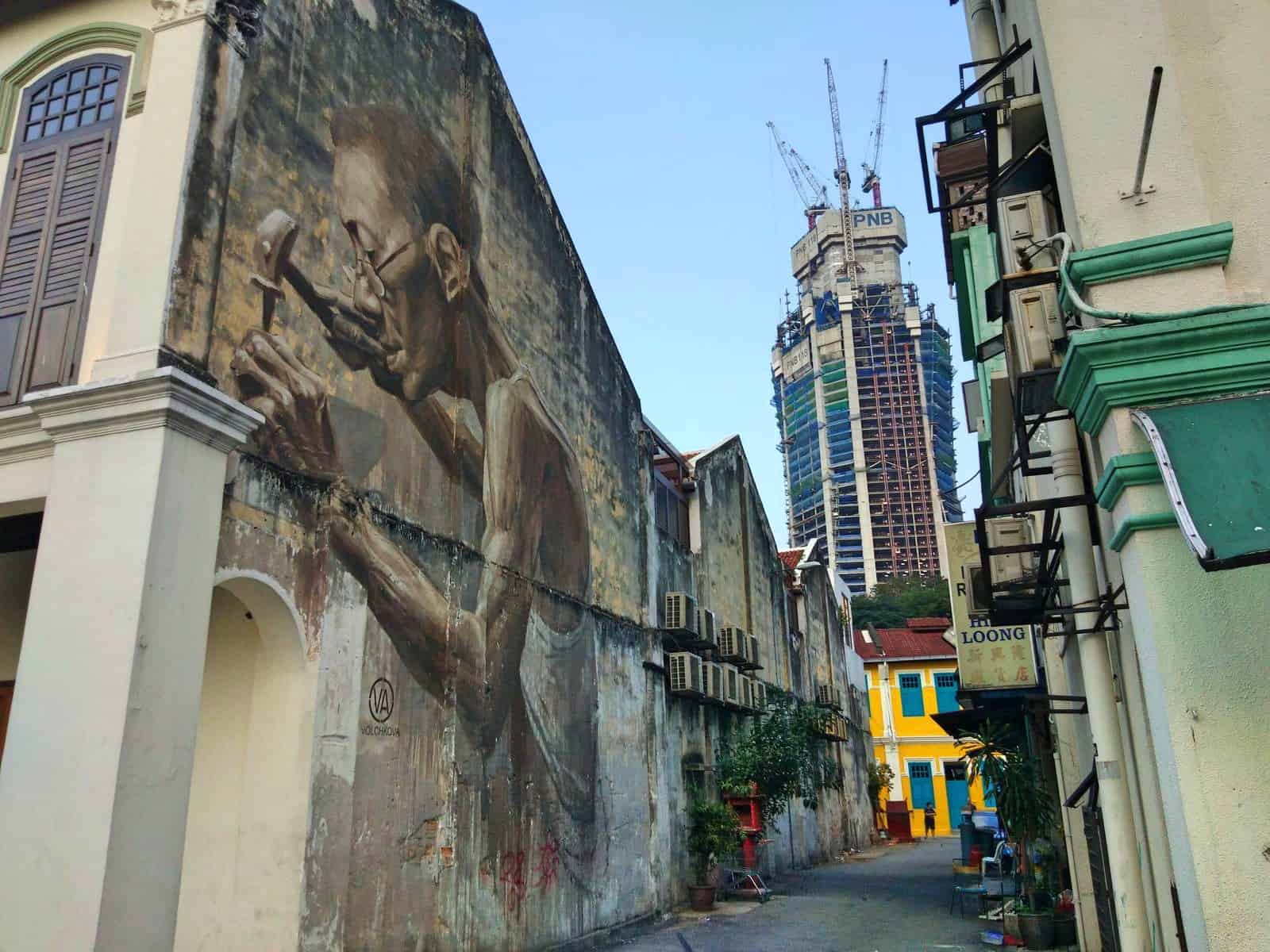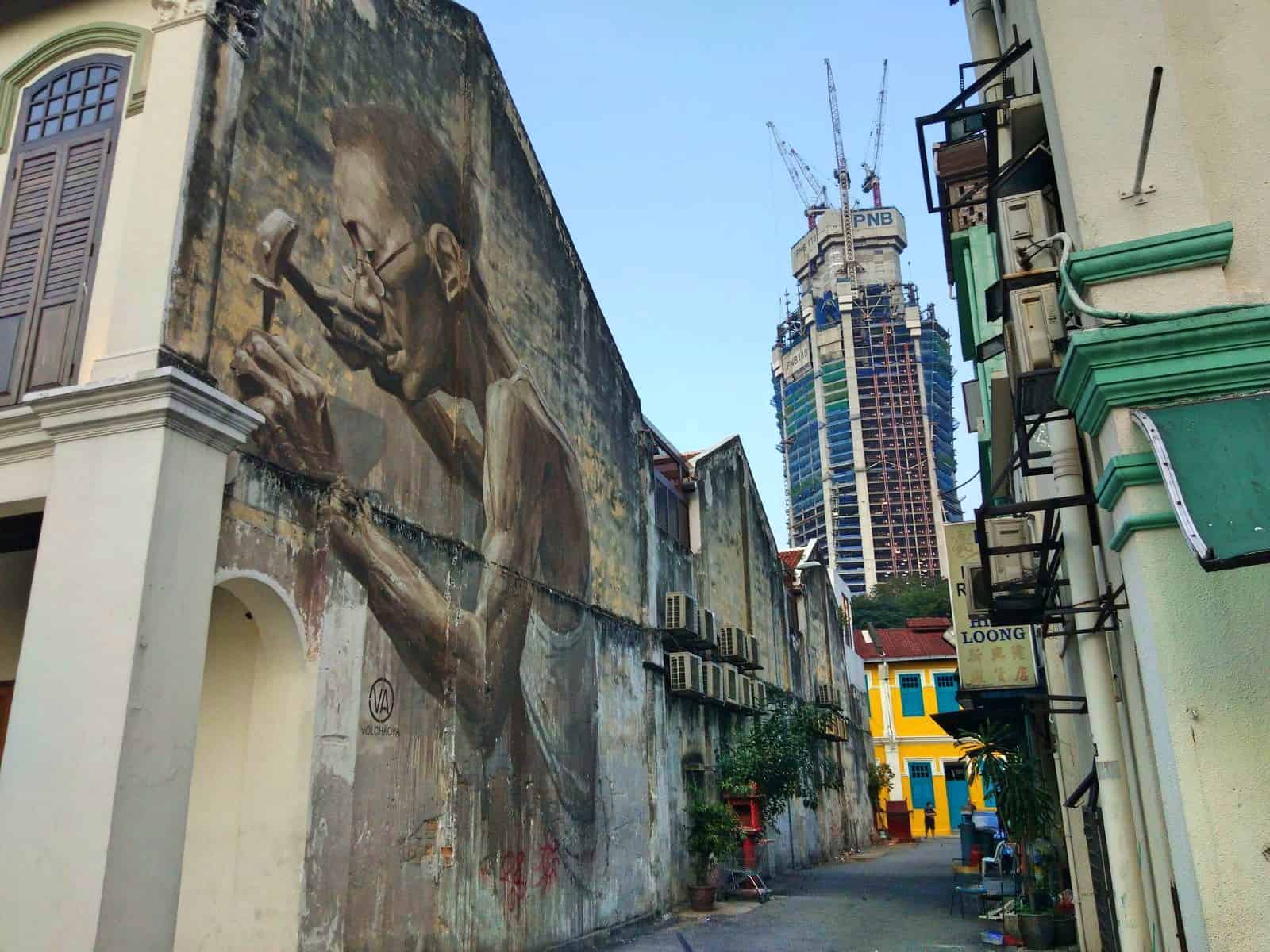 Sitting at the end of a beautiful row of restored clan houses, this large mural is of a goldsmith at work. It was created by a Russian artist, Julia Volchkova in 2016 who also has a range of other artwork in Penang's hipster capital, George Town.
I'm guessing it's created in homage to the many Goldsmiths that were attracted to the area prior to the 1900's, and a few of their shops can still be found on the 'old' high street.
The goldsmith is seen working dextrously with a shaping hammer, whilst being severely dwarfed by an imposing building development sitting in the distance- and, oh yes, below it lays a glowing preview of brightly painted shophouses. Go and take a closer look to inspect them.
---
Stop 8: Yellow Chinese Shophouses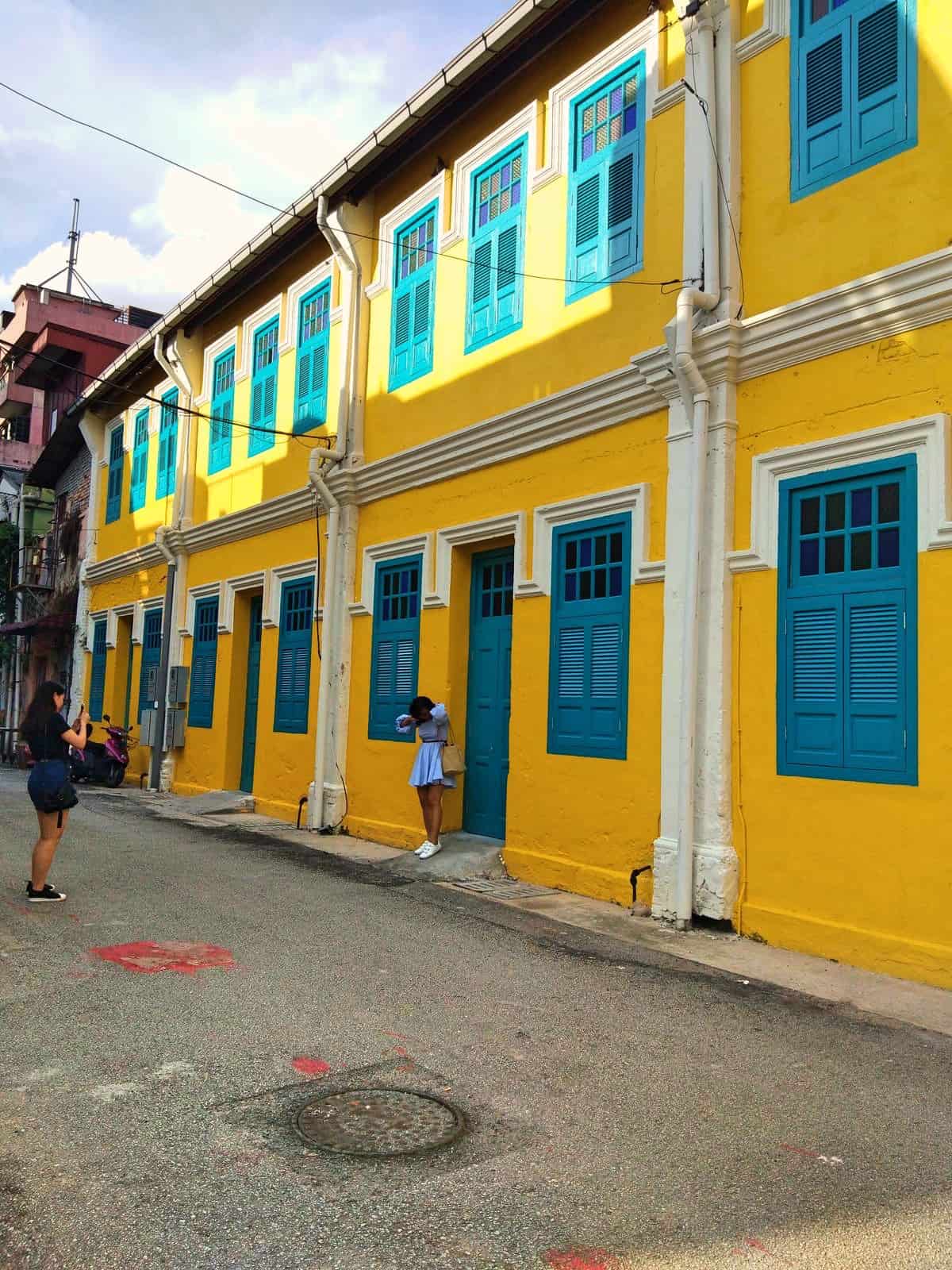 If you take a closer look, you'll notice that these bright yellow and blue shophouses are mere Insta-bait for what sits beside it: the [not so secret] heritage lane, Kwai Chai Hong.
These freshly painted shophouses are just '4 out of 10' buildings that sit around Kwai Chai Hong, and they were purchased by a space management company who saw them as a business opportunity to promote the arts. Instead, they ended up falling in love with the locals and the area and began focusing their efforts on developing the laneway behind it into a heritage feature.
When I visited earlier this year the shoplots were empty, but I wouldn't be surprised if they're now occupied. Go and check them out!
---
Stop 9: Kwai Chai Hong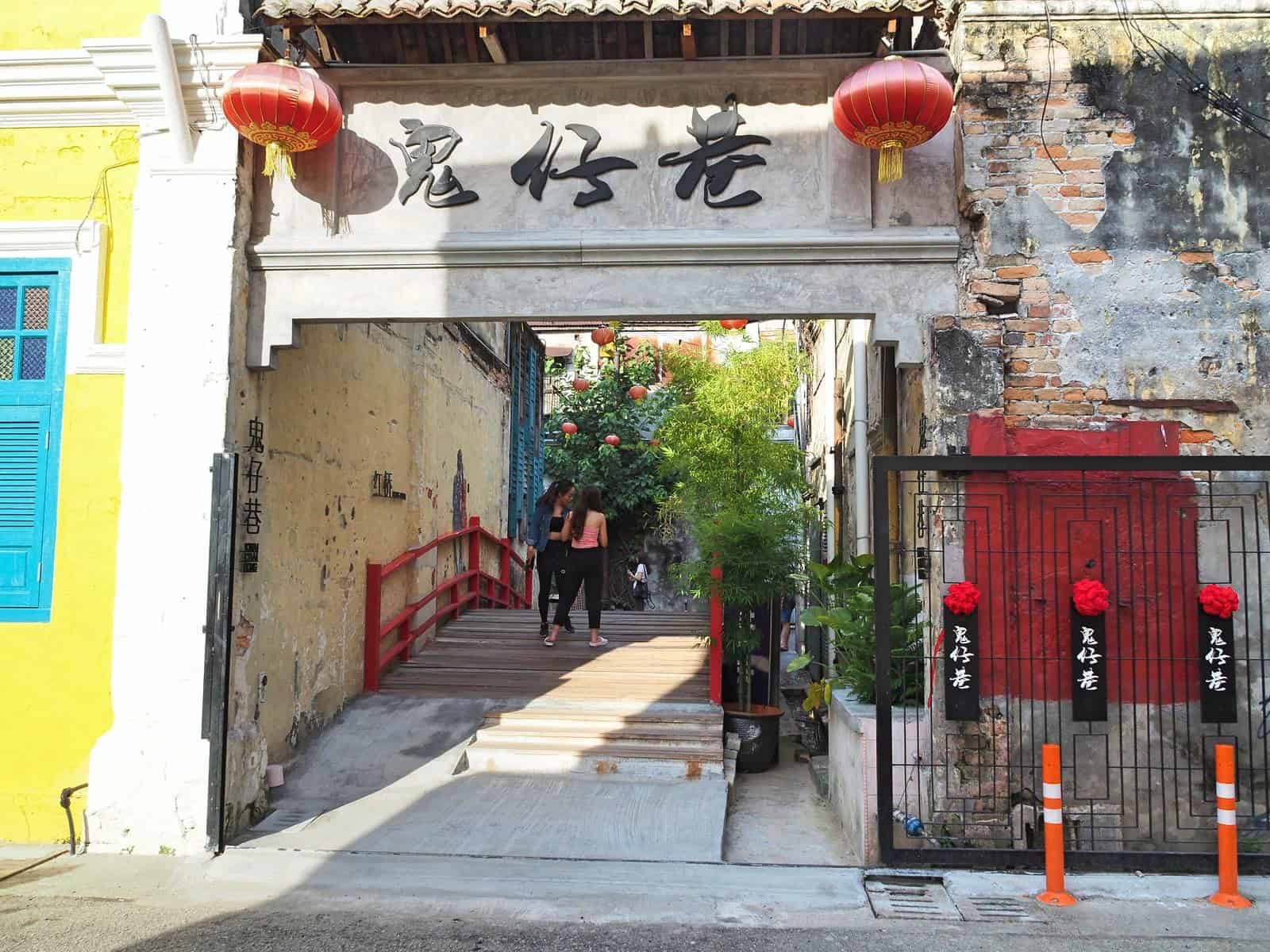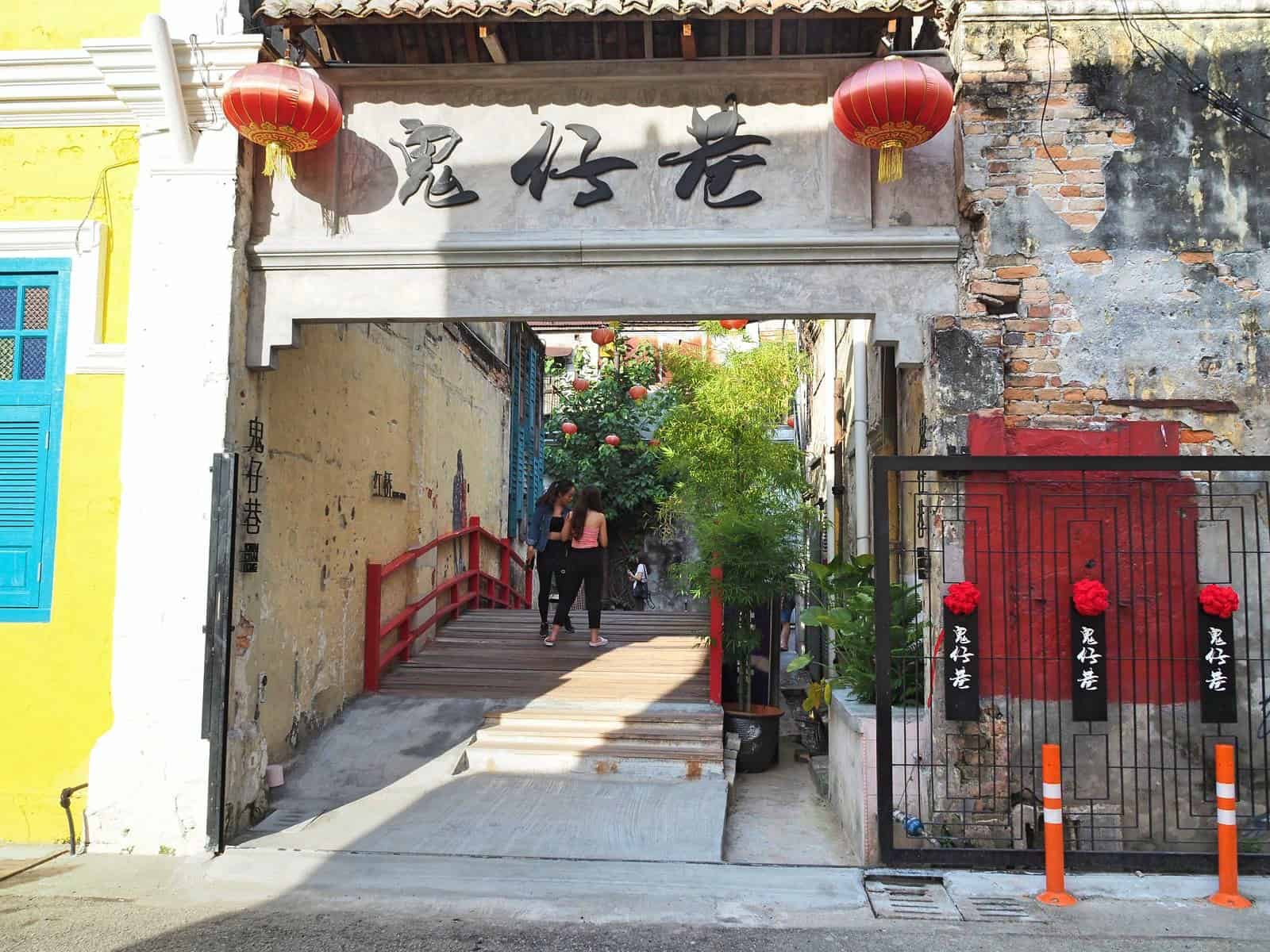 Until a mere year ago, no-one really had a reason to walk down Lorong Panggung, except to get a quick bite to eat. The entrance to this laneway was nowhere to be seen and instead, a building sat in its place which housed an unfussy Kopitiam called He Jiu.
Wind forward to now and the area has been transformed. The kopitiam is long gone, the premises was nocked down and the once derelict lane was transformed into a much-talked-about heritage feature.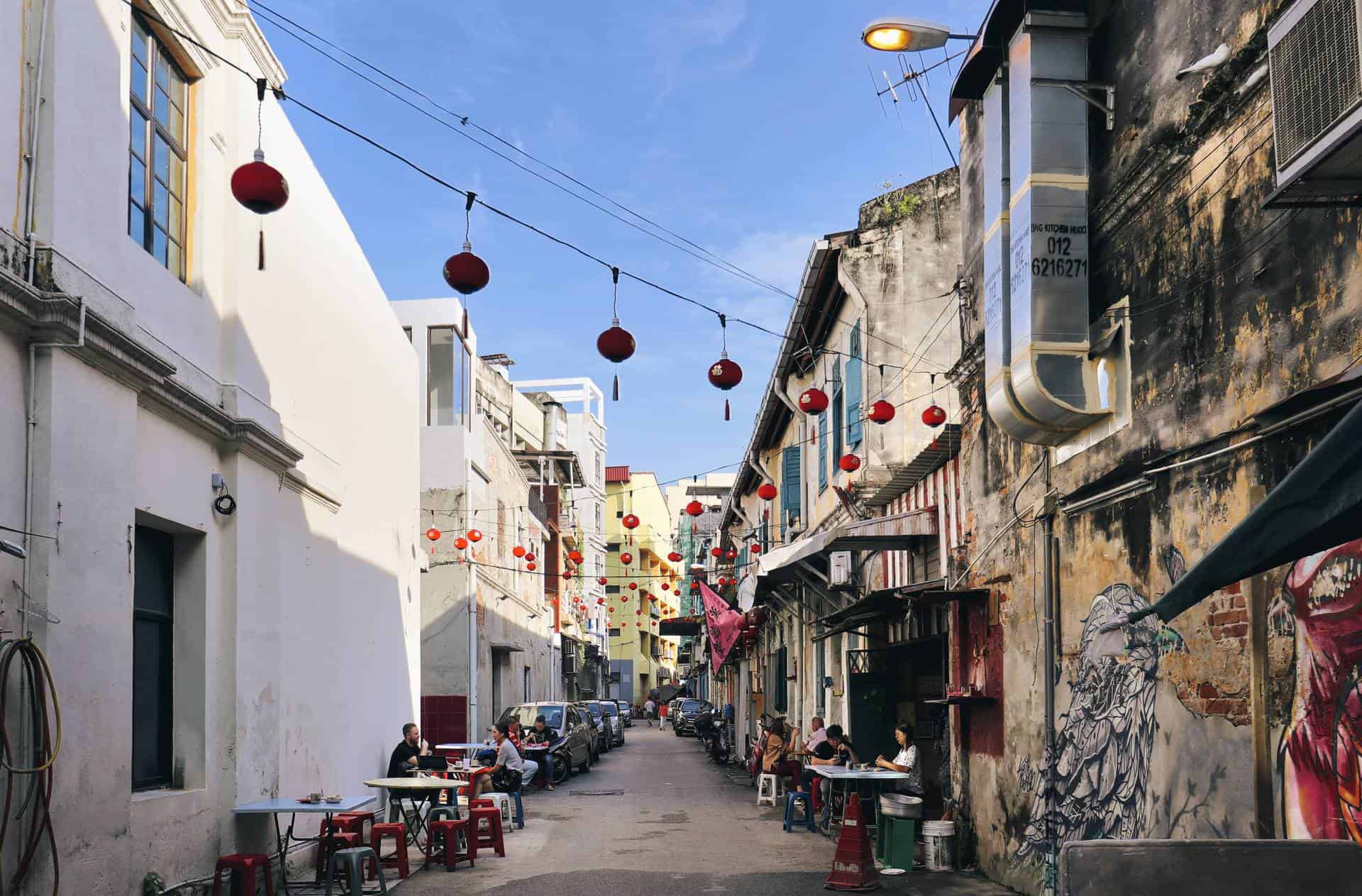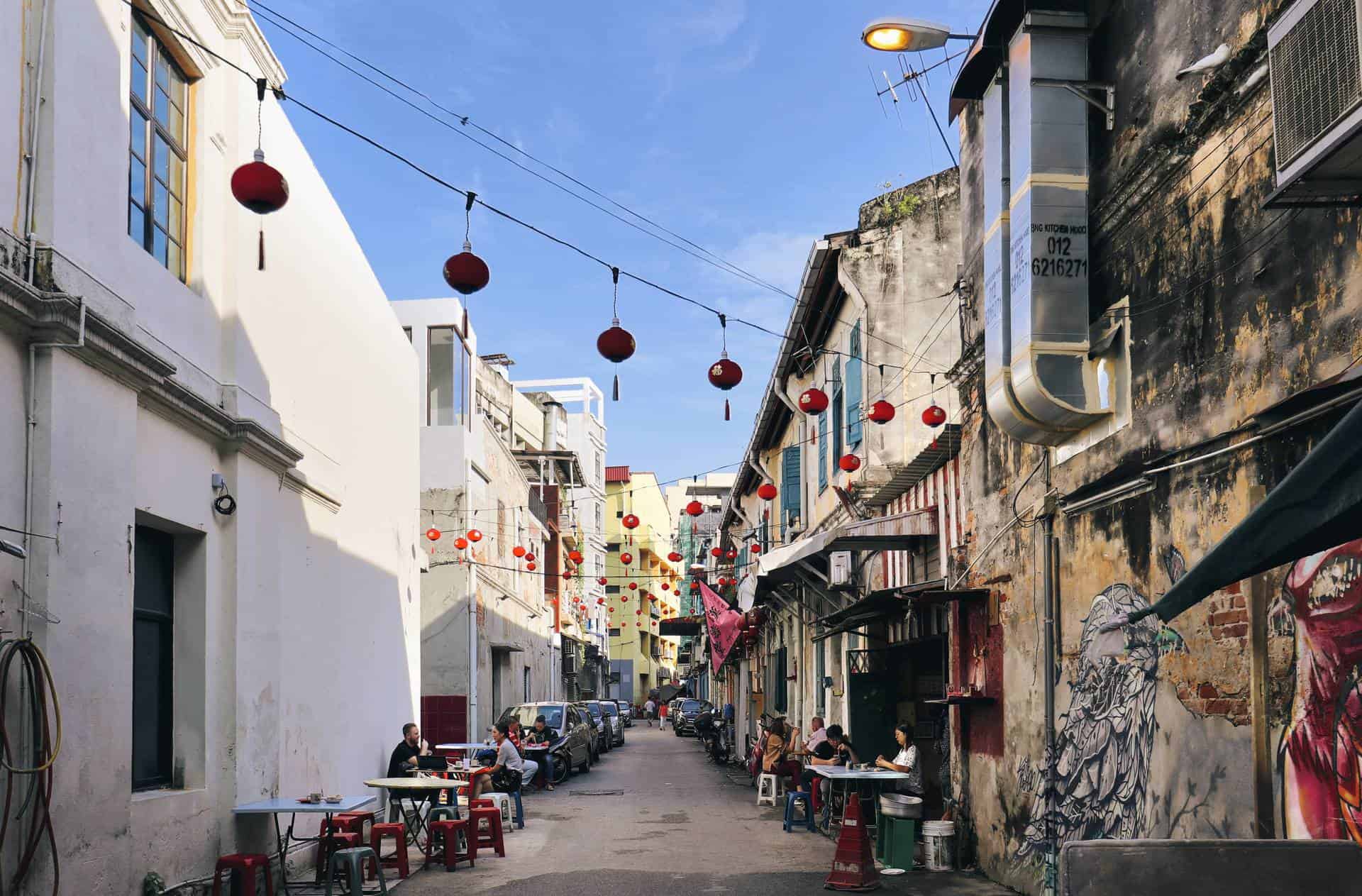 I accidentally stumbled along Kwai Chai Hong after it first opened in April this year (2019) and it was nice and quiet then. But it's since gained a lot of traction, so try and arrive early to avoid the crowds.
If you walk inside then you'll see that the lane is littered with endearing murals, illustrating the lives of local Chinese settlers from the 60's as a way to relive its former glory days.
The creators were thoughtful enough to add QR codes to the artwork, although non-Mandarin speakers will need to ask a friendly local to translate it into English. I'll give you some context too though guys.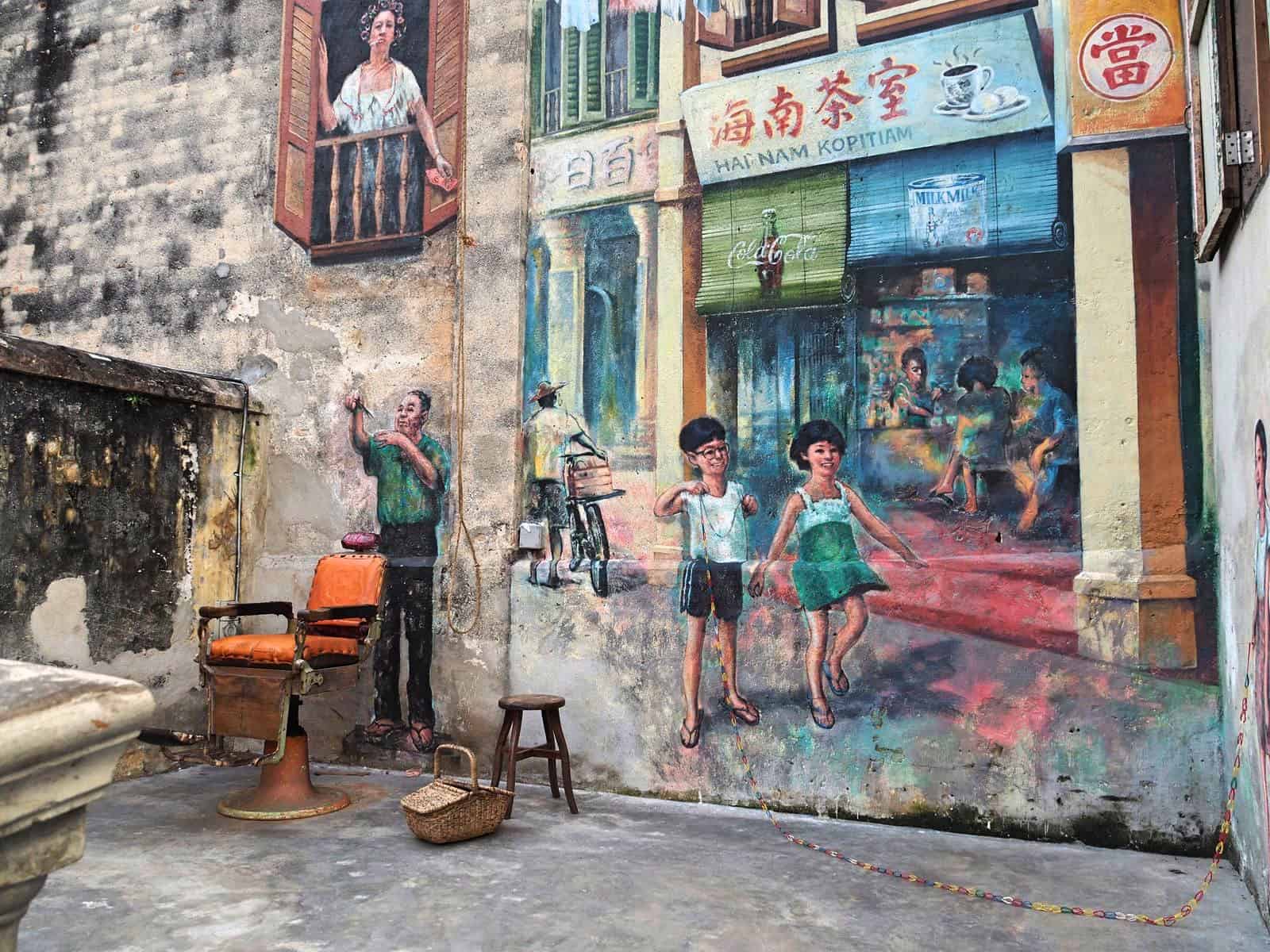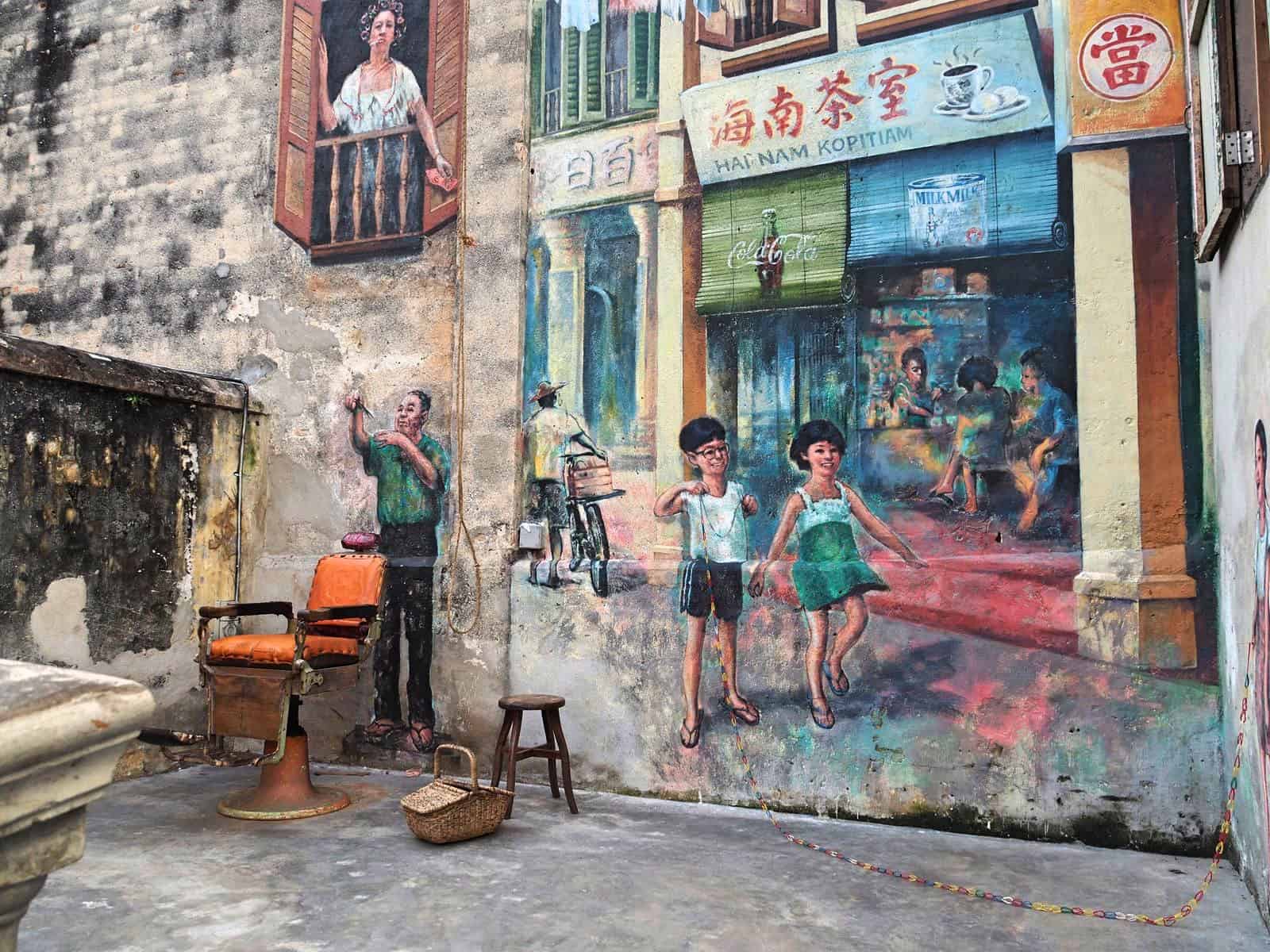 Above the weathered balcony, you can see a landlady looking out of a widow with a fag draped from her mouth. Much like modern-day central London, it was common for single flats in Chinatown to be split into tiny rooms, and once for the landlord to go around collecting rent.
You can also spot the 'Hai Nam Kopitiam' that you just passed around the corner, as well as the Yan Keng Benevolent Dramatic Association building. Founded in 1920, it is one of KL's oldest opera clubs that also functioned as a charity fundraiser, using donated money to help local schools, hospitals and old people's homes.
Like many other long-standing structures in Chinatown, it recently survived demolition from the MRT expansion, but others weren't so lucky.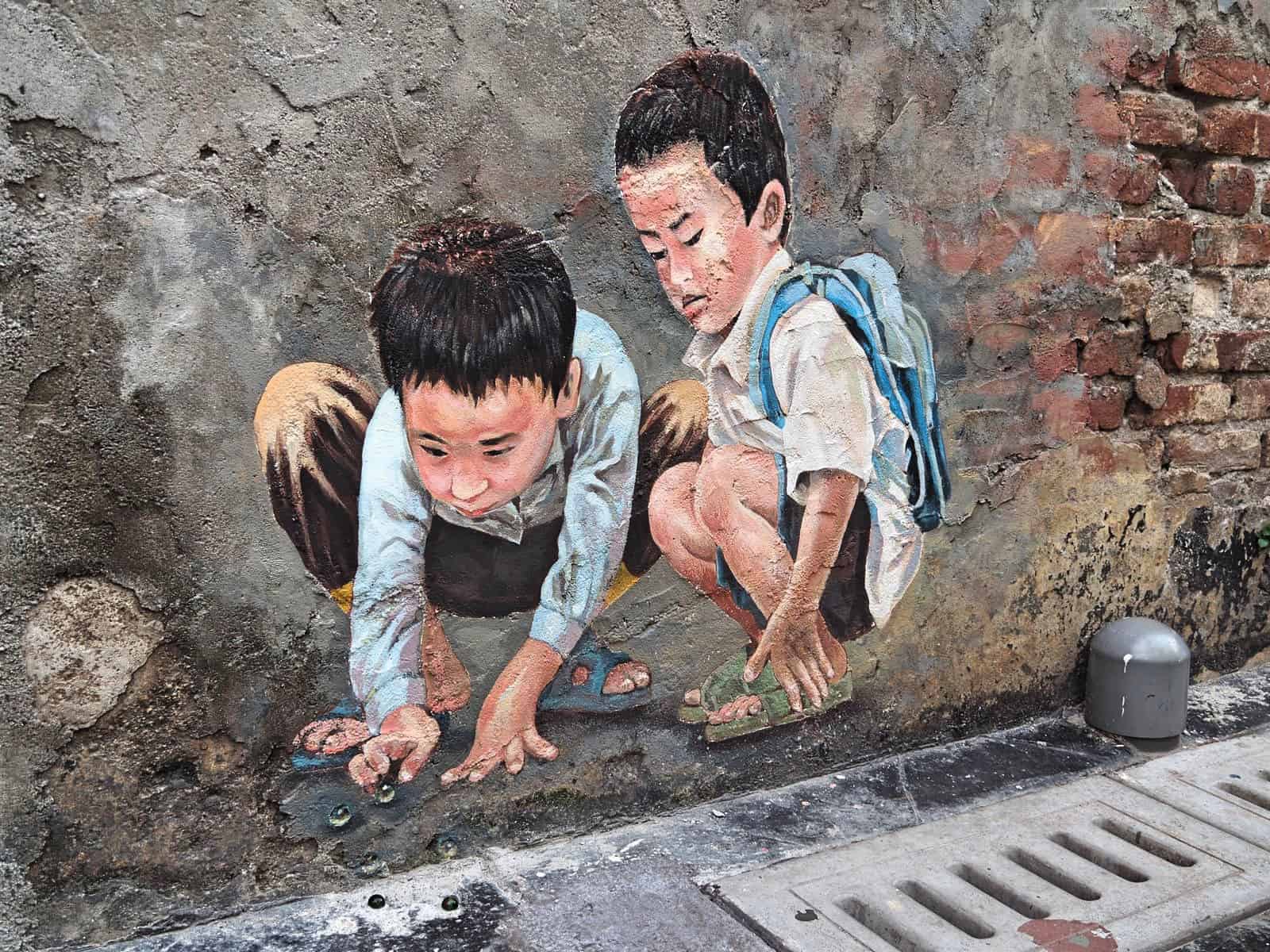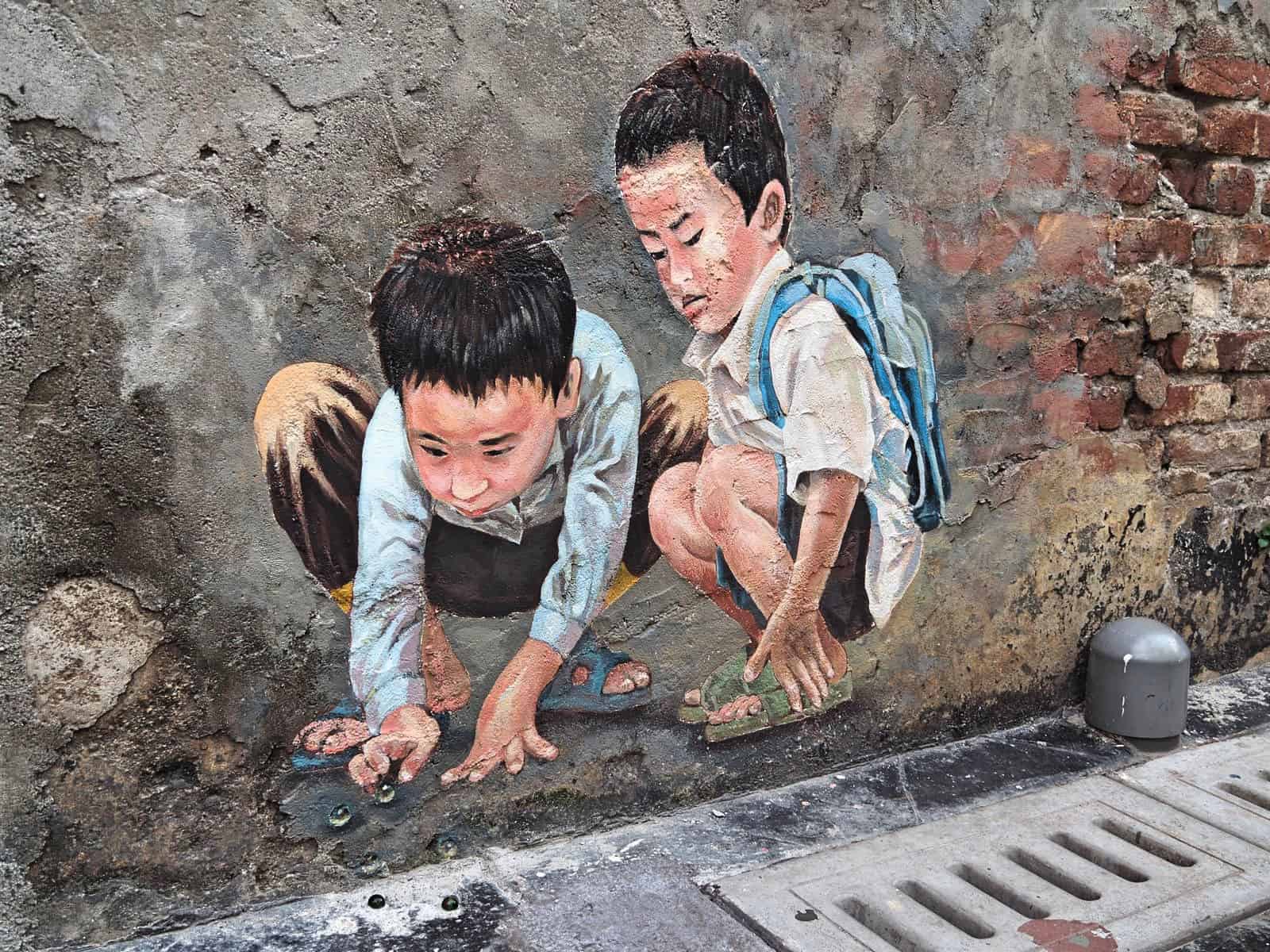 Downstairs, amongst the artwork is an earnest calligrapher writing auspicious sayings, with a chair propped at his table to help local Chinese settlers write letters back home.
Next to him sits a smiling uncle playing the erhu (a two-stringed fiddle) and- wrapped in a red feather boa- an attractive prostitute waves her pink handkerchief seductively from inside a traditional wooden window.
KL is usually so censored from sexual references that painting 'a lady of the evening' would normally be taboo. Yet, much of Chinatown was once surprisingly peppered with crime, corruption and carnality.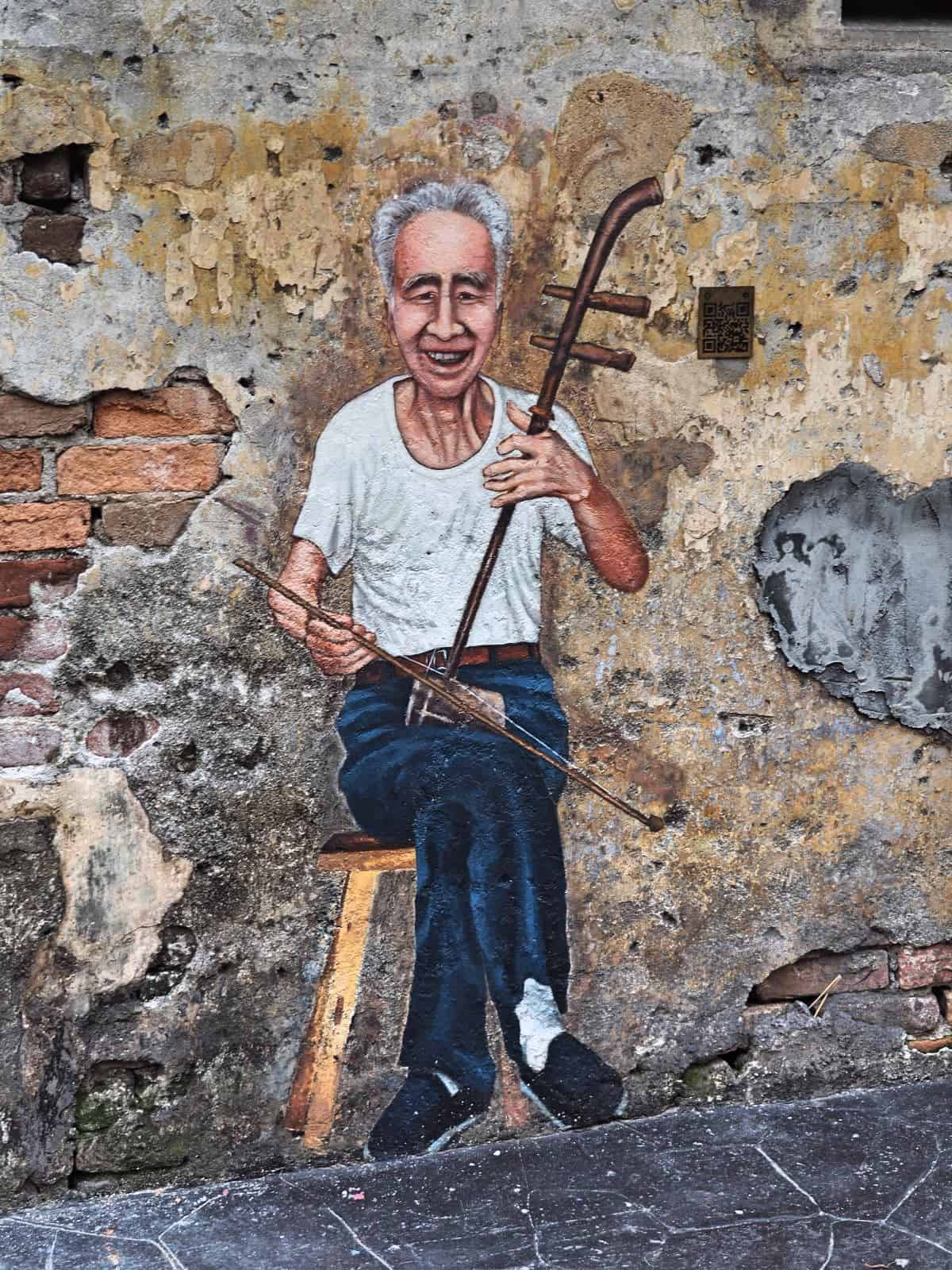 The lane's name is believed to stem from this colourful past. In Cantonese, the street Lorong Panggung literally translates to Kwai Chai Hong, meaning 'Ghost Lane' or 'Prankster Lane', for one of two suppositions.
The first, more PG version is that it was named after the local mischievous kids who would run around the street and play pranks. They were believed to be called 'Kwai Chai' by the locals due to their cheeky behaviour.
The other more 18+ theory that I prefer, is that the lane was where all the notorious vices took place, like prostitution, gambling and drug taking. This was said to attract a local gang called Dragon Tiger, whose leader named his members 'Little Ghost', or Kwai Chai.
Which do you believe?
---
Stop 10: 'Birds' Street Art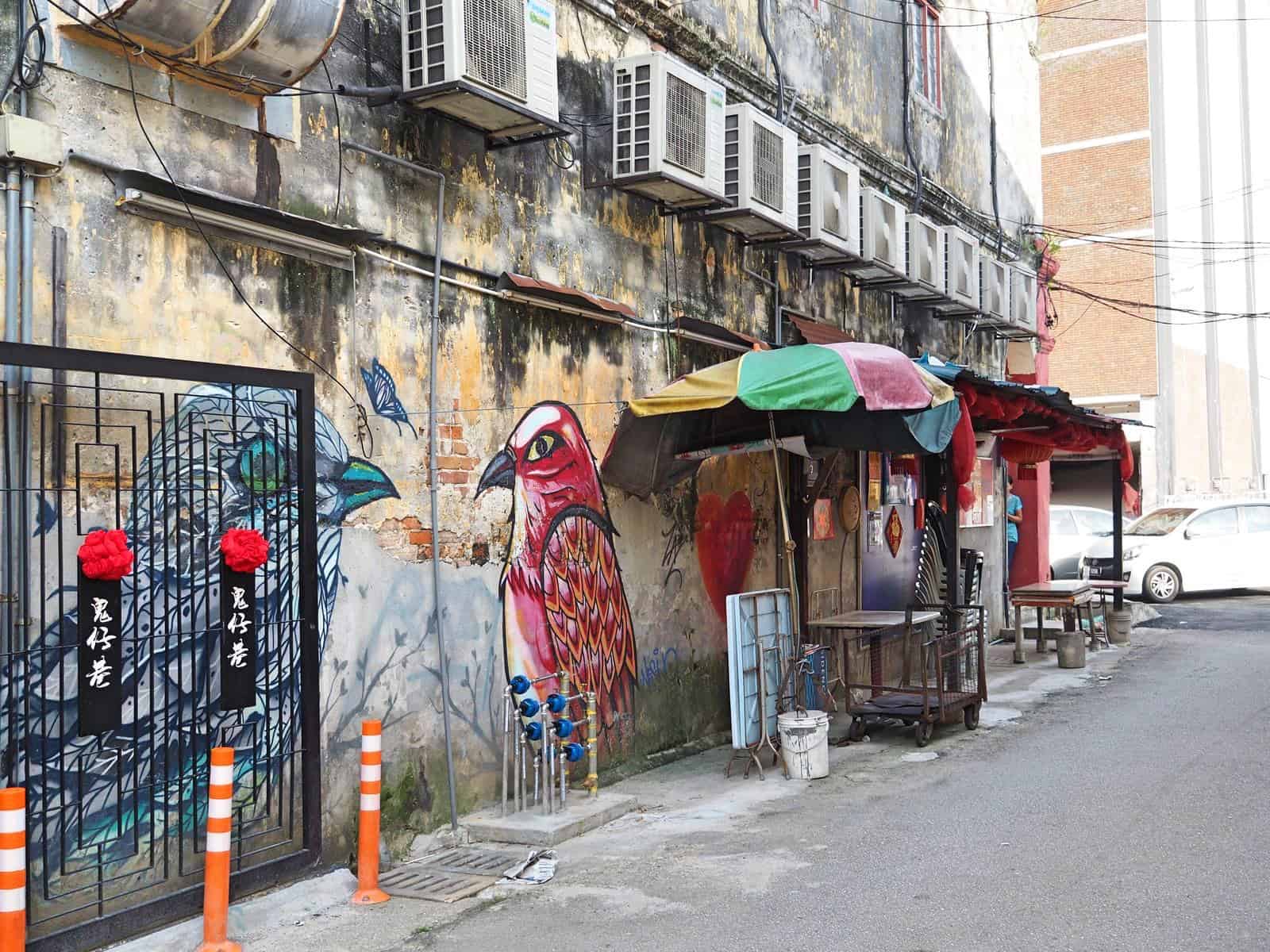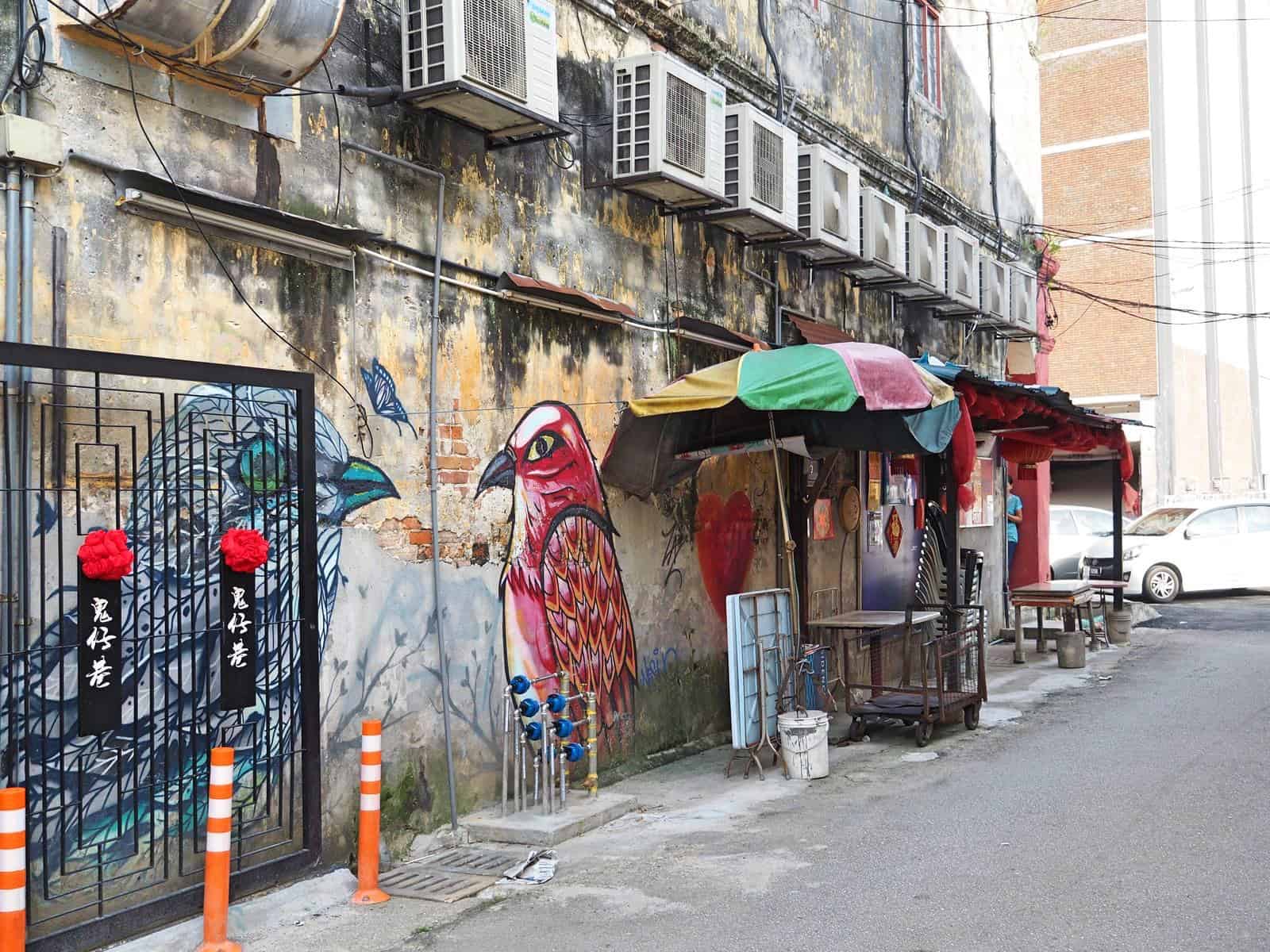 I'm not going to lie, I don't really know anything about this artwork of two birds! But they brighten up the road nicely.
However I do know they were perched here before Kwai Chai Hong was restored (thank you Google Maps). You can see a picture of it below, which also displays the kopitiam that traded at the entrance to this 'now' heritage lane.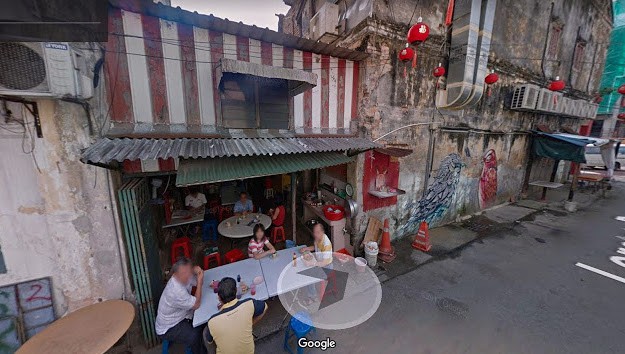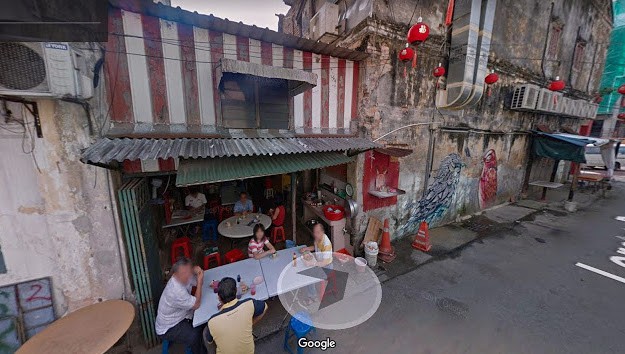 ---
Stop 11: Bubble Bee Cafe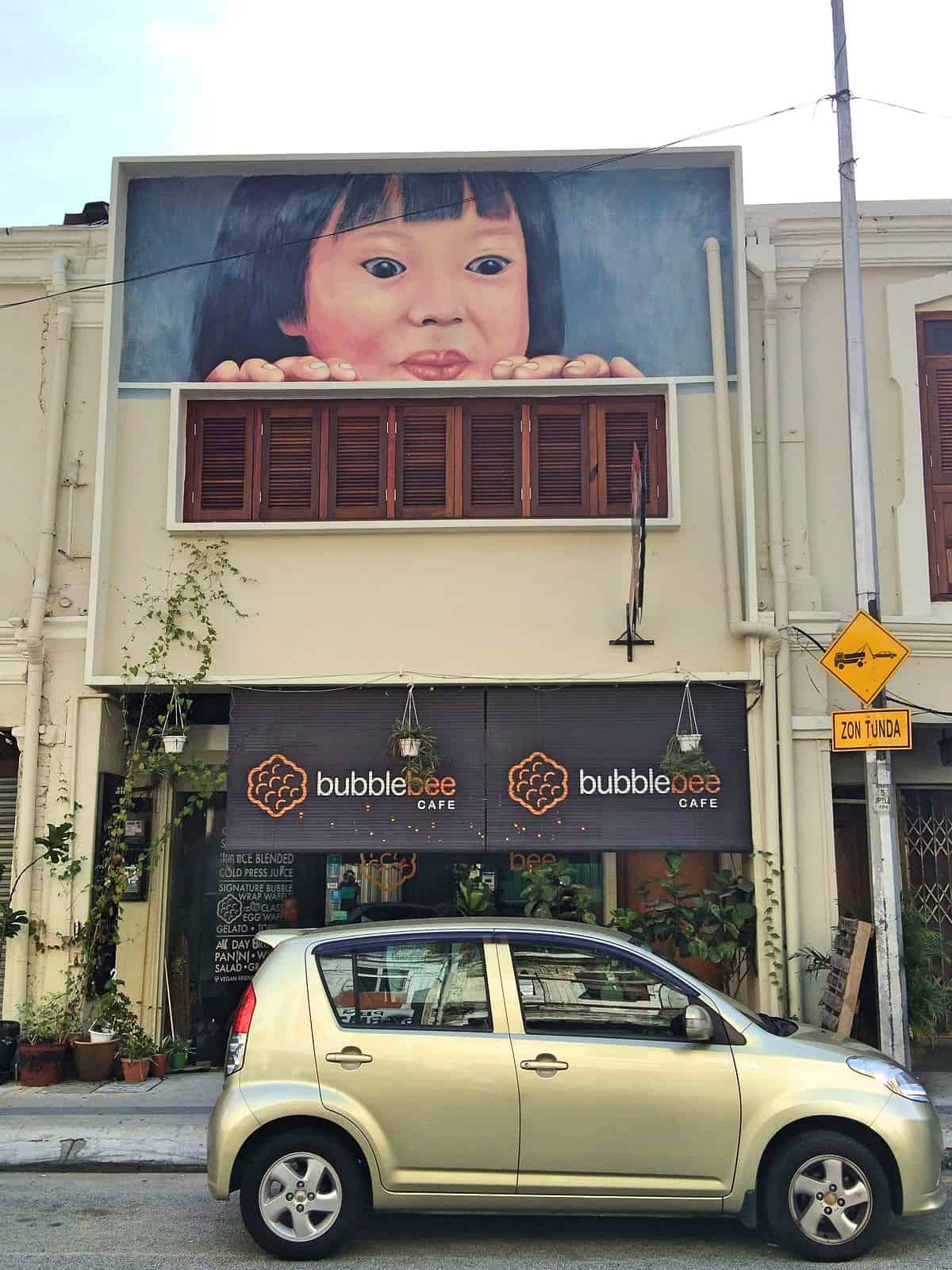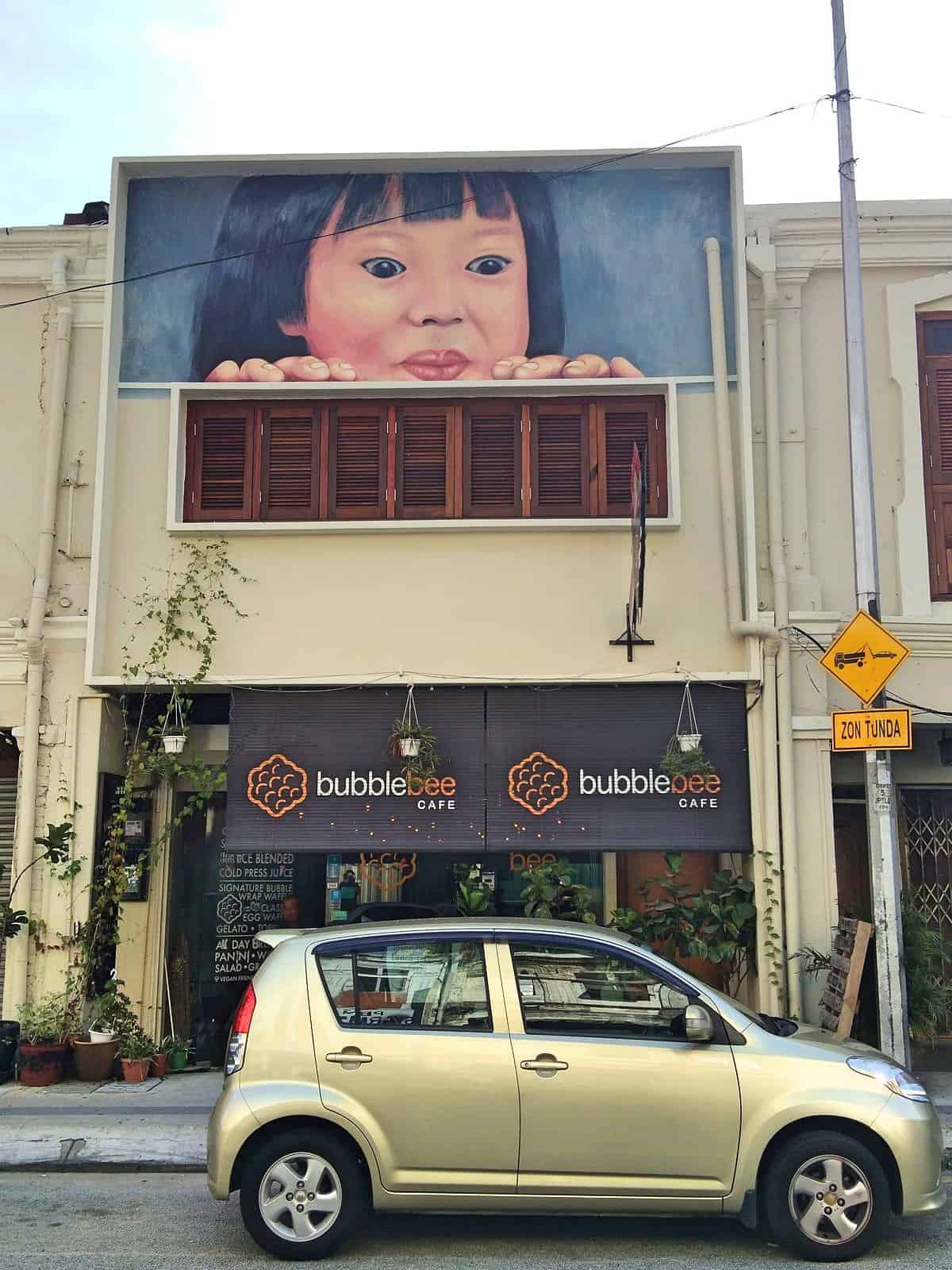 Bubble Bee is one of a few revamped shoplots along Petaling Street, which first opened for businesses in 2017. If you've accumulated a sweet tooth after lunch, then this trendy cafe could be a good waffle stop.
It's [so far] the only business with direct access to Kwai Chai Hong.
---
Stop 12: Petaling Street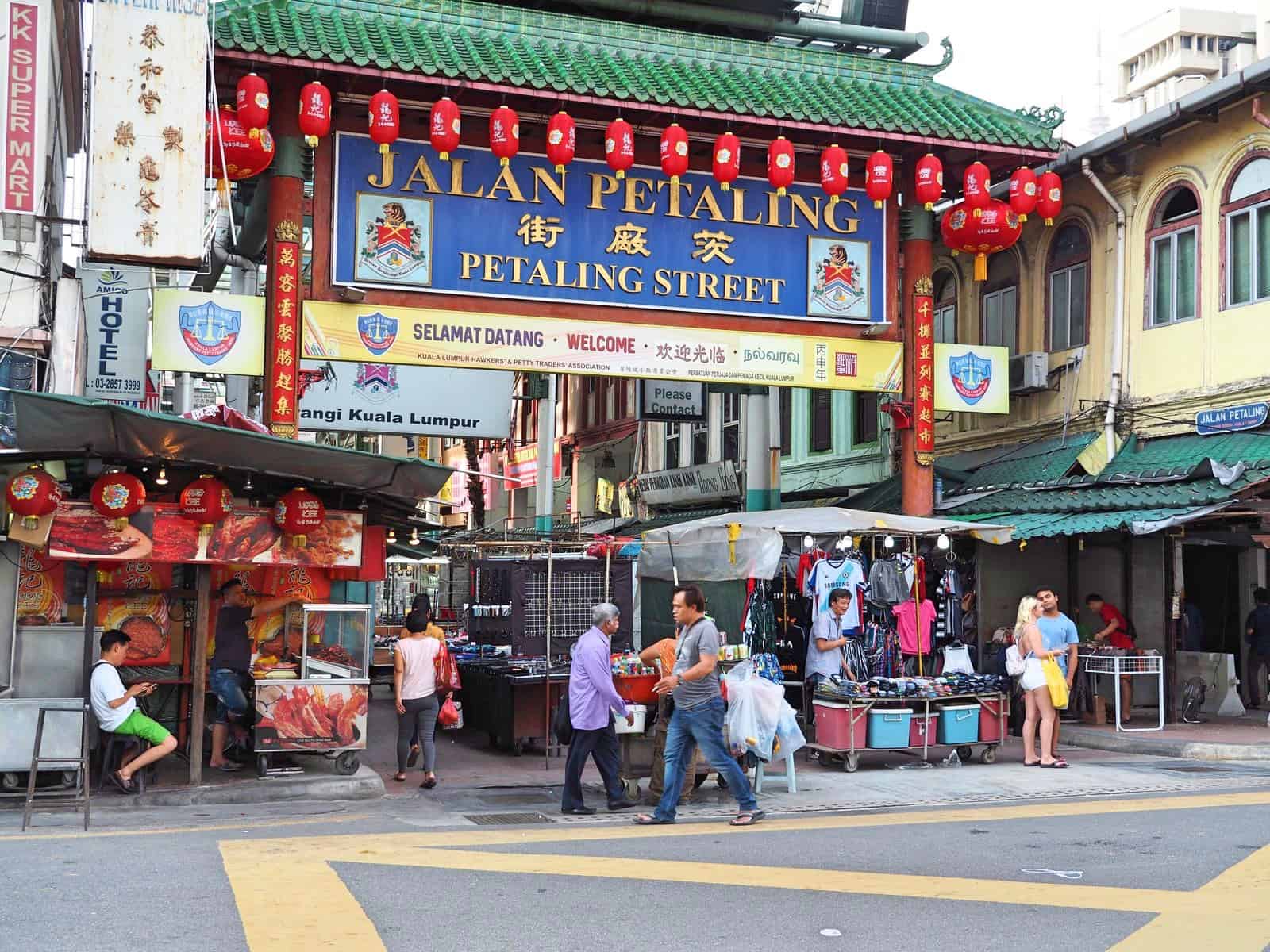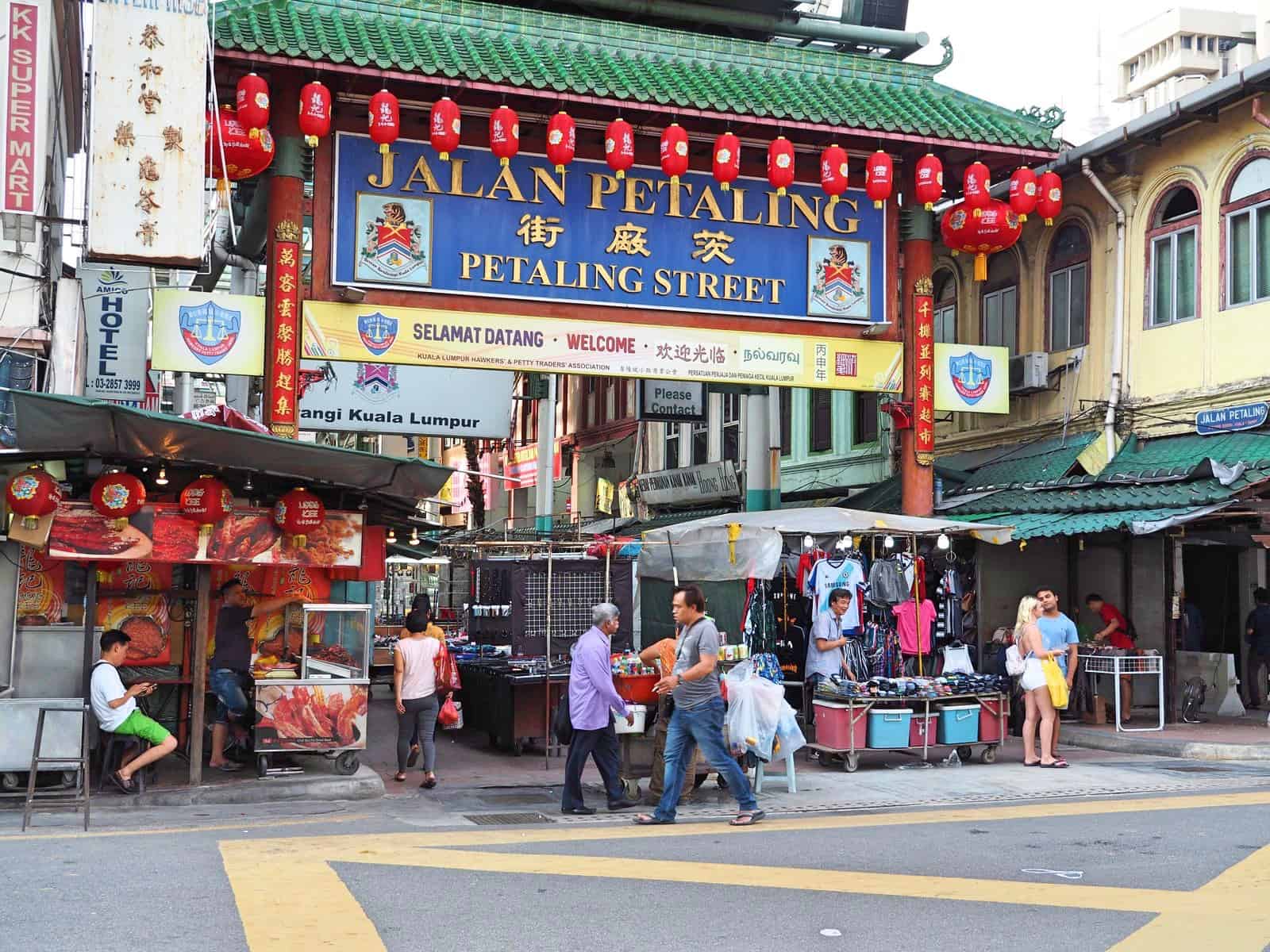 I detoured past this tourist magnet when I visited, on the judgement that I wouldn't be interested in the back-to-back stalls selling counterfeit goods. But I later regretted my decision when I found out about its legacy.
You should now choose whether to walk down Petaling Street, or skip it and read the history below.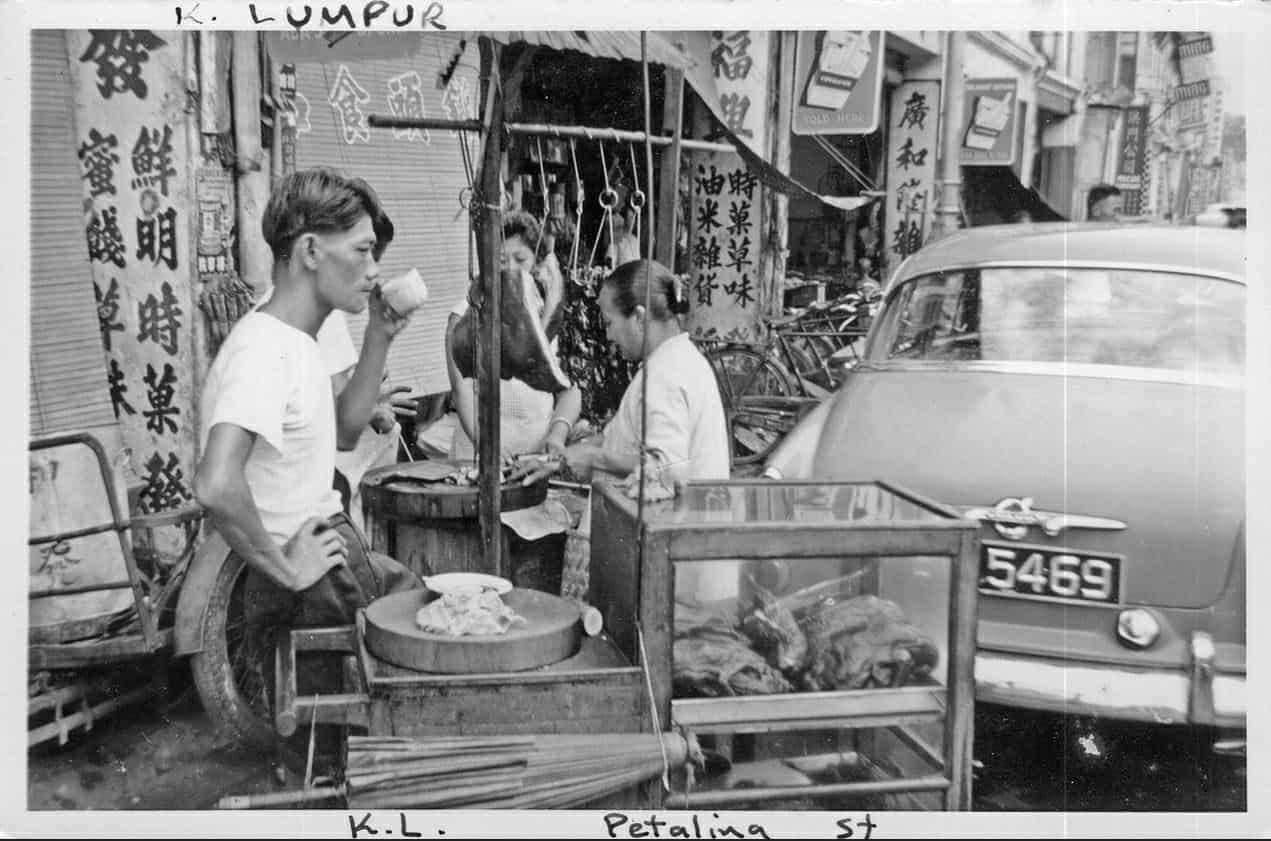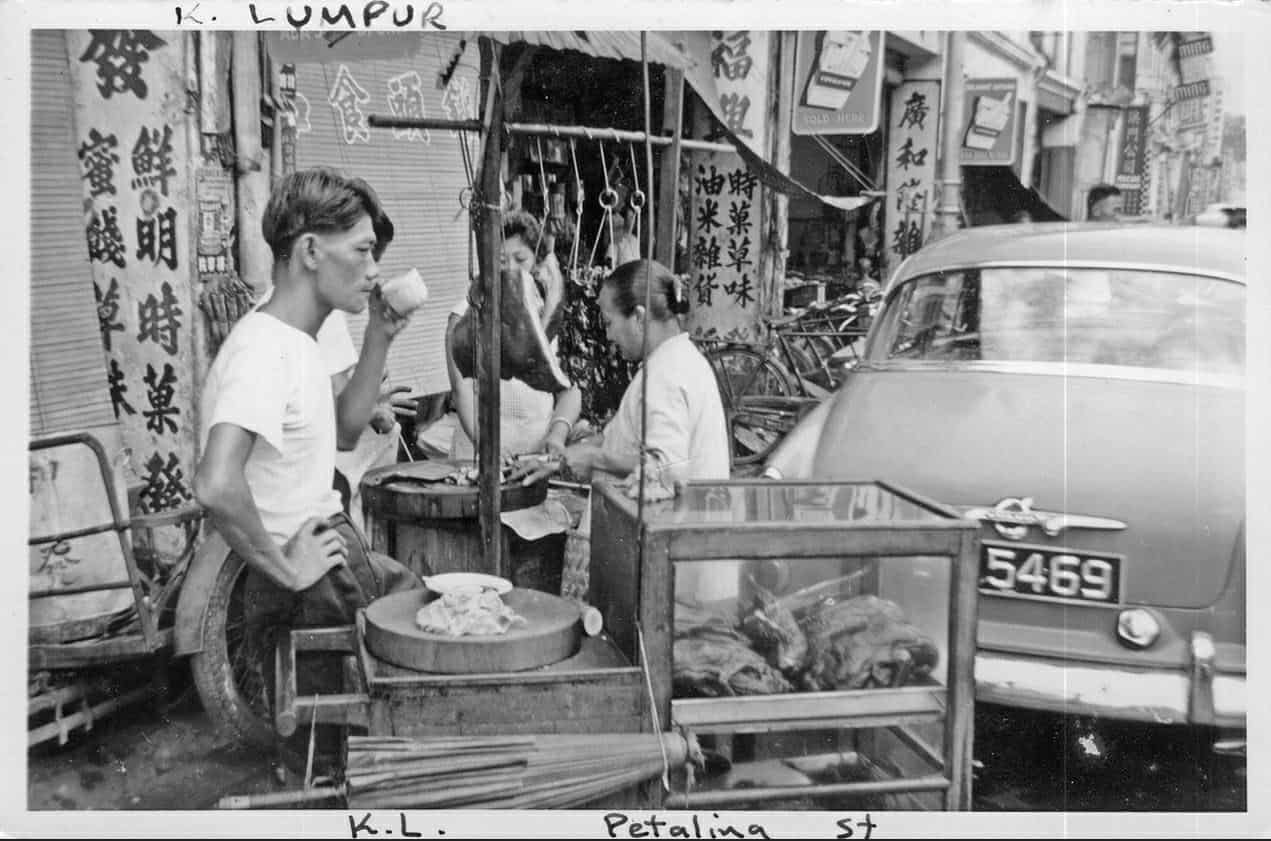 Petaling Street used to lead to tin mines in the area and was one of the first streets in KL to be named. The majority of its residents were Hakka and Cantonese, who came to prosper from the roaring tin industry.
In the 1900s, like now, it was an equally bustling place filled with stalls and food vendors, but with the addition of rickshas, carriages and trishaws that would tote up and down. But even more significantly, it bears witness to a turning point in KL's history.
Let's get deep a little.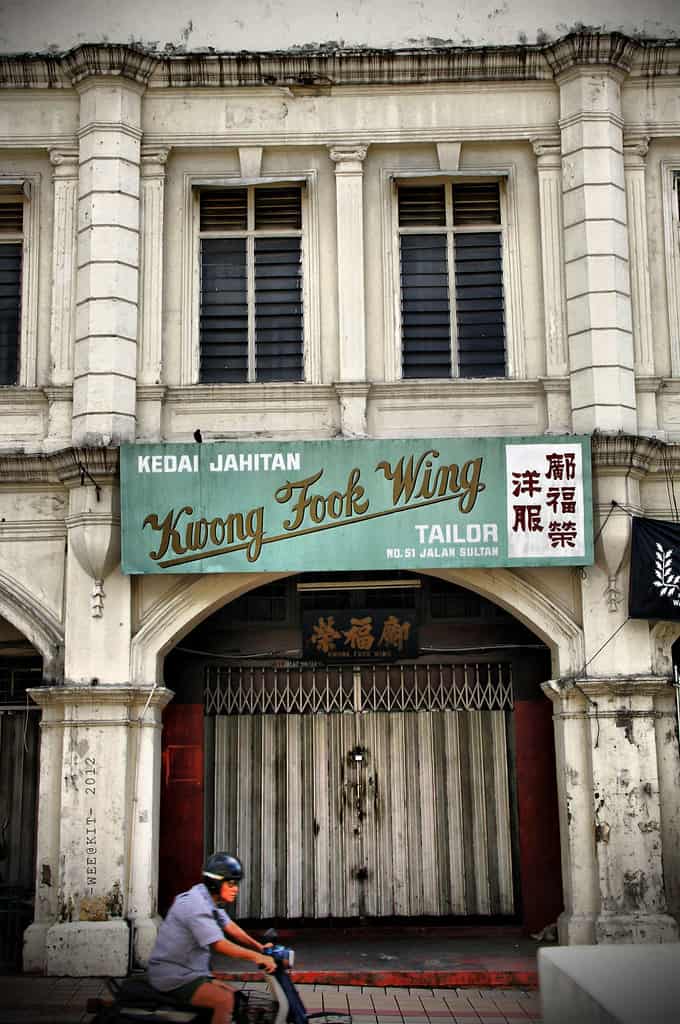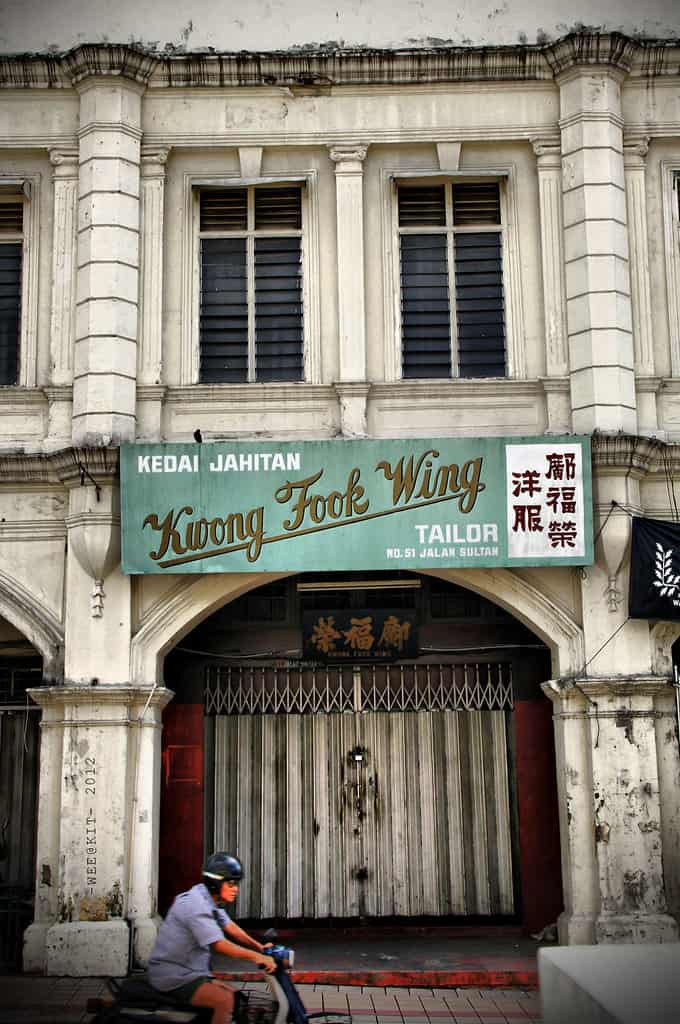 The Chinese communities in the area used to be ruled by Kapitans (captains) who were pivotal in developing the 'town' during its early stages.
Dubbed as 'the Bruce Lee of his time', its third but most famous Kapitan was Yap Ah Loy. Historian and writer Lam Seng Fatt describes him in an Insider's Kuala Lumpur:
[He] was a domineering character. Any Kapitan Cina worth his salt had to be, given the wayward behaviour of the Gangs of Chinese immigrants who had journeyed to these parts to seek their fortune. Fisticuffs and fights with knives, swords, pipes and wooden poles were common and Yap Ah Loy was the greatest fighter of them all – the Bruce Lee of his time.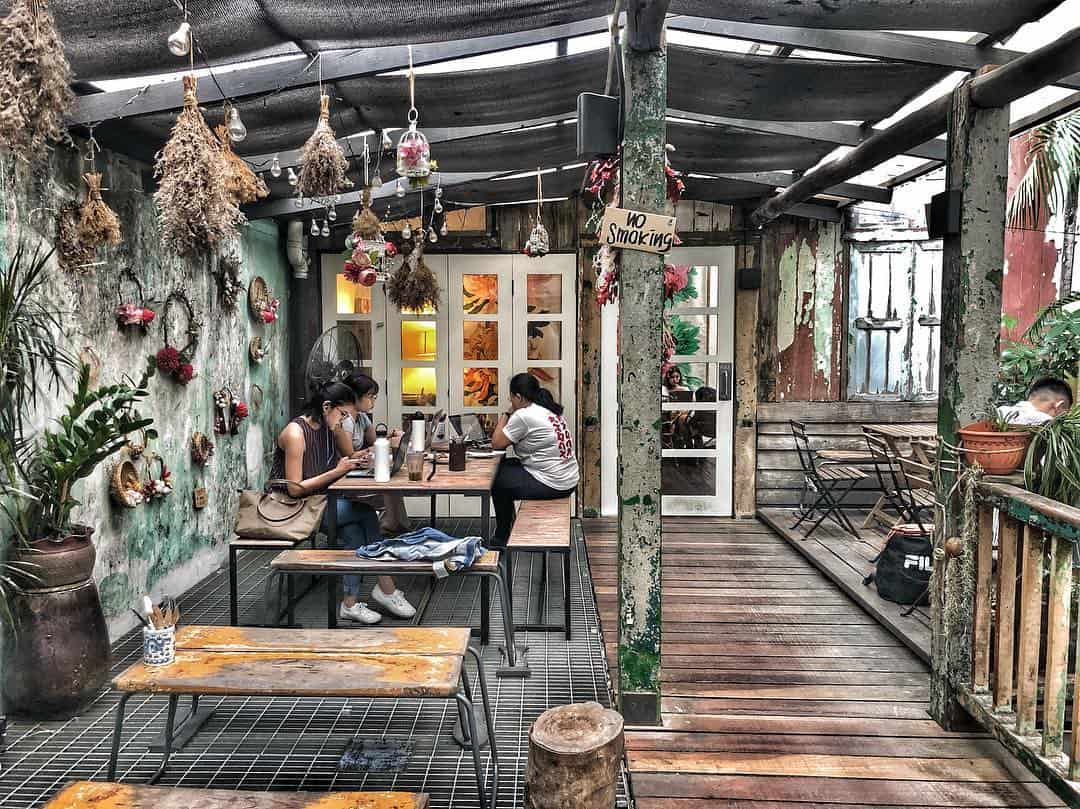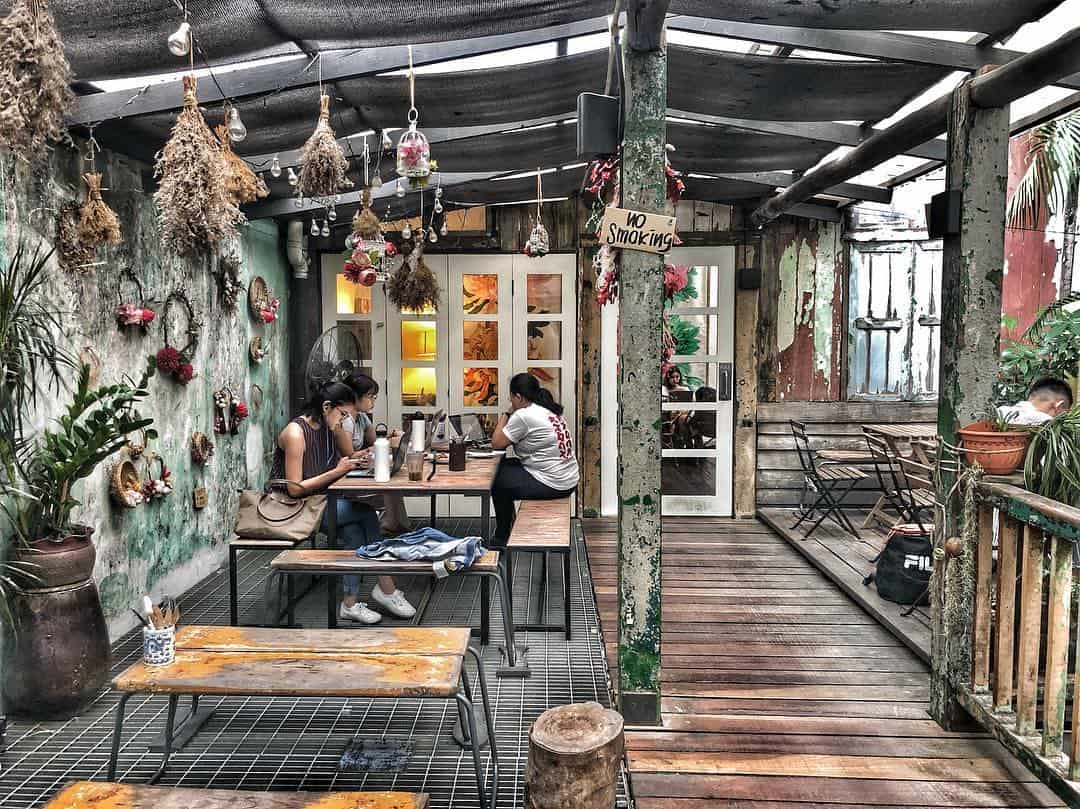 Apparently during the gang wars between the Hakkas and Cantonese, Ah Loy would pay good money for an enemy's head on a platter. He wasn't a man to mess with.
But this Kapitan wasn't just a good at combat, he also helped ensure the survival of this burgeoning city.
After a civil war broke out in 1970 between the two clan groups, many buildings were destroyed and mines were abandoned, causing them to flood out.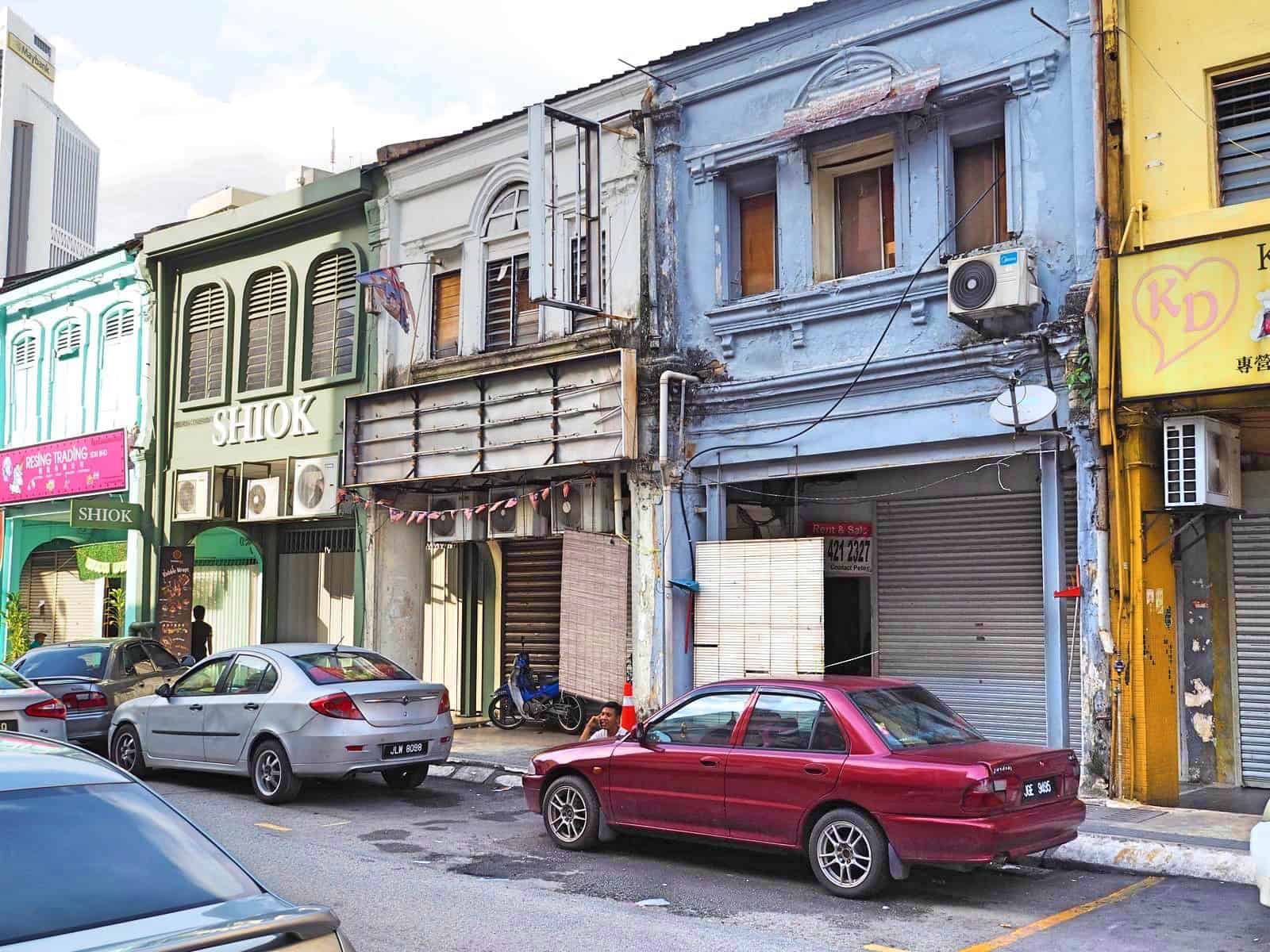 But instead of giving up on KL and allowing the miners to flee the city in search of work elsewhere, Kapitan Yap Ah Loy convinced them to stay. He encouraged workers to focus on agriculture and set up a tapioca mill on Petaling Street. It was then dubbed 'Tapioca Factory Road', or Shu Chong Kai in Cantonese, which is still what the Chinese locals call it today.
Nowadays, the street is closed off to motor vehicles and has been given a slight facelift, with many long-standing businesses moving out when rents were hiked in the early 2000's. But there's still a light sprinkling of golden oldies left, like Koon Kee's famous Wanton Mee and Kim Lian Kee's birthplace of Hokkien Mee.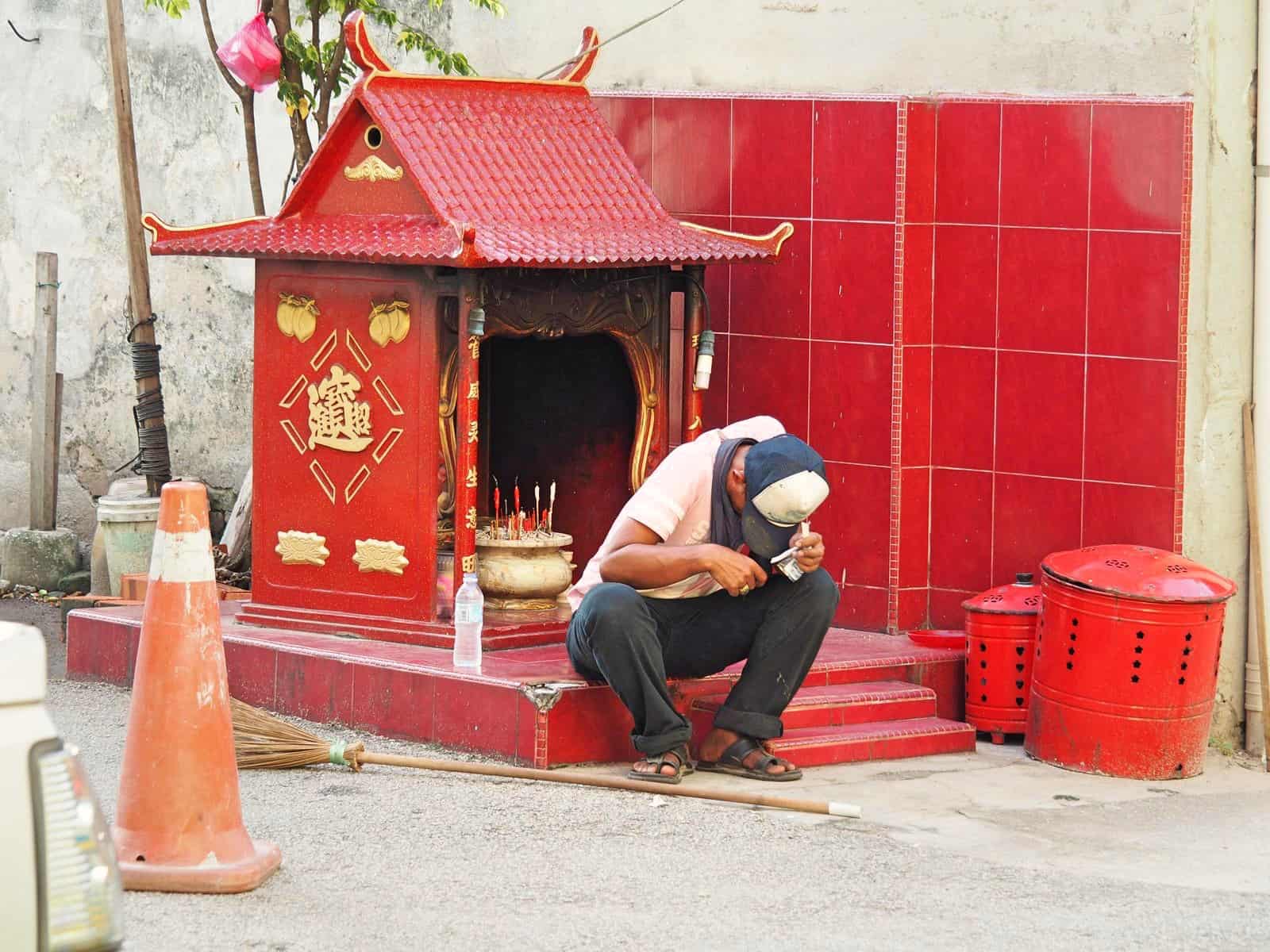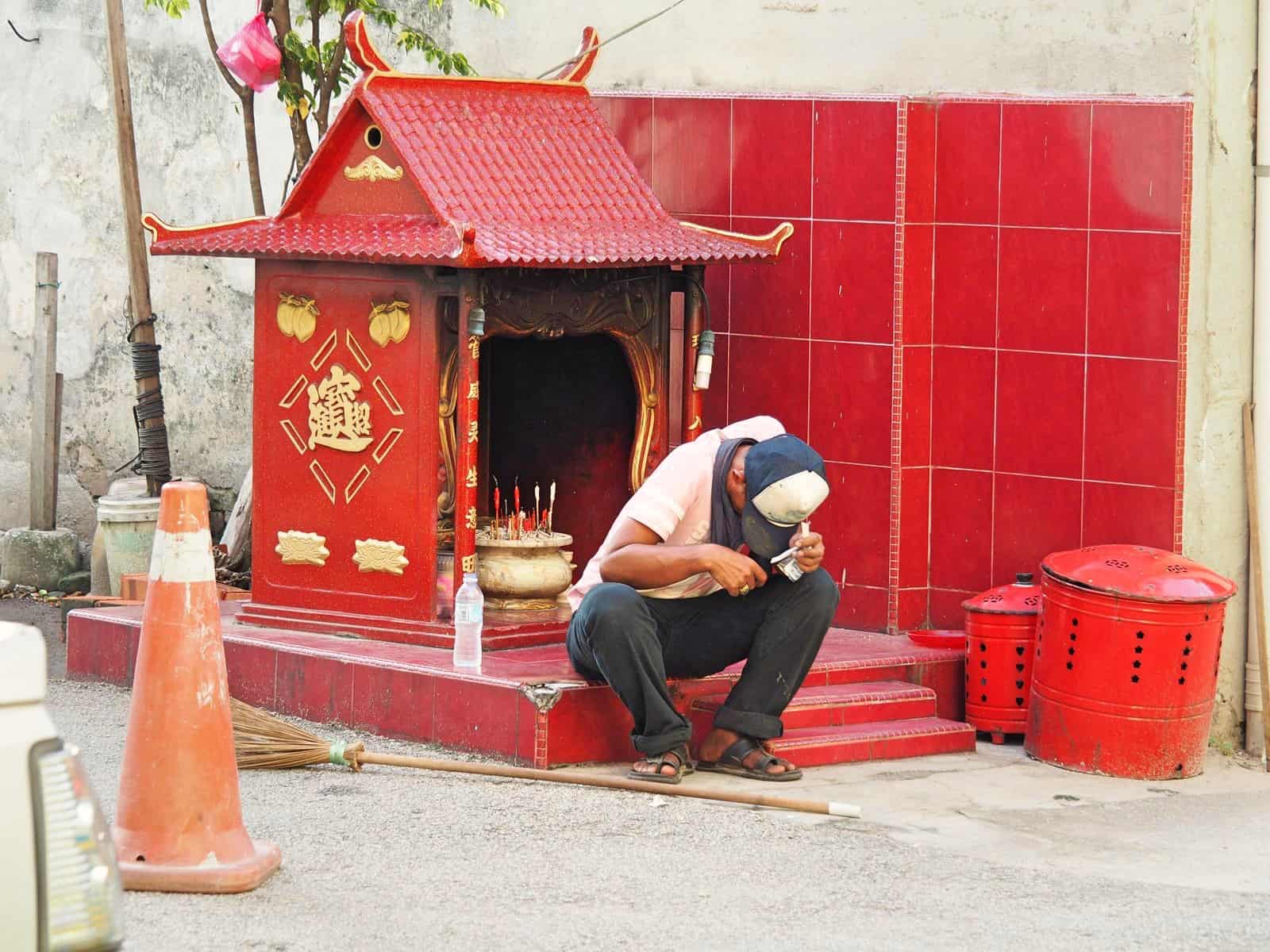 There have been many righteous success stories of Chinese business owners along Petaling Street who have worked hard to change their fortunes, as well as some that haven't. As Lam Seng Fatt mentions:
'Most of the Chinese traders in Petaling Street do not impress with their simple dressing and lack of ostentation, but they have Mercedez Benz cars parked in the back lanes, live in bungalows, watch satellite television and spend their holidays in Australia'.
Good on them. That's more than I own.
---
Stop 13: Sri Maha Mariamman Temple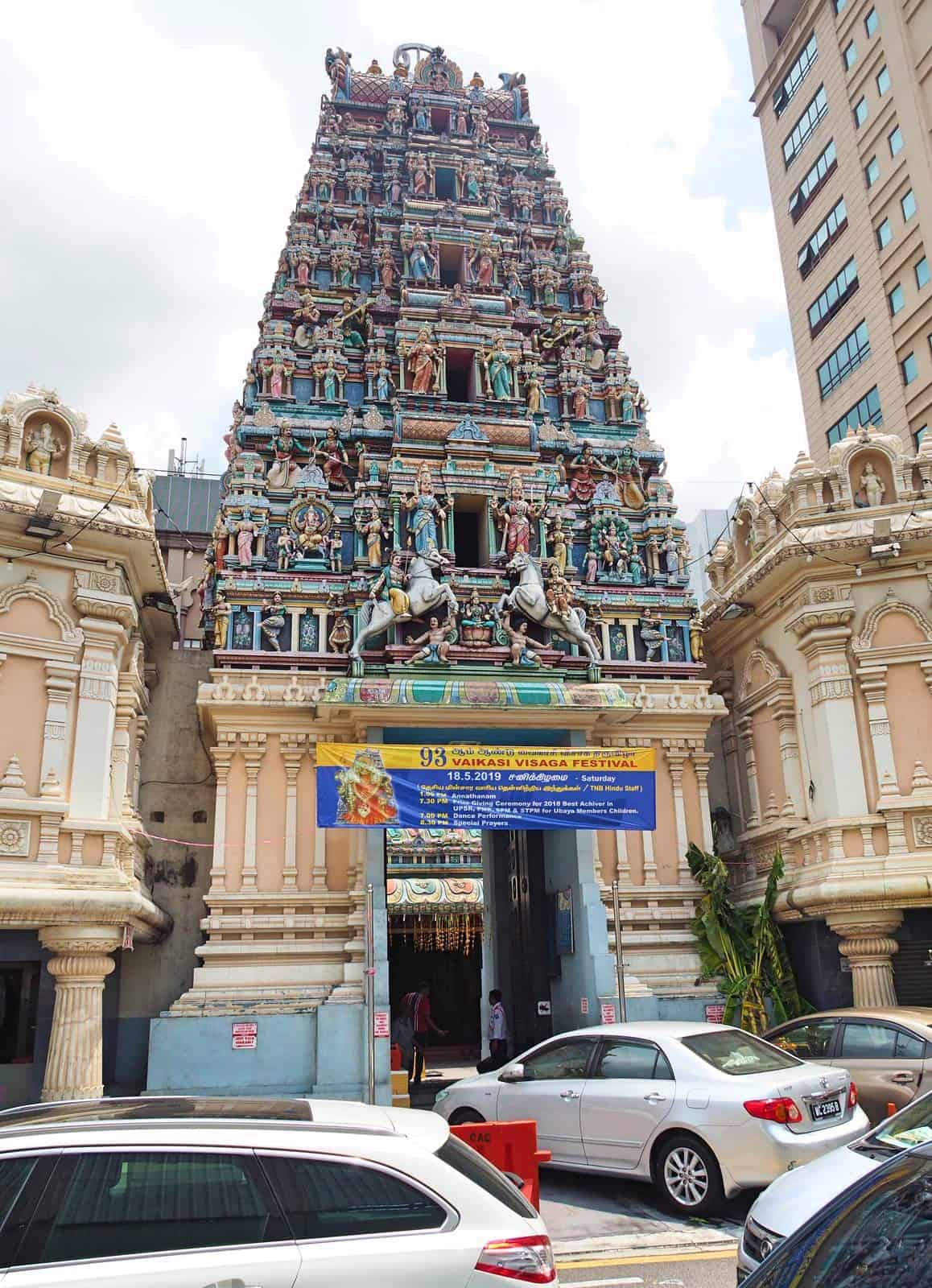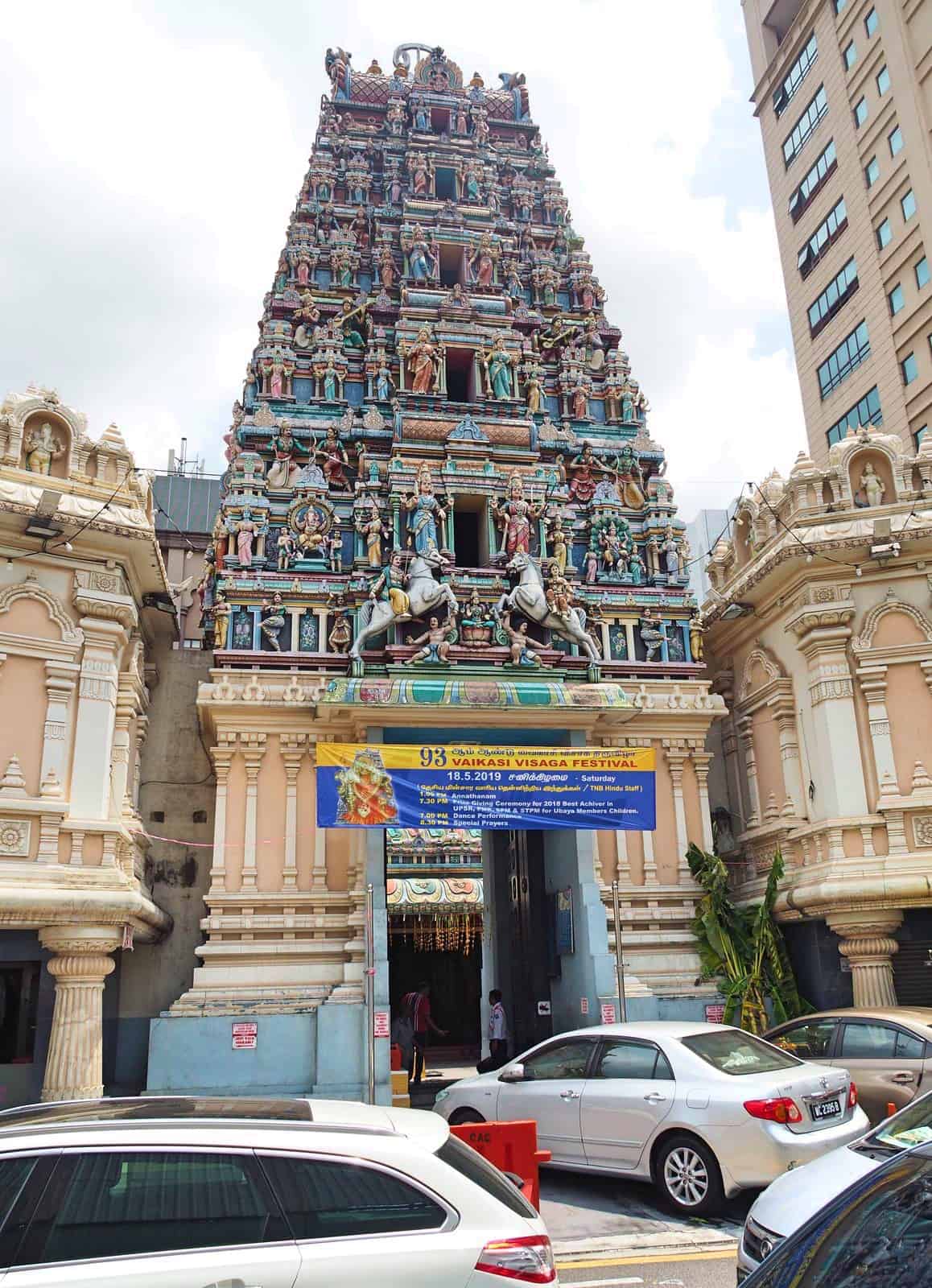 Known to be Malaysia's oldest and richest Hindu Shrine, Sri Maha Mariamman was founded in 1873, but what you see today was erected much later.
Although undeniably striking, I think it looks a bit misplaced on this busy street in Chinatown and almost gets lost in the noise. What do you think?
The temple was first built by a wealthy Indian for fellow Tamils to worship the deity Mariamman, who was meant to protect them in foreign lands. For 50 years it was a private shrine until 1920s when it opened to the public, although the current building was remodelled substantially in the 60's.
Non-Hindus are welcome to enter, just leave your shoes at the entrance. It's open from 6am to 8:30pm.
---
Stop 14: Guan Di Temple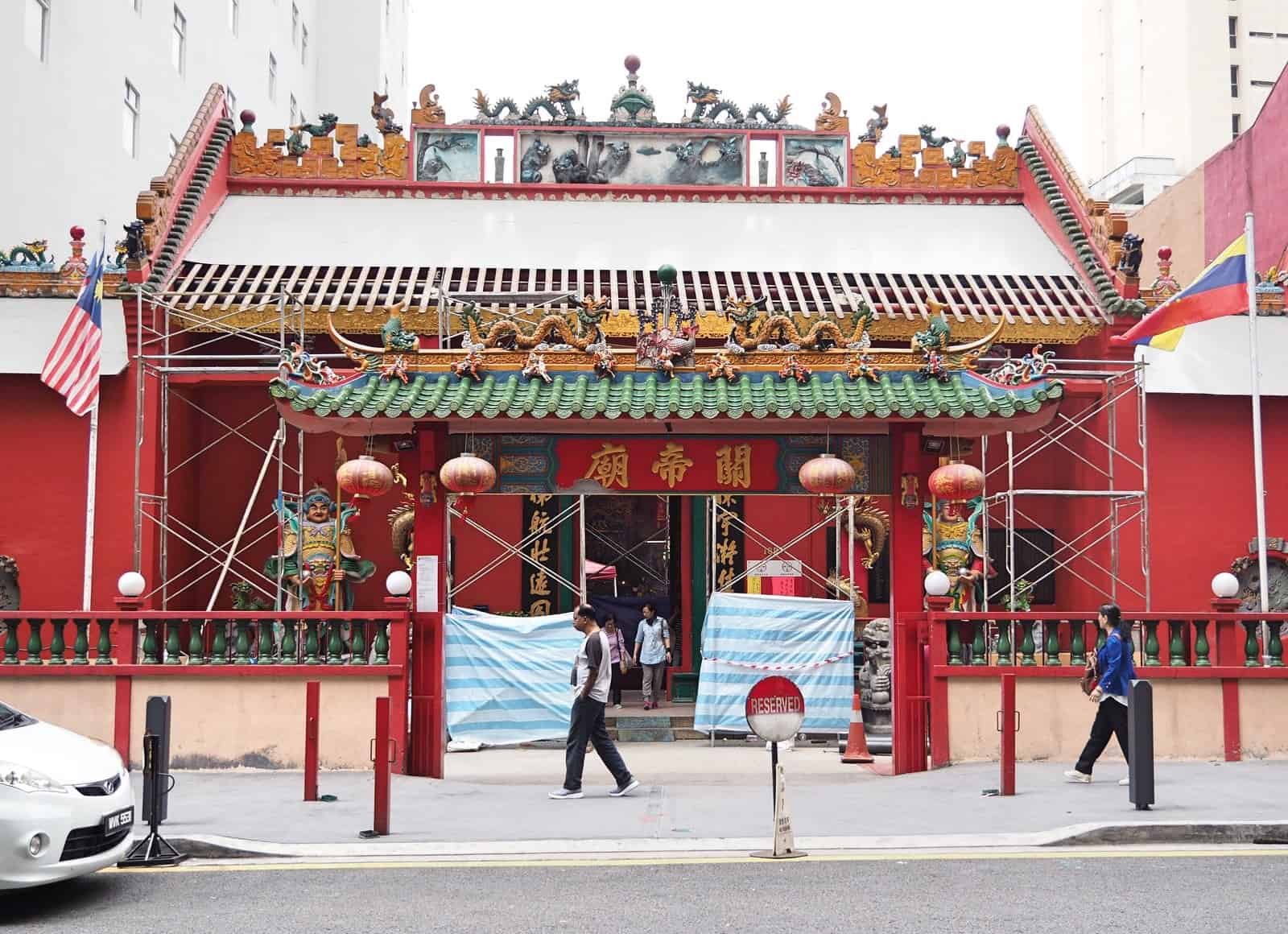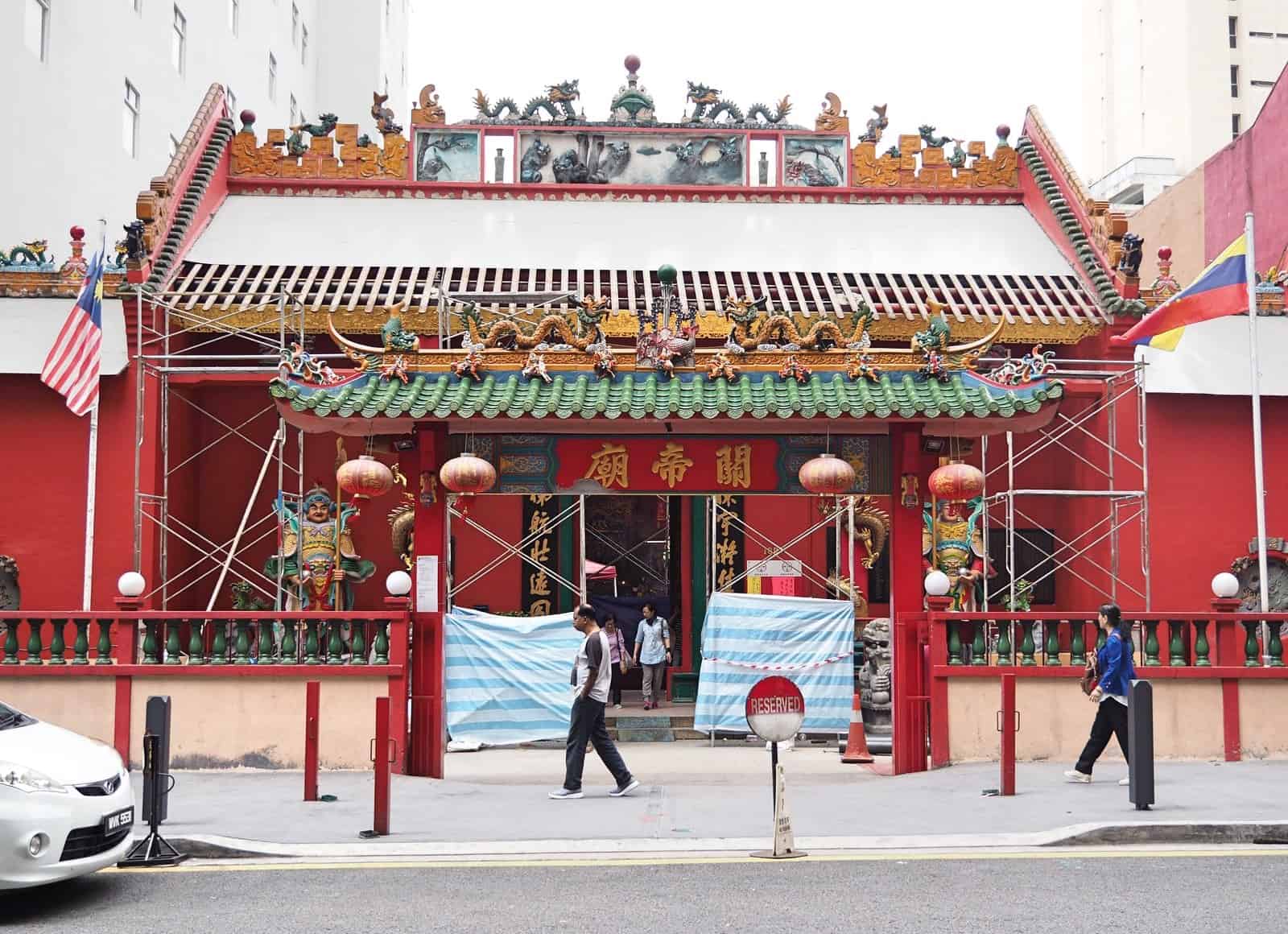 This temple is where many locals pray to one of China's great warriors General Kwan- aka. 'Guan Di'. He was named 'God of War' and many worship him for his superb fighting skills, believing that they'll receive better wellbeing with his protection.
The morning is probably the best time to visit as it'll be less busy and the aroma of incense from worshipers will calm you from the busy KL streets.
Inside there's a sword that's meant to have special powers and will bless and protect a person if they touch it. Go on, give it a feel and see!
---
Stop 15: Kasturi Walk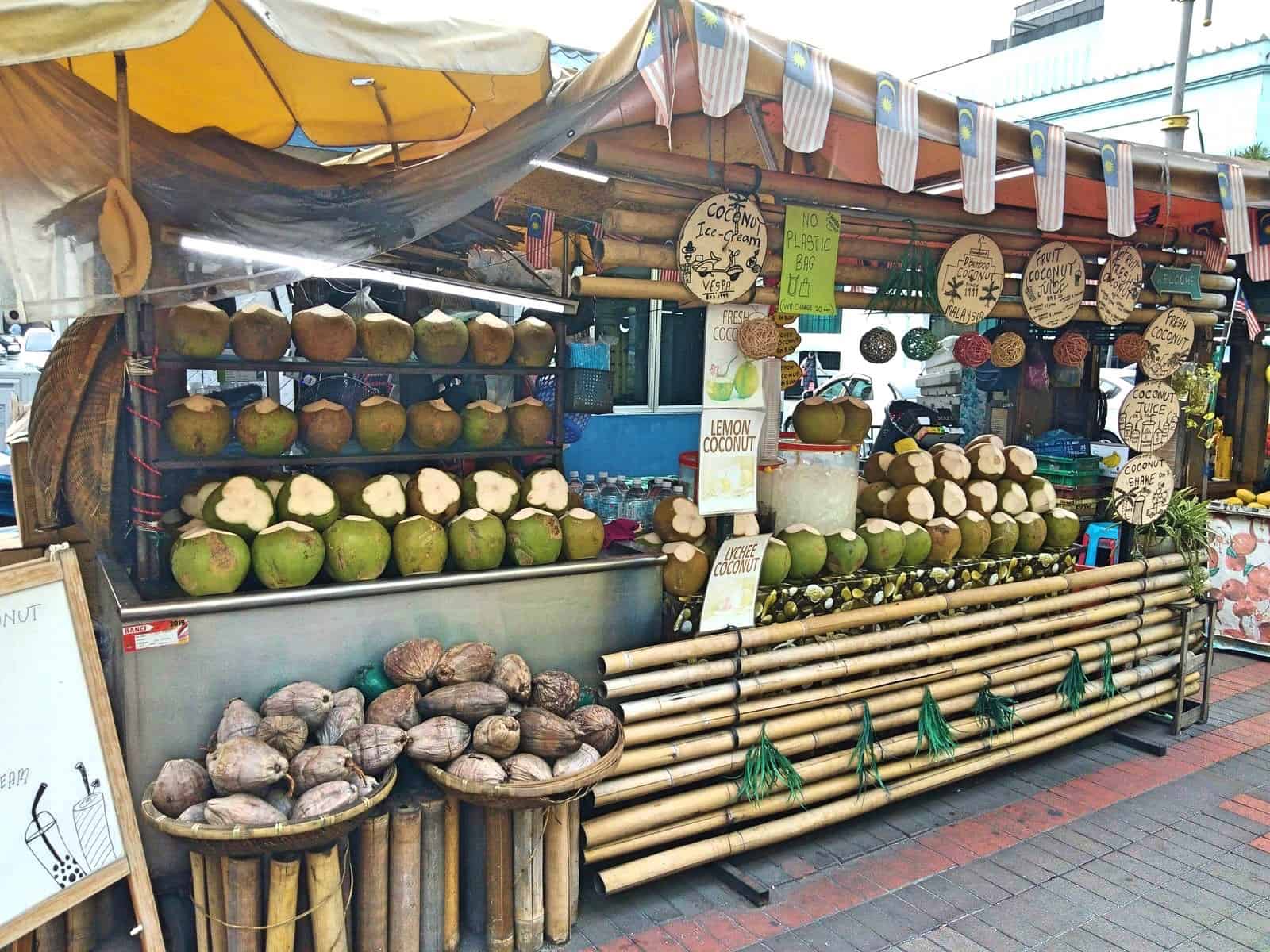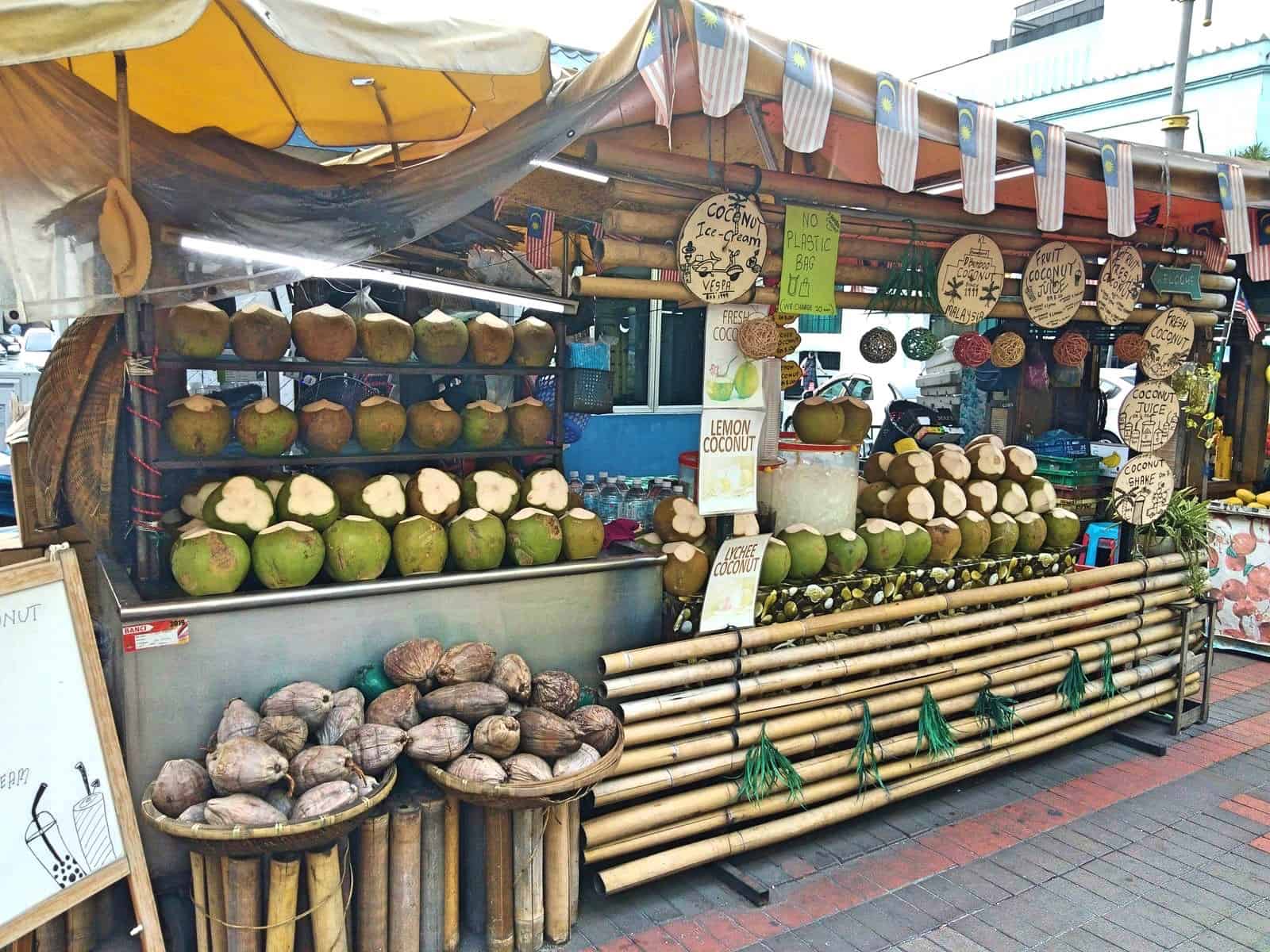 This relatively new, pedestrianised street featuring various outdoor stalls aimed at tourists. It's a good spot to buy a fresh coconut, but otherwise it sells pretty much the same merchandise as Petaling Street.
There's a half hour dance or martial art performance nightly here at 9pm, and the market opens from 10:30am – 10:30 pm.
---
Stop 16: Central Market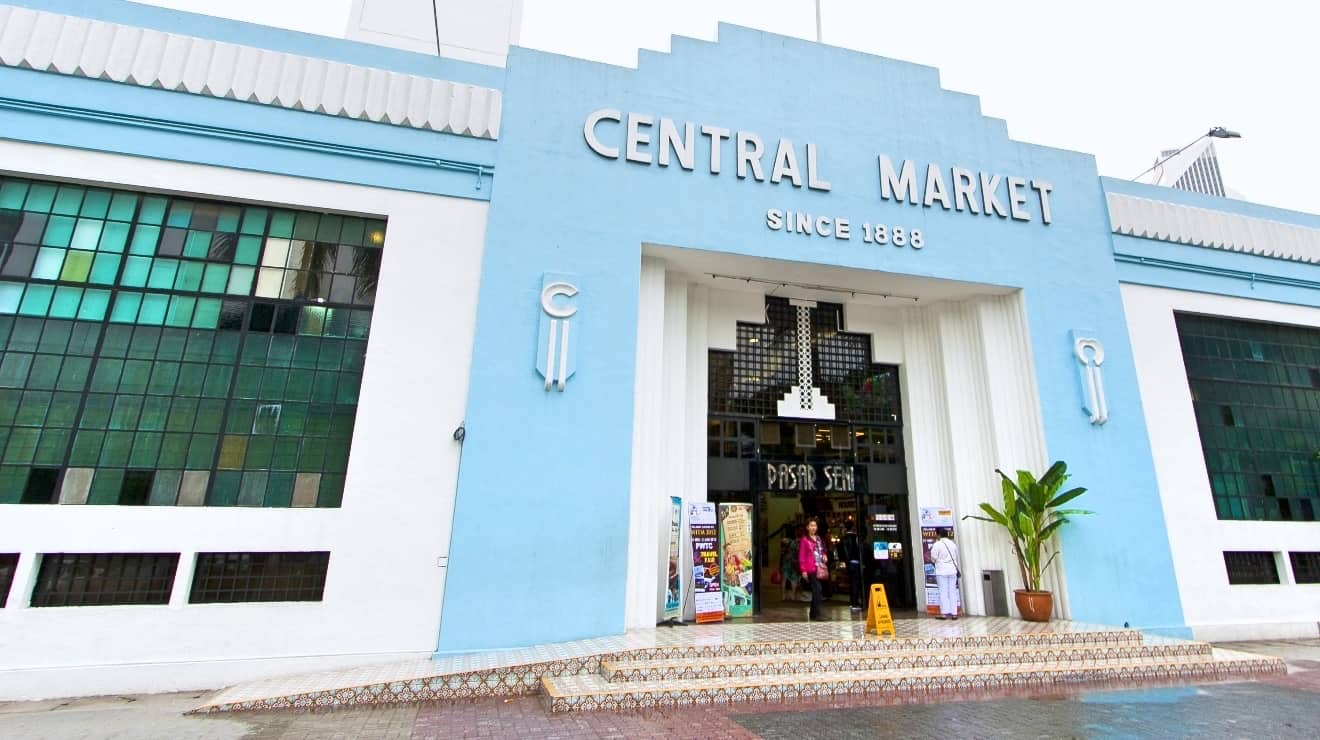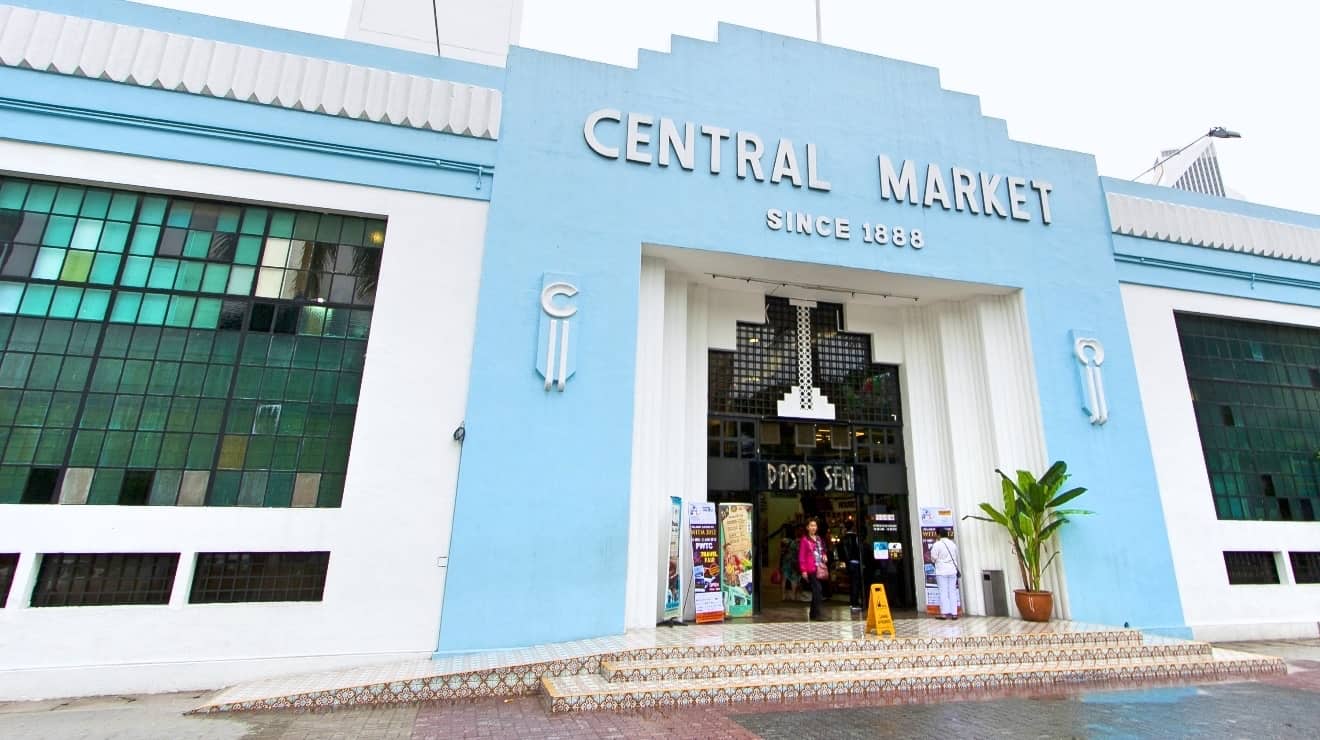 I'm sure you're getting pretty sweaty now in KL's unrelenting heat, so step inside to enjoy the AC before reading this!
To say this grand art-deco building has had a colourful past is putting it lightly. It is, in fact, one of Yap Ah Loy's greatest legacies, which recently survived demolition.
Central Market was first located in Medan Pasar, or 'Market Square', which you'll be walking to soon. Nowadays when you walk inside, it's brimming with Malaysian arts and handicrafts, with floods of eager beavers keen to get their hands on some of the better souvenirs in the area. Although its current condition and use is far from the old days.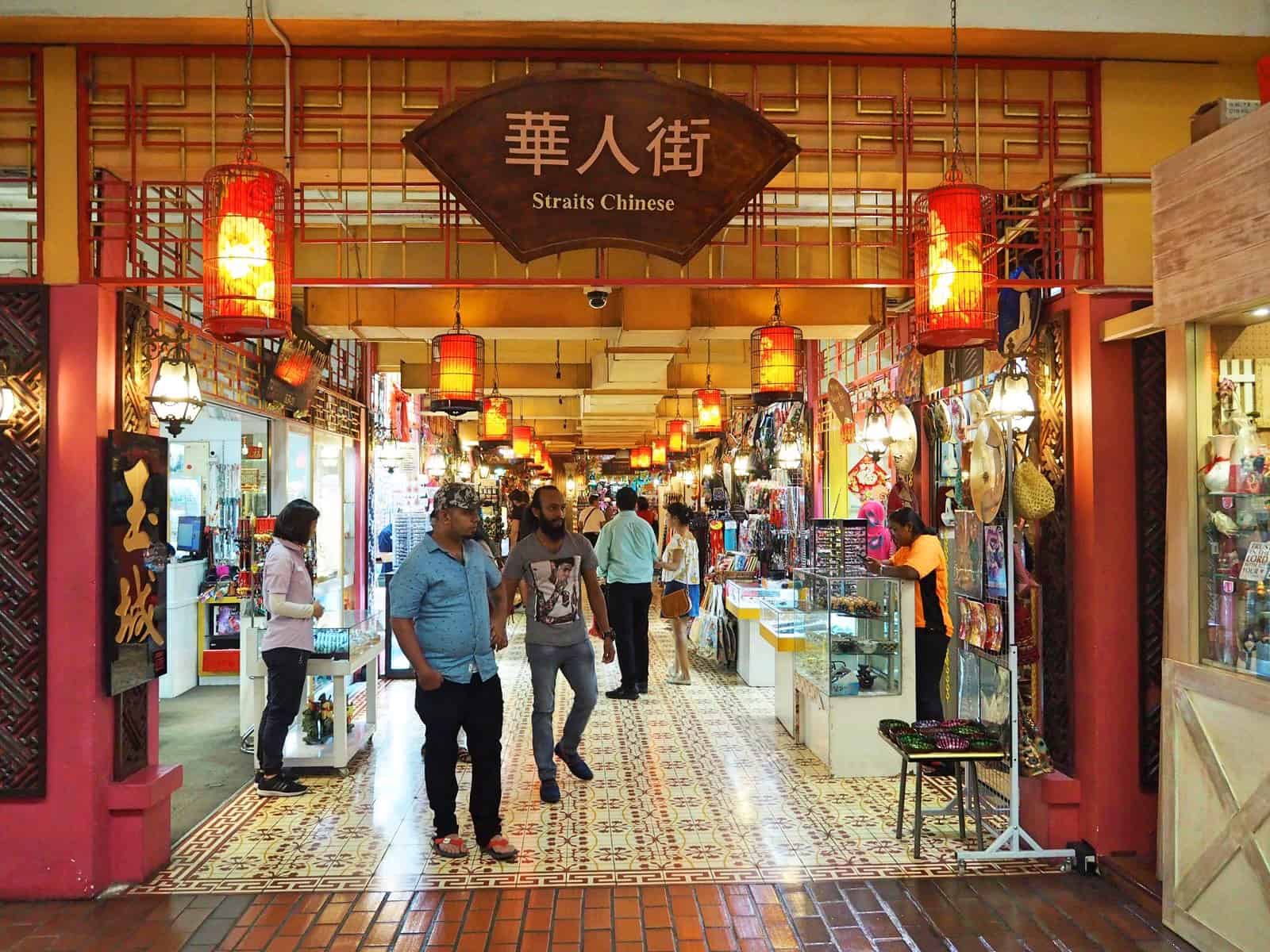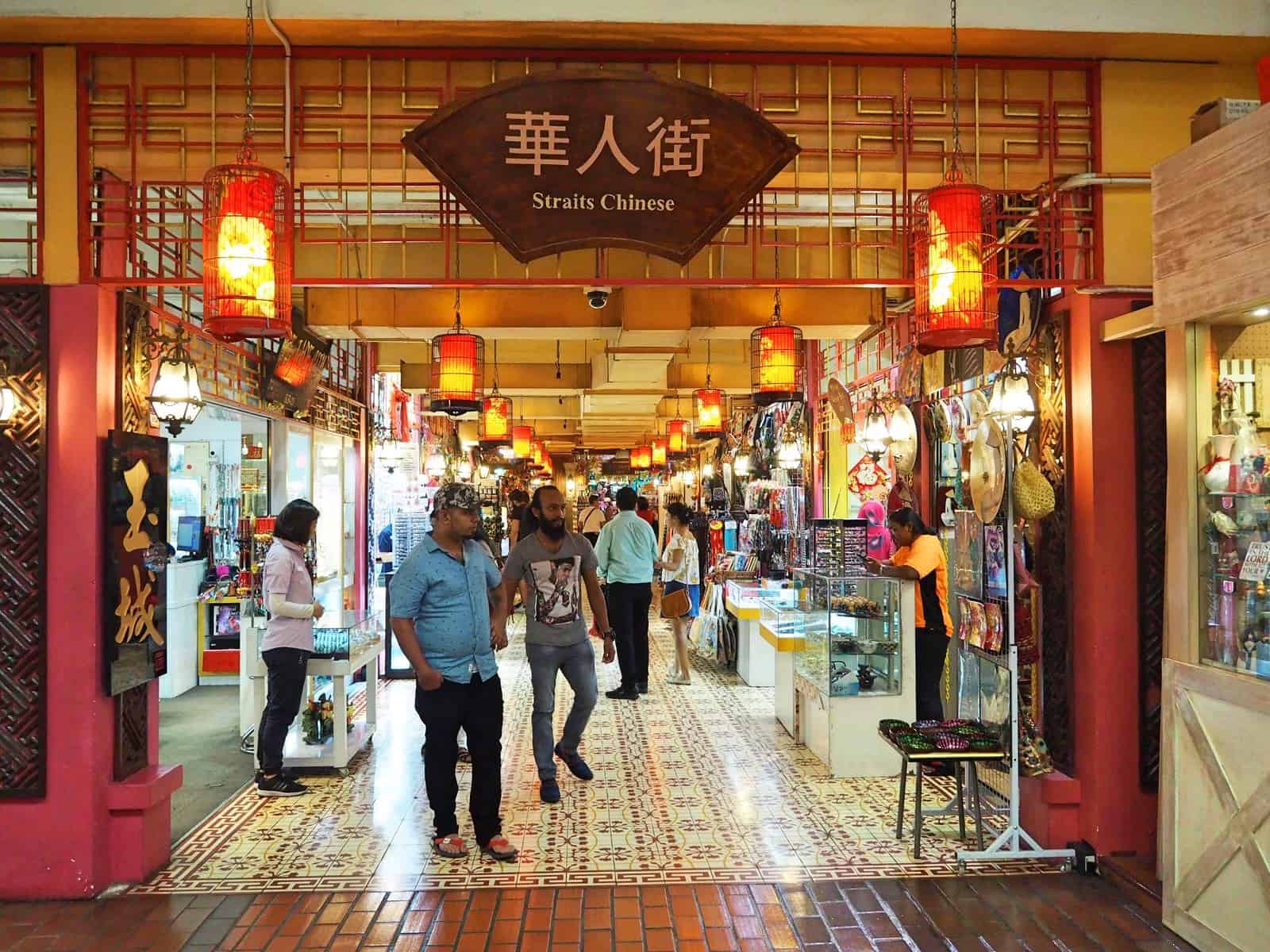 Central Market always used to function as KL's primary wet market, feeding the city with a range of fresh fruit, vegetables, fish and meat – as well as its gambling addiction.
It was described in the late 19th century by a prominent British colonial administrator- Sir Frank Swettenham- as "a huge gambling booth…in which literally all day and all night long, gambling is pursued by a crowd of often excited Chinese and Malays", saying the "filth of the market is indescribable".
Could you imagine it now as a dingy market selling food, or being packed with gambling tables? It's definitely come a long way.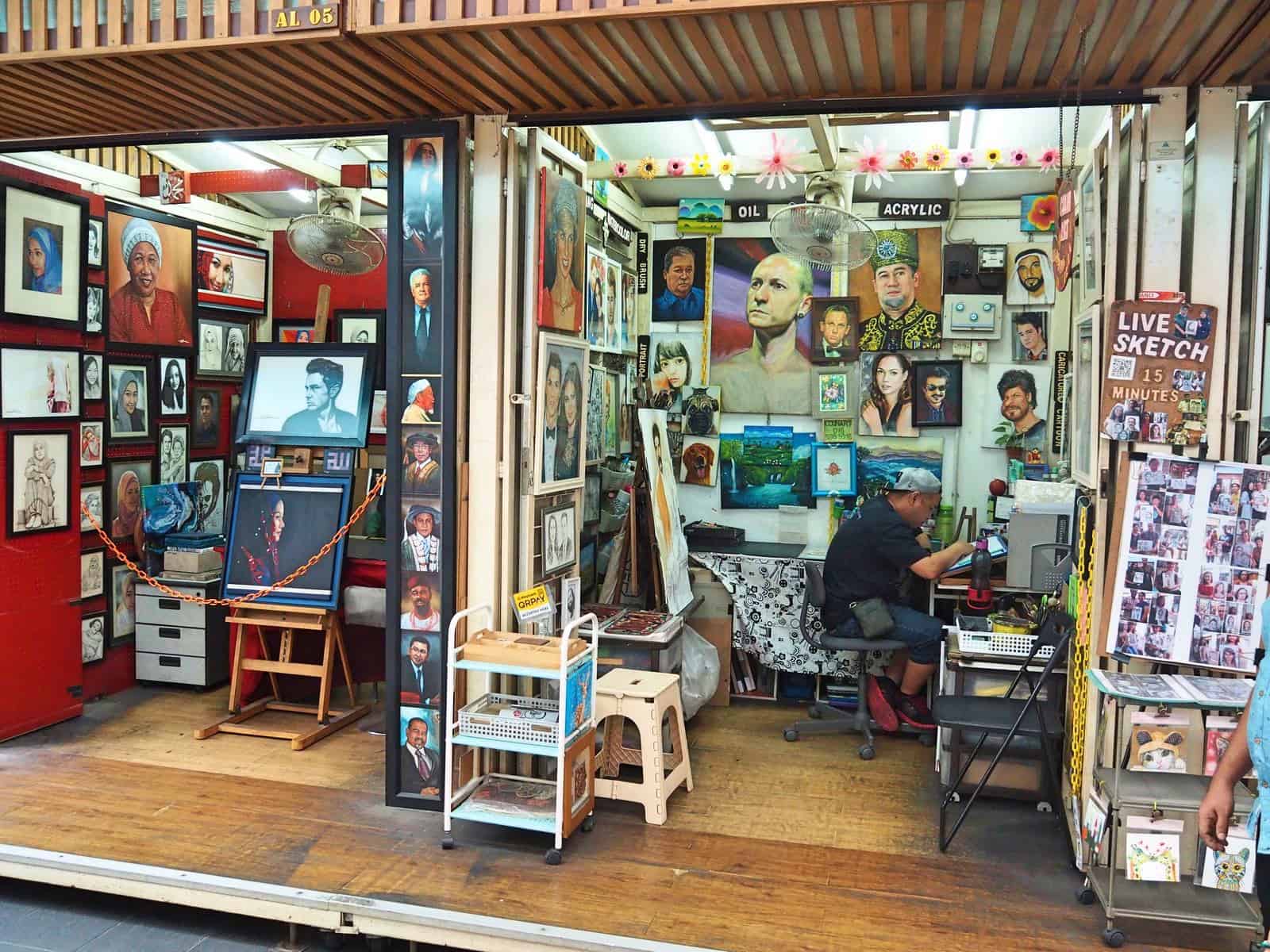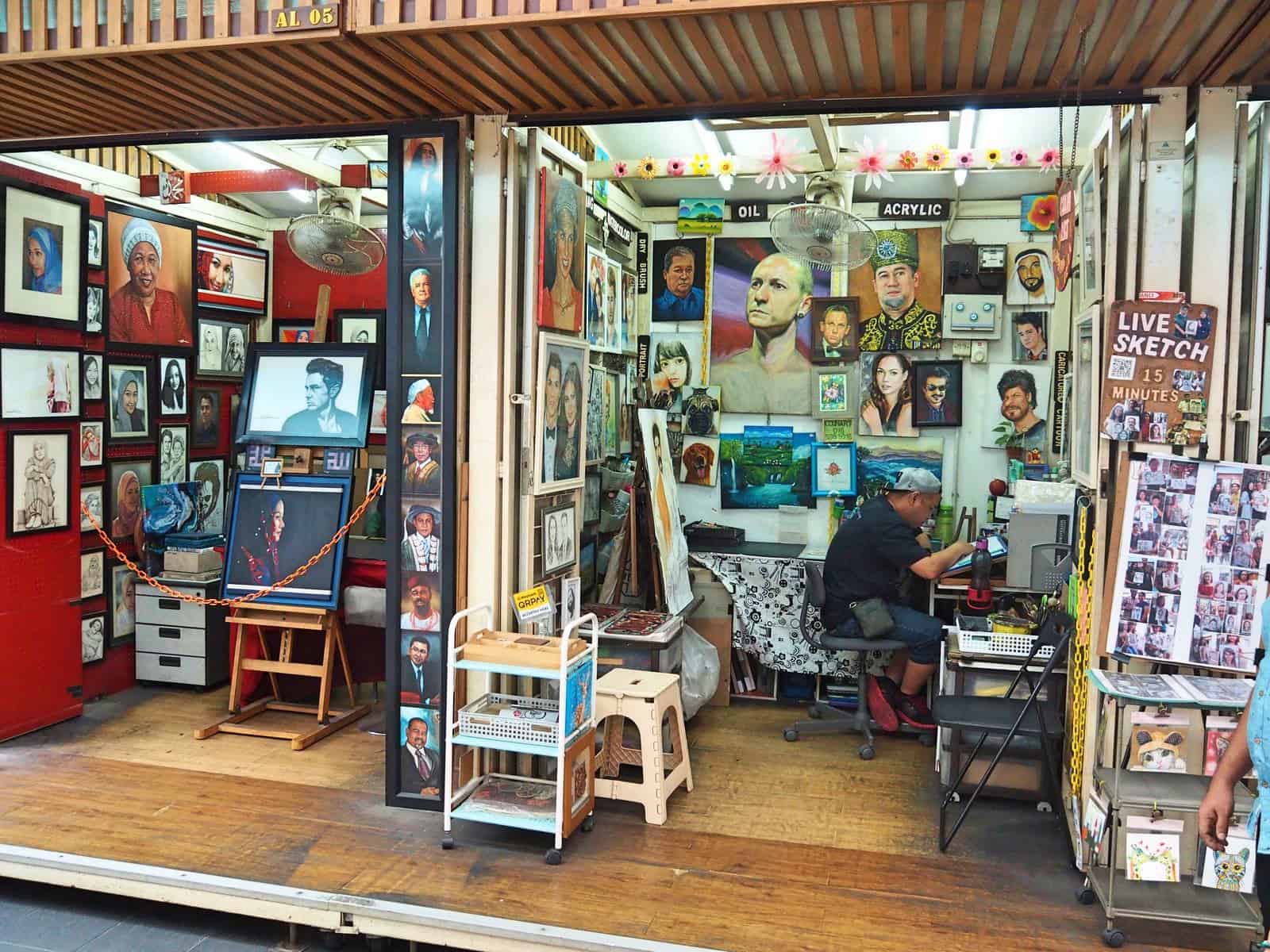 When Central Market burned down in Medan Pasar in 1881 (along with Yap Ah Loy's house and much of KL at the time) Ah Loy worked hard to rebuilt it nearby on land he leased from the authorities. At the time, it was a fundamental food source and he didn't want KL-ites to go hungry.
After his death in 1885, it was relocated again to this site, which sits behind his former house (you'll visit it soon).
Wind forward another 40-years, and the market's humble wooden walls were knocked down and rebuilt into this art-deco fantasy you see before you.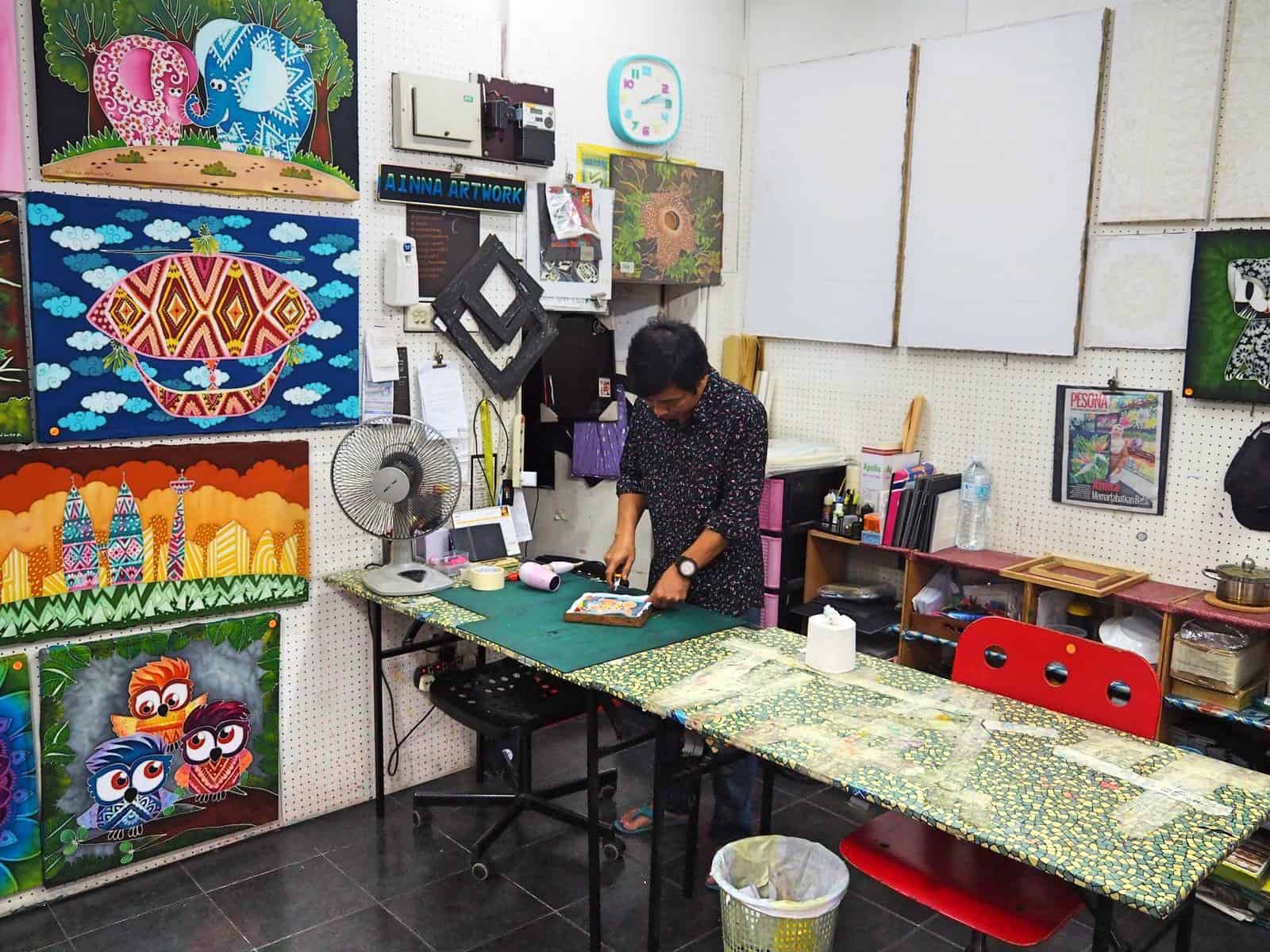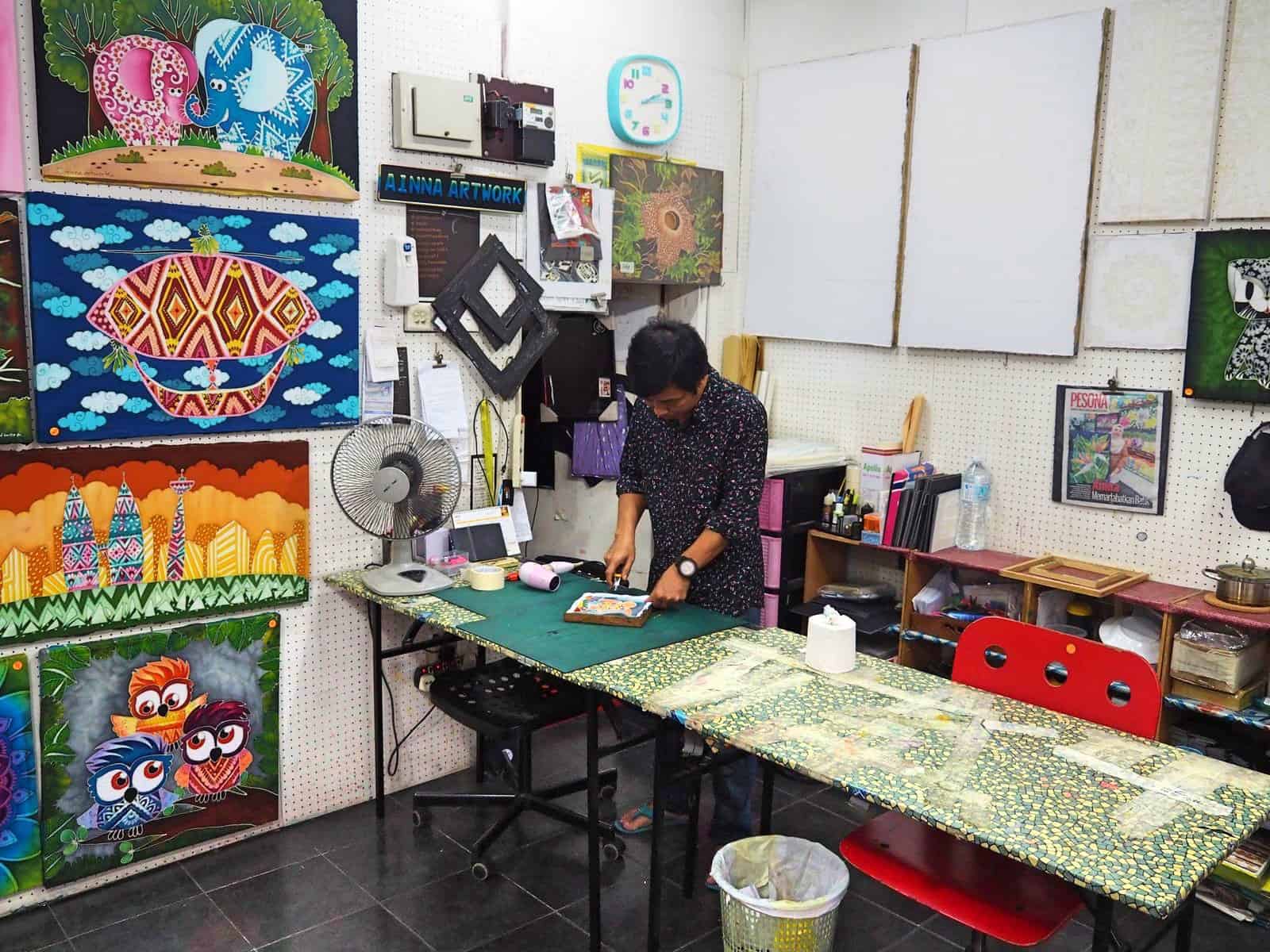 When wet markets were set up in the city's suburbs during the 1980's, city council wanted to demolish Central Market and turn it into an office block. Thankfully it lived to tell the tale and was saved, refurbished and rebranded into a thriving heritage centre.
It's been nicely organised into different sections- Malay, Straits Chinese and Little India. The products on offer seem a little better here if you're after a gift or souvenir. Don't forget to head out into the annexe right at the back where you'll find portrait and caricature artists. Open: 10am to 9pm.
---
Stop 17: OCBC Building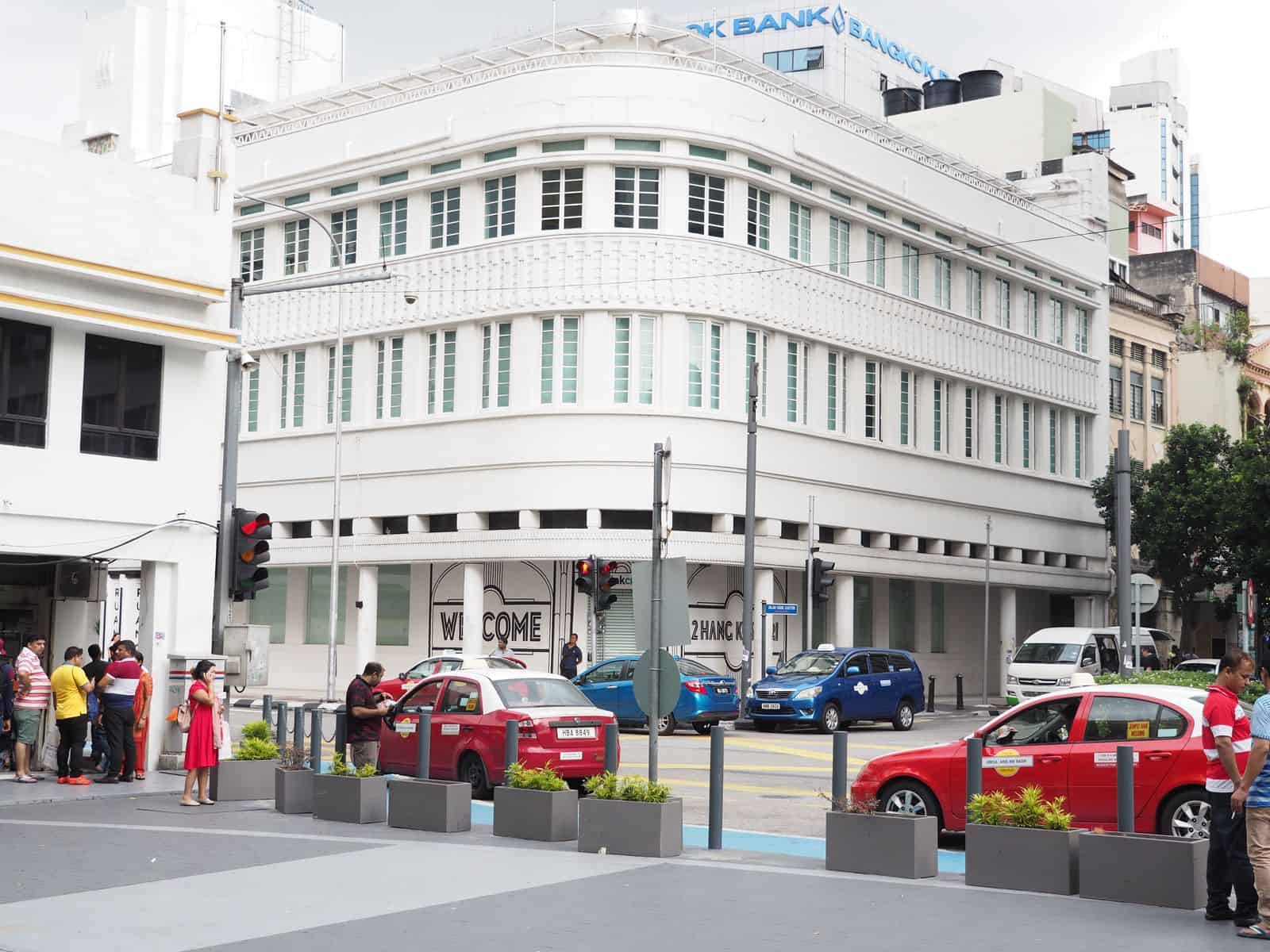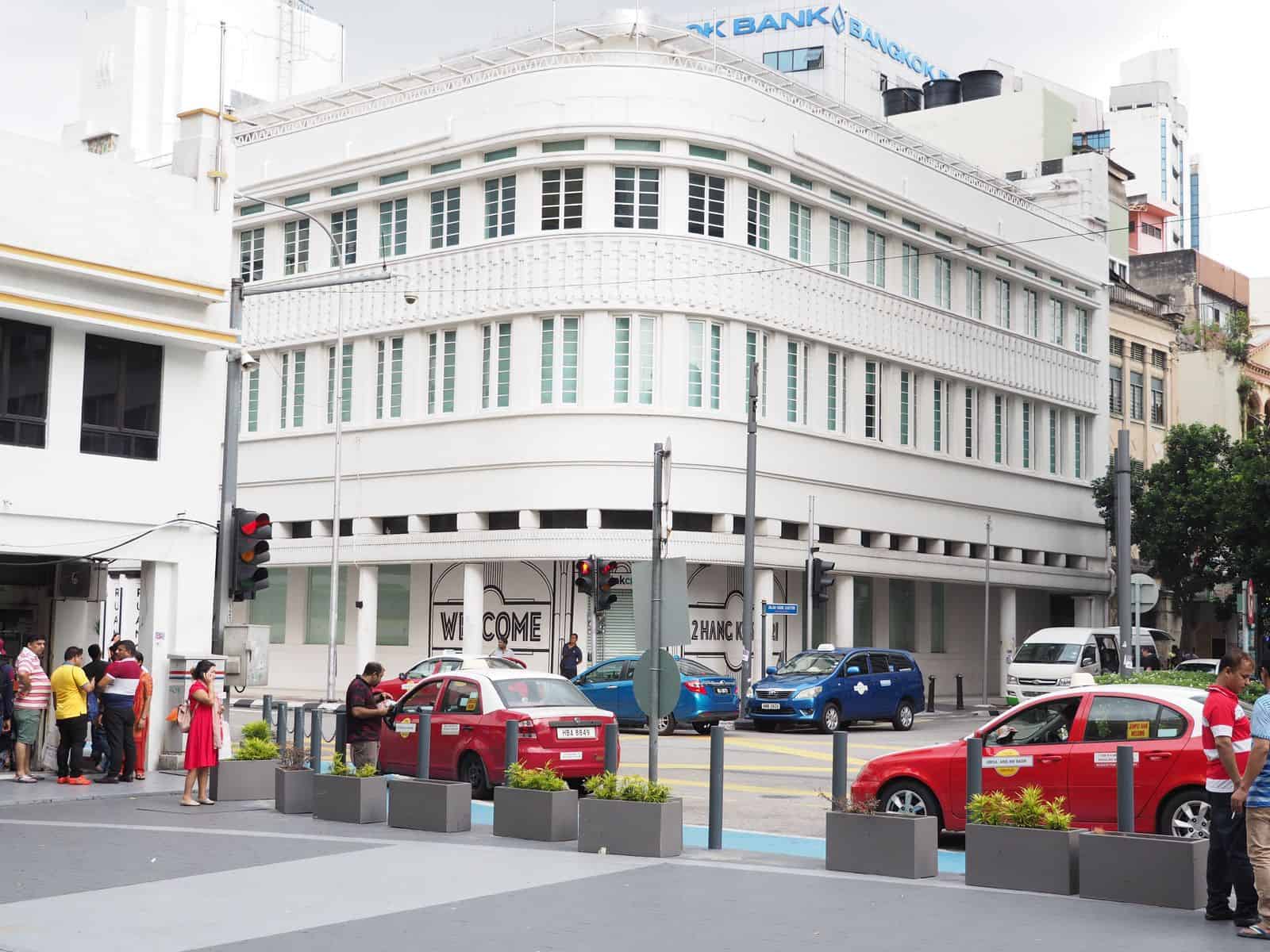 This iconic art deco building was sold for RM 21 million in 2016. It's a 5 storey block (although I can only see 3 floors, plus the basement 🤔) that was initially designed in 1938 for the Overseas Chinese Banking Corporation (OCBC) which was fully functioning until 2015. They utilised the basement as 'a parking hall for bicycles' (I couldn't imagine that now in KL) and as a strong room, which is similar to a vault.
There were talks of the new owners wanting to make a hotel out of it, but licences for new hotels were frozen from City Hall. So, what's even better than yet another lodging?
A creative space 🖖🏼. Currently it's used by Urbanescapes who promote the arts through exhibitions, events and festivals. Check out their schedule for a list of shindigs.
---
Stop 18: Medan Pasar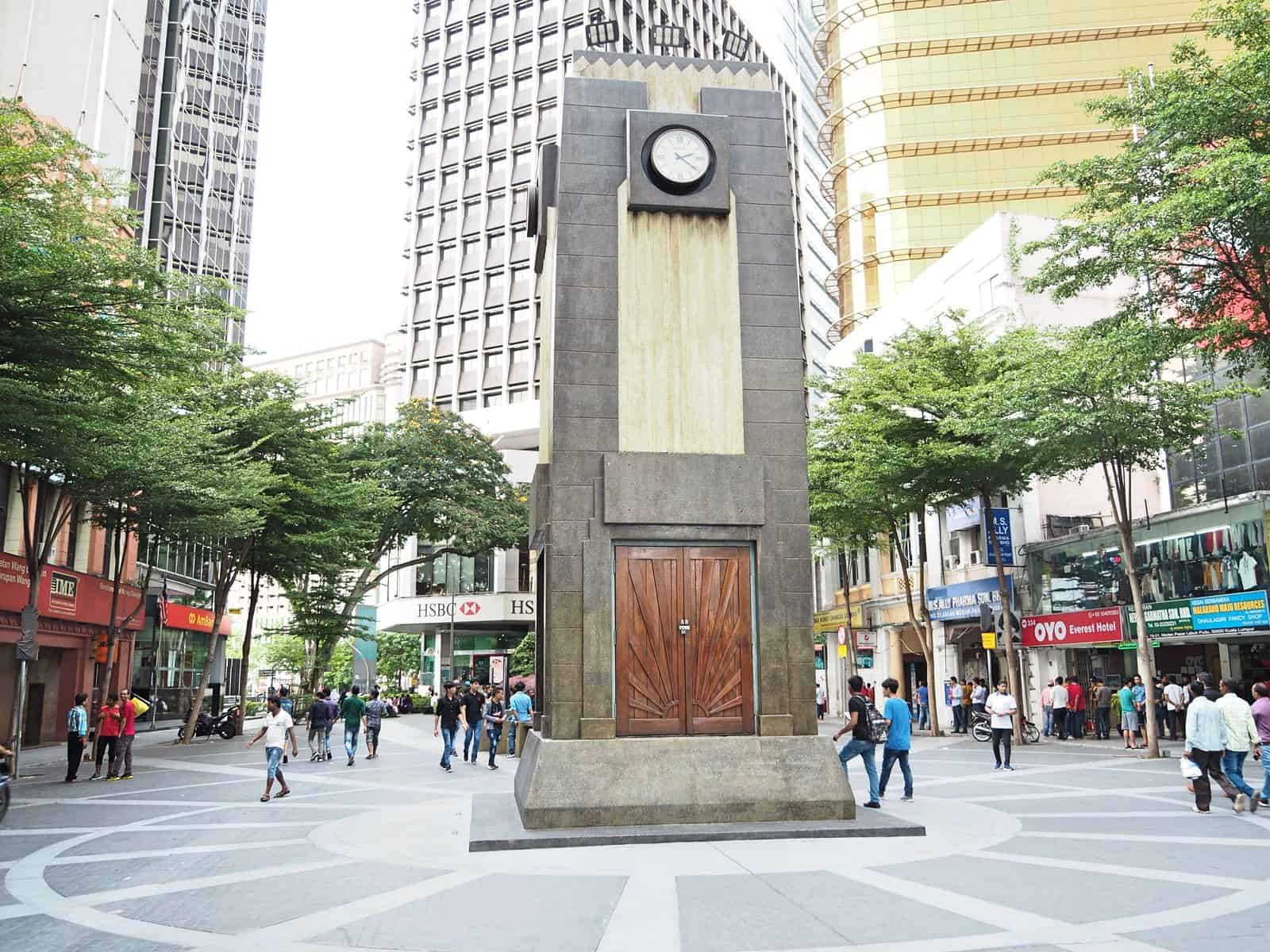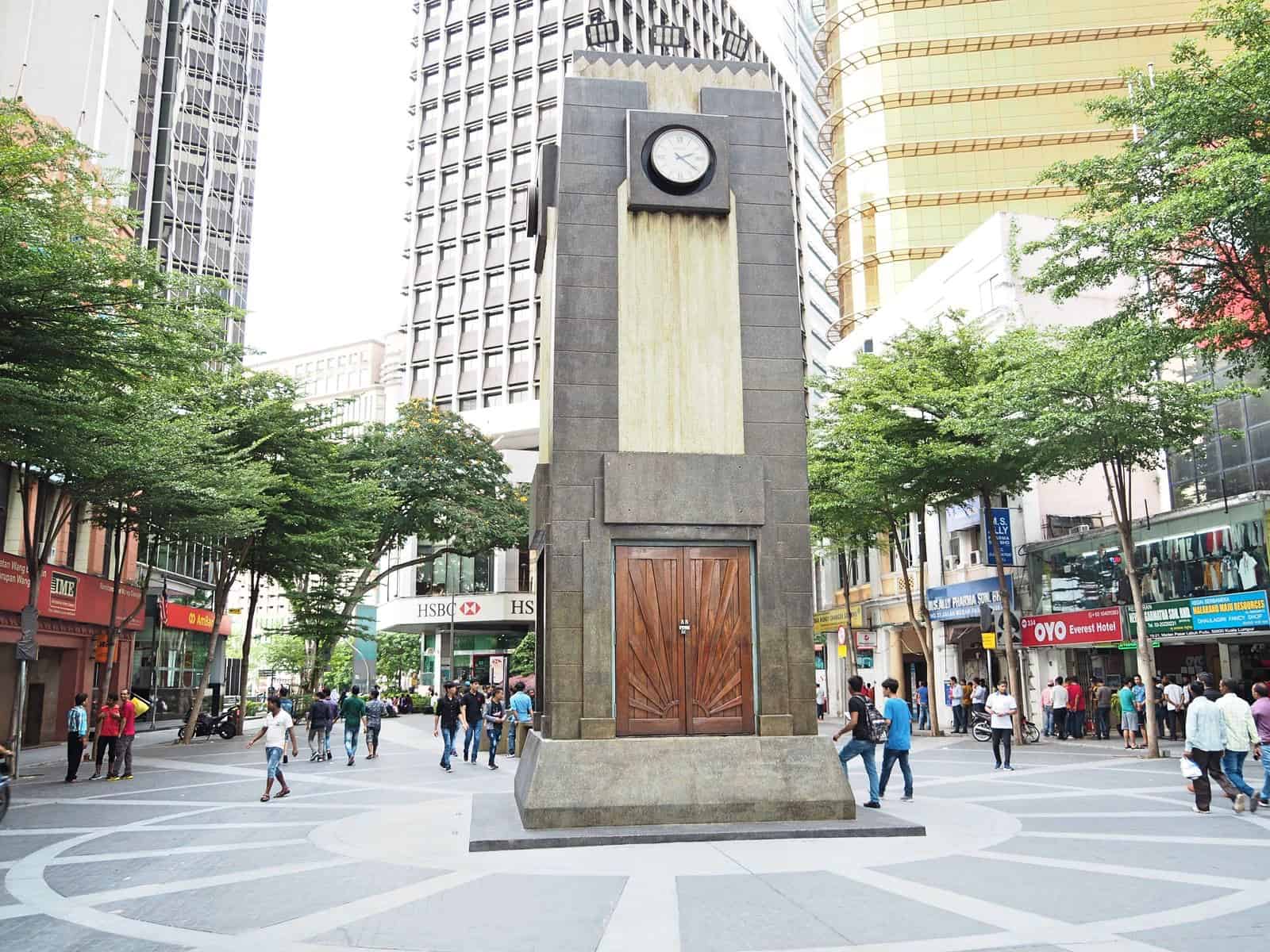 You are now, my friends, looking at the square that housed KL's first settlement. So take a breath and try to imagine it 140 years ago. Can you feel the ghosts of KL's past behind the walls of the shophouses that lined either side?
I did. This place feels really old to me, and like it has some serious stories to tell.
The most prominent feature now is the art deco Clock Tower that stands before you, which was built in 1937 to commemorate the coronation of King George VI. But like I mentioned before, it once housed the buzzing Central Market and for many years, the square was the heart of the city. Hard to imagine that now. All I could see were groups of tourists and Indian lads killing time.
Standing behind your left shoulder is the memory of Yap Ah Loy's house, which stood where the 'Pacific Express Hotel' is now. It was strategically positioned to give him the best view of happenings in the square. He'd be looking at you now if he was still around.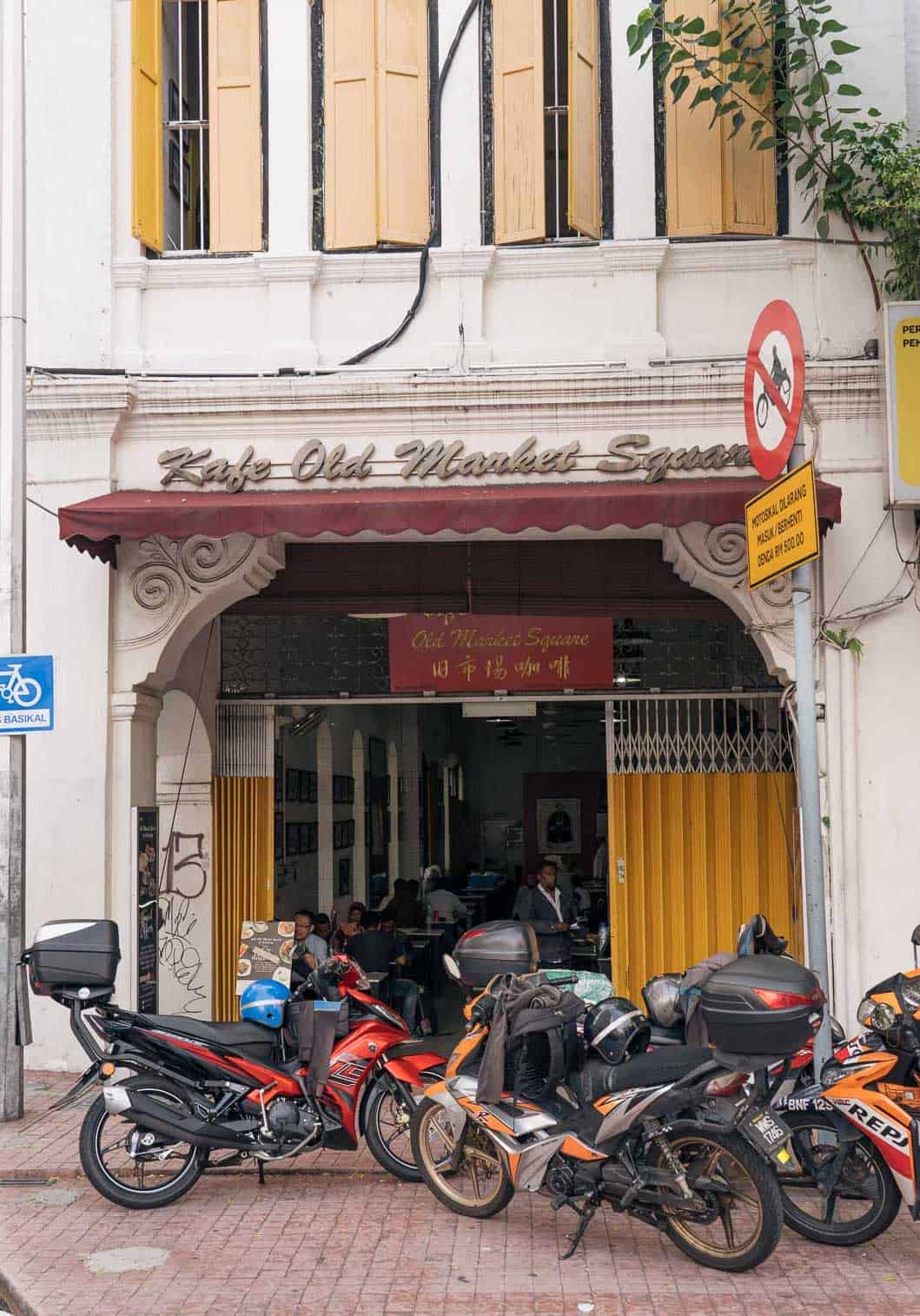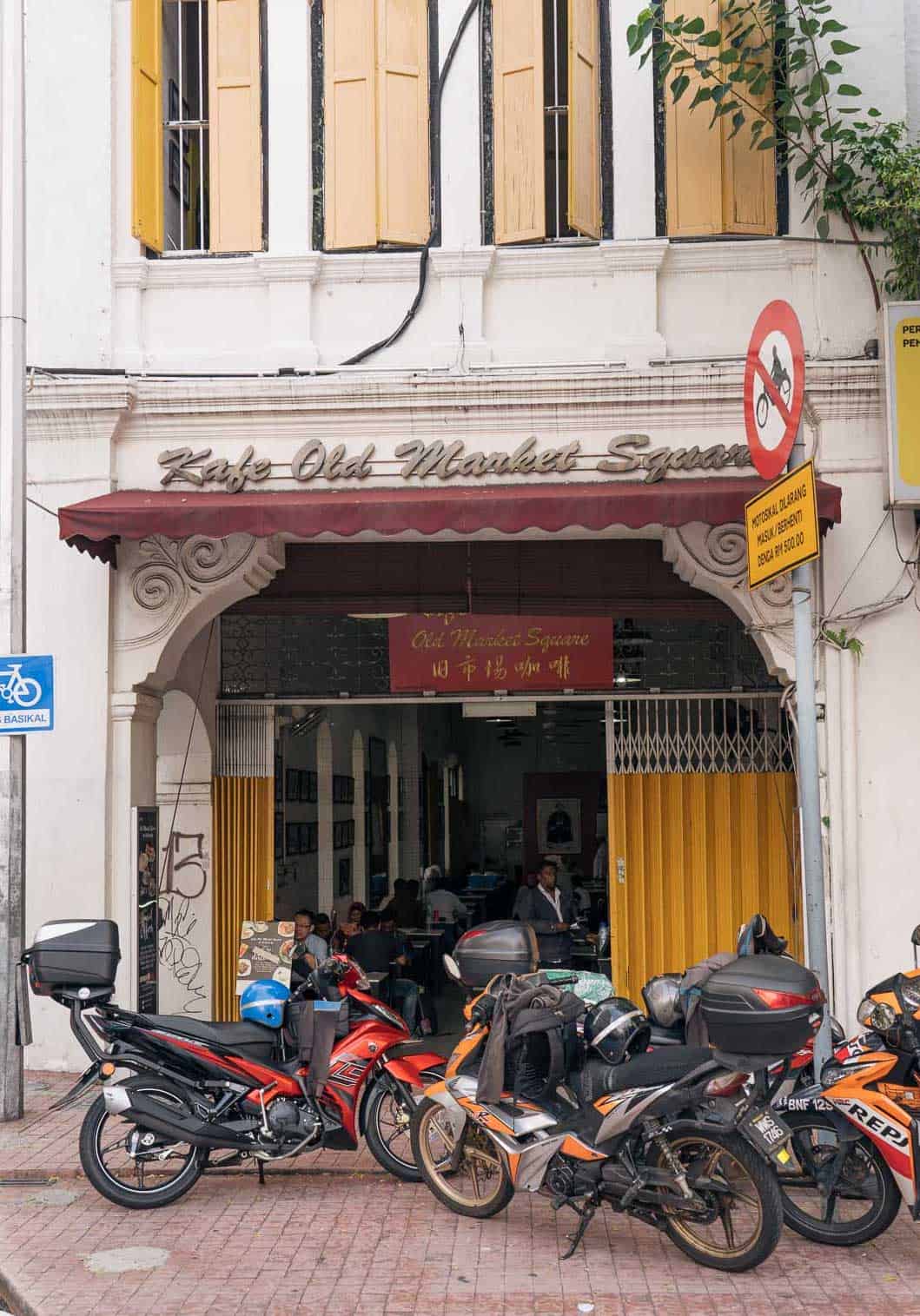 Kafe Old Market Square just opposite is likely to be the original site of the gambling den he set up. Along with brothels, it was created as a 'lifestyle' centre to keep the hard-working miners entertained, allowing them to work hard and play hard. They'd arrive nearby along the Klang and would bet their miserable earnings hoping to make a fortune.
Now, it's a popular kopitiam, that even gets the likes of Boris Johnson stopping by for a visit (seriously, this dude gets everywhere!).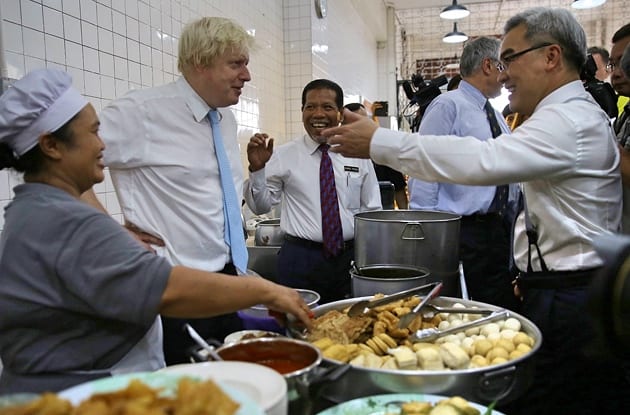 But it has to be said in respect for Yap Loy's hard work, that as well as engineering the city's vices and owning 225 prostitutes, he also set up public services such as [primitive] hospitals, prisons and the police. Even Sir Frank Swettenham complimented his strengths, saying:
"His perseverance alone, I believe, has kept the Chinese in the country…his energy and enterprise are extraordinary".
His dogged determination to develop Kuala Lumpur is why, many regard Yap Ah Loy as the founder of KL.
---
Stop 19: The Birth of KL (and view of Masjid Jamek)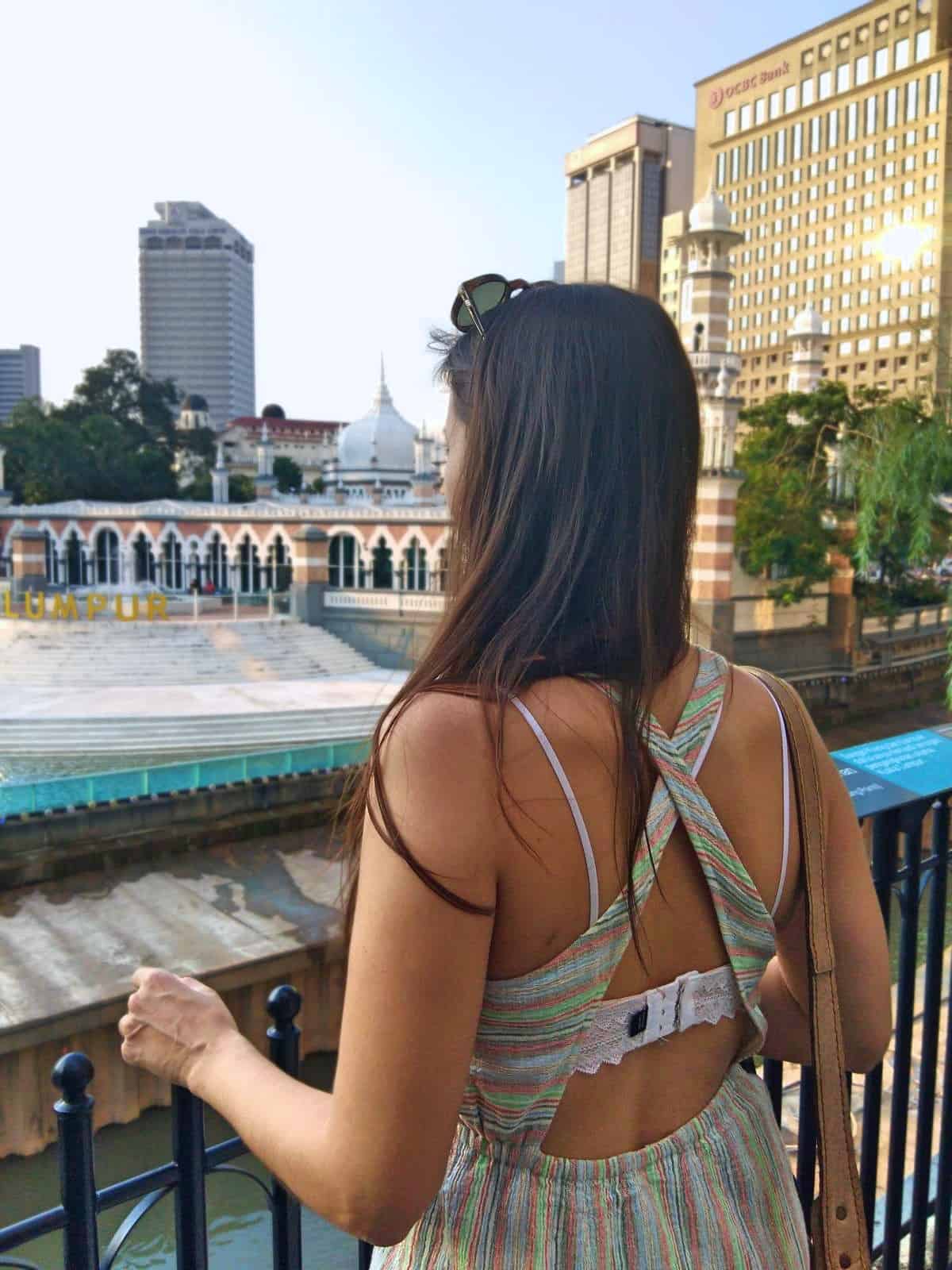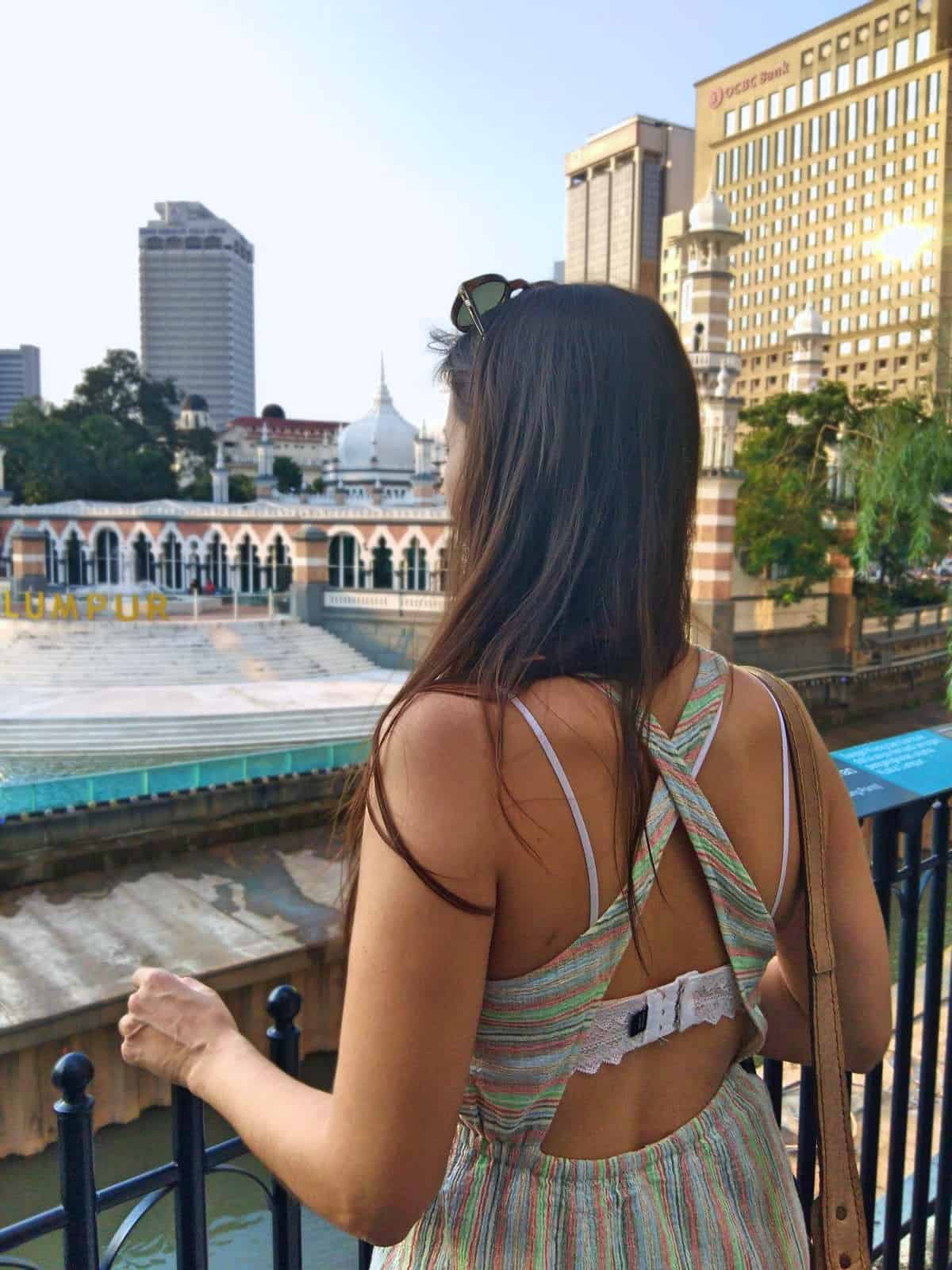 At this stop, you are witnessing KL's conception along the Gombak and Klang river.
Try to imagine the group of 87 Chinese tin miners that arrived upriver in small boats in 1857. They stopped at the confluence (where the two rivers meet) because the water was too shallow to continue, alighting [on the right] at the Klang.
In their boats were necessities like weapons for protection, including gunpowder, knives and spears, as well as tools and sustenance like sacks of rice, jars of coconut oil, spirits, tobacco and chests of opium – standard. Sadly, only 18 survived after contracting malaria.
These Chinese miners were commissioned by Raja Abdullah, who was the first Malay tin-mining pioneer. Along with Yap Ah Loy, people also regard him as the founding father of Kuala Lumpur- but whether KL's conceiver was a Malay or a Chinaman still remains a touchy subject.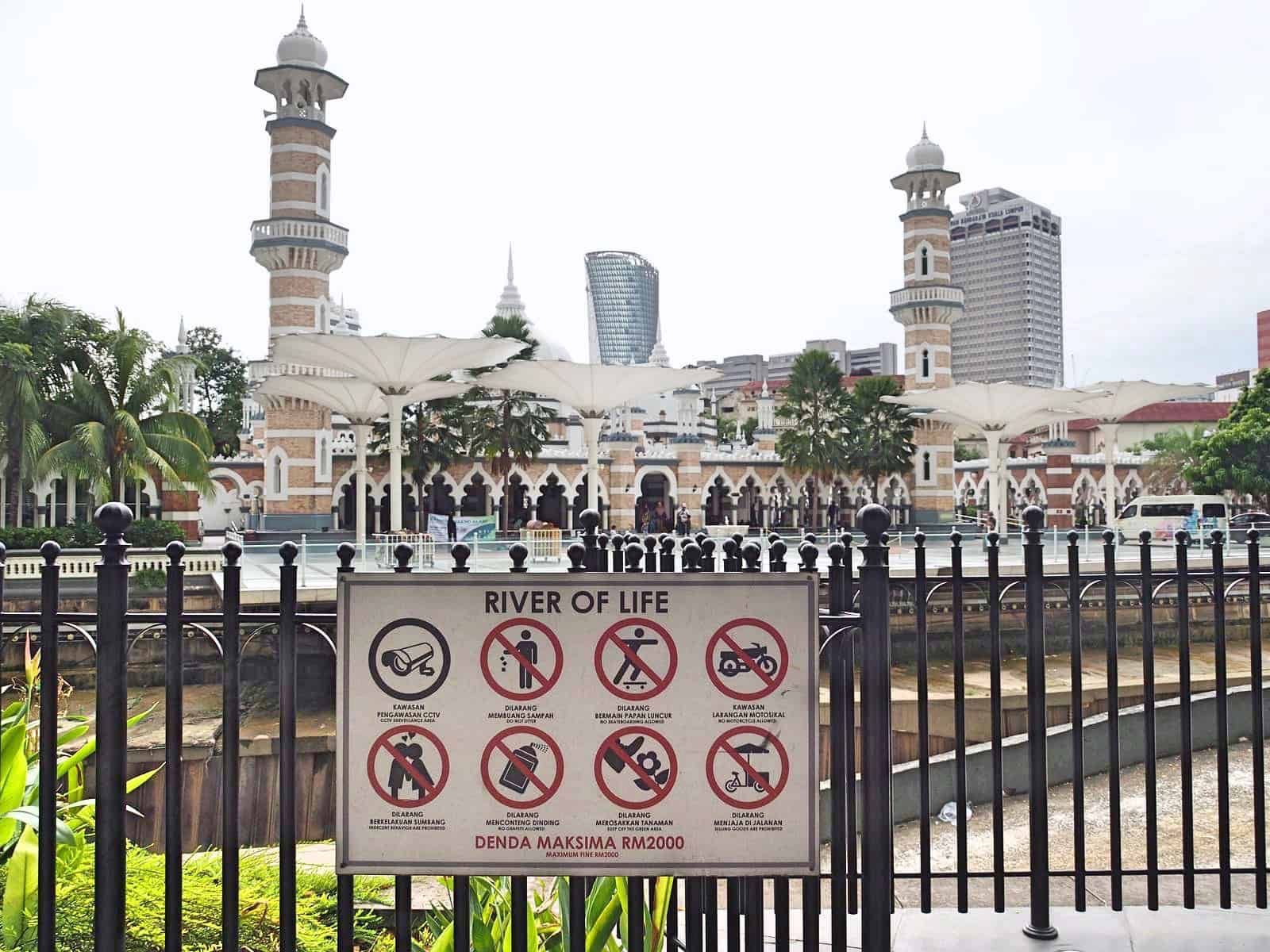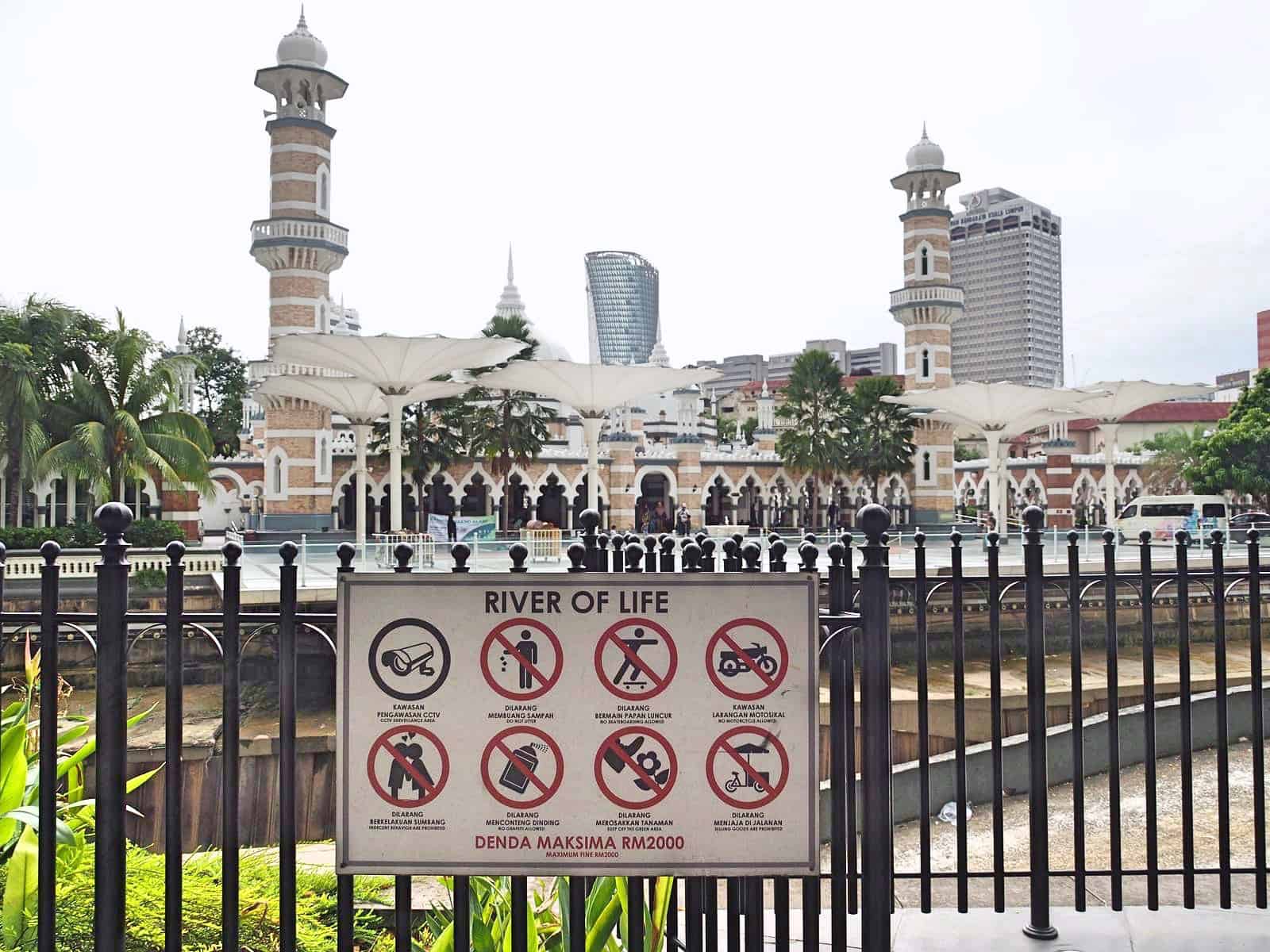 Back then, this location must of been a muddy place, as Kuala Lumpur's exact translation is 'muddle confluence'. Now along the riverbank, the site has recently been transformed into a pleasant estuary walkway through 'The River of Life' project.. an interesting name considering the water's grim appearance and a couple of dead fish I saw floating downstream.
If only Yap Ah Loy and Raja Abdullah could fast forward in time. From what was nothing but a muddy river lined with tin, jungle and potential, has- 162 years later- grown into one of Southeast Asia's most modern cities.
Do you think they would have been impressed with it?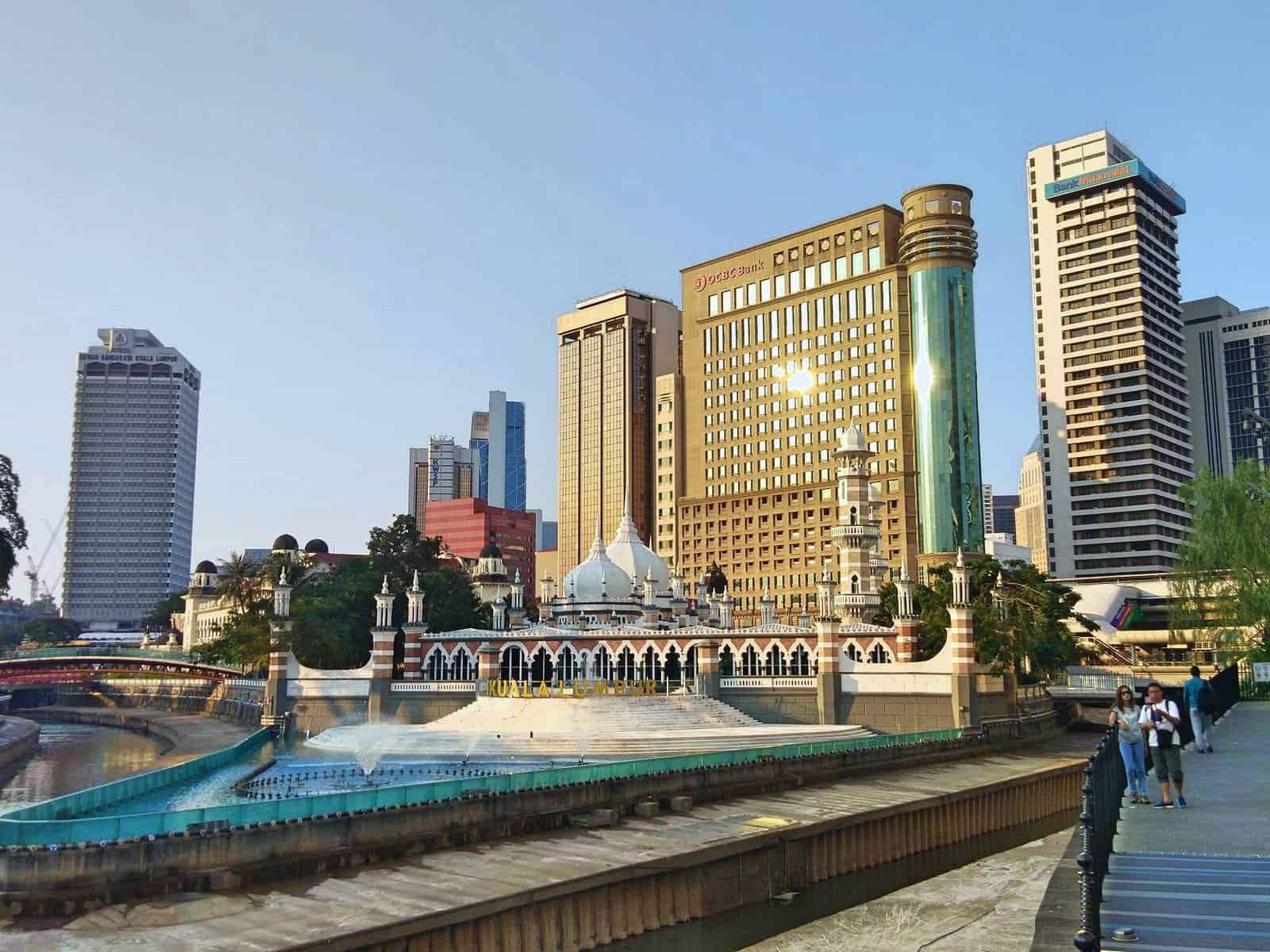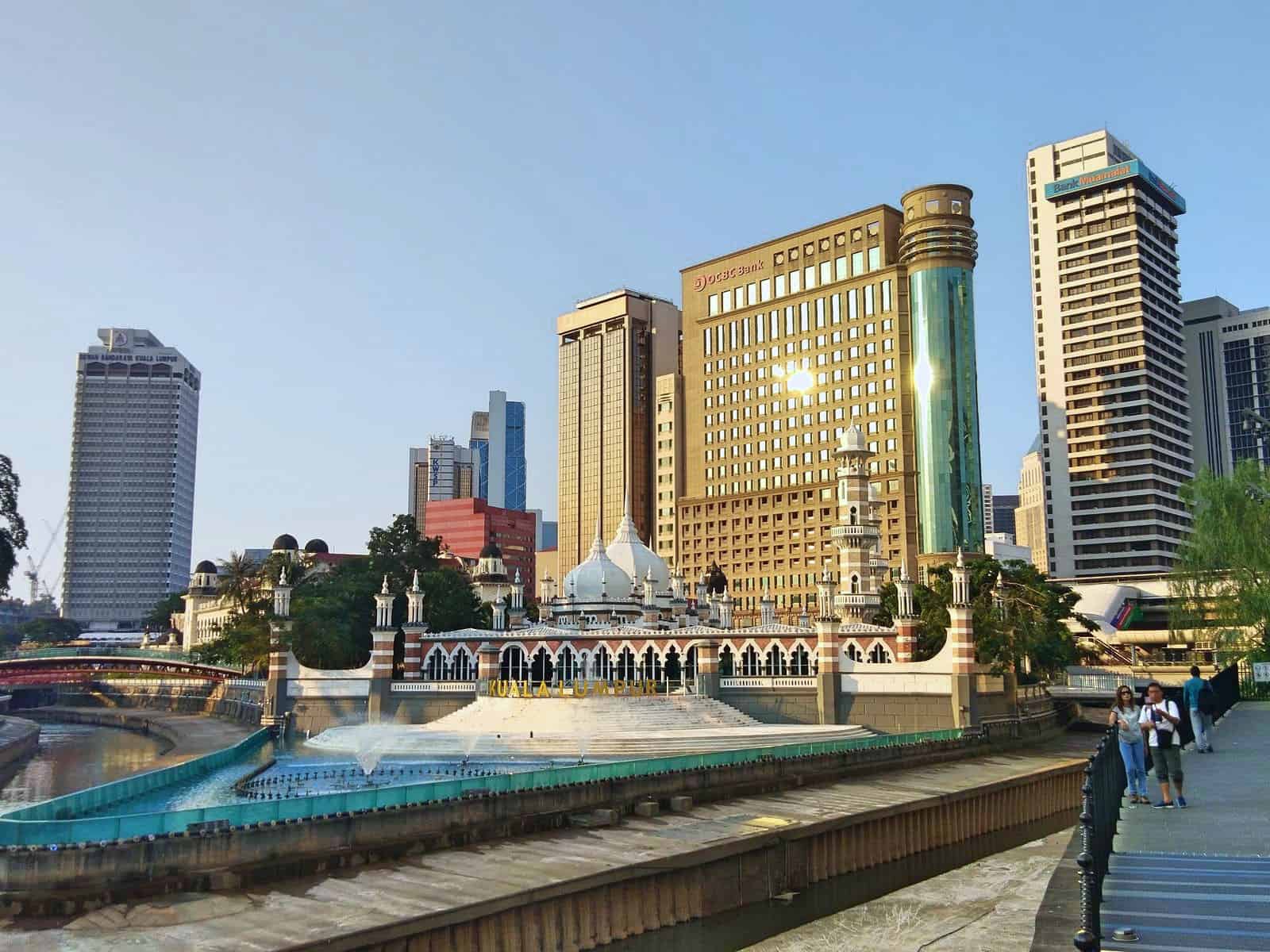 Now, the triangular site cradles the stunning Masjid Jamek mosque, whose beauty still manages to outshine the huge skyscrapers erected behind it.
You can stay on this newly built 'River of Life' route and cross the bridge around the mosque to the next stop (recommended), or continue along the blue route on My Maps.
---
Stop 20: Masjid Jamek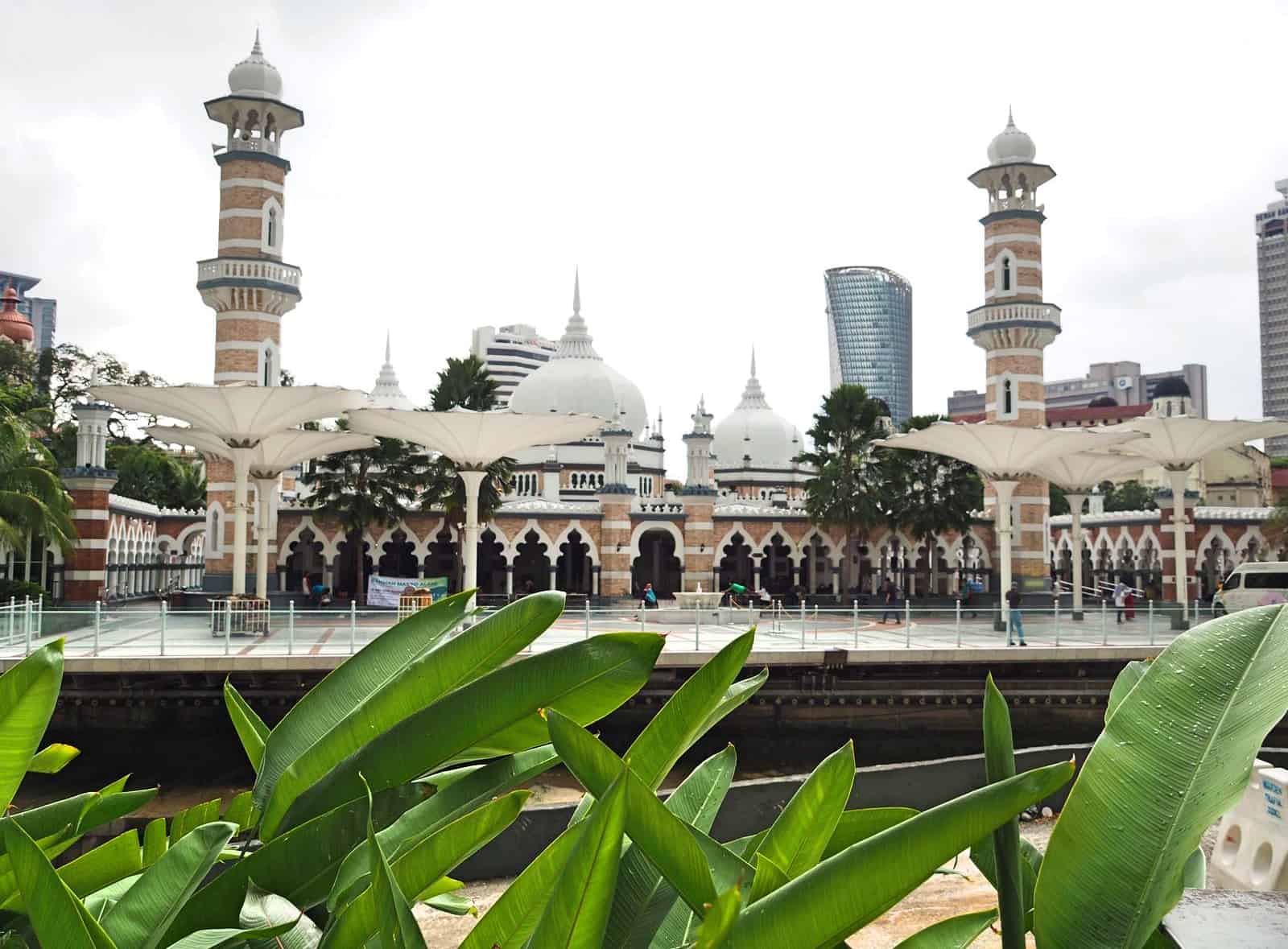 Completed in 1907, this striking place of worship was the largest mosque to be built in KL. Prior to that, the land was used as a Malay cemetery, and if you go back even further, then sources state it already housed a small settlement of tin miners from the 1820's.
The mosque was designed by British architect Arthur Benison Hubback, who is credited for at least 25 colonial buildings across Malaysia. He came to KL in 1895 just after the Brits decided to move their administration here from the Klang, for a slice of that good 'ole tin mining pie.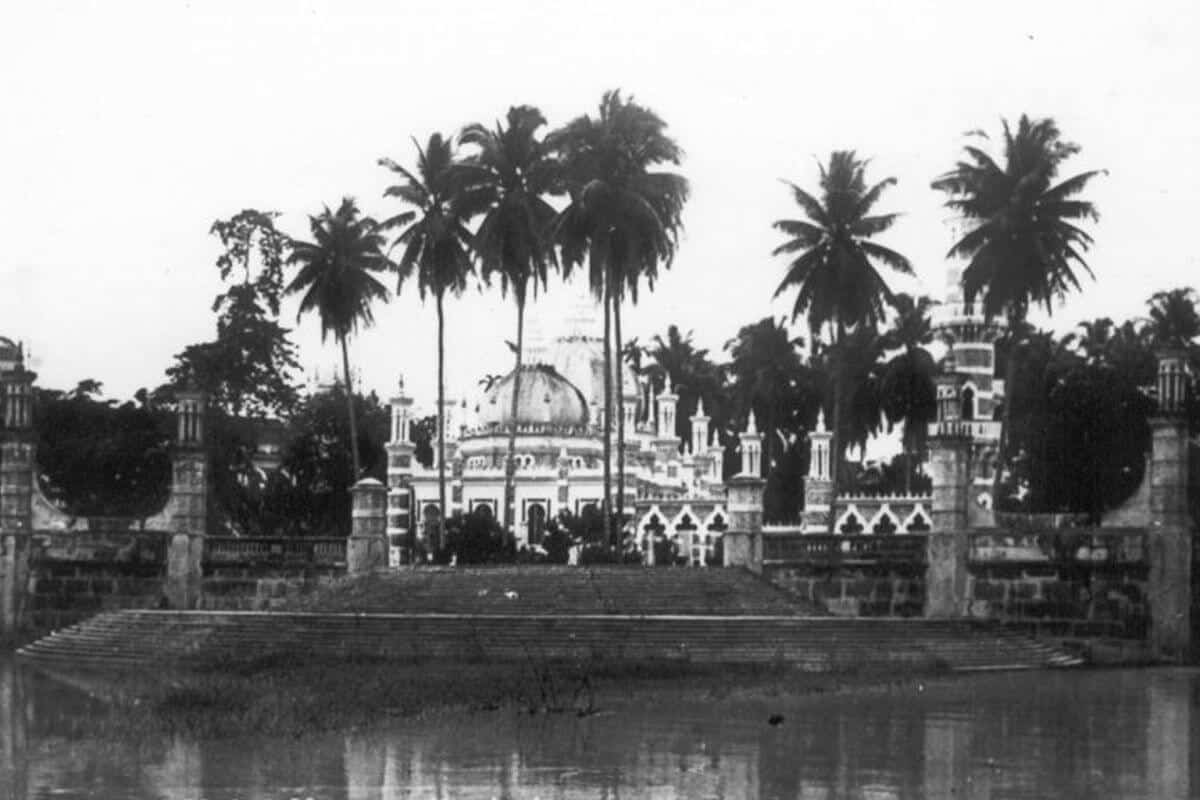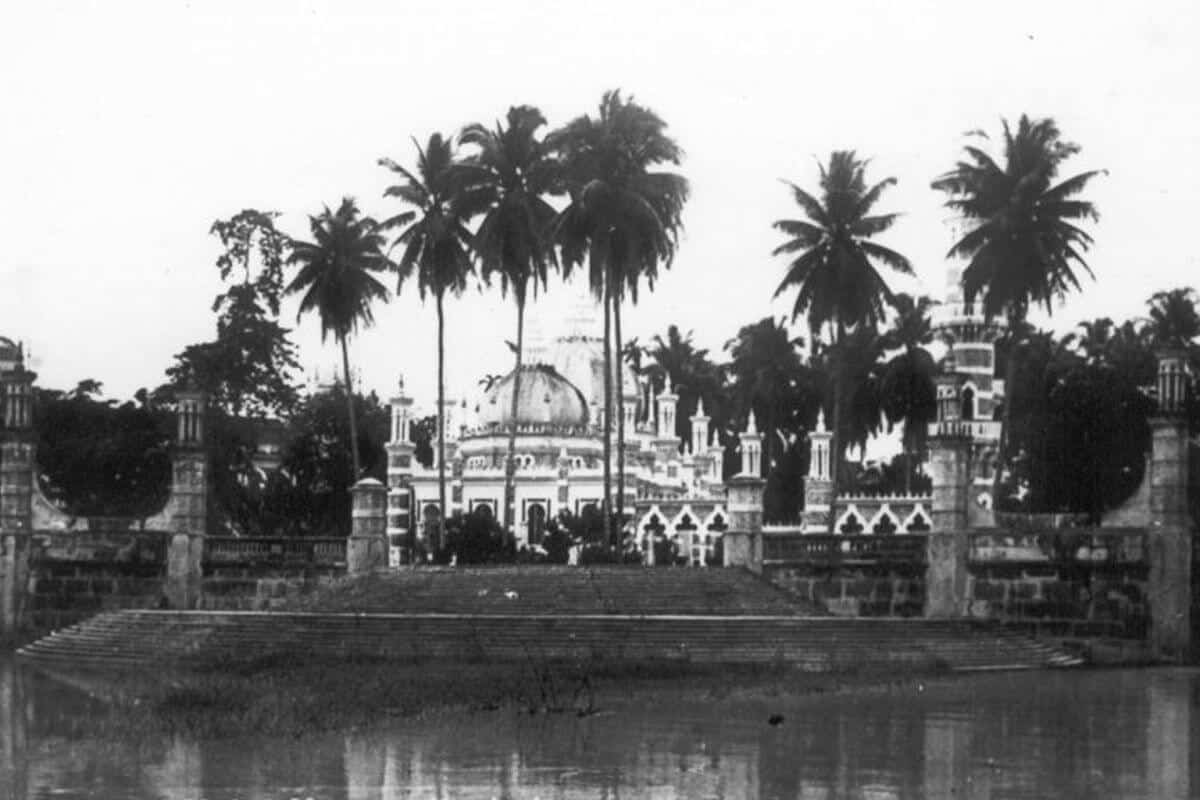 Masjid Jamek was KL's main place of worship for Muslims until the National Mosque -Masjid Negara- opened to the public in 1965. The style is a combination of islam and ancient Moorish (originating from North Africa, as well as parts of Spain and Portugal)…and I'm going to pretend I know exactly what those styles look like! 😄
When I arrived to KL in 2017 it was undergoing upgrades, but works have since finished (along with the River of Life project) and it's a pretty sight from the river bank. So reserve a few moments to take it all in.
If you want to go a step further and walk around the grounds, ladies can borrow headscarves and robes and reception, but I wouldn't go in unless you've got your shoulders and legs to your knees covered. Open for visitors: Saturday – Thursday 08:30-12:30 & 14:30-16:30.
---
Stop 21: Former Survey Office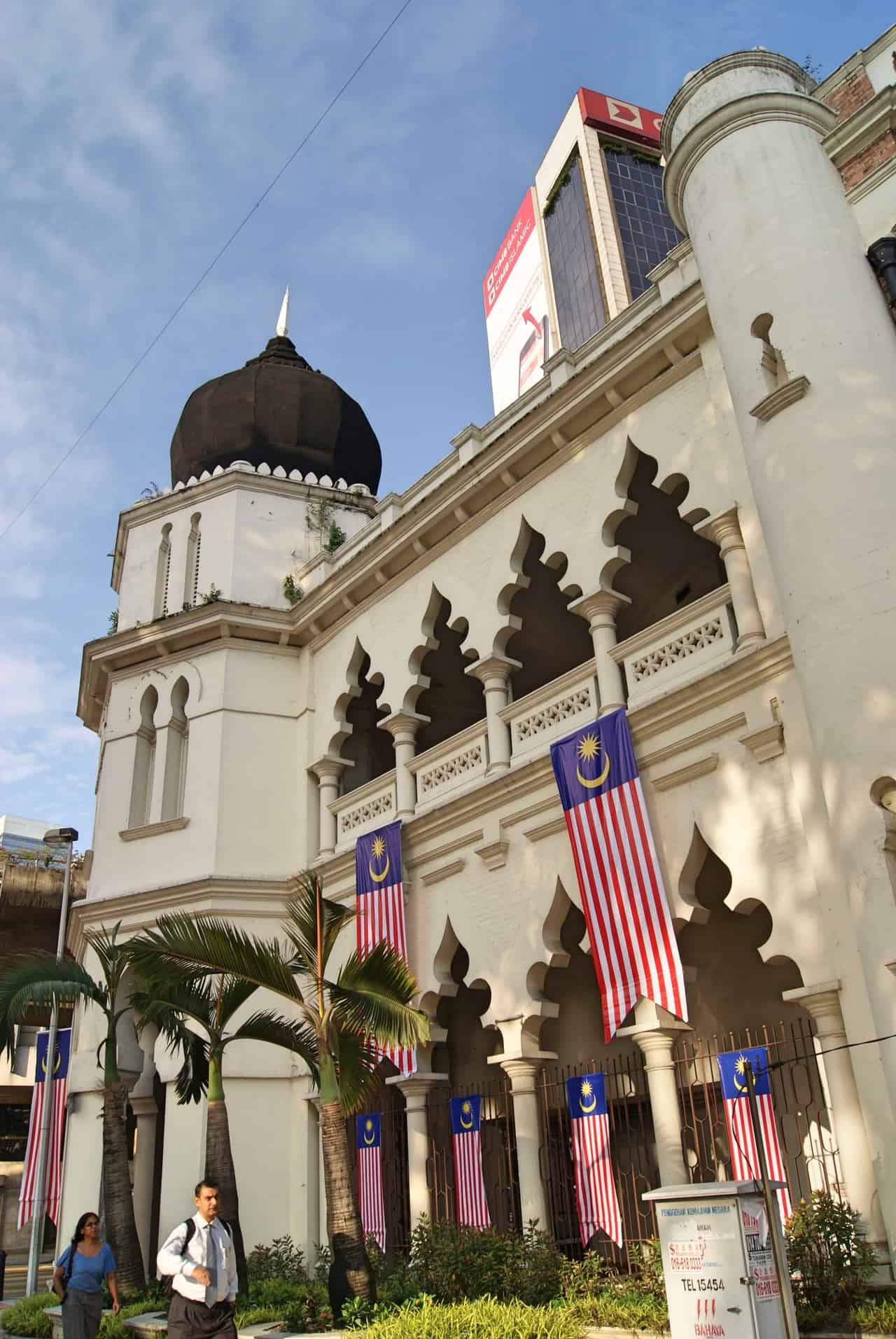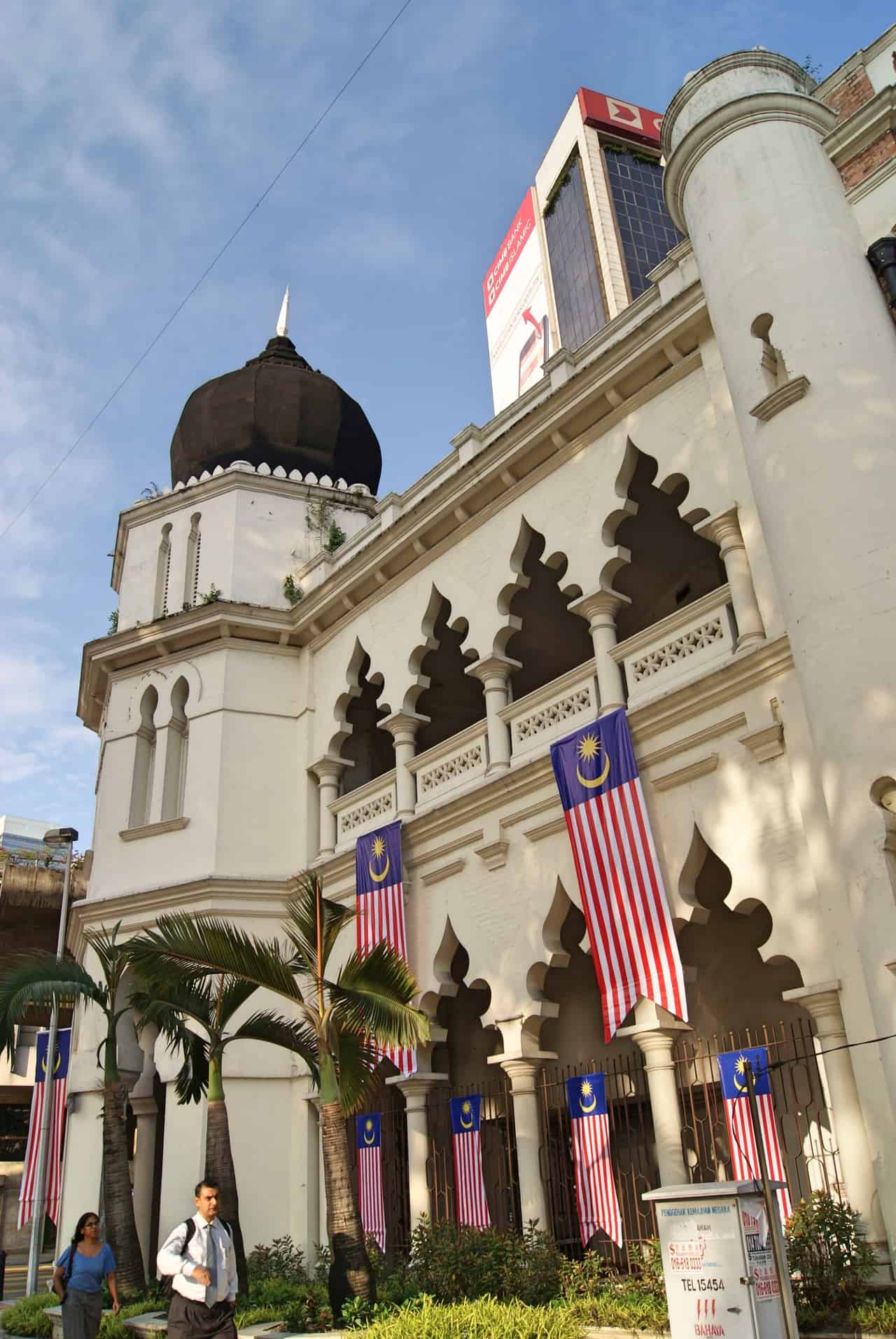 Like Masjid Jamek, this handsome structure was designed by Arthur Benison. It's the first court in a row of former government buildings that line Merdeka Square, and it functioned as a Survey Office for many years after it's 1910 completion.
In the 1980's it was then used by the old sessions & magistrates courts before they moved to Putrajaya.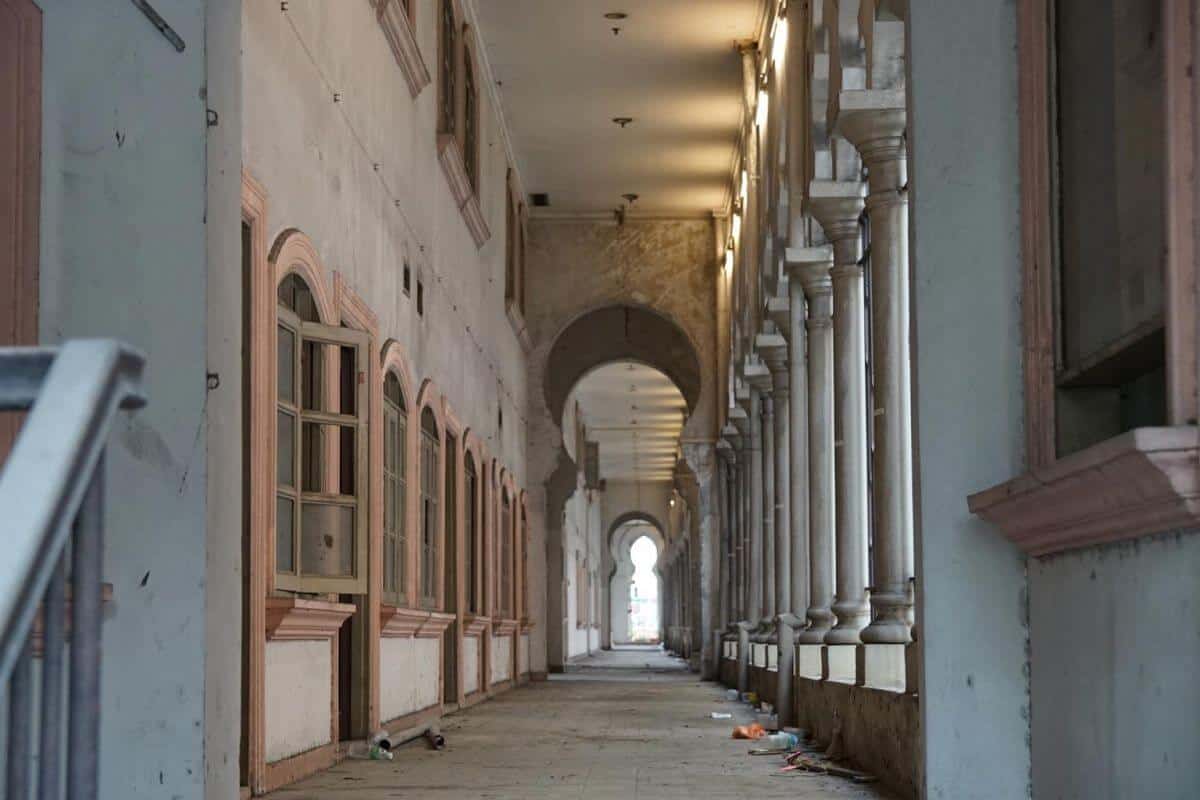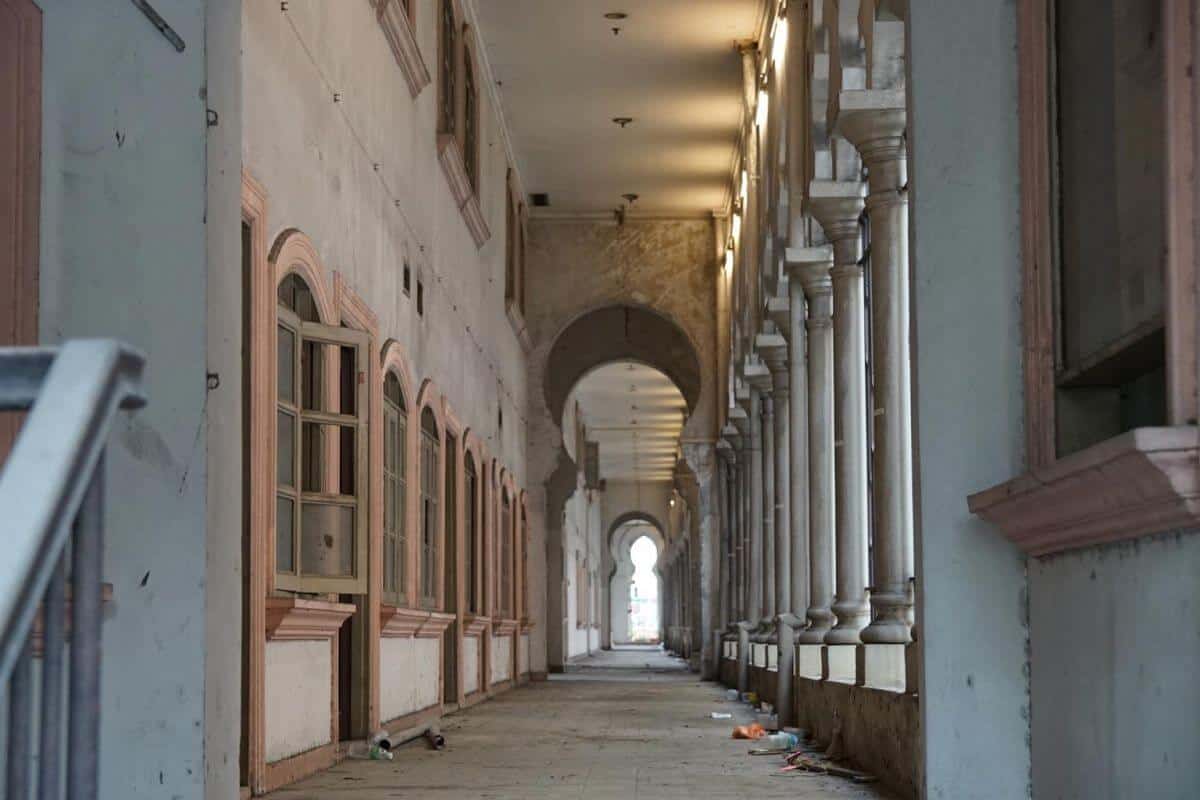 If you take a closer inspection, like many of the shophouses in Chinatown, you'll notice that the building has seen brighter days. I spotted a few broken windows, apparent mould issues and sprouting weeds. One of the dome's spires even collapsed in 2017 after a heavy spout of rain.
Jeez. If that's not a cry for help, I don't know what is.
The building now belongs to the Tourism and Culture Ministry, although judging from the state of it, they're not in a rush to move in.
I guess, properties that are easily maintained in England's temperate climate are tricky to keep fresh in Malaysia's tropical weather. But surely a better job can be done in maintaining the city's heritage listed buildings, right KL?
---
Stop 22: Old City Hall (Now: Panggung Bandaraya or 'City Theatre')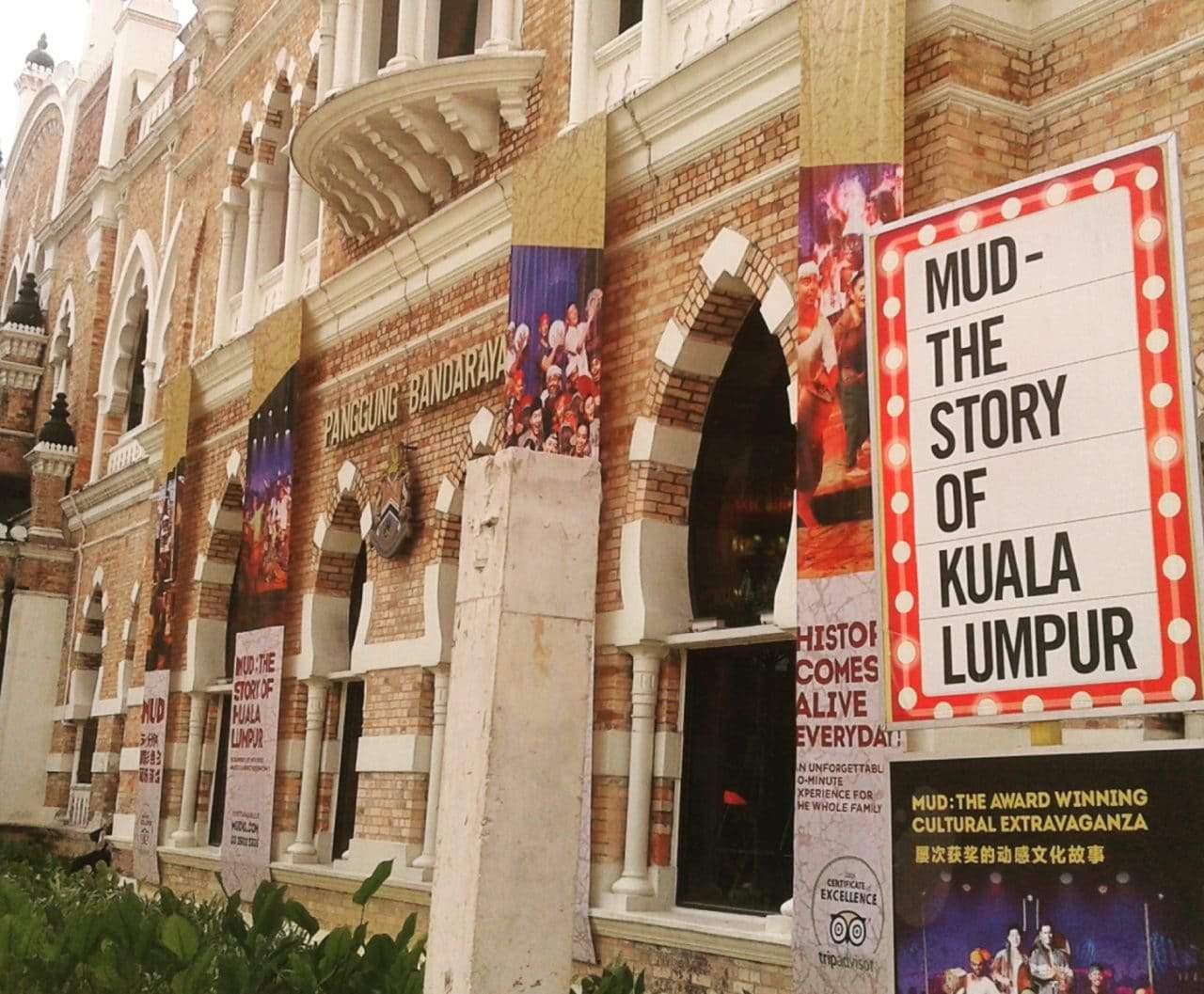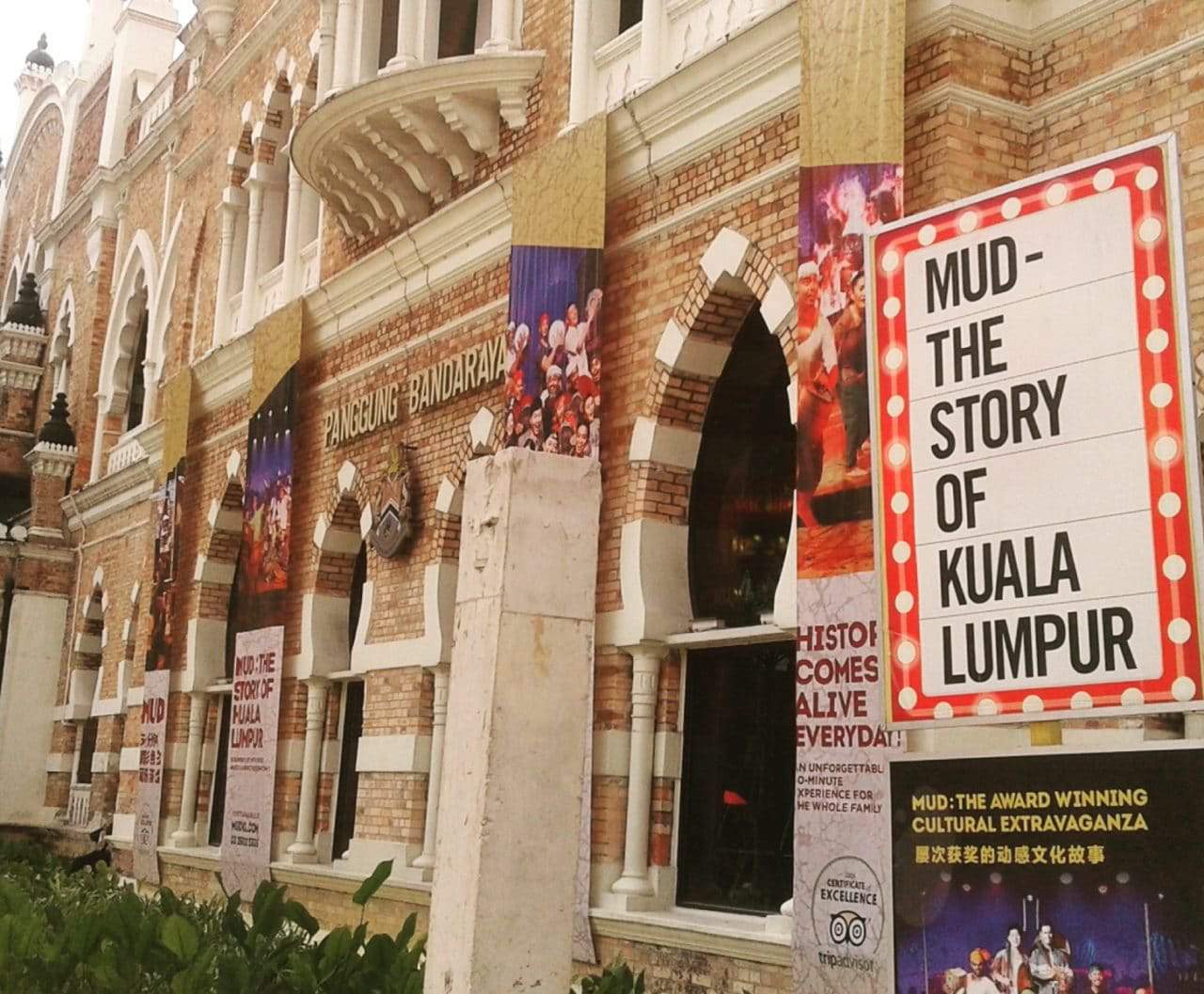 Built in 1904, this heritage listed theatre hall is yet another foxy Arthur Benison creation.
It acted as a 'buy one, get one free' building, used to house municipal offices and act as a town hall for KL's high society. Back in the glory days, it once held lavish dances and plays on stage.
The exterior you see today is still the original facade, although the interior has been completely remodelled since a major fire destroyed it in '92. Thankfully, this one didn't get left to rot and City Hall restored it soon after, giving it a thorough revamp.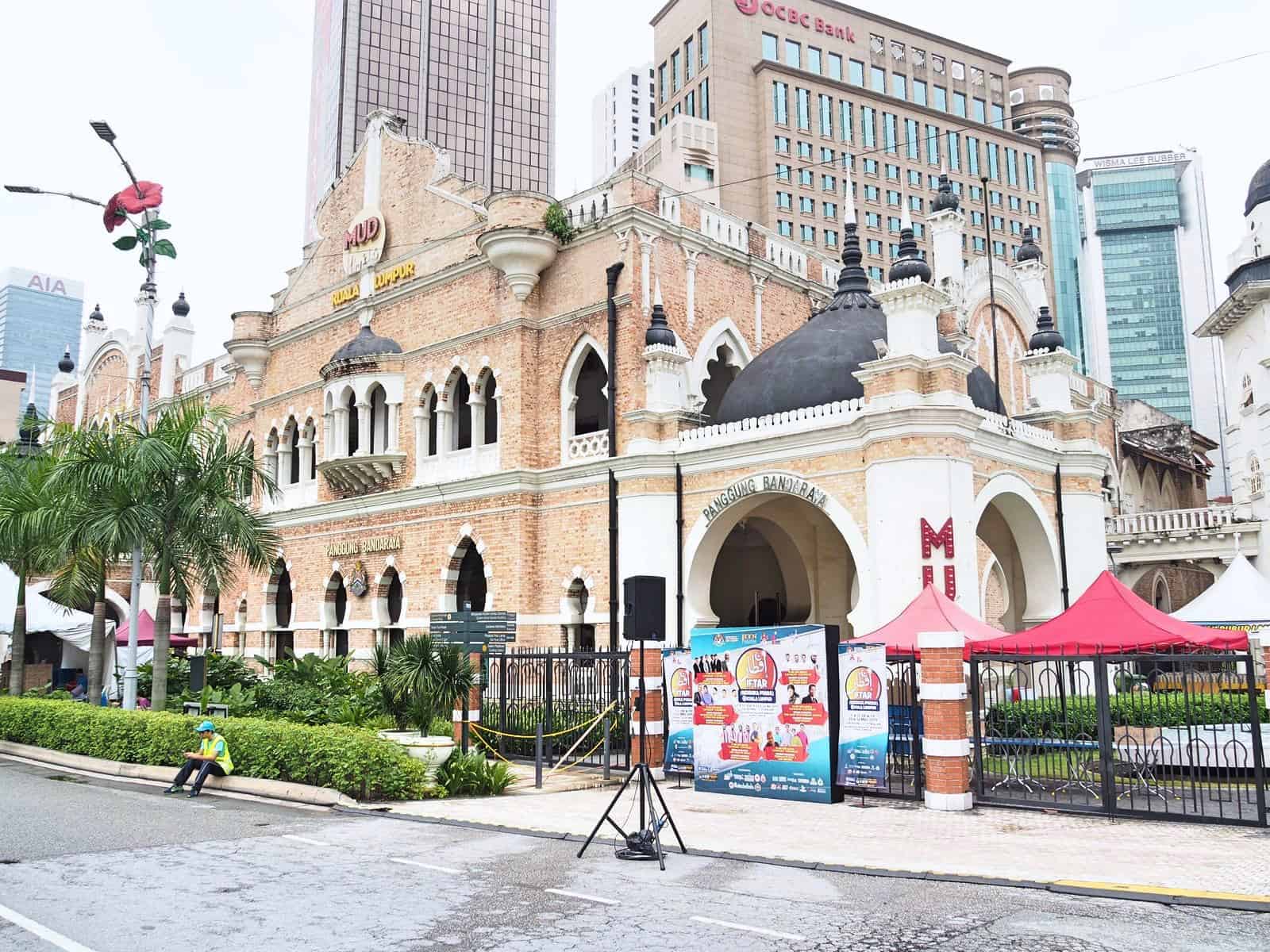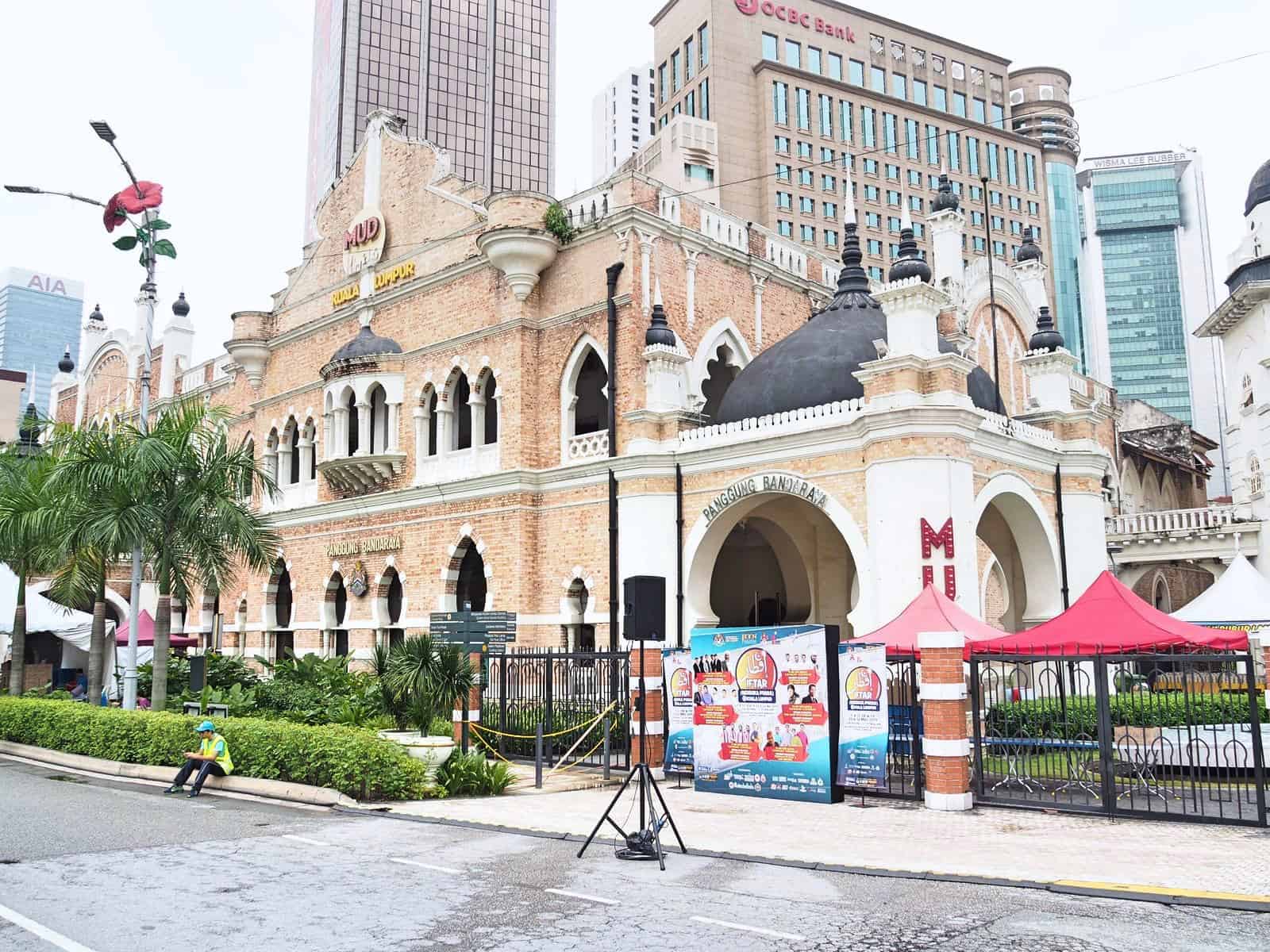 Later the building was rebranded as Panggung Bandaraya DBKL in 2003.
It's still a venue for performances and was taken over by the musical 'Mud – the story of Kuala Lumpur' from 2014-2017, as well as staging Malaysian Idol and So You Think You Can Dance.
Although, waiting for a performance here is like waiting for paint to dry. As far as I know, over the past two years I was in KL, there wasn't a single public performance. Let's just say it's not as busy as London's West End!
---
Stop 23: Former High Court Building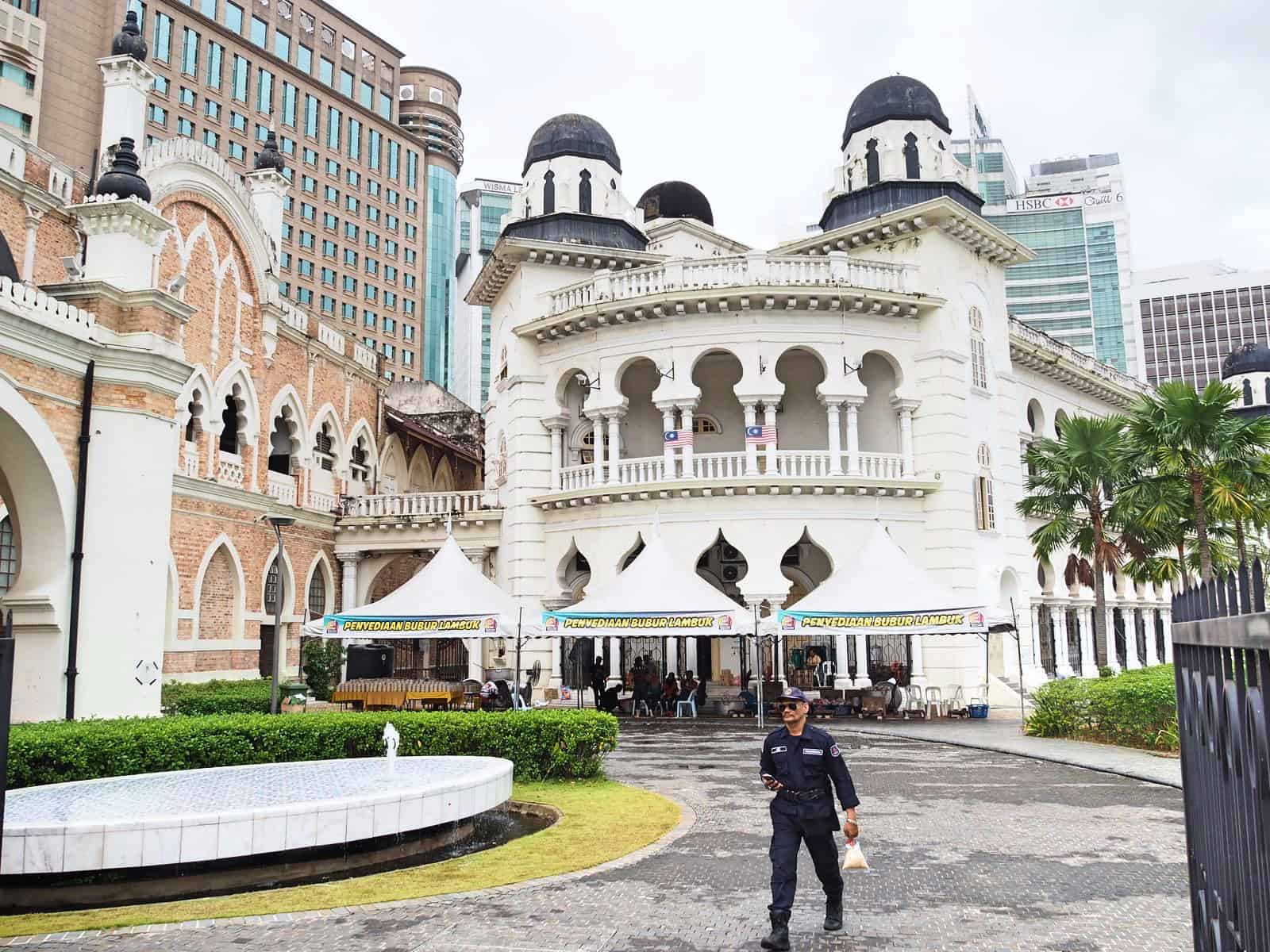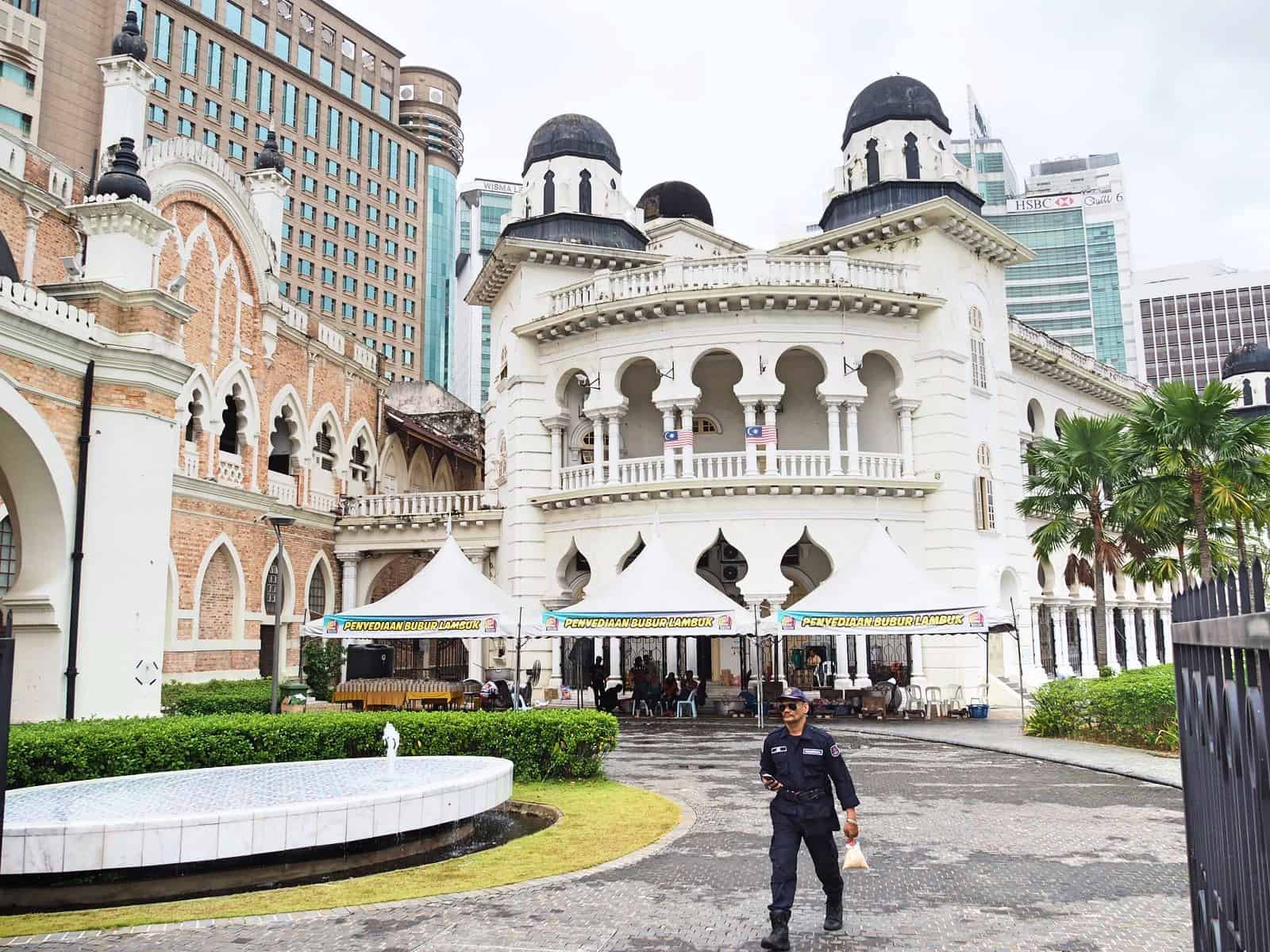 Built in 1915, the former High Court building was designed by another major colonial architect – A.C. Norman (who was, surprisingly, also called Arthur!)
As KL's population was growing rapidly at the time and the number of civil trials increased, the initial High Court building was no longer suited for purpose and so this one was erected on the Gombak riverbank.
I'm not sure when it stopped functioning as a high court, but in 2014 there were talks of it becoming a gallery. Now, this 104 year-old-building is occupied by the Ministry of Information, Communications and Culture, whom also occupy the Sultan Abdul Samed building next-door. Nice offices eh.
---
Stop 24: Sultan Abdul Samad Building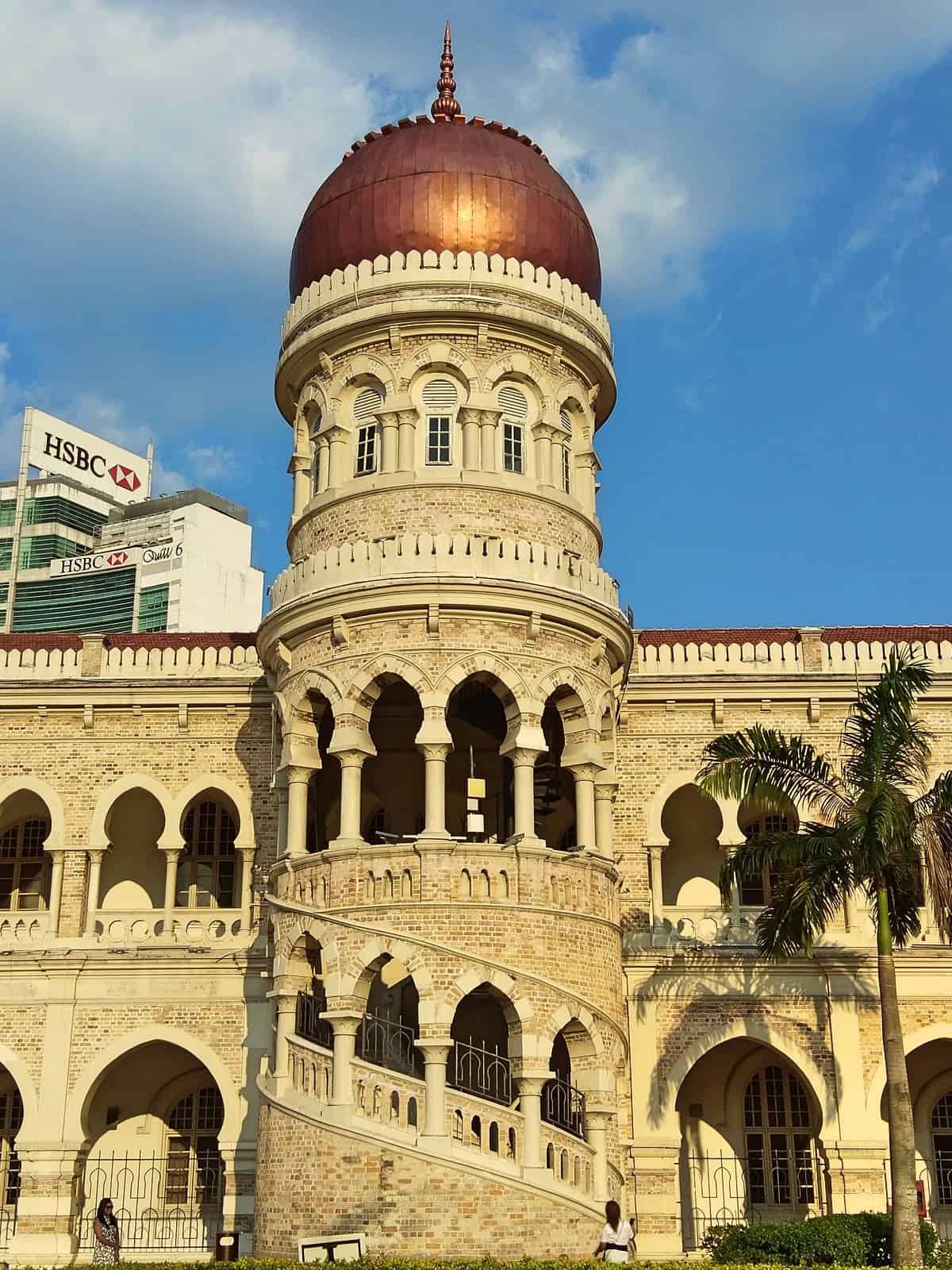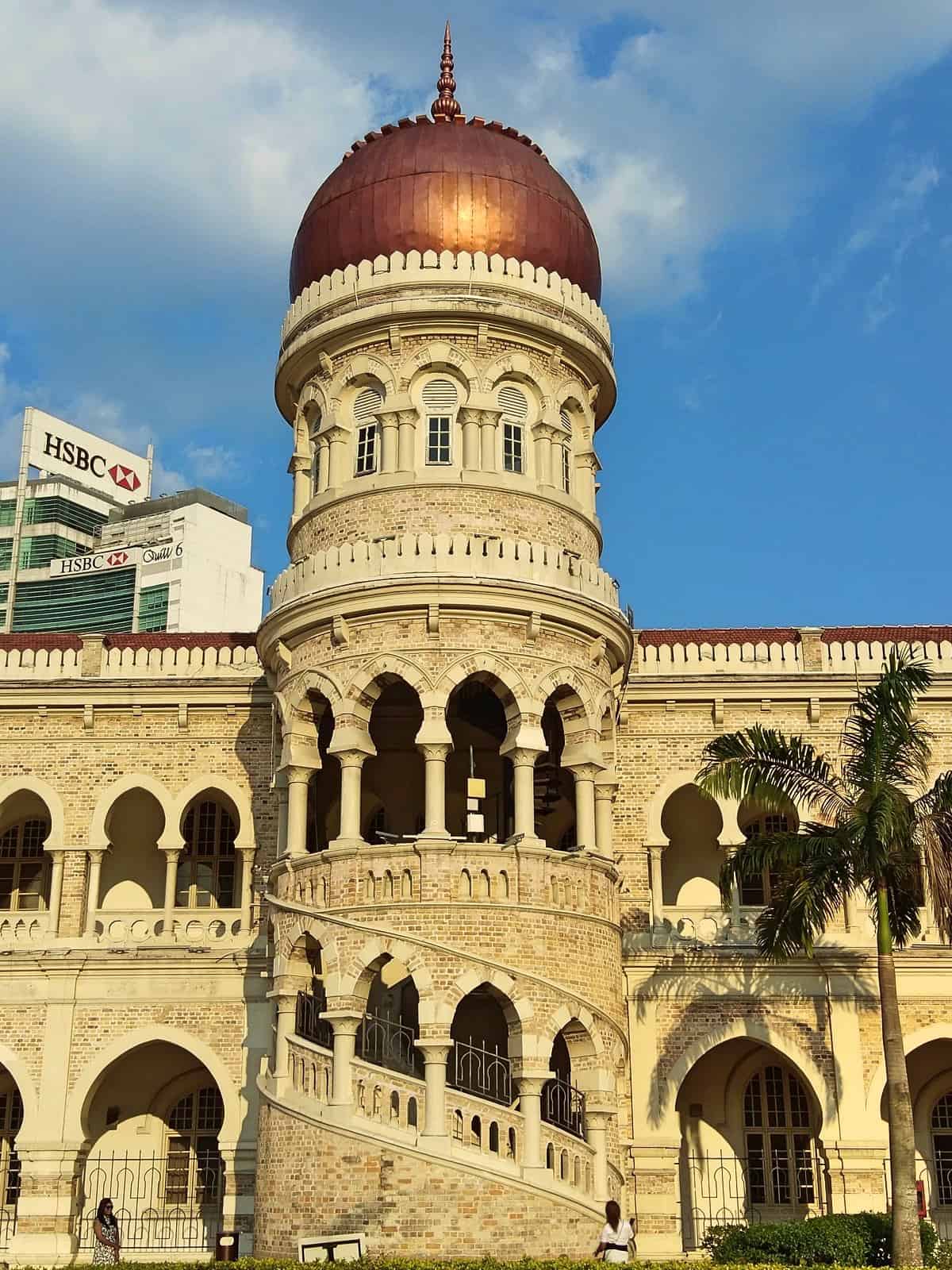 What a beauty.
Although the Petronas Towers gets all the Insta-hype these days, this little stunner was the most photographed until it showed up. It's undoubtedly the most striking structure in Old KL, would you agree?
Built in 1897, the Sultan Abdul Samad Building (let's call it SASB) was again design by A.C. Norman. It was his masterpiece.
SASB features Islamic and Moorish inspired architecture, with red bricks that were made in kilns in Brickfields – hence its name.
The grand, 122-year-old clock was designed to resemble London's Big Ben, and was built in Croydon, England (hey, my old stomping ground!). But it takes a lot to maintain the antique timepiece theses days, requiring four Malaysians to volunteer daily to work on its upkeep.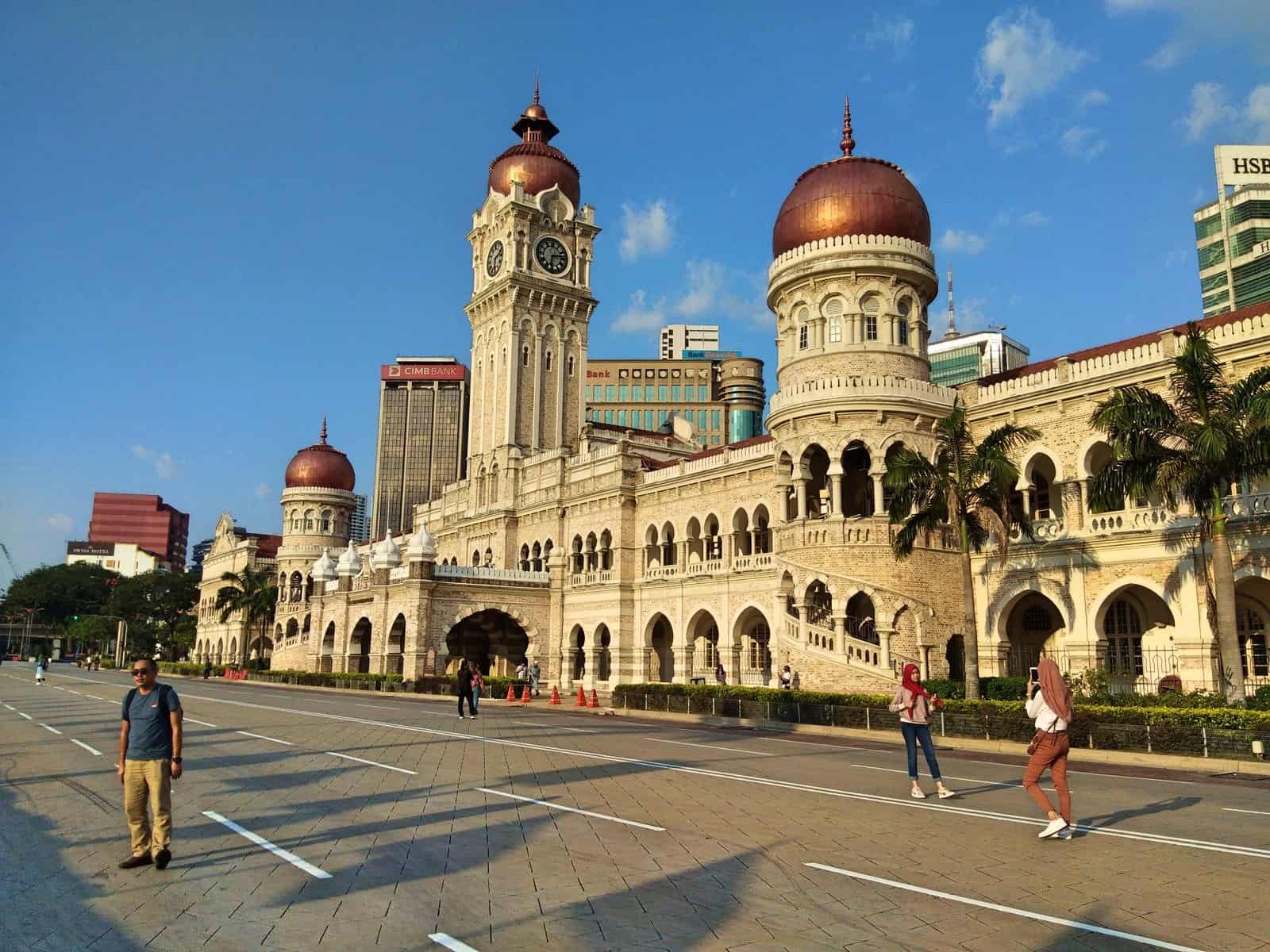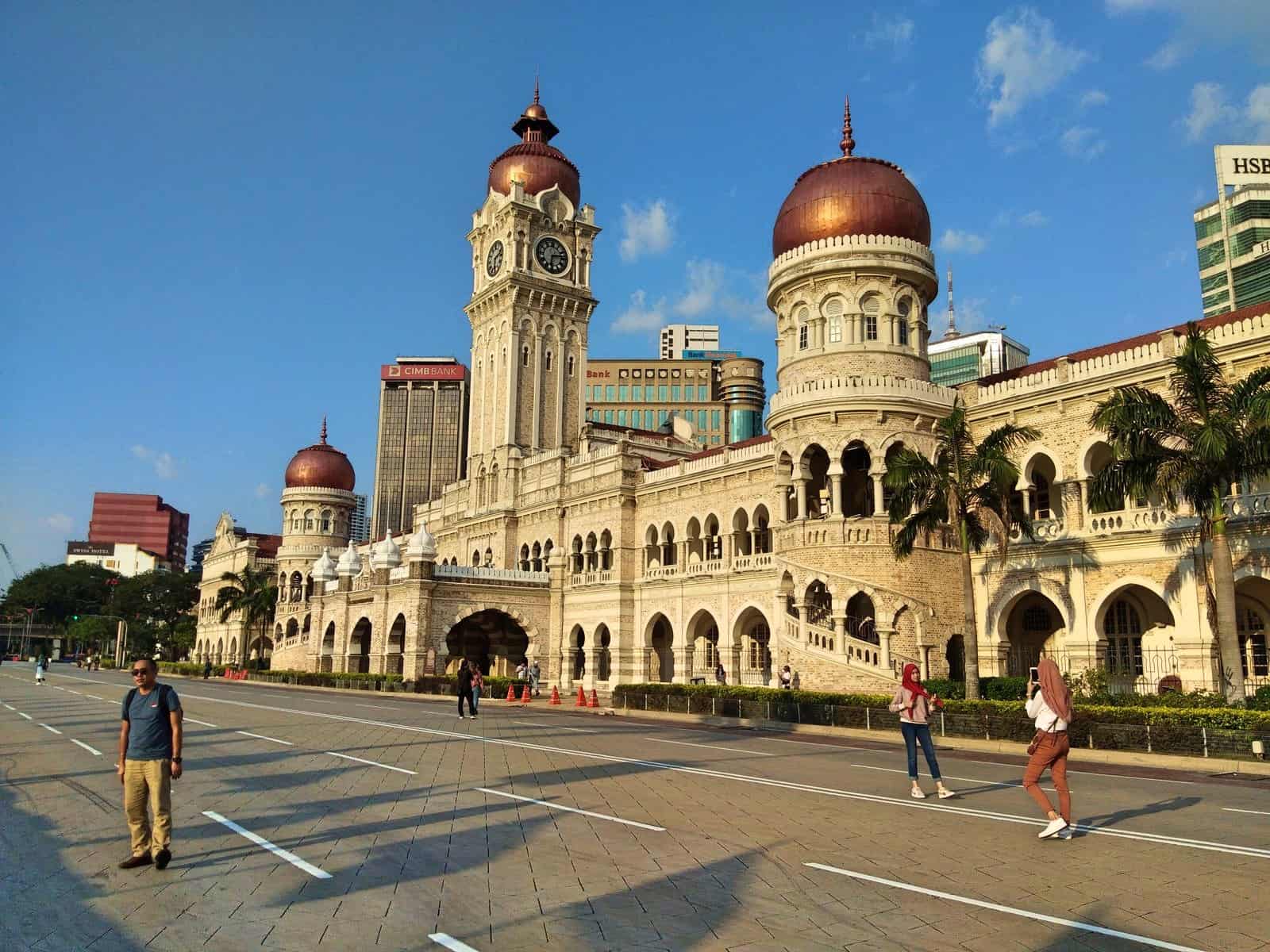 Like the Former Survey Building, prior to 2017, SASB was in need of urgent upgrades, with 'algae and plants growing in the crevices' according to the Malay Mail.
Thankfully, the government has since pledged $350 million to renovate this building (and 3 others nearby) to get it back to its former glory days.
SASBs used to be called Government Offices and over the years there were many governmental departments that moved in (including a registry office). Then from '78 it functioned on-and-off as a High Court and Supreme Court, until they shifted elsewhere in the early 2000s.
In '74 it was renamed to SASB after the Sultan of Selangor, as he reigned during its completion.
Now, it's occupied by the Ministry of Information, Communications & Culture, who must be in somebody's good books to have cherry-picked this babe.
---
Stop 25: Old General Post Office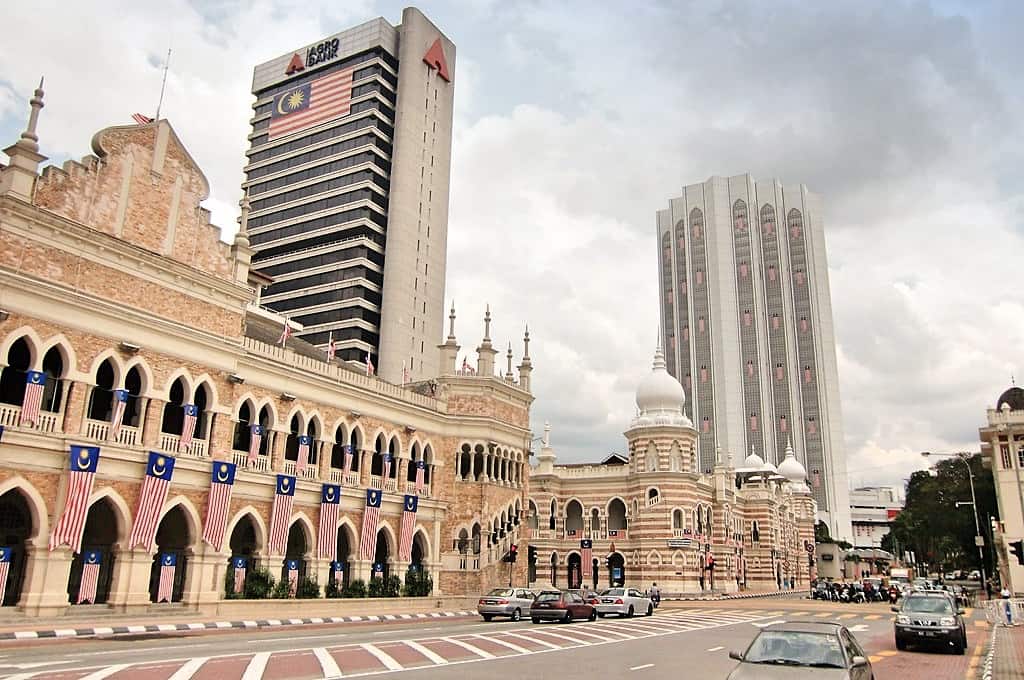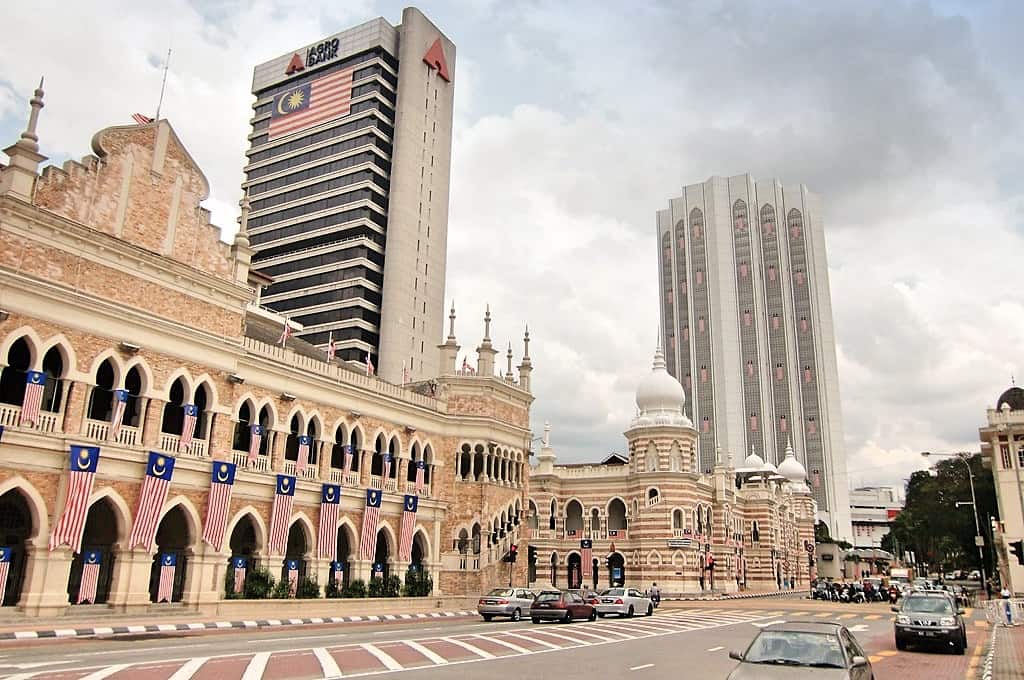 Completed in 1907, this is [yet] another AC Norman creation, designed in a similar style to the Sultan Abdul Samad building.
The Kuala Lumpur General Post Office was housed here until it moved in '84, and now it's occupied by the Court of Appeal.
---
Stop 26: National Textile Museum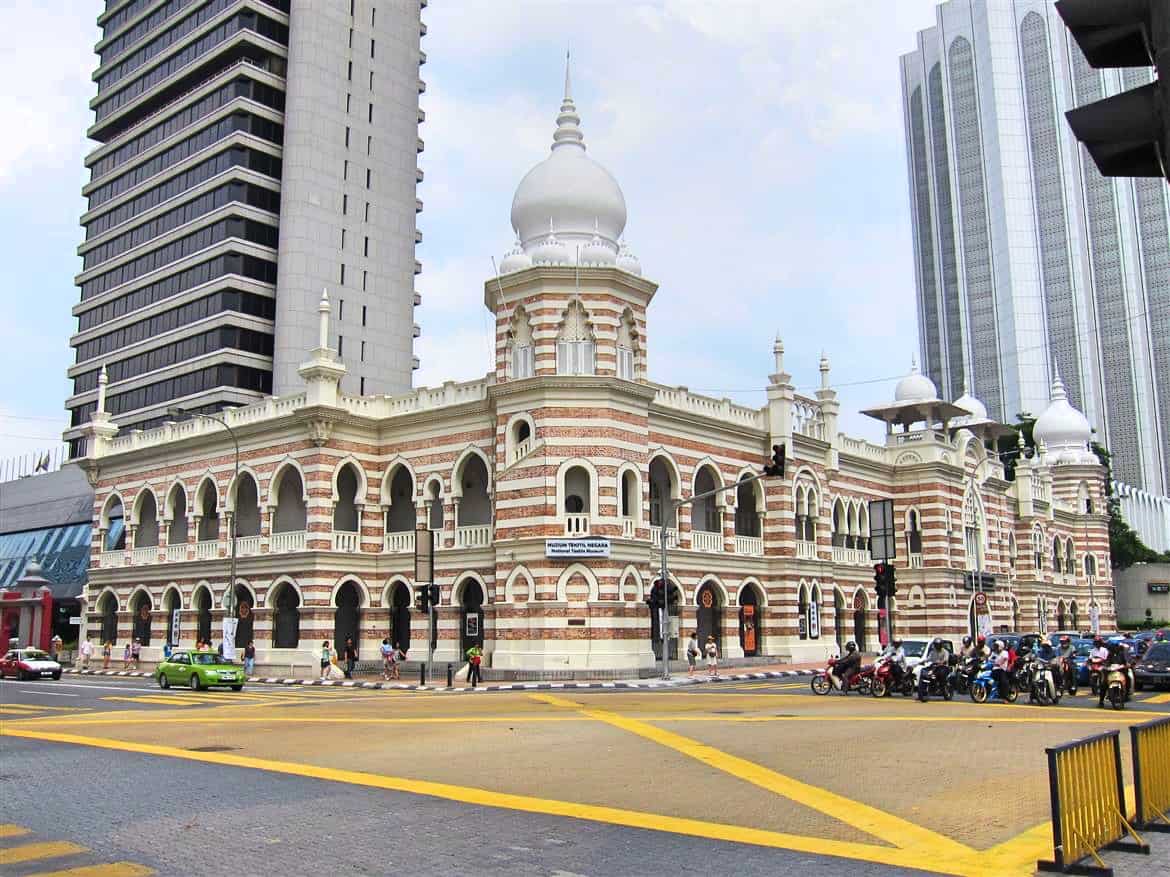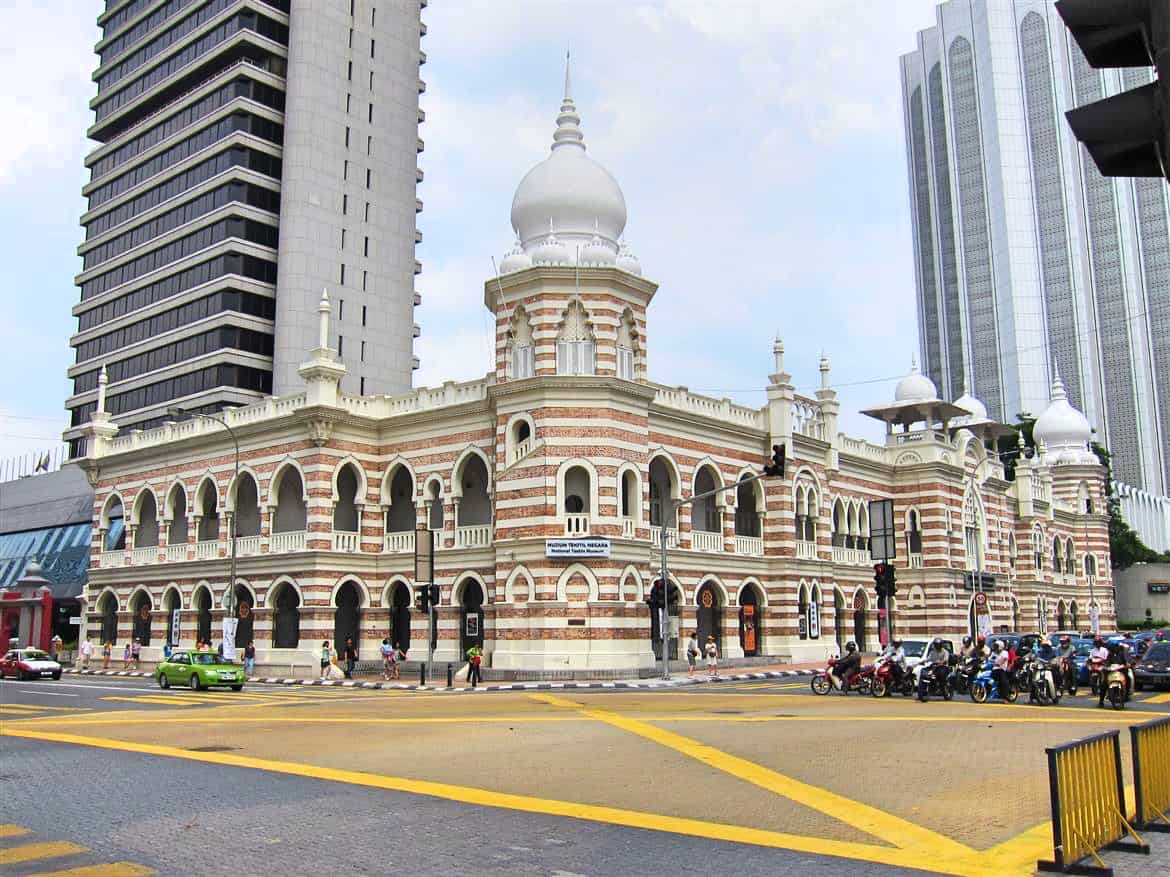 This grand Arthur Benison design was built in 1896, and used to house the headquarters of the Federated Malay States Railways. It was later occupied by various government departments before being refurbished as a textile museum, which opened to the public in 2010.
Textile museums may not sound like the world's most exciting place, but it's meant to be one of the better museums in KL -plus- it provides a bit of respite from the heat if you fancy taking a look!
There are four galleries that can be found within the two-storey block which give you an insight into how batik is made. You can also learn about woodblock printing techniques and see samples of fabric made from pineapple fibre. It opens daily from 9am to 6pm.
---
Stop 27: Old Chartered Bank Building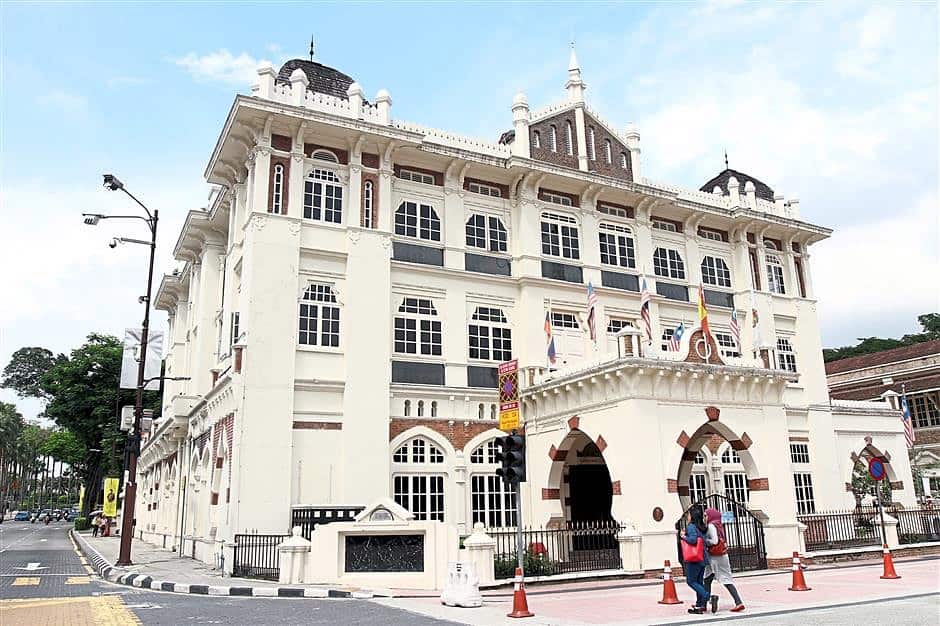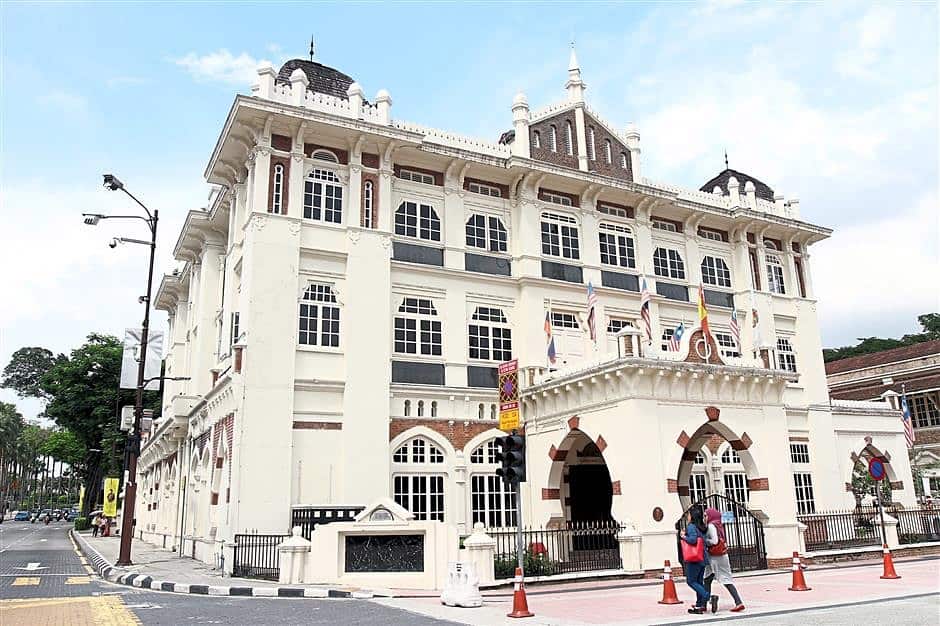 This was the first bank to operate in Kuala Lumpur, but in reality, it's going through one huge identity crisis.
Built in 1919, it operated as the Chartered Bank of India, Australia and China before being used by the Japanese as a telecommunication base during the Second World War.
After 1945 it functioned as a commercial bank until '65, where it was used by various governmental departments.
Then in '91, it was handed over to the Department of Museums and Antiquities to be used as the National History Museum, followed by a short stint as a restaurant. Finally, it reopened as a Music Museum in 2015 before abruptly closing two years later due to a 'lack of funds'.
The poor thing just doesn't know what it wants to be.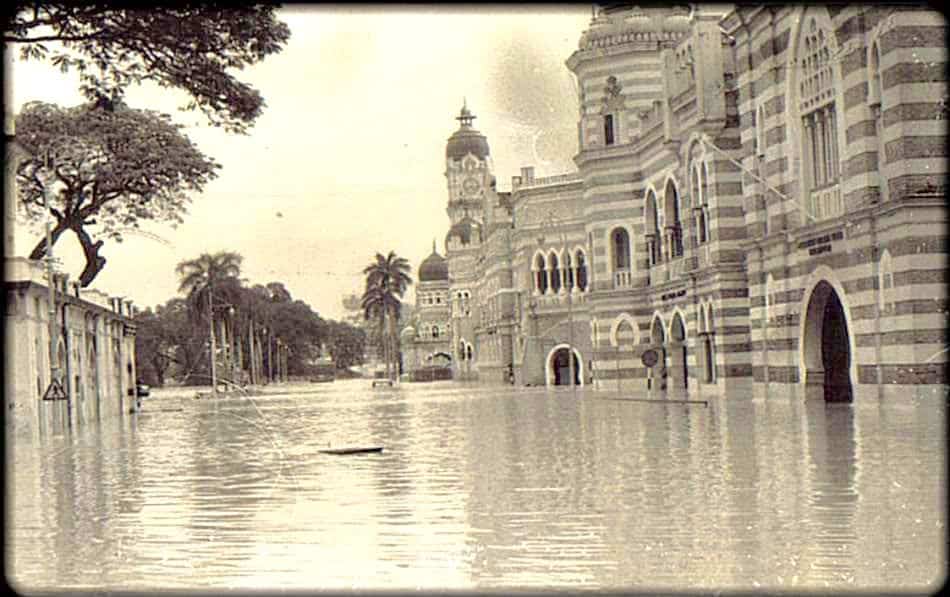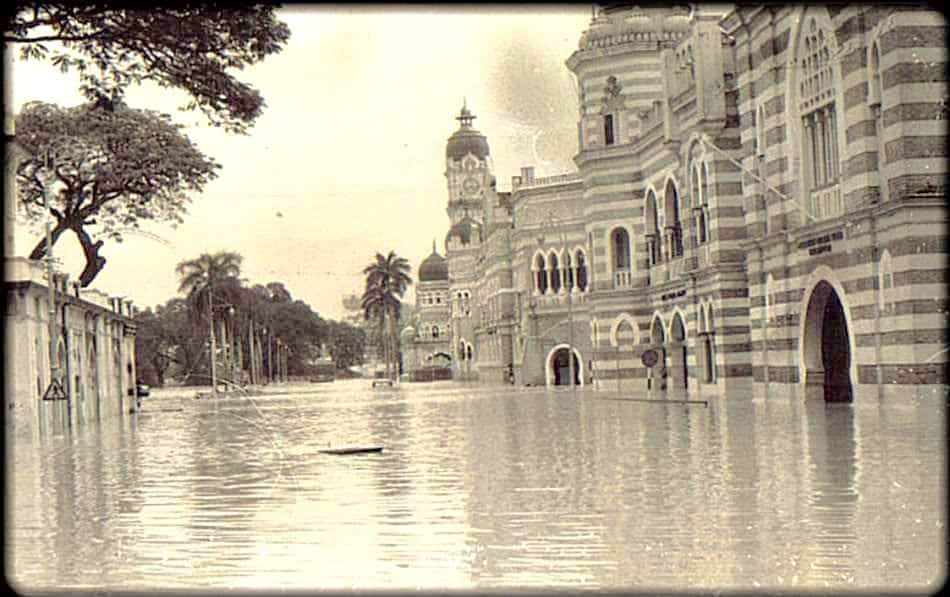 The most famous story about this bank was when its vault was submerged in water during a ridiculous flood in 1926. Despite workers trying to cement it dry, the basement was completely flooded out. Let's just say the money got a little bit saturated.
So what do you do when millions of dollars of banknotes get wet? Just take a look behind you at that huge field, laying in the heat of the Malaysian sun.
Yes my friends, all the banknotes were left to dry on it! Could you imagine seeing it now? What a spectacle.
---
Stop 28: Old Government Printing Office (City Gallery)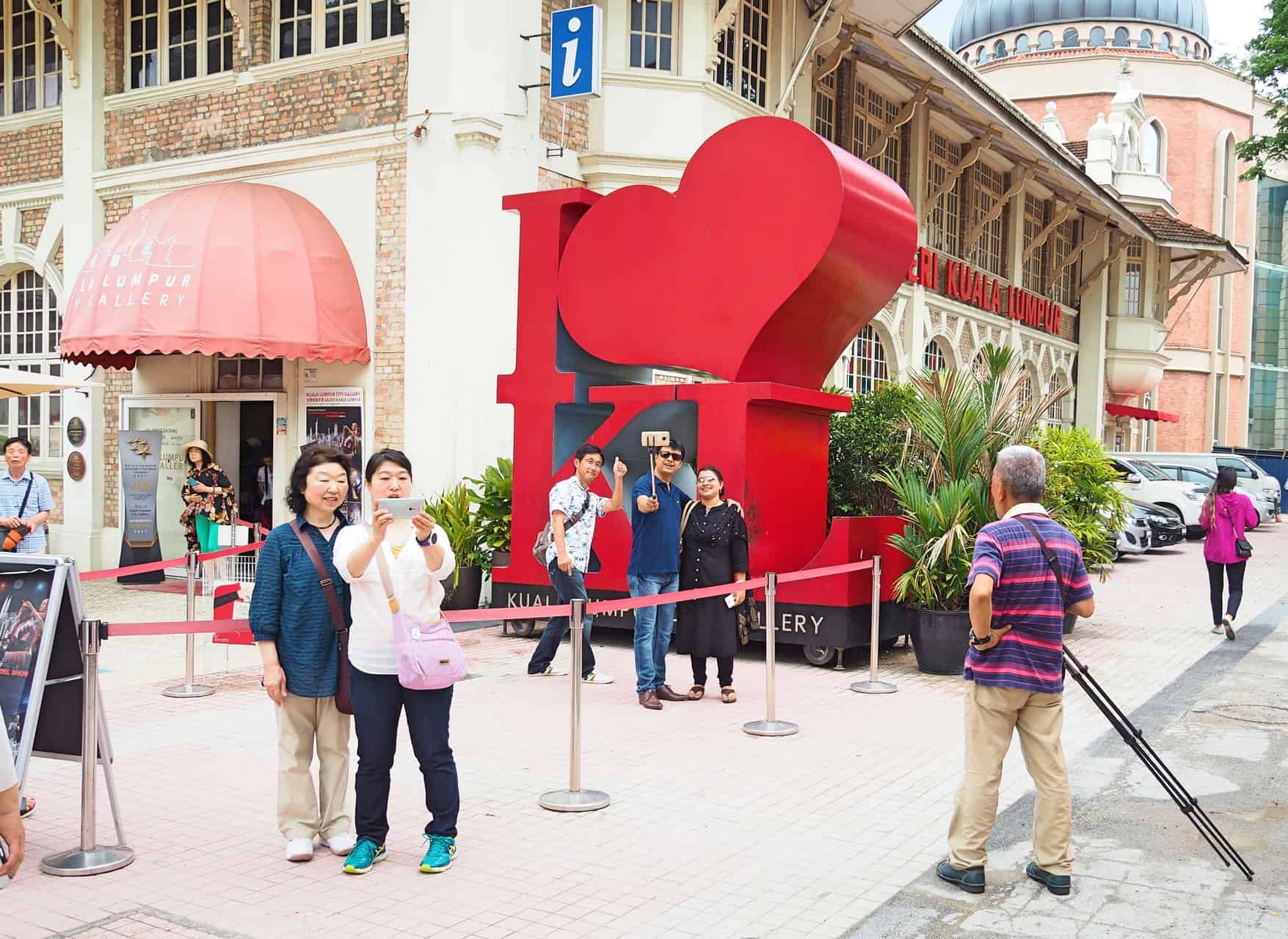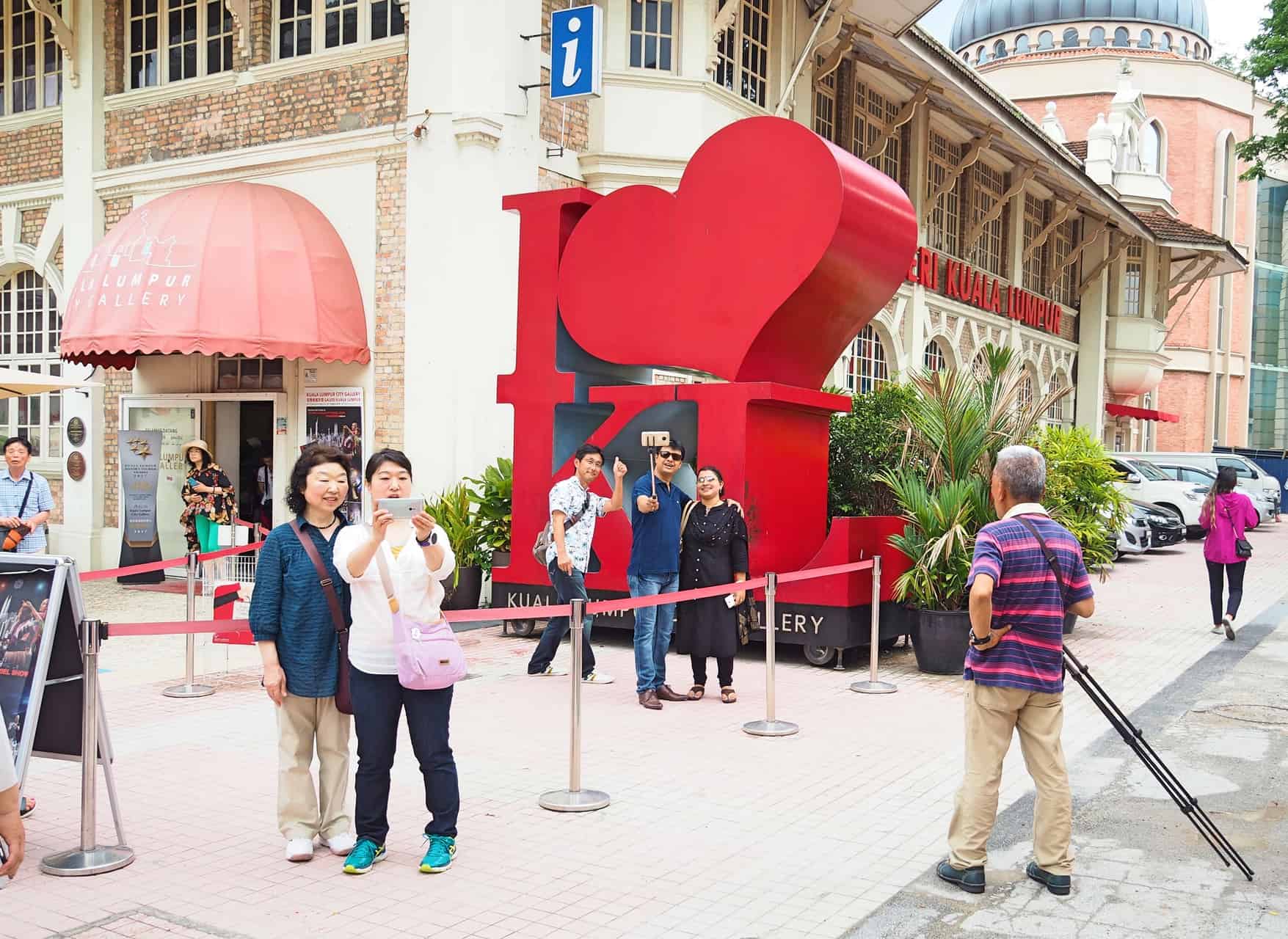 This is another major KL Instagram attraction due to the 'I ❤️ KL' sign in front. Like the Old Chartered Bank next door, it too has had a topsy-turvy life.
It started out as a Government Printing Office, designed to meet the administrative needs of KL. For years, it produced official government reports, government books and train tickets.
In '61, the Ministry of Labour took over the building and later in '77, it was converted into the Metropolitan Postal Security Office.
Then in '86 the Kuala Lumpur City Hall bought it for over RM3 million. After a thorough renovation and kitting it out with library equipment, it became the first public library in Kuala Lumpur.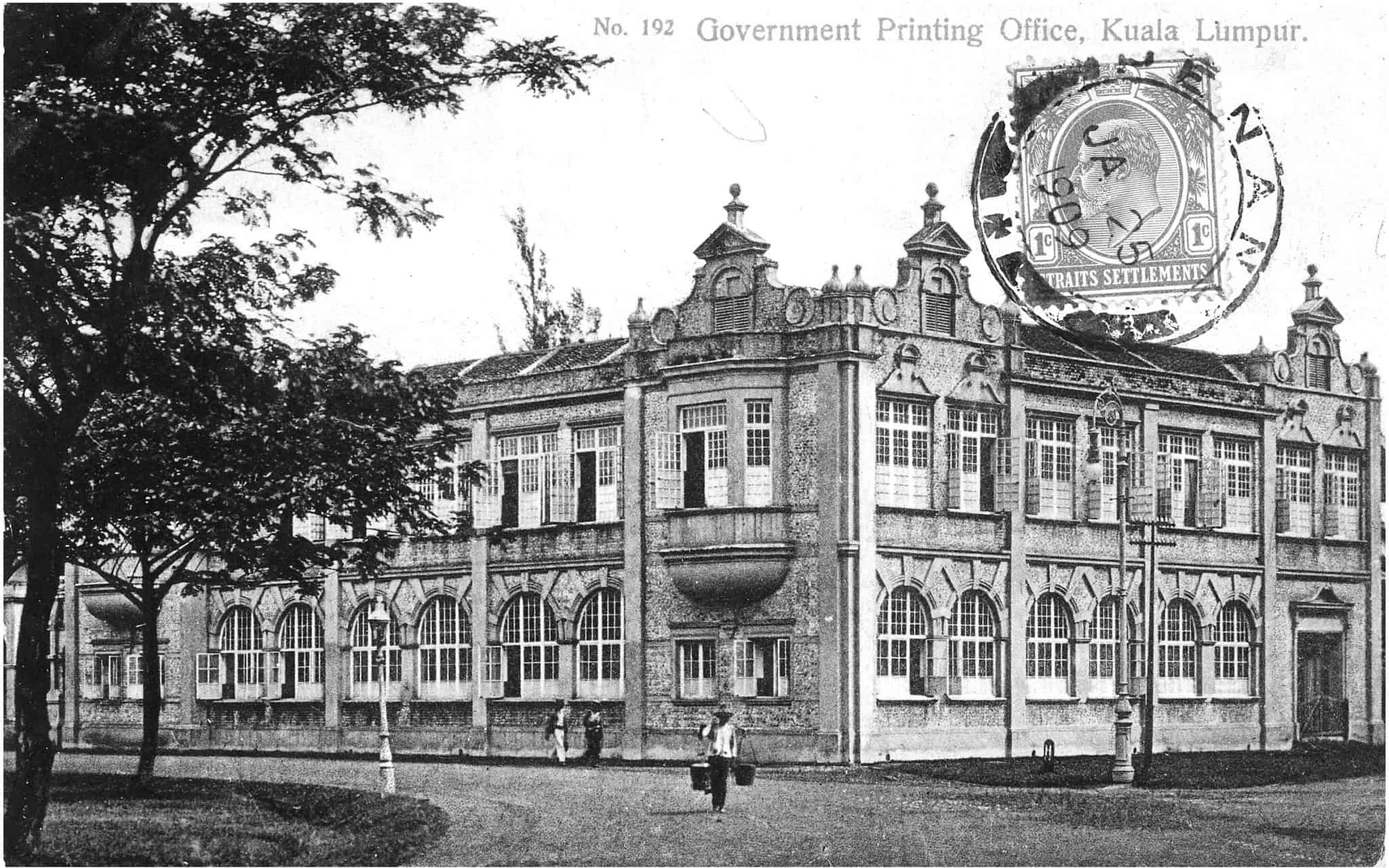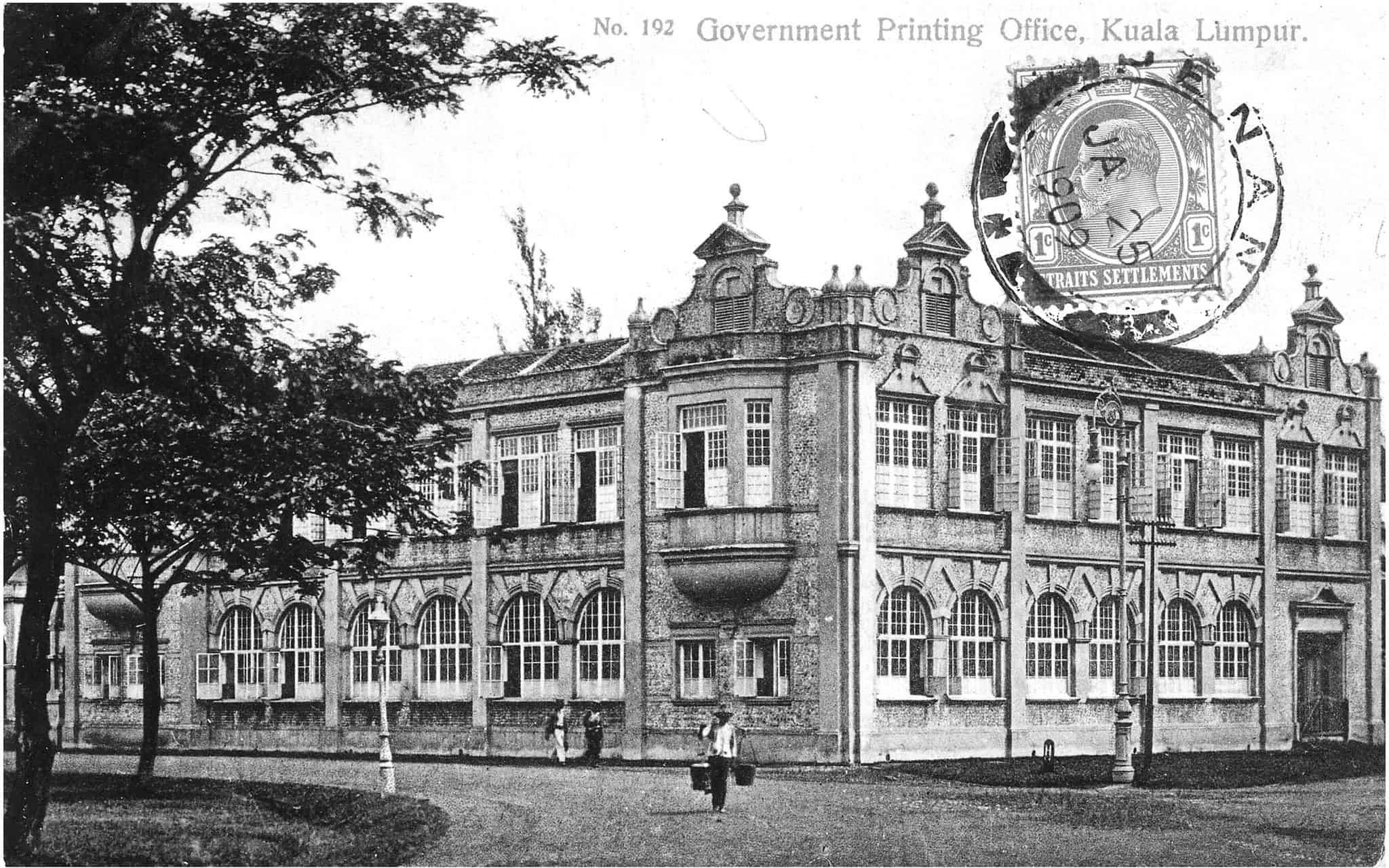 The Kuala Lumpur Memorial Library, as it was named, also acted as a research centre on all things related to Kuala Lumpur – its history, administration and development, as well as exhibitions on objects and artefacts connected to the heritage of the city.
Since opening its doors in '89, the library grew quickly and after three years, it made history by being the first public library in Peninsular Malaysia to go online. The library was then renamed the Kuala Lumpur Library in 2000, and a new annex was added on in 2004.
And finally, in 2016, it was rebranded and opened to the public as the KL City Gallery. If you're still feeling hot, head inside to have a gander at their 360° city model exhibition. It's open daily from 9am – 6:30pm.
---
Stop 29: Independence Flag – Merdeka Square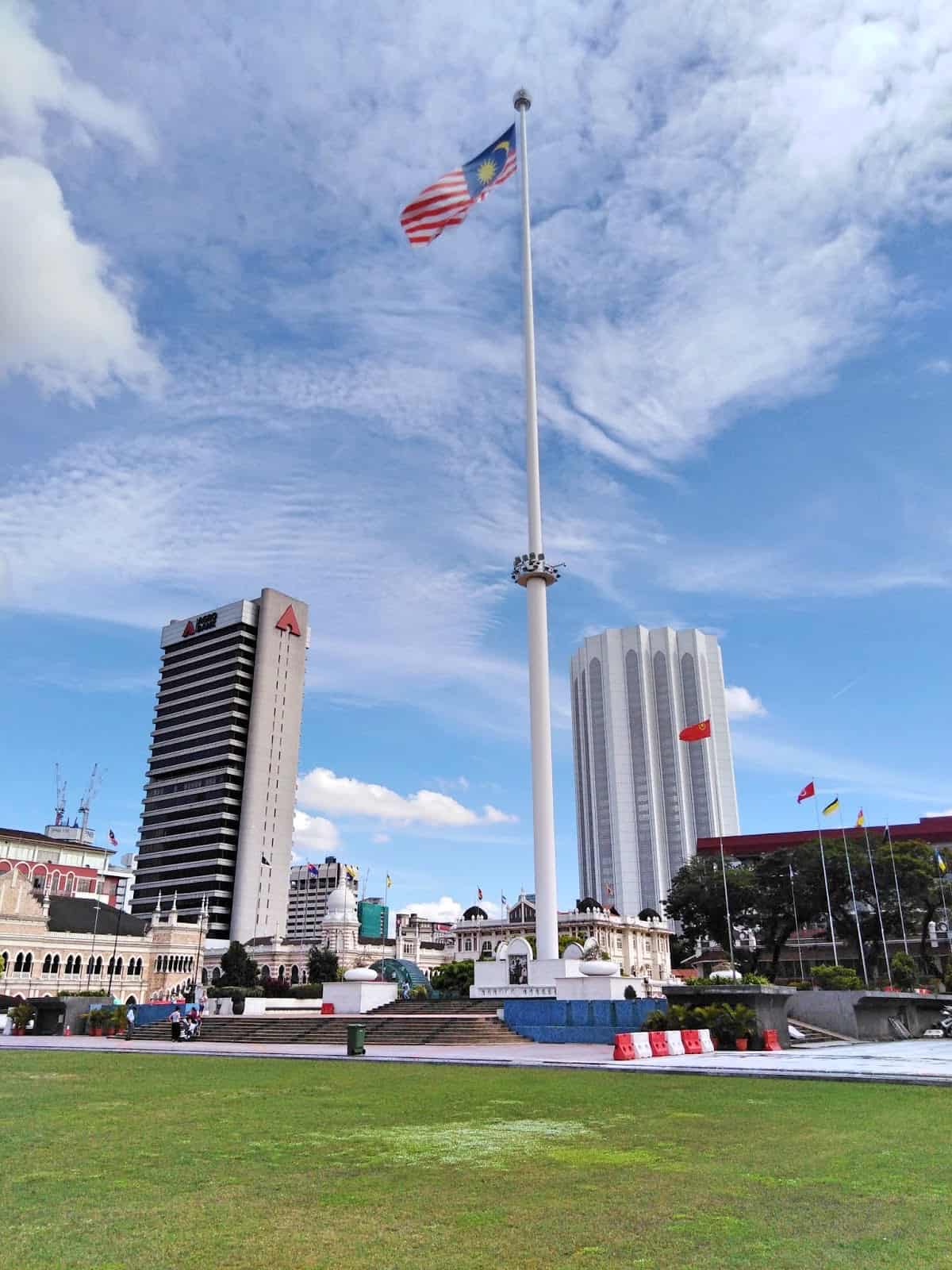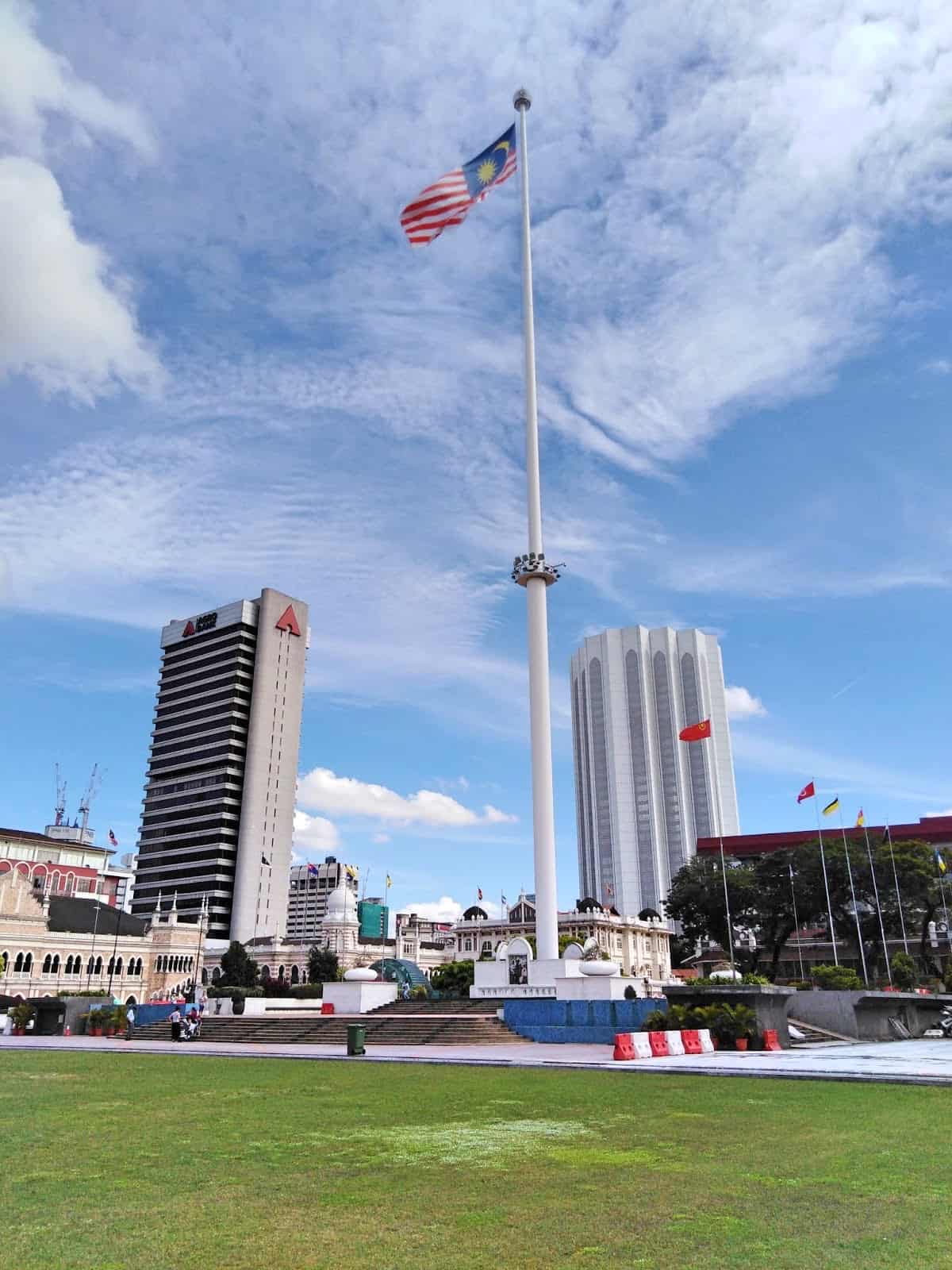 This is where Malaysia was ceremoniously freed from British control, marking the start of its independence in 1957.
At midnight on 30th August, when the Sultan Abdul Samad clock chimed, the Union Jack was lowered to God Save The Queen, and the Malayan flag was raised, with people shouting 'Merdeka! Merdeka!' (independence). So in 1969, the square was renamed from Padang (field) to Merdeka Square.
Now, every Monday between 9:45am and 10am there is a flag-raising ceremony.
It's nice to have a stroll around the Padang if it's not roasting hot. Prior to 1892, it used to grow fruit and vegetables for the tin miners. But when the Brits came to town, they had other ideas. In fact, one of the first things they done was to clear and flatten the land so it could be turned into a cricket ground.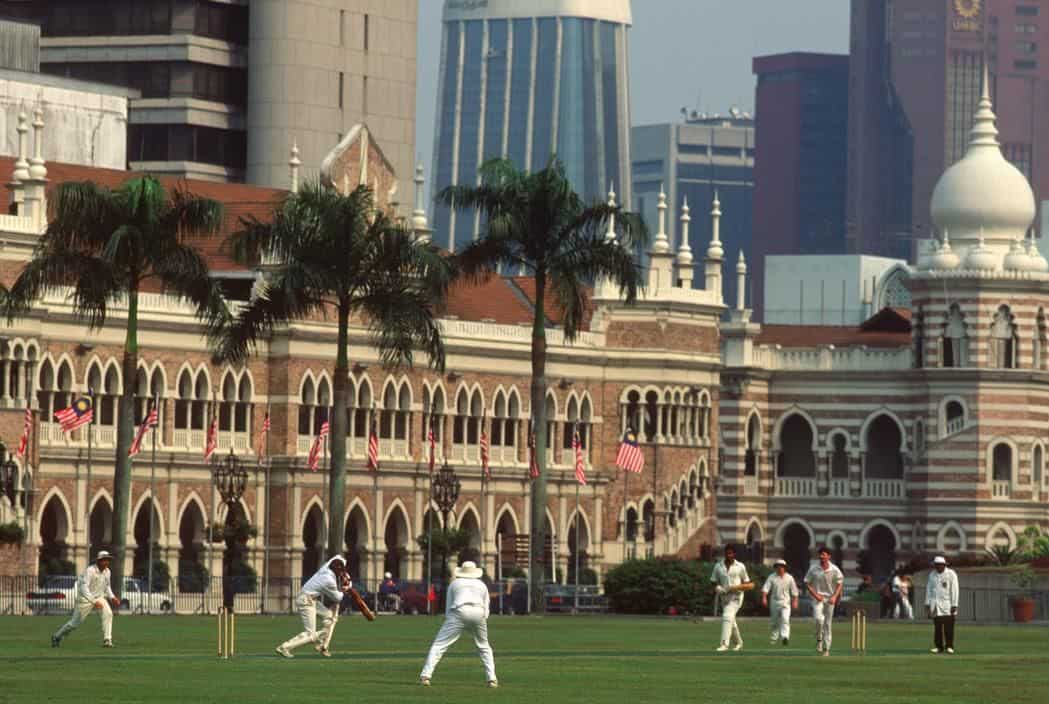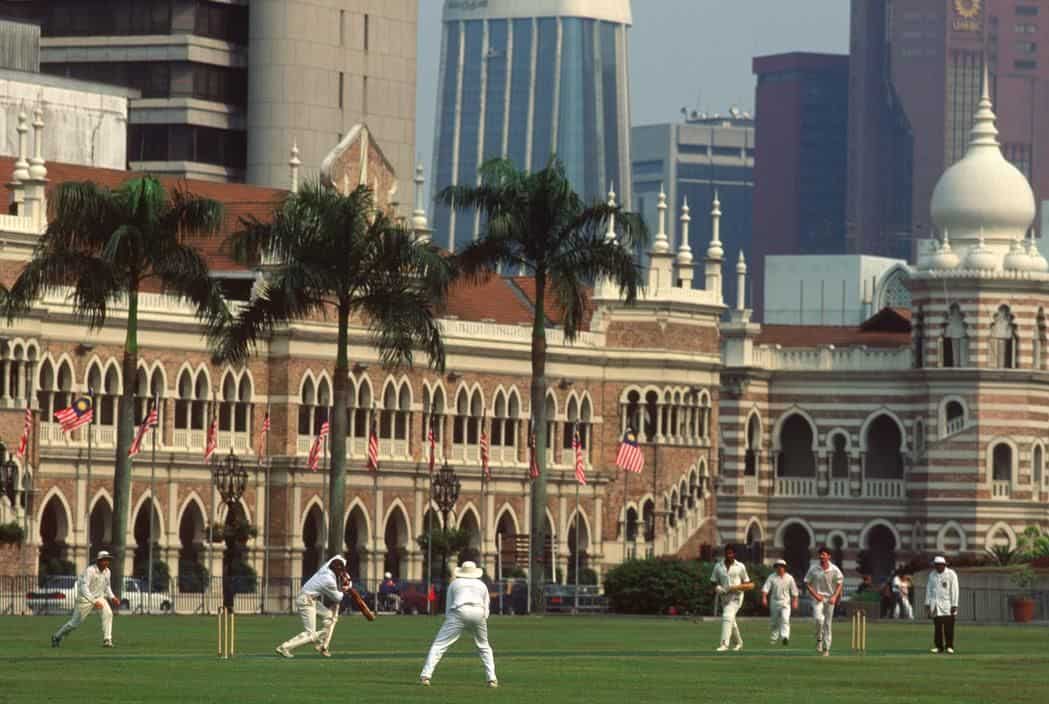 Since then, it became the heart of colonial KL.
It would regularly house cricket events, parades and celebrations, and even had two tennis courts near the Selangor Club. When an important match was playing, supporters were said to come out in their droves to cheer on the teams.
There were also twice-weekly musical performances by a Filipino band who would rig up their bandstand, playing whilst Club members would sip on their stengahs (a drink of half whiskey and soda over ice, popular with British colonials).
Except in 1988, the Padang was bulldozed when an underground parking project started, halting cricket on the field after a century. Artificial turf was laid in 1991, and shortly after, cricket reconvened, although players groaned that the field wasn't the same.
---
Stop 30: Royal Selangor Club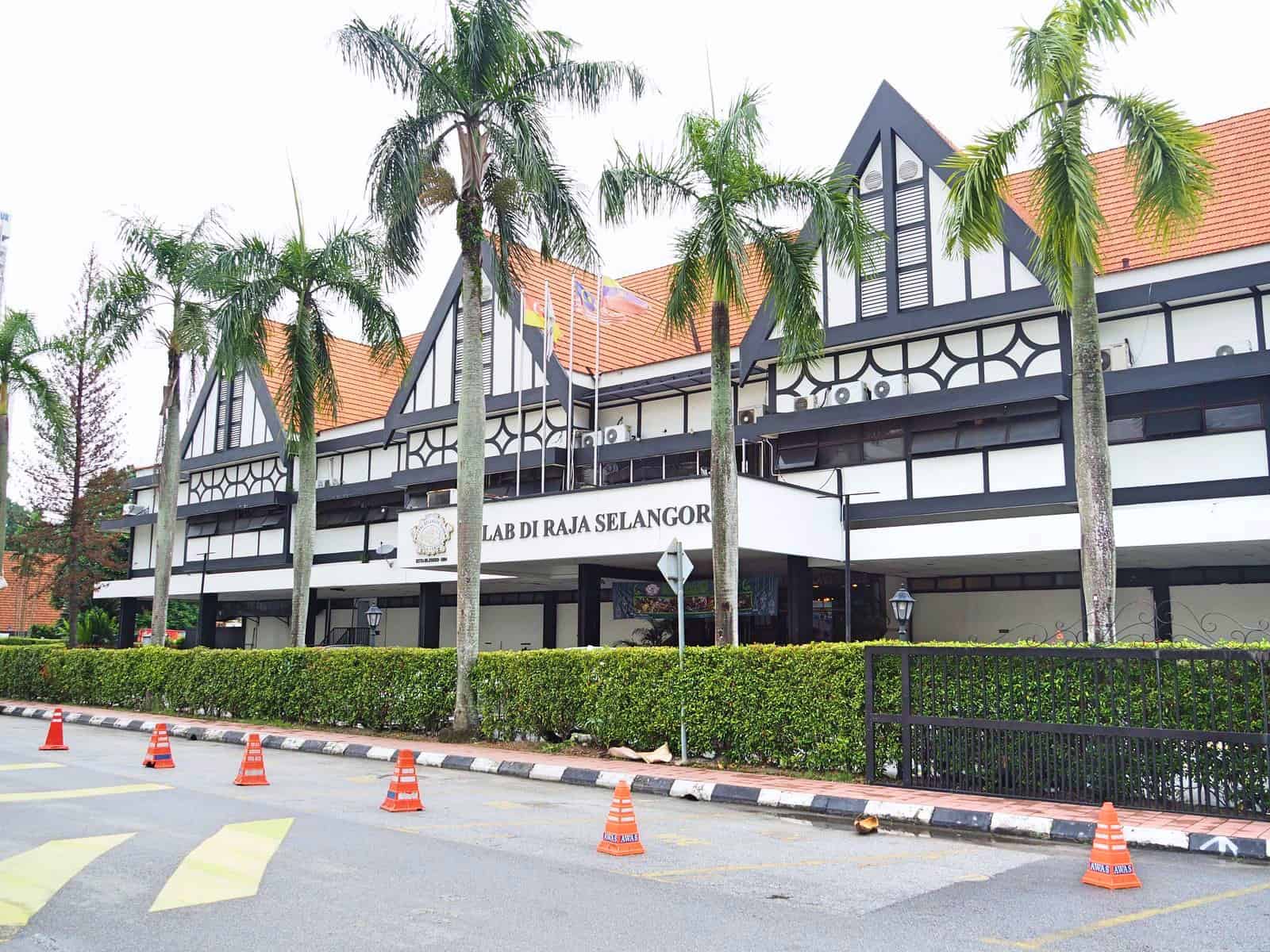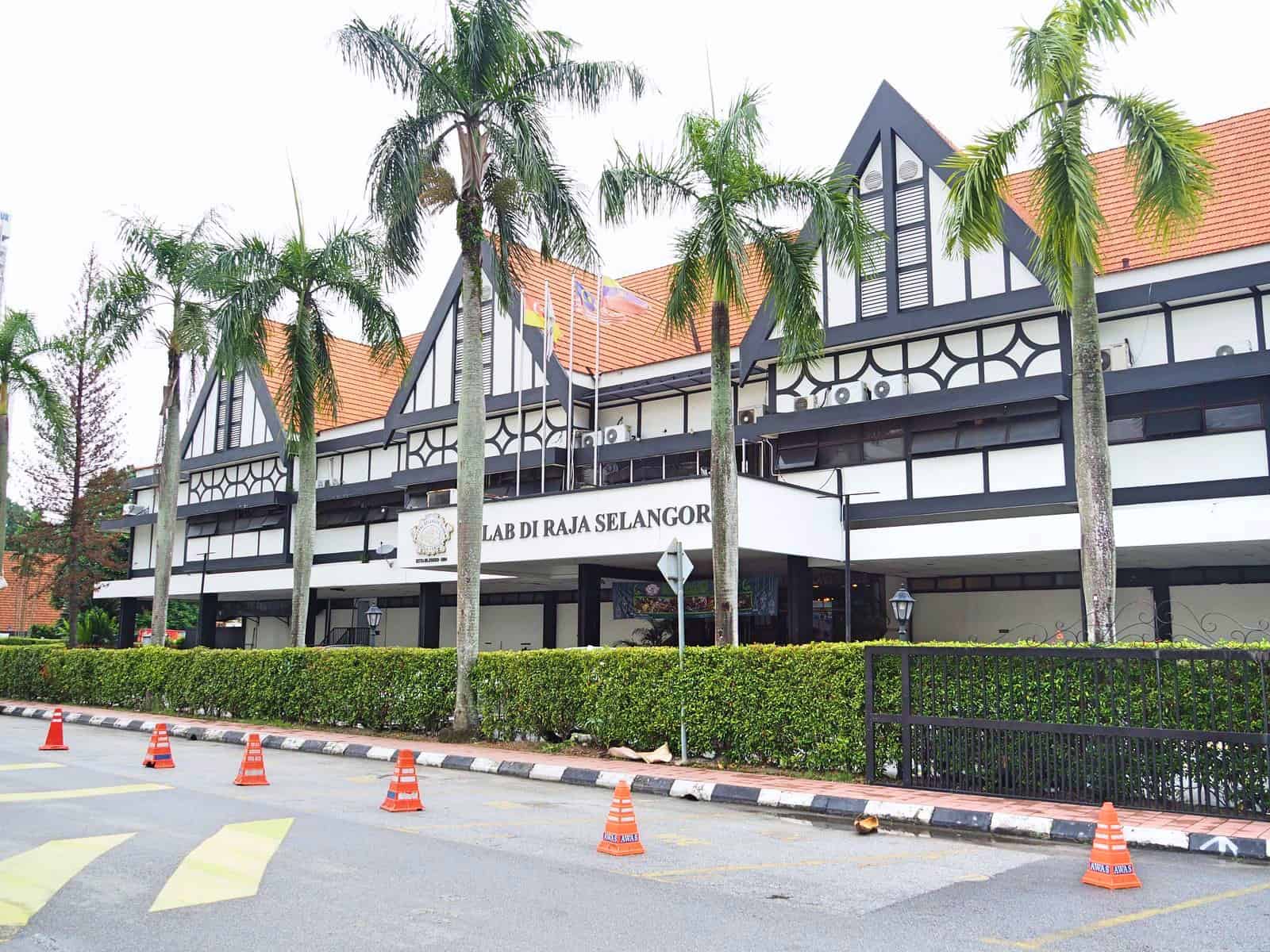 Walking by the Royal Selangor Club, it looks a bit 'out of the way' and humdrum.
But wind back nearly 140 year ago, and it was "the" place to be .. if you weren't of colour, that is.
Almost all members of the RSC were European, although a few Malaysians who were considered 'a cut above' were allowed in too. It acted as a meeting point for members of the British Colonial Society, as well as a place where their wives would idly gossip on the terrace.
But it was predominantly a Snow White only club… even though the RSC states that membership was determined by 'high educational and social standards', and not by race or citizenship. Hmm, I think that's code for 'white supremacist'.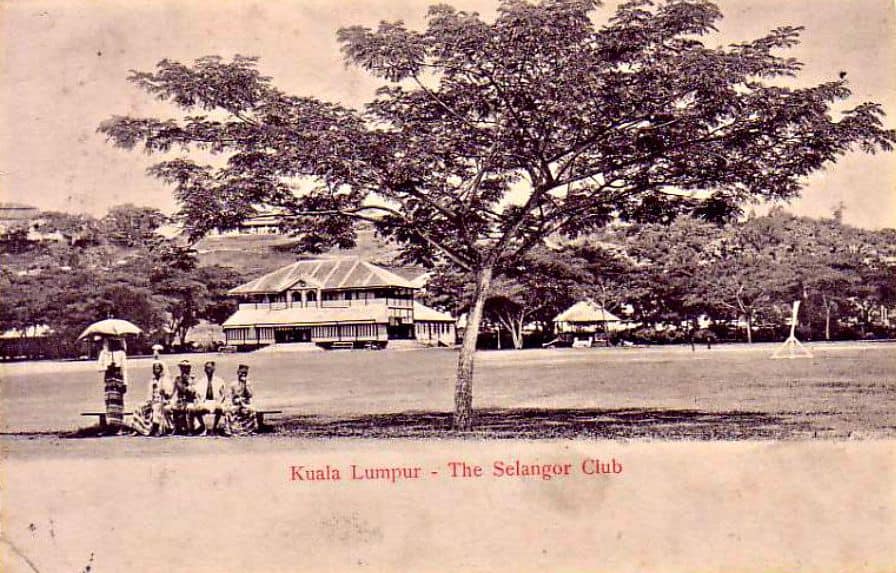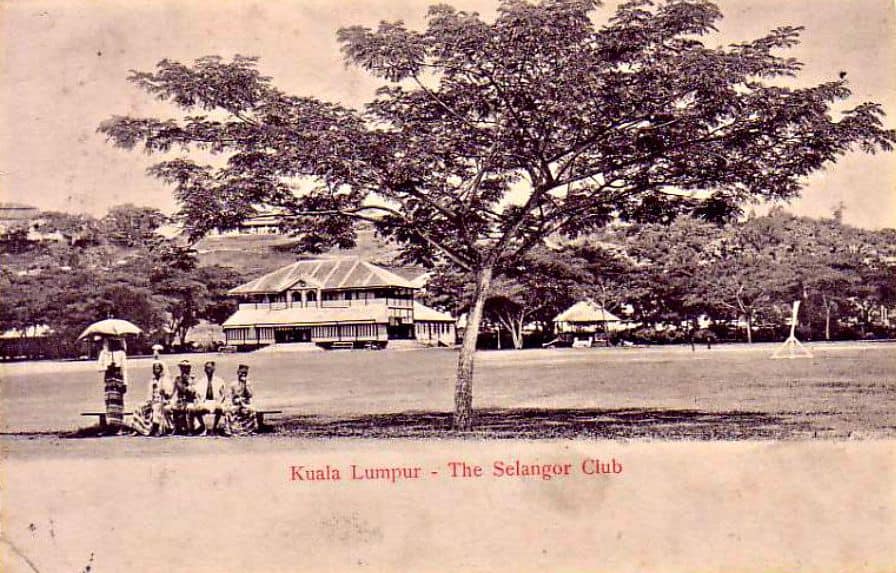 The Spotted Dog, as it was fondly nicknamed (probably because two Dalmatians belonging to a club member were frequently found there) was created in 1884 as a 'social and cricket club' – complete with a bar, billiard hall and reading room. You know, all the stuff that the Brits back then would lap up.
It used to host particularly lively parties and special gala events, where generous amounts of alcohol were knocked-back by the 'high society'. Merriment generally lasted until the early hours of the morning.
White planters would also come by frequently. Many owned thriving coffee plantations in and around KL, and would visit the city once a month or so to see their bank managers. They'd also have to stop by at The Spotted Dog (or 'planters' club, as it was also known) to catch up on the news and goings on, which they'd often miss living in their remote estates.
In the 1890's, the planters switched their crops from coffee to rubber when Brazil started supplying the world with their coffee beans.


Nowadays the club has a more Malaysian vibe and a lot of its members are Indian lawyers. Checking their events schedule online, there doesn't seem to be any cricket matches anytime soon, but they do have a Deepavali Ball and Tamil night.
The Tudor building you see before you now was built in 1889 and was extended somewhat after that. But originally, it started out as a tiny wooden building where St Mary's Church is now (around the corner).
* * *
Wow, that was epic! 🤟🏼
I hope you enjoyed my KL tour as much as I did putting it together.
If you're hungry after all that walking, here's a list of my top KL restaurants. Or if you want to get your mouth around some traditional Malaysian fare, here's my top 10 dishes to try and where to find them.
No Shezz, I need liquids not solids. Now worries, you're not far from some awesome speakeasies! Go check them out.
---
Trying this tour later? Pin it!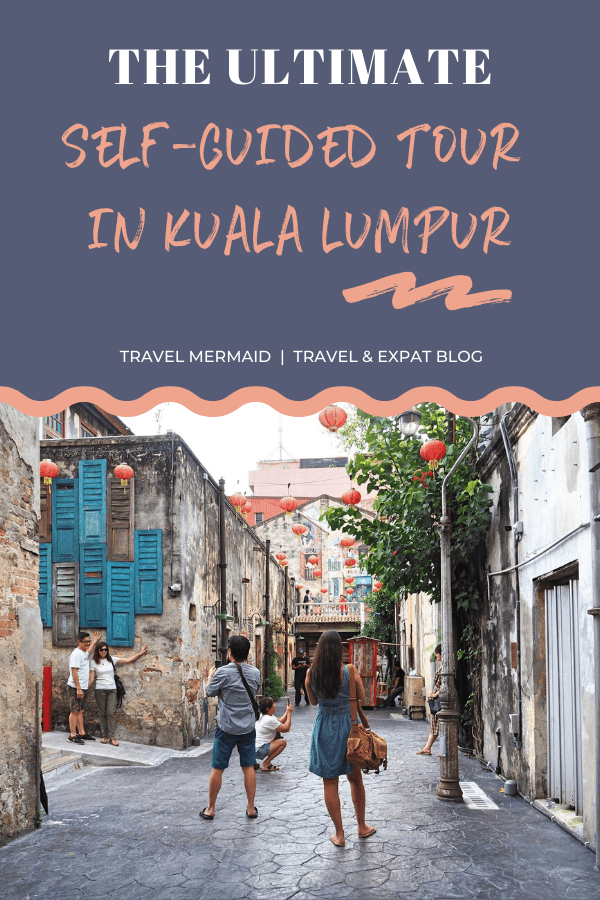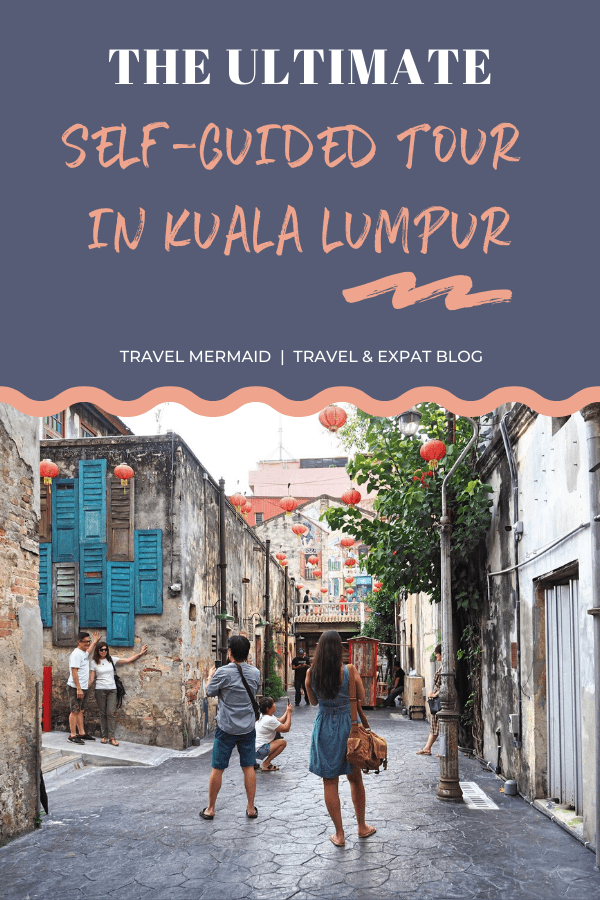 XOXO