We recently made a weekend trip to Mangala Resort and Spa on Malaysia's east coast for a relaxing staycation. If you're wondering what it's like to stay here then here's a piece about our experience.
---
As much as I love Kuala Lumpur, I love leaving it more. Deep down I'm just a country girl, stuck in the body of a city girl and after a crazy term at school, I was ready to hit the hay bales. So on was the search for a holiday somewhere semi-remote, that would take me far into Malaysia's backcountry.
Malaysia has a lot of offer nature nerds like myself, but sometimes finding the right value resort can be a challenge. Initially I dreamed of doing something adventurous this Easter break, like climbing Mount KK in Borneo or trekking deep in its jungle at the Danum Valley. But to stay in either of those places, in a well below average room for merely two nights would rack up to about RM 4'500 per person (approx. $1'500AUD). Sadly my teacher salary doesn't pay enough to justify that for two nights!
Then I remembered a teacher friend staying in this idyllic looking resort on the east coast that was surrounded by nature. After a bit of digging, I stumbled upon Mangala Resort.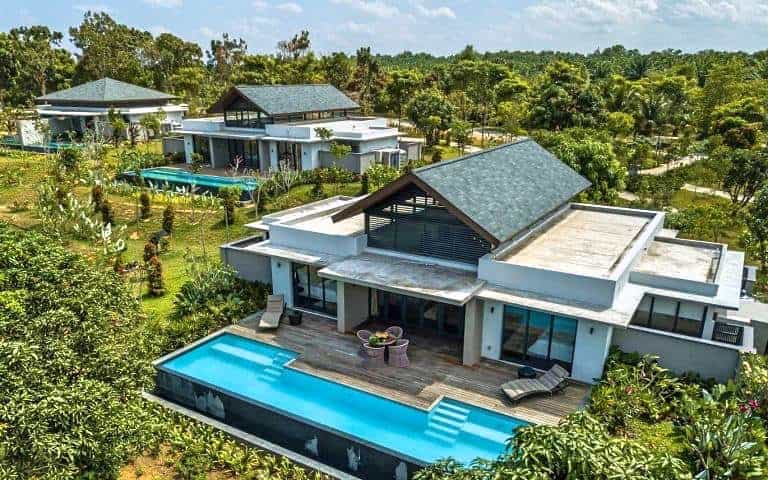 Mangala Resort and Spa
Situated in Gambang, Mangala Resort is a comfortable 2.5hrs drive east of Kuala Lumpur. When we first arrived and stepped onto it's vast grounds- a generous 60 acres of tropical gardens, I was transported to the zen-den. It was just as lush as we'd seen on the internet and the area was wonderfully peaceful.
The friendly staff were extremely hospitable and quickly made us feel at home. After drinking our welcome glass of kadongdong juice from fruits grown on site, we were given a private tour of the resort by buggy. The area is pretty big so it helped us to get our bearings!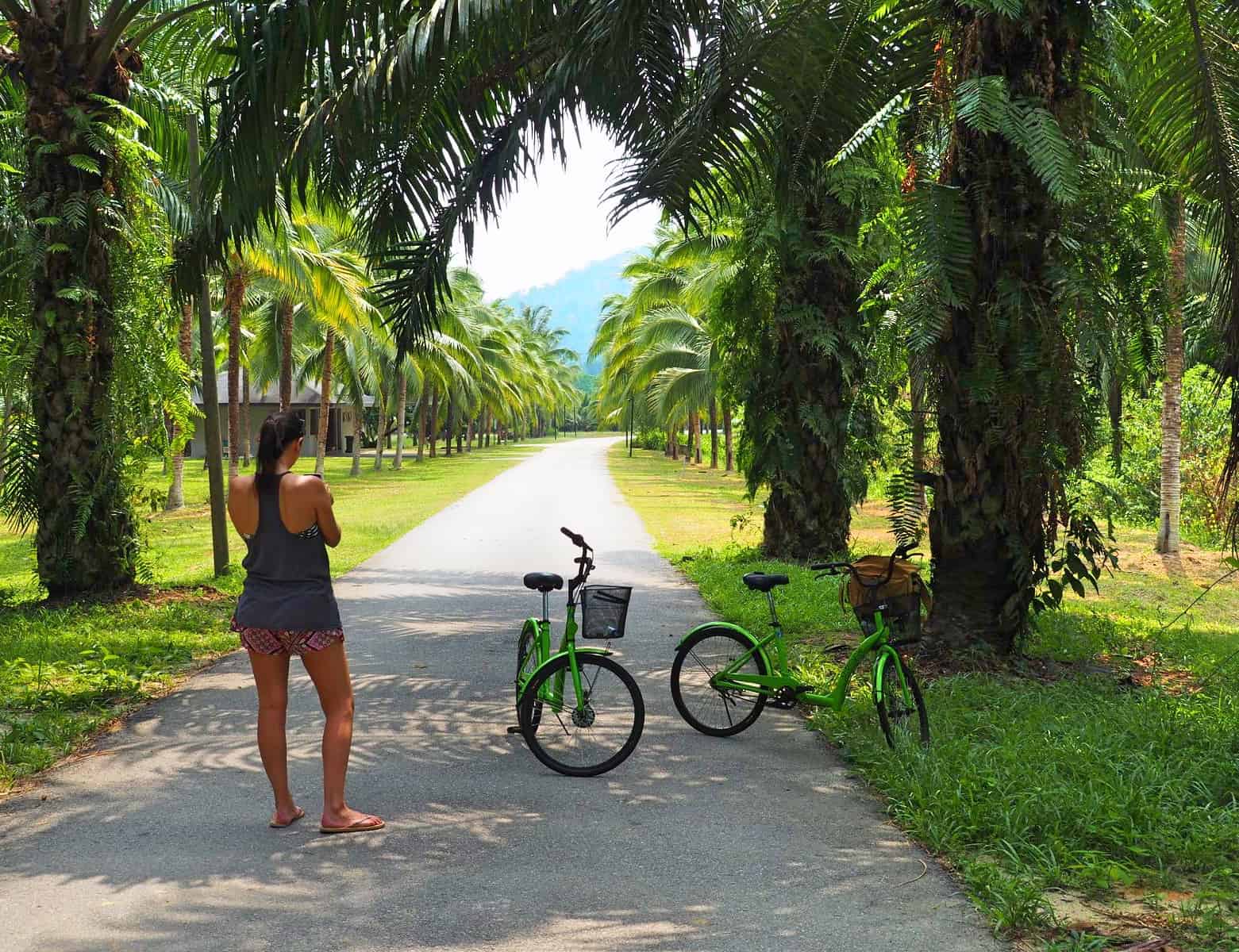 We were shown the restaurant area, pool and jacuzzi, lakes the tropical fruit orchard where our juice was sourced, the spa area, self-guided walking trail plus more. It's like a self-contained nature village here, surrounded by palms. I couldn't wait to explore the area by bike which they hire for free in an effort to reduce their carbon footprint.
Later I read that this area was previously baron land used for tin mining, which is hard to believe now. Since the owner of Mangala took over, he saw the potential and completely regenerated the site into a tropical paradise. He purposefully grew many palm oil trees here as they have shallow roots that won't be stunted by the clay substrate below.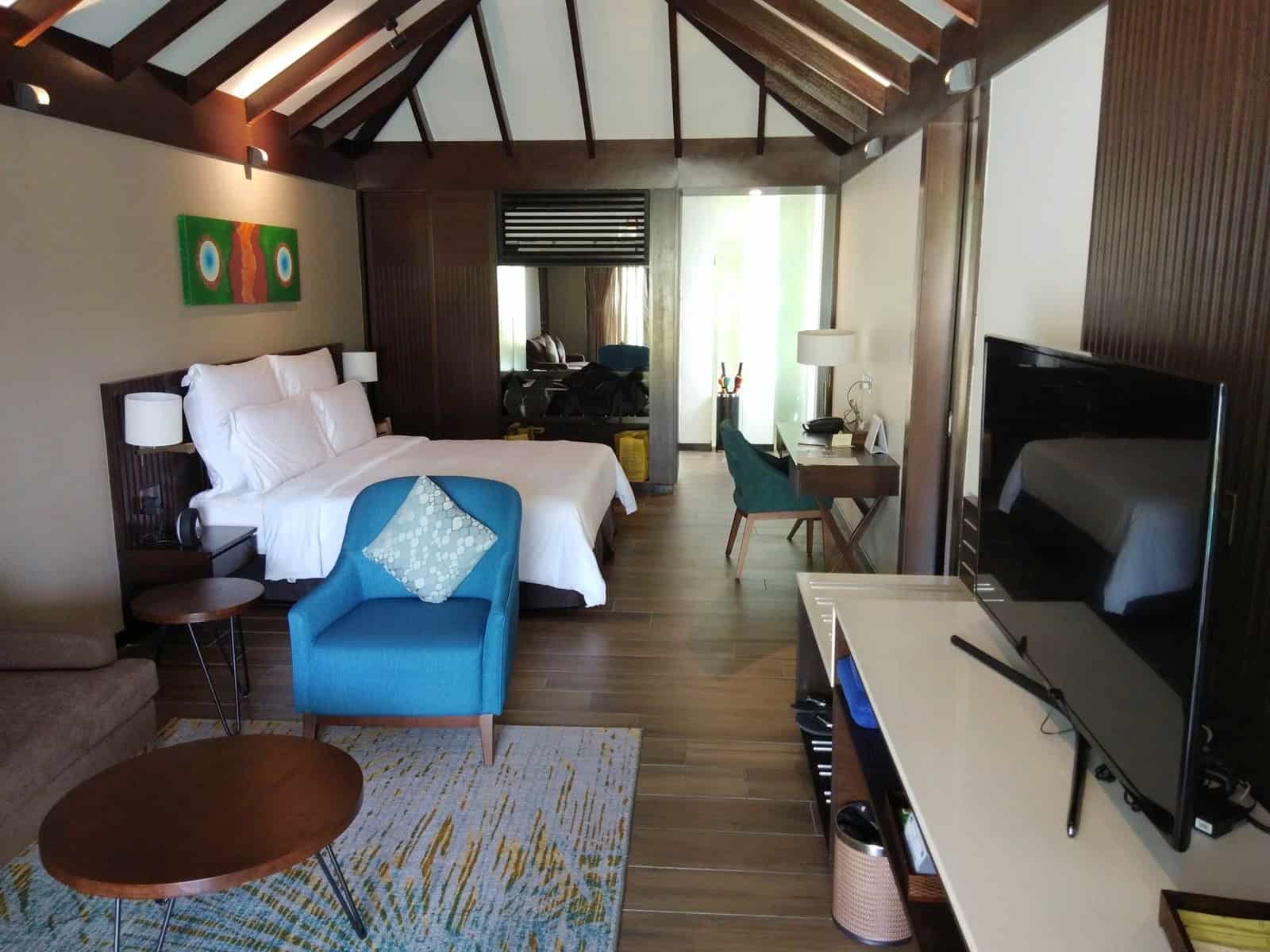 Our Room at Mangala Resort
As this is one of our last weekend getaways in Malaysia, I thought I'd splurge a little extra and get the room with the private pool.
I don't stay in 5* resorts regularly but this was one of my favourites. The Amani room was really slick, spacious and furnished beautifully. With the private pool on our balcony too, it felt like a home away from home.
To make this a comfortable and memorable stay, they literally thought of every small detail here too. We had an espresso machine in the room, complimentary snacks, chocolates and water bought to us every evening (clearly the fastest way to my heart is through my stomach, lol). They even replenished the snack tray after I ate everything in it.
The only minor negative about our room was that it was semi-detached, which would normally be fine, however we had some pretty lousy neighbours next door who came on the first night and were literally shouting on the balcony having a domestic.
Thankfully they left after the first night, and reception were really sweet when we told them. They said they'd move the couple if they decided to extend their stay but thankfully they left that day.
Otherwise though, our outdoor area was really private and relaxing, and we spent most of our time chilling there during the day. In fact we loved it so much, that we extended our stay by another night!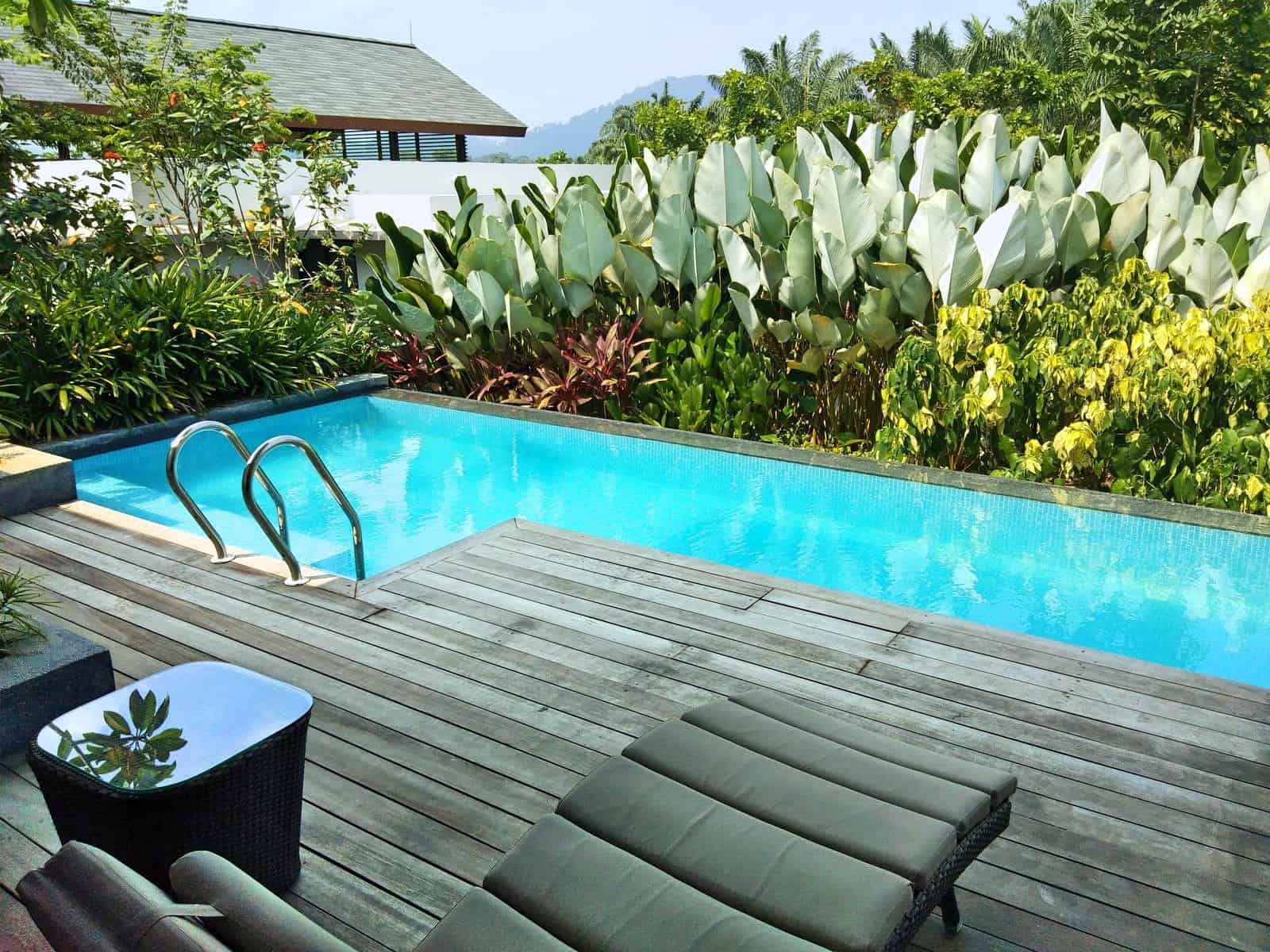 This place was built to be a retreat so there's plenty of ways to relax and wind-down.
As well as our own private saltwater pool, there's a shared infinity pool overlooking the lake with a warm jacuzzi just next to it.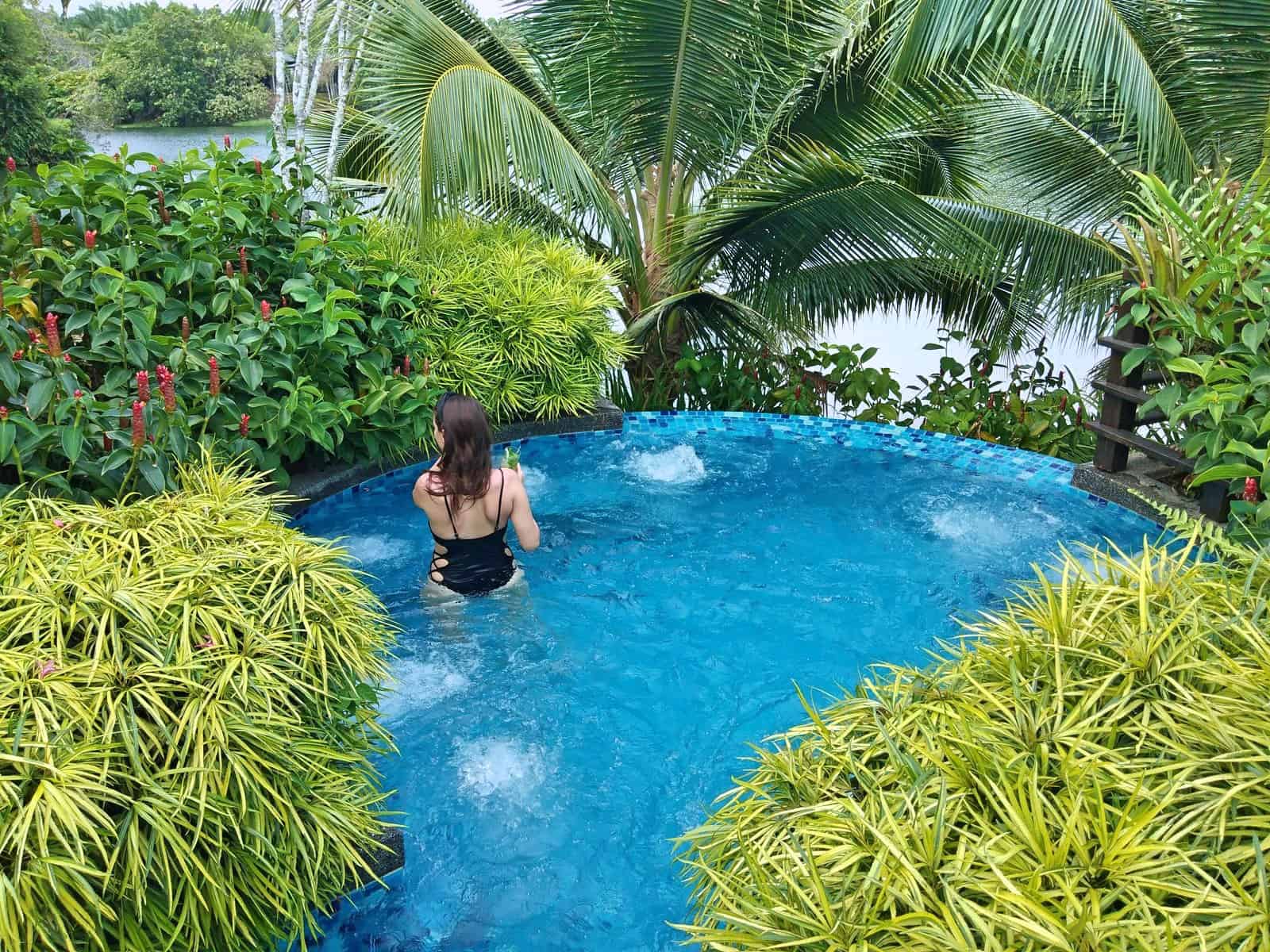 At the other end of the lake is their spa area and I treated us to a signature massage. It was honestly one of the best ones I've had in years, and I have one almost every week! There was none of this 'make it hurt to make it work' funny business, every stroke was awesome.
There are other activities available in their recreation area too if you fancy exerting some energy, like archery or kayaking. Around the lake is a jogging track also and they've just started work on building tennis courts. We enjoyed having a little bike ride and walk around the grounds and then accidentally stumbled across a silent retreat that's nearby.
As a beach lover, I thought I'd miss being by the ocean. But I didn't at all. It was actually nice to be off the grid in the middle of the countryside and away from the typical beach crowds. Plus, with infinity pools such as this overlooking the lake, you have as much water as you need around you.
The only thing I'd say Mangala could do better is the food. The breakfast buffet was okay, but the main menu and execution was a bit of a let down. For such a nice resort, they should focus on improving the quality of their meals. (Wines by the glass would be nice too 🙂). I'd recommend going for the Asian dishes if you're there.
Tip: Wine is only sold by the bottle and alcohol can be expensive at the resort. If you're keen for a tipple, make a stop in KL and bring your own.
* * *
Overall, Mangala is a stunning, luxurious resort and we had a truly relaxing stay here. If you're considering a bit of peace and quiet away from the hustle and bustle of KL then I'd highly recommend it. It's also a great place for a romantic getaway or family retreat- we heard kids loving their private pool area as we walked by some of the bigger villas.
This place has righteously earned itself many accolades and awards, including a gold award for its environmental rehabilitation and conservation efforts. Not only is it an awesome place to holiday, but it's sustainable too.
Bookings
Mangala Resort have 6 types of bungalows on offer. The cheapest ones are:
The Sara Villa (overlooking the wetland)
Jala Villa (lake view)
Vana Villa (Forest view)
Cost: RM 635 per night (approx. 220AUD.)
The other ones are:
Vani Villa with pool
Amani pool Villa (where we stayed)
Cost: RM 760 per night (approx. 260AUD.)
The two-bedroom Amani Villa that sleeps 4 costs RM 2'264 per night  (approx. 780AUD.)
For the best rates and genius discounts, I booked our rooms through Booking.com.
Getting Here
Mangala Resort and Spa is a 2.5 hour drive east of Kuala Lumpur.
We don't have our own car but always rent one using GoCar. There are multiple GoCars dotted around KL and it's usually more convenient than venturing to a car rental.
You can register via their website and then book via the app. They have a newer fleet of Renault Capturs at RM 109 per day, as well as their older Nissan Almeras at RM 90 per day.
---
Looking for other relaxing retreats in Malaysia? Check out our weekend at The Dusun Nature Resort, or the best places to stay in the Perhentian Islands.
Like it? Pin it for later!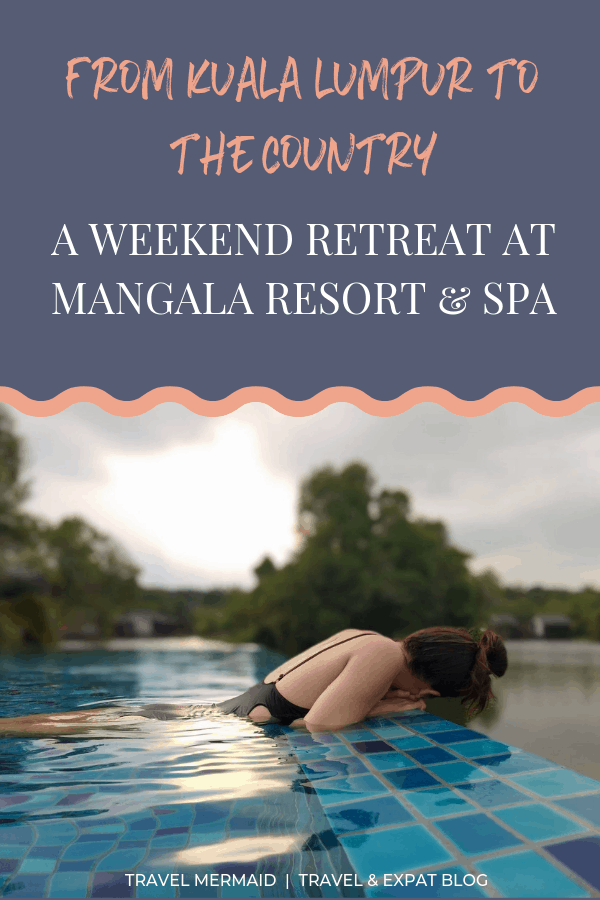 XOXO