The beaches of the Perhentian Islands are a mermaid's paradise. Lined with fine white sand as far as the eye can see and coral just a few steps into the water, it's brimming with an array of sea-life. But the islands' beauty doesn't cut off at your beachfront chalet.
Upon approaching the Perhentians by boat, you are struck by their lush, green hilly peaks. Inside them, away from the bathing tourists, you can peacefully hike for hours and feel connected with the world amongst the calming, sweet-smelling vegetation.
Can you tell the jungle is my happy place!
Growing up in London, the urban jungle was more my reality, with nowhere to escape the busy crowds when you need solitude and a nature hit.
These days in Kuala Lumpur, I've purposefully rented a condo that sits just in front of mother nature's jungle. After a long day at work when everything is expected of you and without a 'snooze' button in the realms of teaching, it has been the perfect de-stress method.
But, I confess. Like most visitors, I completely bypassed the jungle in favour of beach bumming on my last trip to the Perhentians. It's all so easy to talk your way out of getting sweaty and working out on holiday. Although I urge you to reconsider! (Just think of the happy endorphins afterwards!)
This time, I was keen to earn my beach time.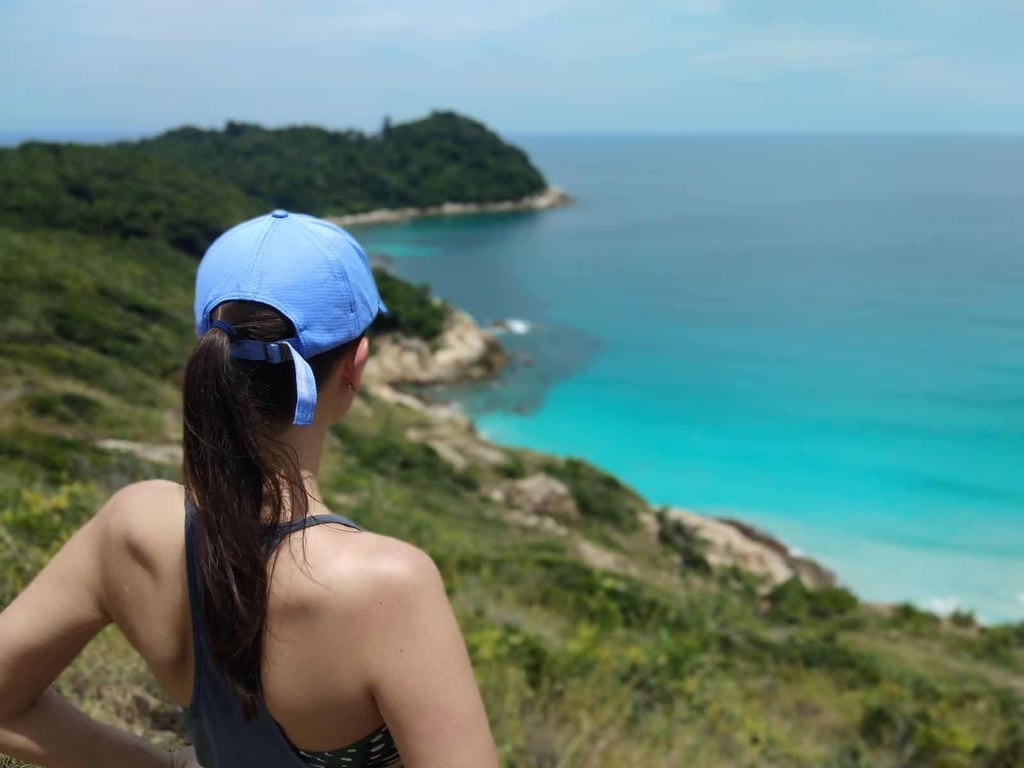 Kecil's Windmill Hiking Route – Highlights
There are a few hiking trails in Kecil but we read good things about the lookout from Windmill Point, located at the North-East end of the island. It did not disappoint. After a mere 30 minutes in the jungle we reached its panoramic views and it felt so remote, without another hiker in sight.
Leading down from the viewpoint is a 500+ step stairwell taking you to an old, sunken jetty. A few have braved it to the bottom for a dip in the crystalline, turquoise water below. Except a quarter of the way down it becomes heavily dilapidated with broken or missing steps, forcing you to cling onto the rusty rail as you clamber down in the 35 degree heat.
Truthfully, I gave up halfway! (Safety first for me!) But the views on the way down offered many jaw-dropping angles of Kecil's northern coastline.
Forty minutes back through the humming jungle and we reached the secluded Adam & Eve beach. It provided a well needed (and deserved) respite from the heat and humid trek. After a refreshing dip in the ocean, the last leg is a short 20 minute hike to D'Lagoon where you can catch a boat taxi to lunch, and reward yourself with an ice-cold beer!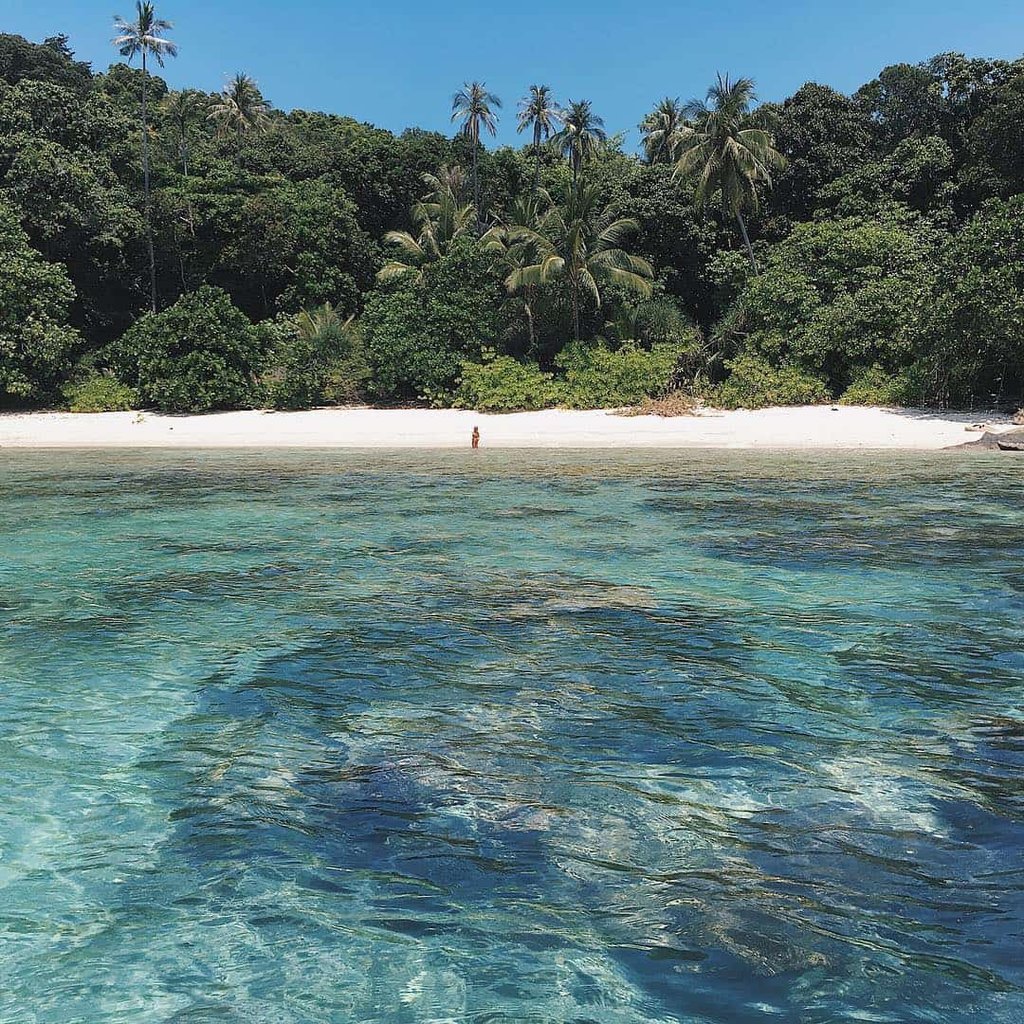 Fancy a go too? Here's my detailed itinerary for nailing the best hiking day out on Kecil.
Overview:
Stage 1: Hike from Long Beach to Windmill Point (approx. 30 mins)
Stage 2: Stopping time for picture taking (or braving the stairway!) (approx. 20 minutes)
Stage 3: Hike from Windmill Point to Adam & Eve beach (hike approx. 30 minutes and stoppage time at the beach approx. 30 minutes)
Stage 4: Hike from Adam & Eve beach to D'Lagoon (approx. 15 minutes)
Stage 5: Grab a boat taxi to Alunan Resort (approx. 10 minutes)
Stage 6: Enjoy a well deserved, tasty meal and an ice cold beer overlooking paradise (approx. however many minutes you like)
Stage 1-4 approx. hike time (minus lunch) : 2hrs – 2hrs 30 mins
Hiking Difficulty: Moderate (but very sweaty! The heat can make it feel more intense.)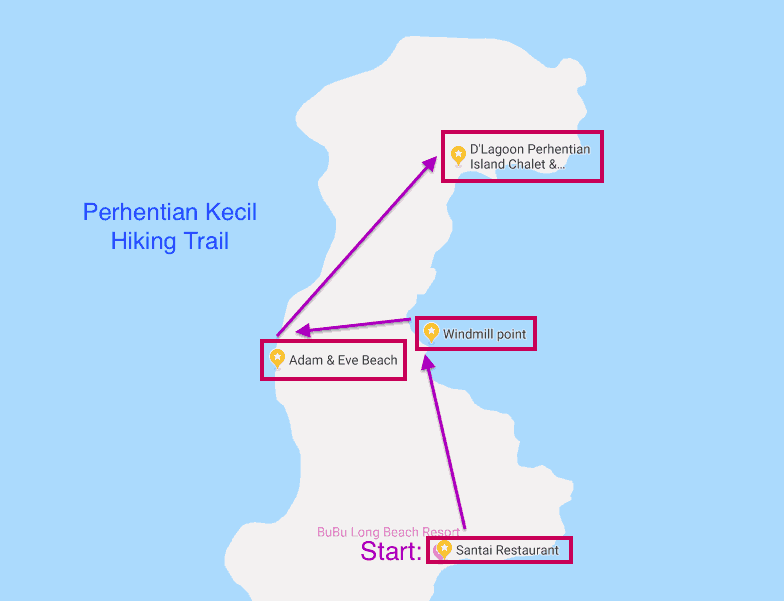 Preparing for the hike
Layer on the sun-cream then douse yourself in mosquito repellant (jungle strength if you have it.)
Take your swimmers for a dip at the end and maybe a change of clothes for afterwards (unless you're happy to get back into your sweaty slacks.)
Wear proper hiking shoes or trainers, they will be much more comfortable and safer than flip-flops.
Take at least 1 bottle of water each
A sweat band and cap come in handy
The Route
Stage 1: Hike from Long Beach to Windmill Point (approx. 30 mins)
-There are a few turning points from Long beach to the hiking trail, but we turned left at Santai restaurant.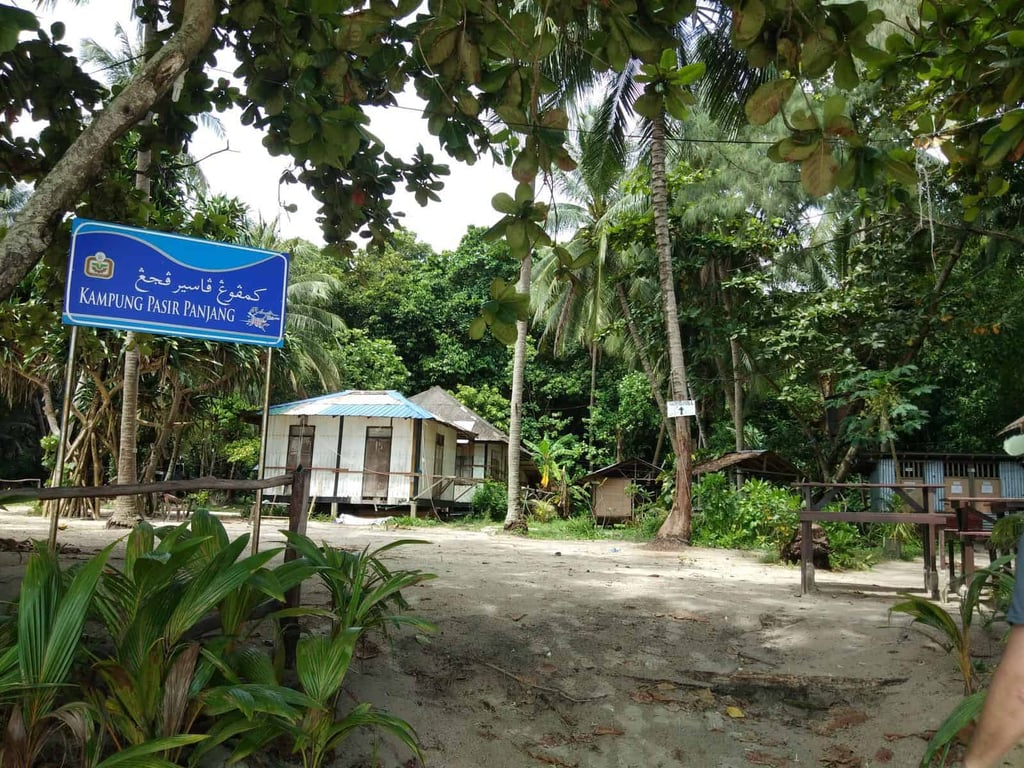 -The windmill is signposted on a tree, continue straight. Unfortunately there's quite a bit of rubbish around here, and some heavy-duty mosquitos. So don't stop for long! (Thankfully we didn't find many mozzies elsewhere.)
-It doesn't look like the hiking trail but it is- bear left and head up the rocks where the pipe is.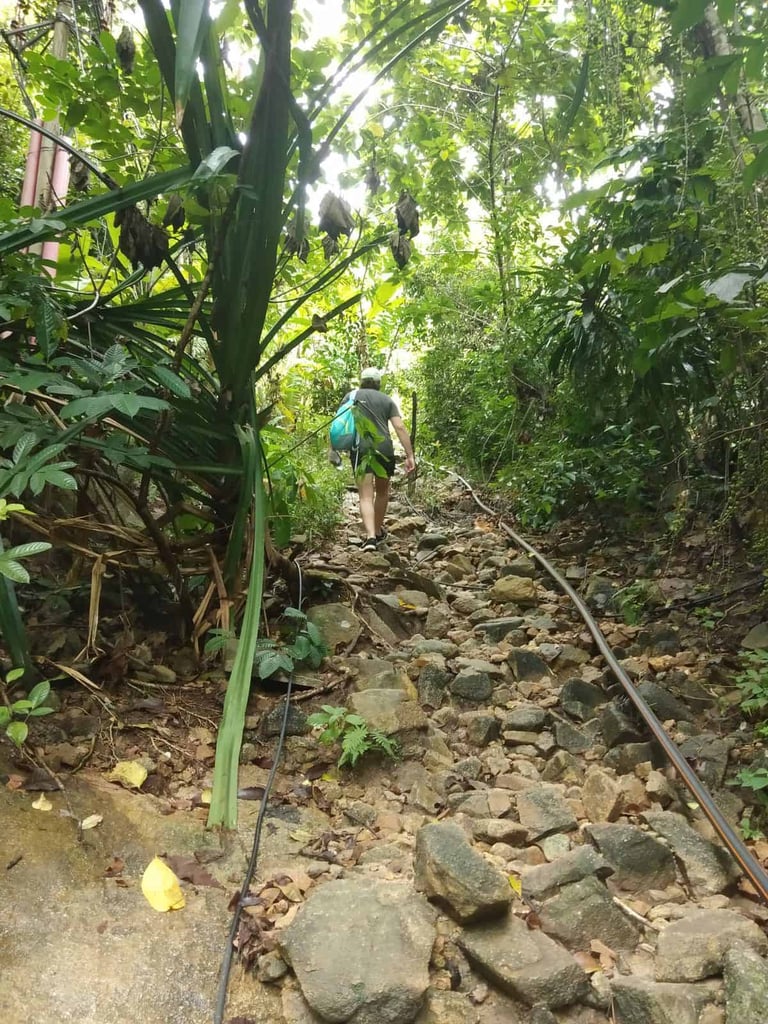 -Continue up this path which leads you all the way to Windmill point and enjoy the peace and quiet. Keep an eye out for monitor lizards and Malaysia's carnivorous pitcher plant.
Stage 2: Stopping time for picture taking (or braving the stairway!) (approx. 20 minutes)
-Head around the windmills and you come to the top of the staircase.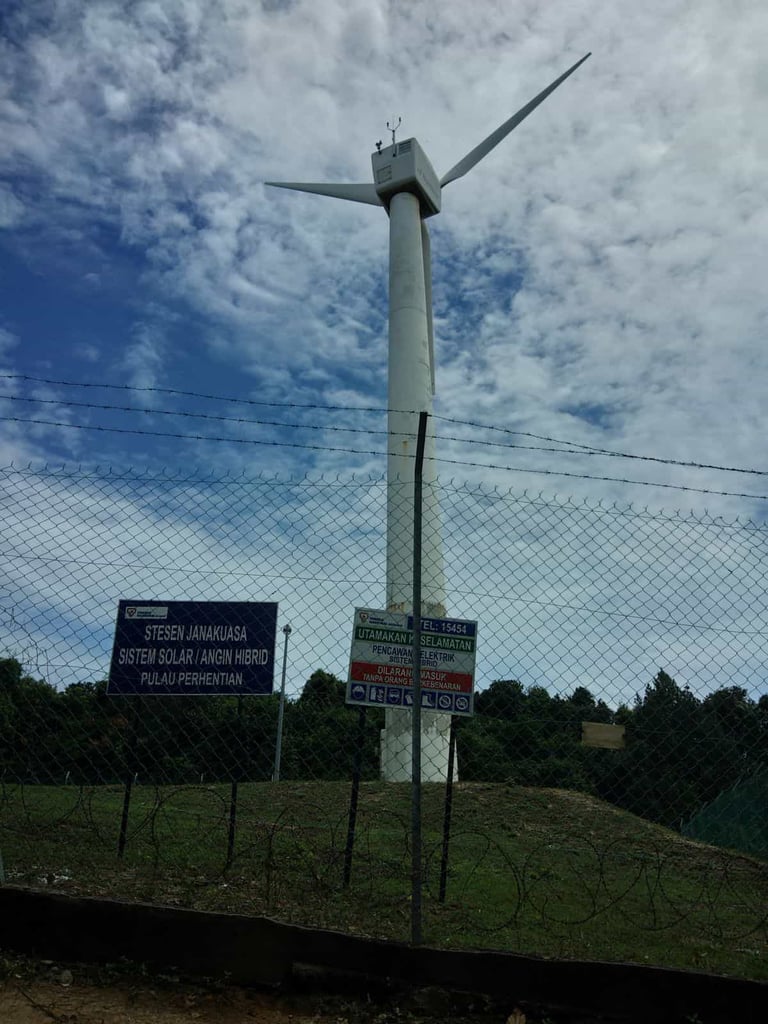 Stay for as little or as long as you like, take pictures and enjoy the stunning views.
This staircase leading to the fallen jetty looks like it was built a few decades ago (along with the overflowing rubbish that has been left in the bins) and fell apart from heavy storms .. I'm guessing. Unfortunately it hasn't been maintained so getting down it a treacherous task if you want to brave it to the bottom for a dip! Although I personally wouldn't recommend it. Go down as far as you feel comfortable with.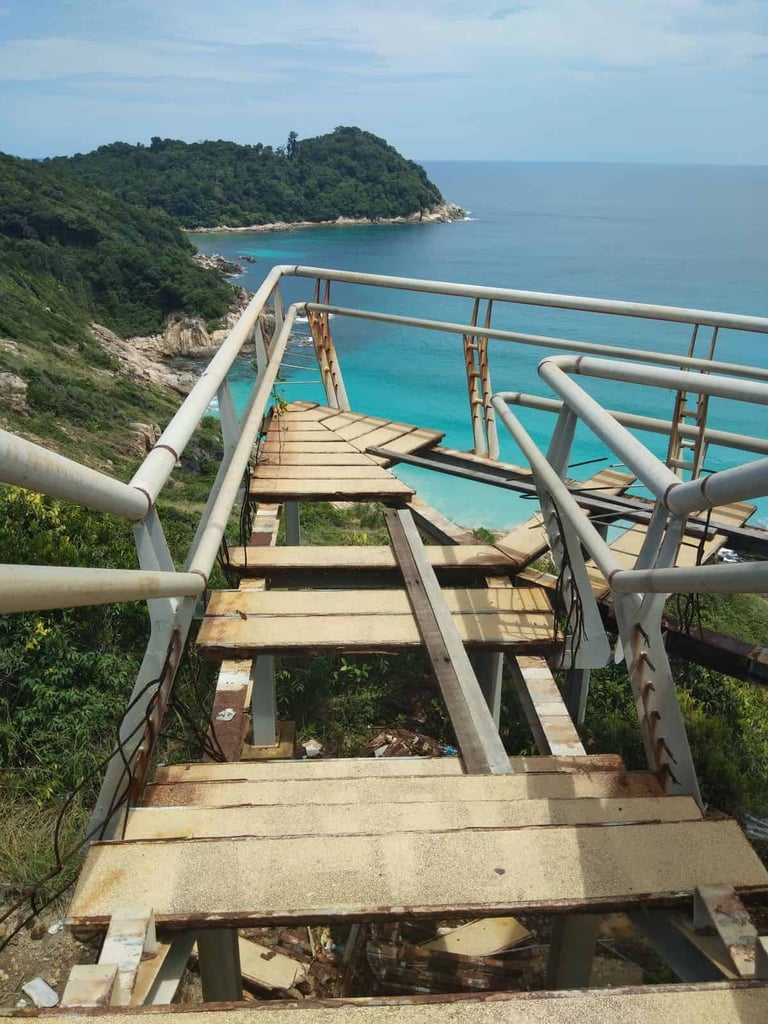 Stage 3: Hike from Windmill Point to Adam & Eve beach (approx. 30 minutes)
-After the staircase, you'll probably be sweating buckets by now. But don't worry, you are en route to the beach ☺
-Continue around the windmills and go down the path ahead of you, bearing right. Then take a quick turn on the right for another view of the staircase, but from a different perspective.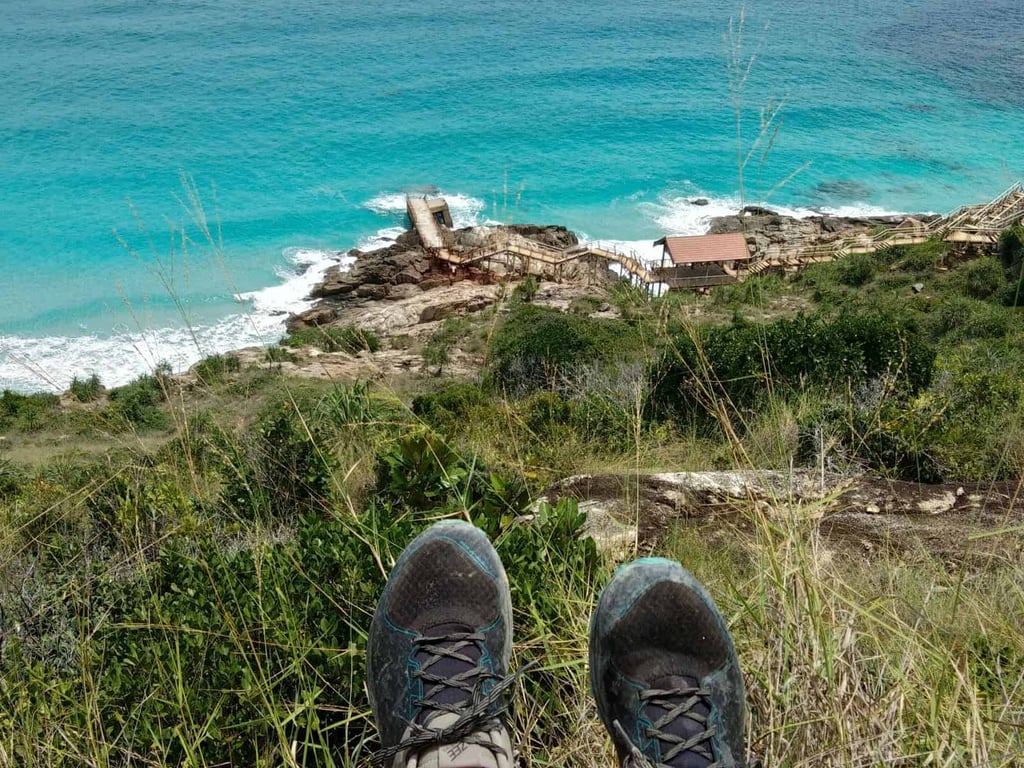 -Head back onto the path and follow it until you reach the right turn with an old, wooden signpost that has 'Adam And Eve Beach' written on it in pencil.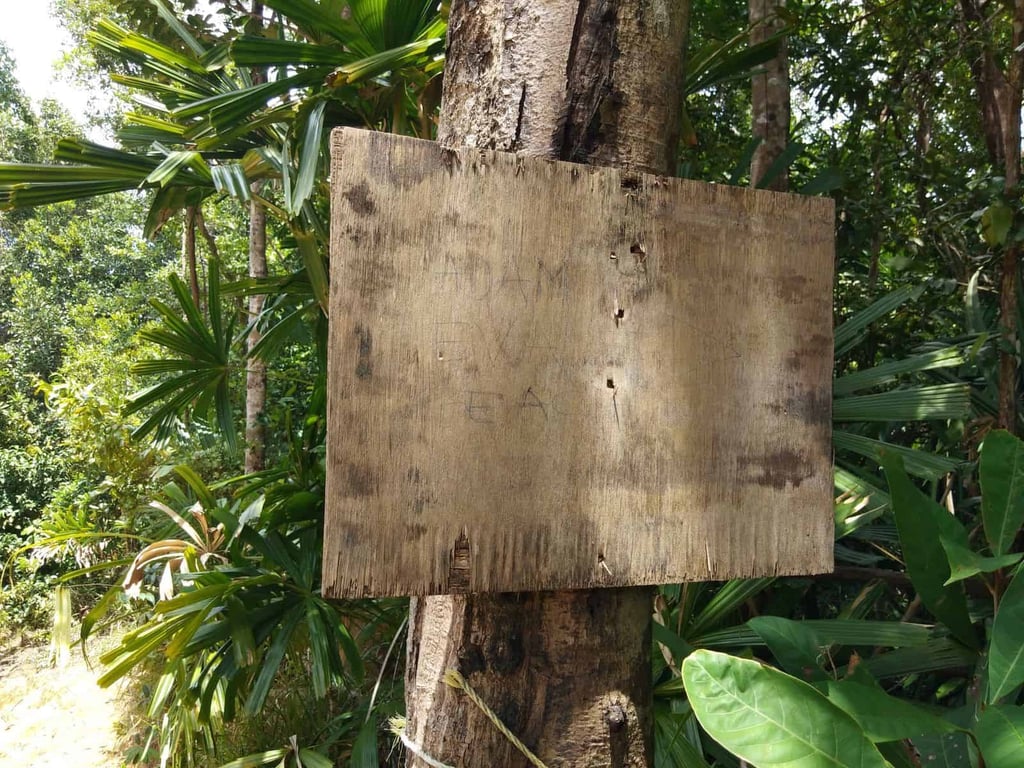 -Follow the path to Adam & Eve Beach. This route is better signposted with arrows showing you the way.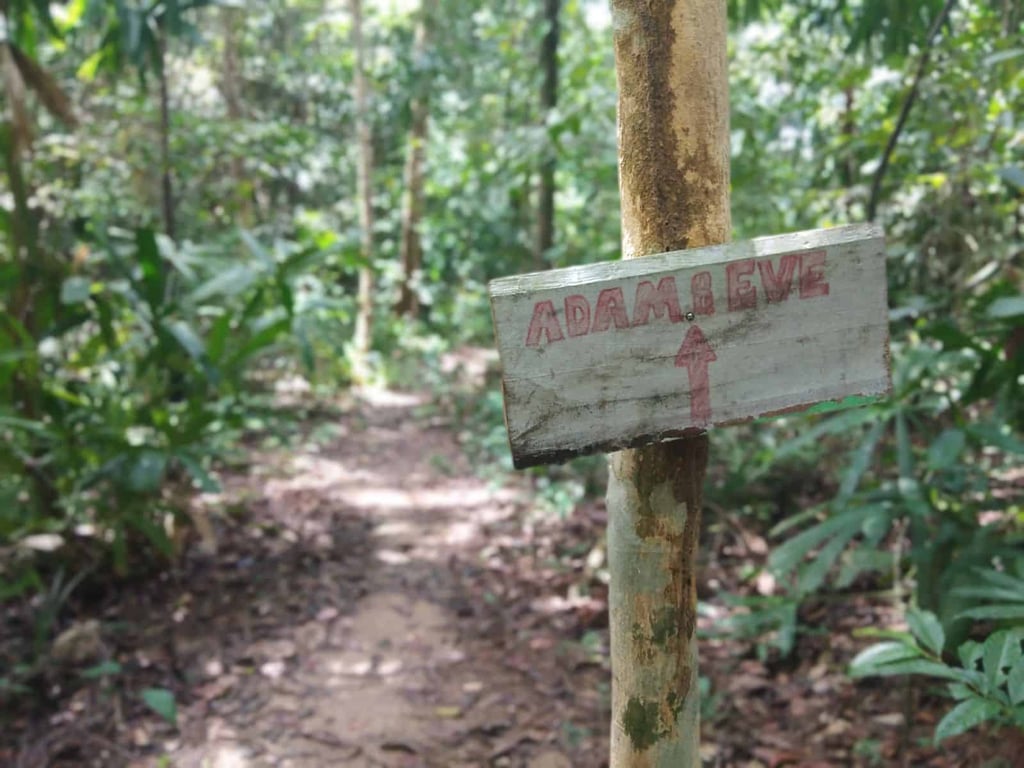 -Now you've earned your beach time! Enjoy your refreshing dip.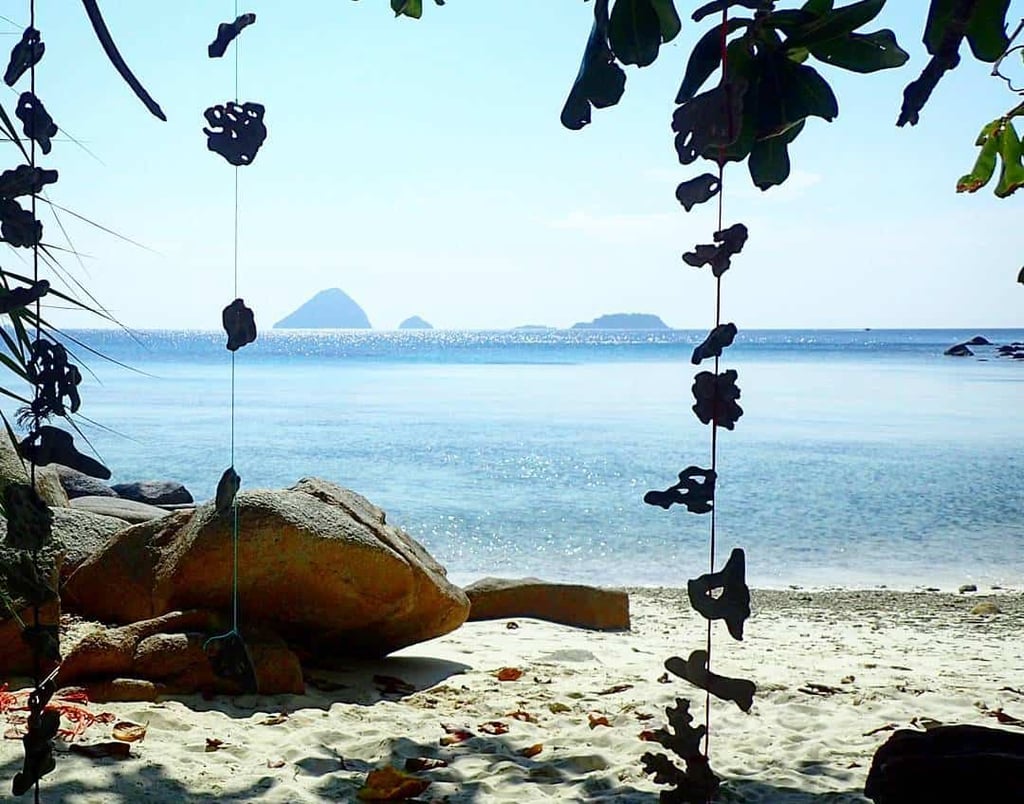 Tip: Although we didn't see any potential poachers, I've read that sometimes they hang around in the jungle ready to steal cameras, phones or money from unsuspecting tourists. Just keep your eye out.
Stage 4: Hike from Adam & Eve beach to D'Lagoon (approx. 15 minutes)
-Follow the trail back in the jungle to D'Lagoon. It is well signposted and an easier hike now you've cooled off in the water.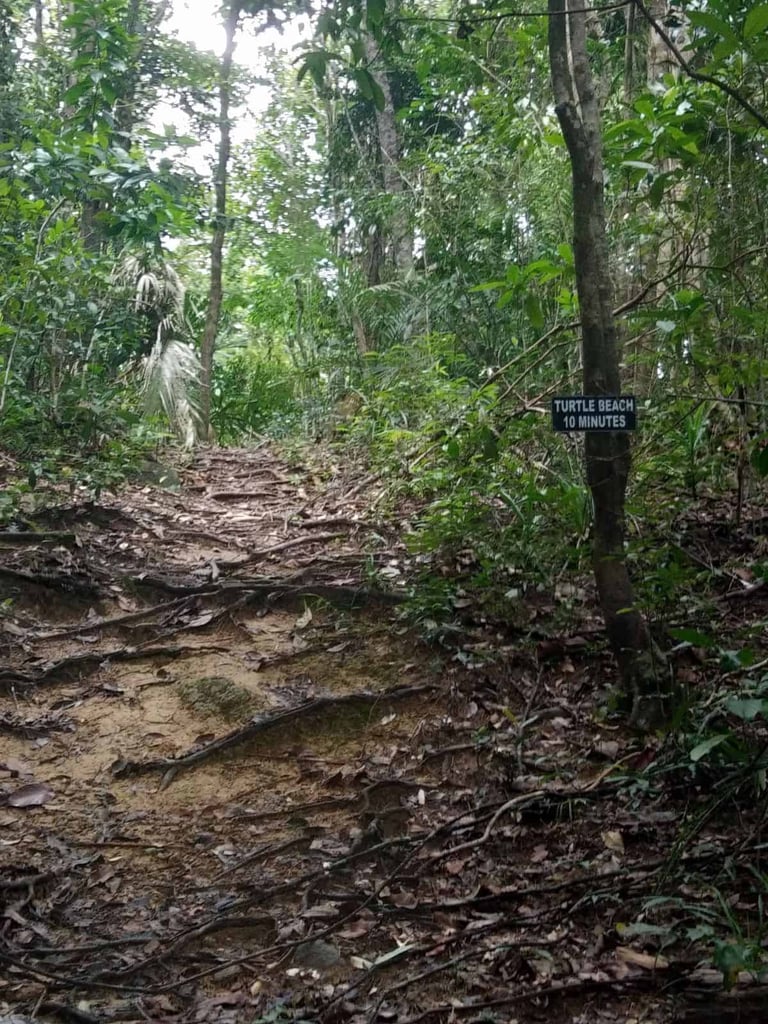 * Fancy another secluded beach? * Instead of hiking straight back to D'Lagoon, you can take the trail to Turtle Beach. It is meant to rival Adam & Eve beach as being the most beautiful on the island.
Stage 5: Grab a boat taxi from D'Lagoon to Alunan Resort (approx. 10 minutes)
-We were hoping for a beer and lunch stop at D'Lagoon, but it looked like they were 'semi' closed for the season. I say semi…there were workers outside taking a nap but no guests to speak of. The place wasn't as I imagined (code for a bit of a dump) so I'd only stay for a quick drink if neccesary.
-Ask the workers to kindly arrange a boat taxi to take you to Alunan resort. We paid RM25 pp.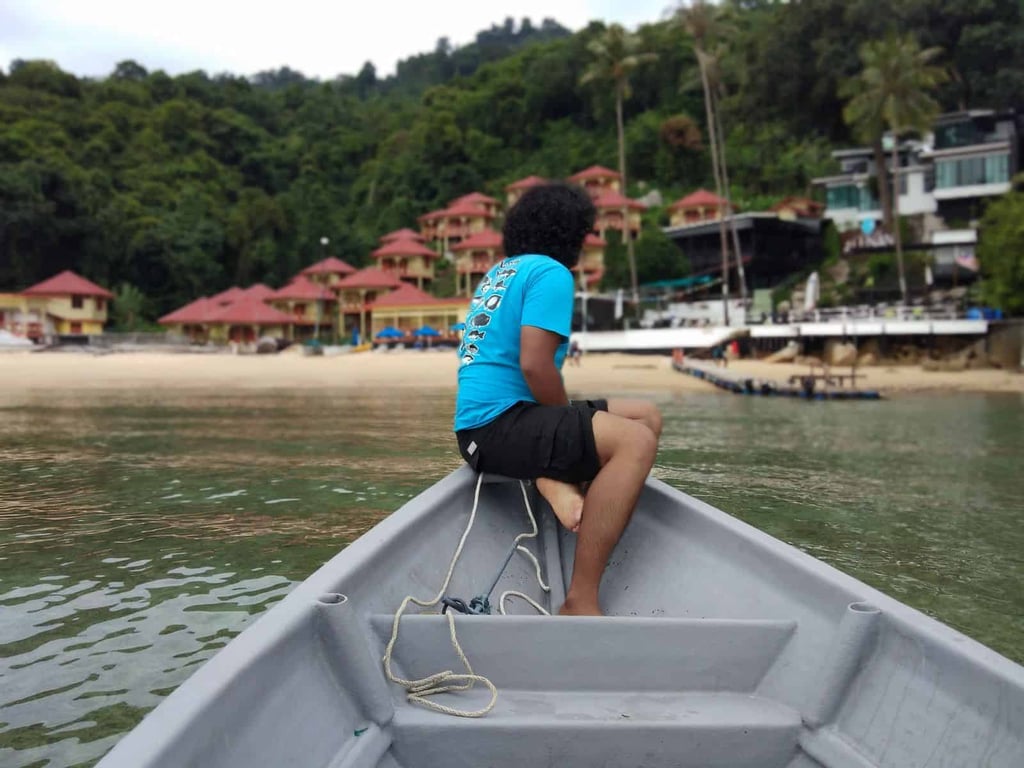 Stage 6: Enjoy a well-deserved, tasty meal and an ice cold beer overlooking paradise
-I've eaten at this resort a few times and it's nicely tucked away on the south of Kecil at the end of Petani beach. They have a pleasant and varied menu of western and Asian dishes at a decent resort price. It is one of the few places I'd recommend dining at on the islands.
Related Read:
A Trekkers Paradise: Hiking in Perhentian Besar Island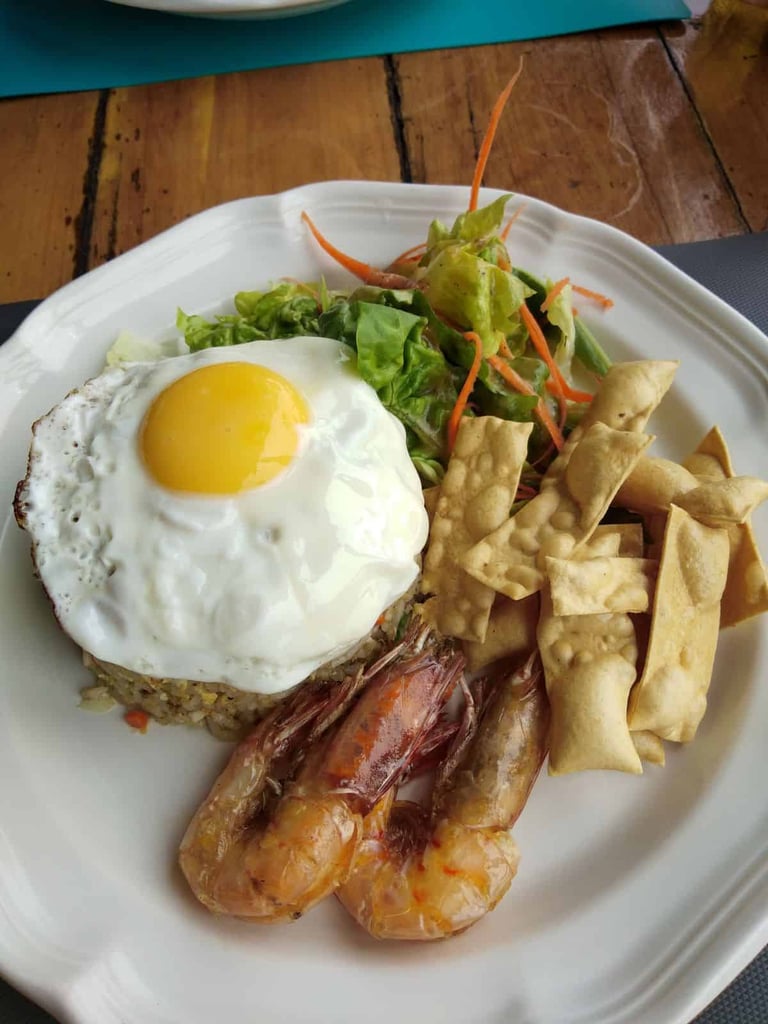 ---
Like it? Pint it for later!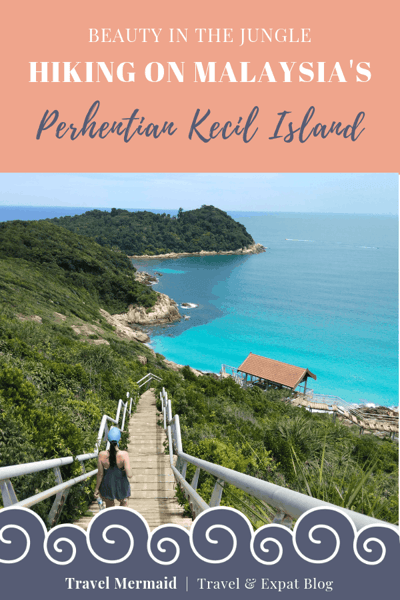 XOXO