Your complete trail guide to mastering Spring Creek Falls in Port Douglas.
---
God I love where I live. With 2020 all about 'exploring our own backyard', I feel really lucky to be surrounded by so much incredible nature. Even after two years living in Port Douglas, we're still finding new favourite haunts like Spring Creek Falls.
Last weekend the Sailor and I revisited this hiking trail which is full of wildlife, rock pools and mini cascades, making it perfect for those sticky summer days. At the end is an impressive 75m waterfall called 'Black Rock Falls' that took us three separate attempts to reach, though it was well worth returning for.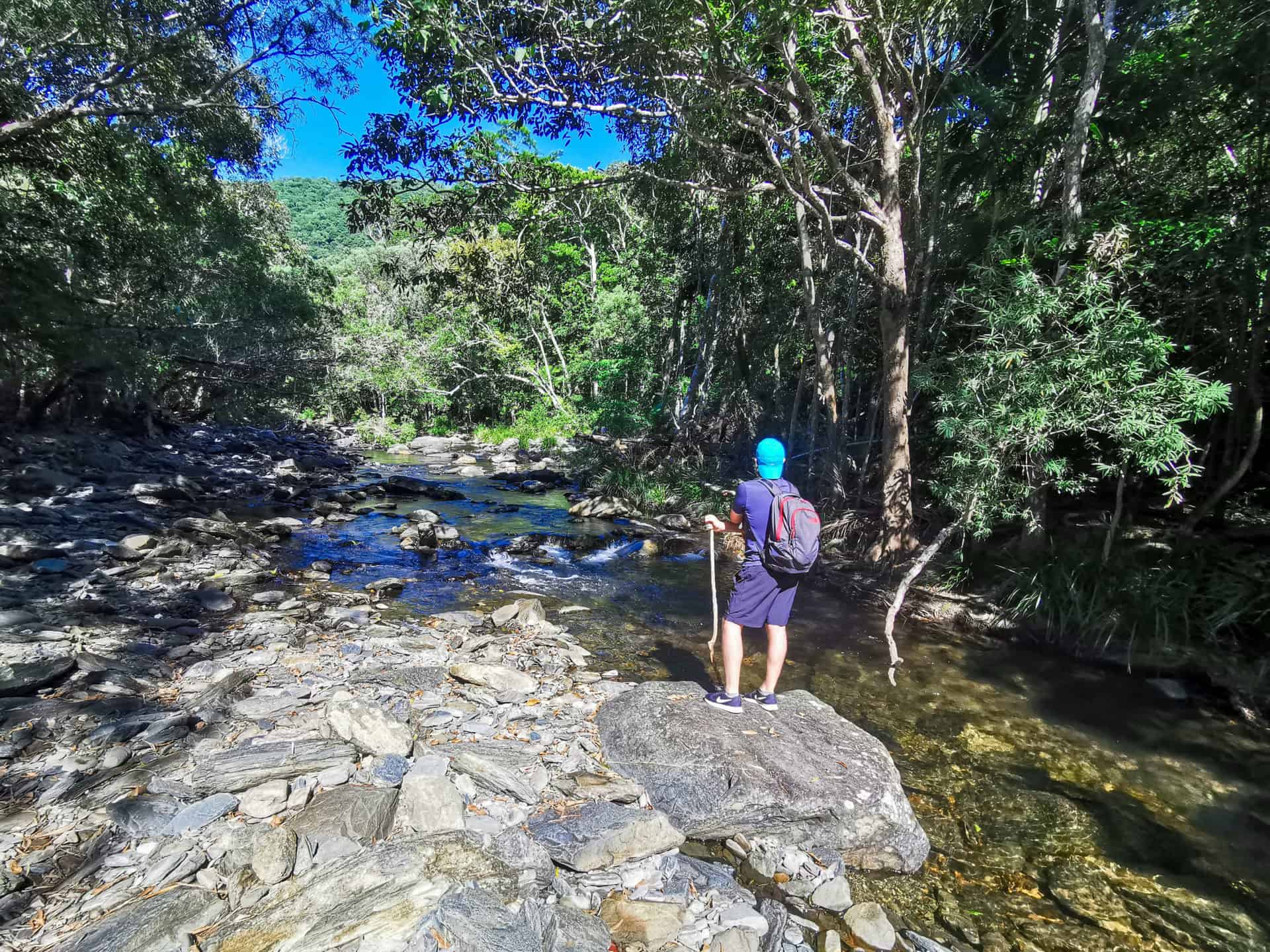 Currently Spring Creek is relatively hidden gem in Mowbray Valley that's usually hiked by locals. Unlike Crystal Cascades in Cairns that's an official trail, paved and easy to access, this one is not which means it often gets overlooked by visitors and rarely gets busy. However I believe it's scheduled to become a part of the 93km Wangetti Trail that's being constructed between Palm Cove and Port Douglas, so get in while it's quiet.
The first half of this hike is a relatively flat trot next to the creek bed where you'll create your own path. Access depends on how much water is in the stream and there's no worn "trail", so you may need to cross several times before reaching the end.
The creek ran pretty dry on our recent visit (late October) so it was a lot easier to navigate down as the walkway was wider. When it was full in April there was a lot more back and forth trying to find the best route. If you've done it once then it's easy and swift, but first timers will need to allow more time. I'd suggest grabbing a picnic and making  day of it!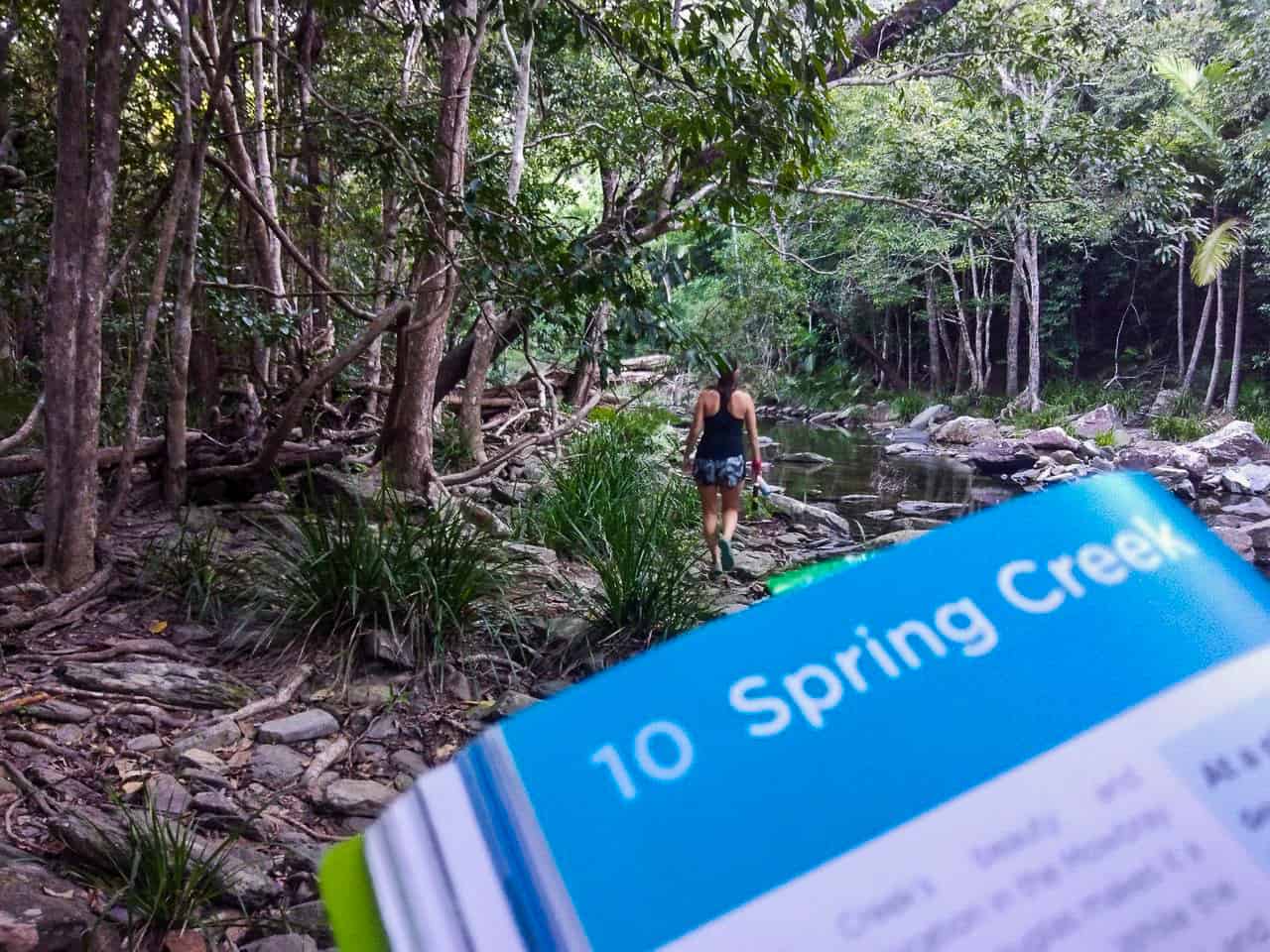 The second half of the track requires more legwork and occasional bum-sliding to get over slightly bigger rocks before reaching a few mini-falls and croc-free swimming holes. This could easily be your end point as it's satisfying enough to stop there. Those with hardy 7-year olds should be able to get about 3/4 of the way through, though I'd say aged 8-10 is a more likely minimum.
An element of courage is needed for the optional last leg to the final cascade as you'll be climbing over steeper rocks and boulders. I'm not an experienced rock climber and I didn't find it technically hard, although a few parts may seem daunting on sight. When you start working your way up you realise it's not that bad and I quite enjoyed the problem solving aspect of it. It's easier when you know the best route, so keep this article handy!
Related Read:
Hiking Mount Bartle Frere- Queensland's Highest Peak!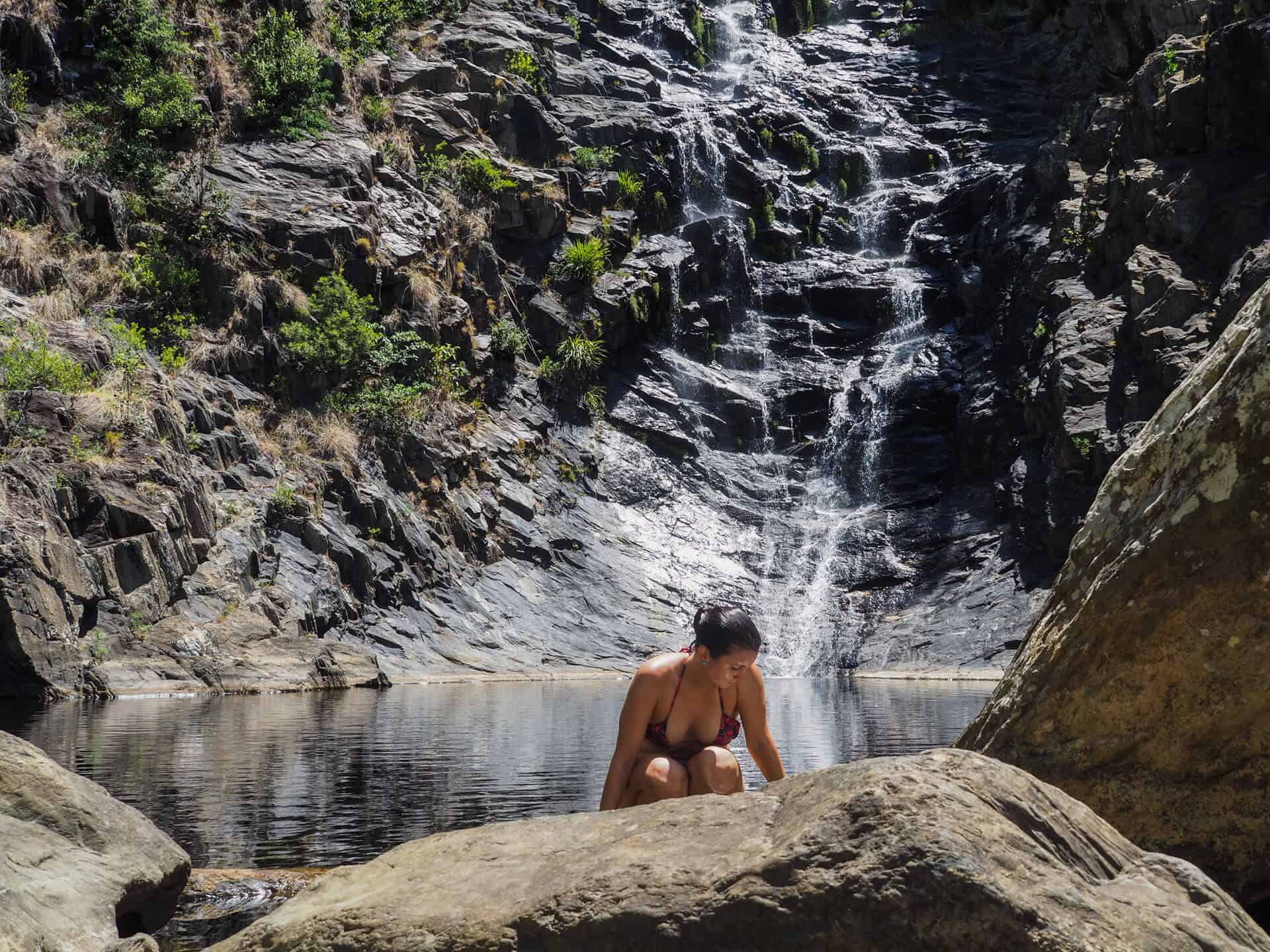 ---
Spring Creek Falls – At A Glance
Overview
🥊 Grade: Moderate.
🏃🏻‍♀️ Distance: 4km return.
⏲ Time: 2-3 hours return.
📈 Ascent/descent: 150m.
If this is your first time At Spring Creek then allow an extra hour to complete the entire trail. The third time we came we spent 4 hours here, stopping three times along the way to picnic and dip in the rock pools. It really is a gorgeous spot.
You'll probably lose phone reception as soon as you hit Mowbray, so you may want to open this article before you get there or just print it off.
---
How To Get To Spring Creek Falls
To reach the start of the walk from Port Douglas, it's a 10 minute drive or 30 minute bike ride. You can open up this route ☝🏼 on your phone for easy navigation. Just hit the enlarge icon👇🏼  at the top right corner and it'll open up in Google Maps, or use the directions below.

Directions
From Port Dougie, chuck a left onto the Cook Highway and after 5k take a right onto Trezise Road. After about 2k you'll pass two saucy Queenslander houses. 👇🏼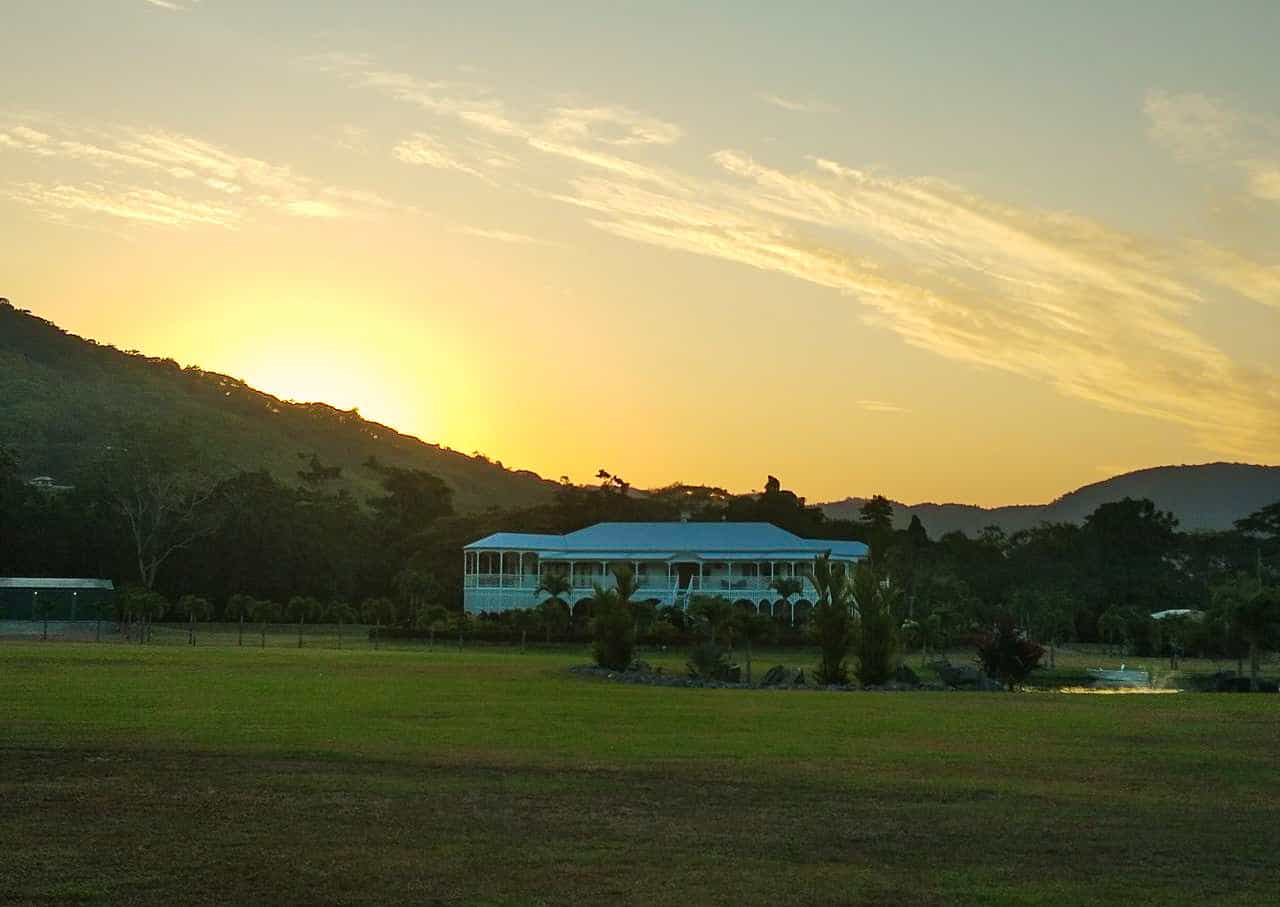 Then take a left onto Spring Creek Road just before the bridge. Go straight, over the creek and after about 2k you'll come to a dirt track on your left before Gray's Creek Terrace. 👇🏼 This is not an official trail so it's not signed.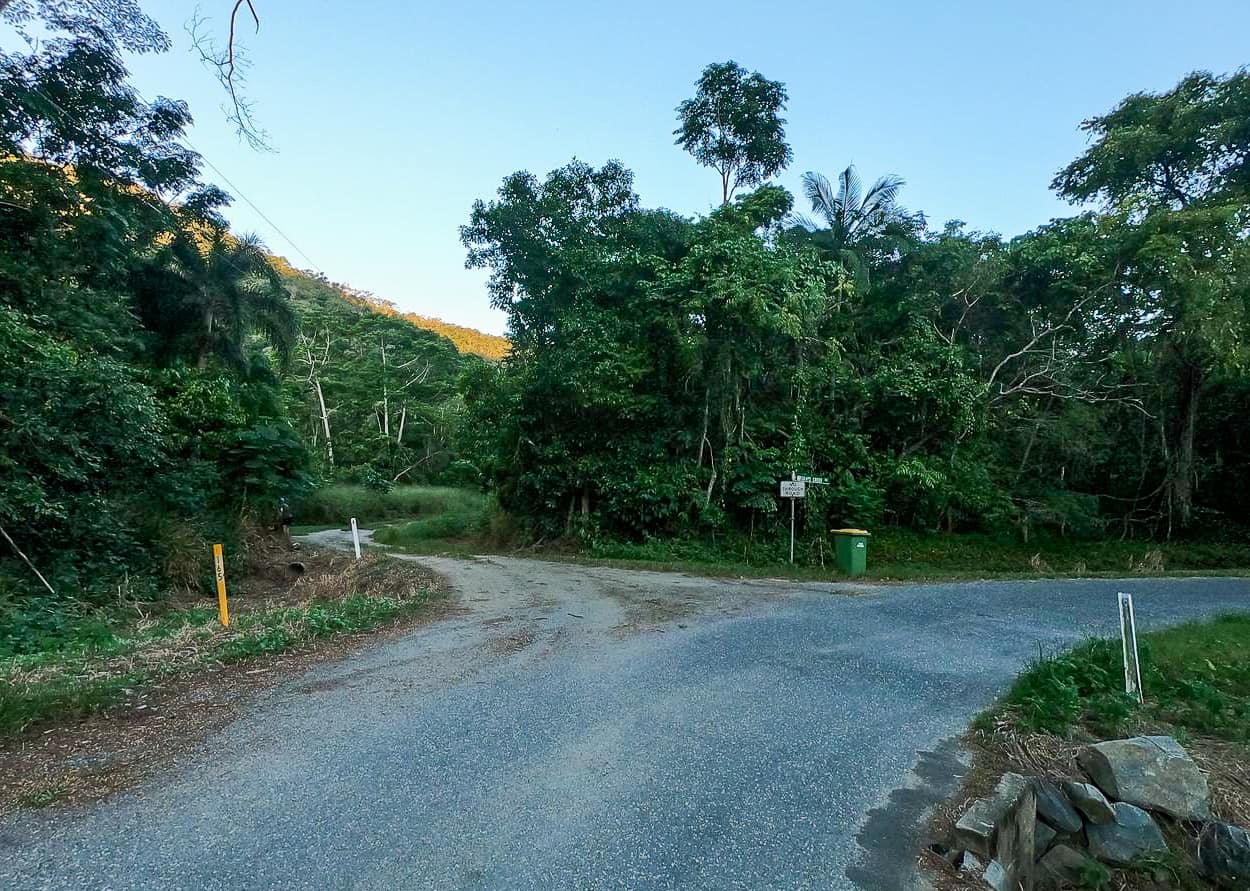 If you have a 4WD or high-clearance car then drive down this track to reach the main parking area.
As we don't have one, we normally park up snugly straight after the left turn (pic above), ensuring we don't block the driveway to the house. You can of course park anywhere that's safe along the main road too- feel free to shimmy into the grassy bits by the curb, like where the bin is pictured.
---
Spring Creek Falls: Trail Guide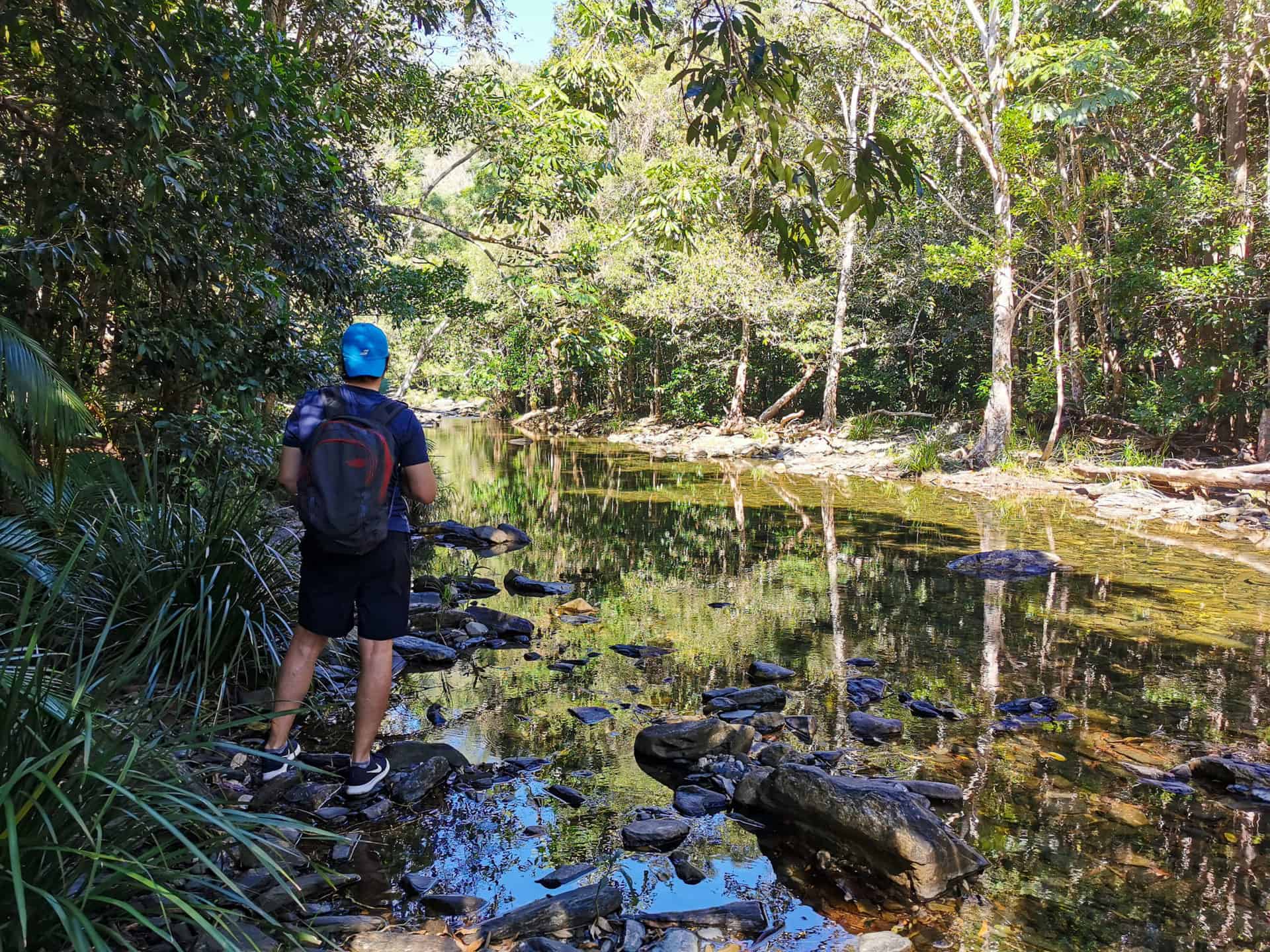 As there's no clear path, this hike may seem a bit confusing at first but don't worry. As long as you keep to the creek and don't go climbing into the hills (very hard to do) then you're going the right way!
Once you reach the 4WD parking area, you'll arrive just beside Spring Creek. From there, take a right and walk upstream (Note: this bit may run dry between May to October).
At this point, I normally cross the creek right away so I'm walking on the left hand side as accessibility soon becomes limited if you keep going on the right. Or if the creek is full and rock hopping over now is a bit tricky, you may wish to cross in about 30 metres when you see a stony "island" in the middle with the fallen tree 👇🏼, which we also found a little easier.
You can, of course, just take your shoes off and walk through the water too!
Caution: Always be careful of wet, mossy or loose rocks in the stream which can cause you to slip and lose balance.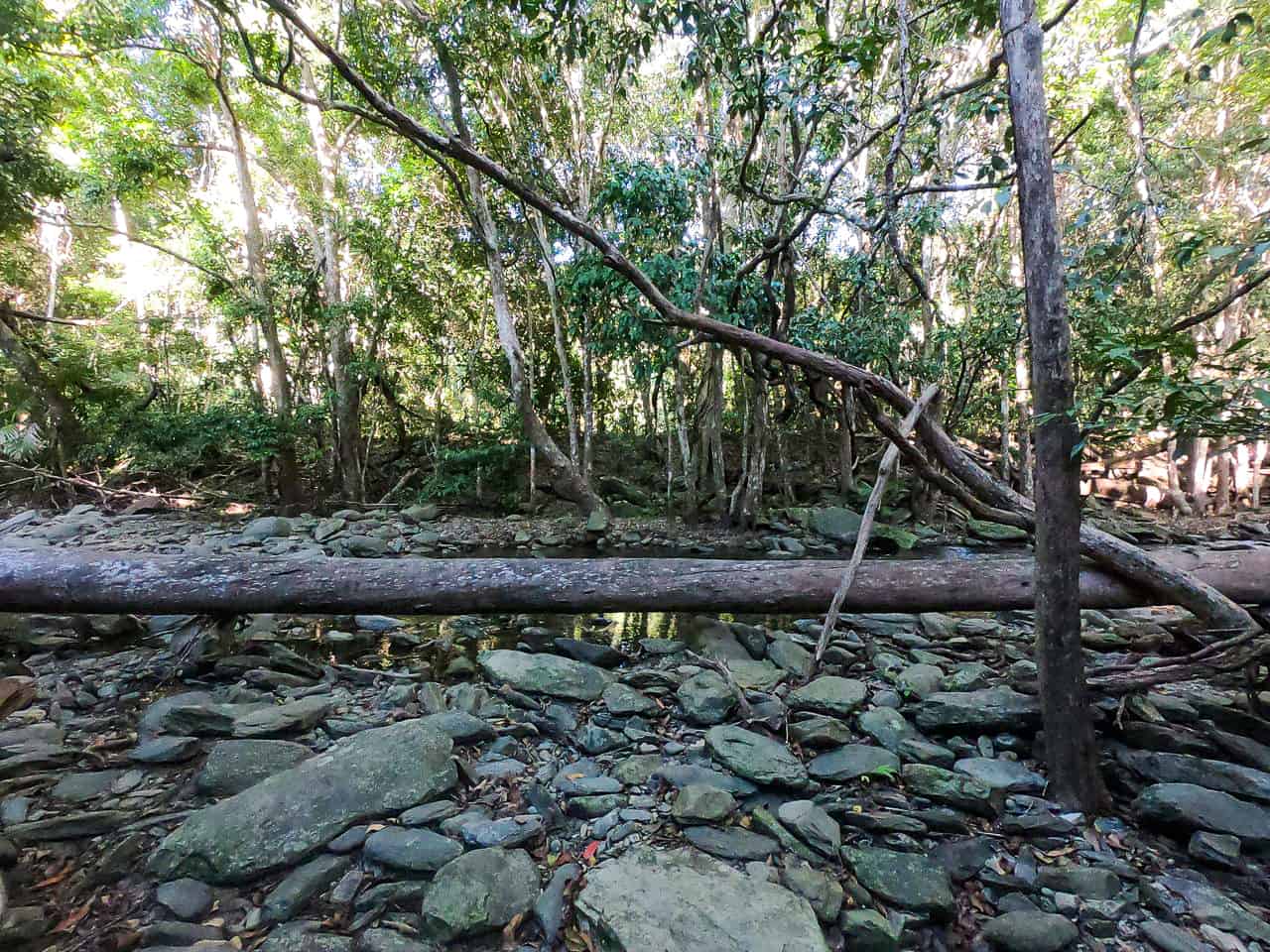 Now continue walking upstream, making your own route as you go. You'll be mostly walking over the rocks and the slightly worn trail next to it, weaving in between them depending on accessibility.
You may see a few small tributaries flowing into the creek but always ensure you keep to the main watercourse.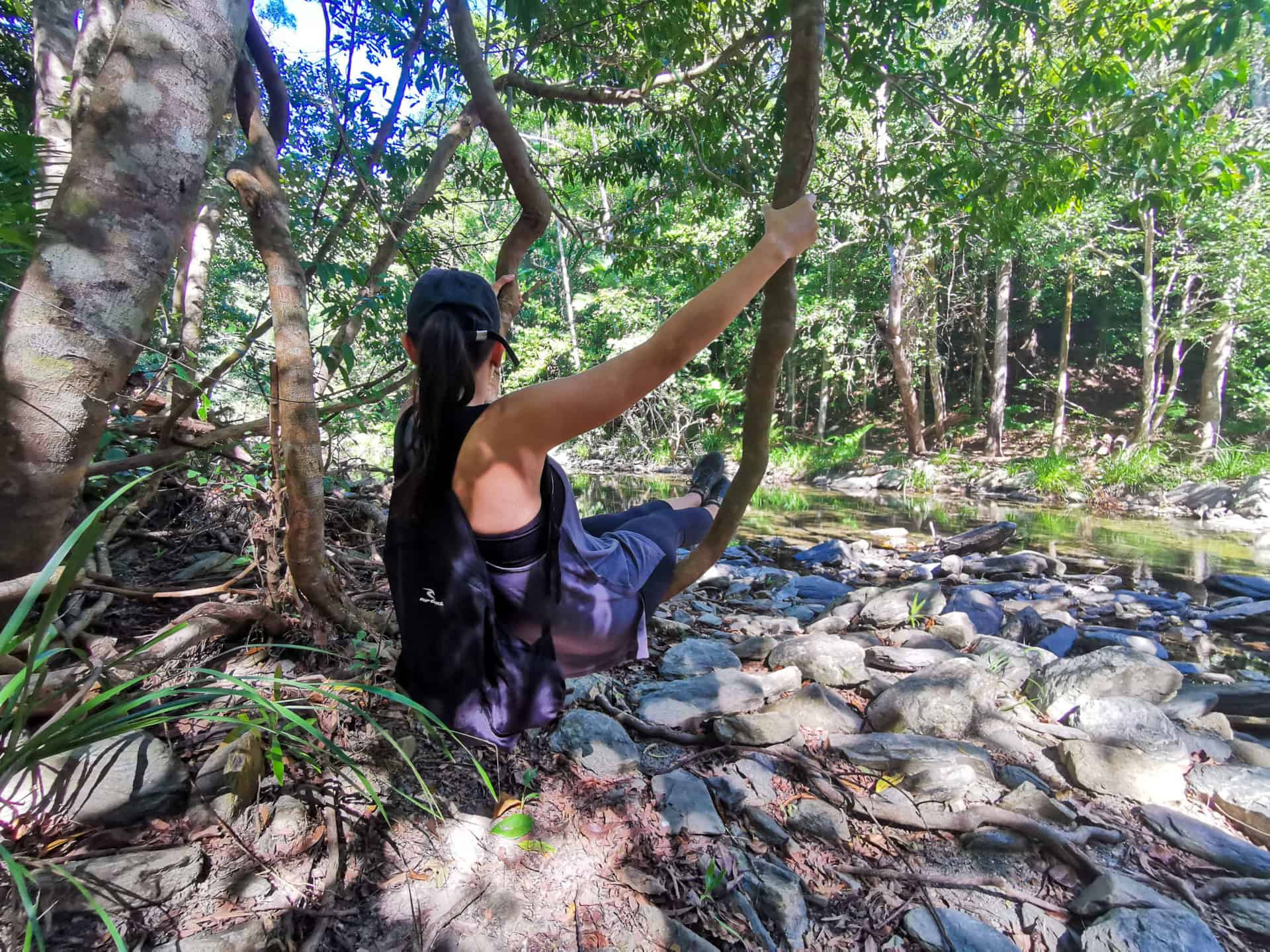 After about a quarter of the way in, you'll pass a flat rock on your right 👇🏼. Keep going straight for about another 300m and then try to cross over to the other side as accessibility will soon become more limited on the left. There used to be a pink ribbon marked on the tree showing where to cross, but someone must have taken most of them off recently.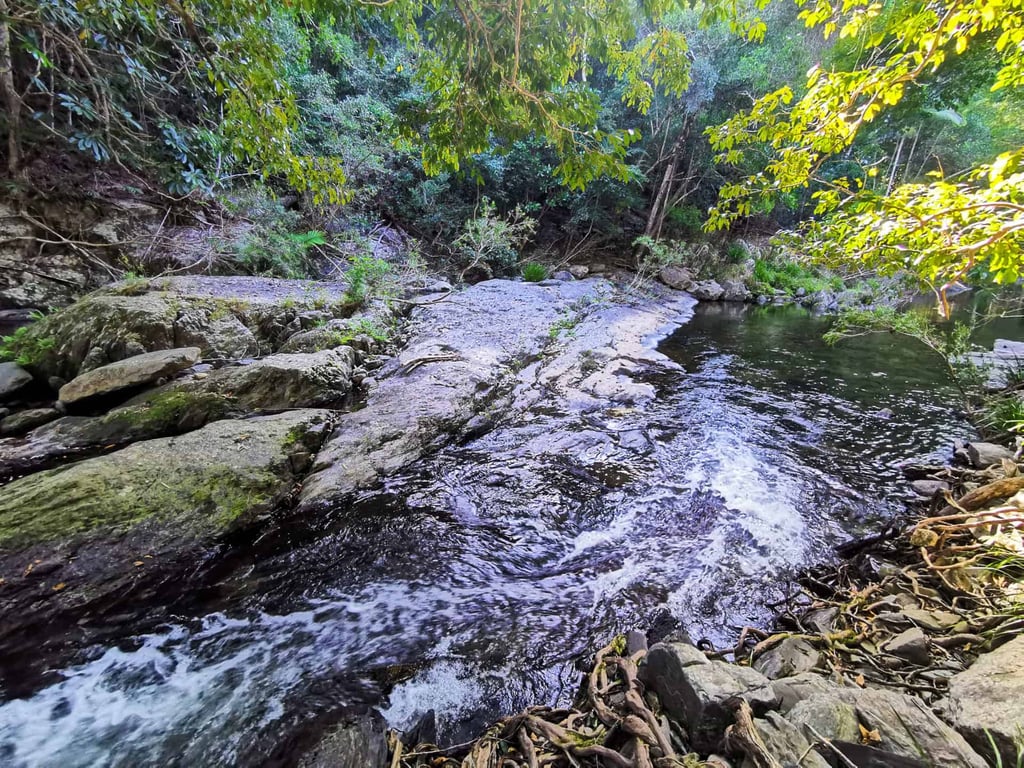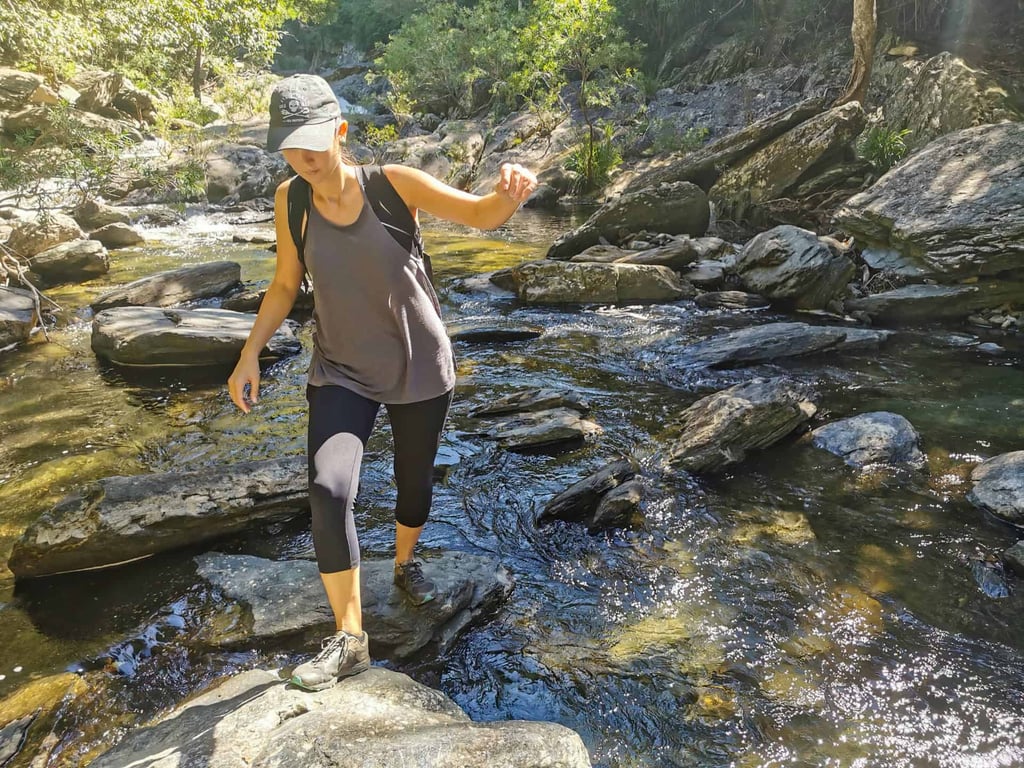 The rocks will then start to get a bit bigger from here, requiring more legwork, concentration and bum shuffling to get over them. Soon you'll come to the first mini fall and pool 👇🏼, which may only trickle in the dry season. We found it easier crossing the creek again and keep to the left of it as we passed. (There's about 3 of these before the main fall).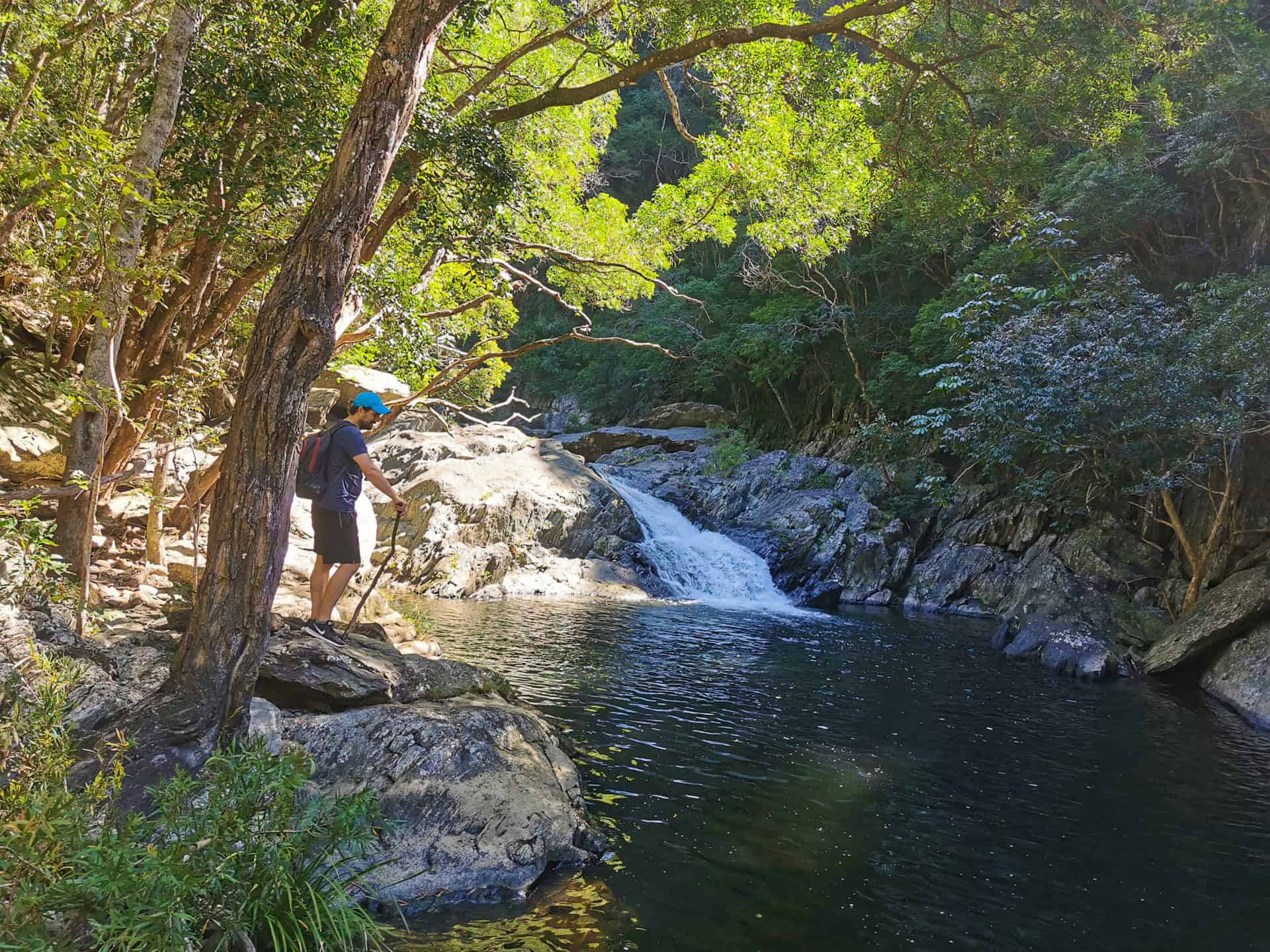 After you'll reach another small cascade. This is a good swim opportunity and stopping point for those with younger kids, as continuing will require you to climb over steeper rocks.
This rock may seem steep but it's really not so bad if you approach it on the right side. Where you see the mini-cascade, climb up just to the left of it. I've seen a few people give up here (as did we) because they try climbing on the left side where the rock is steeper!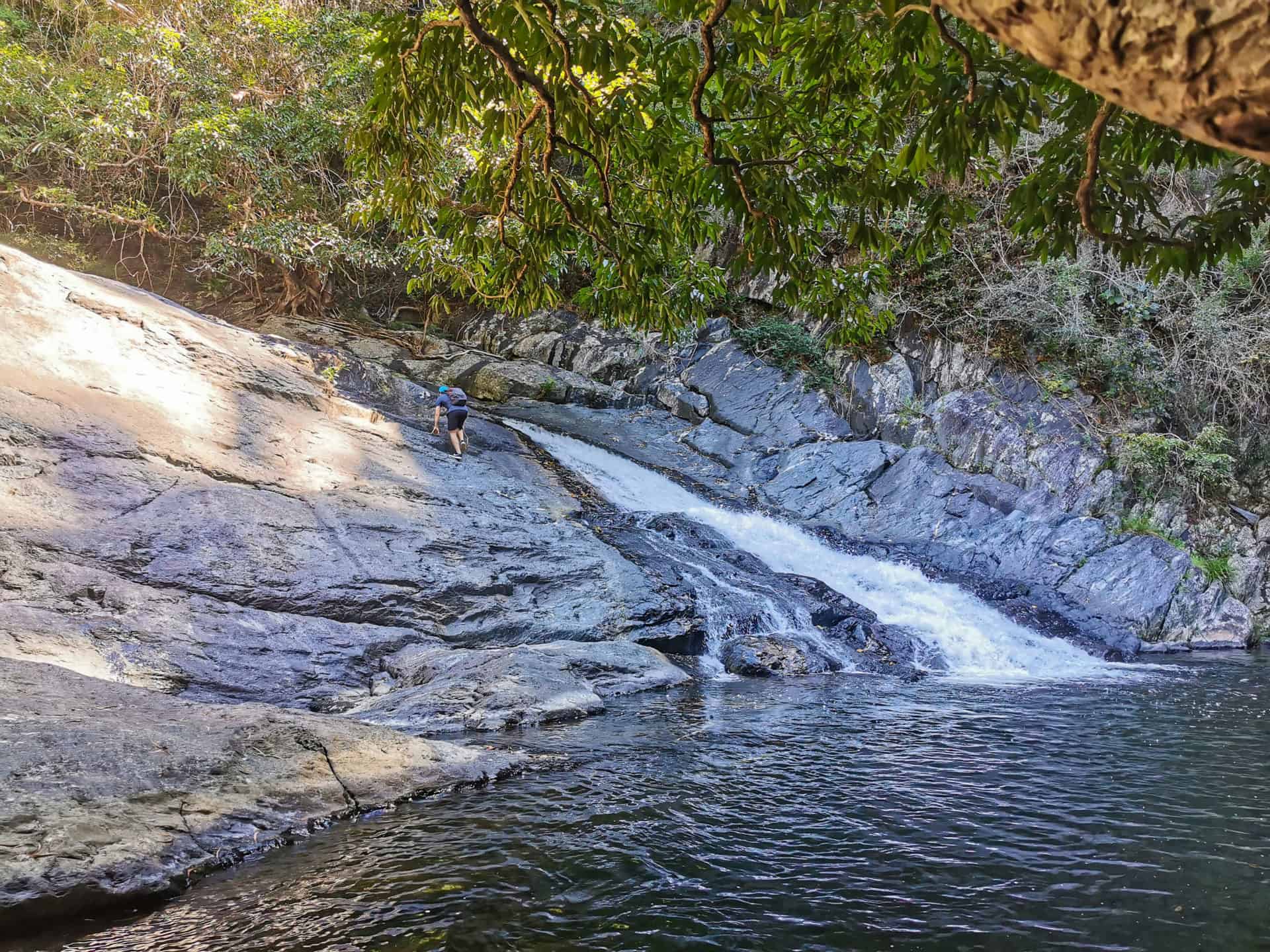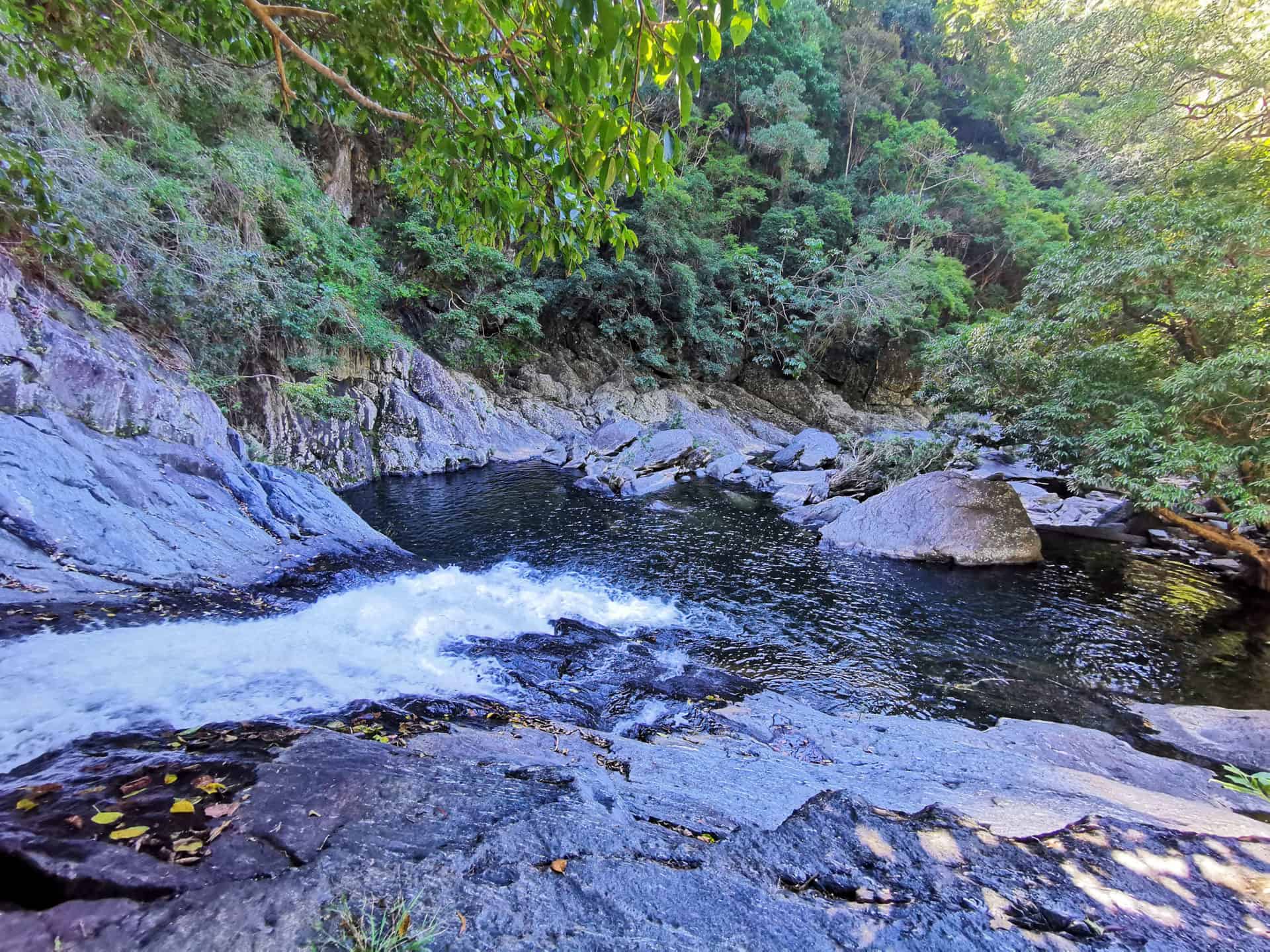 Now try to continue walking on the right side for about another 10 minutes where you'll pass another couple of rock pools and small cascades 👇🏼. Keep to the right when passing them all.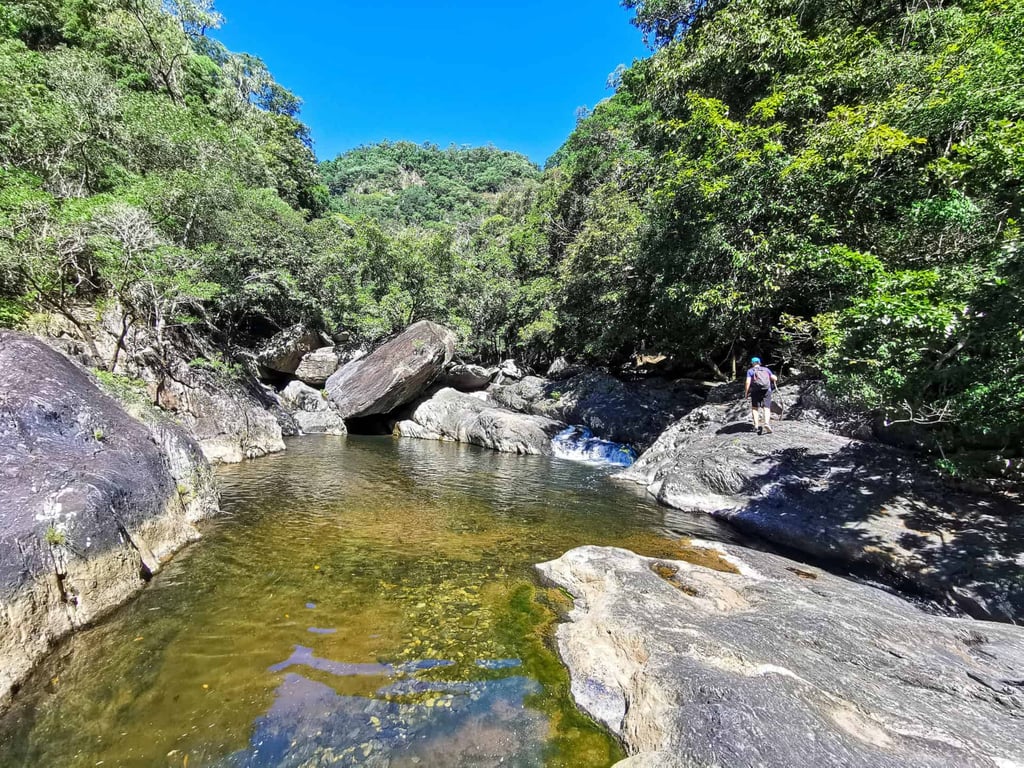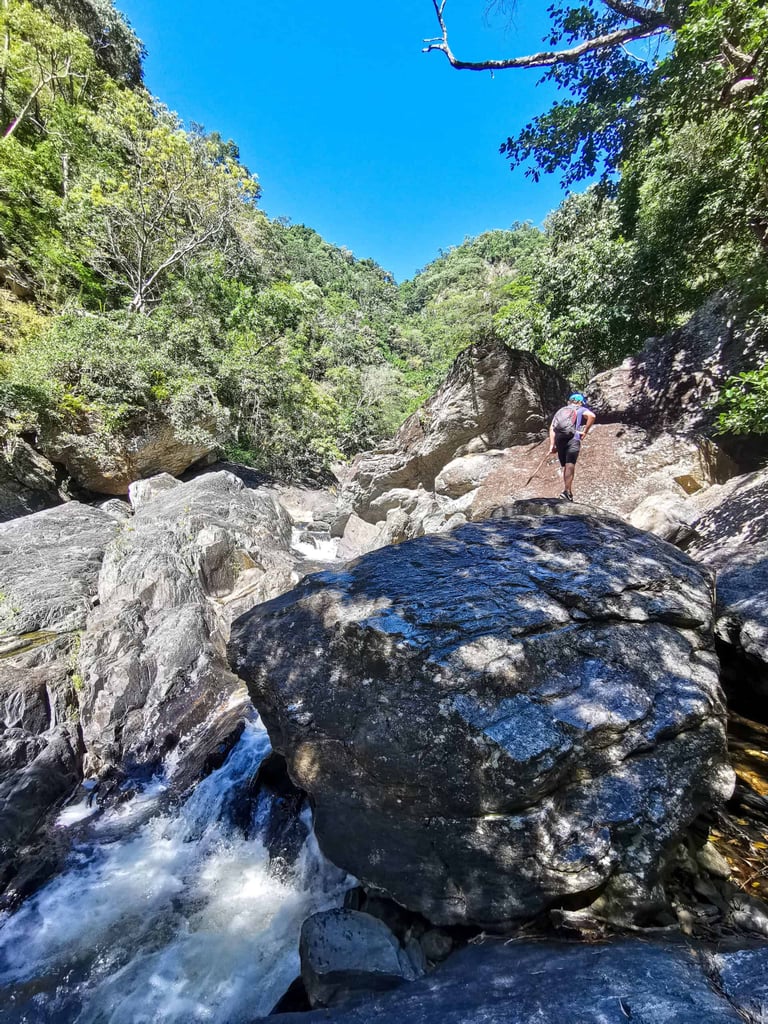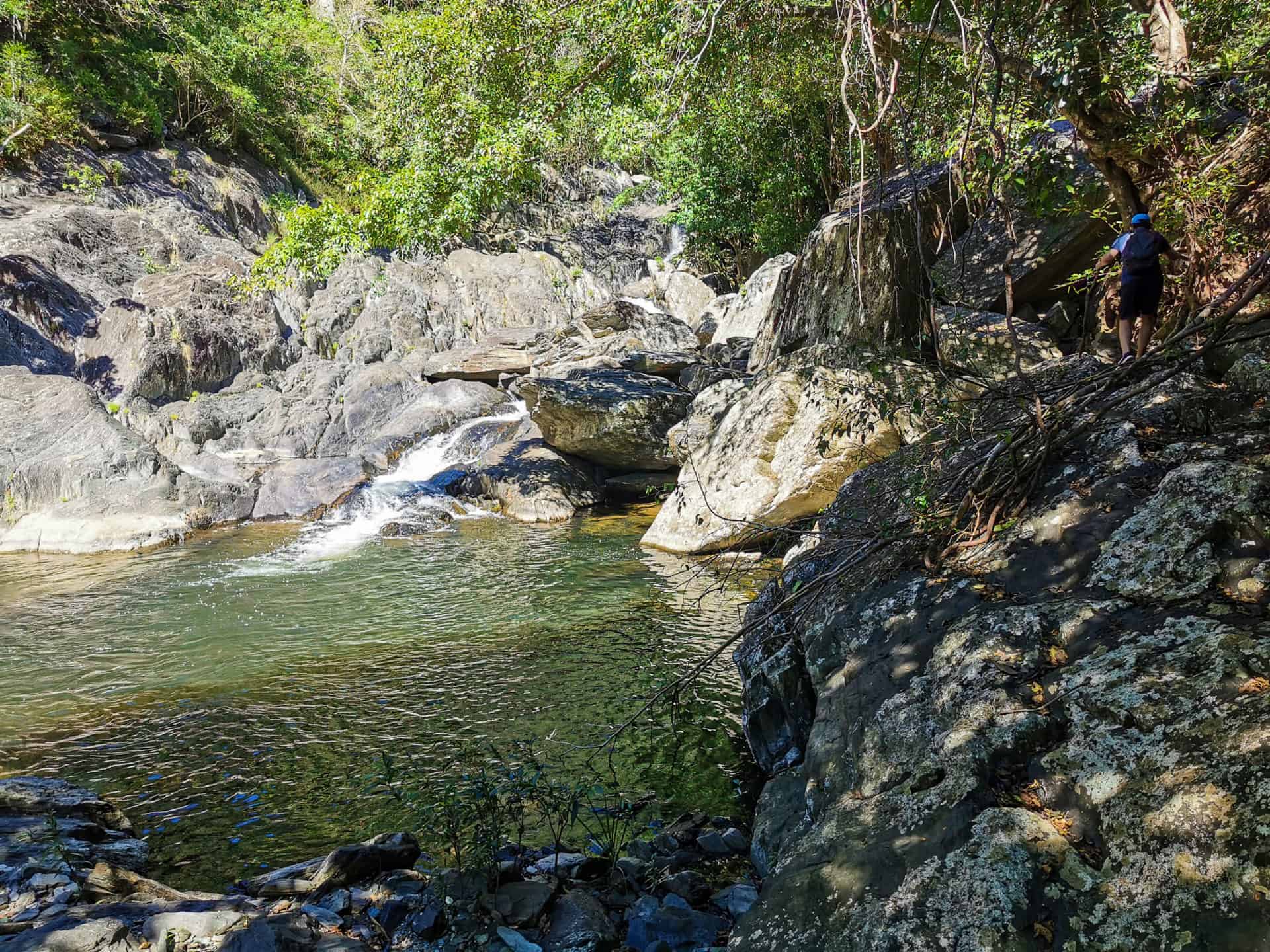 Now you should be at the "faux fall". 👇🏼
When we followed the directions in my hiking book it seemed like this should be Black Rock Falls, but it's not! There wasn't a lot of rain when we first got here so I thought it just looked different because there's less water.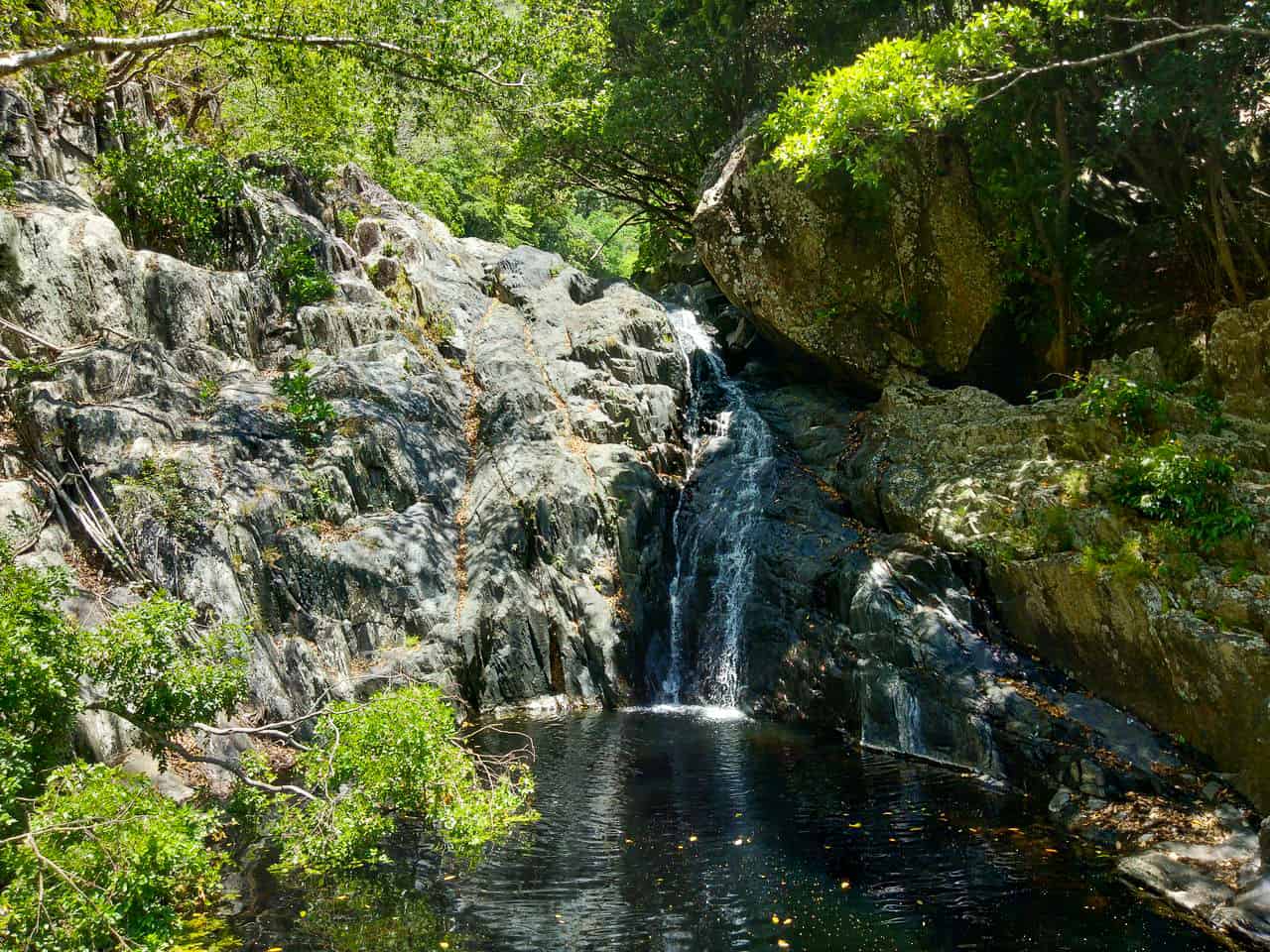 However this is what it looked like recently after more rain…quite obviously not the main waterfall as it's not high enough. You'll know when you get there.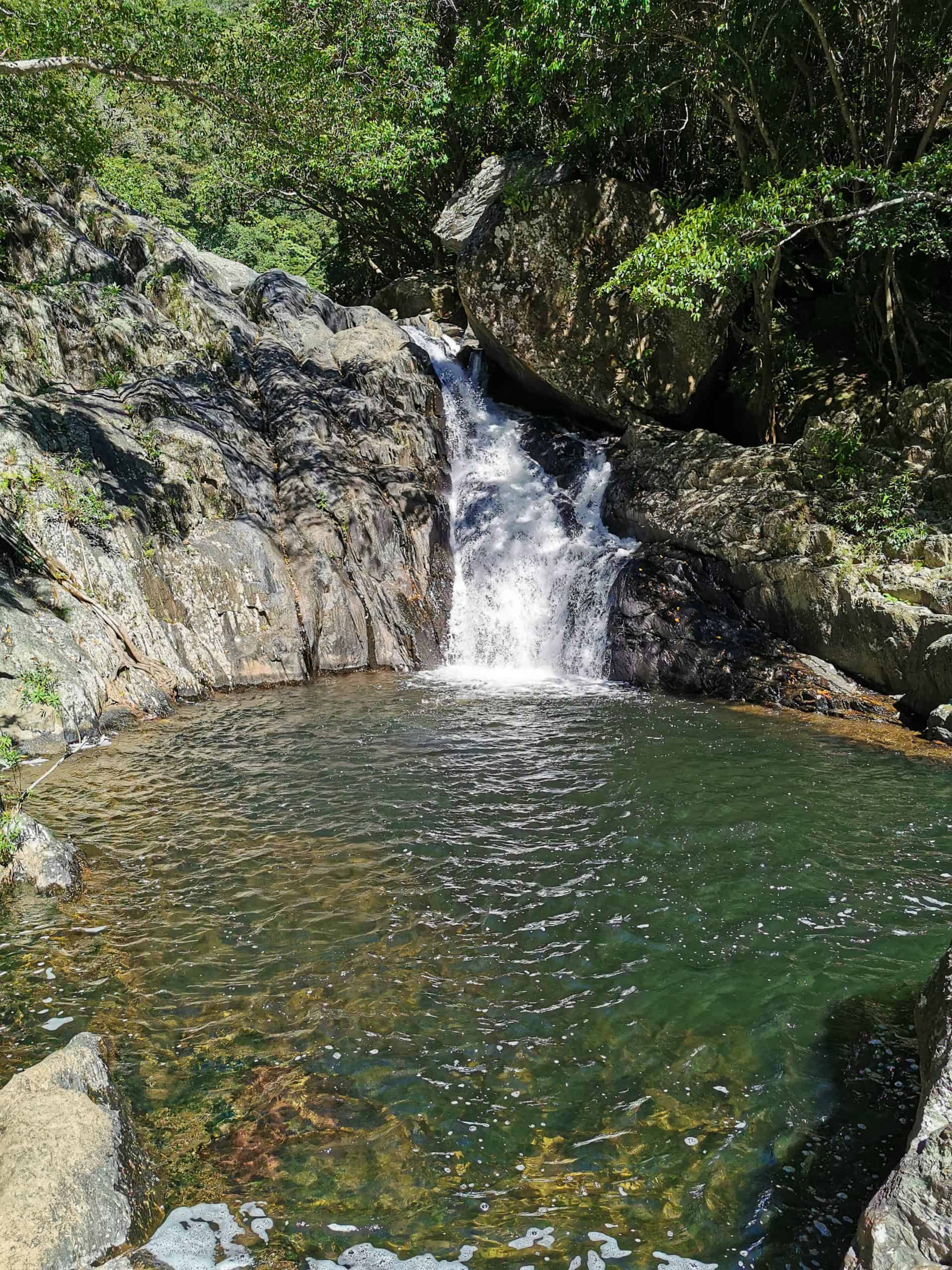 Anyway, we sat here for about half hour, ate our picnic and sized-up the picture in the book with the falls in front of us, concluding that we weren't at the end. If you're not up for any climbing then you may want to make this your last stop, though if you have enough time I urge you to at least try.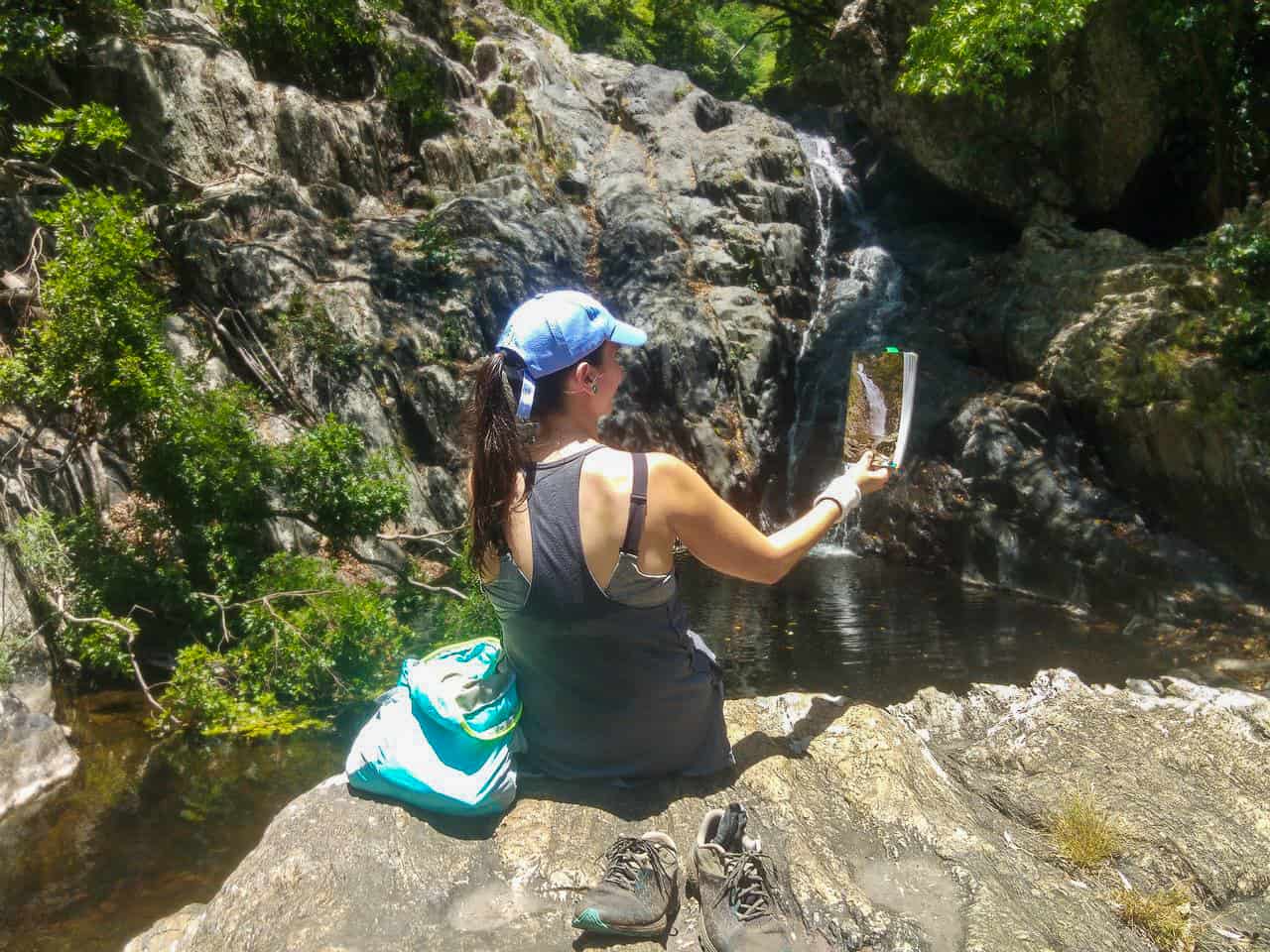 If proceeding, cross the falls from the left. Be careful as you climb the boulders and rocks, using the natural footholds as you go. You'll need your arms to be free so pack anything into your bag if required.
Caution: only go beyond this point if the big rock/boulder next to the fall is dry to prevent injury.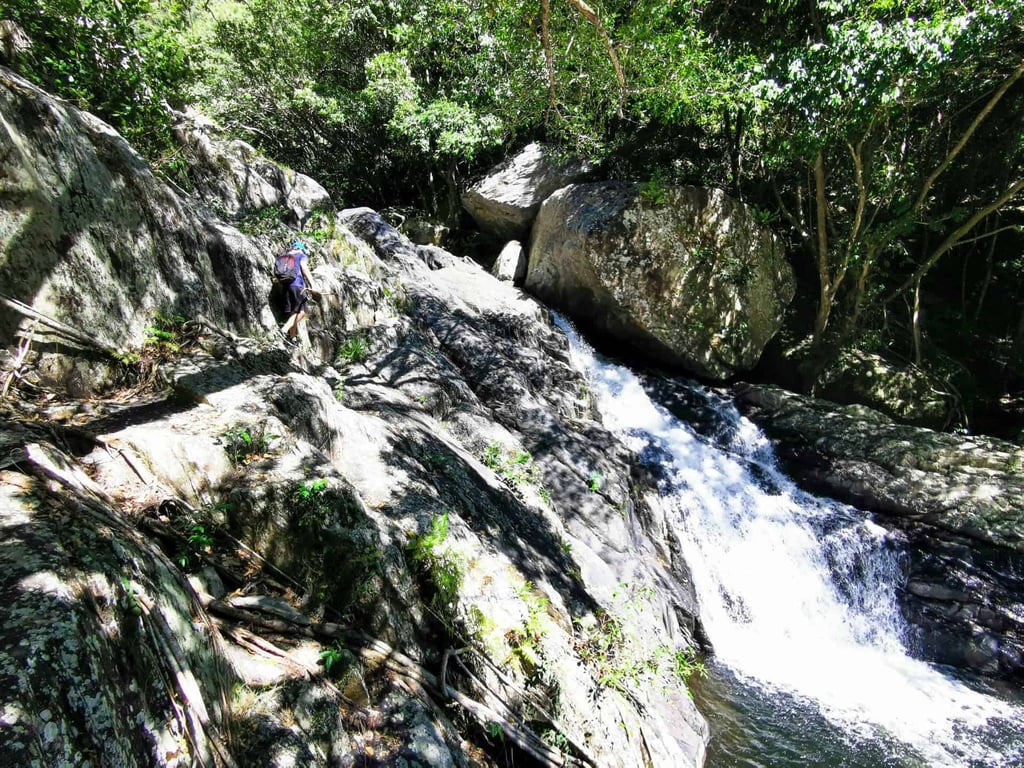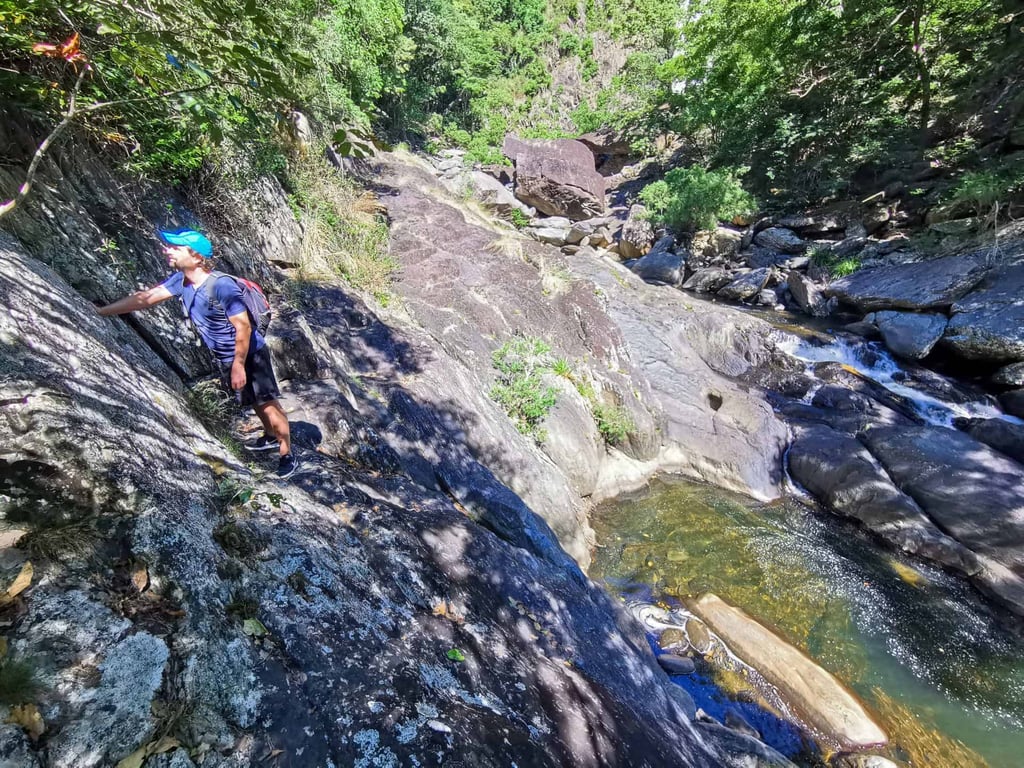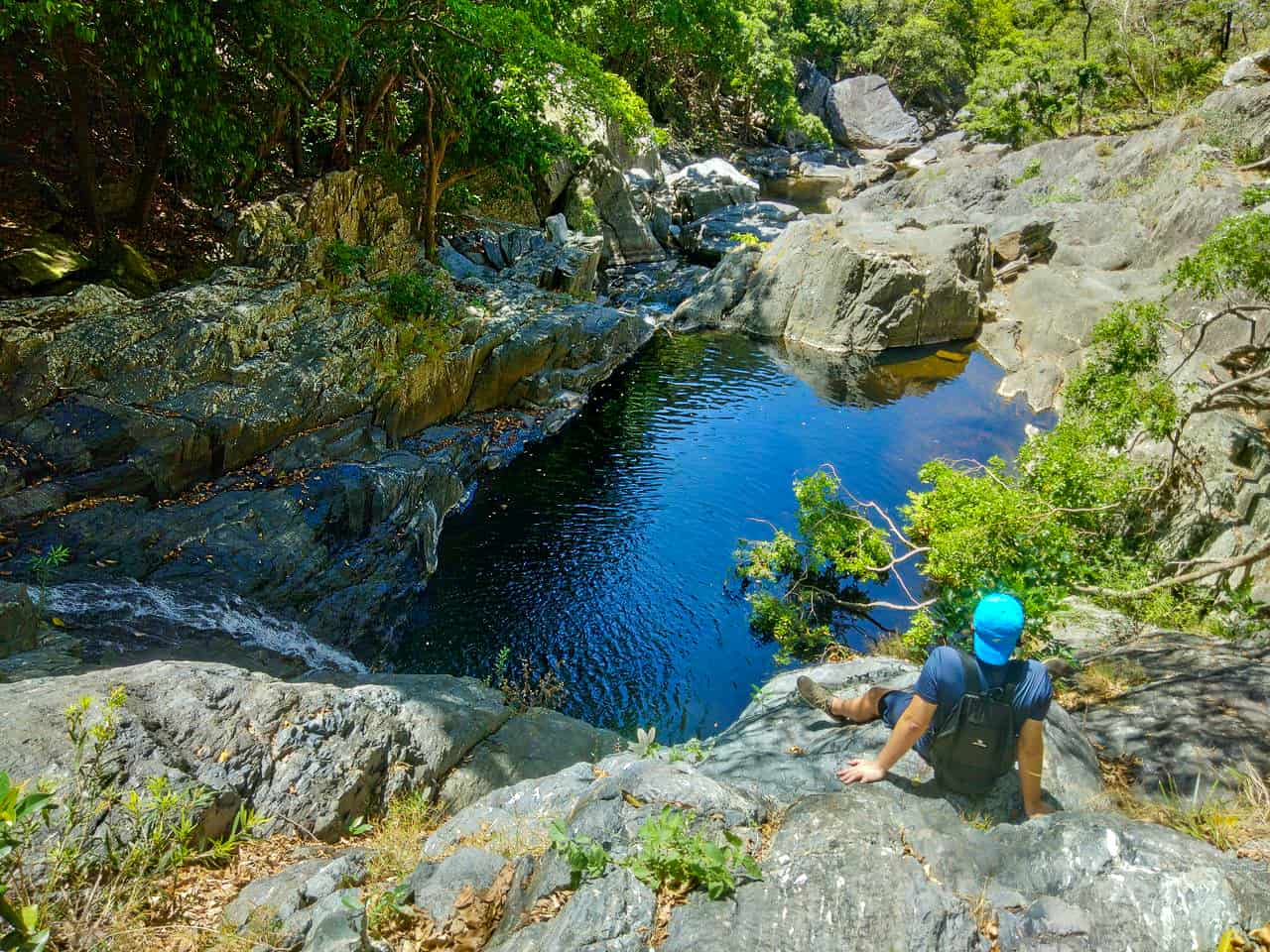 Then after about another 10 minutes, you'll arrive at your hikers reward!
It was so gorgeous here when we came. Though the fall wasn't pumping hard, the sun made it glisten beautifully. The rock pool below is croc-free so put your bathers on, take a dip and enjoy. 👙🩲
And see if you can spot the small crayfish on the rocks as you go in (they tickled my feet!). 🦞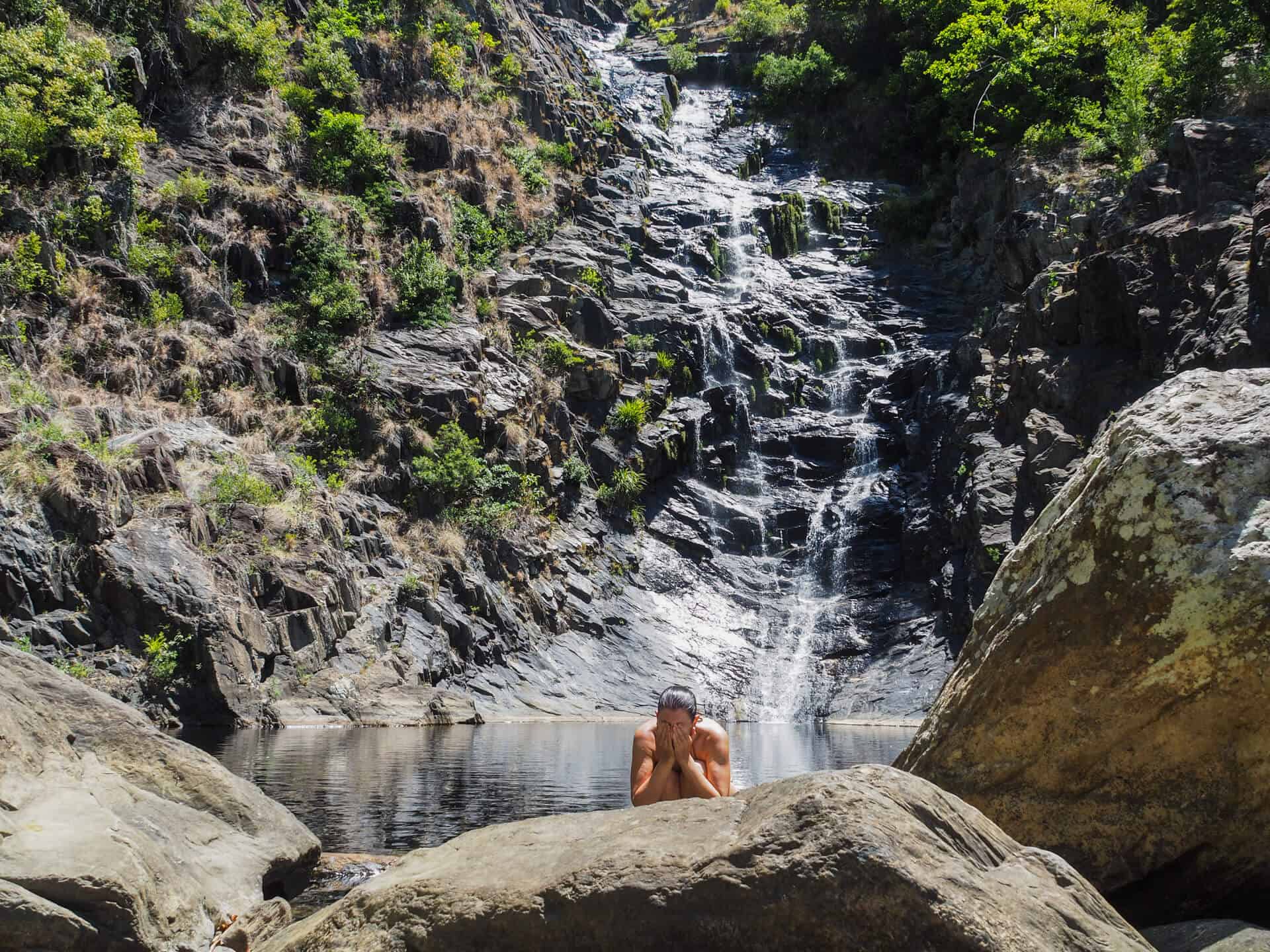 This is what the falls looked like in June this year 👇🏼. It's been a lot wetter recently because of La Niña.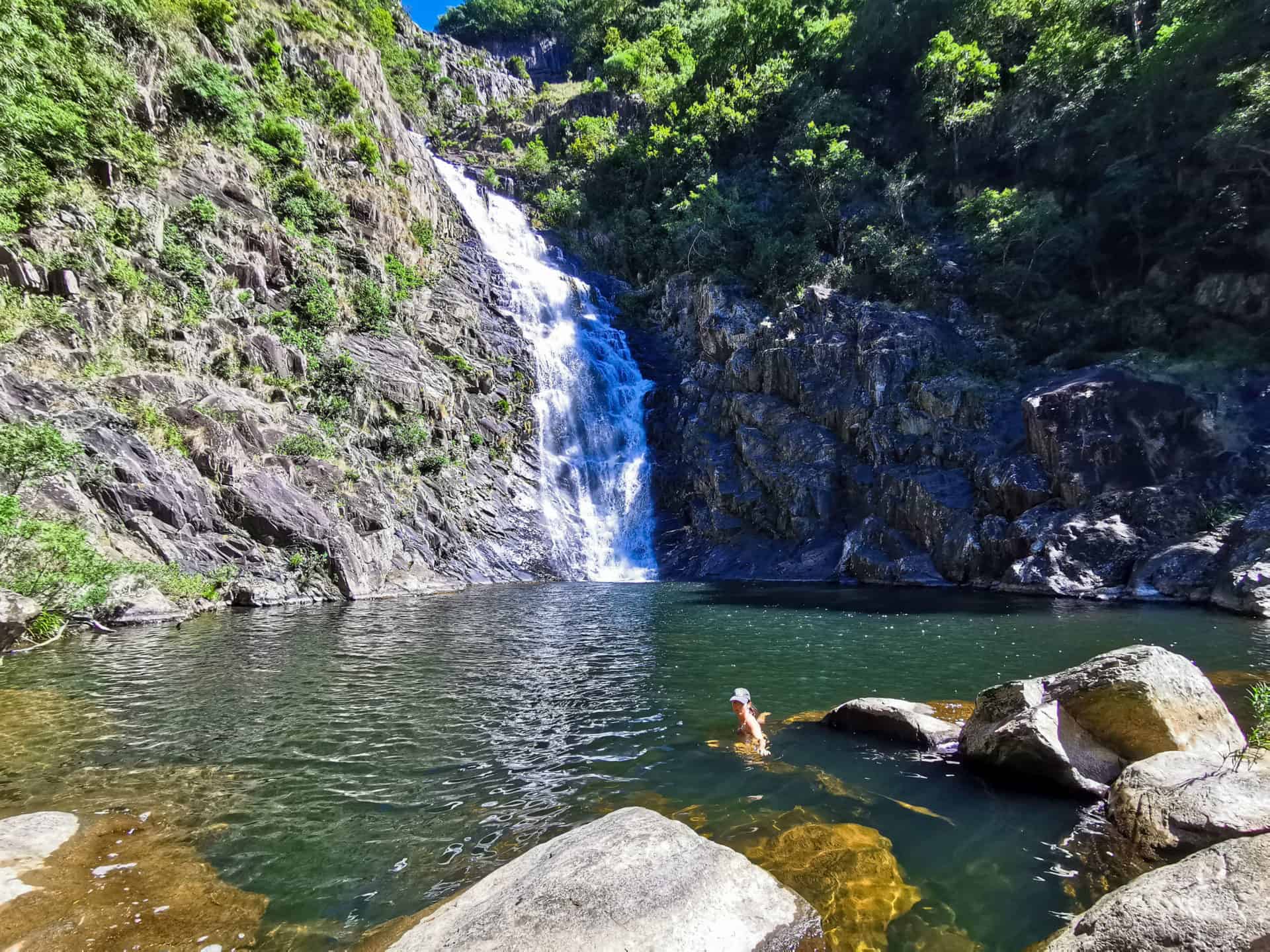 ---
Tips For The Trip 🤸🏻‍♀️
◇ Don't consider this hike if it's raining or likely to rain as the rocks will be slippery.
◇ Bring a minimum of two litres of water per person.
◇ Take a cap and apply insect repellent before heading out. Parts of this trail is exposed so you may wish to apply sunscreen too.
◇ Once home, check yourself for tropics-loving paralysis ticks. Jungle strength insect repellant with DEET or Picaridin should help prevent their latching.
---
Wildlife At Spring Creek Falls
The wildlife here is pretty cool because of all the water around. You should see quite a few birds and butterflies, and in the water you may see turtles and crayfish.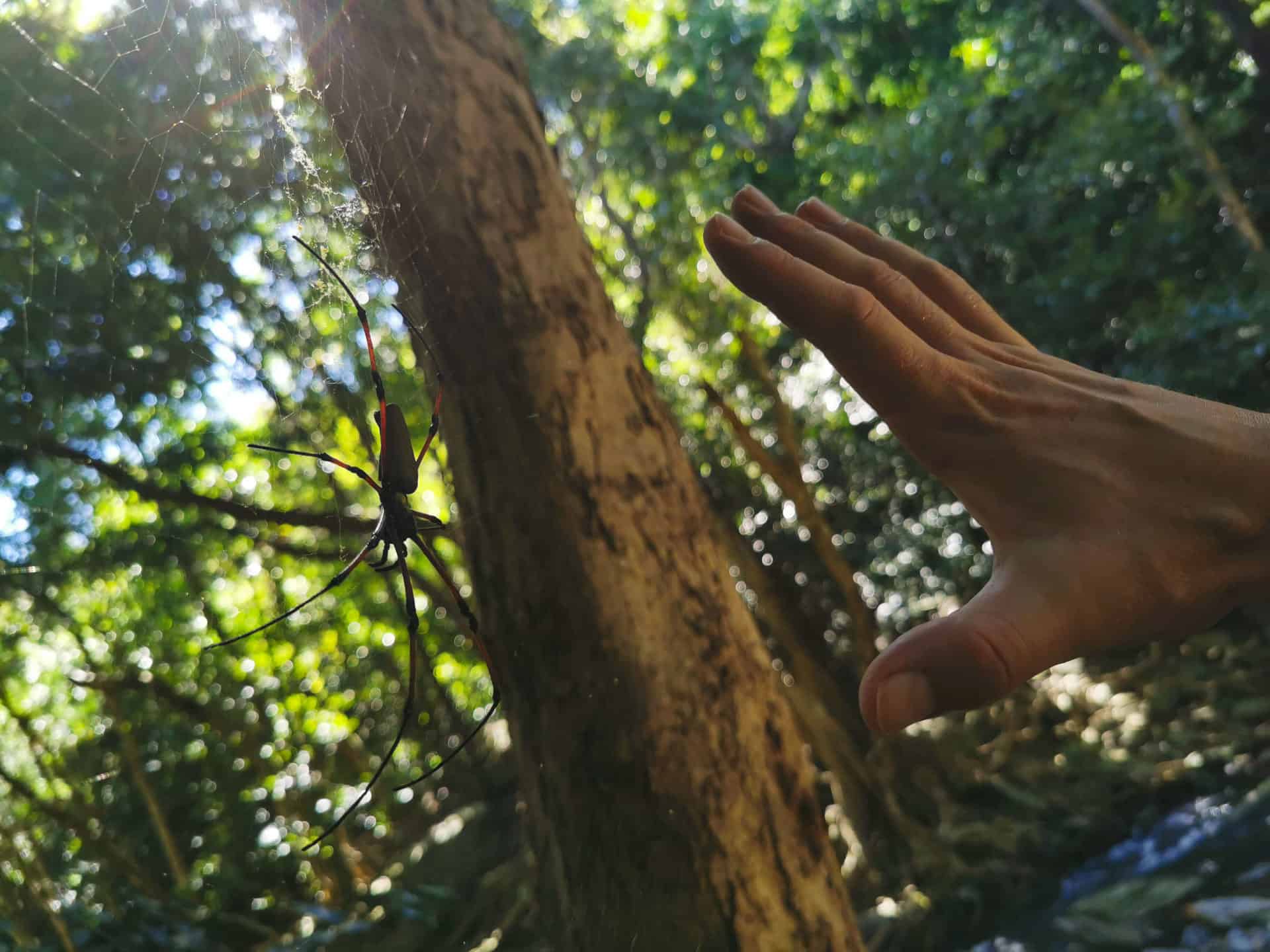 There's also some pretty epic golden orb spiders who often have their giant webs at face hight, so don't forget to look up every now and again!
We also saw a small snake here once by the rocks. He quickly slithered away once he saw us.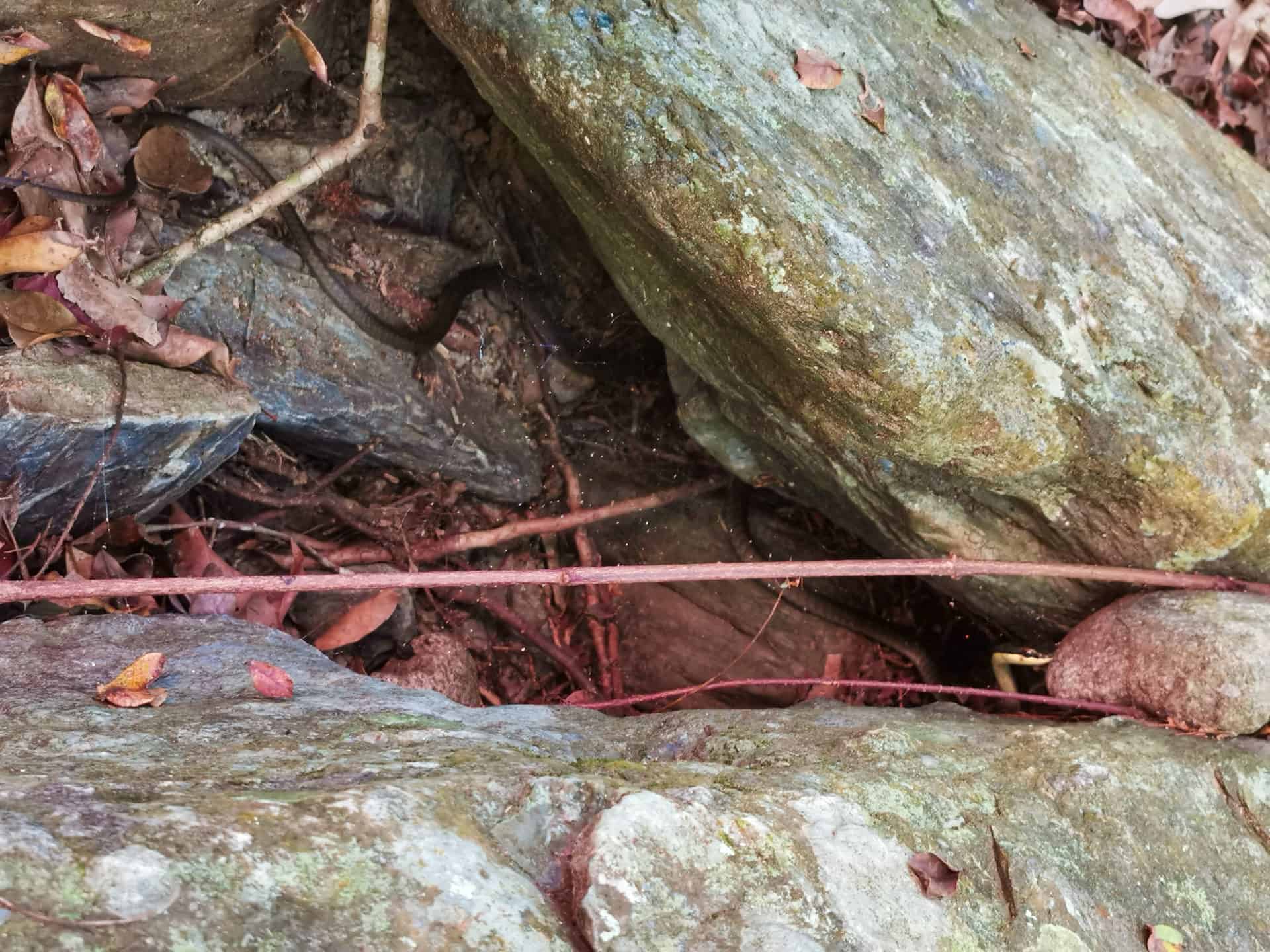 Like it? Save it for later to hike it!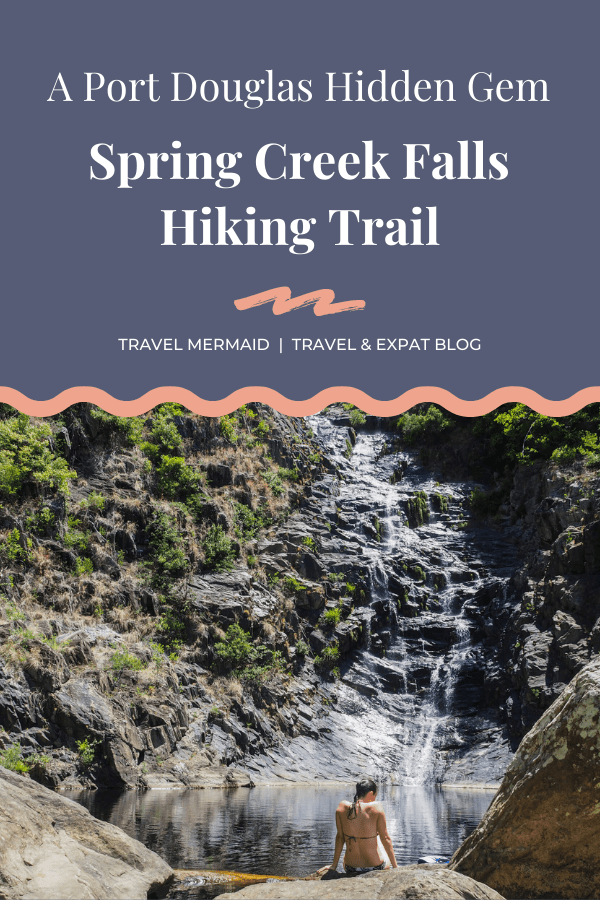 XOXO