So long as you have food in your mouth, you have solved all questions for the time being. – Franz Kafka
Modern, fresh and eclectic: The dining scene in Port Douglas a foodie's fantasy. Being a predominantly touristy town where most visitors stay only a few nights, competition is pretty fierce for restaurants to grab your patronage. Therefore only the best survive, leaving you with a healthy selection of awesome eats along Macrossan and Wharf Street.
Apart from the stunning tropical backdrop that is Port Douglas, restaurants here are blessed with fresh 'straight-out-of-the-water' proteins, and all the ripe veg you could wish for. Plus, you can literally walk across the road from your dinner table and pick juicy mangoes straight off the tree. The produce is world-class.
Some snobby Melburnians might try to fool you into thinking that Port D food is 'below par', but don't listen to them! I've lived in both Melbourne and Port for a year, and whilst it might not have Chef Hat Award winners [yet], it houses enough delightful dinners for a two-week stay. And at a fraction of the price you'd pay in Melly's CBD.
Heading to PD anytime soon? Here are 5 of my favourites to win you over.
Best Restaurants in Port Douglas
---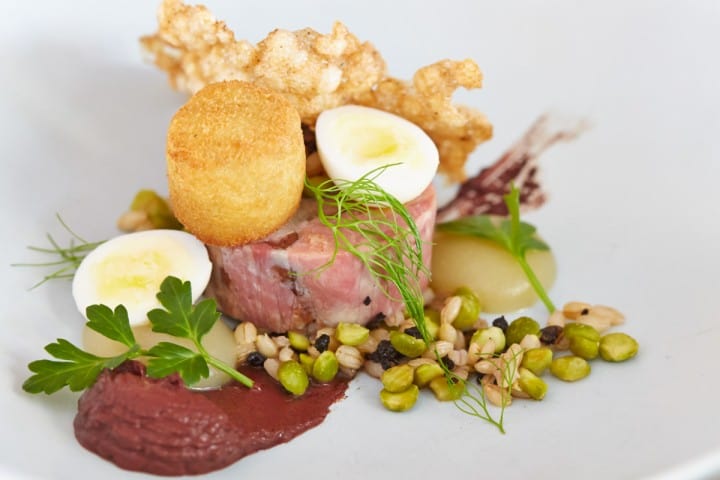 This place makes you feel special from the second you walk through the door. Service is attentive and friendly, yet perfectly unobtrusive.
I dined here just once, during Christmas 2013 and every element had been considered, from the soft, spirited music, to the envelope which held my succulent pork cracking, to the timings of each courses. Their still reining British chef Spencer Patrick had crafted together a classic menu with a modern twist that delighted every taste bud.
Highlights of this modest $120 set Menu were its Pressed Duck Confit, the Daintree Estate Chocolate Fondant and of course it wouldn't be Christmas without a Roasted Port Al'Anglaise. Bubbles on arrival, coffee and tea were all included in the price and we chose a bottle of red from their extensive menu to wash down courses.
[Since writing, Harisson's has relocated to The Sheraton Grand Mirage Resort and has been renamed 'Harrison's by Spencer Patrick'. The hotel needed a restaurant revival – sounds like a great move on their part.] 
---

This eating-house was the newest addition to Wharf Street just before we left town. It offers no frills, authentic, rustic dining that really does take you to back to a small town in Italy.
While we waited for our guests to arrive, we tried the polenta chips with gorgonzola sauce, which was incredibly moreish. Refreshingly, the menu only insisted of a few items. On offer was fresh pasta (which can be shared), local meat and simplistic fish and seafood specialties. The service is attentive, honest and hospitable. If you're after a real taste of Italy, then it doesn't get more Italian than this!
[Since writing, unfortunately this restaurant has closed! Although rumour has it they're considering setting up in Melbourne.]
---
The food here is inspired by Spain but with the best Australian produce. On our first night in Port Douglas we visited Seabean for their delicious cocktail specials, which marked the beginning of a beautiful relationship with this Spanish restaurant.
Their tapas and main dishes are perfect for diners looking to feast or peckishly nibble. A few of our many favourites are the manchego cheese with figs and taro chips, beef meatballs in salsa de tomate and the smoked crocodile croquettes.
Whether you're after a tasty tapas selection, fish cooked 5 ways (from your daily catch on the reef), a sangria and pinchos sundowner,  or a quality breakfast stop before strolling to the Sunday markets across the road – this place has you covered.
---
Bill Clinton dined here the night prior to September 11th, before being rushed back to New York. A signed plate of his proudly sits on the wall of Salsa, along with other former patrons like Johnny Depp, Matthew McConaughey and Eva Mendes.
Unlike what people assume when reading the name, Salsa is not a Mexican or Latin American. But what it certainly is, is a an eclectic mix of flavours from around the world, held together by a varied and exciting menu. Their daily specials are highly recommended as are their cocktails, which are fresh and accommodating to the tropical climate.
Salsa effortlessly incorporates local Australian ingredients with many beautiful Asian, African, European and the occasional South American flavours. It's definitely an institution in Port and they have arguably the best rate of regulars in town. Their head chef Goran Zanai has driven Salsa to further successes in recent years, helping them to win catering awards.
---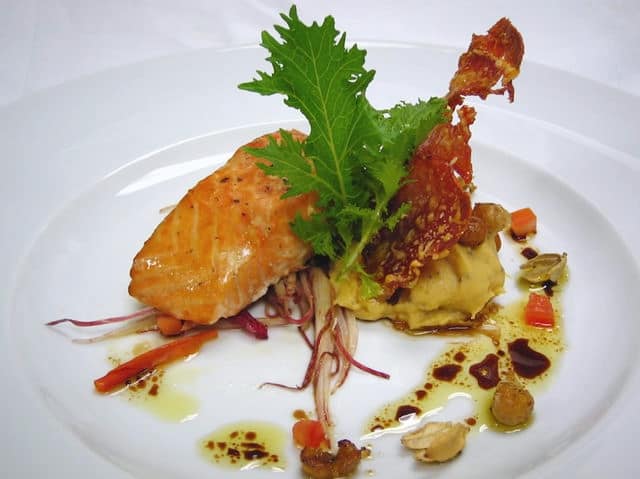 This restaurant only opened last year and quickly made noise in Port Douglas. They offer an incredible dining experience with an exceptionally reasonable price tag. It serves modern Australian cuisine with an Asian twist.
Cocktails at the garden bar before dinner are the perfect primer and will mark the beginning of your journey of bold flavours. My favourite was the classic espresso martini with a touch of cardamon bitters.
A highly recommended 5 course degustation menu will only set you back $85pp, which would easily cost more than half that in the big city. The tasting menu was a no brainer; it easily incorporated the best bits from the menu and saved on the decision-making.
When each course arrived, it was a painting of intricate and individual textures, bold flavours and finesse. Highlights were the 16-hour slow cooked beef cheek, the sous vide baby squid with dashi and pickled ginger gels, and the dessert tasting plate featuring the dark chocolate brûlée. I distinctively remember the delicious taste of dashi, mint, coriander and fresh citrus fruit from my dining experience, all harmoniously uniting and individually the guest of honour.
Rasa is quite simply number one for their abundance of bold tastes.